Daughter Quotes-The relationship of parents and their daughter is bound by special love. Only a parent or a daughter understands this type of love. If you are a parent looking for special quotes to appreciate this love then here you go. These selected Daughter Quotes will allow the love you feel to blossom into something beautiful. They will also let you guard the love between you and your daughter.
My favorite thing about motherhood is the outpouring of love that is non-judgemental and beautiful. My daughter just makes me happy, and she motivates me to be a kid again – Christina Milian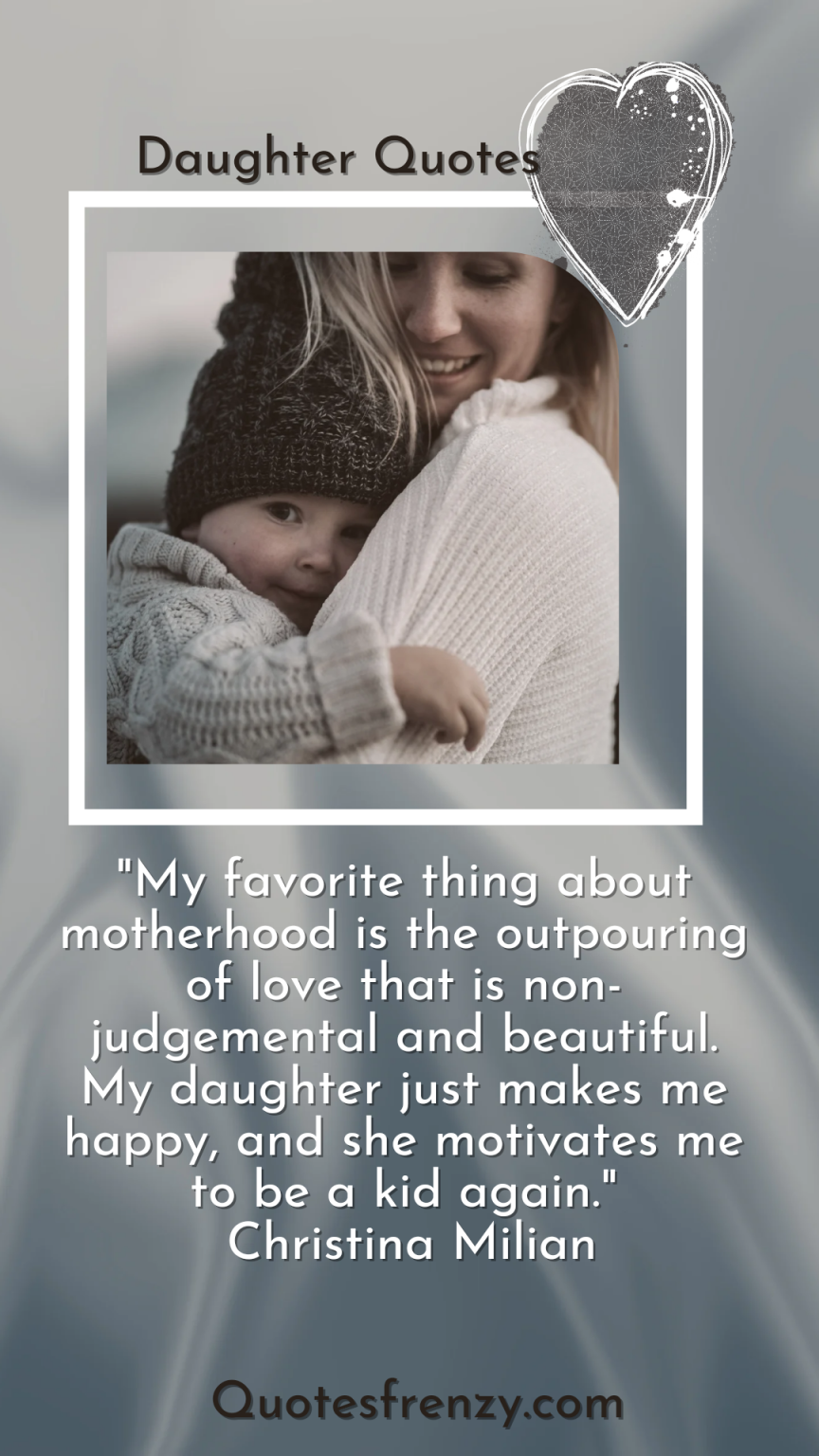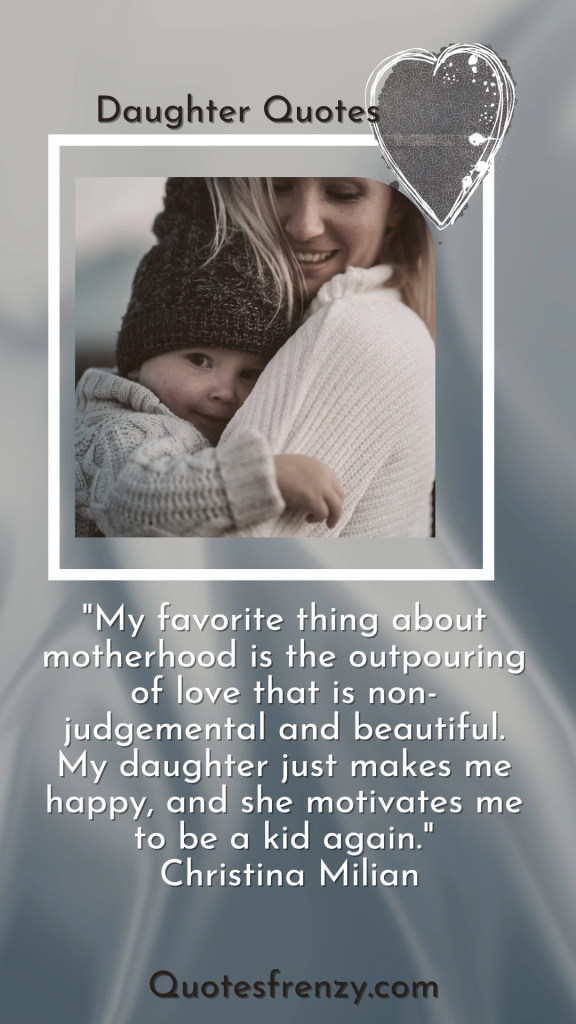 Your daughter is a source of pure love and nothing less. The eyes of your little girl are always non- judgemental. Her dependency will motivate you to want to be like her, pure. Daughters are playful and they involve their parents in what they want to do. With daughters, there are no boundaries.  This unconditional love should be emulated by all.
---
Famous Daughter Quotes
---
"A son is a son 'til he gets a wife, but a daughter is a daughter all her life." Emily Giffin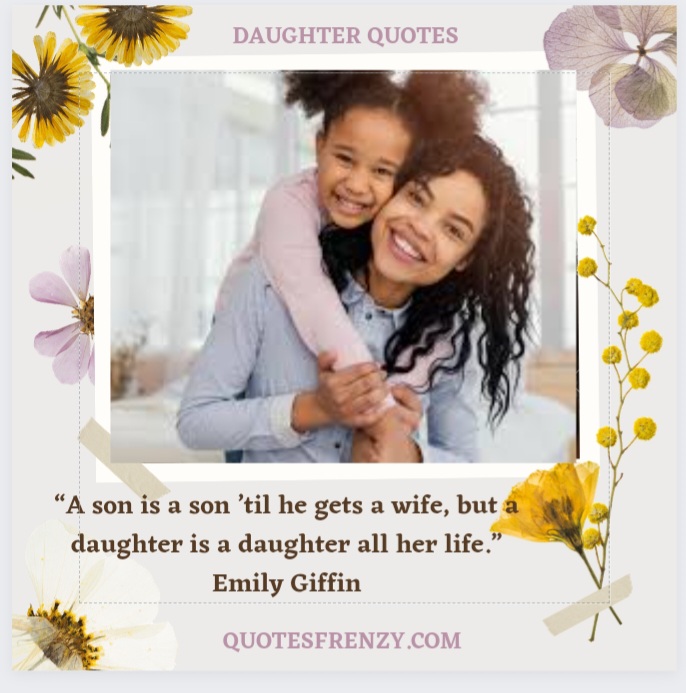 ---
"To a father growing old nothing is dearer than a daughter." Euripides
---
"Certain is it that there is no kind of affection so purely angelic as of a father to a daughter." Joseph Addison
---
"The birth of my daughter, gave me life." Johnny Depp
---
"As the lily among thorns, so is my love among the daughters." Solomon Ibn Gabirol
---
"Virtue and Happiness are Mother and Daughter." Benjamin Franklin
---
"One of the greatest gifts I've ever gotten is my daughter." Ace Frehley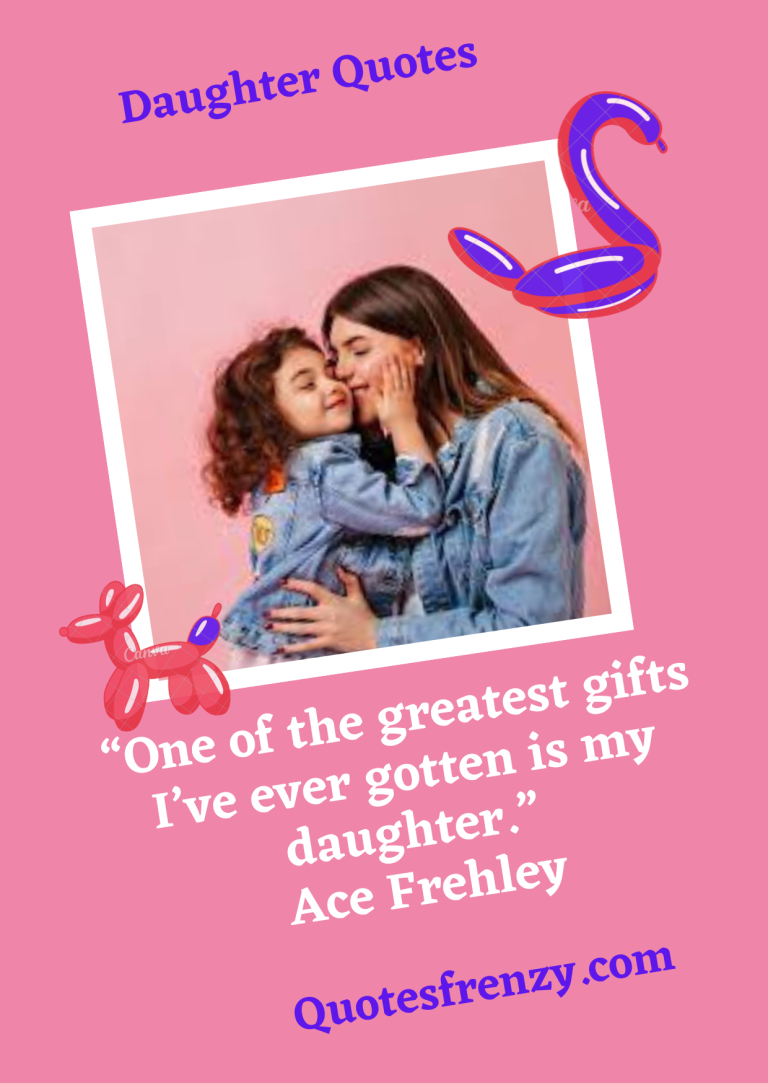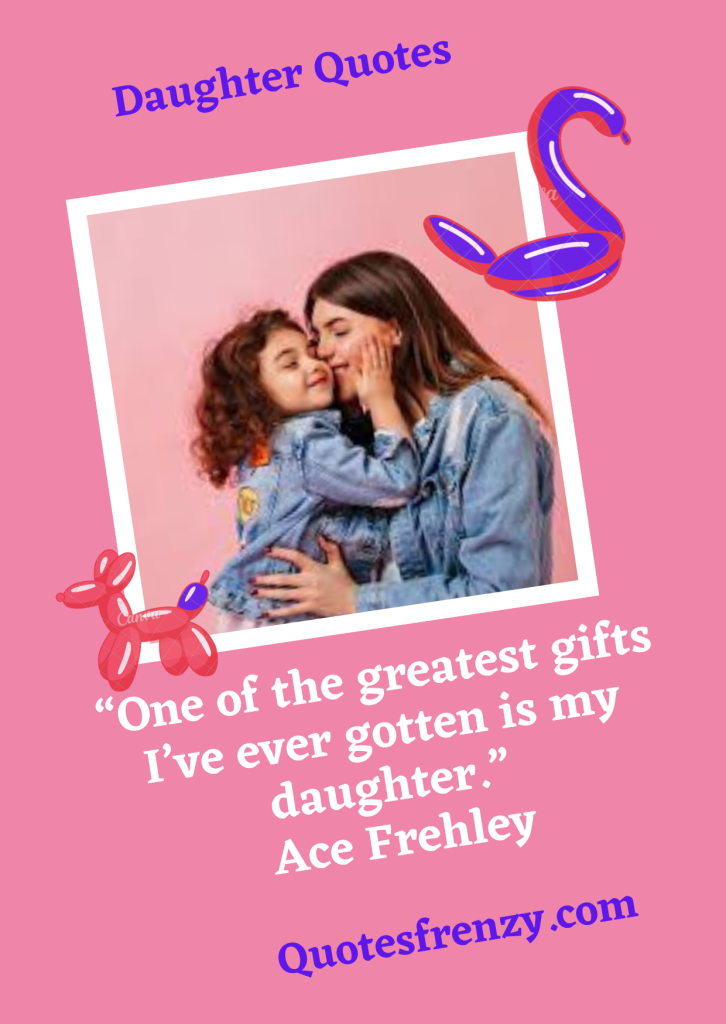 ---
"Honour your daughters, trust them and most importantly, educate them." Ziauddin Yousafzai
---
"Go home and tell your daughters they are beautiful." Stokely Carmichael
---
"I want my daughter to see a strong woman who goes after what she wants." Giada De Laurentiis
---
"Your daughter is your child for life." Marlene Dietrich
---
"My daughter is my passion and my life." Tamara Mellon
---
"An undutiful daughter will prove an unmanageable wife." Benjamin Franklin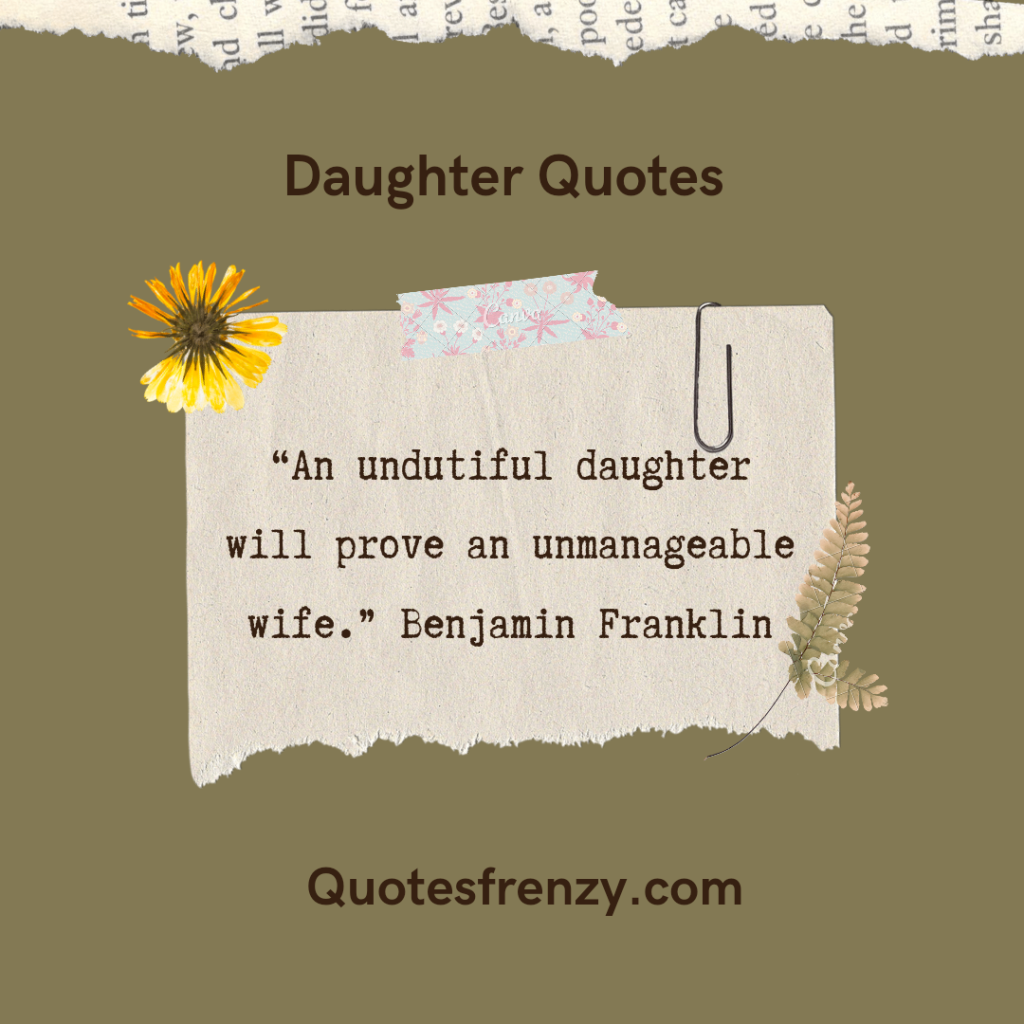 ---
"With a little hoard of maxims preaching down a daughter's heart." Alfred Lord Tennyson
---
"Make sure your daughter's goal is her goal, not your goal." Tracy Austin
---
"My daughter is my passion and my life." Tamara Mellon
---
"The only truly anonymous donor is the guy who knocks up your daughter." Lenny Bruce
---
"Good daughters make good mothers." Abigail G. Whittlesey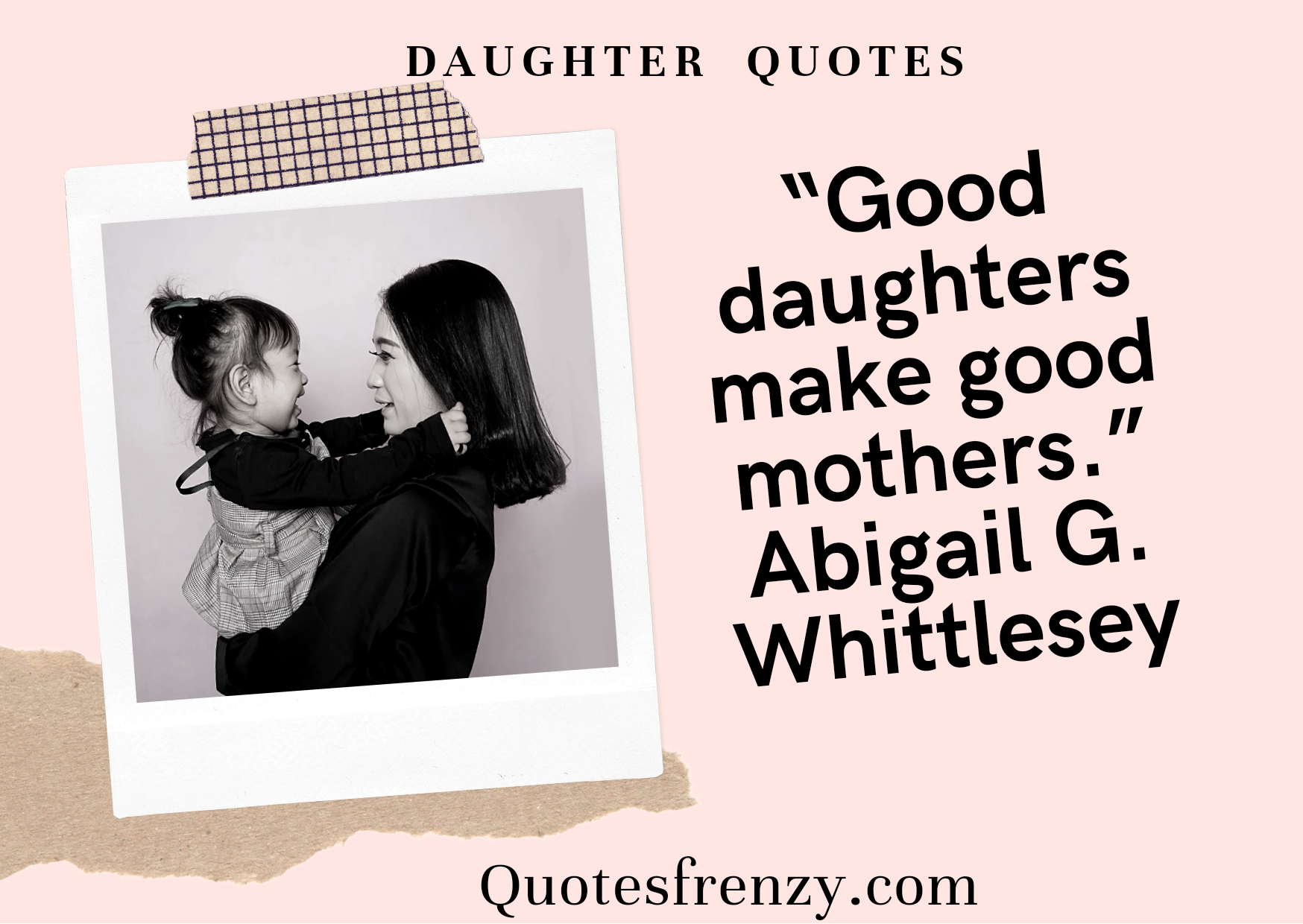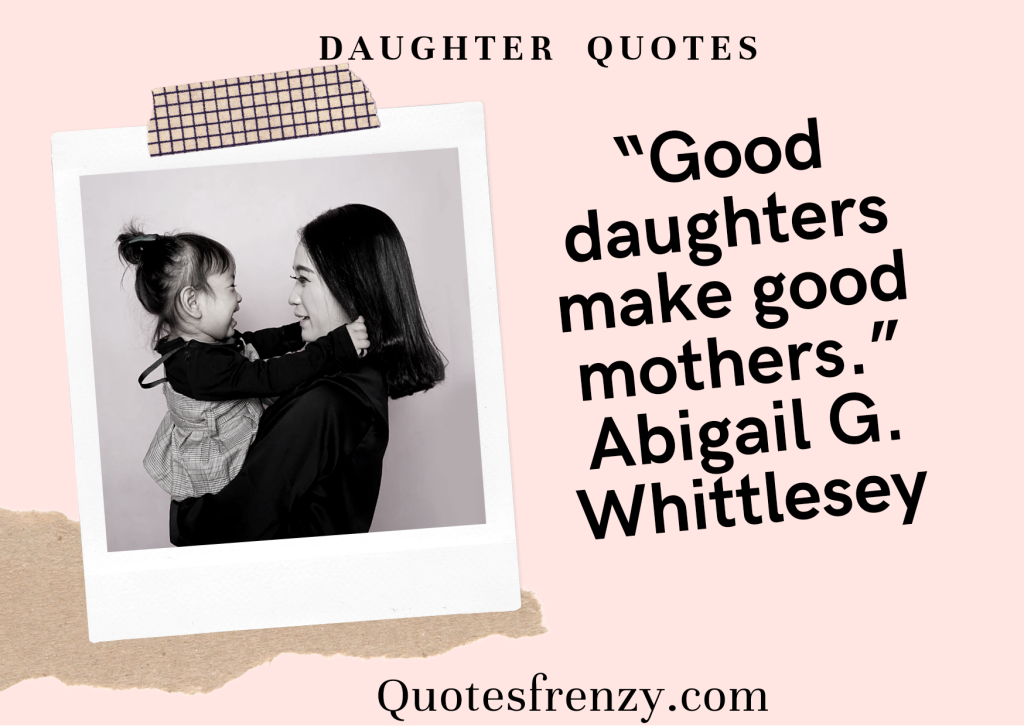 ---
"A daughter is one of the most beautiful gifts this world has to give" Laurel Atherton
---
"A daughter is the happy memories of the past, the joyful moments of the present, and the hope and promise of the future." Bruce Barton
---
"Fame is rot; daughters are the thing." James M. Barrie
---
"Certain is it that there is no kind of affection so purely angelic as of a father to a daughter." Joseph Addison
---
"My daughters are the heart of my heart and the center of my world." Michel'le
---
"I have priorities. Maintaining my daughter is my first."Whitney Houston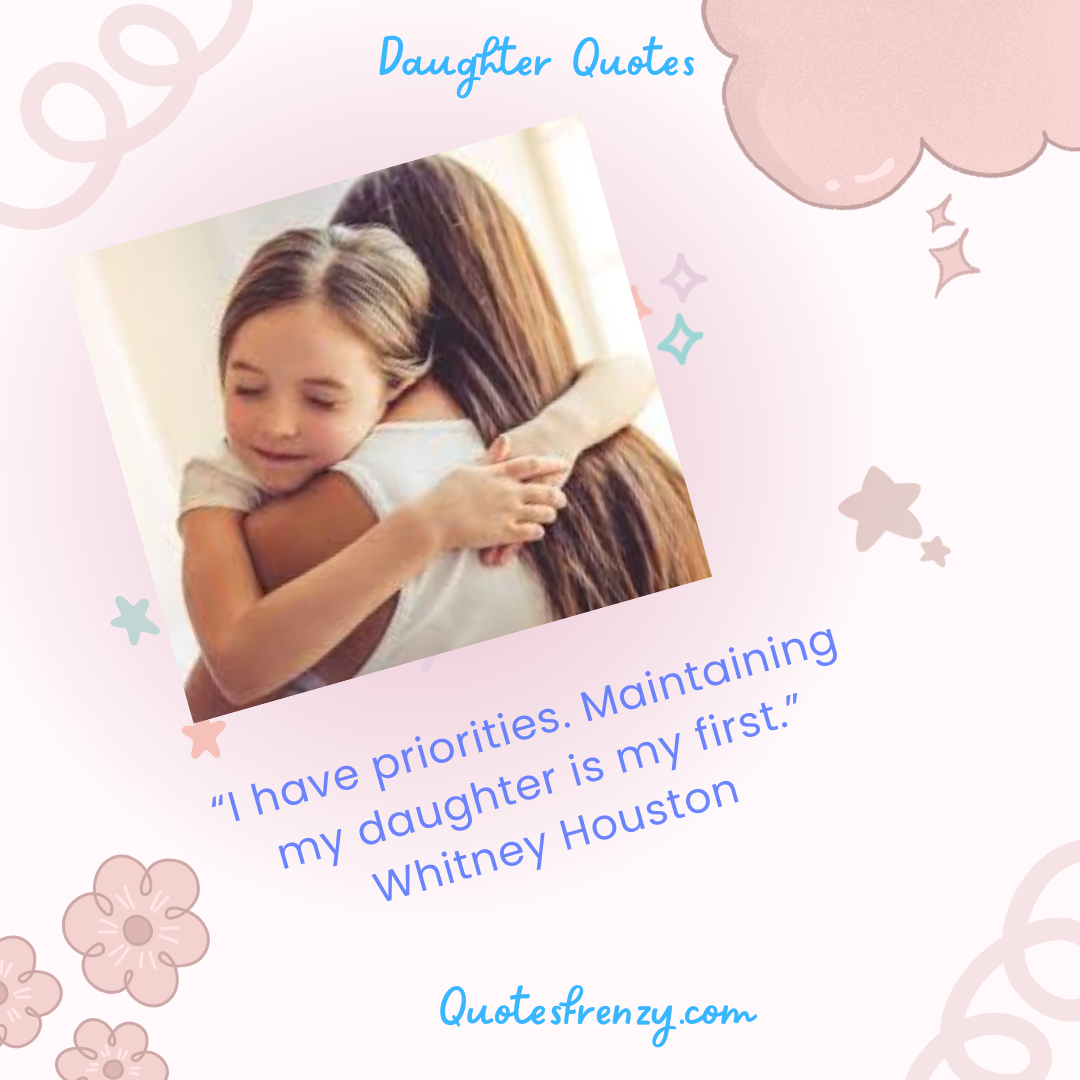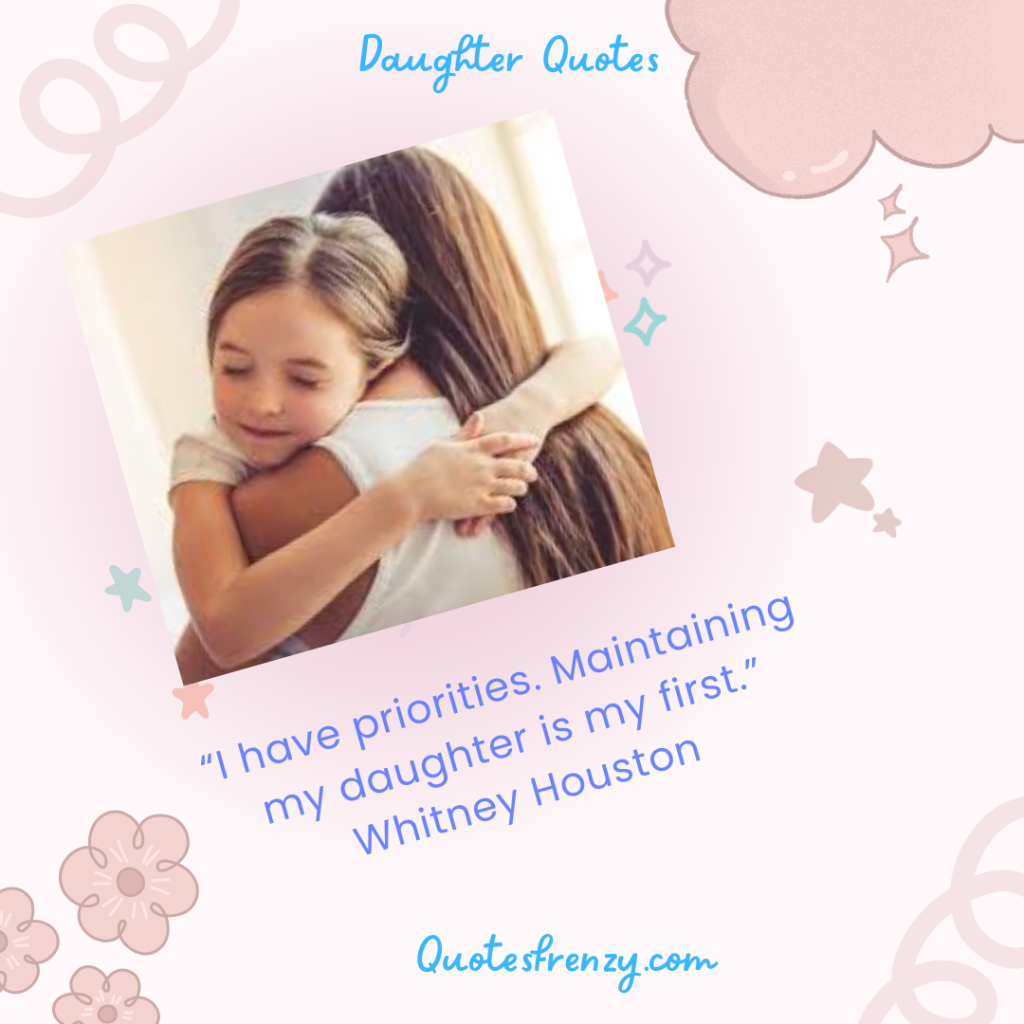 ---
"A mother's treasure is her daughter." Catherine Pulsifer
---
"My son is my son till he have got him a wife, But my daughter's my daughter all the days of her life." Thomas Fuller
---
My daughter is the most important thing in my life. It is for her alone I'm fighting. Artelia Moore Cox
---
The love of a daughter makes life worth living. It makes my heart full and I just keep on. AJ Winners

---
"Patience, my daughter, learn patience, and life will be easier." Catherine Pulsifer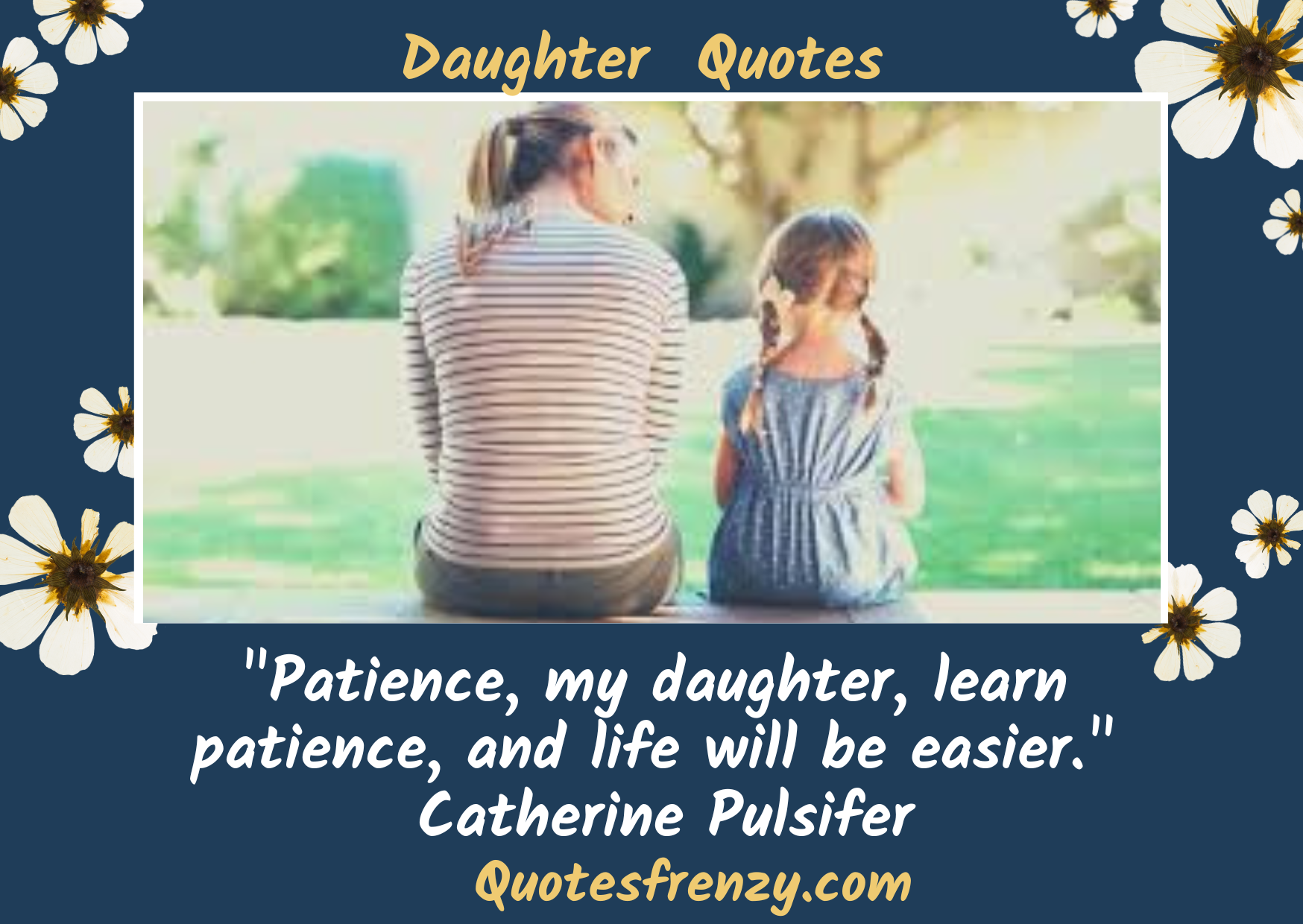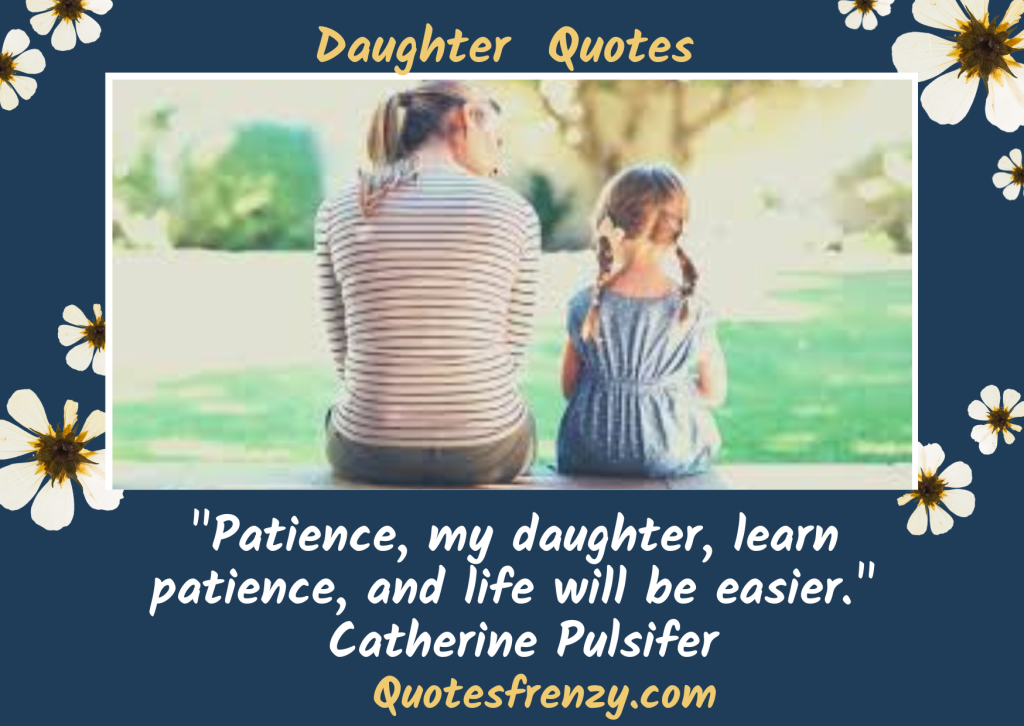 ---
"Now trust a heart that trusts in you." Emily Bronte

---
"So, after much observation, I realized that our daughters needed the same things we lacked in our younger years…wisdom. Without wisdom we continue to blunder through life repeating the same mistakes." Laura Alexander
---
"He who has daughters is always a  shepherd." Proverb

---
"I find as I grow older that I love those most whom I loved first. "Thomas Jefferson

---
"But a smile from my daughter makes me forget every ordeal". Raymond-Raoul Lambert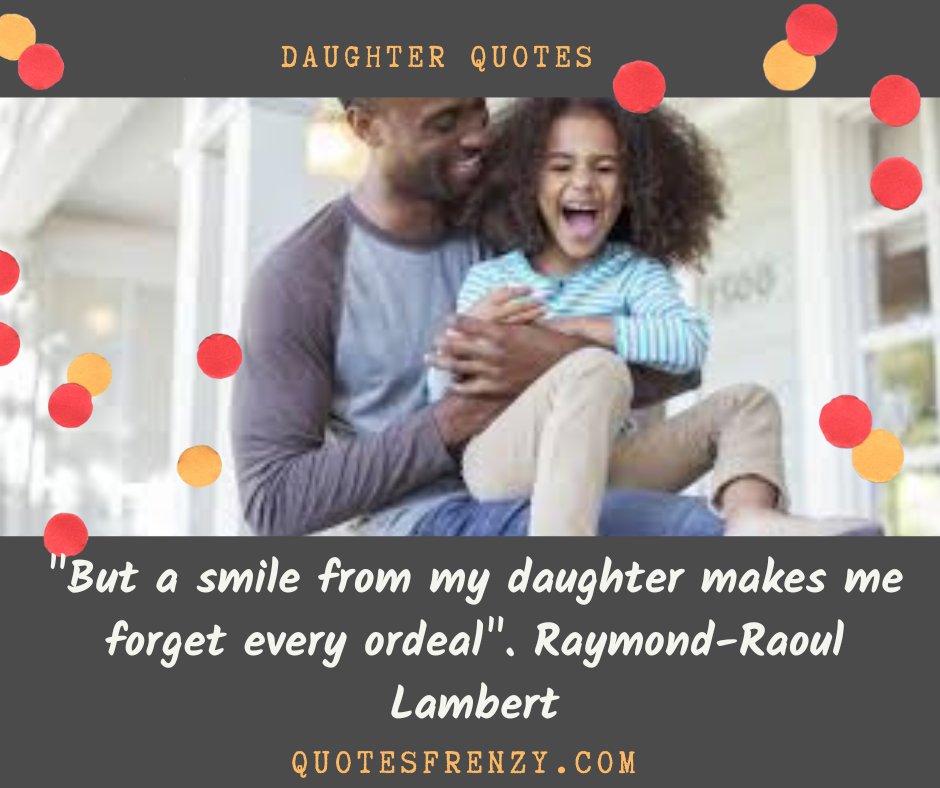 ---
"Daughters can sometimes be too serious, teach them to laugh and not take life too seriously." Catherine Pulsifer

---
I desire to have a life filled with positive energy and satisfaction of living authentically in my purpose. That's what I also want for my daughter, and that is what I want for you. Keya Briscoe
---
As I am told, our time is very limited on this earth and I intend to use every moment of my time here on earth and particularly with my daughter to its fullest! Cathy Shaffer
---
"My daughter, You've blessed my life greatly. I'm so glad we're friends. . . The time we have together is the best that I spend." Author Unknown
---
"Female friendships are rapid growth." Benjamin Disraeli
---
My daughter is my biggest achievement. She is a little star and my life has changed so much for the better since she came along – Denise Van Outen
Daughters are soft, sweet, and kind. Others call them angels due to their gentle nature. They are fragile, but grow up to be strong women. Their gentleness is what makes them build happy homes in the future. An old man will still see his little girl inside his adult daughter. The feeling and love never fade irrespective of the stage in life.
---
When I come home, my daughter will run to the door and give me a big hug, and everything that's happened that day just melts away – Hugh Jackman
The character of daughters has been just heart warming. They provide you with those little hugs when you get home. They are small but huge in their healing nature. These are those types of hugs that will stay with you for the rest of your life. Daughters have given meaning to many parents who felt hopeless without children.  Every daughter is a gift from God and should be appreciated.
Count yourself lucky if you have a daughter. Each one of these Daughter Quotes is special in its own way. They will fill you with love, fun, and laughter. Your life will experience a lot of happiness.  Love your daughter with all your heart. The reward will be abundant love back to you.