I am Single Quotes -If you are single then you must be mistaken most of the times for being irresponsible. Bachelors and bachelorettes face a lot of challenges of being accepted. There is this notion that someone must be in a relationship to have a complete life. What if that is not the truth? If you are not single and would like to understand the psychology of single individuals, then, these I am single quotes will walk you through their world.
I have no one to leave money to. I'm a single man. I like spending my money  – Elton John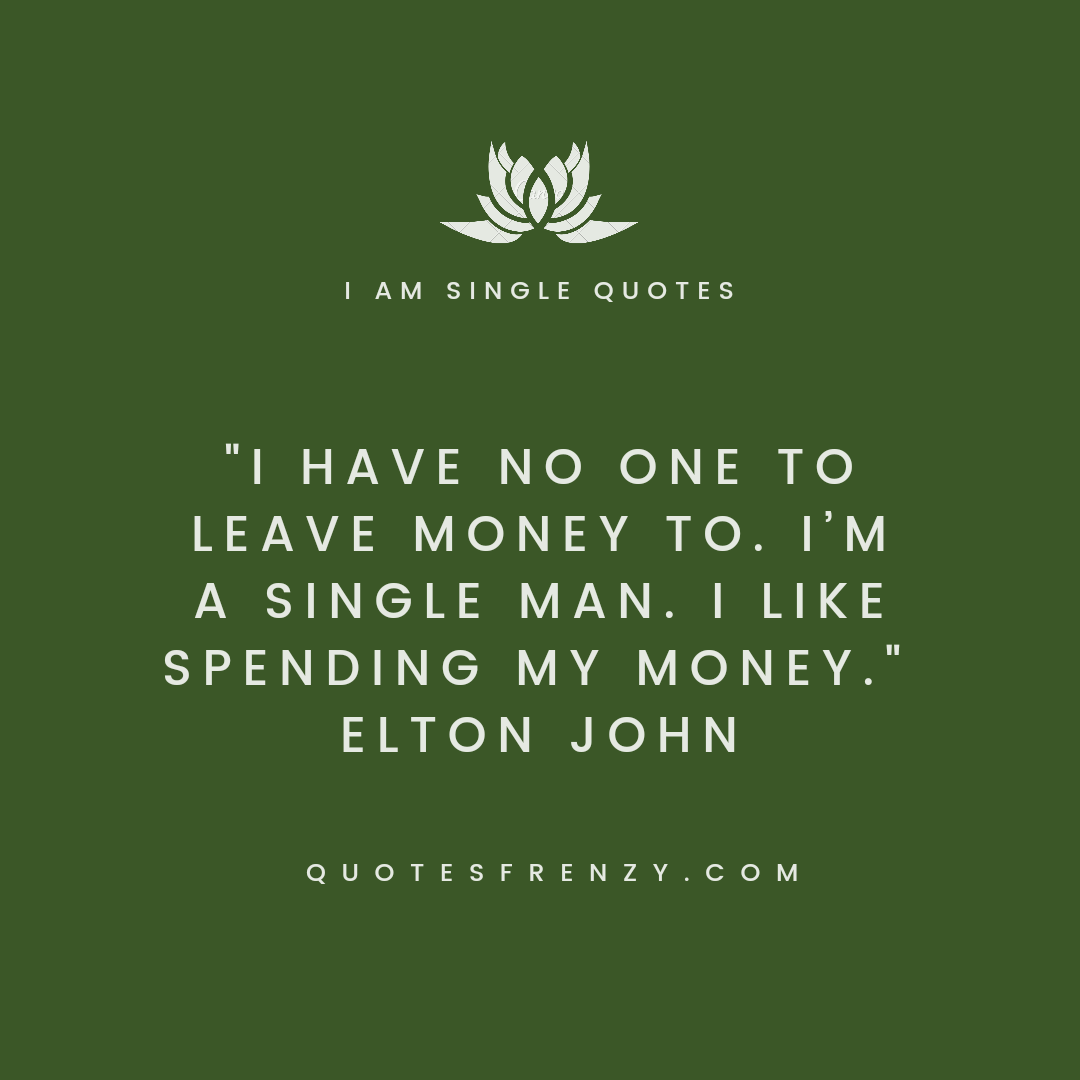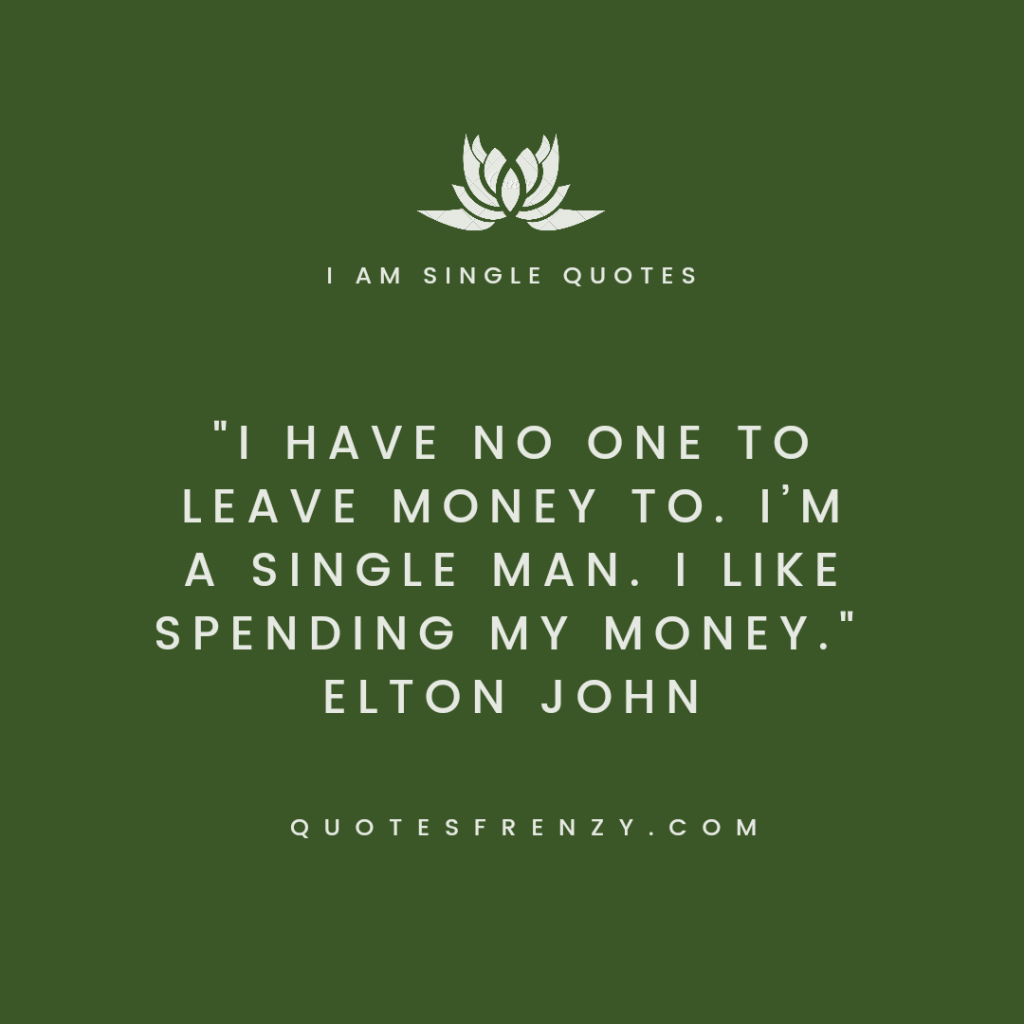 Single men have very few people depending on them. Being that they do not have families of their own, their money basically belongs to them alone. Single people are thought to be extravagant and wasteful. Some bachelors have invested their money in great businesses. There is no need to judge someone depending on how they live their life. If you think they spend their money unwisely, do not interfere, it belongs to them
---
Top I am Single Quotes
---
"The trouble is not that I am single and likely to stay single, but that I am lonely and likely to stay lonely." Carlotte Bronte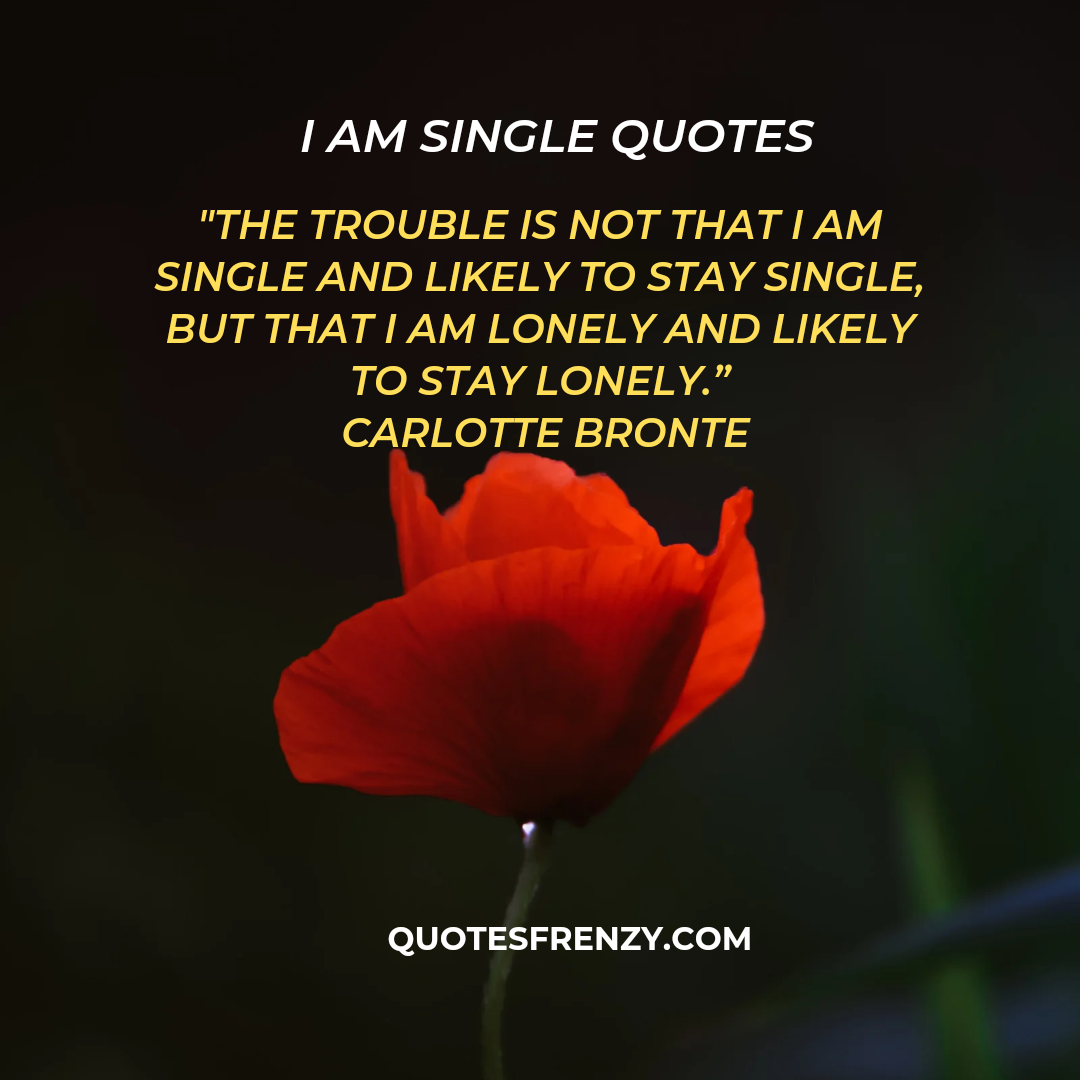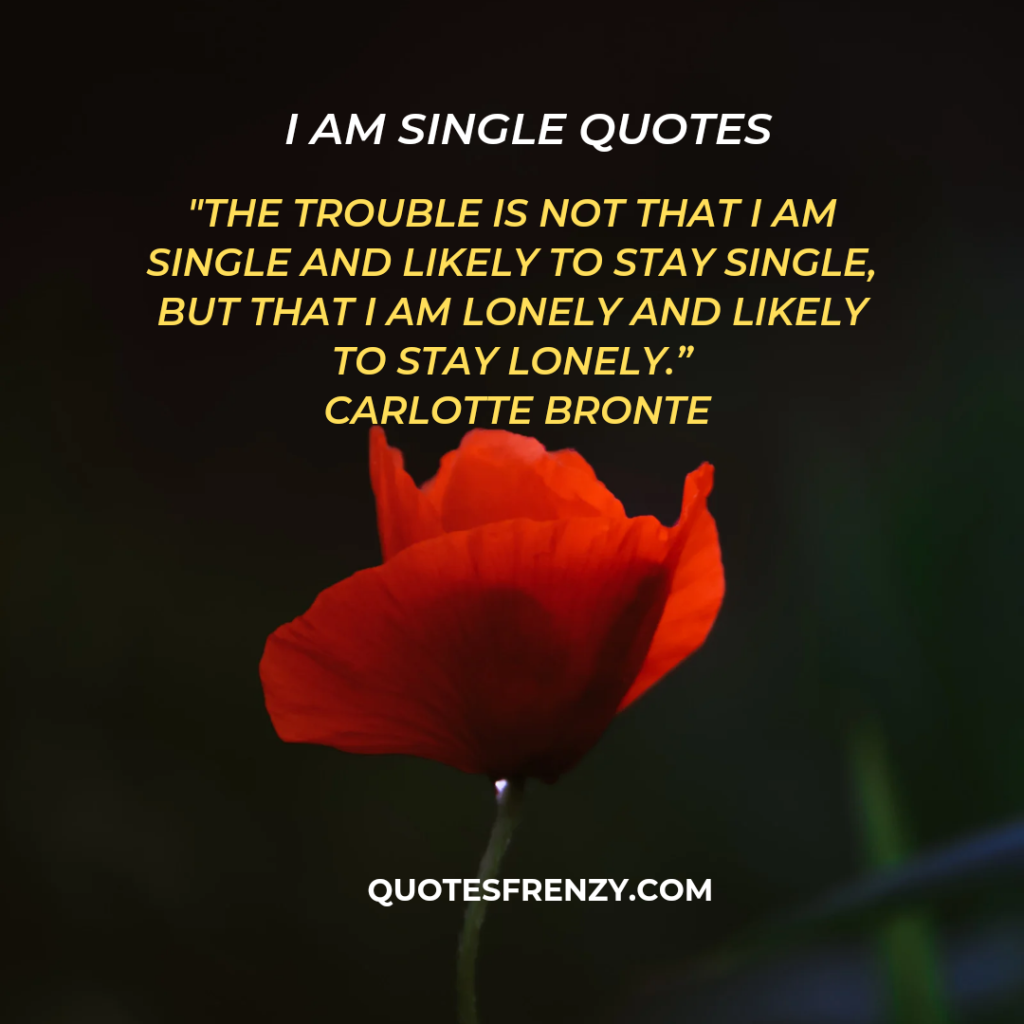 ---
Also read…
Feeling Alone Quotes And Sayings
Life Is Short Quotes And Sayings
---
"I am single because I am allergic for cursing words and bad table manners." Hiroko Sakai
---
"I am single and childless, but I have lots of friends and I am an aunt to three lovely children." Kate DiCamillo
---
"I'm single because I was born that way." Mae West
---
"Being single is pretty good. It's a nice sense of irresponsibility." Michael Douglas
---
"I don't like to be labeled as lonely just because I am alone." Delta Burke
---
"I am a lover without a lover. I am lovely and lonely and I belong deeply to myself." Warsan Shire
---
"I love being single. It's almost like being rich." Sue Grafton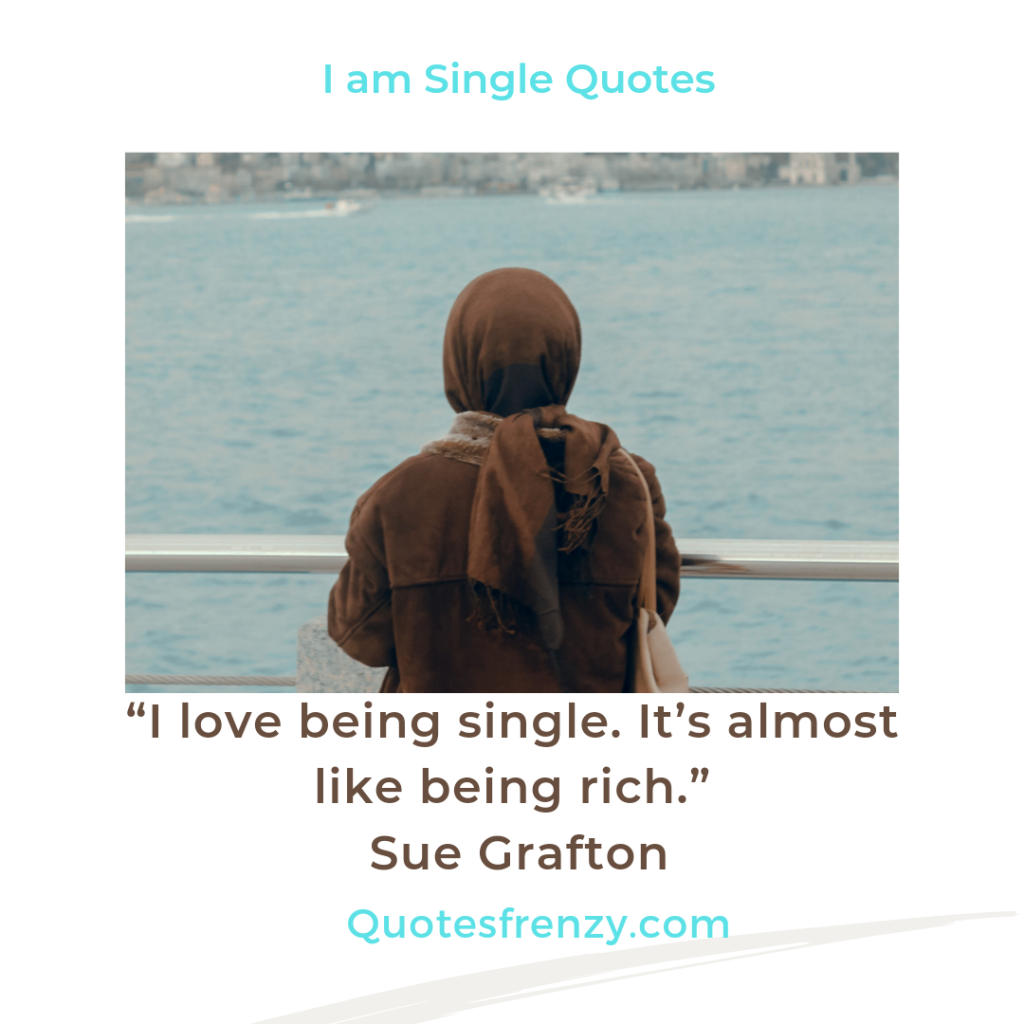 ---
"I am single and happy." E.G. Daily
---
"How wrong it is for a woman to expect the man to build the world she wants, rather than to create it herself." Anais Nin
---
"If we seek paradise outside ourselves, we cannot have paradise in our hearts." Thomas Merton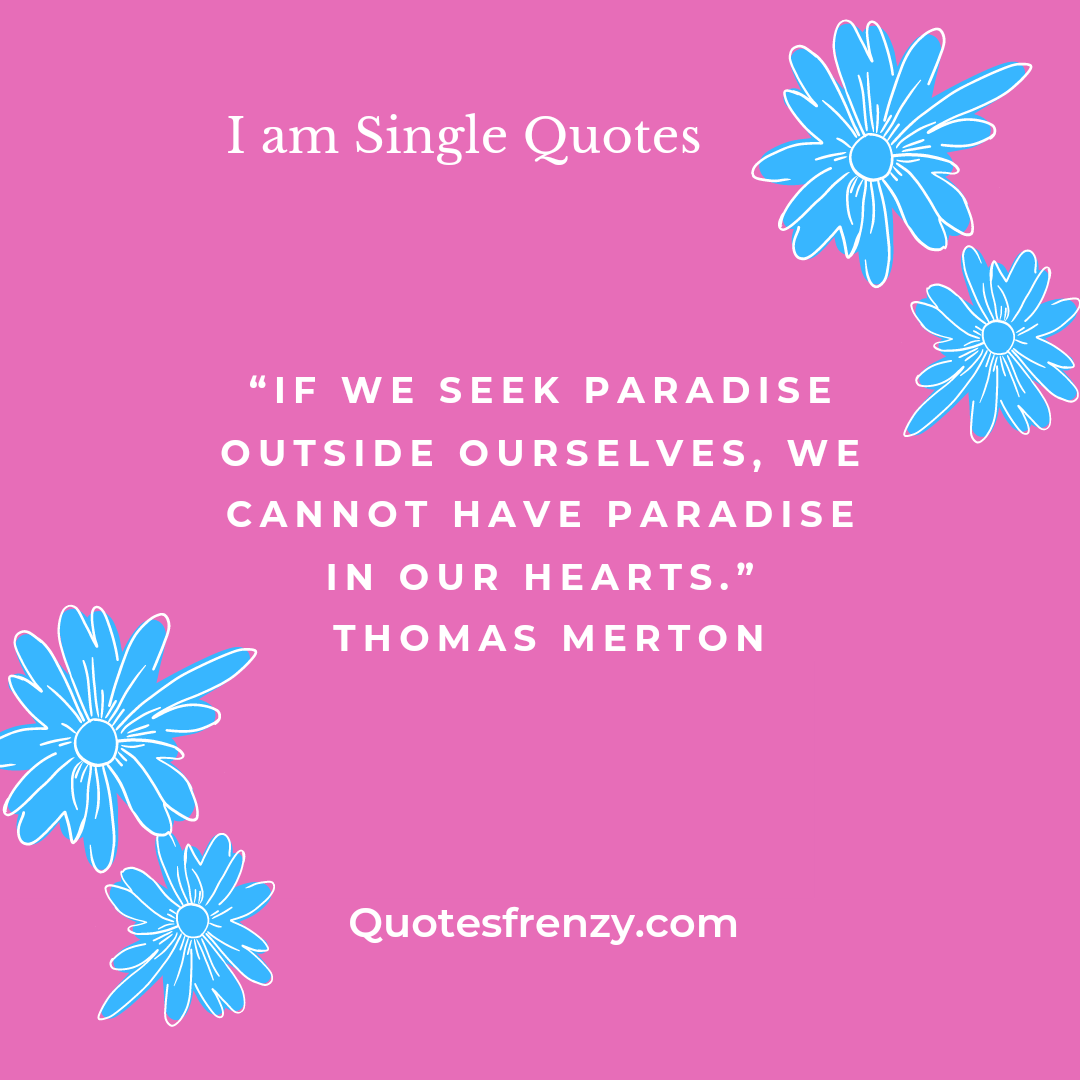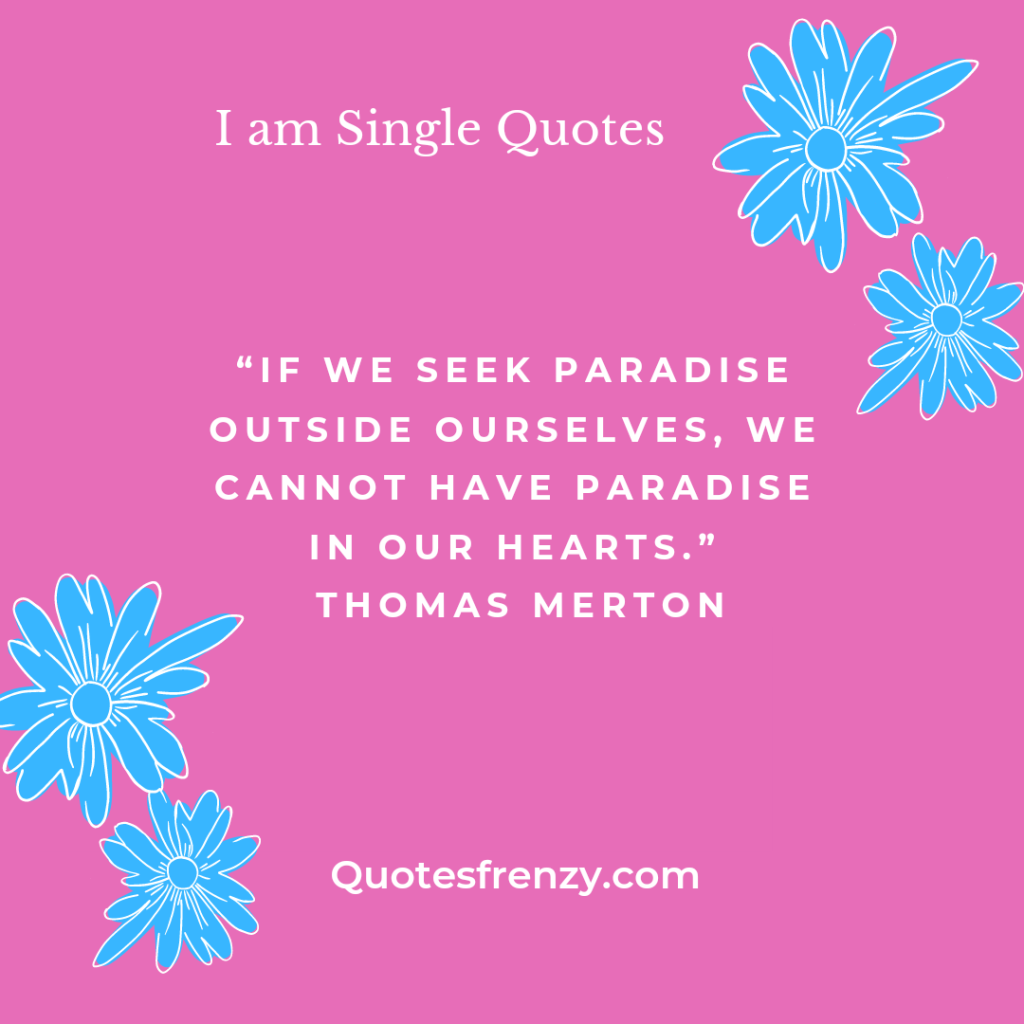 ---
"I don't need anyone to rectify my existence. The most profound relationship we will ever have is the one with ourselves." Shirley MacLaine
---
"I think it's very healthy to spend time alone. You need to know how to be alone and not be defined by another person." Olivia Wilde
---
"I'm dating a woman now who, evidently, is unaware of it." Garry Shandling
---
"Learn your way around loneliness. Make a map of it. Sit with it, for once in your life. Welcome to the human experience." Elizabeth Gilbert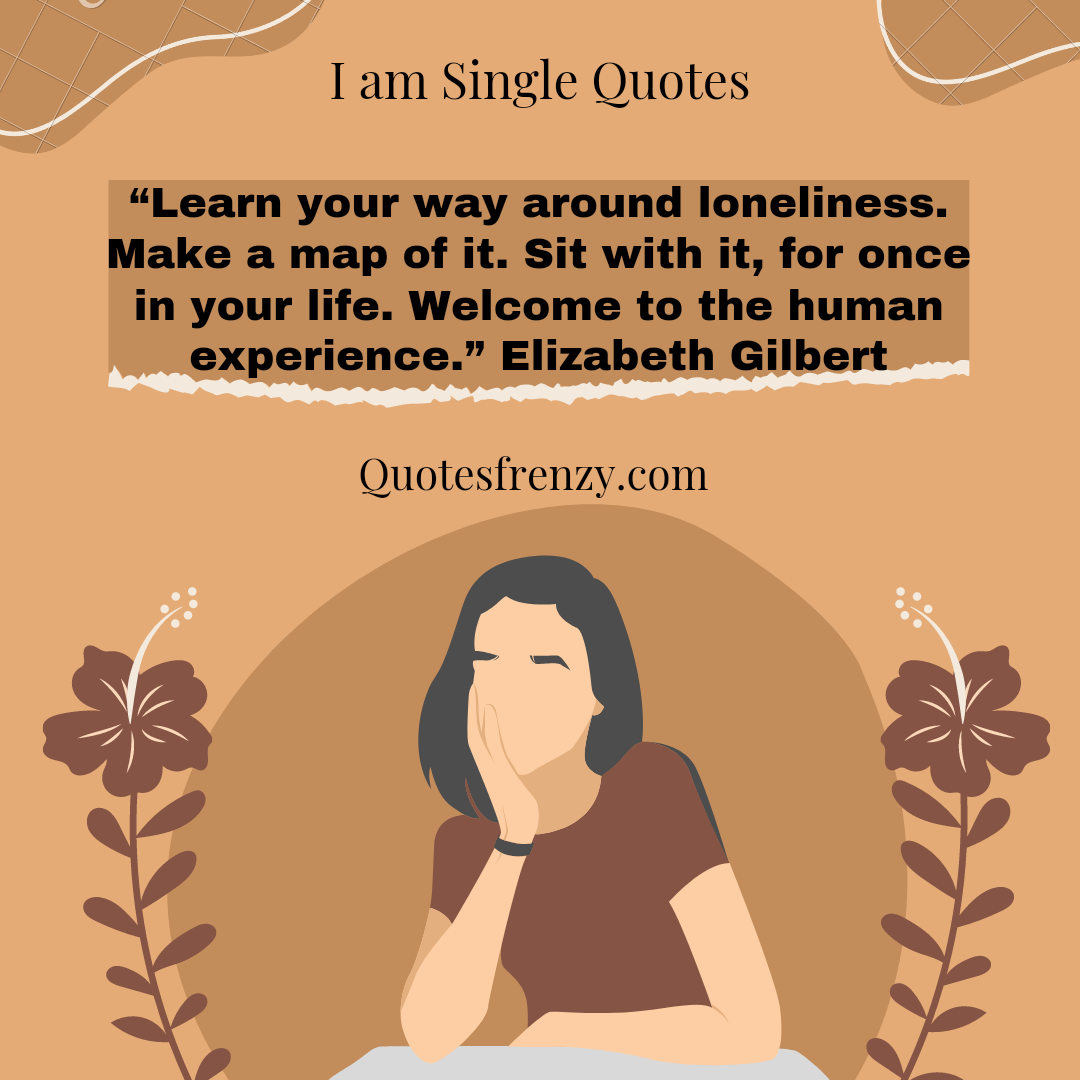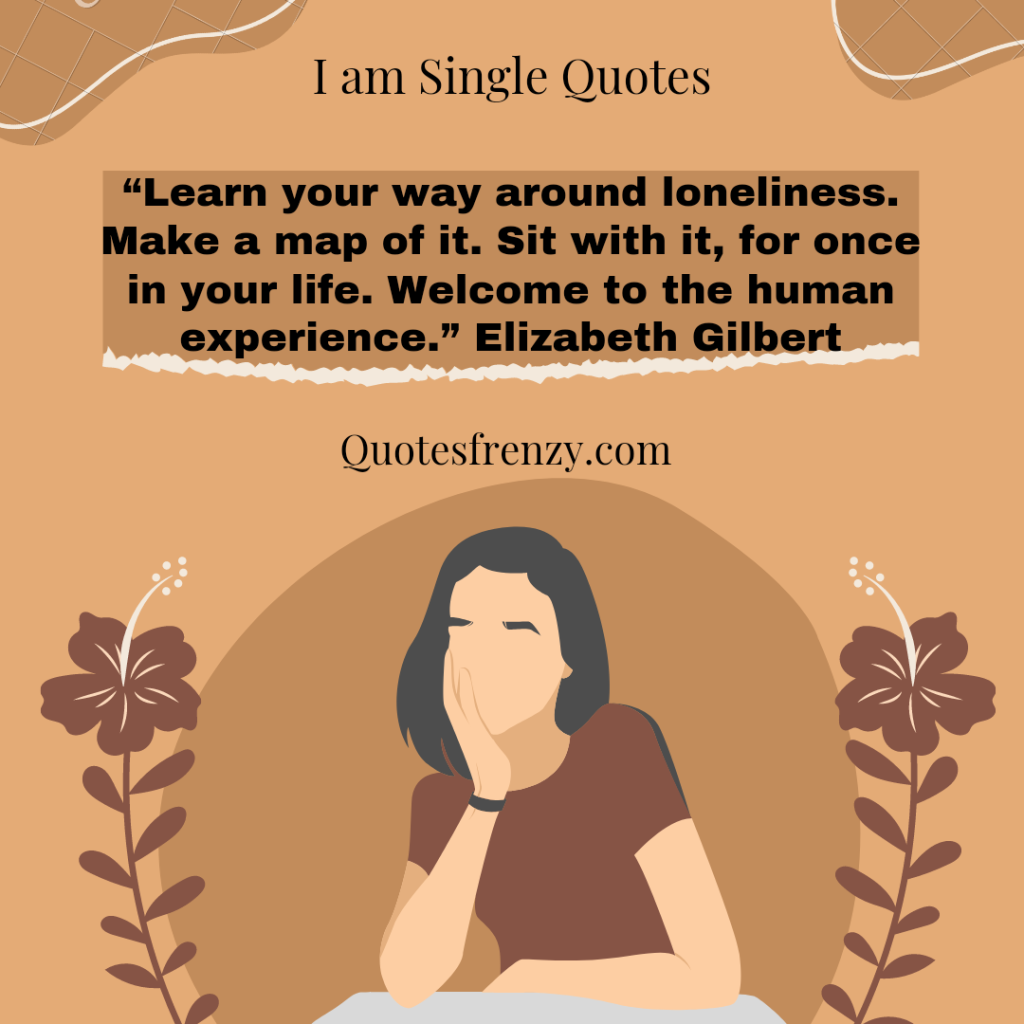 ---
"I love being single. I can come and go as I please and stay out as late as I want to." Eric Dickerson
---
"I am single until I get married" Katrina Kaif
---
"I don't talk with everybody because i am not everybody, i am single." Michael Bassey
---
"To love oneself is the beginning of a lifelong romance." Oscar Wilde
---
"I am single and not looking to be in a relationship." Chris Evans
---
I've been involved in something which was chaotic and insane. All I can say now is that I am, and intend to say, a single man – Sylvester Stallone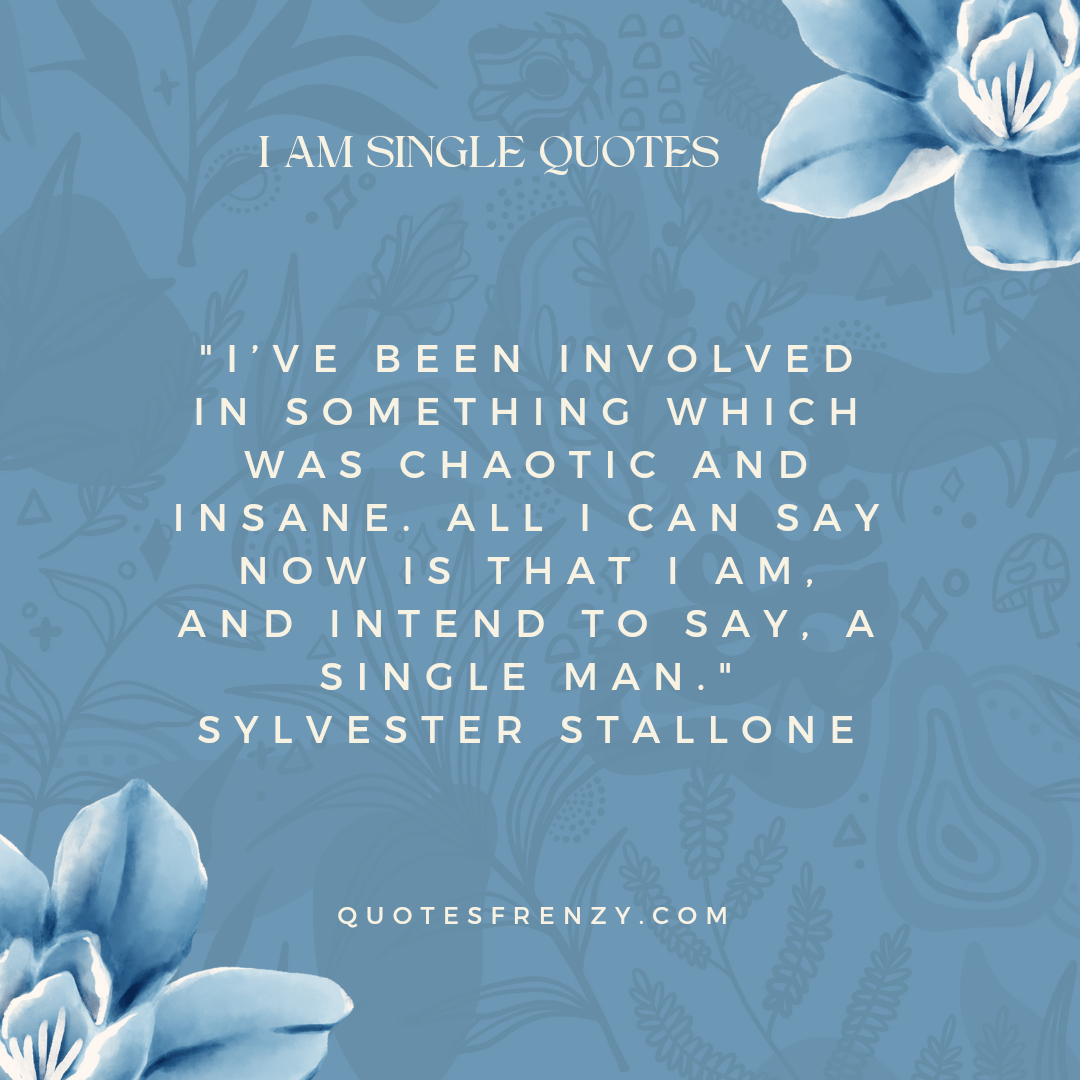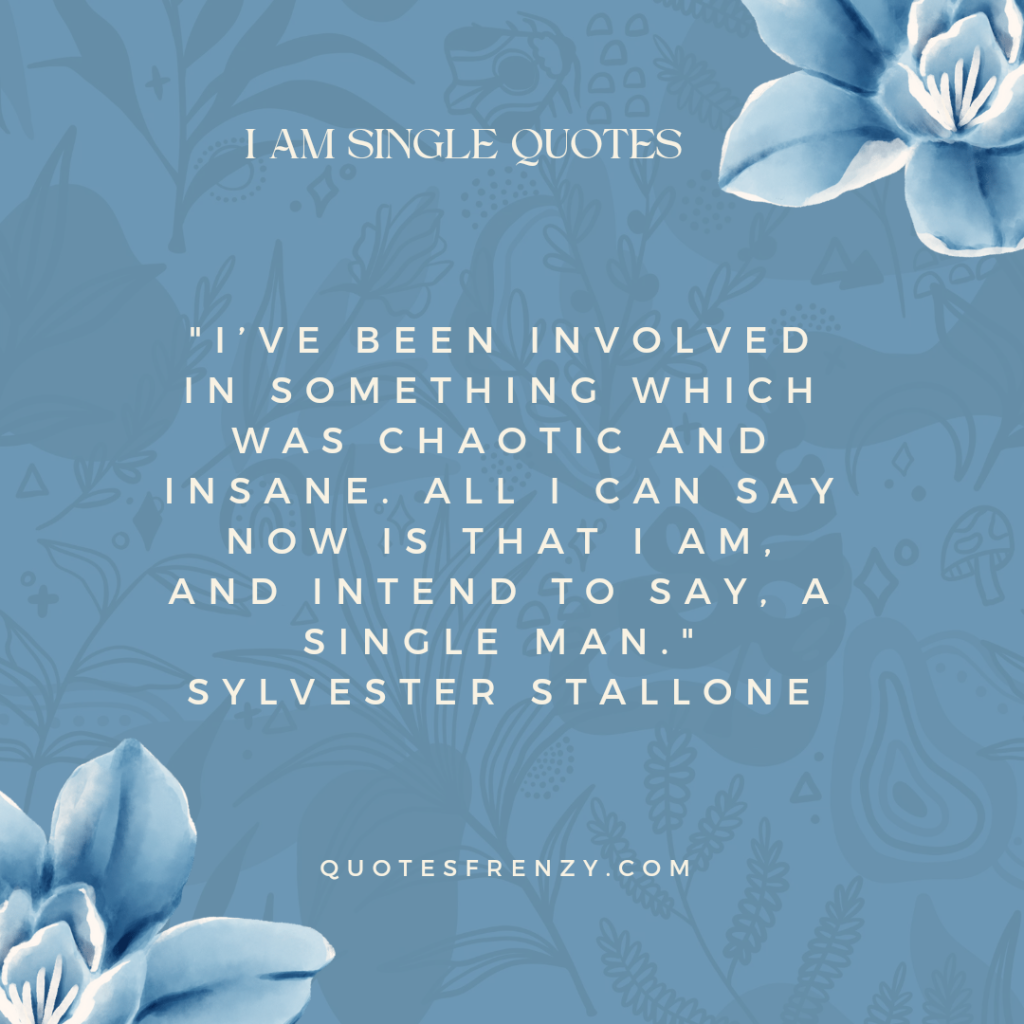 Have you ever wondered why single people are single? Some have chosen to live that life which is totally fine. However, others have been forced into living a solitary life. According to Sylvester Stallone being single is because the previous relationship was like hell. This is so if they did not see any signs at the beginning of the relationship. The damage sometimes can never be recovered from.
If you're a single man and you happen to be in this business, you're deemed a player. But I do not see myself as a ladies man – Bradley Cooper
Many women have reported that Bradley Cooper is very handsome, I agree. Being a successful and famous bachelor may not be easy sometimes. Bradley an actor and movie producer faced challenges as a single guy. His quote confirms that if you are a single man in the movie industry you are mistaken to be a player. It is true that many women may feel drawn to you as a movie actor, but you do not have to take advantage of the situation.
As a single person, don't worry about peoples' opinion. As a society, we should learn from I am single quotes to understand single people.