2Pac Quotes-In life, challenges simply are what they are; challenges and nothing more or less than that. There are several perspectives on life and what a person sees is what their reality becomes as no one can give you what you would not take for yourself. To a person, a cup of water is half empty; to another, it is half full.
---
"Death is not the greatest loss in life. The greatest loss is what dies inside while still alive. Never surrender." Tupac Shakur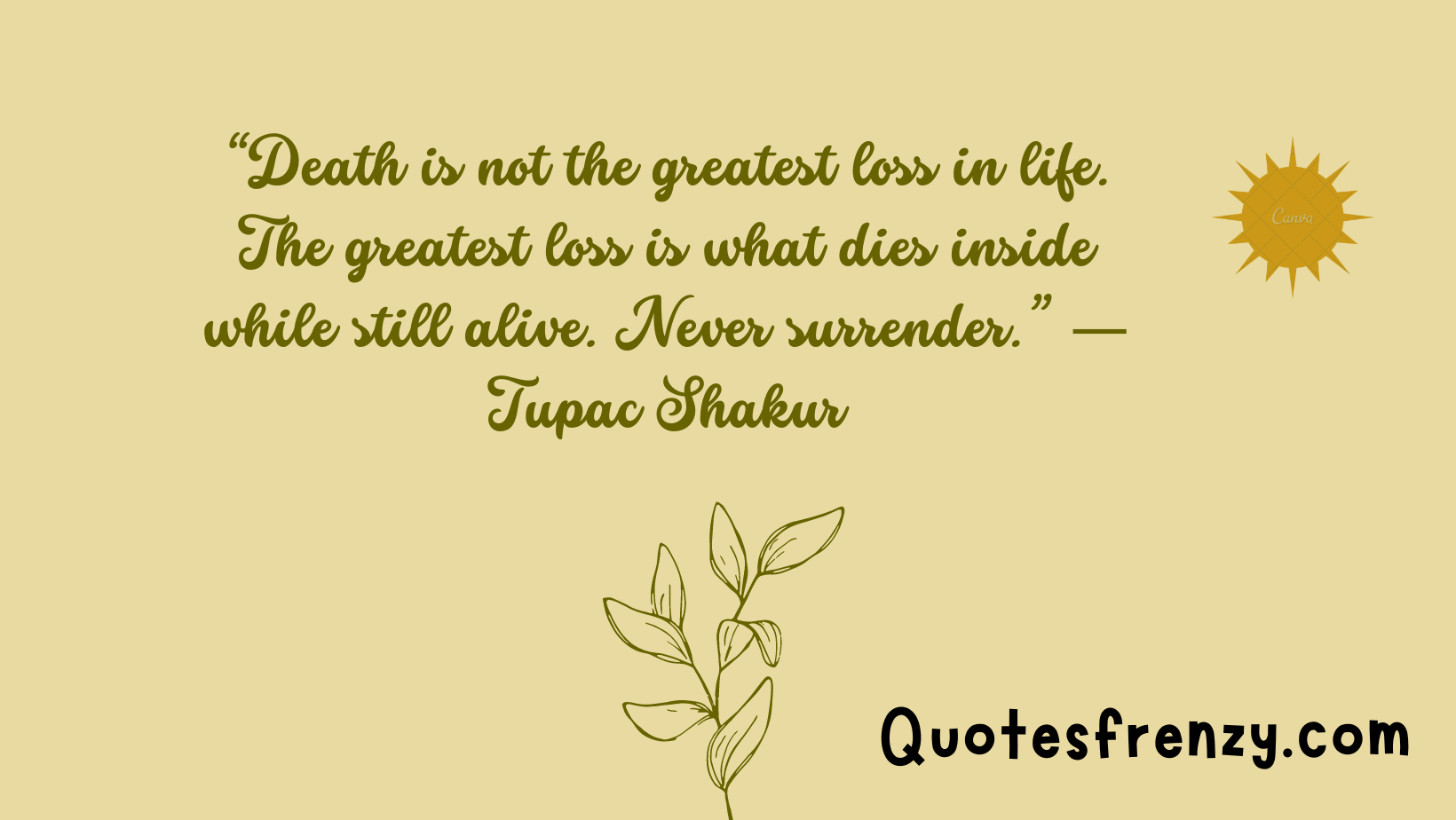 The irony of life and dreams
Every day comes with its many challenges. But if looked at critically, they are stepping stones to greater heights. Success presents itself in the form of a problem so that only the prepared can get through to it. Agreed, in the grave lie the greatest minds that ever walked the face of the earth but never wrote the most excellent books or poems, nor sang the most awesome song and more.
---
28 '2Pac 'Quotes
---
"A coward dies a thousand times, a soldier dies but once." Tupac Shakur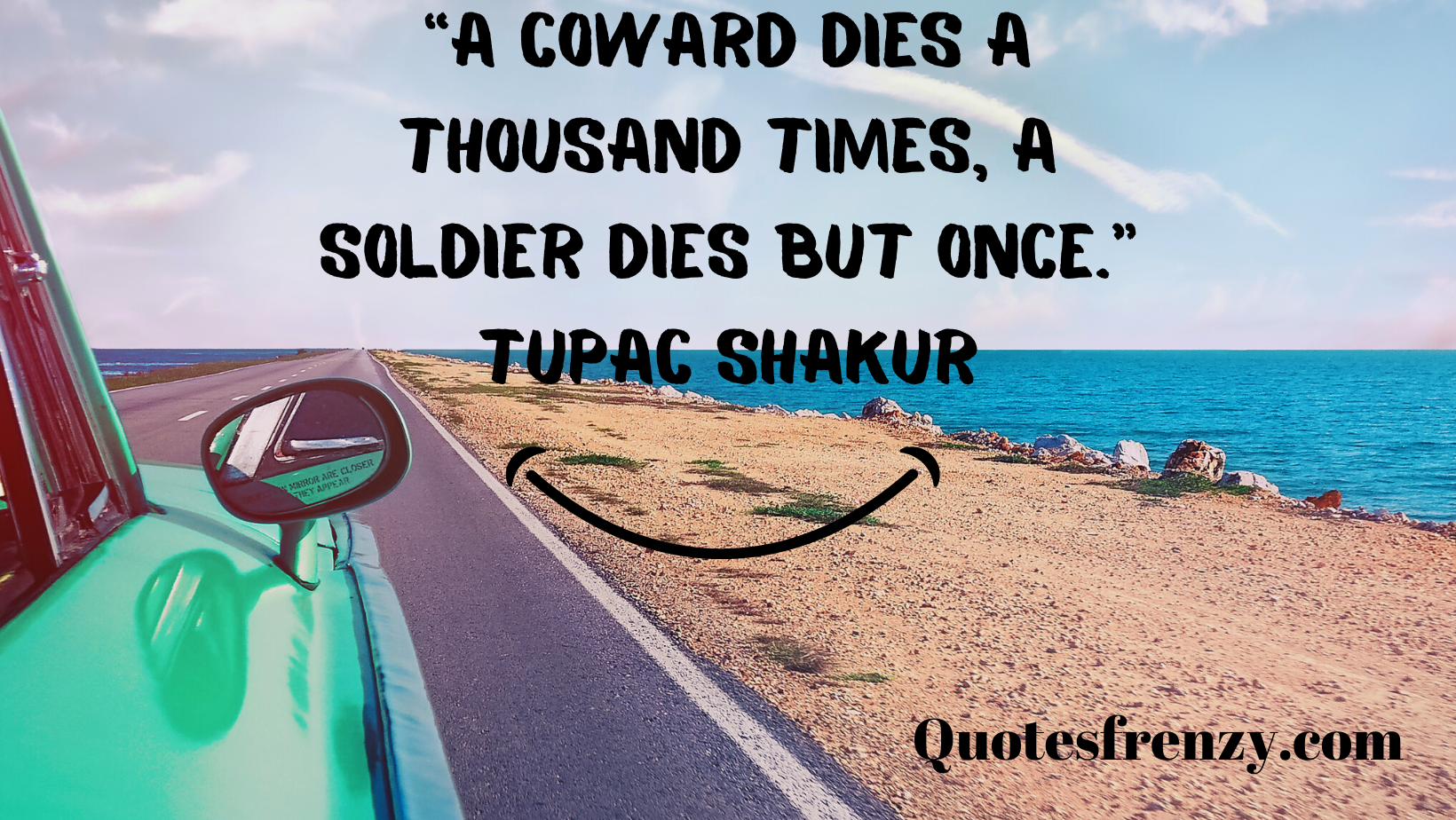 ---
"Everybody's at war with different things…I'm at war with my own heart sometimes." Tupac Shakur
---
"It seems like every time you come up something happens to bring you back down." Tupac Shakur
---
---
"All I'm trying to do is survive and make good out of the dirty, nasty, unbelievable lifestyle that they gave me." Tupac Shakur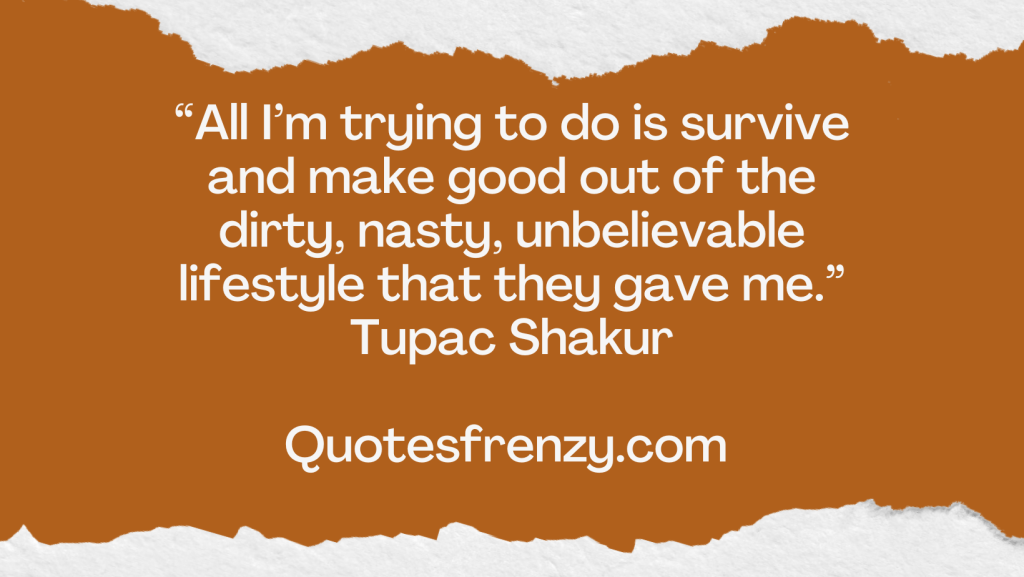 ---
"It's kinda hard to be optimistic, When your homies lying dead on the pavement twisted." Tupac Shakur
---
"During your life, never stop dreaming. No one can take away your dreams." Tupac Shakur
---
"I don't have no fear of death. My only fear is coming back reincarnated." Tupac Shakur
---
"Reality is wrong. Dreams are for real." Tupac Shakur
---
"Don't change on me. Don't extort me unless you intend to do it forever." Tupac Shakur
---
---
"Fear is stronger than love, remember that. Fear is stronger than love, all that love I gave didn't mean nothing when it came to fear." Tupac Shakur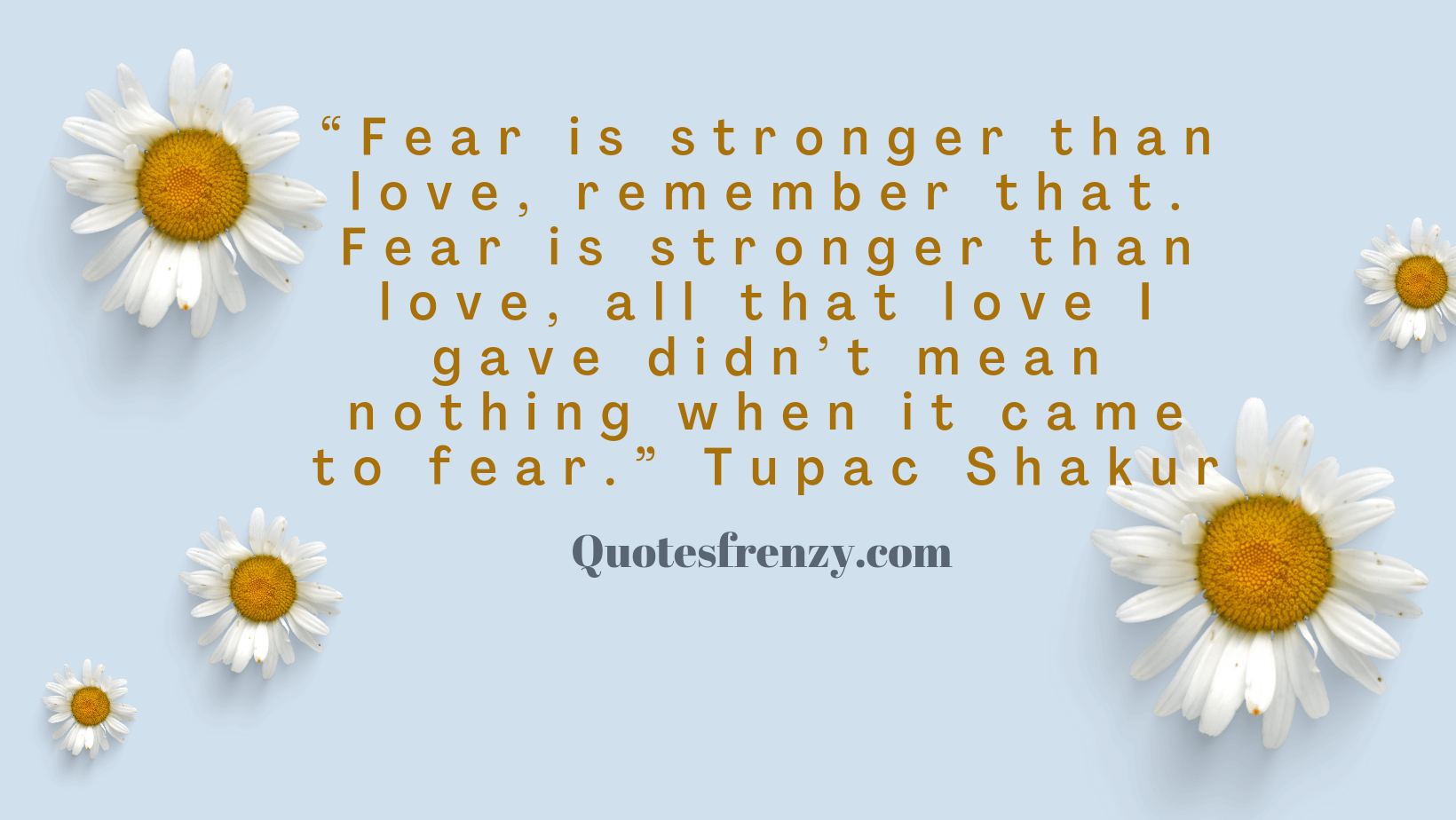 ---
"There's nobody in the business strong enough to scare me." Tupac Shakur
---
"Love IS the People's Power." Tupac Shakur
---
"I'm not saying I'm gonna change the world, but I guarantee that I will spark the brain that will change the world." Tupac Shakur
---
"My mama always used to tell me: 'If you can't find somethin' to live for, you best find somethin' to die for." Tupac Shakur
---
"Can't close my eyes cause all I see is terror
I hate the man in the mirror
Cause his reflection makes the pain turn realer."    Tupac Shakur
---
"Thug Life to me is dead." Tupac Shakur
---
---
"The hard times make a true friend afraid to ask." Tupac Shakur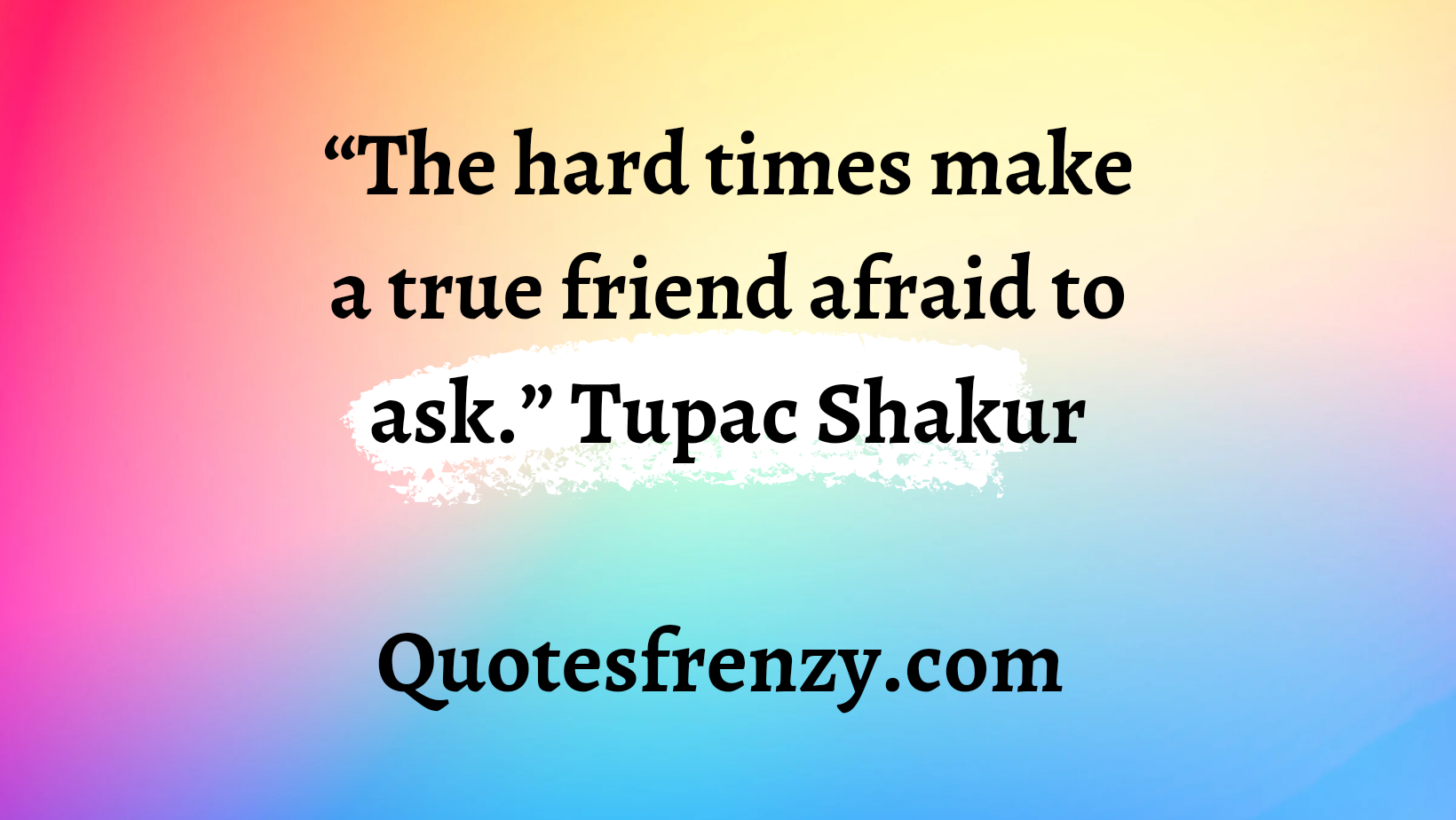 ---
"The only time I have problems is when I sleep." Tupac Shakur
---
"For every dark night, there's a brighter day." Tupac Shakur
---
"Study your lessons, don't settle for less." Tupac Shakur
---
"The eyes of mortal men, threaten you with doom
They regret to see you, set, but it is time, for the moon."Tupac Shakur
---
"Tomorrow I see change, a chance to build a new. Built on spirit intent of heart, and ideals based on truth."Tupac Shakur
---
"You gotta keep ur head up even when the road is hard never give up." Tupac Shakur
---
"The only thing that comes to a sleeping man is dreams." Tupac Shakur
---
"We all gonna die, we bleed from similar veins." Tupac Shakur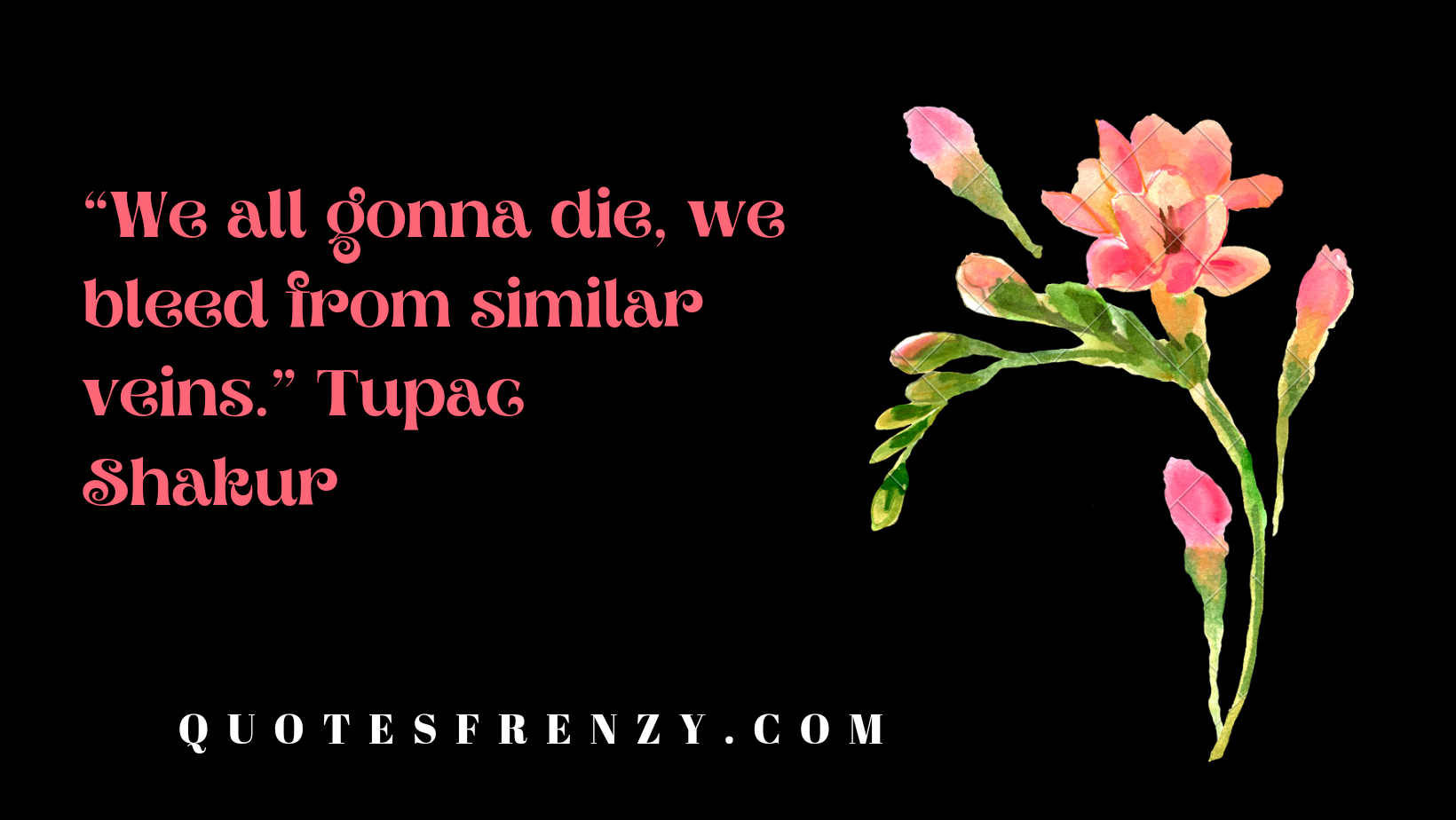 ---
The grave is filled with so many unsung heroes but better still and just like 2Pac Quotes; there are equally many unsung heroes alive. Heroes who if they do not brace up to face the challenges that are making a mockery of their existence would become just another number in the grave with the inscription: Hole Stone (1919 – 1987) and nothing more.
---
Finding your sparks
The keys to finding oneself are on the inside of every person. It would take a sheer will to live, fight and stand tall irrespective of whatever mountain is before a person. Certain things are common to all: love, joy, peace, sun, moon, etc. and guess what; it is universal to all. While some people live their lives responding to problems, blaming others for everything; some others live their lives findings answers to every question that arises in their lives.
A person starts dying when he believes that their current problem is peculiar to them and blame everything or everyone else but themselves. To stand tall does not mean there are no problems; it only means it is time to stand, take the first step and the next till you are no longer where you used to be.
Today, people make reference to 2Pac Quotes, but standing tall in the face of the fall is the kind of stuff that made 2Pac a legend.  Decades after the death of 25-year-old Tupac Shakur his memory still lives on. He was one of the world's best-selling musical artists ever with over 75 million copies of his songs sold. He is a musical maestro who touched many with the content of his words, inspiring thousands of young rappers and singers. So what would you want to be remembered for haven achieved?