Respect for others means acknowledging each other,listening to other's opinions, their feelings, their time, and their personal space. It also means you should do unto others, as you would have them do unto you.
Looking for the best respect quotes? We've compiled a list of top 100 quotes and sayings on this topic.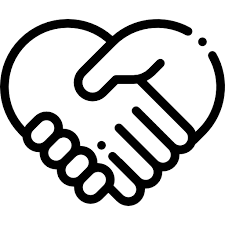 ---
Top 100 Respect Quotes
---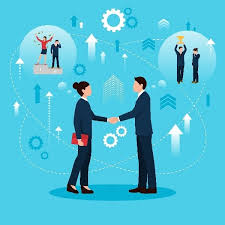 ---
"Most good relationships are built on mutual trust and respect." – Mona Sutphen
---
"If we lose love and self respect for each other, this is how we finally die." – Maya Angelou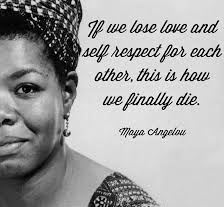 ---
"Without feelings of respect, what is there to distinguish men from beasts?" – Confucius
---
"When you are content to be simply yourself and don't compare or compete, everybody will respect you." – Lao Tzu
---
"Respect yourself and others will respect you." – Confucius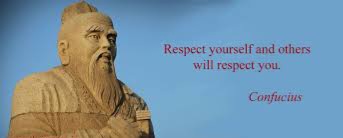 ---
"Men are respectable only as they respect." – Ralph Waldo Emerson
---
"A man who pays respect to the great paves the way for his own greatness." – African proverb
---
"They cannot take away our self-respect if we do not give it to them." – Mahatma Gandhi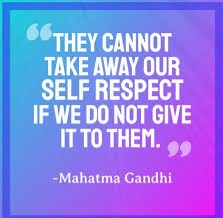 ---
"Respect yourself if you would have others respect you." – Baltasar Gracian
---
"If you want to be respected by others, the great thing is to respect yourself. Only by that, only by self-respect will you compel others to respect you." – Fyodor Dostoyevsky
---
"Everyone should be respected as an individual, but no one idolized." – Albert Einstein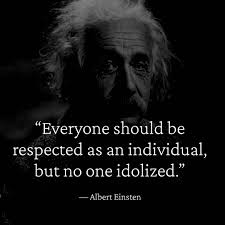 ---
"You can't respect yourself if you're afraid to be who you are." – Amber Heard
---
"Respect is a two-way street, if you want to get it, you've got to give it." – R.G. Risch
---
"When I look at a person, I see a person – not a rank, not a class, not a title." – Criss Jami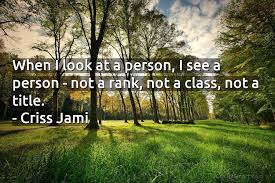 ---
"As we grow as unique persons, we learn to respect the uniqueness of others." – Robert Schuller
---
"I must respect the opinions of others even if I disagree with them." – Herbert H. Lehman
---
"Respect begins with this attitude: I acknowledge that you are a creature of extreme worth." – Gary Chapman
---
"This is how you start to get respect, by offering something that you have." – Mitch Albom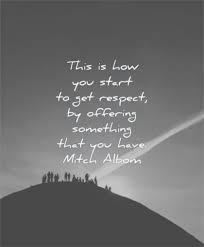 ---
"If you truly want to be respected by people you love, you must prove to them that you can survive without them." – Michael Bassey Johnson
---
"Respecting someone indicate the quality of your personality." – Mohammad Rishad Sakhi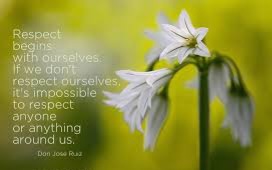 ---
"A person's a person, no matter how small." – Dr. Seuss
---
"I firmly believe that respect is a lot more important, and a lot greater, than popularity." – Julius Erving
---
"Respect comes in two unchangeable steps: giving it and receiving it." – Edmond Mbiaka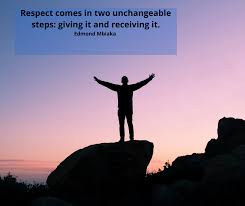 ---
"Treat people the way you want to be treated. Talk to people the way you want to be talked to. Respect is earned, not given." – Hussein Nishah
---
"He that respects himself is safe from others; he wears a coat of mail that none can pierce." – Henry Wadsworth Longfellow
---
"I speak to everyone in the same way, whether he is the garbage man or the president of the university." – Albert Einstein
---
"Respect a man, he will do the more." – James Howell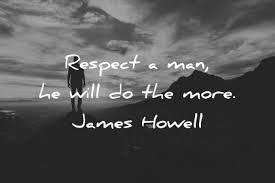 ---
"If you live what you believe, you will always have the respect of others." – Dale Murphy
---
"I don't wait for people to give me respect. I always give them respect." – Mariano Rivera
---
"With me, what you see is what you get. I try to treat everyone with respect." – Dustin Johnson
---
"The only respect you should have is the one you earn." – Stellan Skarsgard
---
"Respect for another man's opinion is worthy. It is the realization that any opinion is valuable, for it is the sign of a rational being." – Sargent Shriver
---
"Respect is one of the greatest expressions of love." – Don Miguel Ruiz
---
"The only thing I command is respect." – Kyrie Irving
---
"Respecting people is an important part of life, whether it's the person doing janitorial work or the person above you. It doesn't matter who you are: I'm going to respect you." – Andy Reid
---
"You must respect people, and you must respect money. My father said to me: 'When you respect money, money will respect you." – Yaya Toure
---
"I always have tried to treat people with respect, the way I want to be treated." – Derek Jeter
---
"I just feel like if I do good work, then people should respect me for the work I do." – Scott Caan
---
"I believe no matter who you are, respect yourself, respect others." – Mo Farah
---
"Respect is what we owe; love, what we give." – Philip James Bailey
---
"He who wants a rose must respect the thorn." – Persian Proverb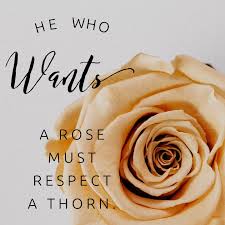 ---
"All sides must learn to respect one another." – Reuven Rivlin
---
"When we respect everybody around us, we are in peace with everybody around us." – Don Miguel Ruiz
---
"Everybody wants respect. In their own way, three-year-olds would like respect, and acknowledgment, in their terms." – Aretha Franklin
---
"Respect for the rights of others means peace." – Benito Juarez
---
"Once you figure out what respect tastes like, it tastes better than attention. But you have to get there." – Pink
---
"We must respect the interior laws of creation, of this Earth, to learn these laws and obey them if we want to survive." – Pope Benedict XVI
---
"I've been in enough positions to respect people with different views." – Condoleezza Rice
---
"Respect is one of life's greatest treasures. I mean, what does it all add up to if you don't have that?" – Marilyn Monroe
---
"Respect your efforts, respect yourself. Self-respect leads to self-discipline. When you have both firmly under your belt, that's real power." – Clint Eastwood
---
"Treat everyone with respect and kindness. Period. No exceptions." – Kiana Tom
---
"We all require and want respect, man or woman, black or white. It's our basic human right." – Aretha Franklin
---
"To the living we owe respect, but to the dead we owe only the truth." – Voltaire
---
"If we are not free, no one will respect us." – A. P. J. Abdul Kalam
---
"Knowledge will give you power, but character respect." – Bruce Lee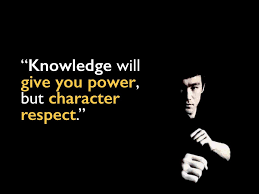 ---
"Show respect to all people, but grovel to none." – Tecumseh
---
"One of the most sincere forms of respect is actually listening to what another has to say." – Bryant H. McGill
---
"A child who is allowed to be disrespectful to his parents will not have true respect for anyone." – Billy Graham
---
"I respect everybody, but at the same time, I carry myself with an aura that demands respect, too." – Lil' Kim
---
"If you don't stand for something, how can anyone respect what you do?" – Miranda Lambert
---
"I respect myself and insist upon it from everybody. And because I do it, I then respect everybody, too." – Maya Angelou
---
"Life is short, and we should respect every moment of it." – Orhan Pamuk
---
"Respect for ourselves guides our morals, respect for others guides our manners." – Laurence Sterne
---
"It's important for couples to be friends first and to respect each other as individuals." – Anupam Kher
---
"Do we not realize that self respect comes with self reliance?" – A. P. J. Abdul Kalam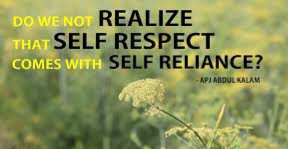 ---
"When you practice gratefulness, there is a sense of respect toward others." – Dalai Lama
---
"I'm not concerned with your liking or disliking me… All I ask is that you respect me as a human being." – Jackie Robinson
---
"Be peaceful, be courteous, obey the law, respect everyone; but if someone puts his hand on you, send him to the cemetery." – Malcolm X
---
"We don't need to share the same opinions as others, but we need to be respectful." – Taylor Swift
---
"The biggest ingredient in a best friend is someone whose actions you respect and who you can truly be yourself around." – Renee Olstead
---
"If we desire respect for the law, we must first make the law respectable." – Louis D. Brandeis
---
"I've been so lucky to work with such great people: people that are such hard workers and have such a respect and appreciation for one another." – Blake Lively
---
"There is no respect for others without humility in one's self." – Henri Frederic Amiel
---
"Be loyal to those who are loyal to you. And respect everyone, even your enemies and competition." – John Cena
---
"Don't let people disrespect you. My mom says don't open the door to the devil. Surround yourself with positive people." – Cuba Gooding Jr.
---
"The key is to learn to respect and honor the complications of other people's lives." – Goldie Hawn
---
"When we show our respect for other living things, they respond with respect for us." – Arapaho proverb
---
"Show respect even to people who don't deserve it; not as a reflection of their character, but a reflection of yours." – Unknown
---
"Respect has nothing to do with who is right and who is wrong. It has to do with allowing space for someone else's opinion." – Jackie Viramontez
---
"You must respect people and work hard to be in shape. And I used to train very hard. When the others players went to the beach after training, I was there kicking the ball." – Pele
---
"Self-respect is the fruit of discipline; the sense of dignity grows with the ability to say no to oneself." – Abraham Joshua Heschel
---
"Your peers will respect you for your integrity and character, not your possessions." – David Robinson
---
"Respect is the word I want. You have to earn it. You give, and you get it in return, that's how I see it." – Joe Torre
---
"Being brilliant is no great feat if you respect nothing." – Johann Wolfgang von Goethe
---
"Women absolutely deserve respect." – Aretha Franklin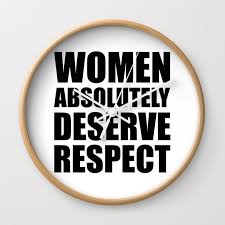 ---
"My one thing is respect. I don't care about anything else. You should respect everyone around you – the people who work for you, peers. Be classy." – Charli XCX
---
"I think the way to keep a friendship is to respect that everybody is different." – Emma Bunton
---
"Respect for women was a very important part of my upbringing." – Sam Hunt
---
"I try to respect everybody out here: players, caddies, fans, media." – Phil Mickelson
---
"My sisters and mom raised me to respect women and open doors for them." – Milo Ventimiglia
---
"In my day, we didn't have self-esteem, we had self-respect, and no more of it than we had earned." – Jane Haddam
---
"I respect people and expect that kind of respect back." – Dennis Franz
---
"I want to be very close to someone I respect and admire and have somebody who feels the same way about me." – Richard Bach
---
"I can be hurt only by people I respect." – Mary Balogh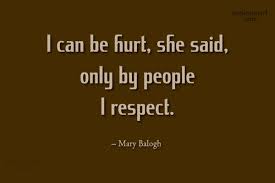 ---
"We respect our elders. There is wisdom that comes from experience, and I am not going to stop learning from wise counsel." – Marcia Fudge
---
"I was always taught to respect my elders and I've now reached the age when I don't have anybody to respect." – George Burns
---
"Disrespect for life is a direct reflection of violating the laws of the kingdom of love." – Sunday Adelaja
---
"When you have that respect from your teammates, it makes it a lot more comfortable." – LeBron James
---
"Honest communication is built on truth and integrity and upon respect of the one for the other." – Benjamin E. Mays
---
"Respect other people regardless of the level they are at or the level you are at. When you hand out respect, you get it back." – Erik Estrada