"Direction of your focus will be the direction of your life." I once read…
Focus allows you to do you work in a better and quicker way.Your ideas will flow easily and there will be less stress of work.If you are focused your goals and adjectives will be more clear.Plans and ideas about life will be more positive and effective as a result.
Looking for the best focus quotes? We've compiled a list of top 100 greatest quotes and sayings on focus.
---
Famous Focus Quotes
---
"Live life to the fullest, and focus on the positive." – Matt Cameron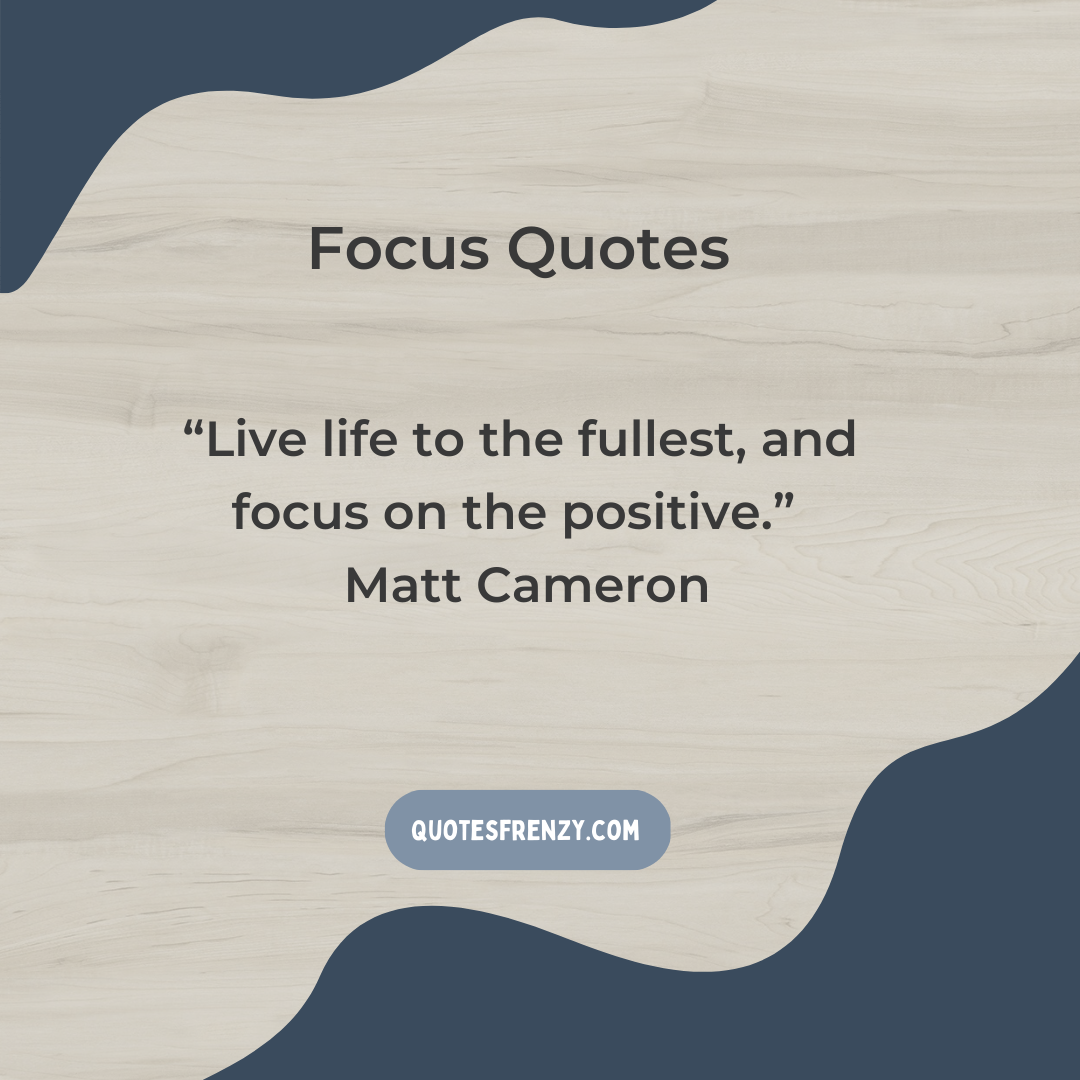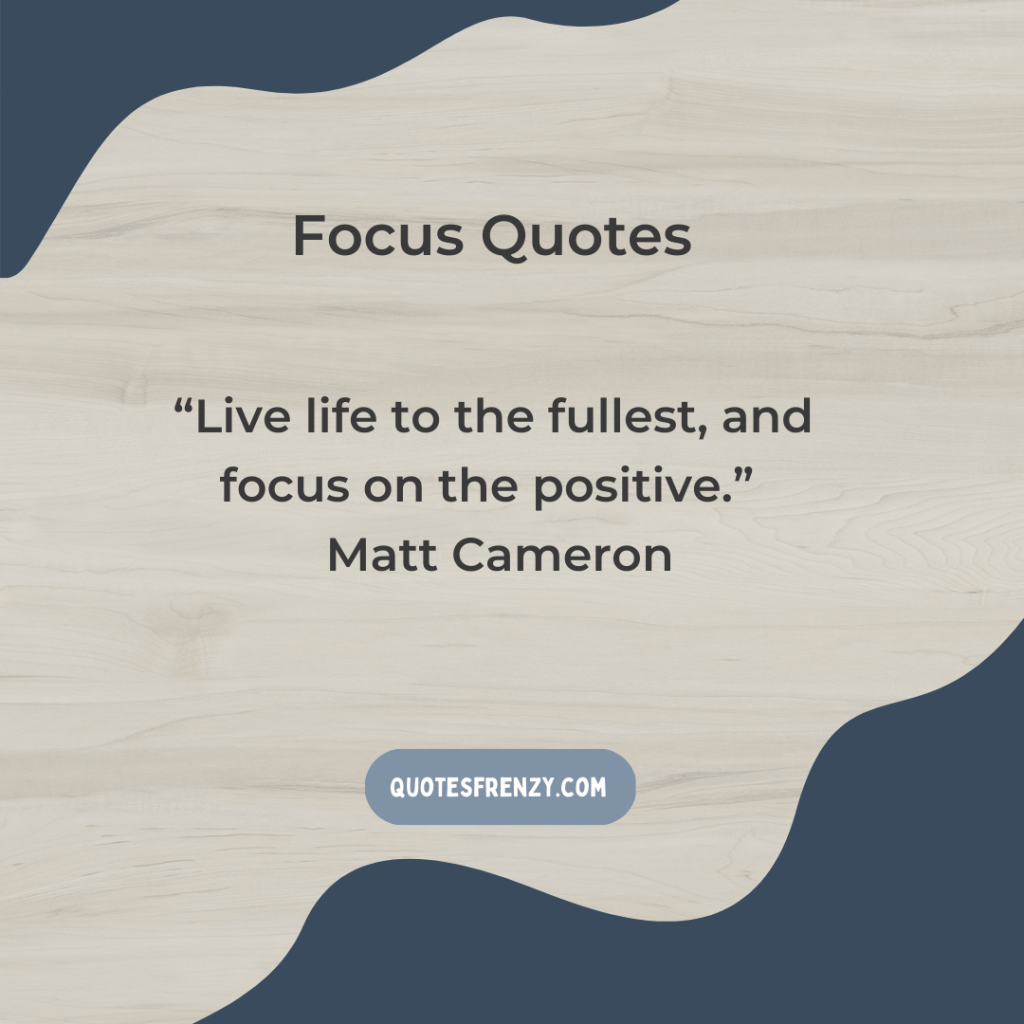 ---
Also read…
Just Because Quotes And Sayings
---
"The direction of your focus is the direction your life will move. Let yourself move toward what is good, valuable, strong and true." – Ralph Marston
---
"When you focus on being a blessing, God makes sure that you are always blessed in abundance." – Joel Osteen
---
"I learned that focus is key. Not just in your running a company, but in your personal life as well." – Tim Cook
---
"We only have a certain amount of energy for each day. If we use it for the wrong purpose, if we focus on the negative or dwell on whoever hurt us, then we're not going to have the energy we need for the right purposes." – Victoria Osteen
---
"I focus on one thing and one thing only – that's trying to win as many championships as I can." – Kobe Bryant
---
"Only one thing has to change for us to know happiness in our lives: where we focus our attention." – Greg Anderson
---
"I learned to focus and work hard and not give up. I learned that every obstacle is really an opportunity." – Jenna Ushkowitz
---
"The focus should not be on talking. Talk is cheap. It must be on action." – Howard Berman
---
"Instead of focusing on that circumstances that you cannot change – focus strongly and powerfully on the circumstances that you can." – Joy Page
---
"I think everybody should focus on inner beauty." – Paloma Faith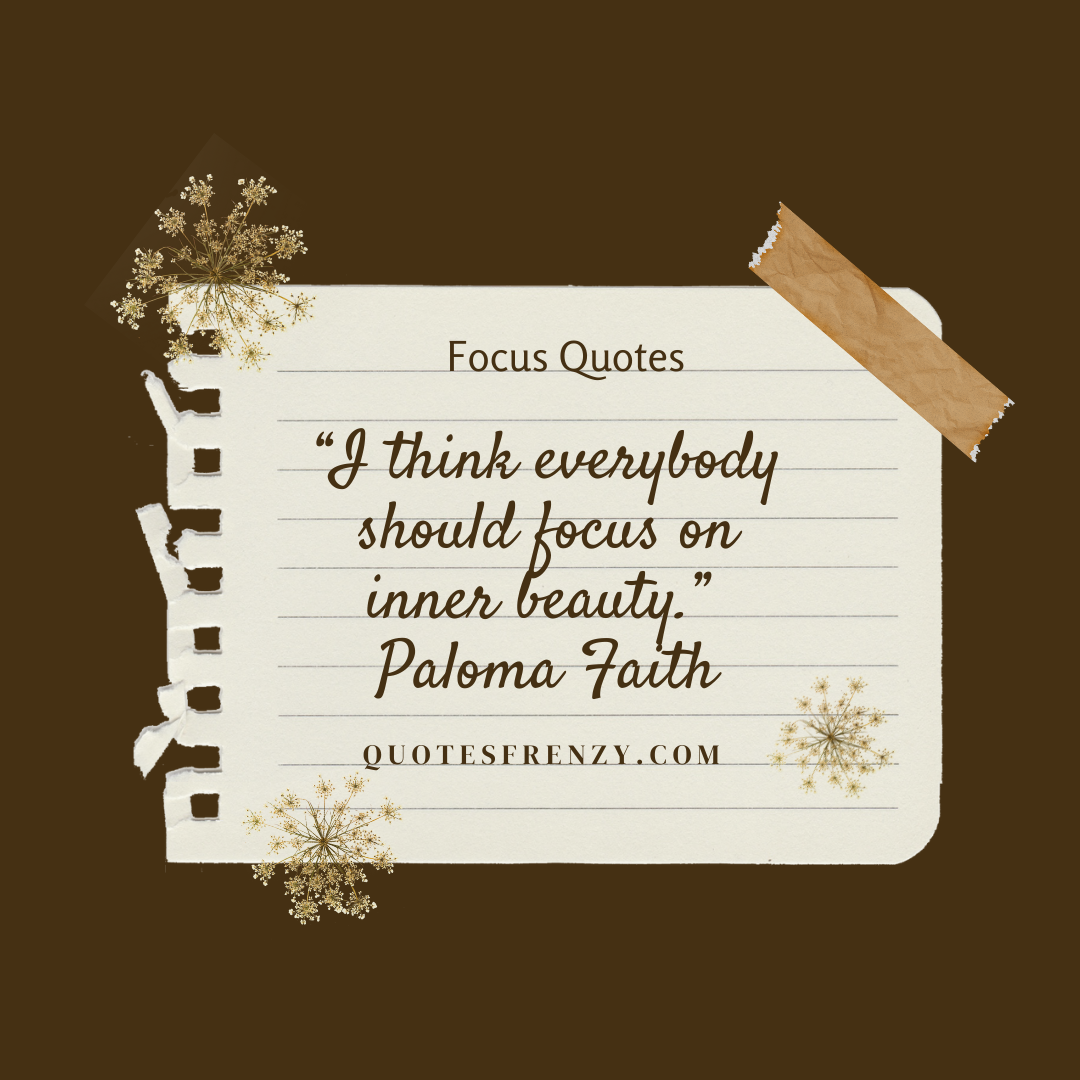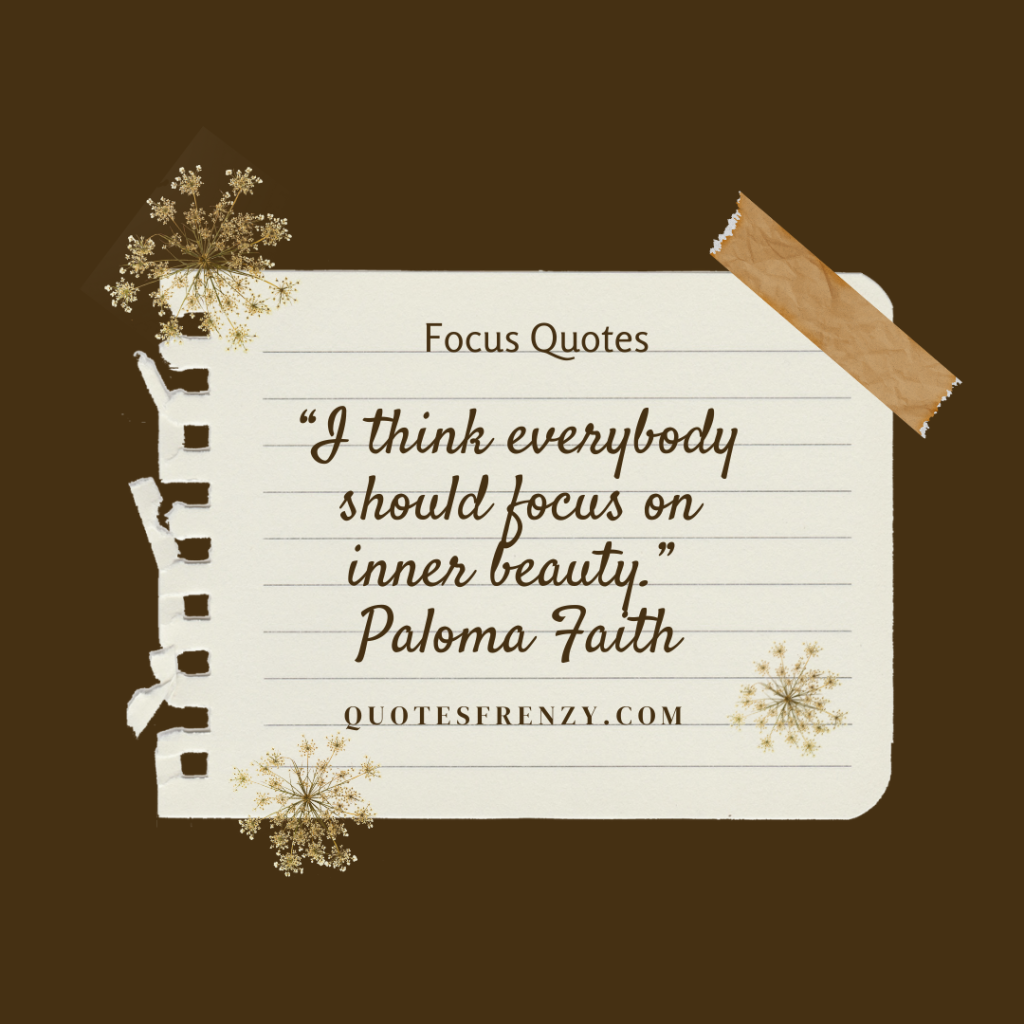 ---
"Over the years, I've learned, focus on the job at hand, and opportunities will open after." – Antonio Villaraigosa
---
"Focus comes a lot more easily when you desperately want the results of your own work – nobody else is going to do it for you." – Palmer Luckey
---
"Focus on doing the right things instead of a bunch of things." – Mike Krieger
---
"Focus is a matter of deciding what things you're not going to do." – John Carmack
---
"One of the secrets of a successful life is to be able to hold all of our energies upon one point, to focus all of the scattered rays of the mind upon one place or thing." – Orison Swett Marden
---
"I believe that as much as you take, you have to give back. It's important not to focus on yourself too much." – Nicole Kidman
---
"I only want to do better work. That's the focus of my life." – Ajay Devgan
---
"When you have a laser focus, and you get distracted by what other people say, you can lose that laser focus." – Anne Wojcicki
---
"Focus on the positives and be grateful." – Katrina Bowden
---
"If you focus more on the inside, you'll feel just as great about the outside. I feel attractive when I'm doing good and helping people." – Keke Palmer
---
"Choose to focus your time, energy and conversation around people who inspire you, support you and help you to grow you into your happiest, strongest, wisest self." – Karen Salmansohn
---
"I've told myself I have a chance to make history, and that's my focus." – Jordan Spieth
---
"I learned long ago to focus on things you can control and don't even pay attention to things you don't." – Bryan Cranston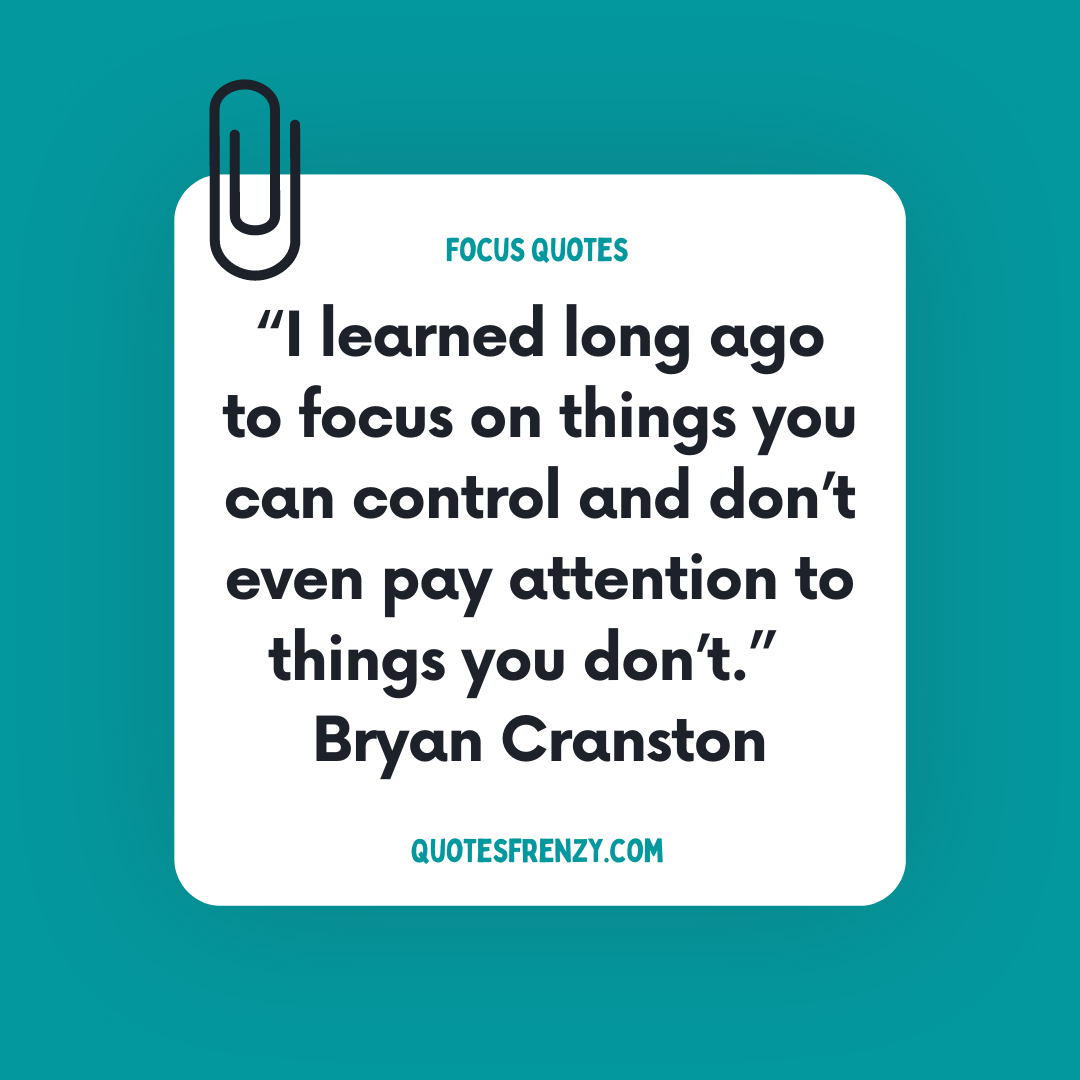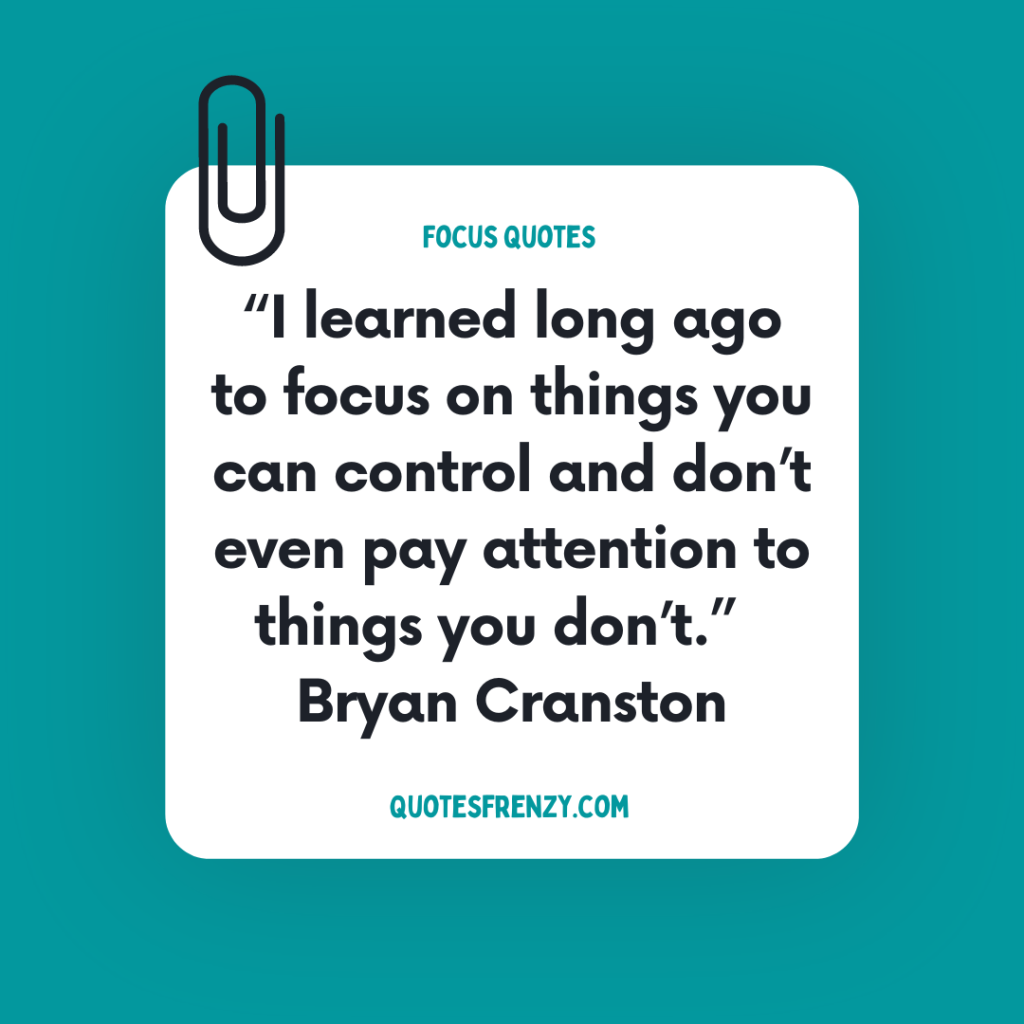 ---
"Every kid, every minority kid can be so successful if they focus on their education." – Magic Johnson
---
"When trouble comes, focus on God's ability to care for you." – Charles Stanley
---
"Focus 90% of your time on solutions and only 10% of your time on problems." – Anthony J. D'Angelo
---
"The earlier you learn that you should focus on what you have, and not obsess about what you don't have, the happier you will be." – Amy Poehler
---
"I learned to focus my energy on high-quality, long-term projects rather than lower-quality projects with quicker payoffs." – Steven Pinker
---
"I meditate and pray before going onstage – it helps me focus." – Harry Styles
---
"You have to focus on the future and know that you can succeed in life, and you have to keep working hard." – Dele Alli
---
"Don't focus on negative things; focus on the positive, and you will flourish." – Alek Wek
---
"You have to make sacrifices. You have to work out, to be relaxed in your mind, to focus on what you're doing." – Stan Wawrinka
---
"Good performance is about the capacity to focus and concentrate." – Betty Buckley
---
"My focus is to try to appreciate the present moment more and more and more." – Mike Posner
---
"Focus on your opinion of yourself and not the opinion others have of you." – Winnie Harlow
---
"I believe the only thing that we really have control over is our attitude. If we focus on the positive things in our lives and learn how to cope with all the surprises, we will be happier people." – Brandon Jenner
---
"Your focus should be on creating an environment where growth can occur and then letting nature take its course." – Patrick Lencioni
---
"My focus is on love and inclusiveness." – RuPaul
---
"The greatest gift is the ability to forget – to forget the bad things and focus on the good." – Joe Biden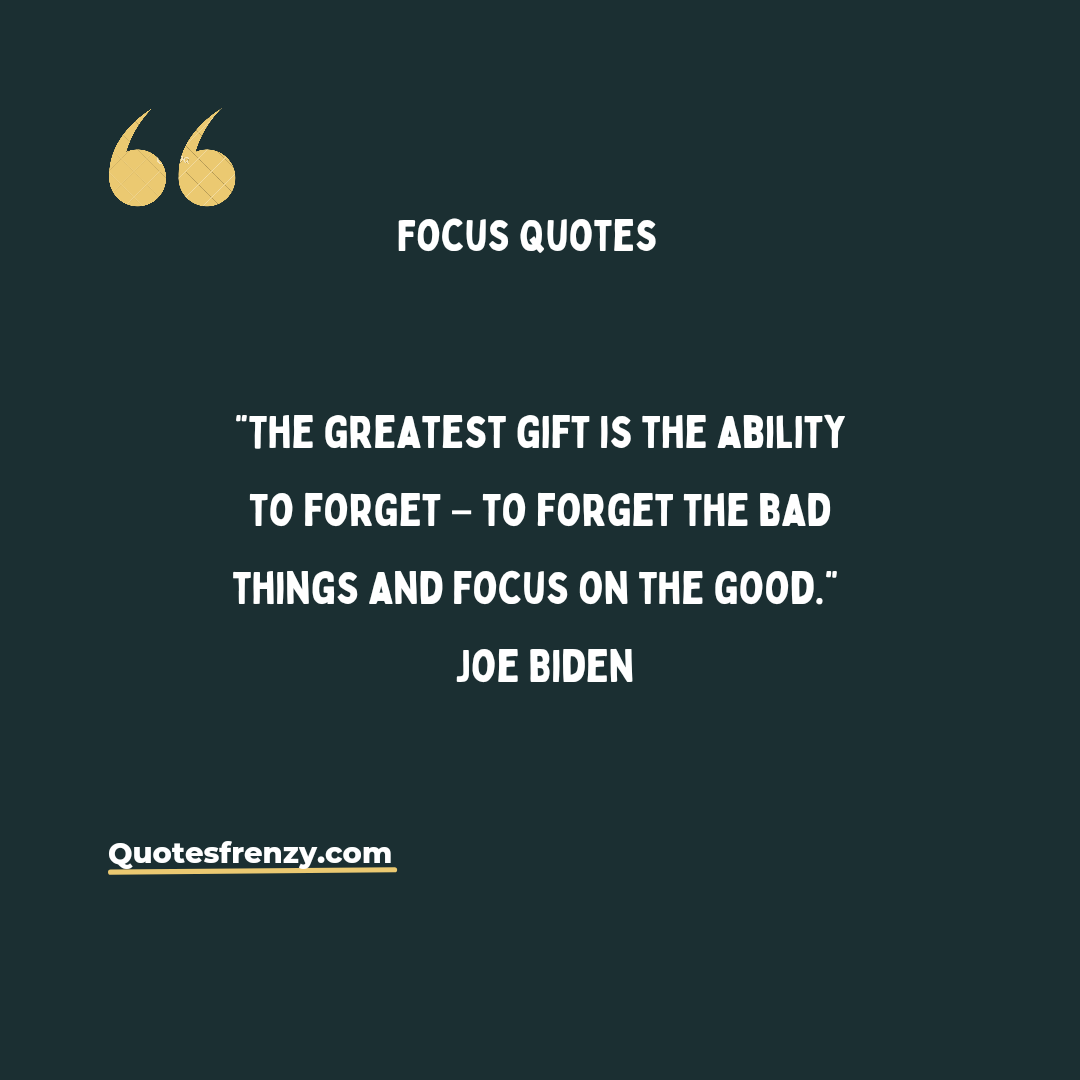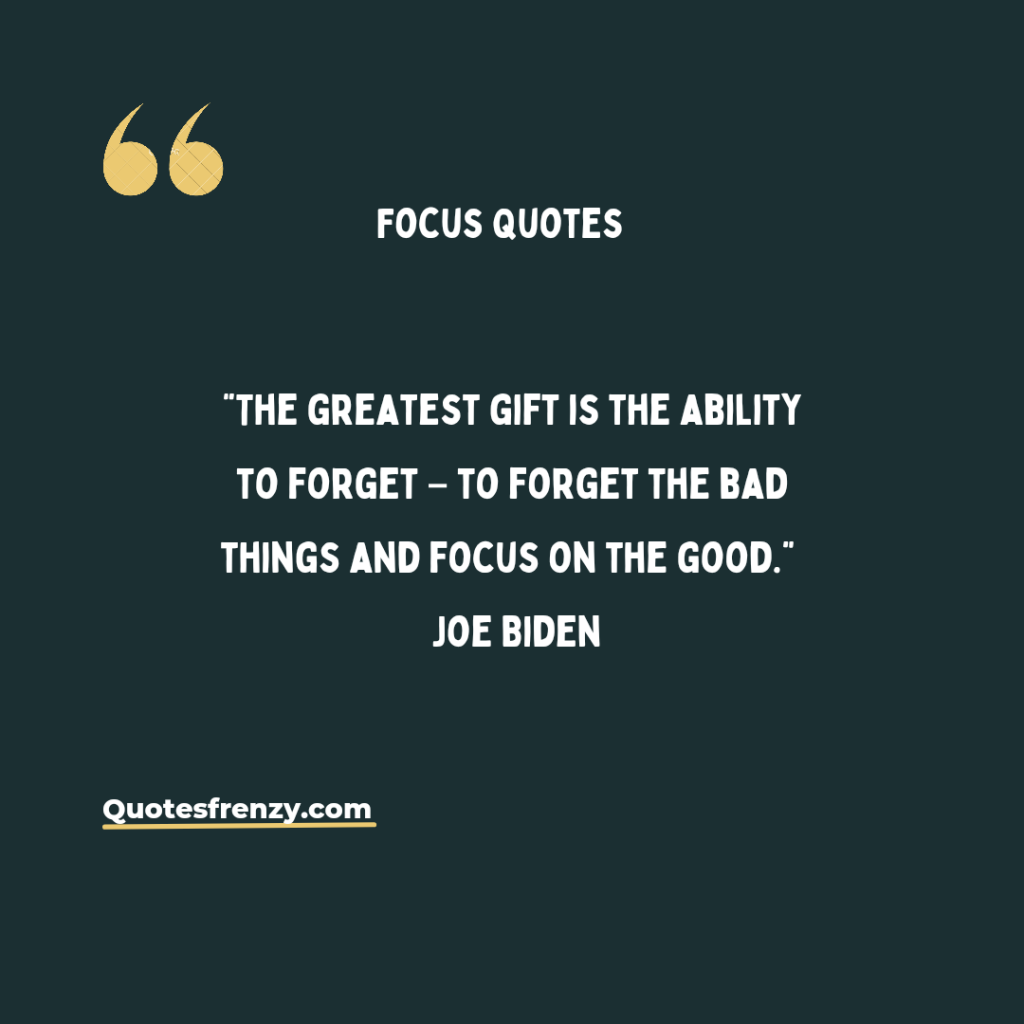 ---
"For me to compete at the highest level, training and living a healthy lifestyle is an everyday focus for me, and I'm excited to be a part of the Everyday Awesome team!" – Simone Biles
---
"I'm the kind of person who doesn't really focus on more negativity. I'm a positive person, and I look at things in a positive way." – Caster Semenya
---
"As an outside; don't worry about failure, because failure will take care of itself. Focus on success." – Henry Cavill
---
"I meditate. I breathe out what I can't control and focus on the positives." – Deepika Padukone
---
"For me, I've learned that the best thing is to focus on the team you play for and yourself and what you need to do." – Sidney Crosby
---
"If you want to have a good life, you should focus on your family, on your business, on your dog, on your fun, and you'll have a good life." – Adam Carolla
---
"Who cares about winning? We should focus on serving." – Justin Trudeau
---
"You can focus on things that are barriers or you can focus on scaling the wall or redefining the problem." – Tim Cook
---
"If you want to live a long life, focus on making contributions." – Hans Selye
---
"Let's just focus on unity and love." – Pam Bondi
---
"The best way to build the best workforce is to focus on the largest talent pool you have." – Mary Dillon
---
"My goal in the beginning was to buy my mother a house. Now I realize, okay, if I really focus and become a key player in business, then I can build an empire." – Nicki Minaj
---
"Focus on something that you have a passion for and hone that skill; it will make you feel confident about your ability." – Victoria Justice
---
"The key to success is to focus our conscious mind on things we desire not things we fear." – Brian Tracy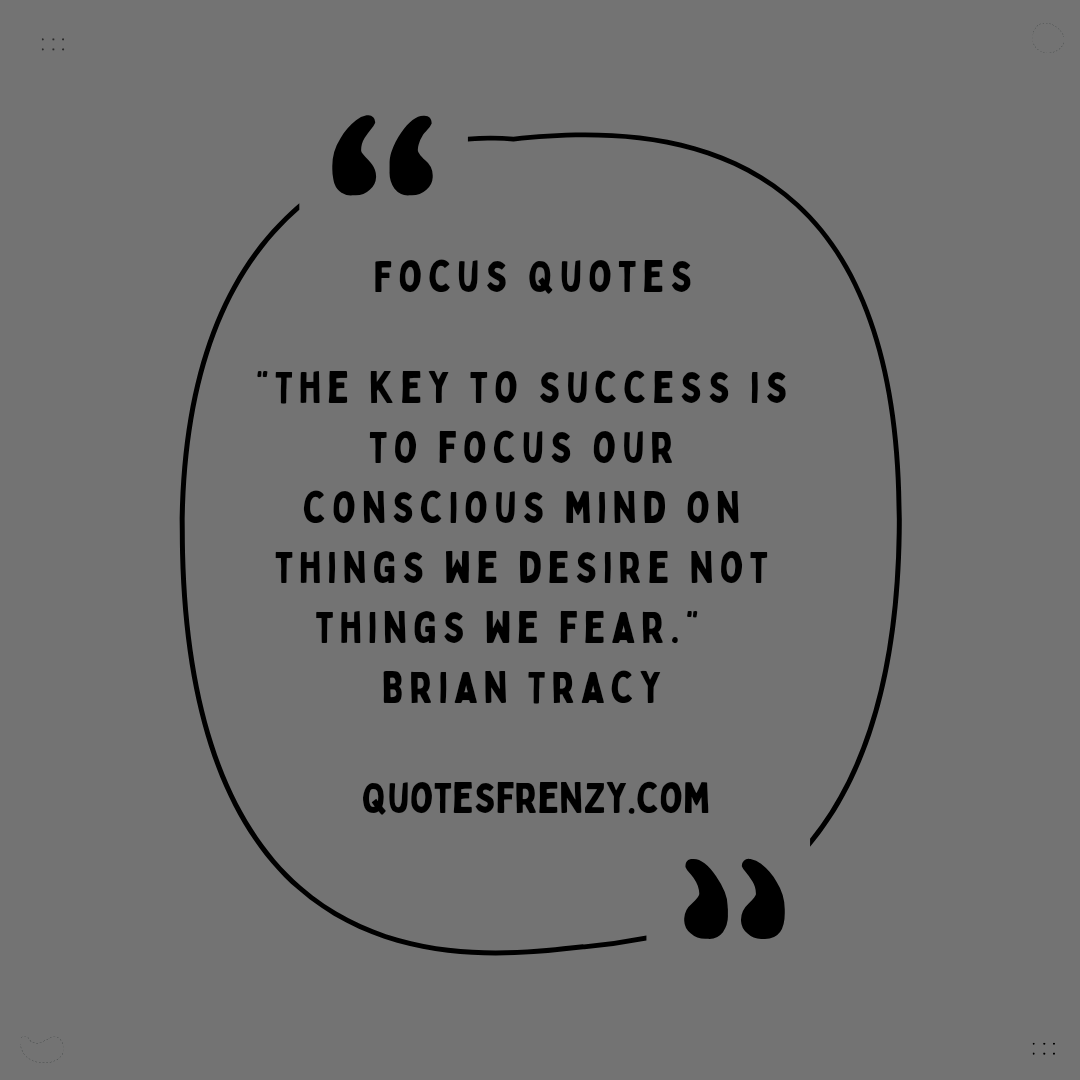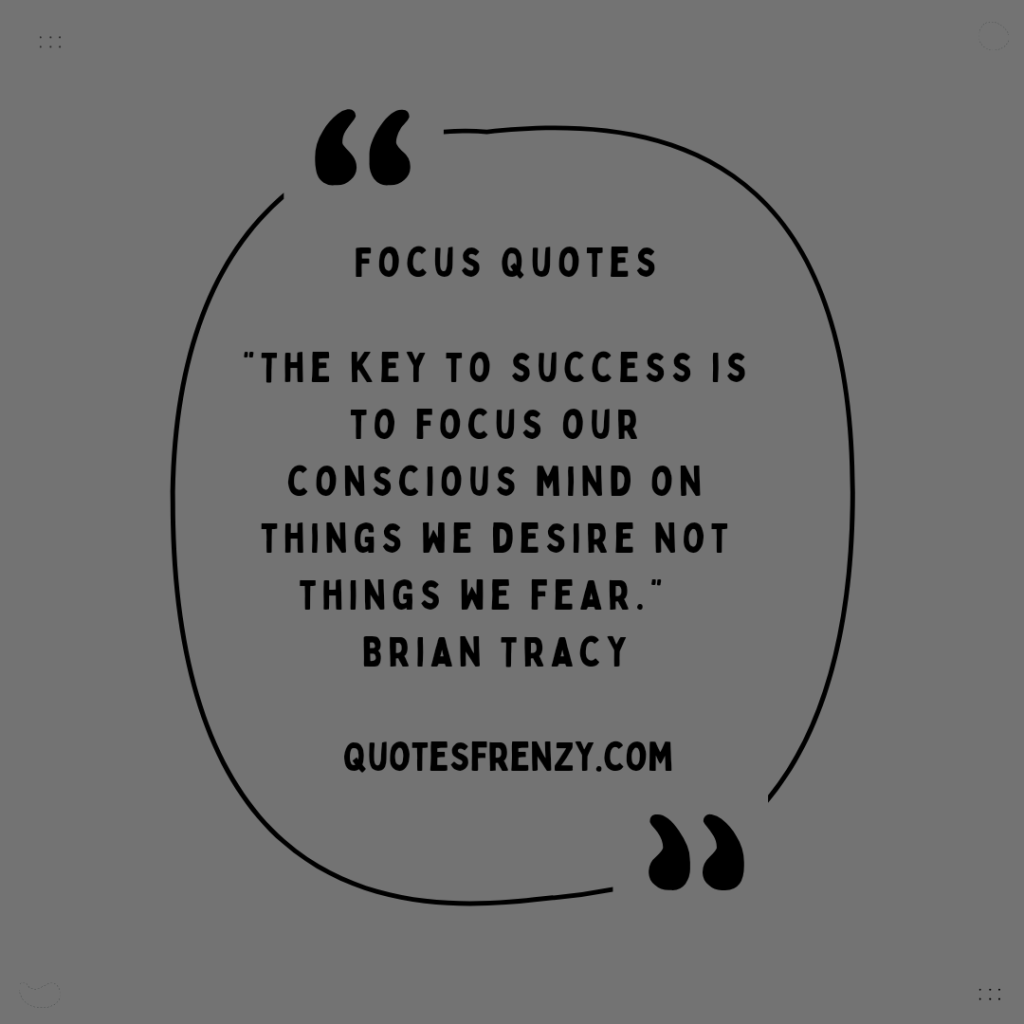 ---
"Each day, you can awake and focus on small, easy goals you can accomplish in the short term – goals that, over time, will lead you to your long-term goal." – Karen Salmansohn
---
"Every day is a gift from God. Learn to focus on the Giver and enjoy the gift!" – Joyce Meyer
---
"I don't think about the press or the crowds or the other leaders of the race. The focus is only on myself. As soon as I see the targets, I tune them out." – Magdalena Neuner
---
"Many people don't focus enough on execution. If you make a commitment to get something done, you need to follow through on that commitment." – Kenneth Chenault
---
"It is during our darkest moments that we must focus to see the light." – Aristotle
---
"If you want to be truly successful invest in yourself to get the knowledge you need to find your unique factor. When you find it and focus on it and persevere your success will blossom." – Sydney Madwed
---
"At the end of the day, you can't control the results; you can only control your effort level and your focus." – Ben Zobrist
---
"I work hard. I focus on myself and putting food on my dinner table before anything else. I don't worry about other artists. Worrying about the next person in a negative way is the wrong way to be." – Meek Mill
---
"I worried that people wouldn't like me. Now I try not to worry and focus on being happy." – Lea Michele
---
"For me, I don't think about size – I focus more on being powerful and confident." – Simone Biles
---
"Don't focus on the negativity. Focus on the positivity and the people that want you to do well; then, do it for them and for yourself. Sometimes I do things for myself. Sometimes I do things for my family. Sometimes I do things for my friends." – Roman Reigns
---
"True health infuses positive energy in the mind, body and spirit; it is a main focus in my life." – Maximillian Degenerez
---
"Anger is like a storm rising up from the bottom of your consciousness. When you feel it coming, turn your focus to your breath." – Thich Nhat Hanh
---
"Successful people maintain a positive focus in life no matter what is going on around them. They stay focused on their past successes rather than their past failures, and on the next action steps they need to take to get them closer to the fulfillment of their goals rather than all the other distractions that life presents to them." – Jack Canfield
---
"My focus is to forget the pain of life. Forget the pain, mock the pain, reduce it. And laugh." – Jim Carrey
---
"Like sheep that get lost nibbling away at the grass because they never look up, we often focus so much on ourselves and our problems that we get lost." – Allen Klein
---
"When we focus on our gratitude, the tide of disappointment goes out and the tide of love rushes in." – Kristin Armstrong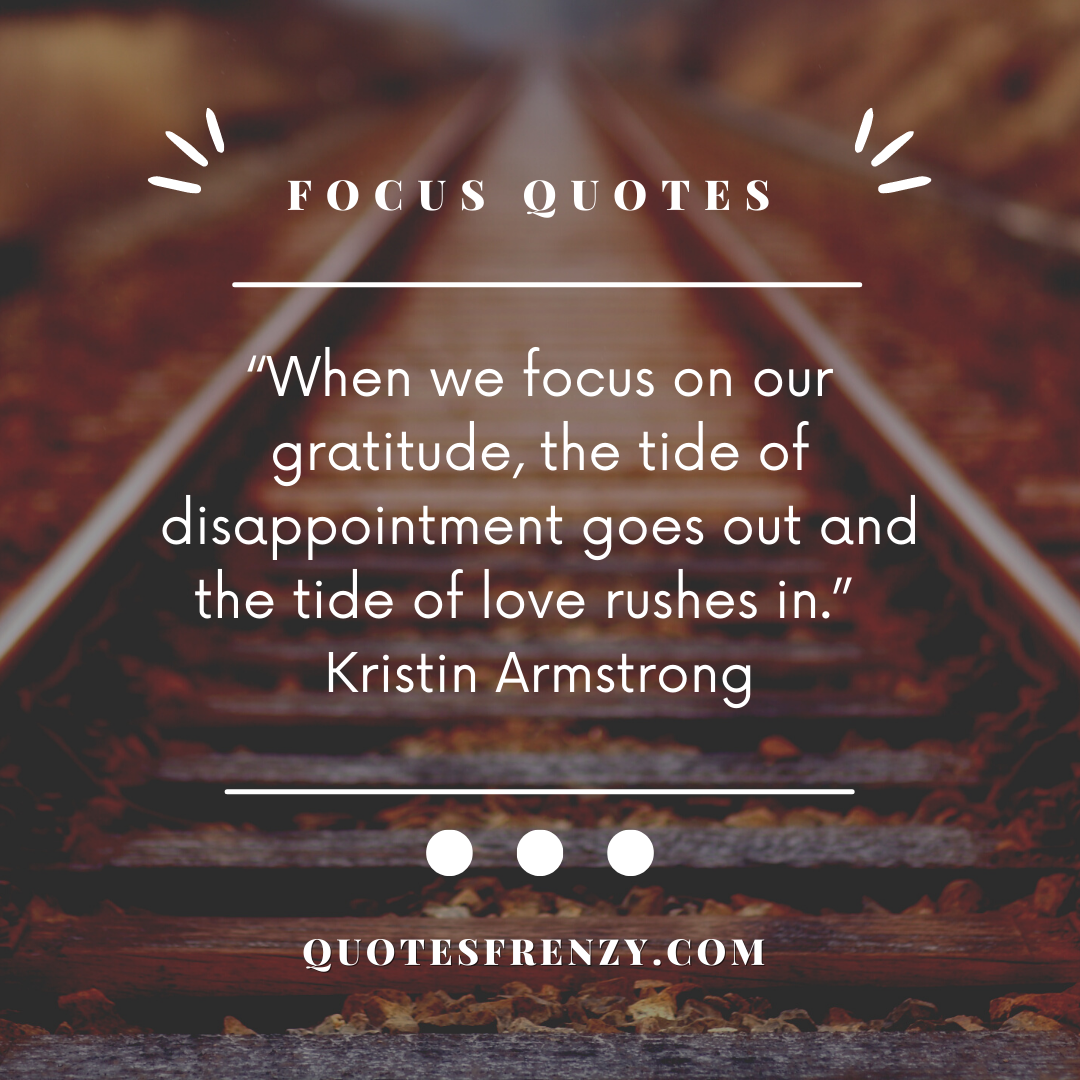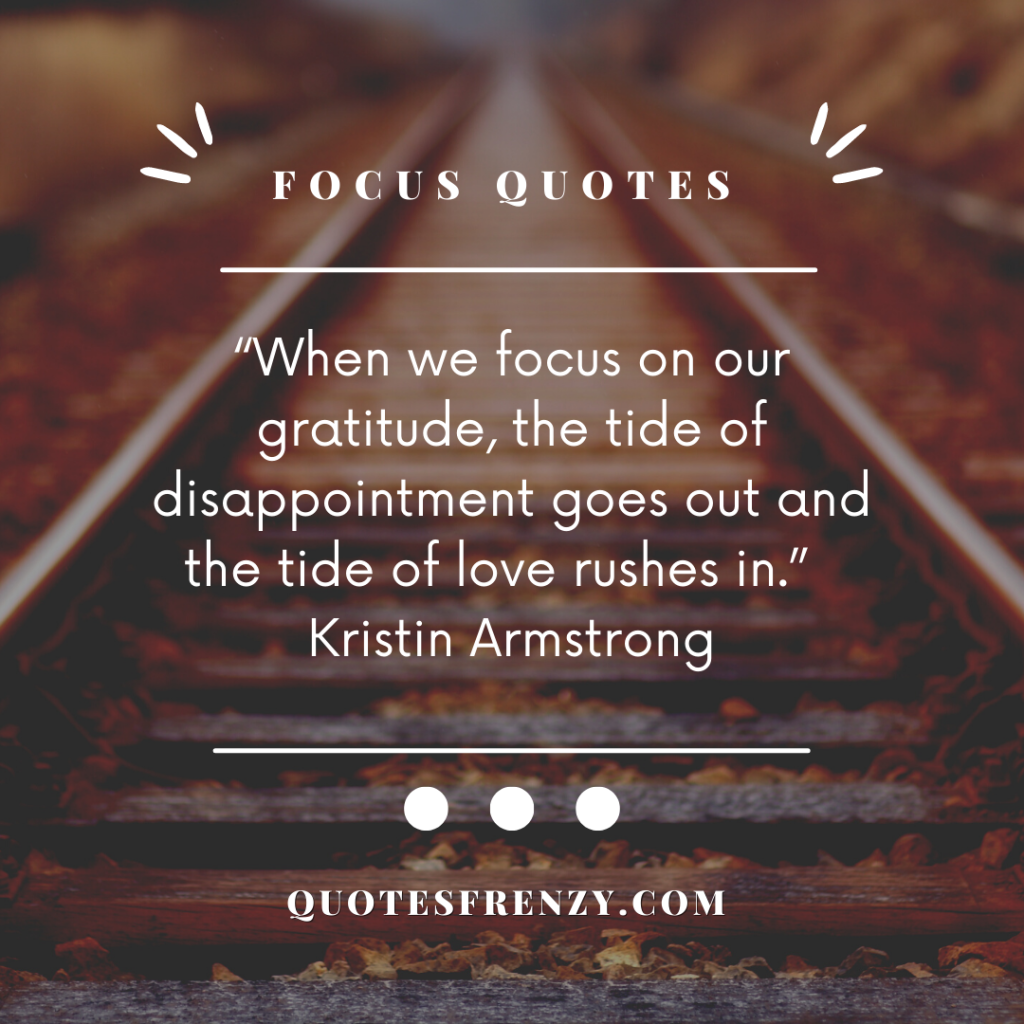 ---
"You can never let anything distract you from your main objective. My only goal is to be great. That's all I want. That's all I ever aspire to be. Greatness is something nobody can ever take away from you, no matter what happens. So I put all my energy and focus into my craft." – Larry Fitzgerald
---
"My focus is basketball, and that's it." – Kyrie Irving
---
"Figuring out what the next big trend is tells us what we should focus on." – Mark Zuckerberg
---
"My main focus is to always try to be myself first, and then, hey, if I wear a cool jacket, that's a bonus." – John Krasinski
---
"Realize deeply that the present moment is all you ever have. Make the Now the primary focus of your life." – Eckhart Tolle
---
"I believe that in life, you have to give things your best shot, do your best. You have to focus on what needs to be done, do the right thing, not the popular thing." – David Cameron
---
"It is wise to direct your anger towards problems – not people; to focus your energies on answers – not excuses." – William Arthur Ward
---
"Let me encourage you to get up every day and focus on what you do have in life. Be thankful for the blessings of the little things, even when you don't get what you expect." – Victoria Osteen
---
"Focus on the journey, not the destination. Joy is found not in finishing an activity but in doing it." – Greg Anderson
---
"I don't focus on what I'm up against. I focus on my goals and I try to ignore the rest." – Venus Williams
---
"Don't dwell on what went wrong. Instead, focus on what to do next. Spend your energies on moving forward toward finding the answer." – Denis Waitley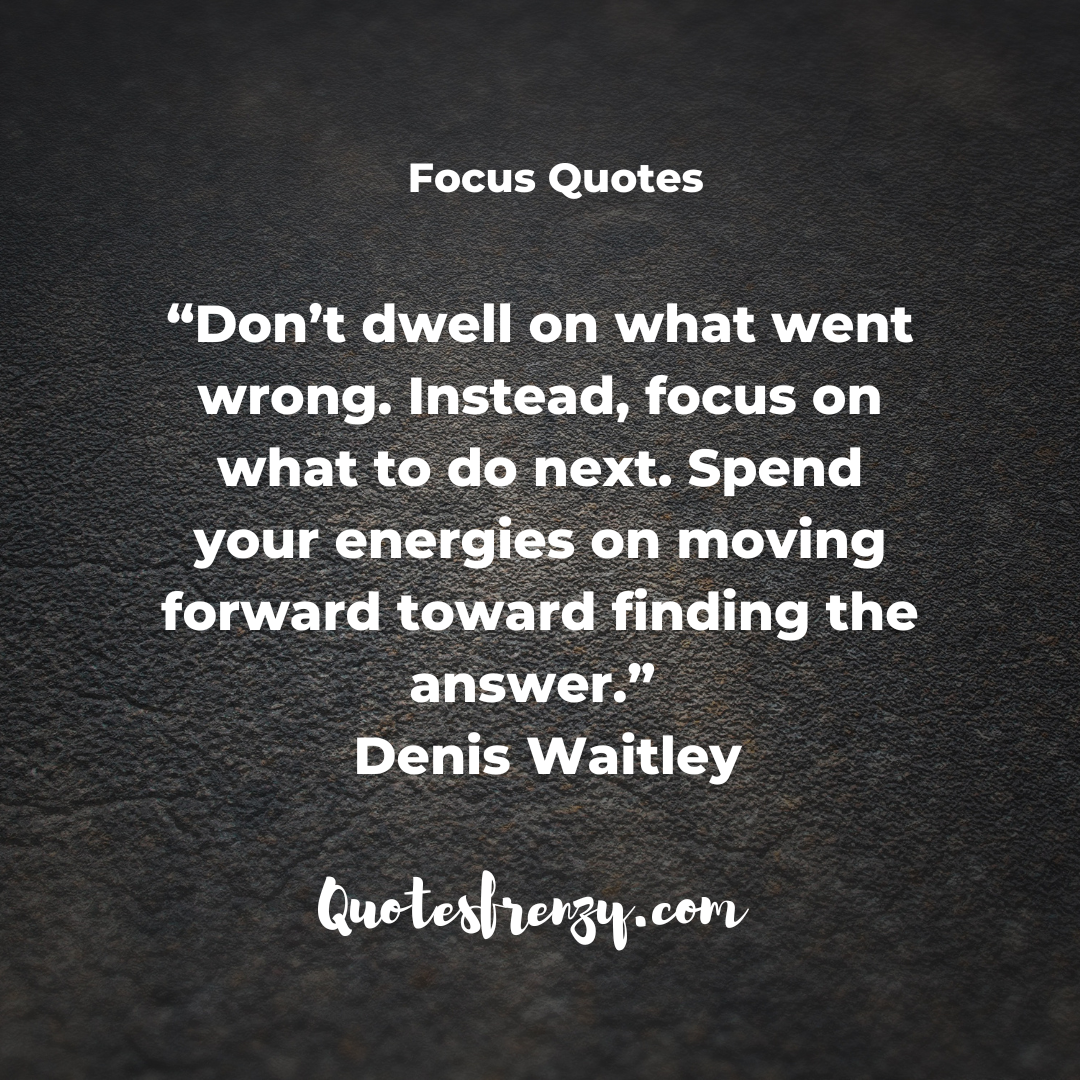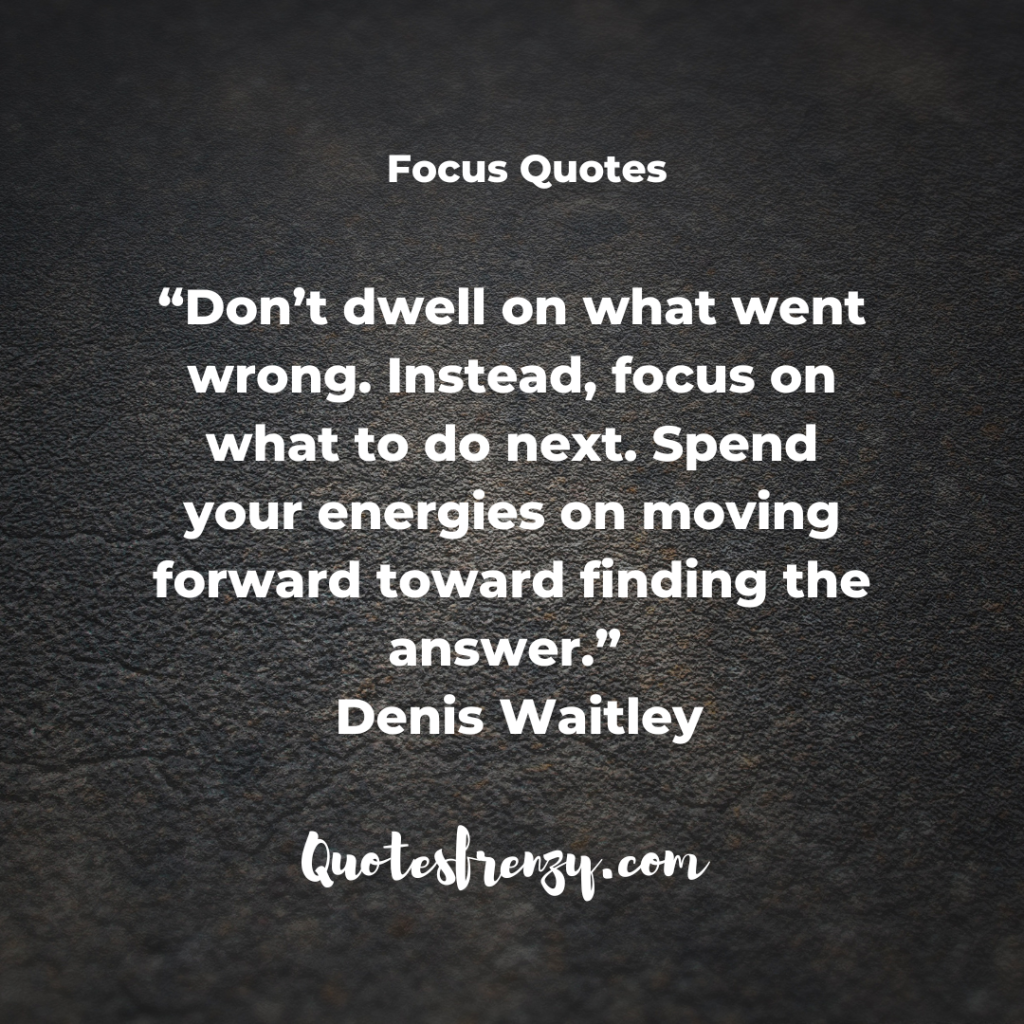 ---
"You can do anything as long as you have the passion, the drive, the focus, and the support." – Sabrina Bryan
---
"There is no accountability today… no willingness to focus on big ideas." – Michael Bloomberg
---
"It's always hard to deal with injuries mentally, but I like to think about it as a new beginning. I can't change what happened, so the focus needs to go toward healing and coming back stronger than before." – Carli Lloyd
---
"It's very important that we re-learn the art of resting and relaxing. Not only does it help prevent the onset of many illnesses that develop through chronic tension and worrying; it allows us to clear our minds, focus, and find creative solutions to problems." – Thich Nhat Hanh
---
"Your destiny is to fulfill those things upon which you focus most intently. So choose to keep your focus on that which is truly magnificent, beautiful, uplifting and joyful. Your life is always moving toward something." – Ralph Marston
---
"That's been one of my mantras – focus and simplicity. Simple can be harder than complex: You have to work hard to get your thinking clean to make it simple. But it's worth it in the end because once you get there, you can move mountains." – Steve Jobs
---
"Maintaining good health should be the primary focus of everyone." – Sangram Singh
---
"I don't care too much what happened in the past. I prefer to focus on what is coming next and I am really looking forward to it." – Sebastian Vettel
---
"Give yourself a gift of five minutes of contemplation in awe of everything you see around you. Go outside and turn your attention to the many miracles around you. This five-minute-a-day regimen of appreciation and gratitude will help you to focus your life in awe." – Wayne Dyer
---
"Having children is my greatest achievement. It was my saviour. It switched my focus from the outside to the inside. My children are gifts, they remind me of what's important." – Elle Macpherson
---
"The mixed martial arts way of life will give you focus." – Conor McGregor
---
"Stop allowing yourself to focus on depressing life circumstances – including focusing on being depressed about your weight. All this negative focus will only lead you to feeling bummed and wanting to pig out. Instead, consciously focus on happy life circumstances you enjoy doing, and create more of them!" – Karen Salmansohn
---
"My focus has been and will continue to be on doing my job." – Ted Cruz
---
"It's never too late. Don't focus on what was taken away. Find something to replace it, and acknowledge the blessing you have." – Drew Barrymore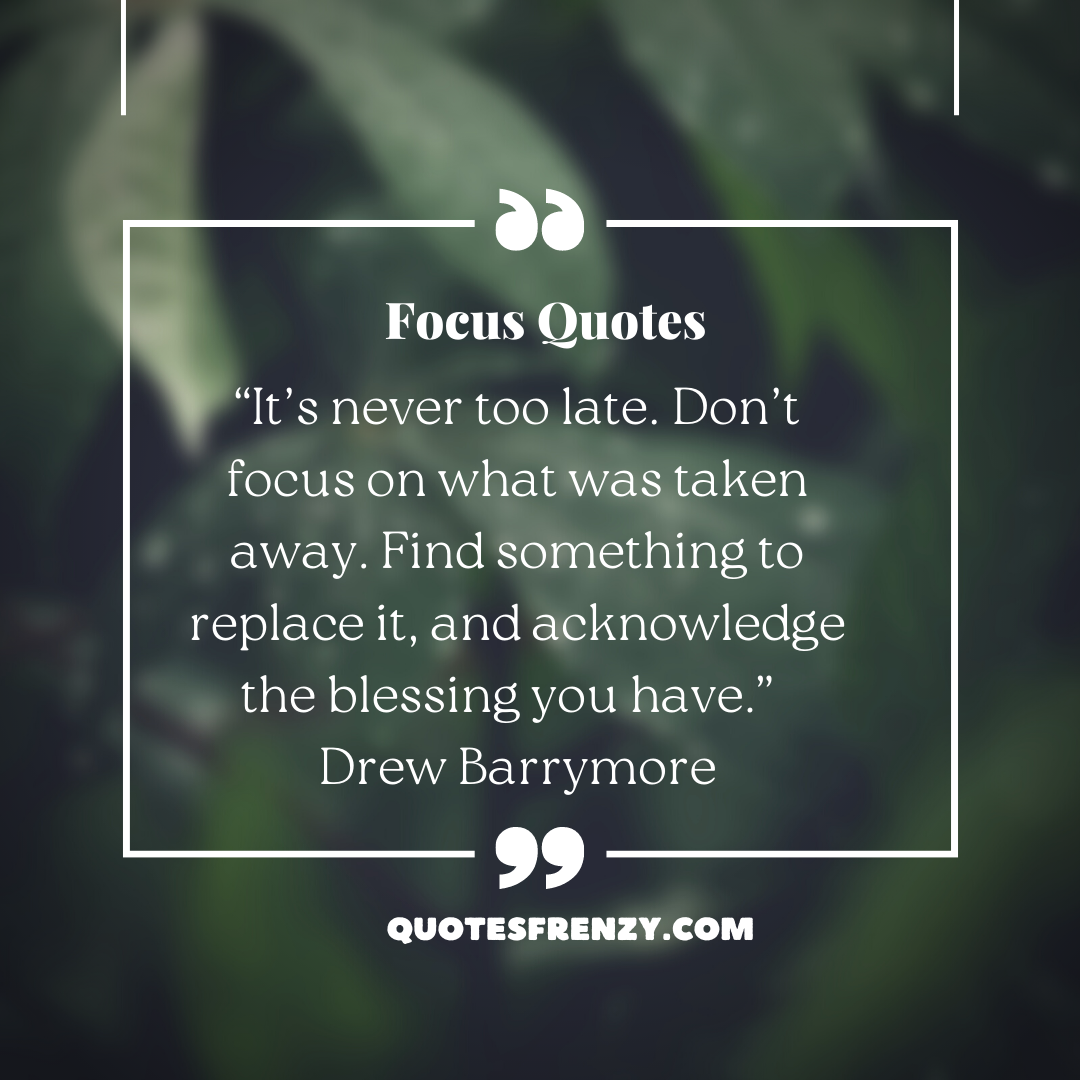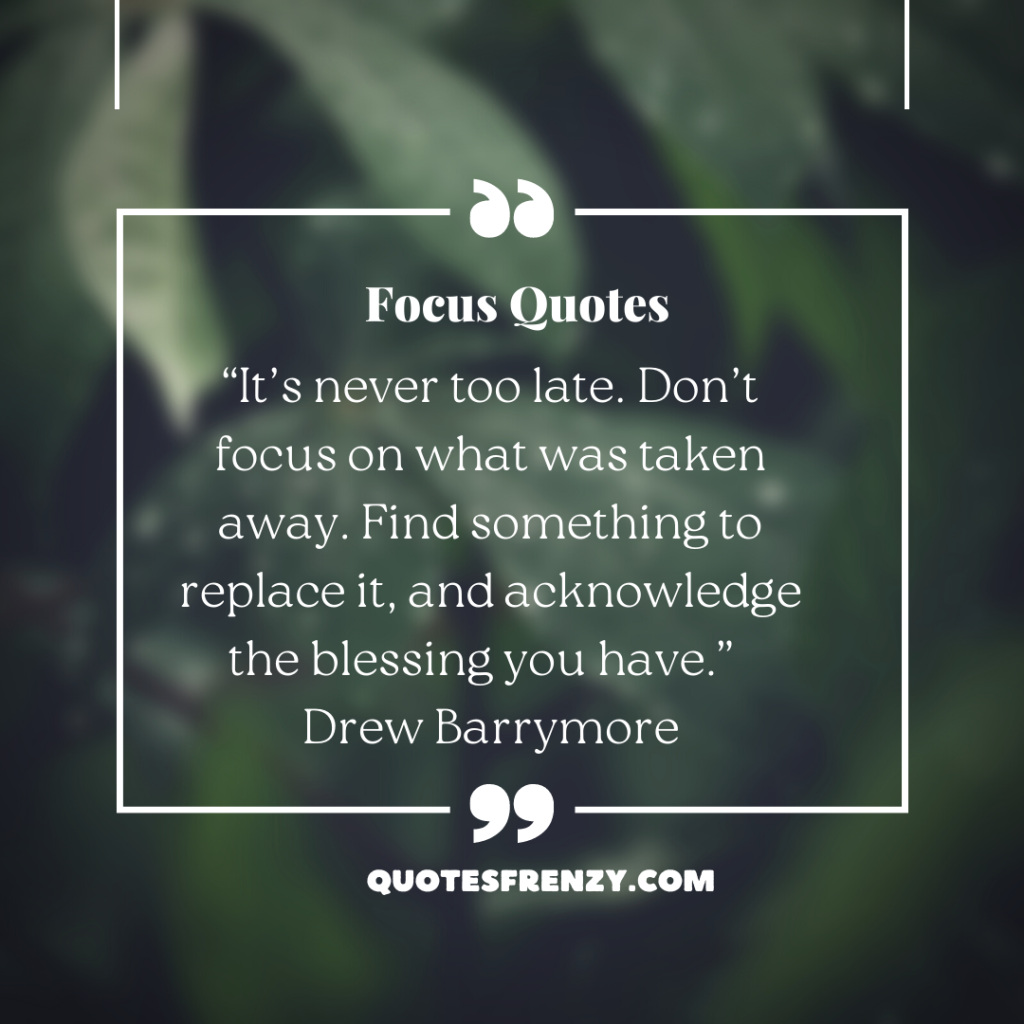 ---
"We just want to win. That's the bottom line. I think a lot of times people may become content with one championship or a little bit of success, but we don't really reflect on what we've done in the past. We focus on the present." – Derek Jeter
---
"I just focus on one show, when this is over then I'll start looking at what is coming up." – Dennis Muren
---
"One of the nice things about being busy is it makes you focus on what's important to you and how you use your time." – Lorne Michaels
---
"Anything that's not positive, I don't have the energy to focus on it. Anything that's not going in the right direction, I don't have the time or the energy." – DMX
---
"Motivation, passion, and focus have to come from the top." – Kevin Plank
---
"Focus on remedies, not faults." – Jack Nicklaus
---
"There's not enough time in each day to really focus enough attention on any one thing, but I'm doing my best. I have a great group of people who support me, and I don't sleep a lot. It's like I'm on a constantly spinning merry-go-round, and every day, I'm wondering when it will stop so I can get off. I love what I do, so that helps a lot." – Alex Guarnaschelli
---
"I'm happiest when I have something to focus my energy on." – Scarlett Johansson
---
"Focus on being balanced – success is balance." – Laila Ali
---
"If we focus on our health, including our inner health, our self-esteem, and how we look at ourselves and our confidence level, we'll tend to be healthier people anyway, we'll tend to make better choices for our lives, for our bodies, we'll always be trying to learn more, and get better as time goes on." – Queen Latifah
---
"Focus on what you have." – Suze Orman
---
"If you've lost focus, just sit down and be still. Take the idea and rock it to and fro. Keep some of it and throw some away, and it will renew itself. You need do no more." – Clarissa Pinkola Estes
---
"When you start a company, it's a singular focus. You have the wind at your back." – Howard Schultz
---
"The more you focus, the more that focus becomes a habit." – Charles Duhigg