Tree Quotes: We live in an ecosystem with other living beings. One of the most pillars of an ecosystem is the trees. Trees are our best friends because they clean the air we breathe. Trees provide us with shades in the hot days. Trees & plants are nature's donations, which give us fruits, vegetables, wood, paper, rubber, etc. Some trees also give us medicines. Animals and birds make their home on the tree. Trees also help in bringing rain on the earth.
Most importantly by saving plants, we are not doing any favor to plants but to ourselves only. Because trees and plants life does not depend on us but our lives depend on them.
Here are some quotes about trees to inspire you to plant more trees.
---
Short Tree Quotes
---
"If a tree dies, plant another in its place." – Carolus Linnaeus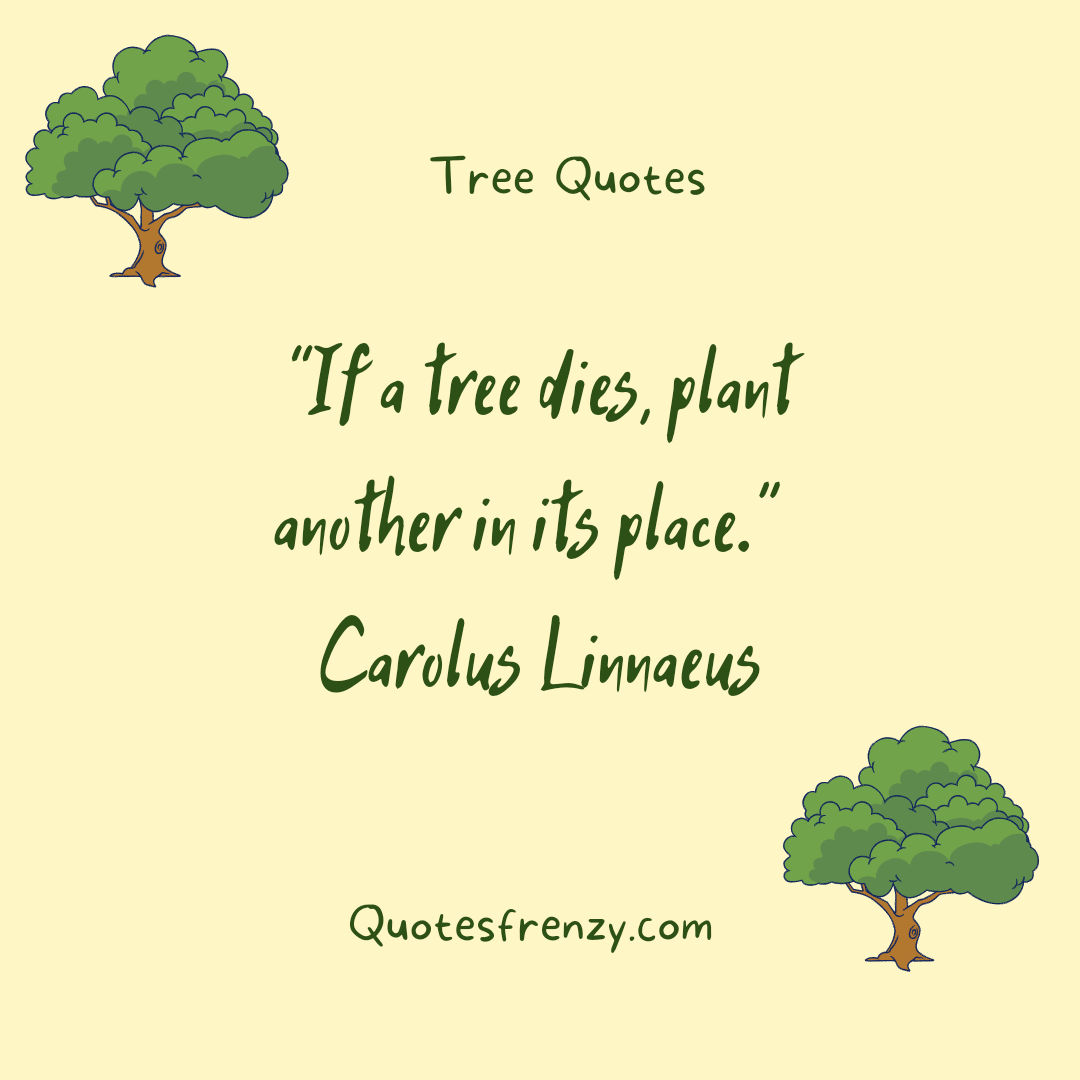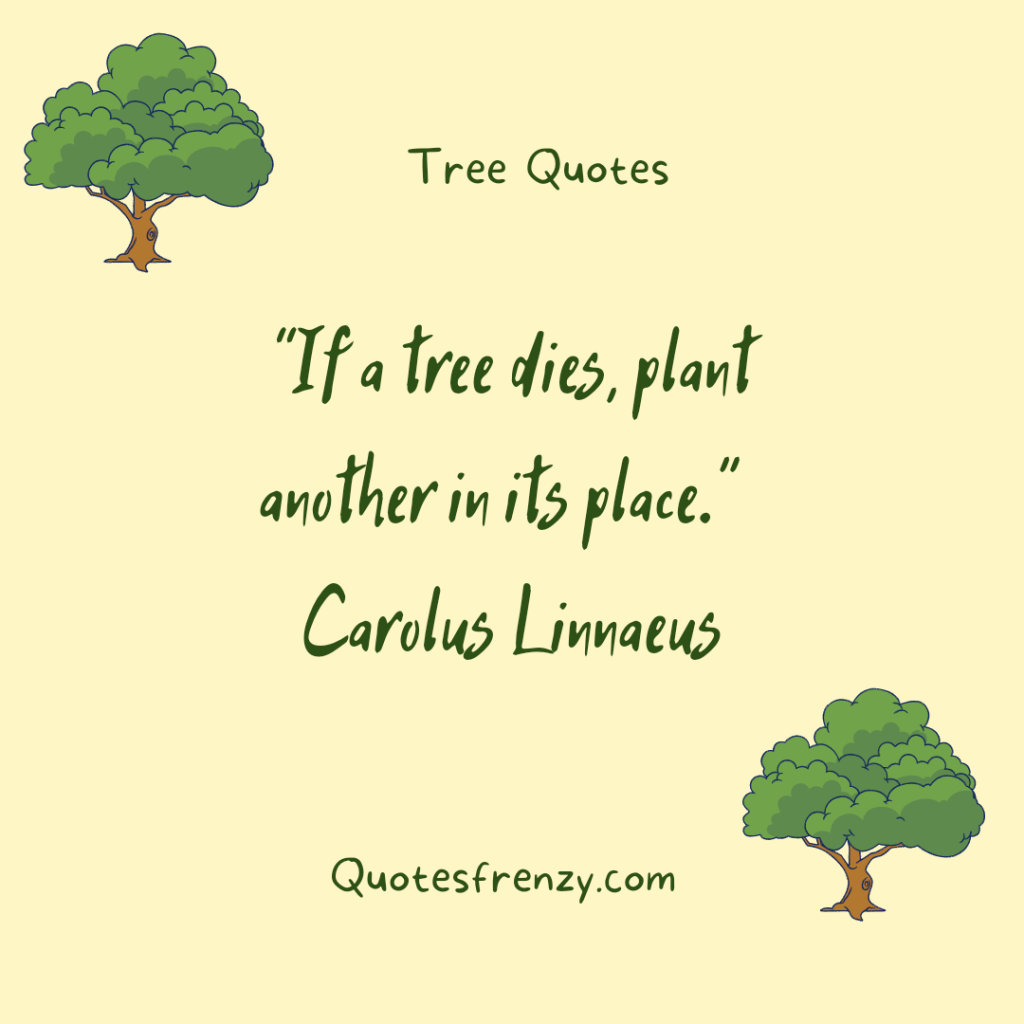 ---
"He that plants trees, loves others besides himself." – Thomas Fuller
---
"Forests are the lungs of our land." – Franklin D. Roosevelt
---
"One touch of nature makes the whole world kin." – William Shakespeare
---
"Solitary trees, if they grow at all, grow strong." – Winston Churchill
---
"Trees are always a relief, after people." – David Mitchell
---
"Man shapes himself through decisions that shape his environment." – Rene Dubos
---
"Between every two pines is a doorway to a new world." – John Muir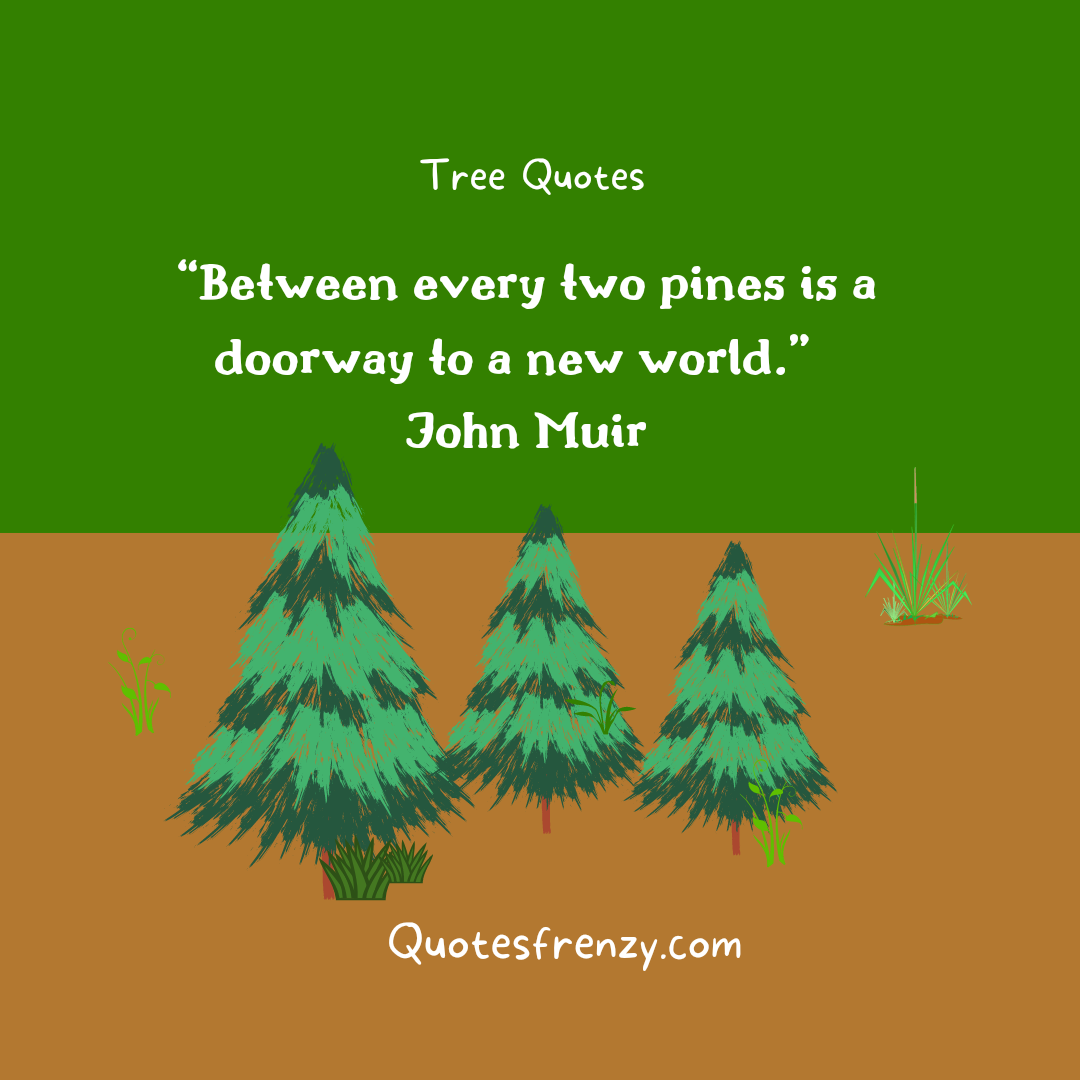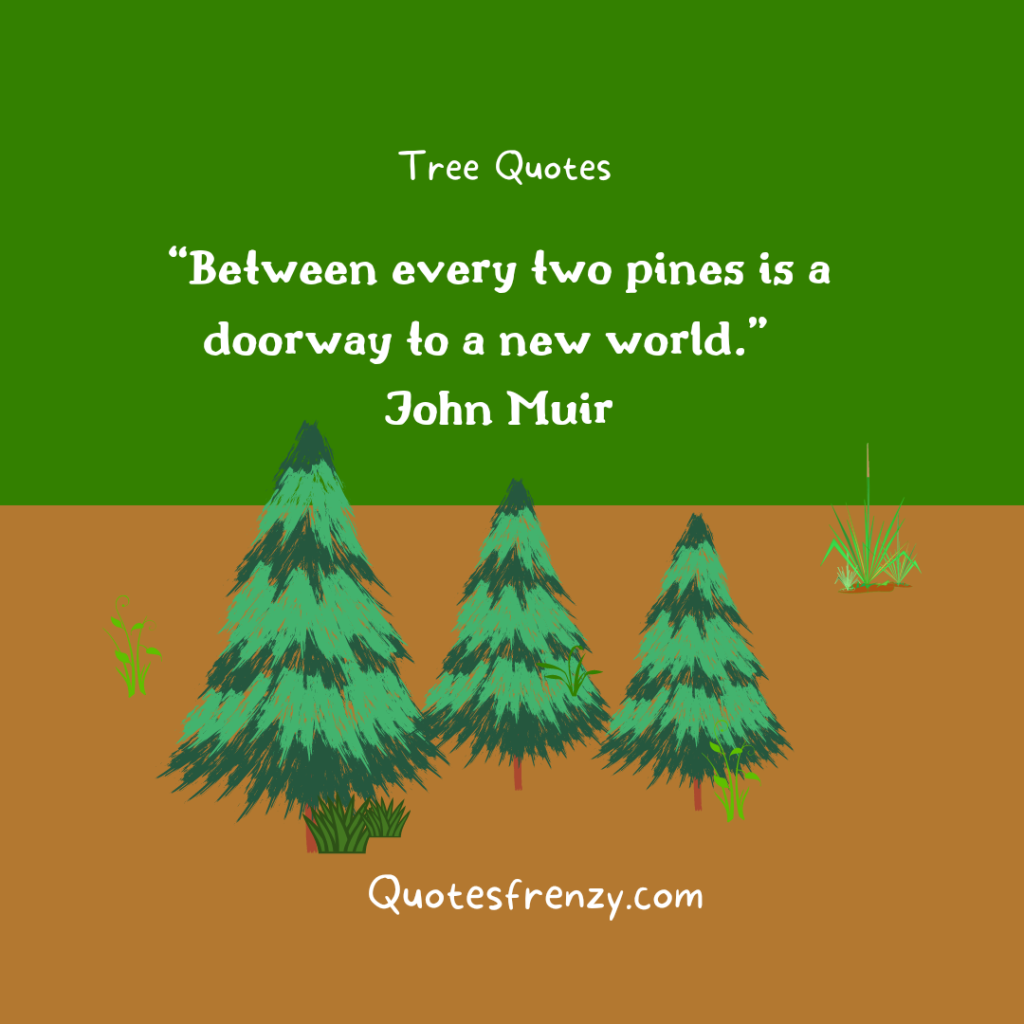 ---
"I'm planting a tree to teach me to gather strength from my deepest roots." – Andrea Koehle Jones
---
"Earth stays in joy, When we plant a tree. Beneath the ground, oh, boy! Roots feel free." – Munia Khan
---
"Trees are as close to immortality as the rest of us ever come." – Karen Joy Fowler
---
"I took a walk in the woods and came out taller than the trees." – Henry David Thoreau
---
"Trees give peace to the souls of men." – Nora Waln
---
"Trees are poems that the earth writes upon the sky." – Kahlil Gebran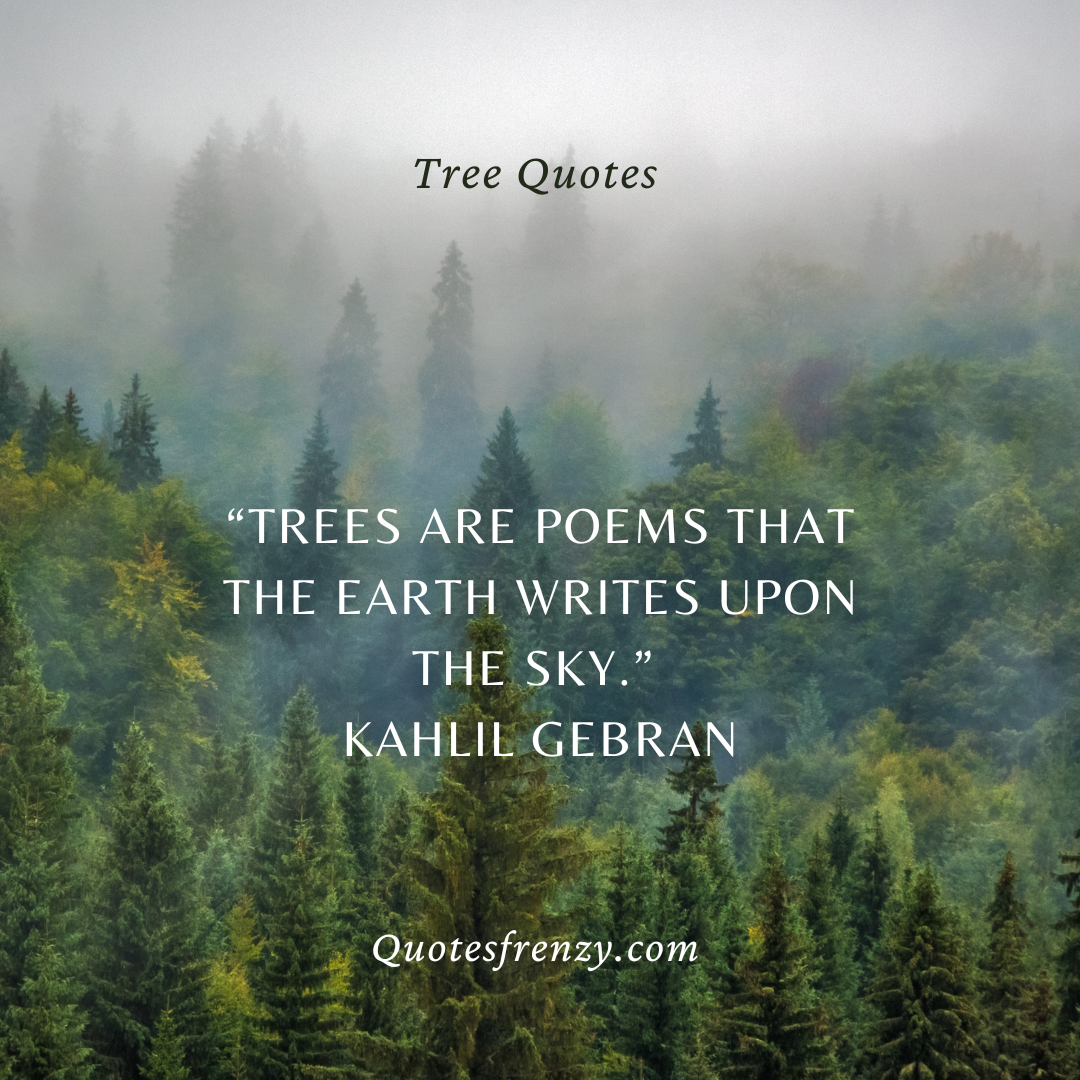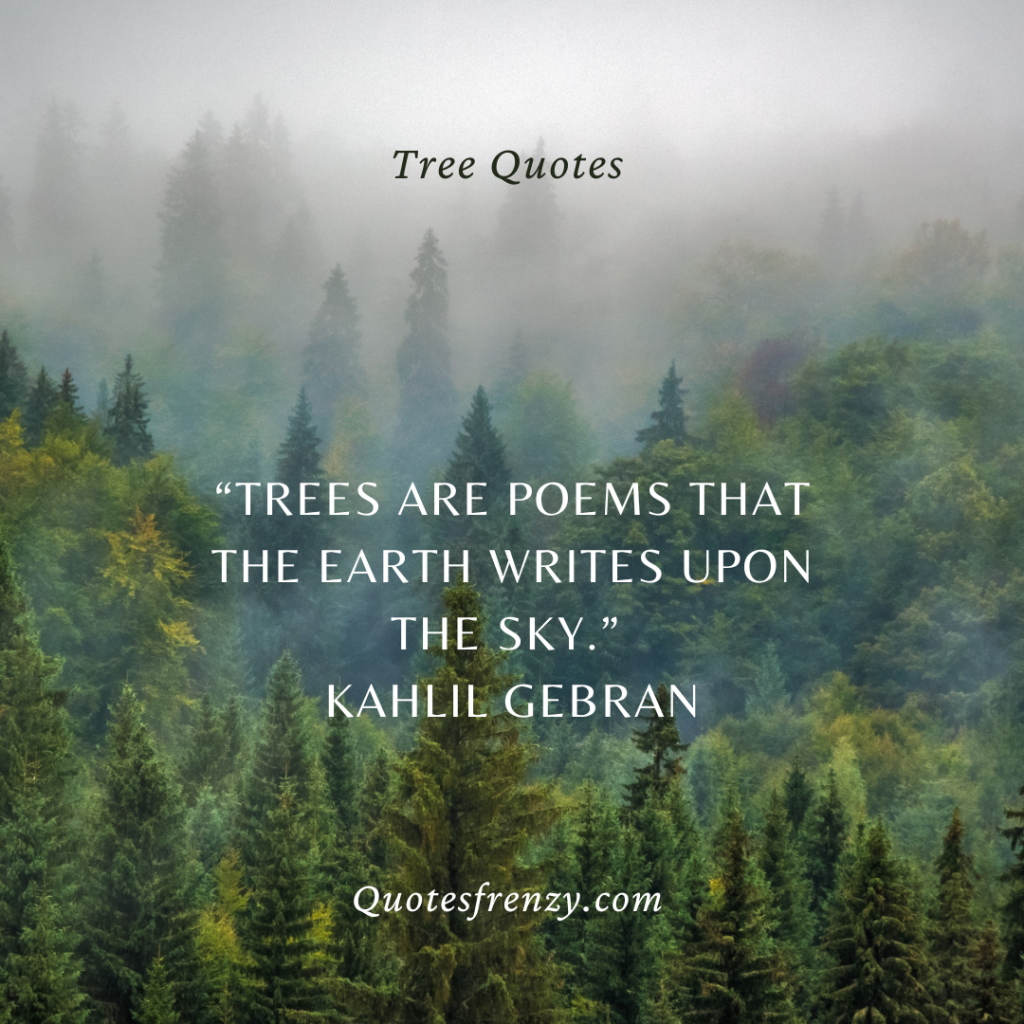 ---
"You must grow like a tree, not like a mushroom." – Janet Erskine Stuart
---
He who plants a tree,. plants a hope._ Lucy Larcom
---
"How could you not be hopeful if you've got a tree around?" – Ross Spears
---
"All our wisdom is stored in the trees." – Santosh Kalwar
---
"Knowing trees, I understand the meaning of patience." – Hal Borland
---
"Plant a memory, plant a tree, do it today for tomorrow." – Matz
---
"A seed hidden in the heart of an apple is an orchard invisible." – Welsh Proverb
---
"If you love a tree you will be more beautiful than before." – Amit Ray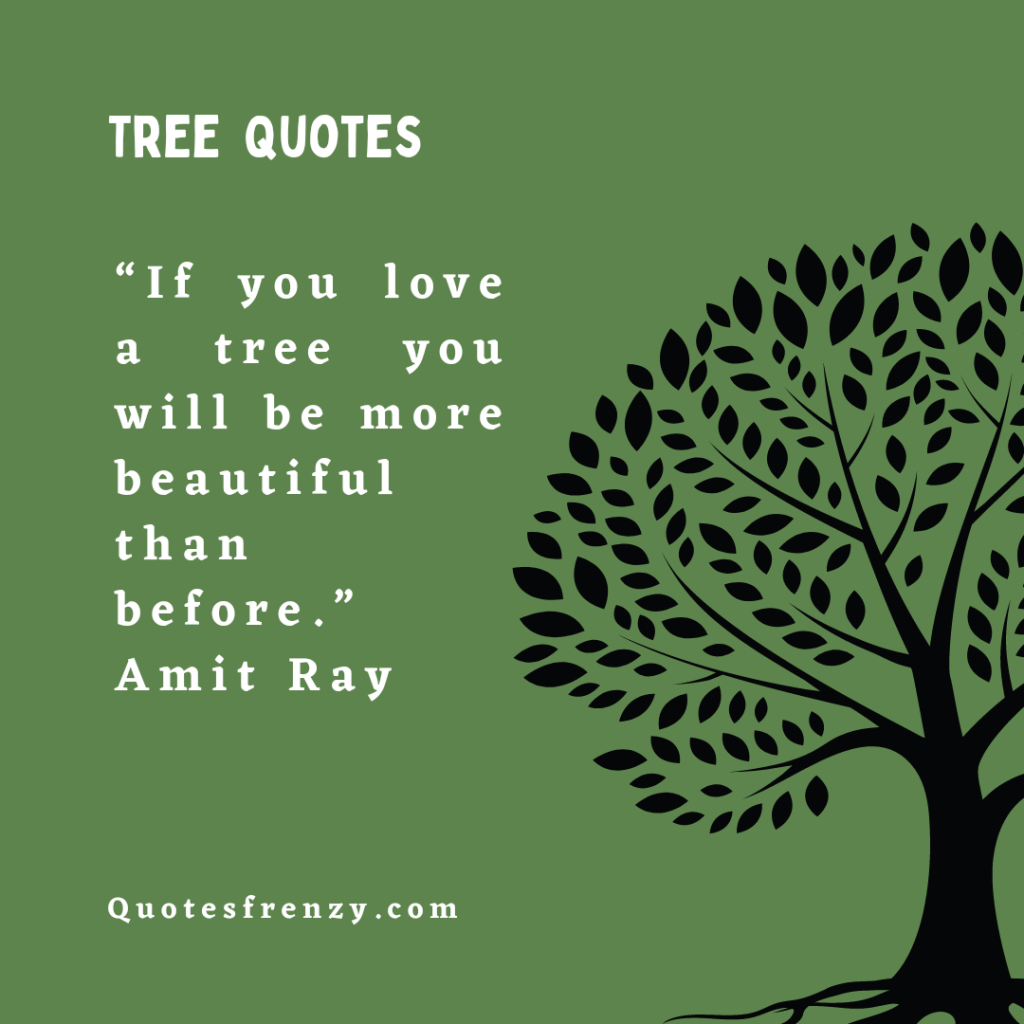 ---
"This oak tree and me, we're made of the same stuff." – Carl Sagan
---
"Be like a tree and let the dead leaves drop." – Rumi
---
"Of all man's works of art, a cathedral is greatest. A vast and majestic tree is greater than that." – Henry Ward Beecher
---
"Keep a green tree in your heart and perhaps a singing bird will come." – Chinese proverb
---
"The creation of a thousand forests is in one acorn." – Ralph Waldo Emerson
---
I've got to be by trees, otherwise I get claustrophobic._ Liam Gallagher
---
"Be like a tree. The tree gives shade even to him who cuts off its boughs." – Sri Chaitanya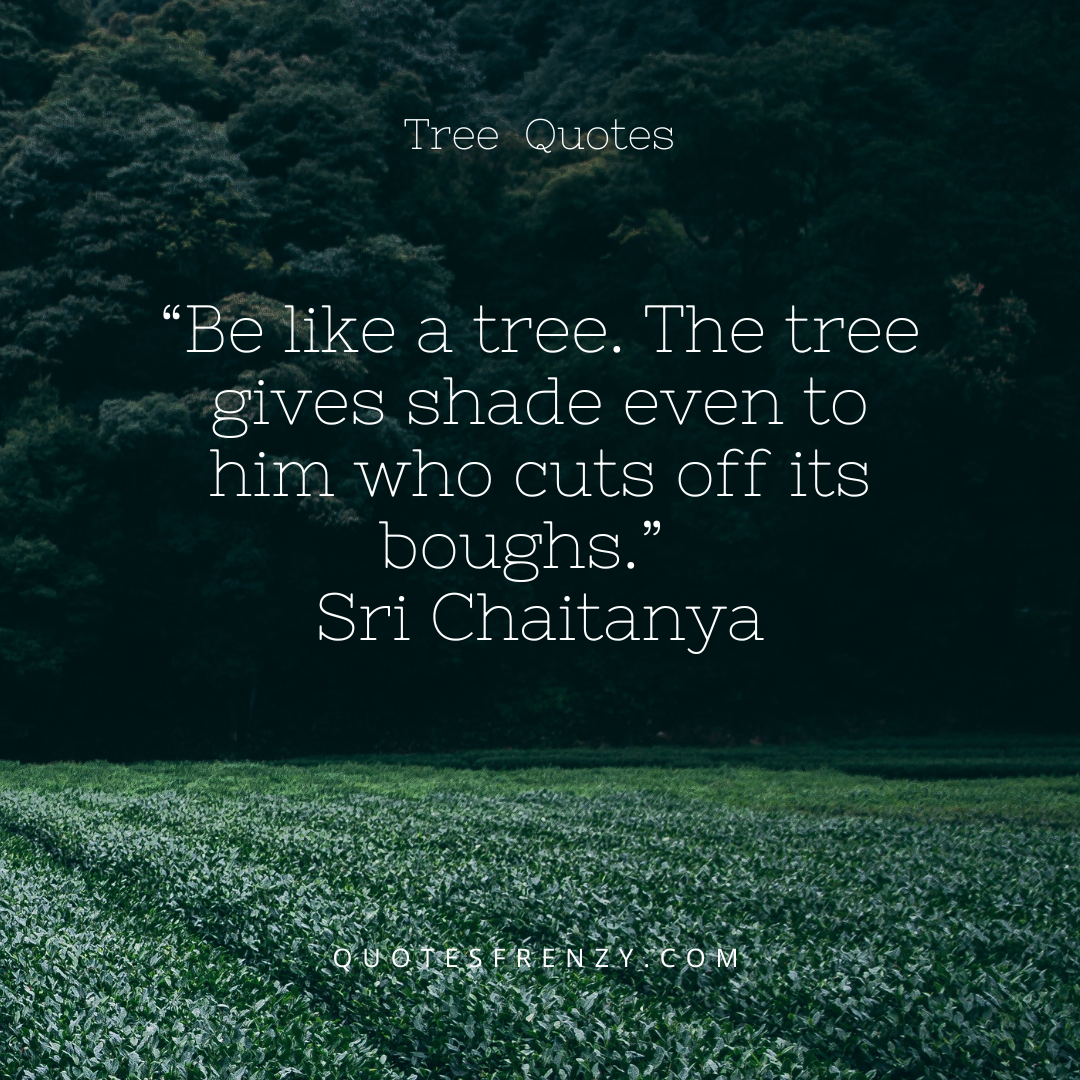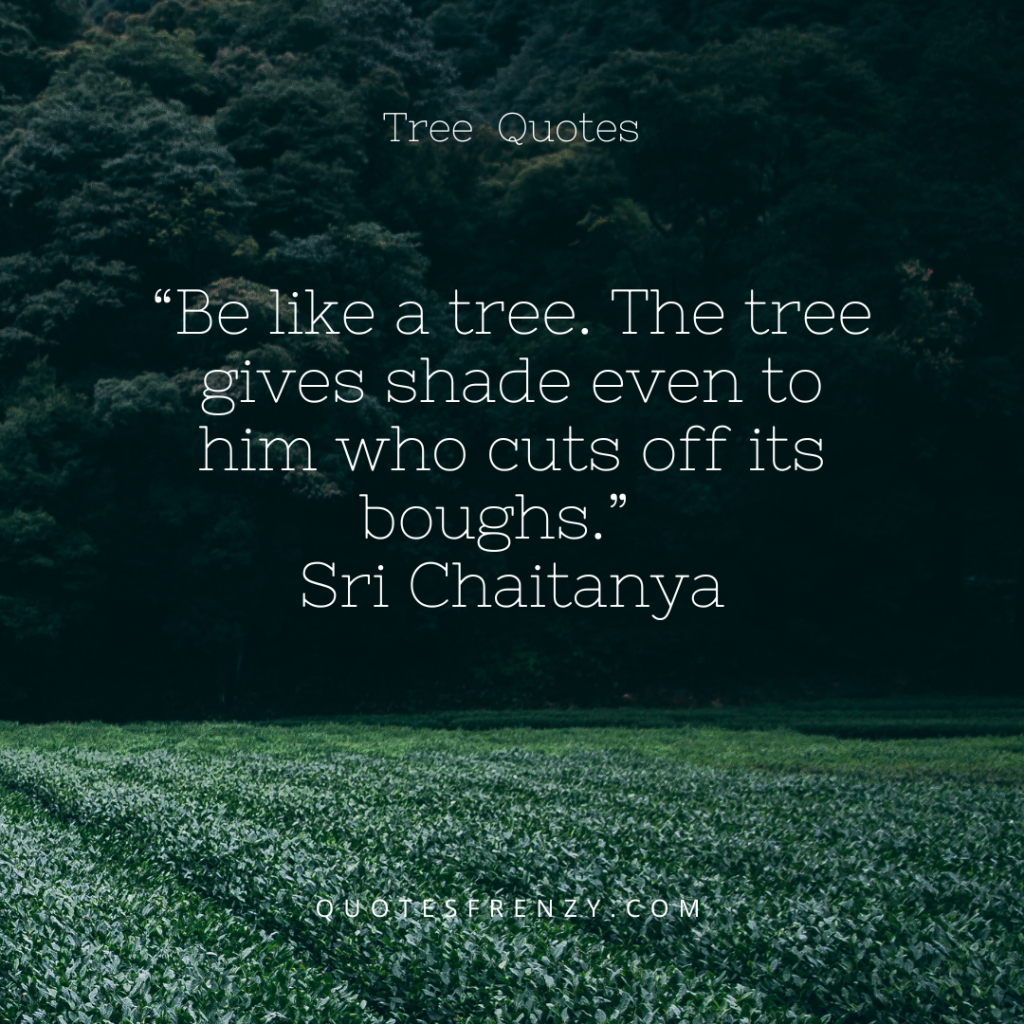 ---
"Trees are sanctuaries." – Herman Hesse
---
"The best time to plant a tree was 20 years ago. The second best time is now." ― Chinese Proverb
---
"He that plants trees, loves others besides himself." – Thomas Fuller
---
"The creation of a thousand forests is in one acorn." – Ralph Waldo Emerson
---
"Trees are poems that the earth writes upon the sky." – Kahlil Gibran
---
"The trees that are slow to grow bear the best fruit." – Moliere
---
"Learn character from trees, values from roots, and change from leaves." – Tasneem Hameed
---
"If you would know strength and patience, welcome the company of trees." – Hal Borland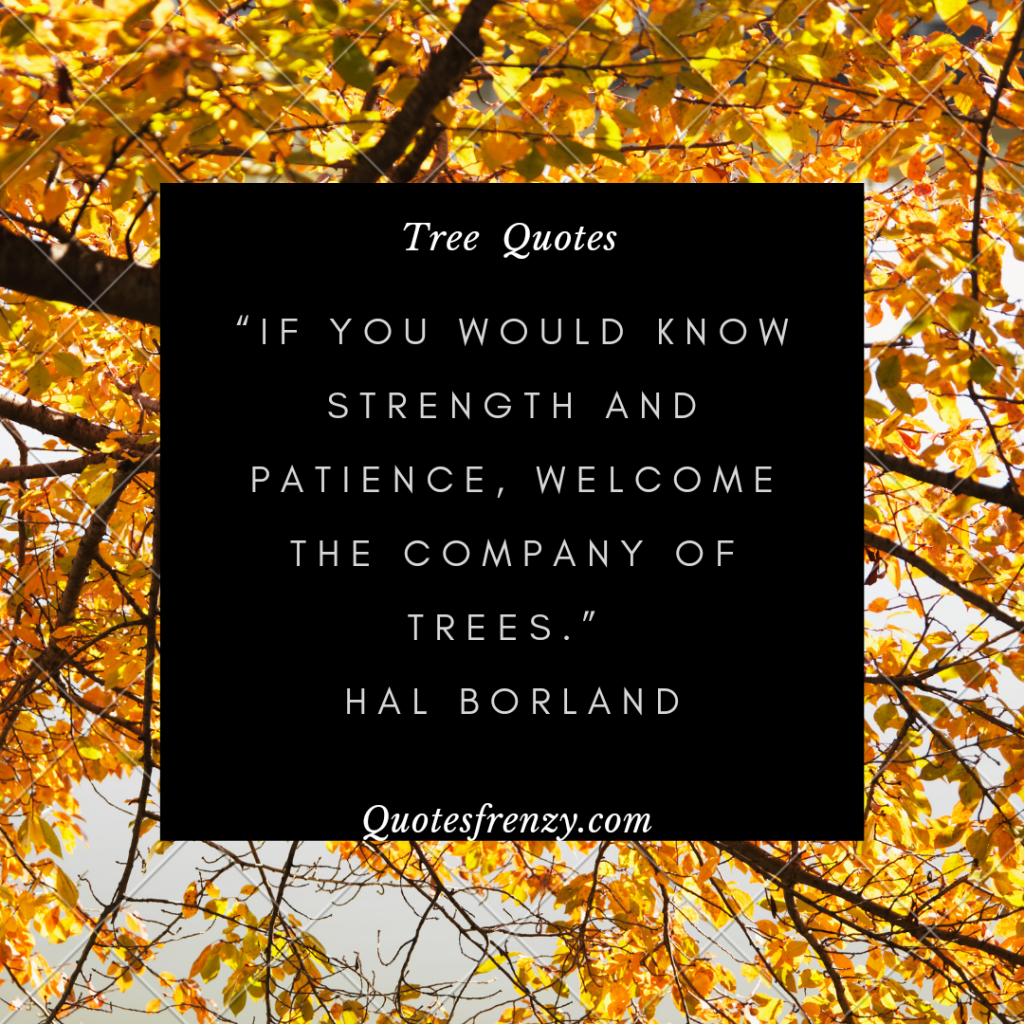 ---
"The shadow is what we think of it; the tree is the real thing." – Abraham Lincoln
---
"Trees are the earth's endless effort to speak to the listening heaven." – Rabindranath Tagore
---
Motivational Tree Quotes
---
"For in the true nature of things, if we rightly consider, every green tree is far more glorious than if it were made of gold and silver." – Martin Luther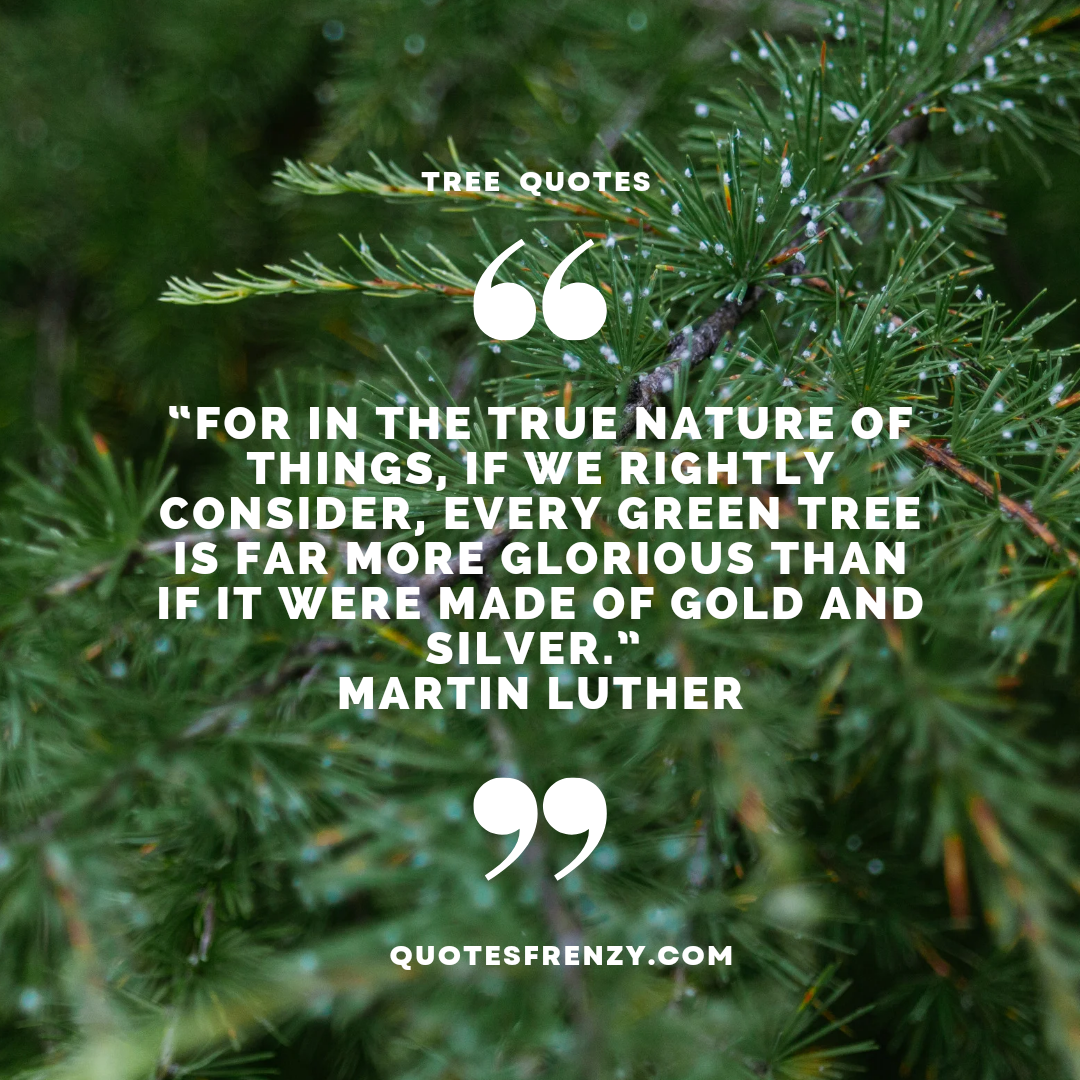 ---
"In a forest of a hundred thousand trees, no two leaves are alike. And no two journeys along the same path are alike." – Paulo Coelho
---
"Until you dig a hole, you plant a tree, you water it and make it survive, you haven't done a thing. You are just talking." ― Wangari Maathai
---
"The true meaning of life is to plant trees, under whose shade you do not expect to sit." – Nelson Henderson
---
"Ancient trees are precious. There is little else on Earth that plays host to such a rich community of life within a single living organism." — Sir David Attenborough
---
"Finland is officially the world's happiest country. It is also 75 per cent forest. I believe these facts are related." – Matt Haig
---
"We can learn a lot from trees: they're always grounded but never stop reaching heavenward." – Everett Mamor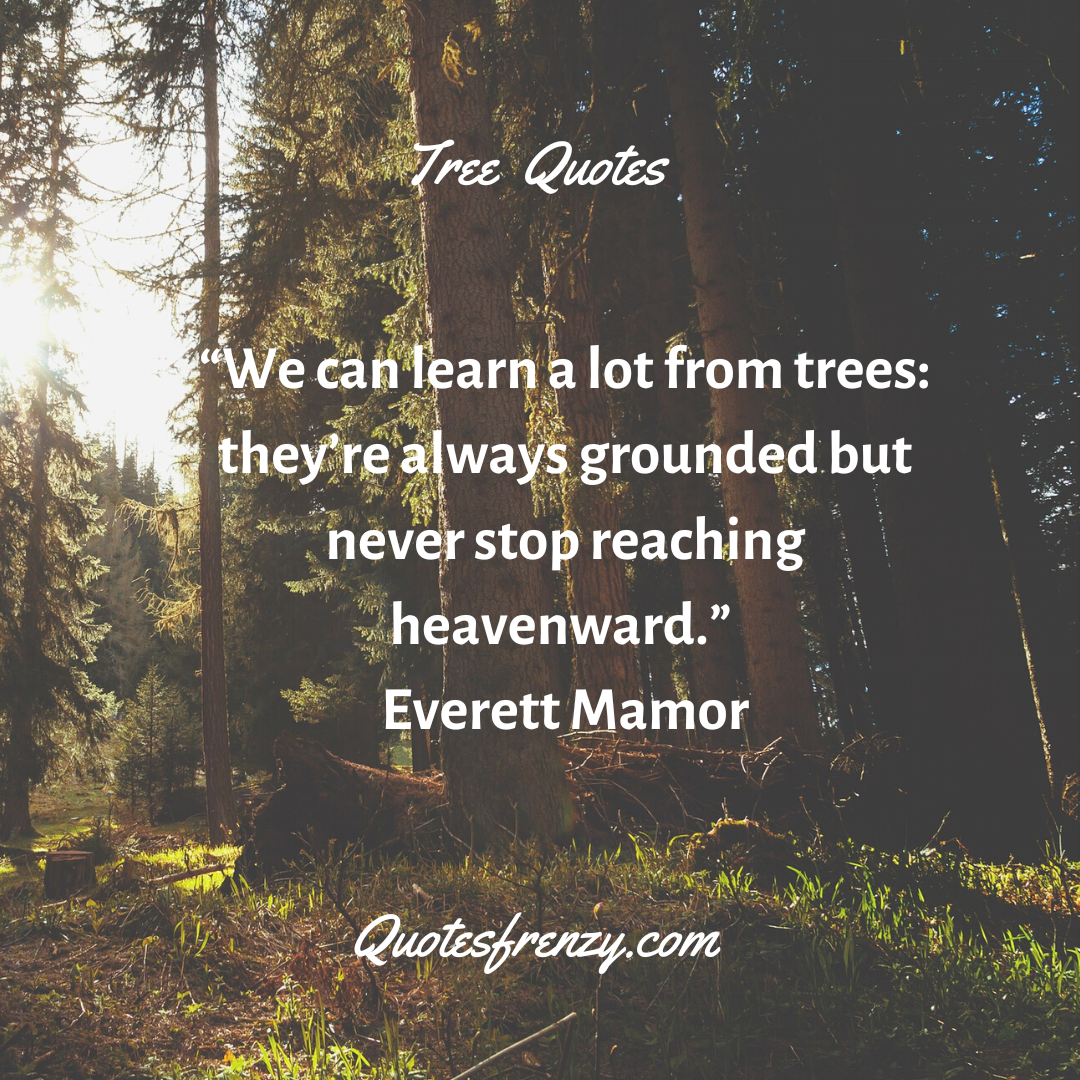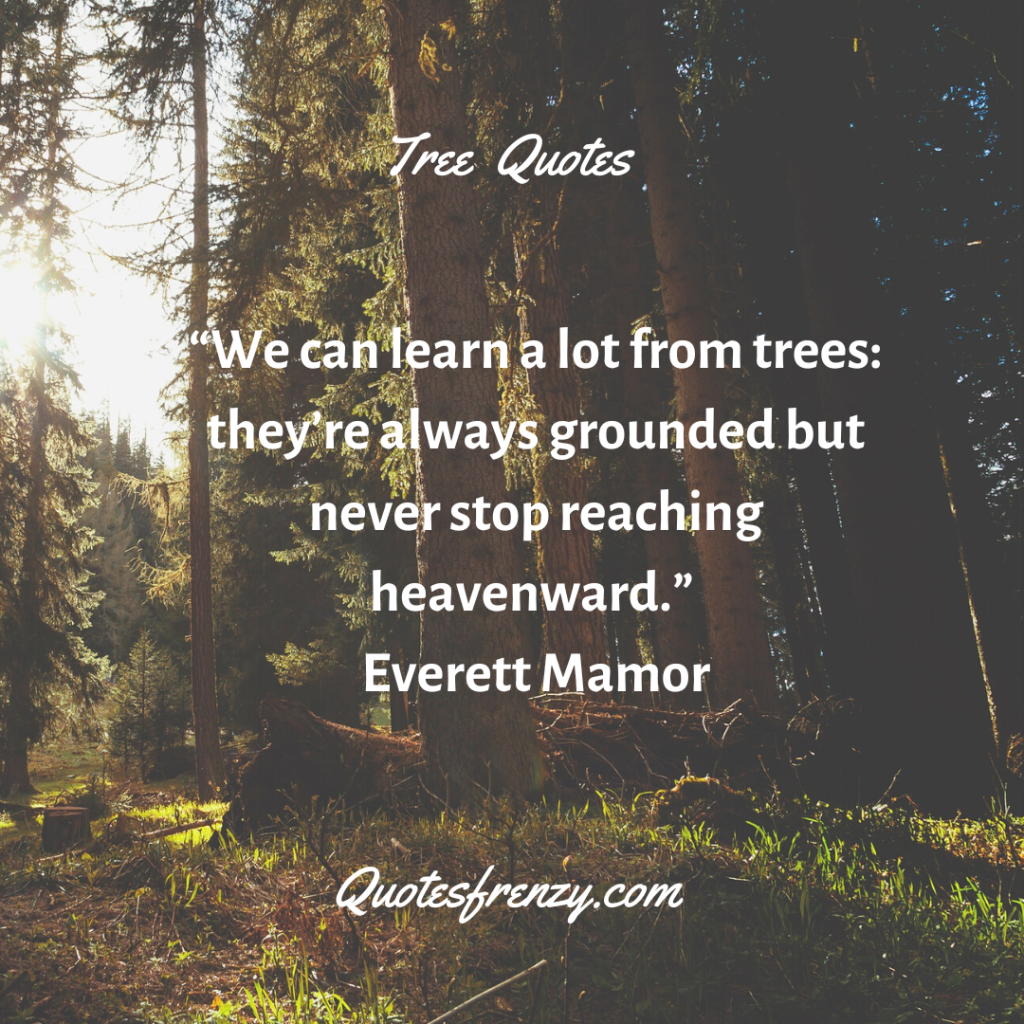 ---
"A woodland in full colour is awesome as a forest fire, in magnitude at least, but a single tree is like a dancing tongue of flame to warm the heart." – Hal Borland
---
"There is always Music amongst the trees in the Garden, but our hearts must be very quiet to hear it." – Minnie Aumonier
---
"Love is like a tree, it grows of its own accord, it puts down deep roots into our whole being." – Victor Hugo
---
"It is not so much for its beauty that the forest makes a claim upon men's hearts, as for that subtle something, that quality of air that emanation from old trees, that so wonderfully changes and renews a weary spirit." – Robert Louis Stevenson
---
"Anyone who thinks fallen leaves are dead has never watched them dancing on a windy day." – Shira Tamir
---
"Gold is a luxury. Trees are necessities. Man can live and thrive without gold, but we cannot survive without trees." – Paul Bamikole
---
"In nature, nothing is perfect and everything is perfect. Trees can be contorted, bent in weird ways, and they're still beautiful." – Alice Walker
---
"When you are lost in the wilderness, a tree will always point you in the right direction." – Anthony T. Hincks
---
"If I thought I was going to die tomorrow, I should nevertheless plant a tree today." – Stephen Girard
---
"Why pay money for the horror movies? Just go to a street without trees!" – Mehmet Murat ildan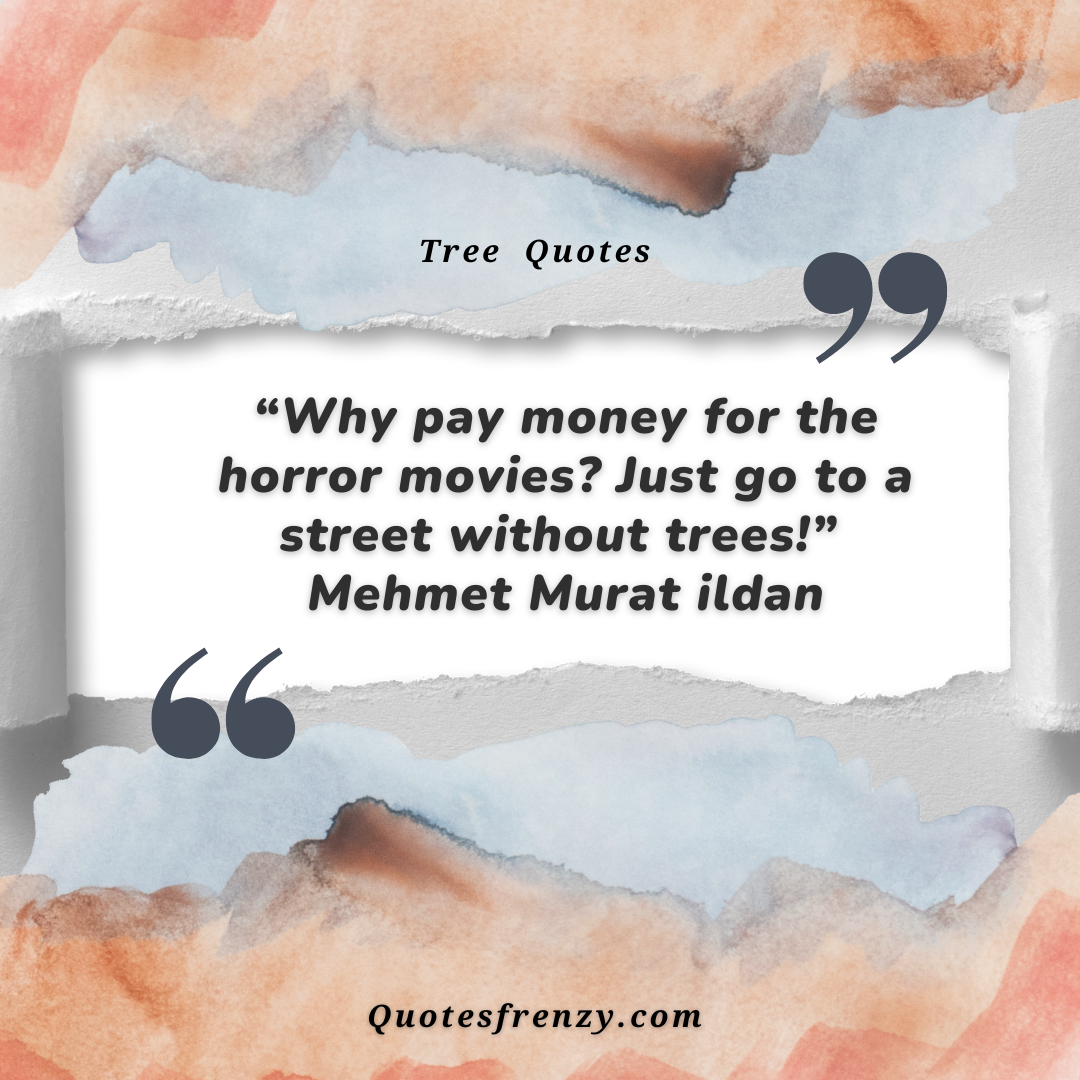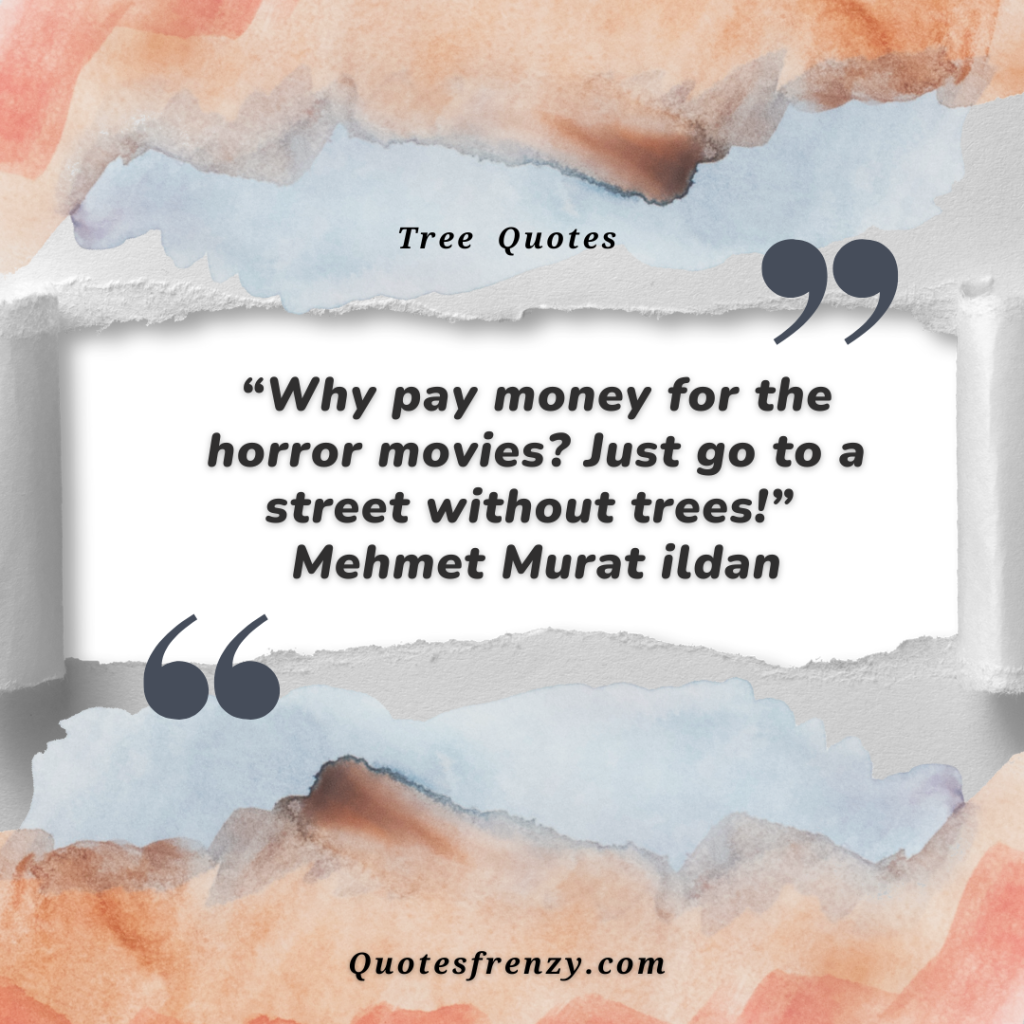 ---
"The care of the Earth is our most ancient and most worthy, and after all, our most pleasing responsibility." – Wendell Berry
---
"It will never rain roses: when we want to have more roses we must plant more trees." – George Eliot
---
"Ancient trees are precious. There is little else on Earth that plays host to such a rich community of life within a single living organism." – Sir David Attenborough
---
"Some people are like trees – they take forever to grow up." – Leslie Hillman
---
"When trees burn, they leave the smell of heartbreak in the air." _ Jodi Thomas
---
"Planting a tree is the easiest way to align yourself with the cosmic rhythm." – Amit Ray
---
"An acorn is just a tree's way back into the ground. For another try. Another trip through. One life for another." – Shirley Ann Grau
---
"Love the trees until their leaves fall off, then encourage them to try again next year." – Chad Sugg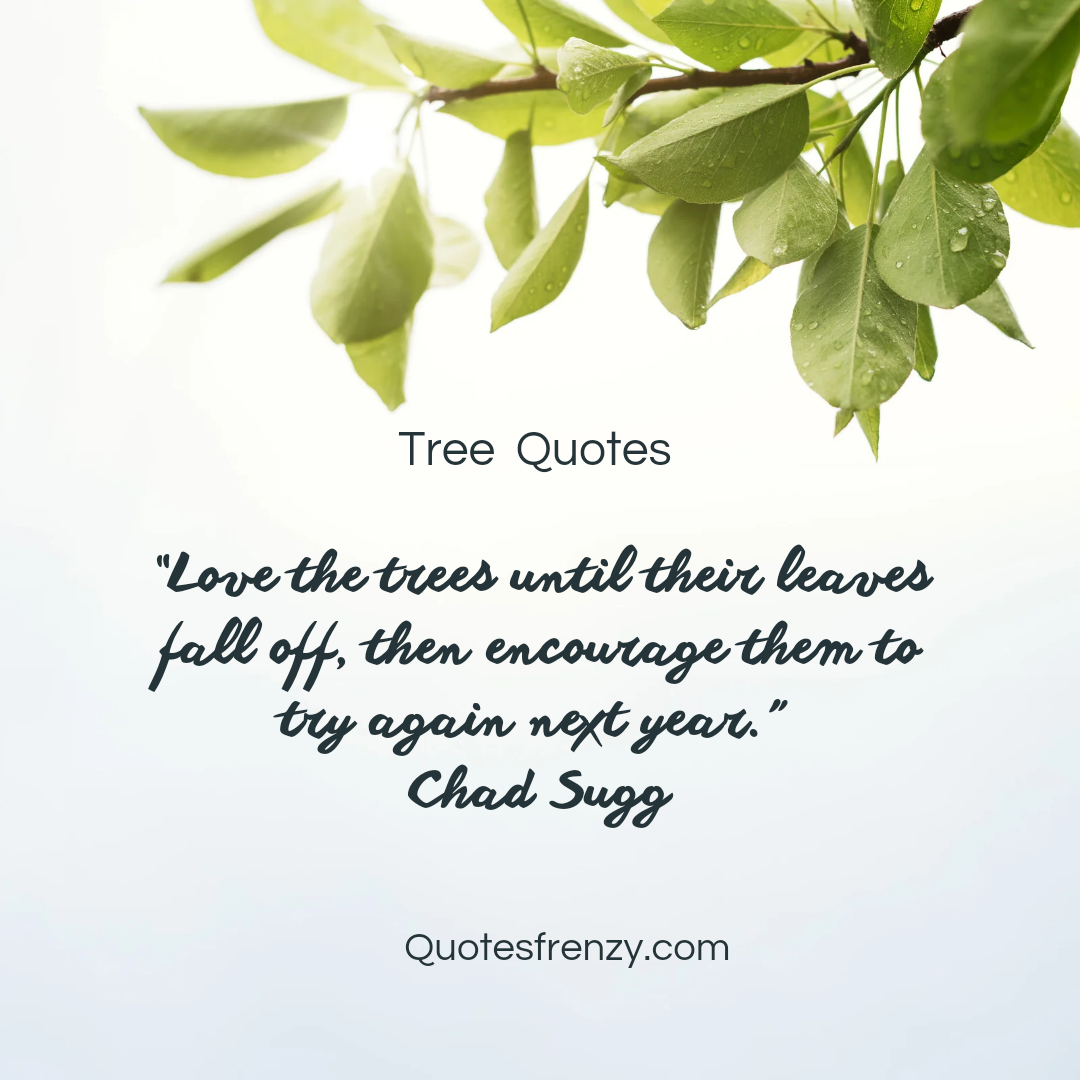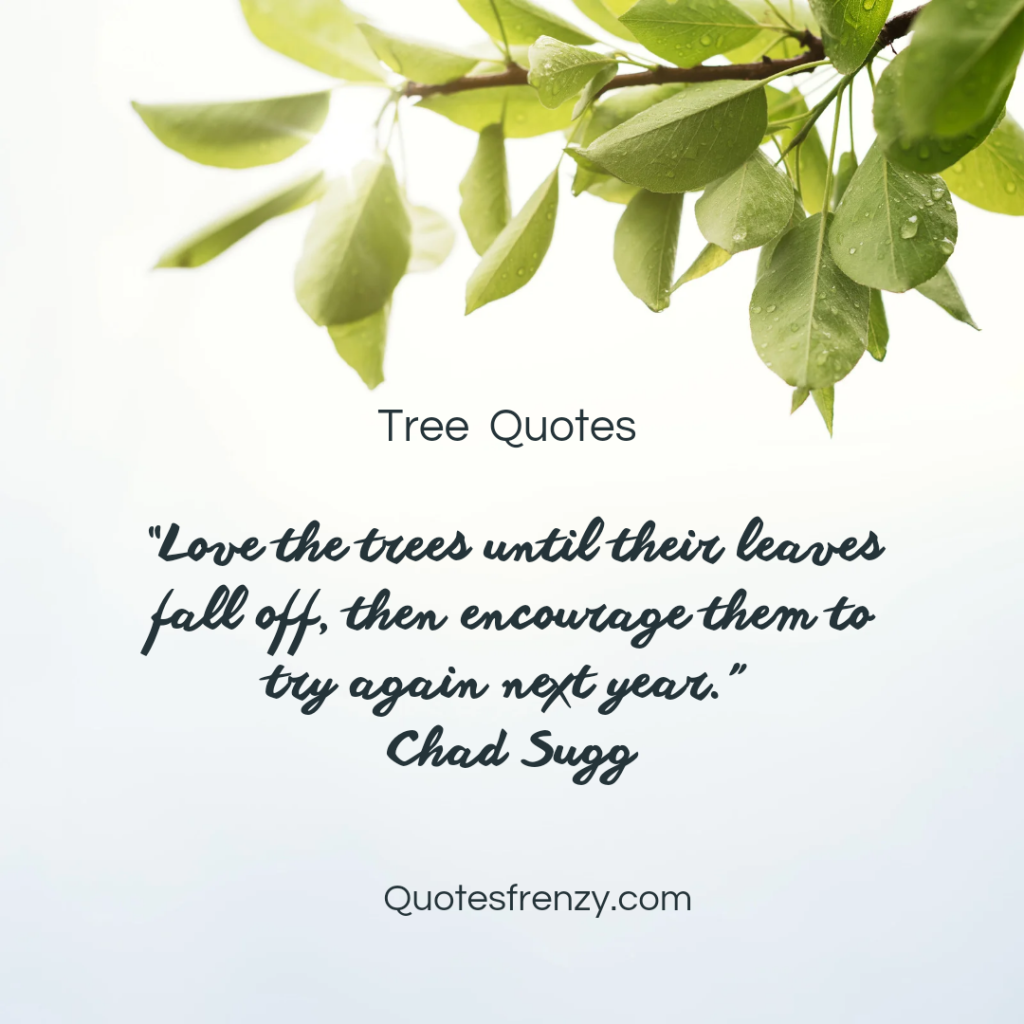 ---
"At first I thought I was fighting to save rubber trees, then I thought I was fighting to save the Amazon rainforest. Now I realize I am fighting for humanity." – Chico Mendes
---
"Trees fall with spectacular crashes. Planting is silent and growth invisible." – Richard Powers
---
"A tree is beautiful, but what's more, it has a right to life; like water, the sun and the stars, it is essential. Life on earth is inconceivable without trees." – Anton Chekhov
---
"I'm planting a tree to remind me to be open and kind-hearted." – Andrea Koehle Jones
---
"The best time to plant a tree was 20 years ago. The second best time is now." – Chinese proverb
---
"You know me, I think there ought to be a big old tree right there. And let's give him a friend. Everybody needs a friend." – Bob Ross
---
"On the last day of the world I would want to plant a tree." – W.S. Merwin
---
"To plant trees is to give body and life to one's dreams of a better world." – Russell Page
---
"The planting of a tree is a modest form of immortality and one of the few truly long-term expressions of hope to mortal human beings." – Voltaire
---
"Plant trees. They give us two of the most crucial elements for our survival: oxygen and books." – Whitney Brown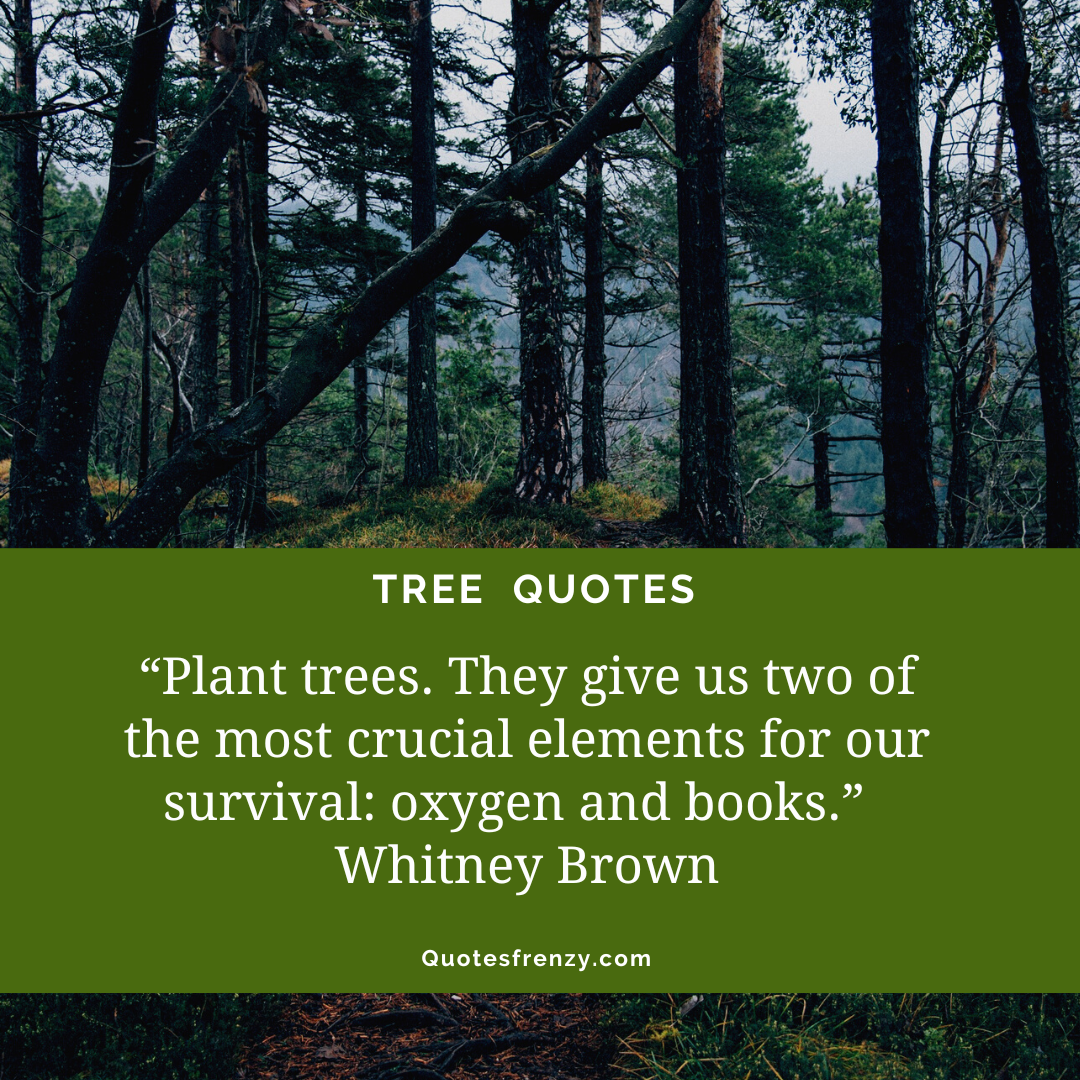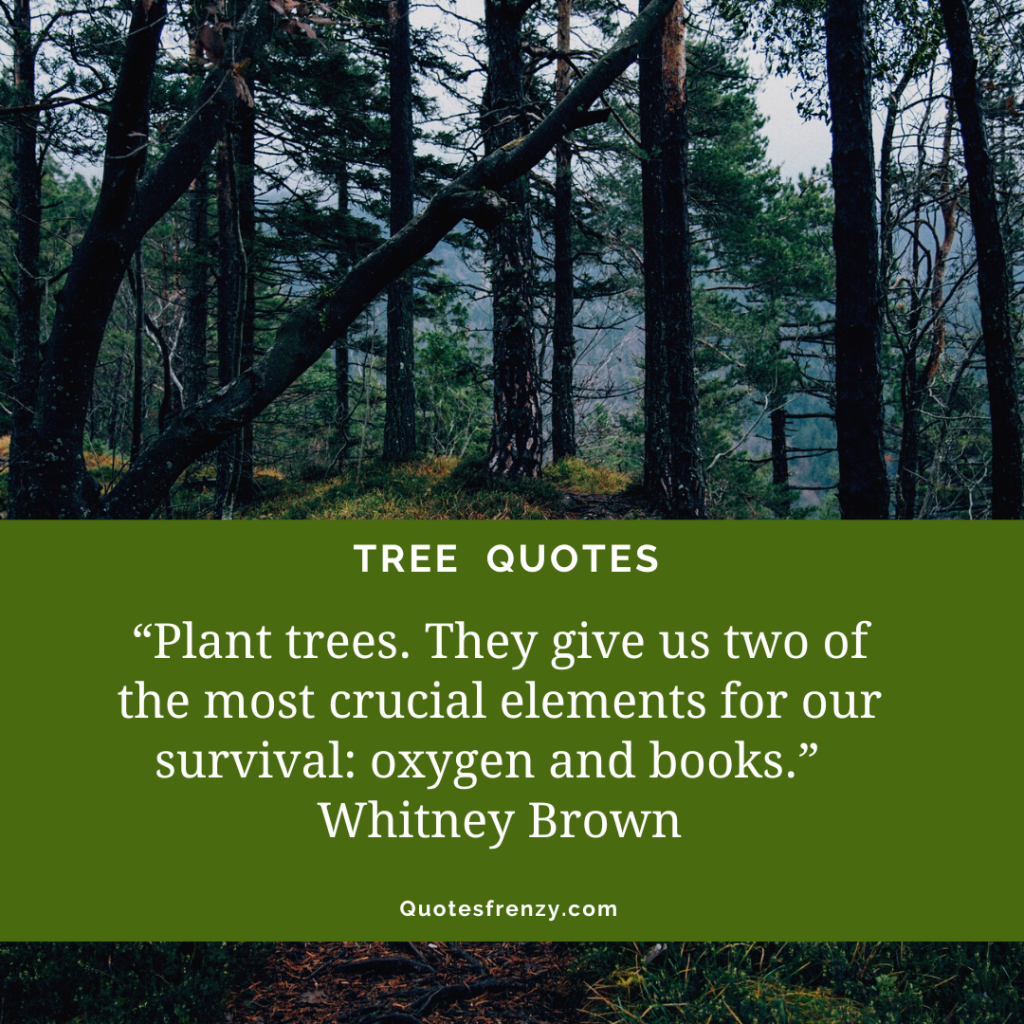 ---
"Someone's sitting in the shade today because someone planted a tree a long time ago." – Warren Buffett
---
"Tree planting is always a utopian enterprise, it seems to me, a wager on a future the planter doesn't necessarily expect to witness." – Michael Pollan
---
"The true meaning of life is to plant trees, under whose shade you do not expect to sit." – Nelson Henderson
---
"If you wish to be happy for a year, plant a garden. If you wish to be happy for a lifetime, plant a tree." – Jim Morris
---
"Even if I knew that tomorrow the world would go to pieces, I would still plant my apple tree." – Martin Luther
---
"To exist as a nation, to prosper as a state, to live as a people, we must have trees." – Theodore Roosevelt
---
"That each day I may walk unceasingly on the banks of my water, that my soul may repose on the branches of the trees which I planted, that I may refresh myself under the shadow of my sycamore." – Egyptian tomb inscription
---
"Acts of creation are ordinarily reserved for gods and poets, but humbler folk may circumvent this restriction if they know how. To plant a pine, for example, one need be neither god nor poet; one need only own a shovel." – Aldo Leopold
---
"Until you dig a hole, you plant a tree, you water it and make it survive, you haven't done a thing. You are just talking." – Wangari Maathai
---
"Let soldiers on maneuver plant trees. Give police and criminals a shovel and a thousand seedling." – John Wright
---
"The symbolism – and the substantive significance – of planting a tree has universal power in every culture and every society on Earth, and it is a way for individual men, women and children to participate in creating solutions for the environmental crisis." – Al Gore
---
"He that planteth a tree is a servant of God, he provideth a kindness for many generations, and faces that he hath not seen shall bless him." – Henry Van Dyke
---
"I plant a lot of trees. I am a great believer in planting things for future generations. I loathe the now culture where you just live for today." – Penelope Keith
---
"When we plant a tree, we are doing what we can to make our planet a more wholesome and happier dwelling-place for those who come after us if not for ourselves." – Oliver Wendell Holmes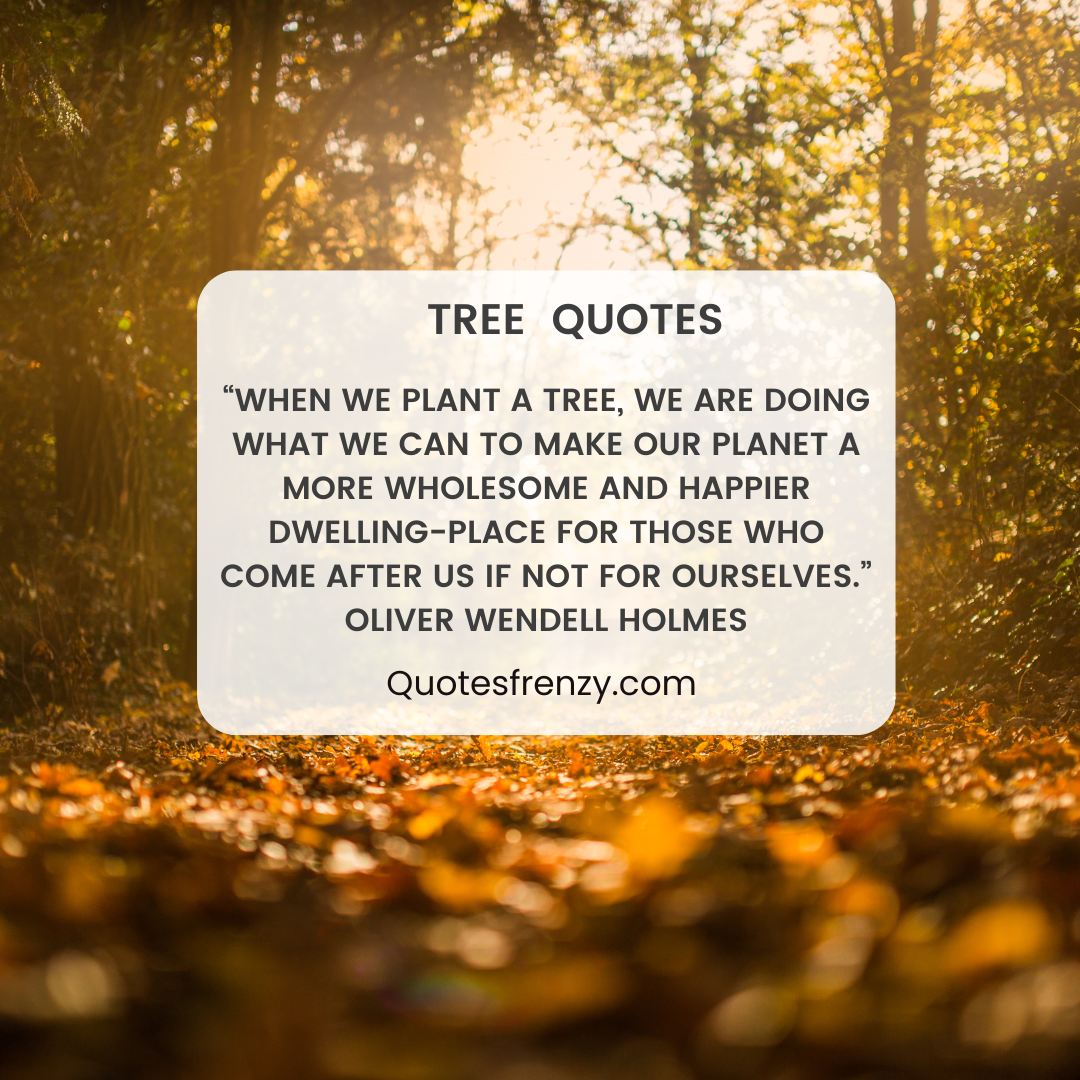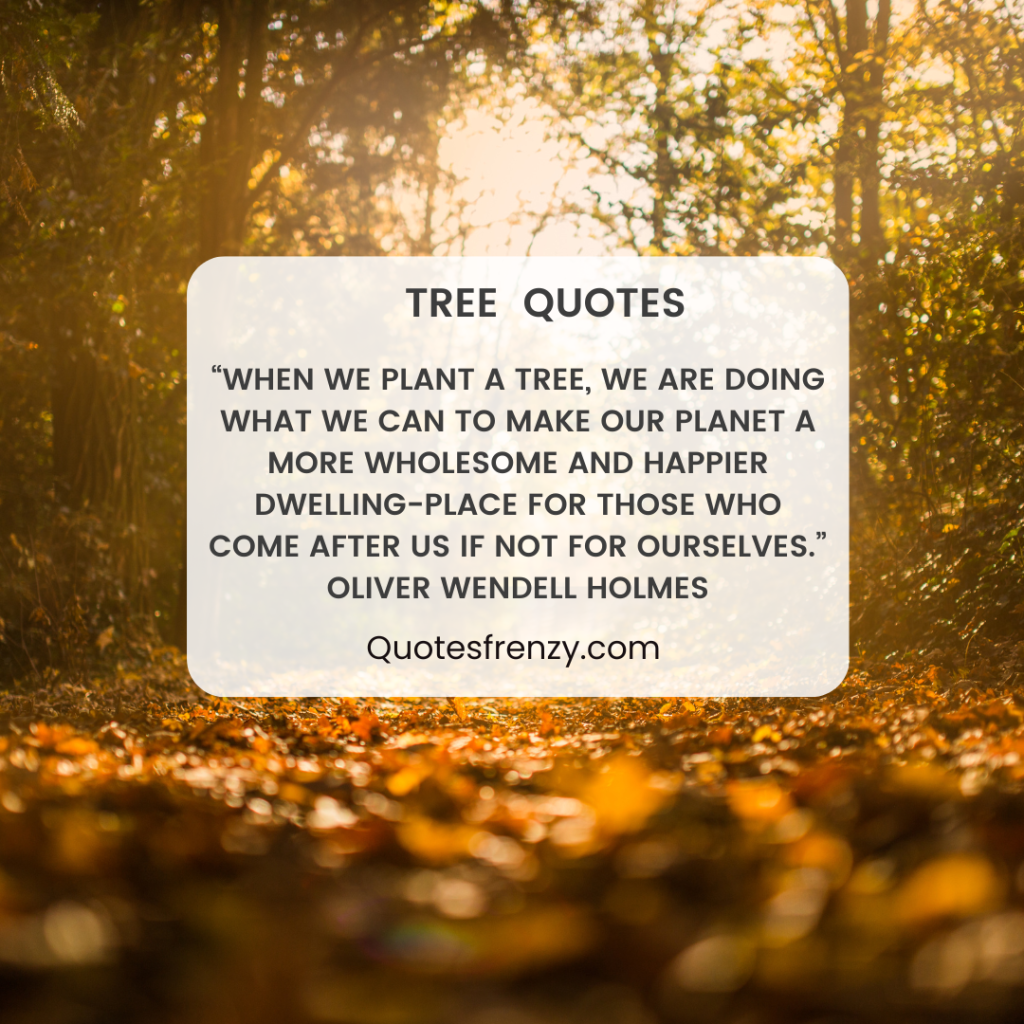 ---
"Advice from a tree, stand tall and proud, sink your roots into the earth. Be content with your natural beauty, go out on a limb, drink plenty of water, remember your roots and enjoy the view." – Ilan Shmia
---
"Love is like a tree, it grows of its own accord, it puts down deep roots into our whole being." – Victor Hugo
---
"The forest is a peculiar organism of unlimited kindness and benevolence that makes no demands for its sustenance and extends generously the products of its life and activity; it affords protection to all beings." – Buddhist Sutra
---
"To be able to walk under the branches of a tree that you have planted is really to feel you have arrived with your garden." – Mirabel Osler
---
"Never say there is nothing beautiful in the world anymore. There is always something to make you wonder in the shape of a tree, the trembling of a leaf." – Albert Schweitzer