25 Audrey Hepburn Quotes-Audrey Hepburn was not only known for her elegance, beauty, and her talents of acting, modeling, and dancing, but she was also a renowned counselor. She wrote many quotes that teach and advises. Hepburn's quotes are more oriented to advising people on how to endure life problems and they motivate at the same time.  Reading Audrey Hepburn Quotes will enable you to face life challenges bolding and tackle them wisely.
---
The Most Important Thing Is To Enjoy Your Life-To Be Happy-It's all that matters – Audrey Hepburn Quotes

As many people say life is too short to live grieving. There are so many beautiful things that happen to a person in her lifetime. Despite the few negativities in life, Hepburn urges people in her quotes to be always positive with life. Every person is responsible for his or her own happiness. Life is a once given commodity, it cannot be replaced or renewed, and it is therefore upon each one to make it enjoyable. Some people spend half their lifetime or even sadder because they only look at the unfavorable situations in their life. They need to be informed with this quote to know the reality of life.
---
25 Audrey Hepburn Quotes
---
"A quality education has the power to transform societies in a single generation, provide children with the protection they need from the hazards of poverty, labor exploitation and disease, and given them the knowledge, skills, and confidence to reach their full potential." Audrey Hepburn
---
"For beautiful hair, let a child run his or her fingers through it once a day." Audrey Hepburn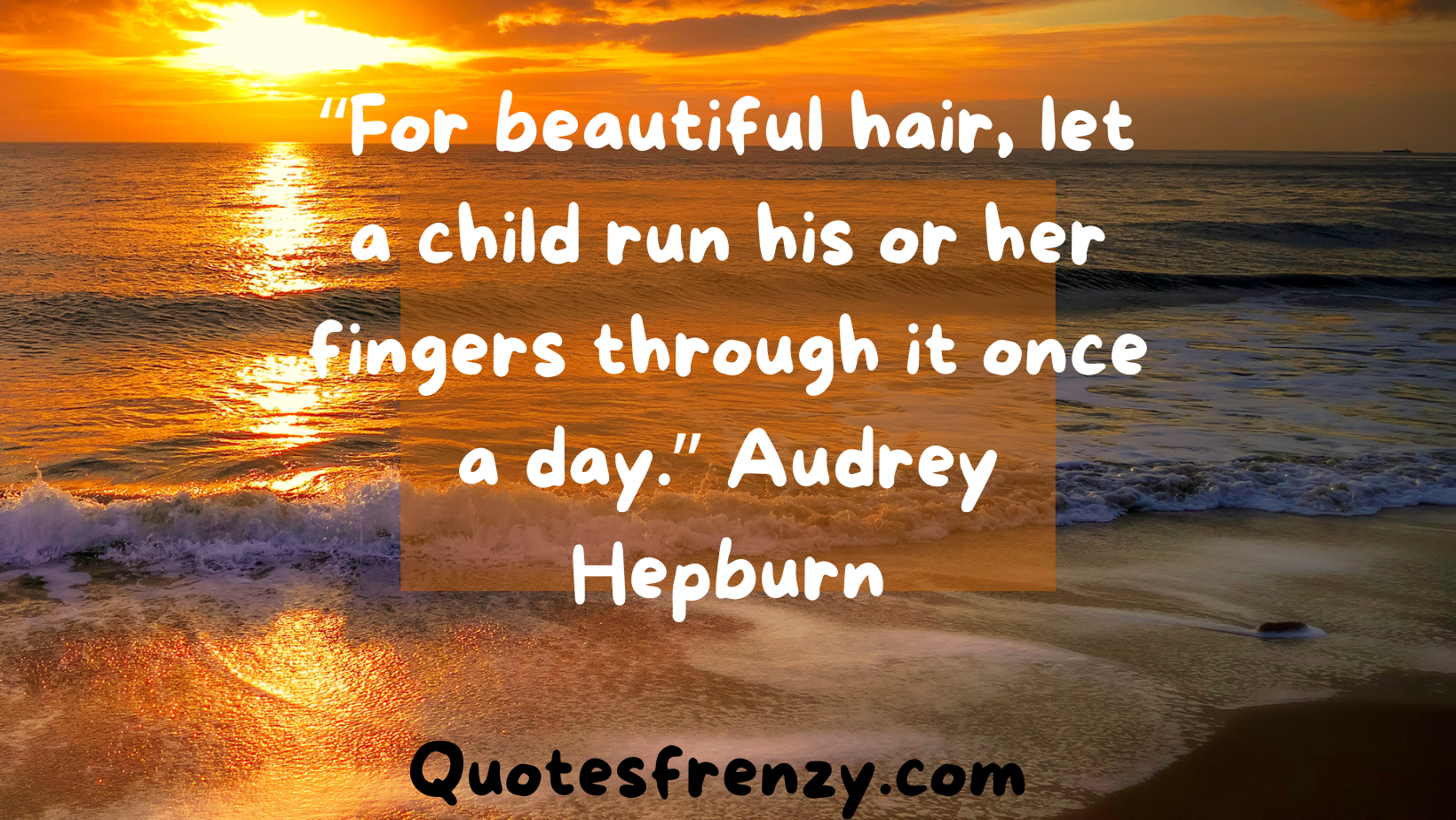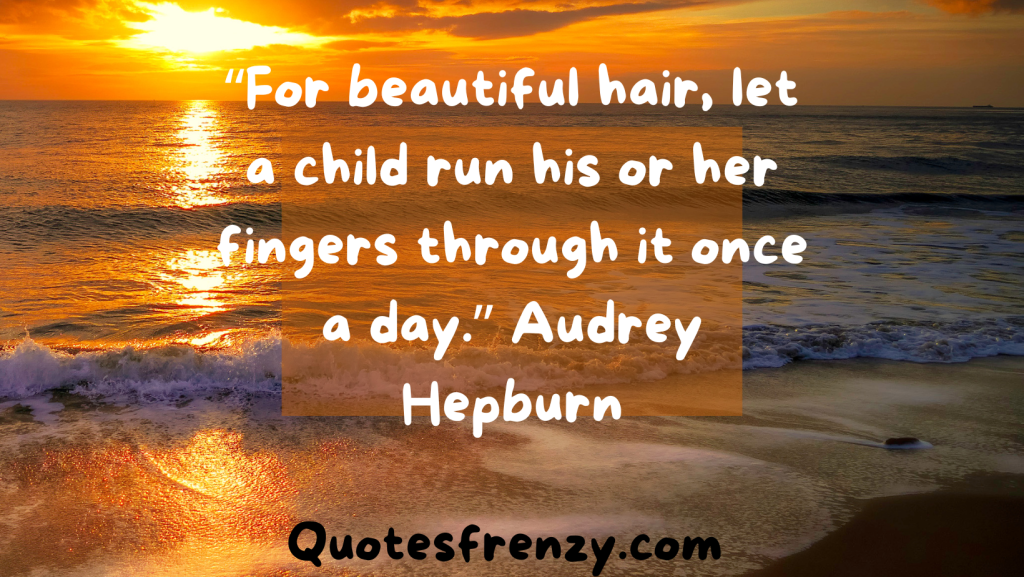 ---
"And the beauty of a woman, with passing years only grows!" Audrey Hepburn
---
---
"As you grow older, you will discover that you have two hands, one for helping yourself, the other for helping others." Audrey Hepburn
---
"For attractive lips, speak words of kindness." Audrey Hepburn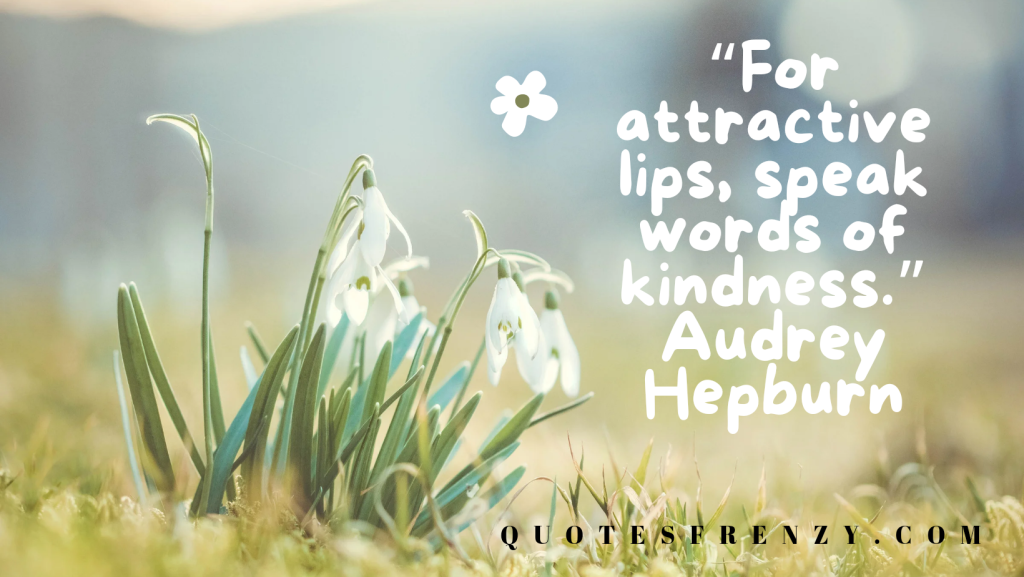 ---
"Always be a first-rate version of yourself." Audrey Hepburn
---
"I believe in being strong when everything seems to be going wrong." Audrey Hepburn
---
"For lovely eyes, seek out the good in people." Audrey Hepburn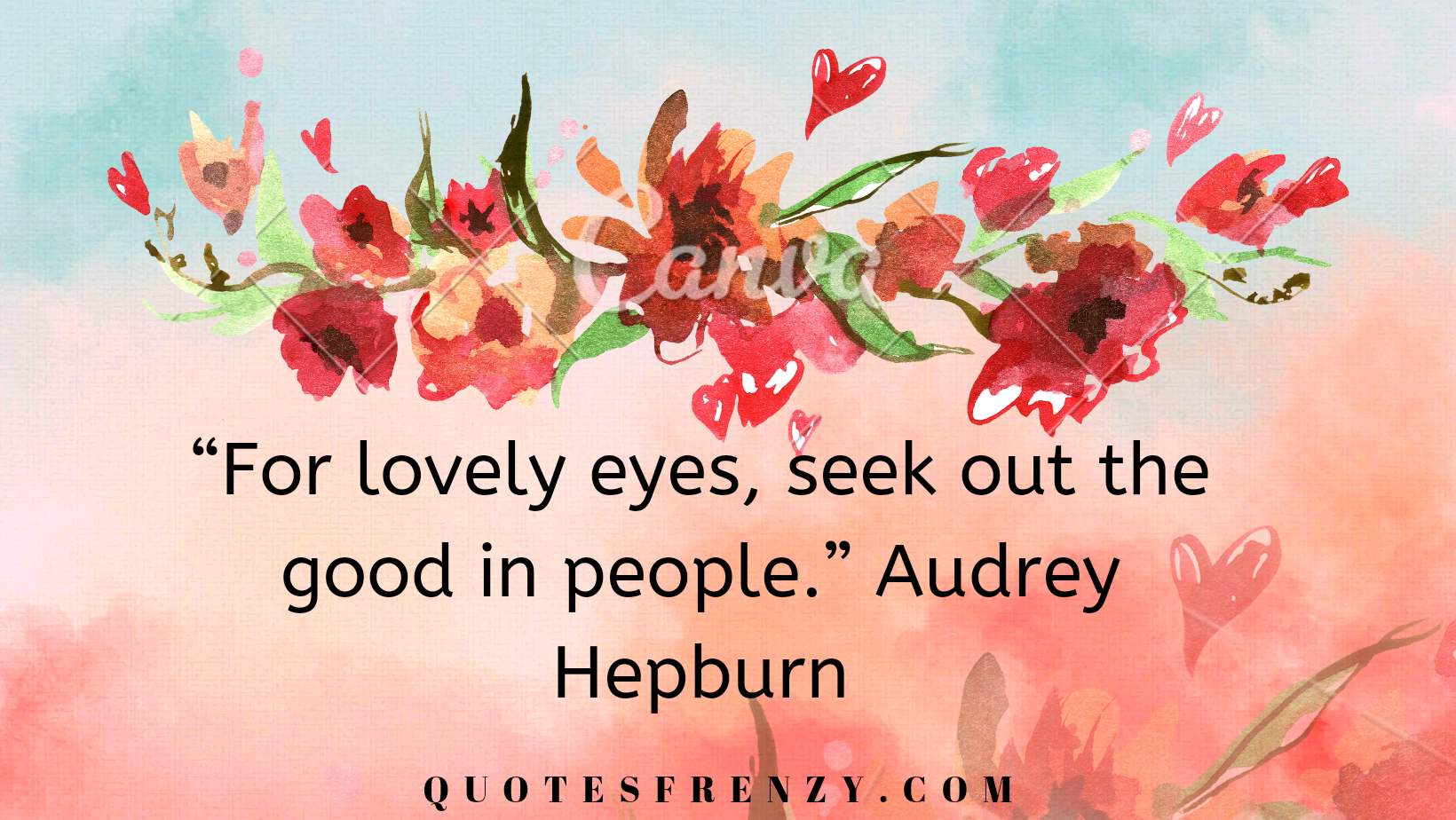 ---
"I believe that tomorrow is another day and I believe in miracles." Audrey Hepburn
---
---
"True friends are families which you can select." Audrey Hepburn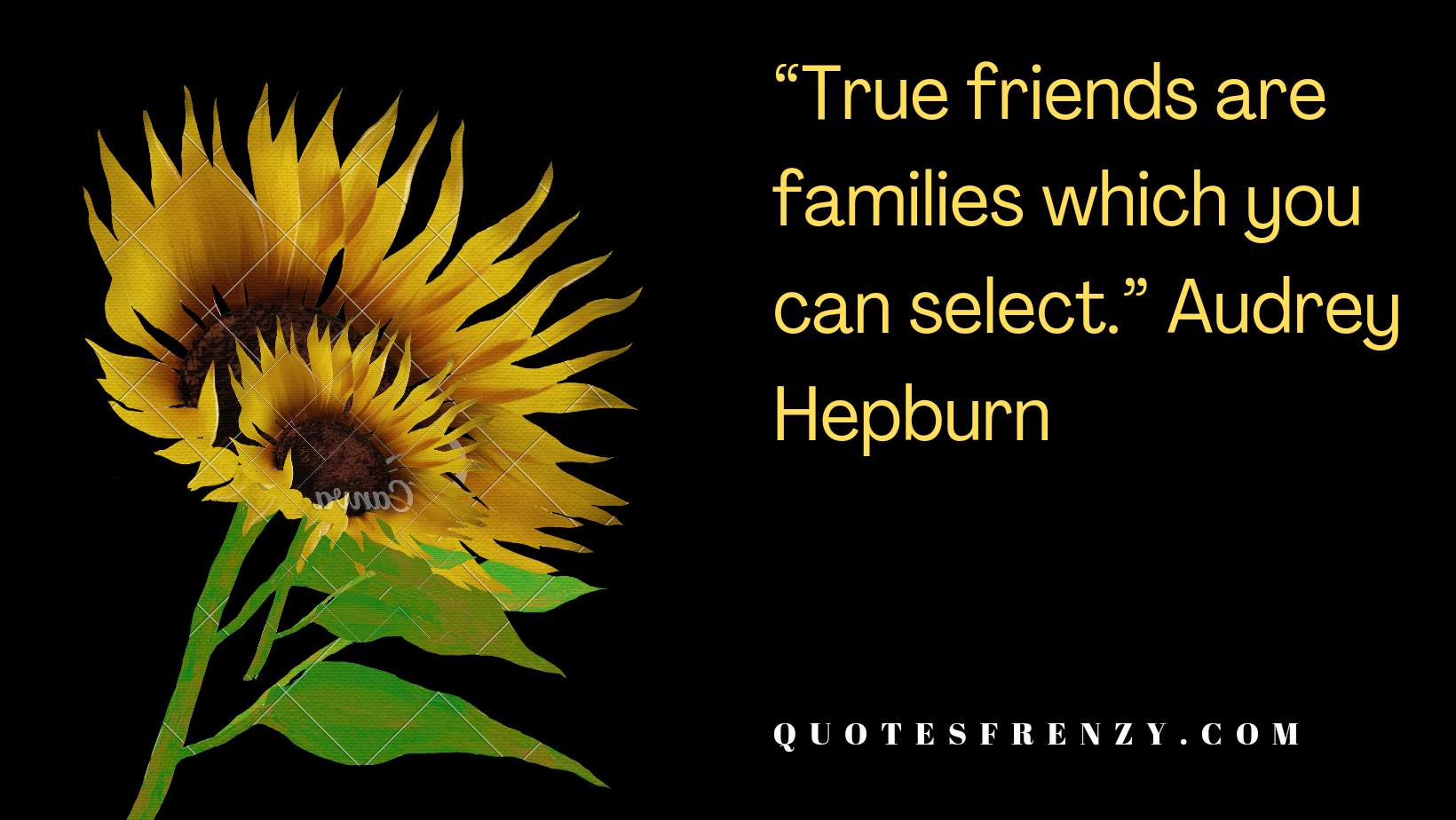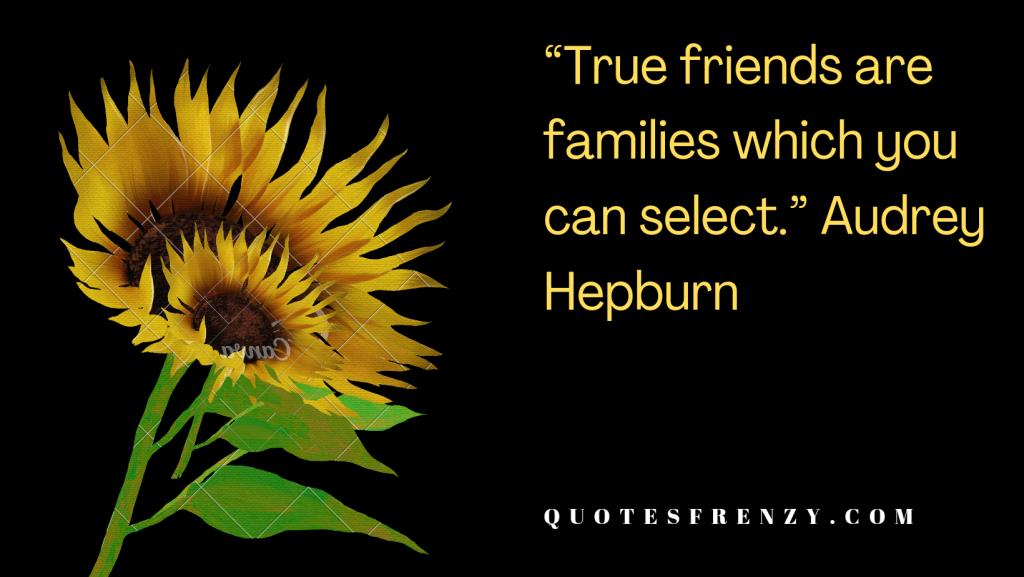 ---
"I tried always to do better: saw always a little further. I tried to stretch myself." Audrey Hepburn
---
"If you ever need a helping hand, it is at the end of your arm. As you get older you must remember you have a second hand. The first one is to help yourself. The second hand is to help others." Audrey Hepburn
---
"Living is like tearing through a museum. Not until later do you really start absorbing what you saw, thinking about it, looking it up in a book, and remembering – because you can't take it in all at once." Audrey Hepburn
---
"Make-up can only make you look pretty on the outside but it doesn't help if your ugly on the inside. Unless you eat the make-up." Audrey Hepburn
---
"My greatest ambition is to have a career without becoming a career woman." Audrey Hepburn
---
"Never regret anything that makes you smile." Audrey Hepburn
---
Inspirational Quotes For Women And Sayings
---
"Nothing is impossible, the word itself says 'I'm possible'!" Audrey Hepburn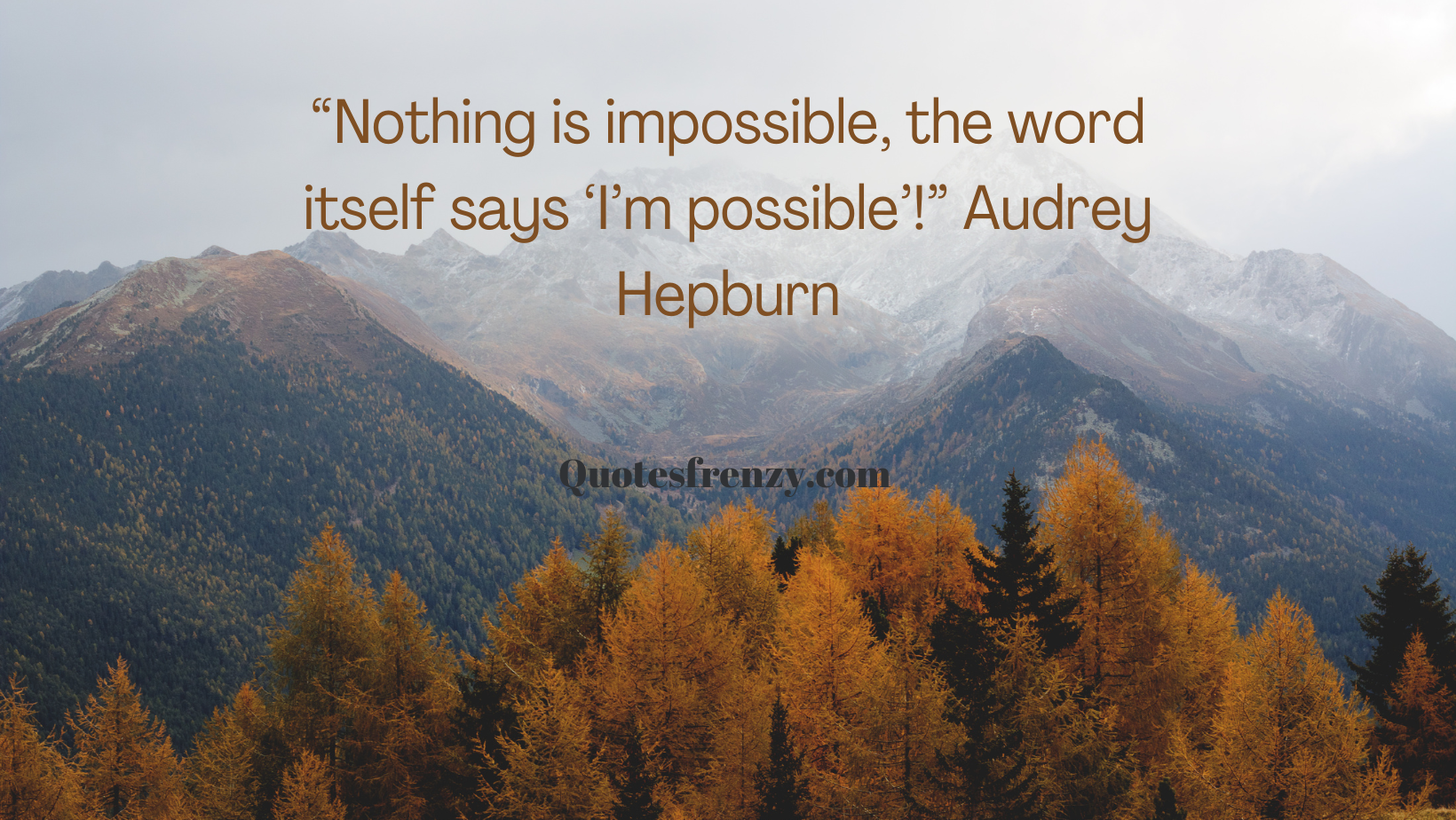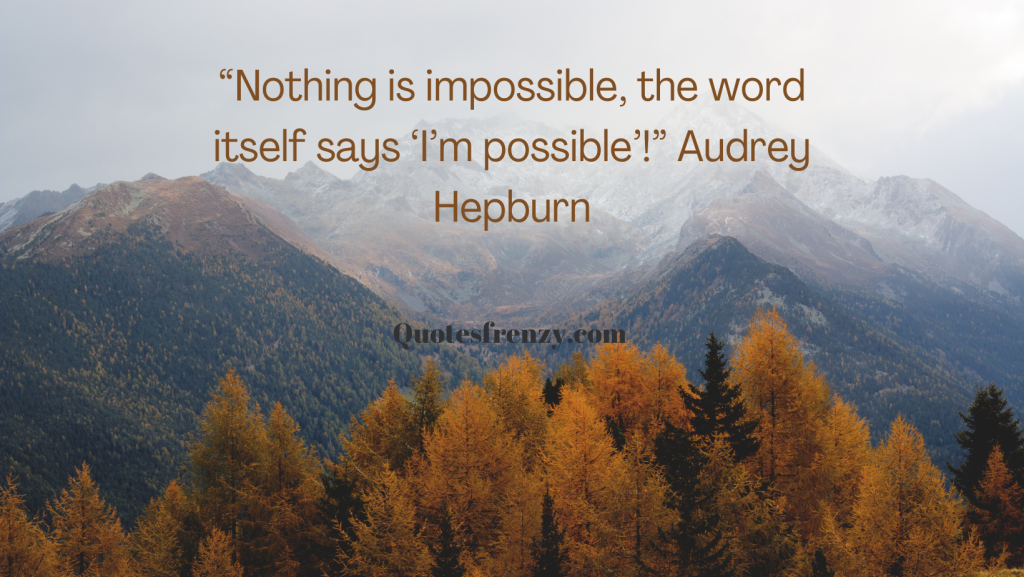 ---
"Pick the day. Enjoy it – to the hilt. The day as it comes. People as they come… The past, I think, has helped me appreciate the present – and I don't want to spoil any of it by fretting about the future." Audrey Hepburn
---
"Success is like reaching an important birthday and finding you're exactly the same." Audrey Hepburn
---
"The beauty of a woman must be seen from in her eyes, because that is the doorway to her heart, the place where love resides." Audrey Hepburn
---
"The most important thing is to enjoy your life – to be happy – it's all that matters." Audrey Hepburn
---
"To plant a garden is to believe in tomorrow." Audrey Hepburn
---
"I heard a definition once: Happiness is health and a short memory! I wish I'd invented it, because it is very true." Audrey Hepburn
---
"When I wear a silk scarf I never feel so definitely like a woman, a beautiful woman." Audrey Hepburn
"…walk with the knowledge that you are never alone." Audrey Hepburn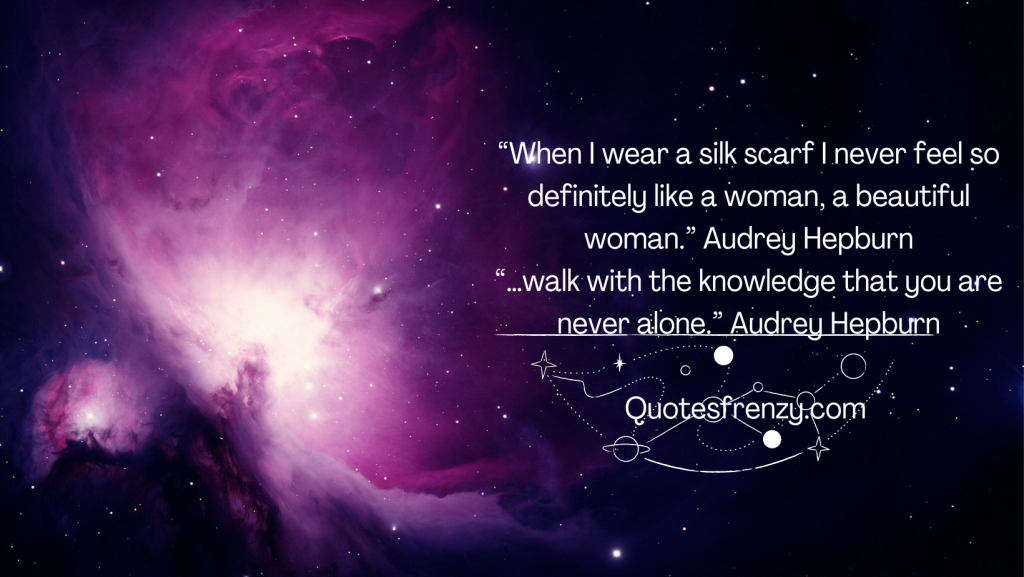 ---
The Beauty of a Woman Is Not In the Clothes She Wears, the Figure That She Carries or the Way She Combs Her Hair – Audrey Hepburn Quotes

Women love beauty, but what they do not understand is that the beauty is defined by both the inner and the outer beauty. The outer beauty is based on physical features like complexion, body shape, and hair. The outer beauty alone do not define the beauty of a woman, it is the inner beauty that surely defines it all. Inner beauty is composed of love, kindness, respect and compassion, generally making up her behavior and personality. This quote is used to warn people who only look at a woman outer characteristics and makes judgments.
---
As You Grow Older, You Will Discover That You Have Two Hands, One for Helping Yourself, the Other for Helping Others – Audrey Hepburn Quotes

Maturity comes with responsibilities, as one grows he or she is expected to cater for personal needs and be of service to others and the society. We live in a social world and therefore we always need others to help us. People around us need financial support as well as emotional help, and as grown responsible person it is your duty to lend a hand of help.
For Beautiful Eyes, Looks For the Good in Others; For Beautiful Lips, Speak Only Words of Kindness; and For Poise, Walk With the Knowledge That You Are Never Alone – Audrey Hepburn Quotes

This quote is good for those people who only give negative judgments of others. Being good does not cost anyone, it is a virtue that is God given. A person who is good only sees the good in others and is kind to all.
From Audrey Hepburn Quotes we can deduce that Hepburn was a kind woman, full of compassion for others and that she was positive of life.