Cinderella Quotes: Who doesn't know about Cinderella?  It is such a famous fairy tale. It all revolves around a girl, who stays with her step mother and step sisters. Cinderella will be treated as a slave. One fine day, at a ball dance, she misses her shoe. Making this shoe a clue, a charming prince comes to her, to marry her. This is a favorite of girls. Almost all girls expect a miracle love story like that.
"Have courage and be kind." – Cinderella Quotes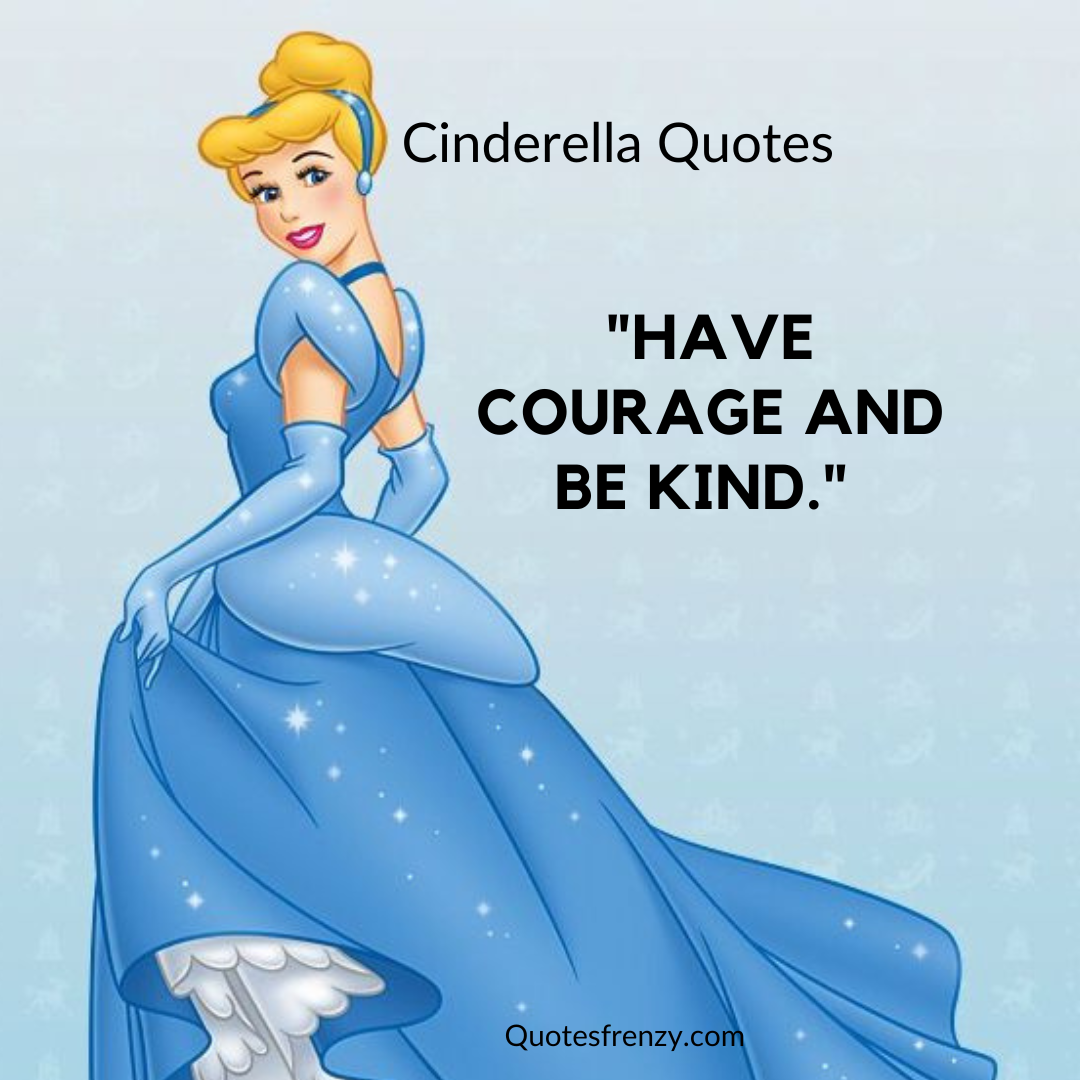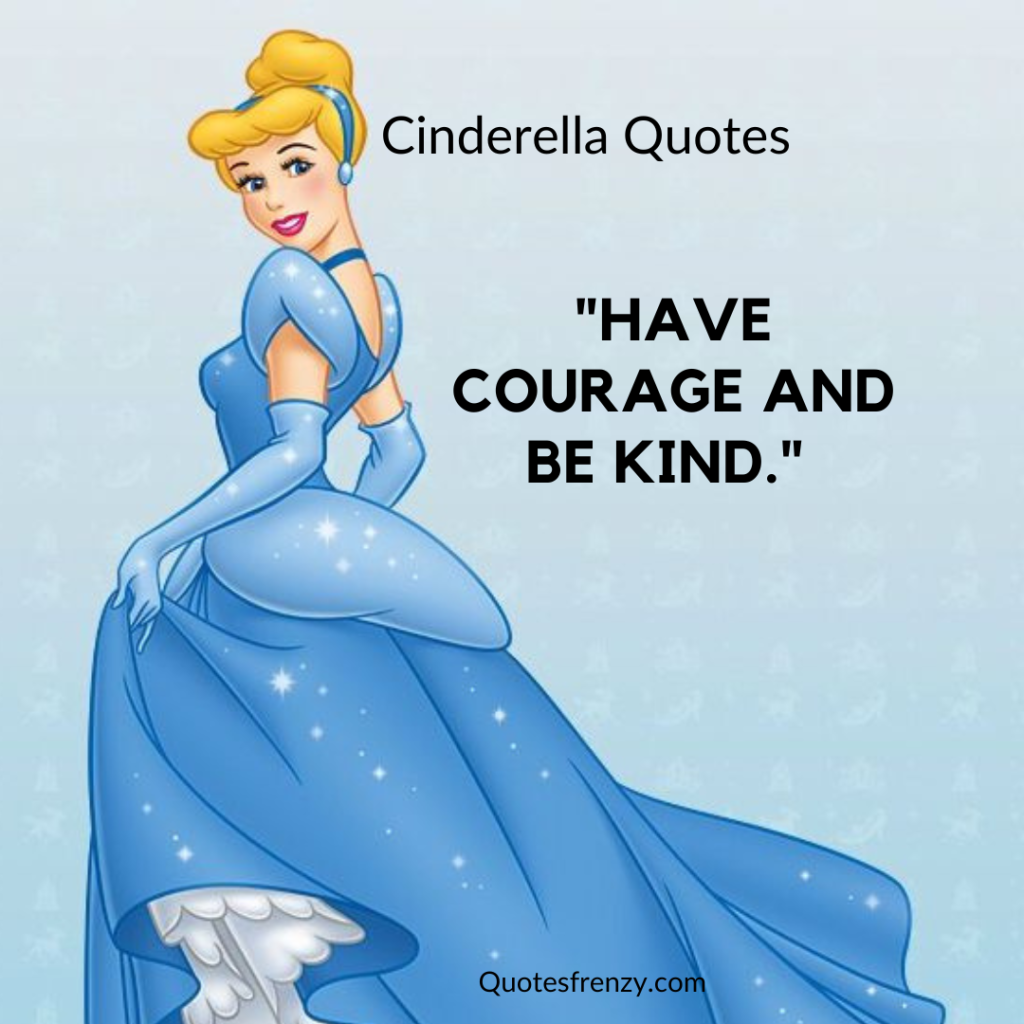 Having courage as well as being kind is not a small thing. It is a blessing in itself. Every one of us should have the courage to fight any problem. They should have the courage to face any issues. They should be able to solve their problems. A girl should never step back and cry it even applies to boys too.  Being kind is a blessing in itself, which many people don't have in this generation. Be kind be polite, you always get what you give to people. Be good and be kind.
---
Famous Cinderella Quotes
---
"I like Cinderella, I really do. She has a good work ethic. I appreciate a good, hard-working gal. And she likes shoes. The fairy tale is all about the shoe at the end, and I'm a big shoe girl." Amy Adams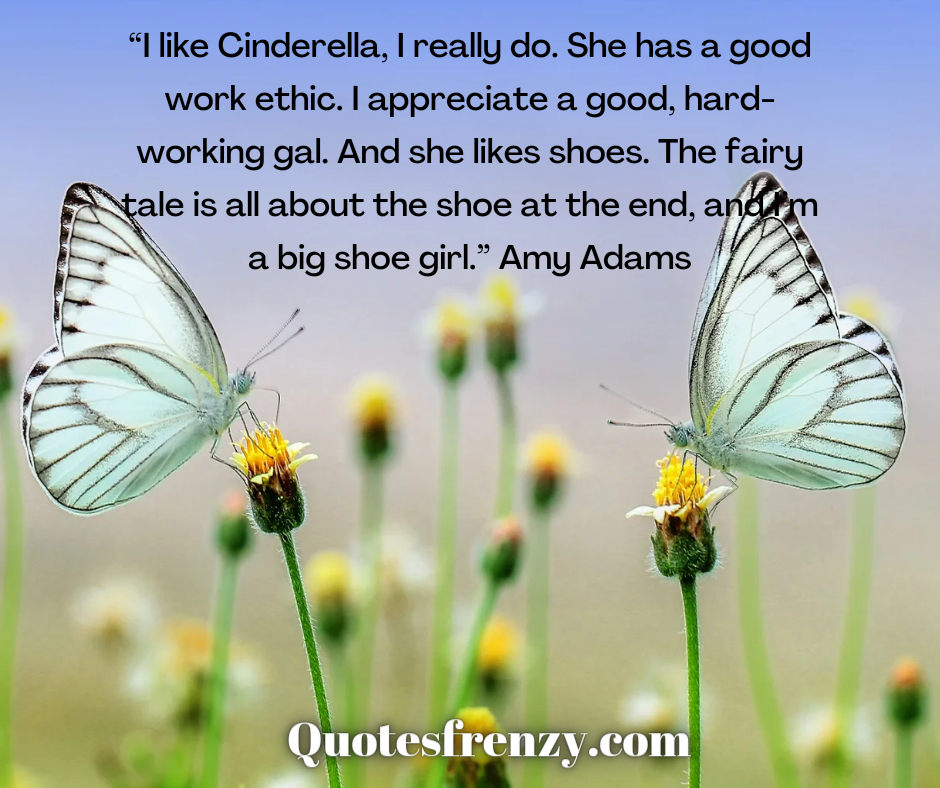 ---
Also read…
Best 45 Captain America Quotes And Sayings
---
"I'm a girl who loves fashion. I'm such a Cinderella – I love to put on a great dress and heels. It's fun!" Maria Bello
---
"'Cinderella' the cartoon scared me. I watched the bits with the mice, and the scenes with the stepsisters ripping her dress apart scared me. Cinderella was never even my favorite character in 'Into the Woods." Anna Kendrick
---
"People say I have my own Cinderella story, and in a way, I guess I do." Laura Osnes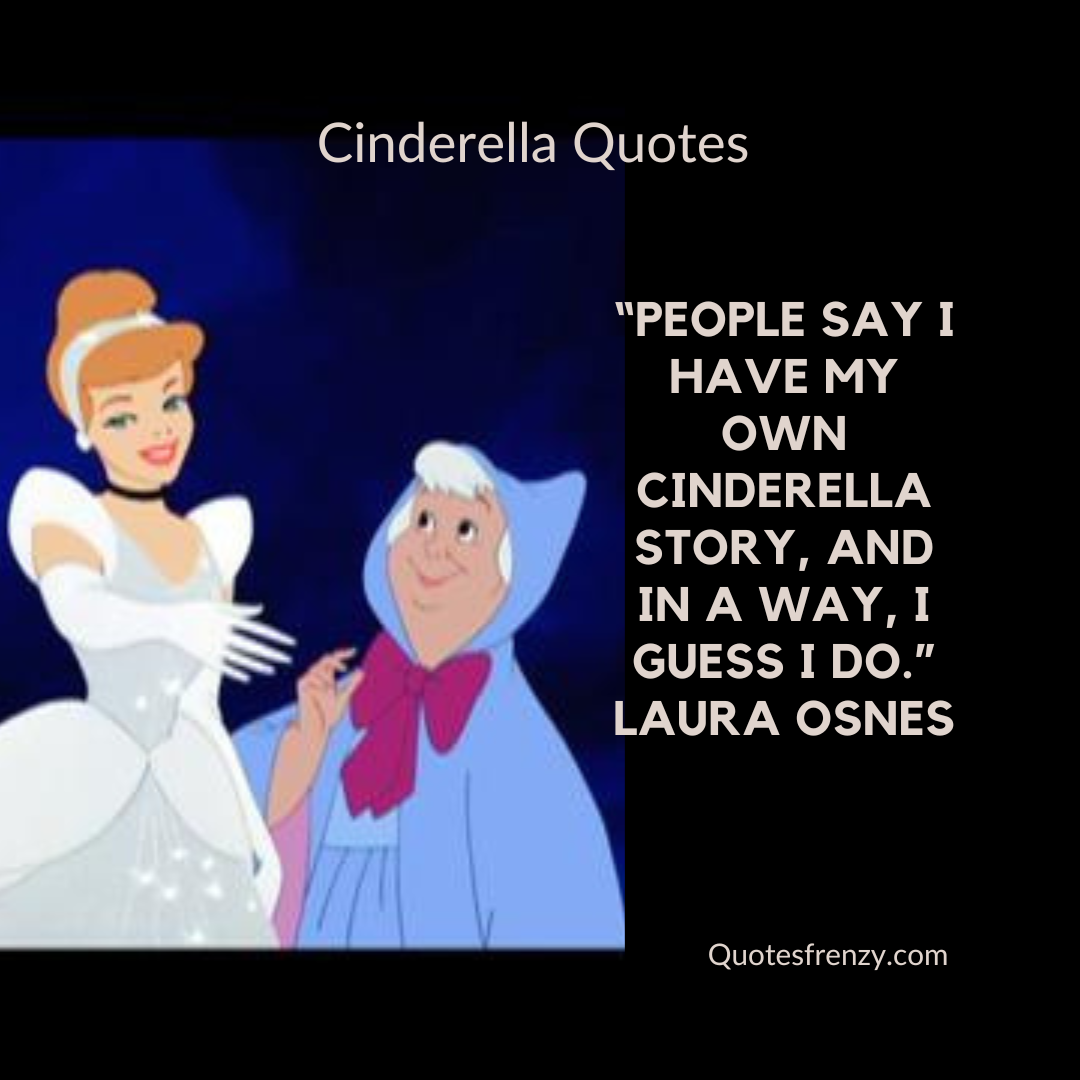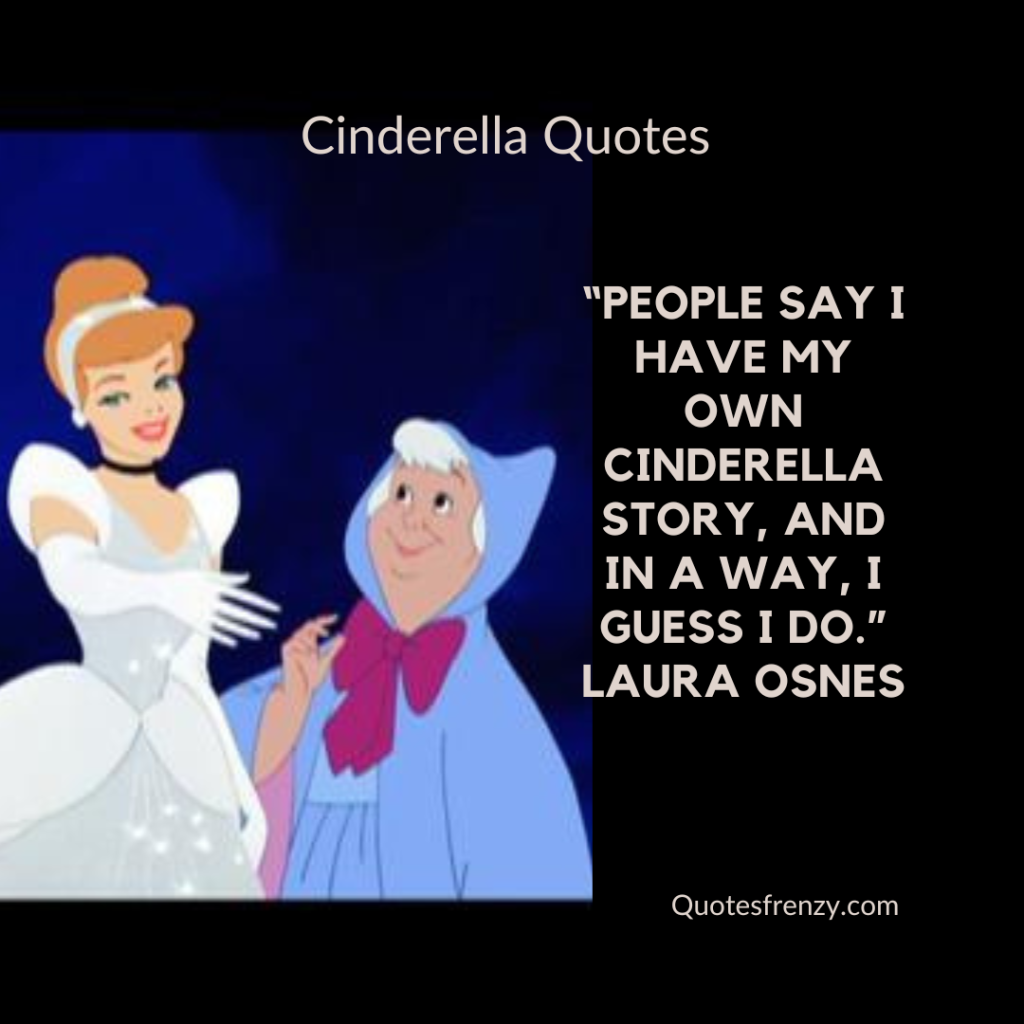 ---
"I am a typed director. If I made Cinderella, the audience would immediately be looking for a body in the coach." Alfred Hitchcock
---
"I think we love the escapism of something like 'Cinderella,' and I think we do with 'Thor." Kenneth Branagh
---
"He obliged Cinderella to sit down, and, putting the slipper to her little foot, he found it went on very easily, and fitted her as if it had been made of wax." Charles Perrault
---
"You want to make money, remake 'Cinderella.' You want to move people, remake the Hippolytus and Phaedra myth." Mike Nichols
---
"I'm kind of a grinder. I'm a Cinderella, an underdog story who fights." Zach Johnson
---
"Someone at Disney heard one of the records and called me in to do the sounds of Lucifer the Cat in Cinderella." June Foray
---
"I really saw myself as the quintessential Cinderella. I think that's when I really thought about how I wanted to do something else and get away from all that." Madonna Ciccone
---
"When I wasn't working on Broadway, I worked in a Bat Mitzvah dress shop and was the Cinderella of the shop – always cleaning and vacuuming!" Lea Michele
---
"Cinderella is not only an iconic character when it comes to beauty, grace and fairytale love, but also shoes." Christian Louboutin
---
"I pride myself in the fact that in the six months tour of Cinderella, I didn't take one show off." Lea Salonga
---
"My friend Fred Coury, the drummer in '80s rock band Cinderella, told me that in the rock world, you're either still there, or you're struggling to get back to where you were." Steve Valentine
---
"With While You Were Sleeping, it was so much fun and such a Cinderella story, that I didn't want to do another romantic comedy. I wanted to do the opposite." Bill Pullman
---
"I'm not a happy-ending person. I want to know what happens once Cinderella rides off with Prince Charming." Melissa Joan Hart
---
"I get so bummed when I have to return the clothes I'm lent. It's easy to feel so special, but like Cinderella, you lose your shoes." Morgan Saylor
---
"I'm not a character like Rapunzel or Cinderella; my story looks like any other." Malala Yousafzai
---
"'Cinderella' touches on loss, and there was definitely a strong sense of grief in my life." Lily James
---
"'Pride and Prejudice' is often compared to 'Cinderella,' but Jane Austen's real 'Cinderella' tale is 'Mansfield Park." Susanna Clarke
---
"I've been a character actress right from the beginning. I was no more like 'Cinderella' in my real life than I was like the neurotic poet in 'Cop." Lesley Ann Warren
---
"Before 'Cinderella Man,' I didn't box. But I boxed. It's possible. You go and you work hard at things." Craig Bierko
---
"I was the original Cinderella girl, looking for the happy ending in the fairy story. But my fantasy prince never came." Evelyn Keyes
---
"For many of us, our proms were less Walt Disney's 'Cinderella' and more Stephen King's 'Carrie.' The less we spent on them, the better." Gina Barreca
---
Even miracles take a little time – Cinderella Quotes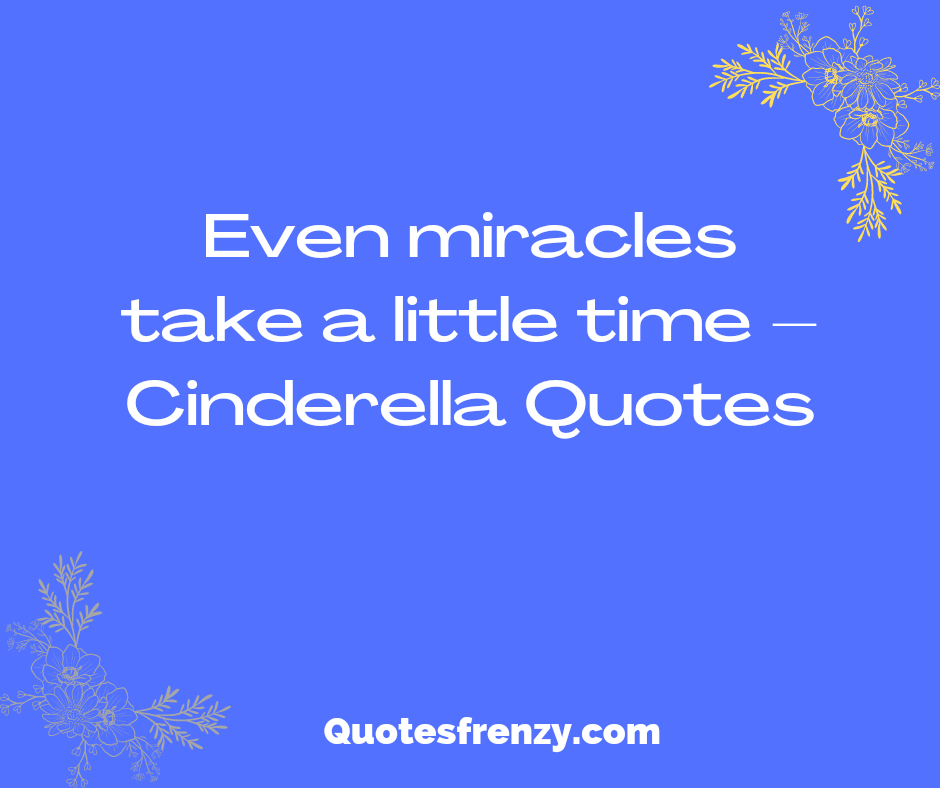 We should always remember that anything can't be instant. If we get anything instantly, it doesn't stay with us for a long time. We should wait till the turn comes. God always gives problems to the people to check their patience and improve it with time. We should never give up, we should try our best to get success. By doing this one day we will surely attain success. Even Cinderella herself waited a lot for her good time. Finally, she received the best out of her life, unexpectedly. It should inspire people.
---
Cinderella never asked for a prince, she asked for a night off and a dress – Cinderella Quotes
This tells us that, we should never expect or imagine more from anyone or anything. We should always limit our expectations. Being overly exceptive can destroy us badly. It even causes mental pain.  Wish for what you really need. If you deserve much than that, it will come your way at any cost. Just wait for the best days to come in. Cinderella is the best example for that. She never wished for something great to happen in life, but she got a great gift at the end.
Check out these Cinderella Quotes and be like Cinderella, it gives the best in your life.