Home Quotes -Everybody in this world believes home is a place where you can be comfortable, without any problems, adjustments etc. Also, if you go to some other place, you feel uncomfortable, you need to adjust between people.
Children who also live in a hostel for studying always thinks of coming back home so that they can enjoy and they can be with his parents and also can sleep more.
Sometimes people think about their home so badly if they are living outside that they get homesickness and get sad easily for small things. Also, home is a place where you can be yourself with the people surrounding you and you can be happy.
These Home  Quotes might help you to feel better.
---
Popular Home Quotes
---
"Home is the nicest word there is." – Laura Ingalls Wilder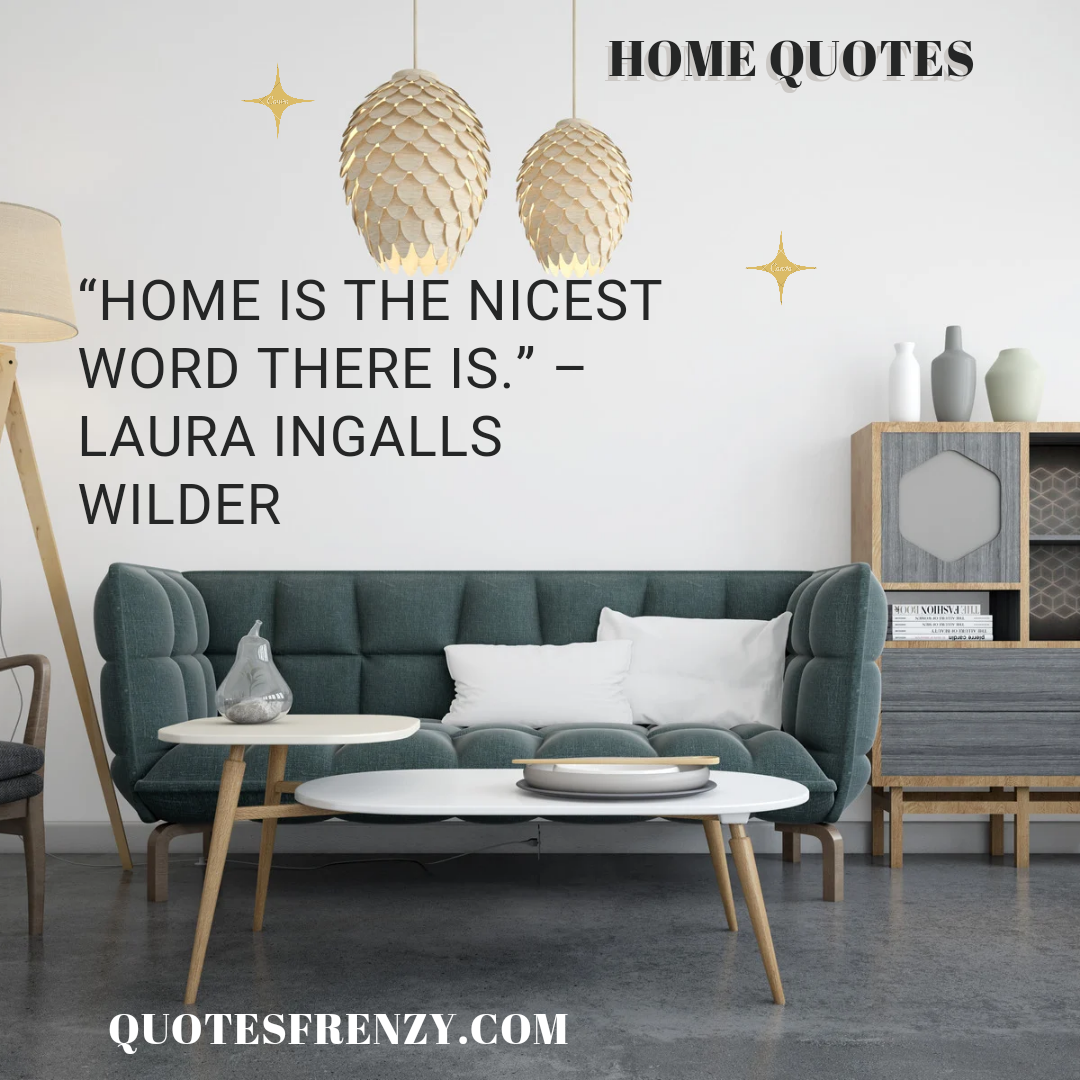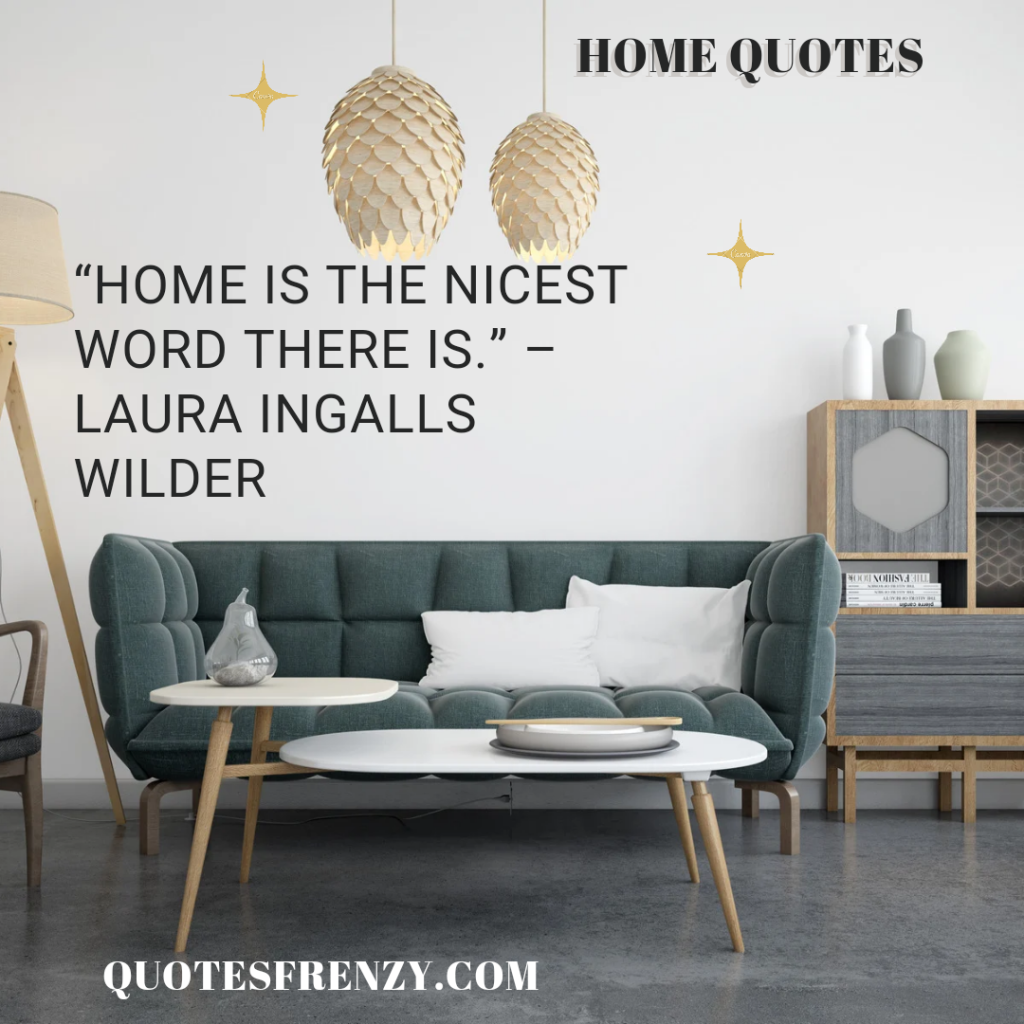 ---
Also read…
145 Save Water Quotes and Sologens
---
"Nothing is better than going home to family and eating good food and relaxing." – Irina Shayk
---
"Home is where we should feel secure and comfortable." – Catherine Pulsifer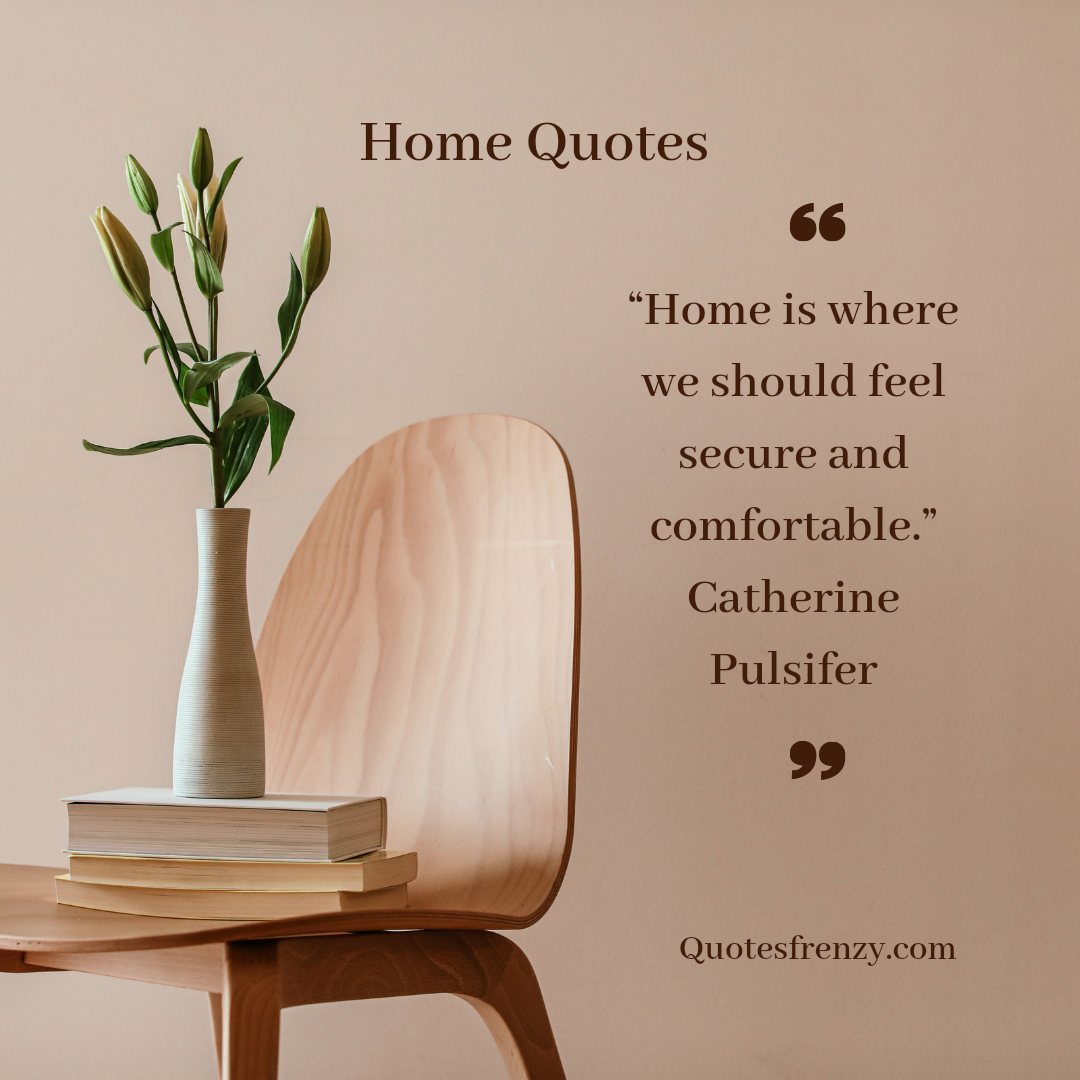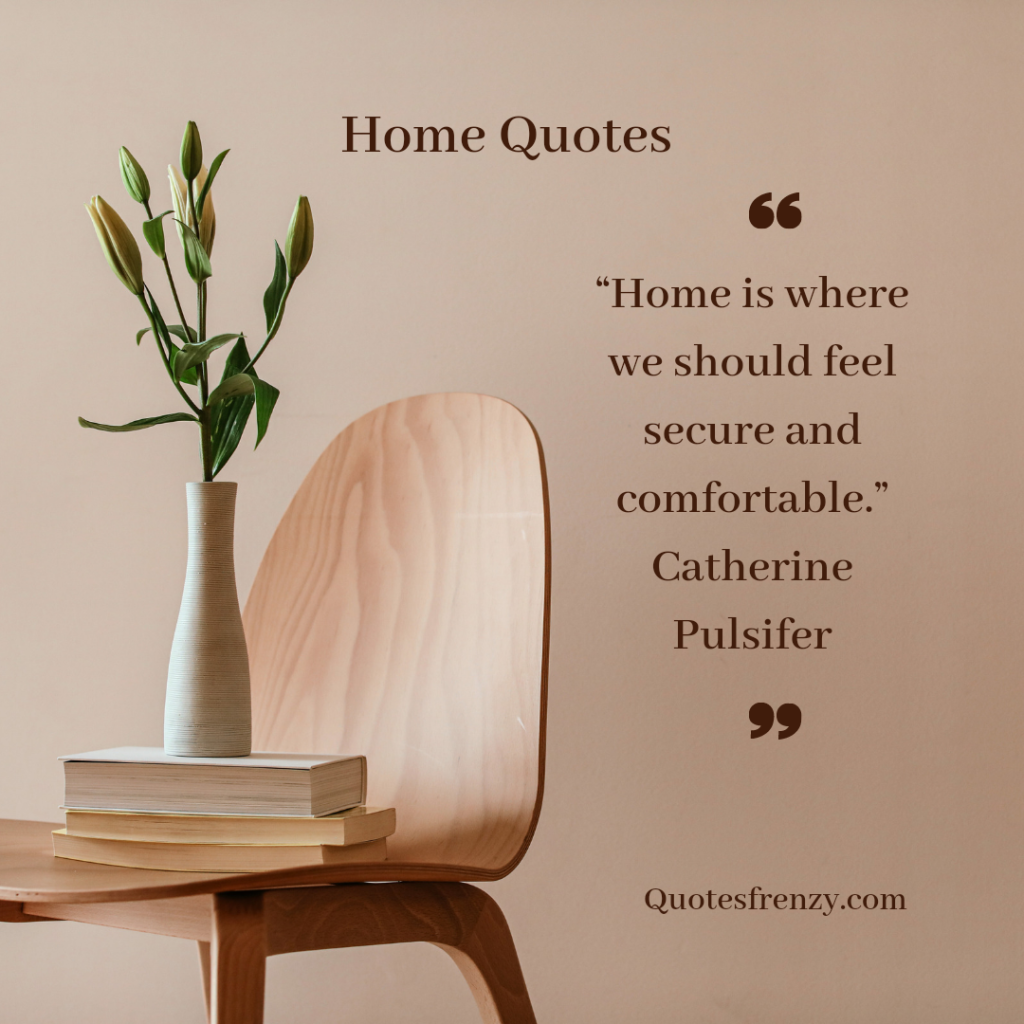 ---
"If you go anywhere, even paradise, you will miss your home." – Malala Yousafzai
---
"Nothing can bring a real sense of security into the home except true love." – Billy Graham
---
"There's no place like home. And I do miss my home." – Malala Yousafzai
---
"A man travels the world over in search of what he needs and returns home to find it." – George A. Moore
---
"Laughter is what makes a home warm, and what makes a work place human." – Catherine Pulsifer
---
"Home isn't where you're from, it's where you find light when all grows dark." – Pierce Brown
---
"Home can be a happy place with surety, knowledge and security; but it can also be a place where people develop confusion, doubt, and a low self-image." – Christian Olsen
---
"A house is made with walls and beams. A home is made with love and dreams." – Unknown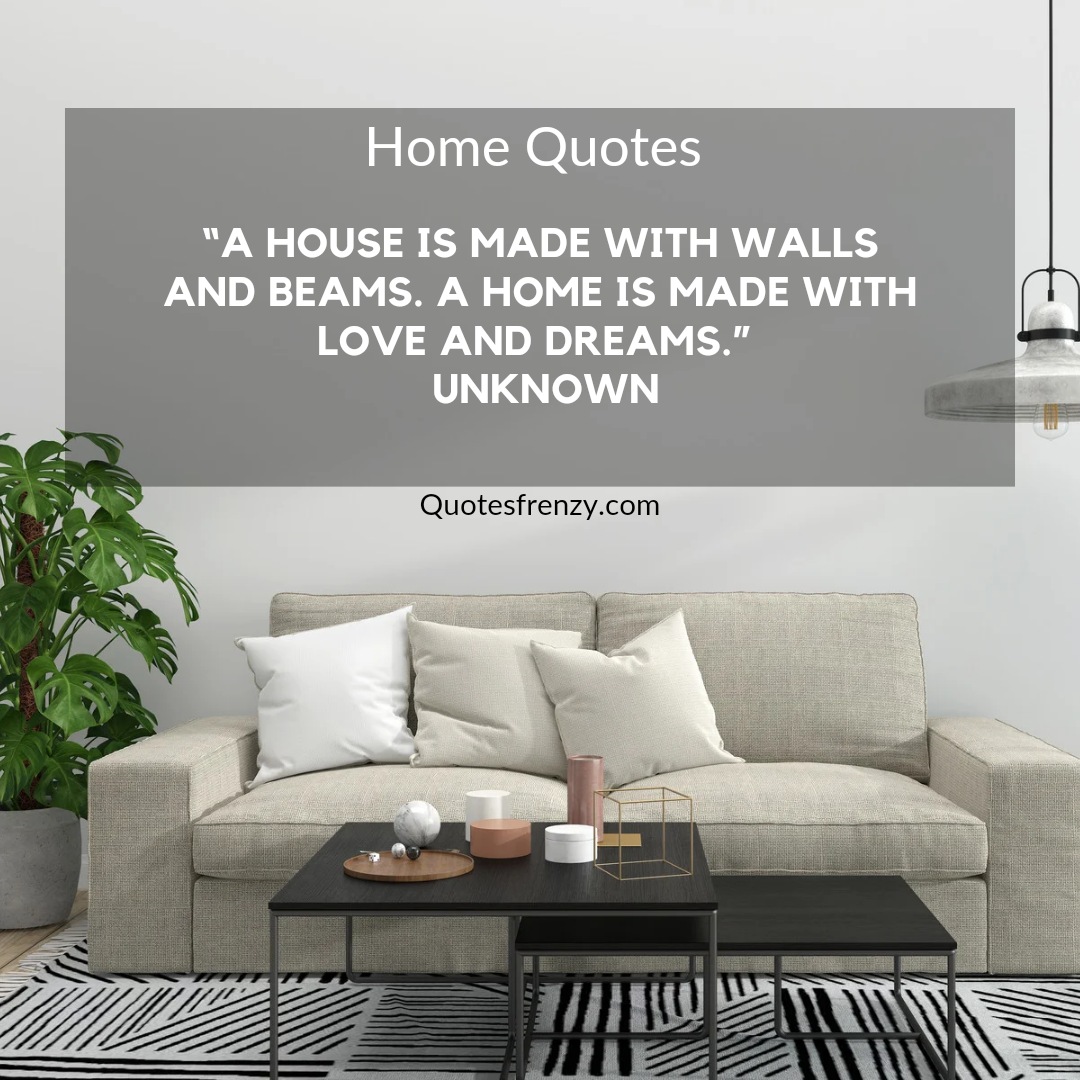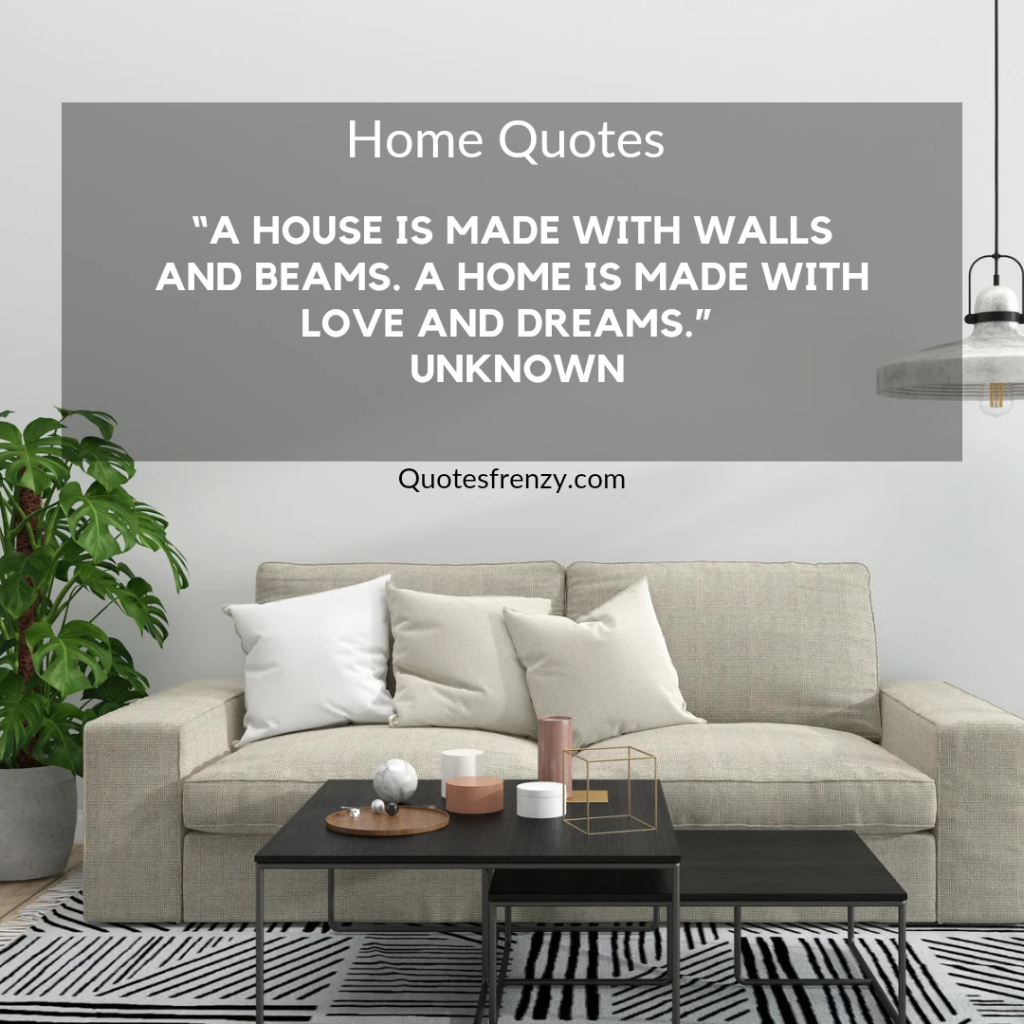 ---
"No matter where you are financially, quality time is always available and with just a bit of love and creativity you can easily create a home." – Kendell Fox
---
"Home is where you feel loved, appreciated, and safe." – Tracey Taylor
---
"The longest road out is the shortest road home." – Irish Proverb
---
"Home is people. Not a place. If you go back there after the people are gone, then all you can see is what is not there any more." – Robin Hobb
---
"Home isn't a place, its a feeling." – Cecelia Ahern
---
"Your home is a physical and perhaps emotional comfort zone where you can heal and recover enough to address all your work problems the next morning." – Zak Khan
---
"Is it possible for home to be a person and not a place?" – Stephanie Perkins
---
"Home is the place where, when you have to go there, they have to take you in." – Robert Frost
---
"A house is made of brick and mortar, but home is made by the people who live there." – M. K. Soni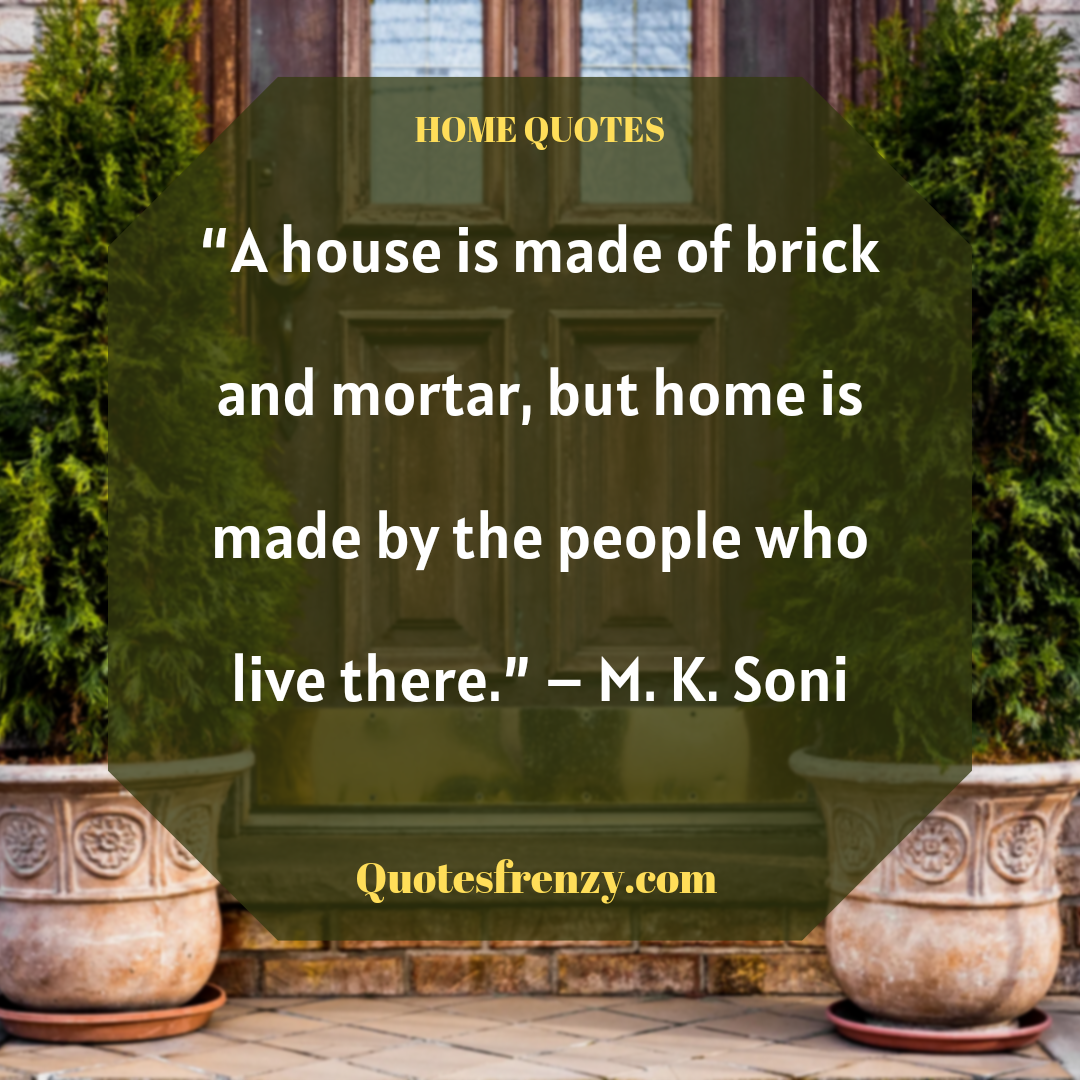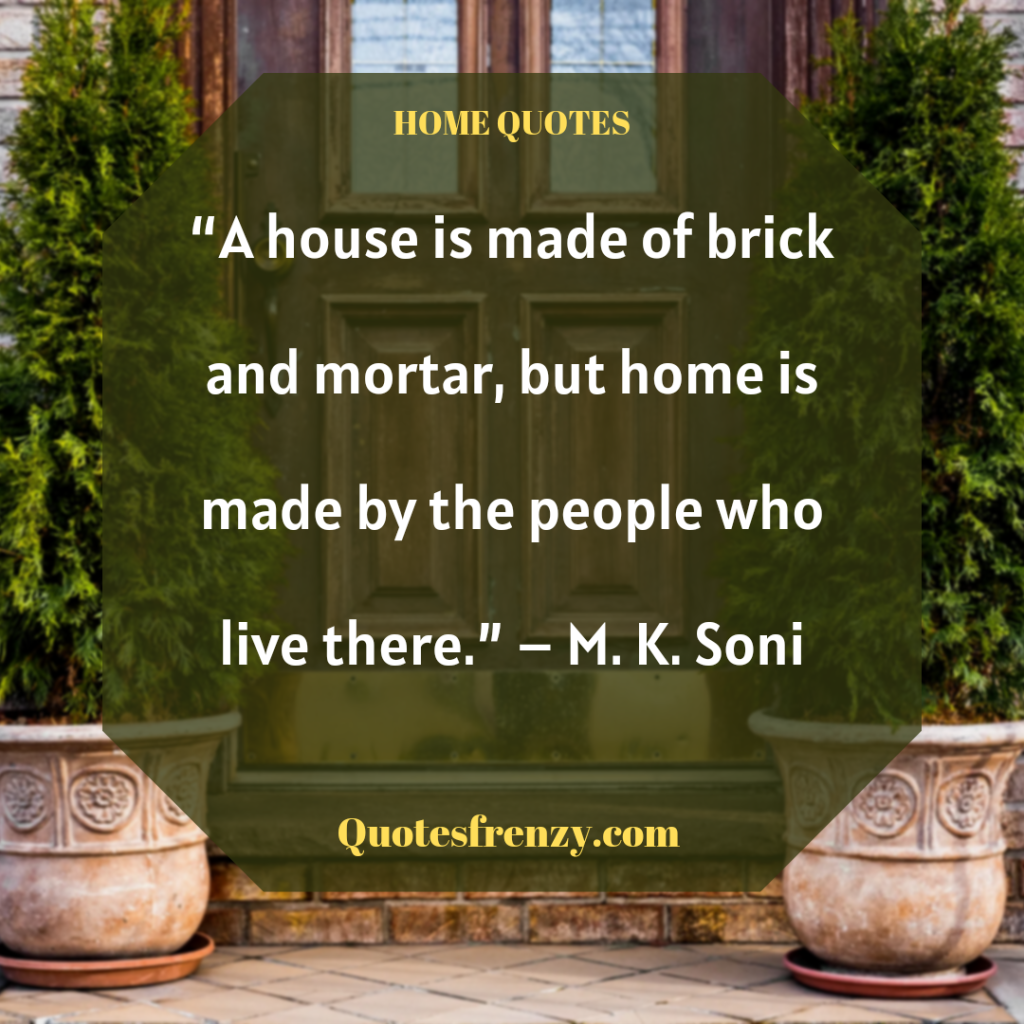 ---
"When a home feels like it has been customized to an owner's functional and aesthetic needs, the people who live there generally find it more appealing than the best five-star resort." – Vern Yip
---
"Home is where I work, and I work everywhere." – Alfred Nobel
---
"Home is where everyone comes for respite and rest, but if a home environment does not provide the love that children need, then they will seek it elsewhere." – Nicoline Ambe
---
"A home without books is a body without soul." – Marcus Tullius Cicero
---
"Home is a shelter from storms-all sorts of storms." – William J. Bennett
---
"It's a funny thing coming home. Nothing changes. Everything looks the same, feels the same, even smells the same. You realized what's changed is you." – F. Scott Fitzgerald
---
"A house is no home unless it contain food and fire for the mind as well as for the body." – Margaret Fuller
---
"A man's home is his wife's castle." – Alexander Chase
---
"When you're safe at home you wish you were having an adventure; when you're having an adventure you wish you were safe at home." – Thorton Wilder
---
"The enormous power to change your home and your children's behavior is in your hands, parents." – Nurit Levi
---
"Create a good habit of staying home for family nights, focus on simple entertainment for children." – Ronald Valentino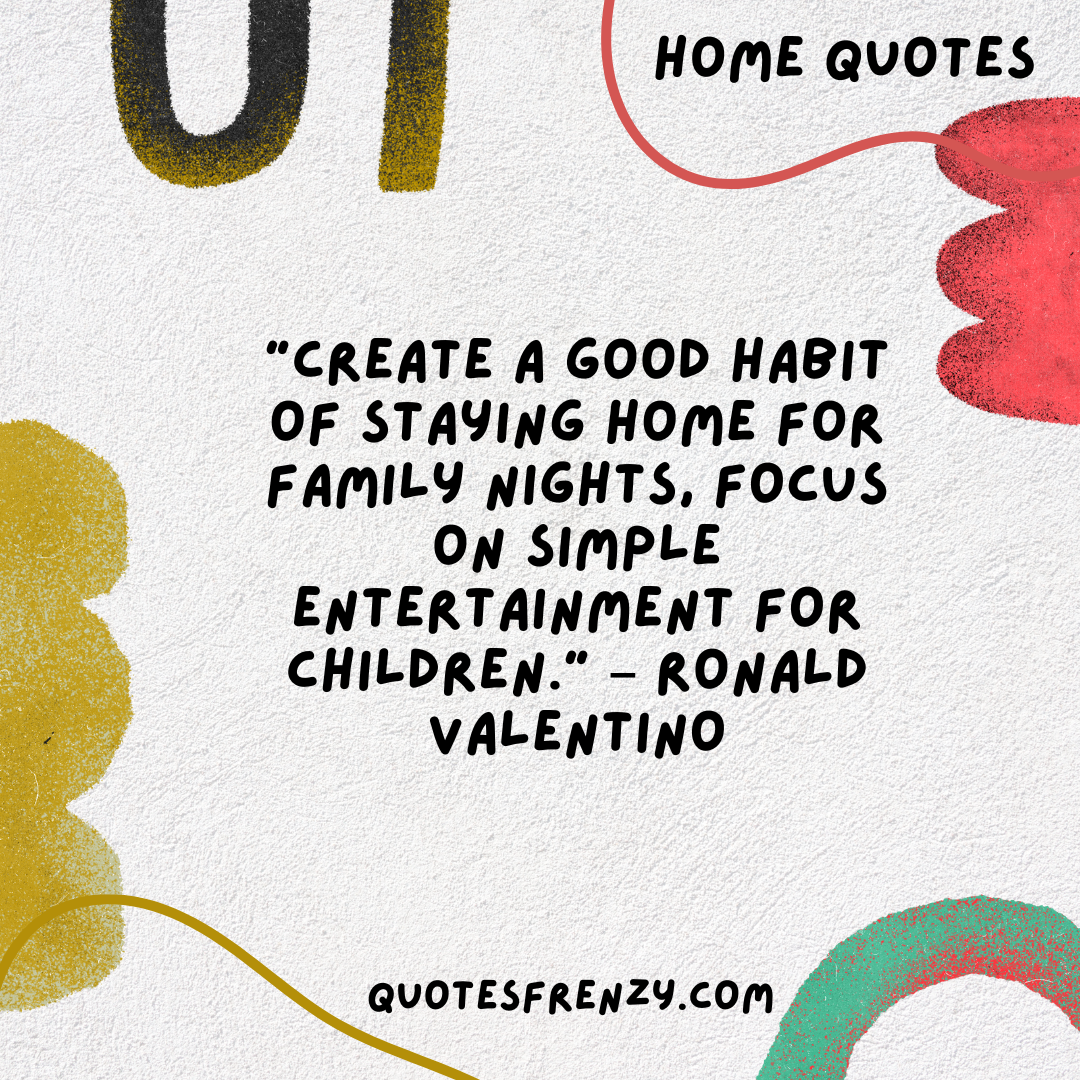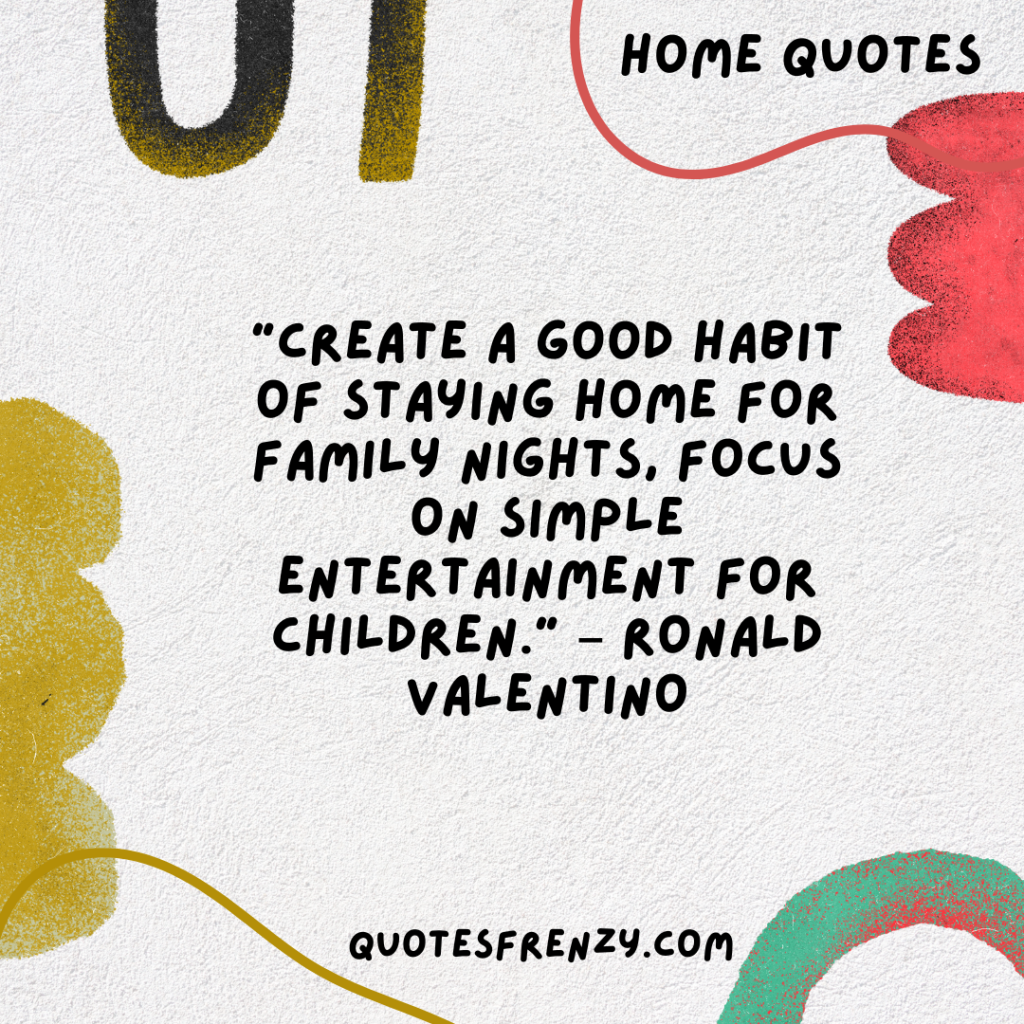 ---
"I believe that if we are to create peace in the world, we must first create peace in the home." – Richard O'Keef
---
"Perhaps home is not a place but simply an irrevocable condition." – James Baldwin
---
"Home is any four walls that enclose the right person." – Helen Rowland
---
"If you want to declutter your home, this simply means that you're making an effort to have a simpler house." – Beth Jones
---
"Be grateful for the home you have, knowing that at this moment, all you have is all you need." – Sarah Ban Breathnach
---
"Home is everything you can walk to." – Jerry Spinelli
---
"A home should be a stockade, a refuge from the flaming arrows of anxiety, tension and worry." – Wilfred Peterson
---
"I want my home to be that kind of place–a place of sustenance, a place of invitation, a place of welcome." – Mary DeMuth
---
"I long, as does every human being, to be at home wherever I find myself." – Maya Angelou
---
"They created a home where I felt safe. I could make mistakes. Failure wasn't punished." – Sarah Williams
---
"It's not about finding a home so much as finding yourself." – Jason Behr
---
"Spend some time this weekend on home improvement; improve your attitude toward your family." – Bo Bennett
---
"Consciously leave all those behind, walk into your home in a manner that says you are truly happy to be home for the ones you love, who have missed you all day, and have so longed to have you back." – Grace Essen
---
"No matter how big you are, when you go back home, your family treats you like a normal person." – Ajith Kumar
---
"I hate leaving home. I love what I do, but I'd love to go home every night." – Charlie Watts
---
"Home is where I'm most comfortable." – Gnash
---
"Home is where somebody notices when you are no longer there." – Aleksandar Hemon
---
"Where thou art, that is home." – Emily Dickinson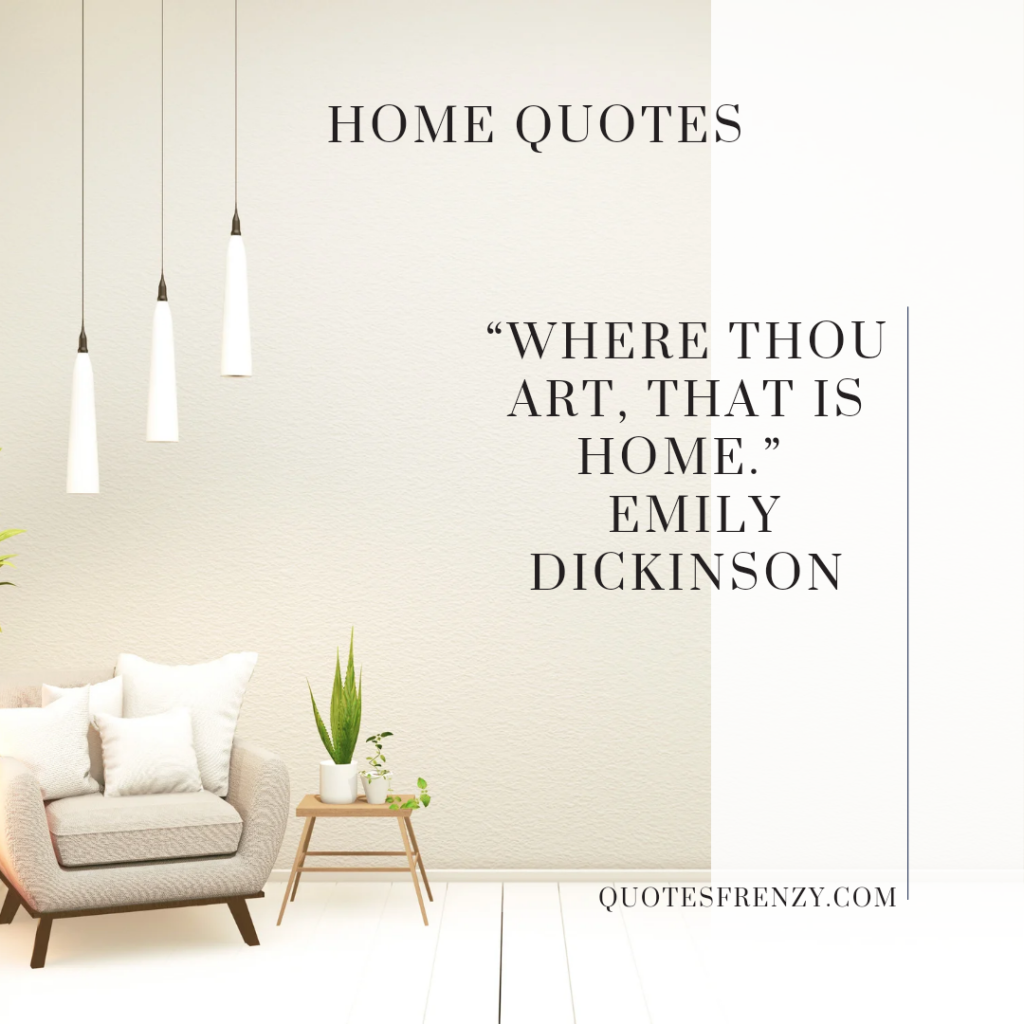 ---
"You can have more than one home. You can carry your roots with you, and decide where they grow." – Henning Mankell
---
"Yes, your home is your castle, but it is also your identity and your possibility to be open to others." – David Soul
---
"Since I'm always working, my best holiday memories are definitely when I can just go home and spend time with my family." – Chris Brown
---
"Home is where one starts from." – T. S. Eliot
---
"The home should be the treasure chest of living." – Le Corbusier
---
"I don't even know how it is to have a home. I feel like an orphan or something." – Fred Korematsu
---
"I really enjoy spending time at home." – Elena Roger
---
"Like love, breakfast is best when made at home." – Gina Barreca
---
"I love you – I am at rest with you – I have come home." – Dorothy L. Sayers
---
"I believe wherever dreams dwell, the heart calls it home. So may you untangle yourself from the twist of melancholy and ley your thoughts carry you back to the birthplace of your truth." – Dodinsky
---
"This is my idea of heaven, coming home and watching the news." – Rita Moreno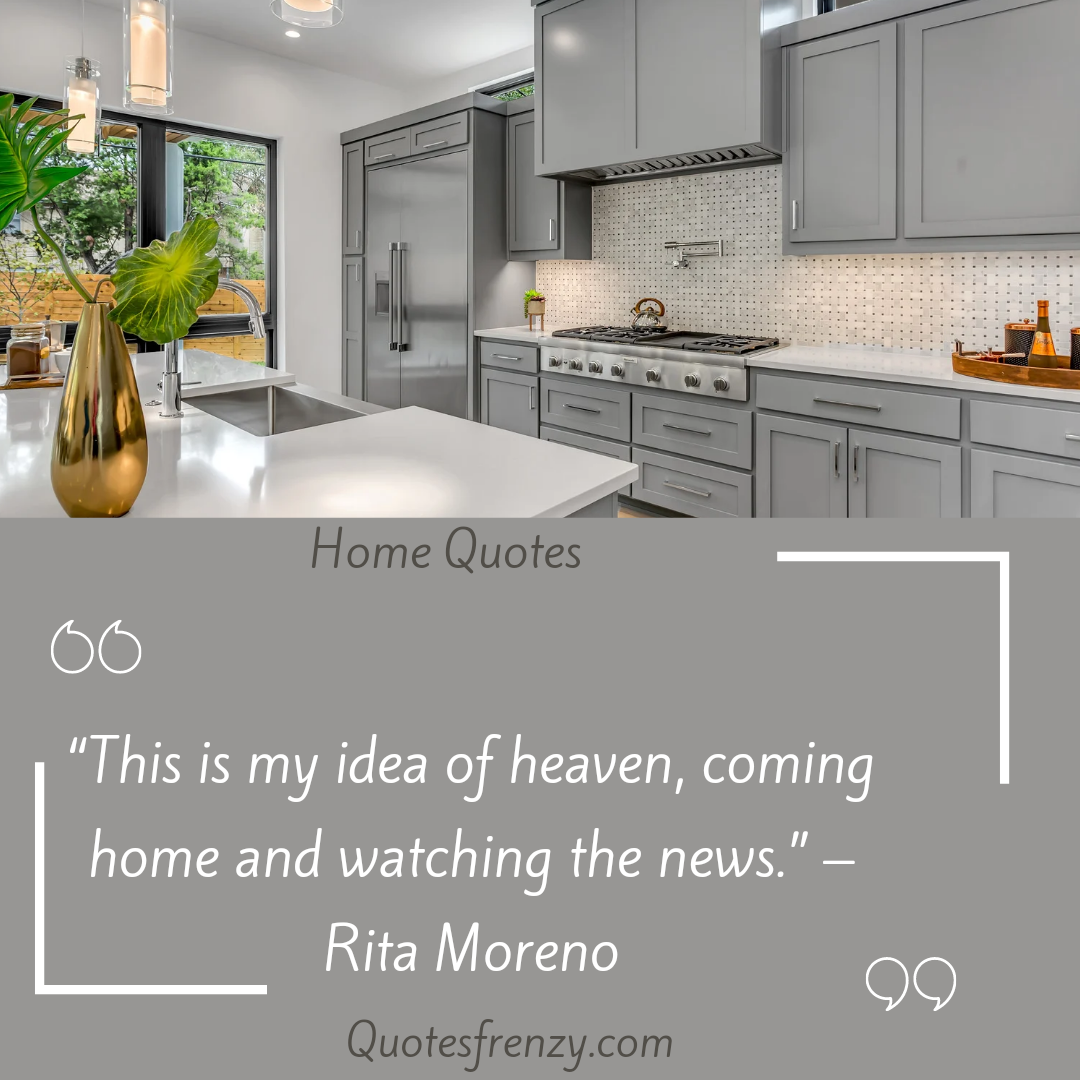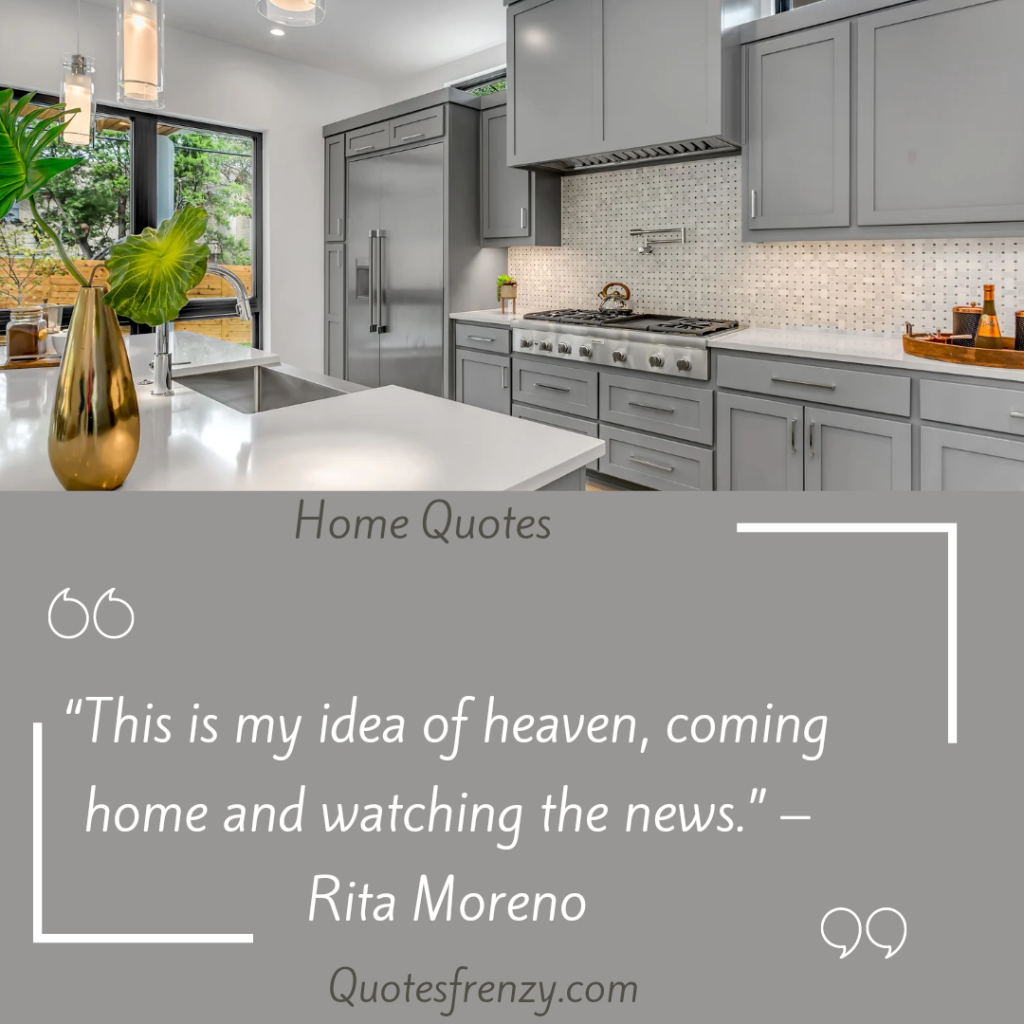 ---
"Sunday, for me, is all about being home with the family with no plans." – John Lasseter
---
"A home with a loving and loyal husband and wife is the supreme setting in which children can be reared in love and righteousness and in which the spiritual and physical needs of children can be met." – David A. Bednar
---
"Going home and spending time with your family and your real friends keeps you grounded." – Jennifer Ellison
---
"There are only two things we should fight for. One is the defense of our homes and the other is the Bill of Rights." – Smedley Butler
---
"Let the wife make the husband glad to come home, and let him make her sorry to see him leave." – Martin Luther
---
"I believe that all of our lives we're looking for home and if we're really lucky, we find it in someone's loving arms. I think that's what life is – coming home." – Anita Krizzan
---
"Coming home to my family afterward makes the work richer, easier and more fun." – Edie Falco
---
"Every person is different, every home is different, every item is different, and we all have to decide how best to approach the clutter in our lives and homes based on our own values, sentiments, circumstances, and priorities." – Taylor Haskins
---
"To know the road ahead, ask those coming back." – Chinese Proverb
---
"It is a good idea to be polite to everyone, even in your own home with your spouse and children." – Annabelle Stevens
---
"No matter who you are or where you are, instinct tells you to go home." – Laura Marney
---
"I've said it before and I'll say it again, gratitude is always possible, and feeling good starts at home." – Emma Wright
---
"I love coming back home and seeing old friends and family. I would say it keeps me grounded." – Coy Bowles
---
"Love begins at home, and it is not how much we do… but how much love we put in that action." – Mother Teresa
---
"There is nothing like staying at home for real comfort." – Jane Austen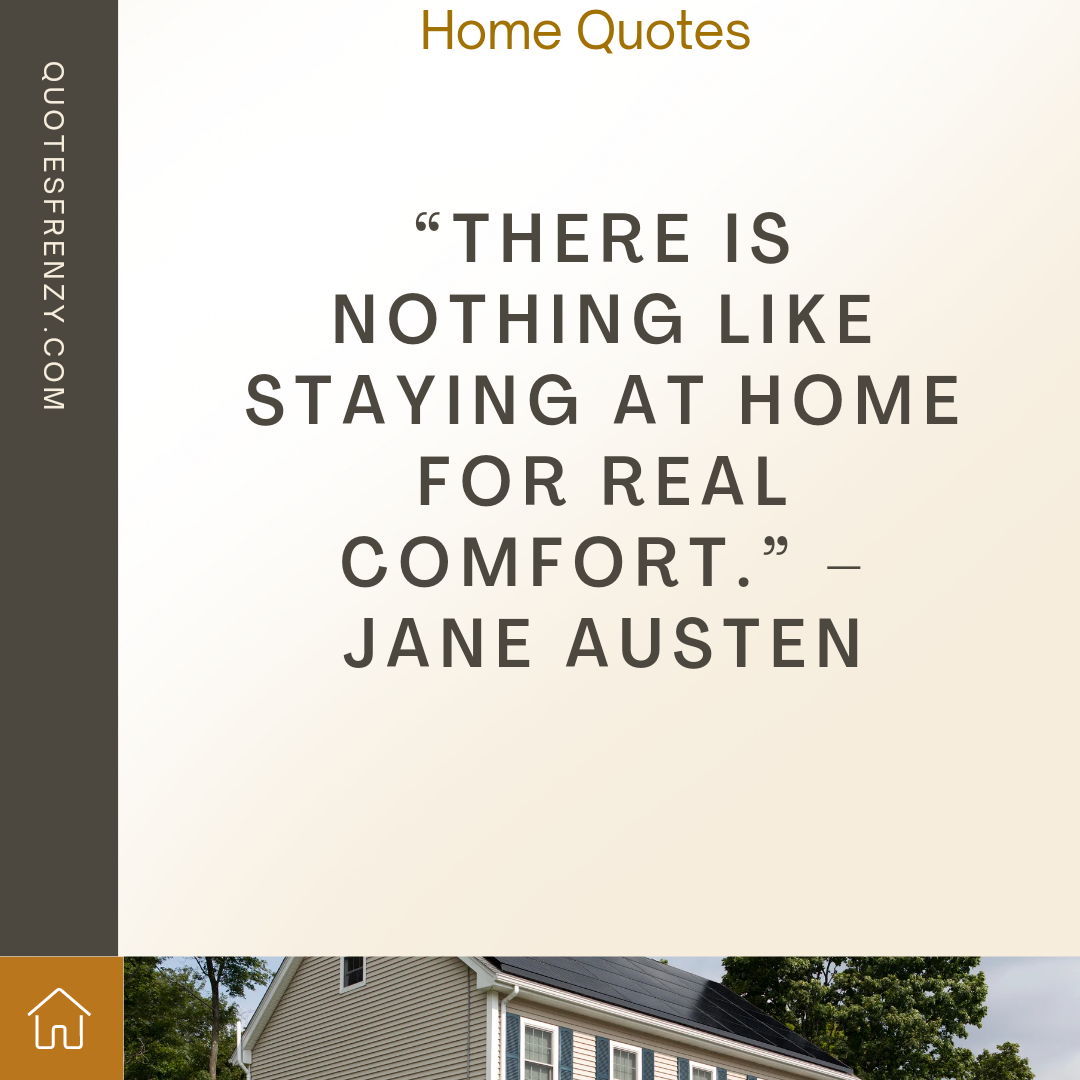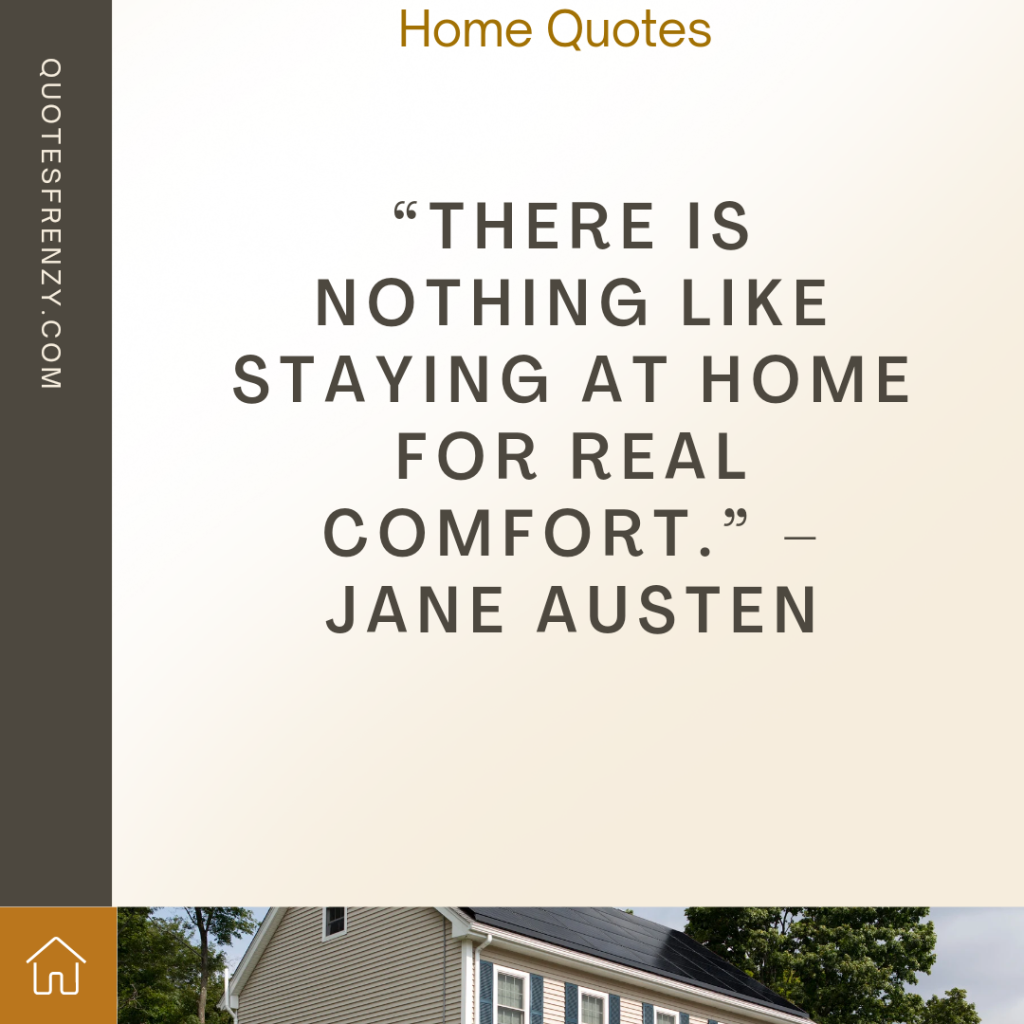 ---
"Home is where children find safety and security, where we find our identities, where citizenship starts. It usually starts with believing you're part of a community, and that is essential to having a stable home." – Matthew Desmond
---
"A house is not a home unless it contains food and fire for the mind as well as the body." – Benjamin Franklin
---
"You don't have a home until you leave it and then, when you have left it, you never can go back." – James Baldwin
---
He is happiest, be he king or peasant, who finds peace in his home. Johann Wolfgang von Goethe
Home is not only the peace to be happy, it is also a place where you can find peace. Because he who finds peace in his house is considered as a king because if he can find peace in his house, then he can live happily and will have a positive attitude among the society. And can also spread happiness in the world too.
Home is where you feel at home and are treated well. – Dalai Lama
Home is the only place where you feel like you're being treated well, as well as you can eat your favorite food, be happy with your favorite ones and can be pampered by your family. The feeling of visiting home after a long time is something like entering into heaven which is full of happiness. So, always try to make your family happy and always care them. Also, spread your home with happiness and peace.
These three Quotes About Home helps us to know the value of our family and show us how important is to be happy and how should you take care of your family who're your strength.