Women Rights Quotes: For the longest time, women have been struggling with the society and law to give them the same rights as men. Being able to do any kind of job and get paid for it just as men. The freedom that women are currently enjoying has been as a result of a struggle for the independence from a male dominated world. These Women Rights Quotes are authored by some of the strongest women and feminists.
"There never will be complete equality until women themselves help to  make laws and elect lawmakers"  Susan B Antony – Women Rights Quotes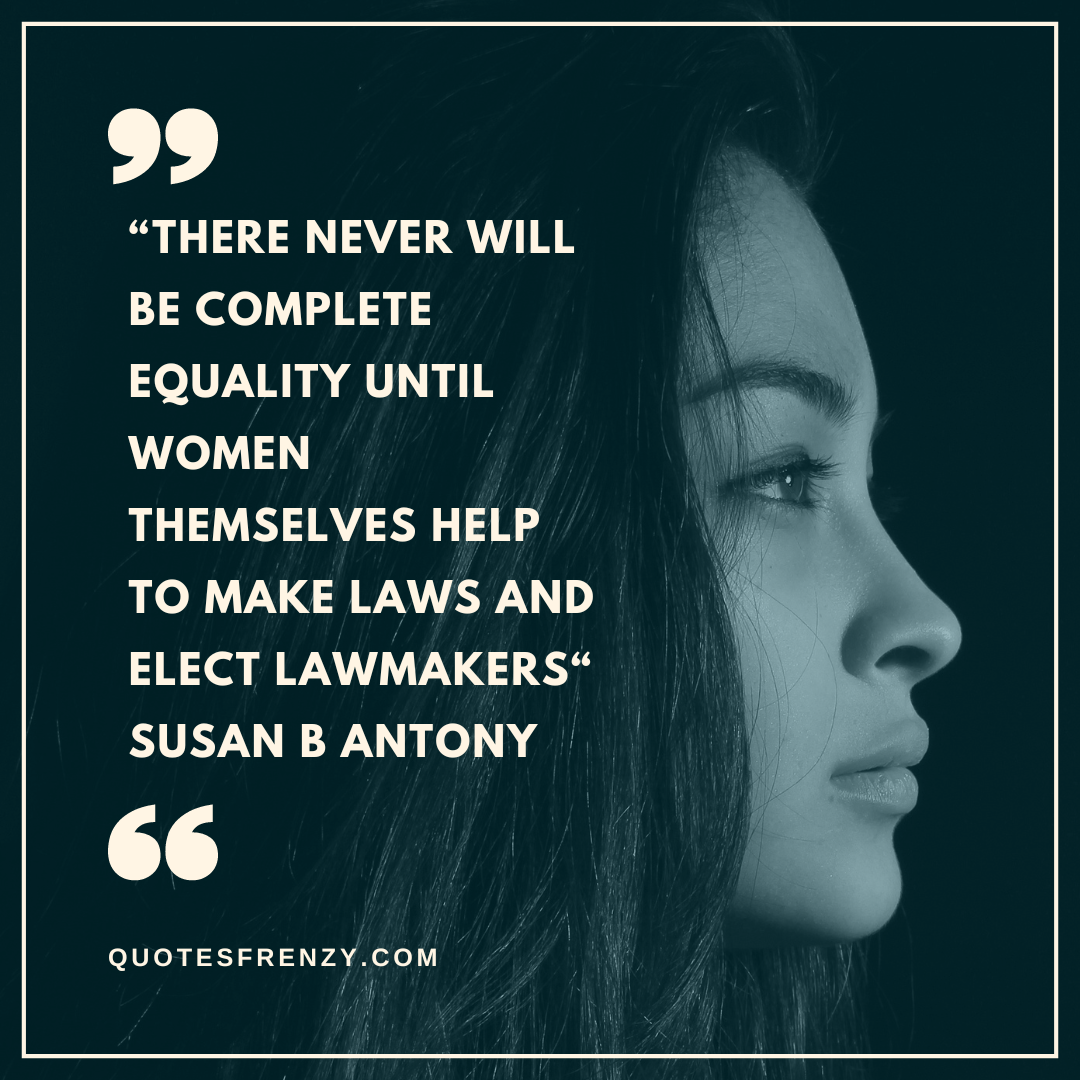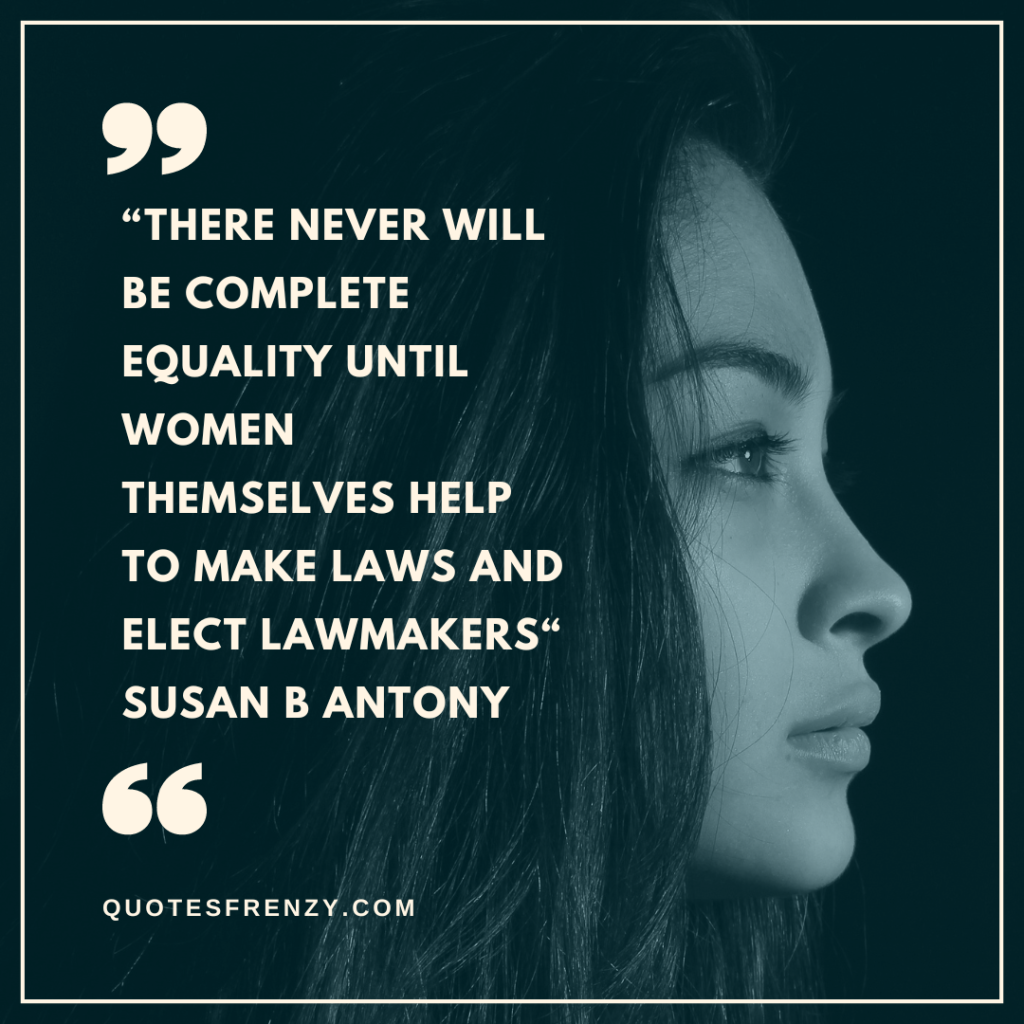 This quote explains how women participate in slowing down their own journey to equality. The population of women in most countries is greater than those of men. However, most political offices are male dominated. The best explanation is that Women do not vote for their own. Another aspect would be that women do not present themselves for electable political posts.  If a balance was to be struck out, then complete equality is attainable by women
---
Famous Women Rights Quotes
---
"I do not wish them to have power over men; but over themselves." Mary Wollstonecraft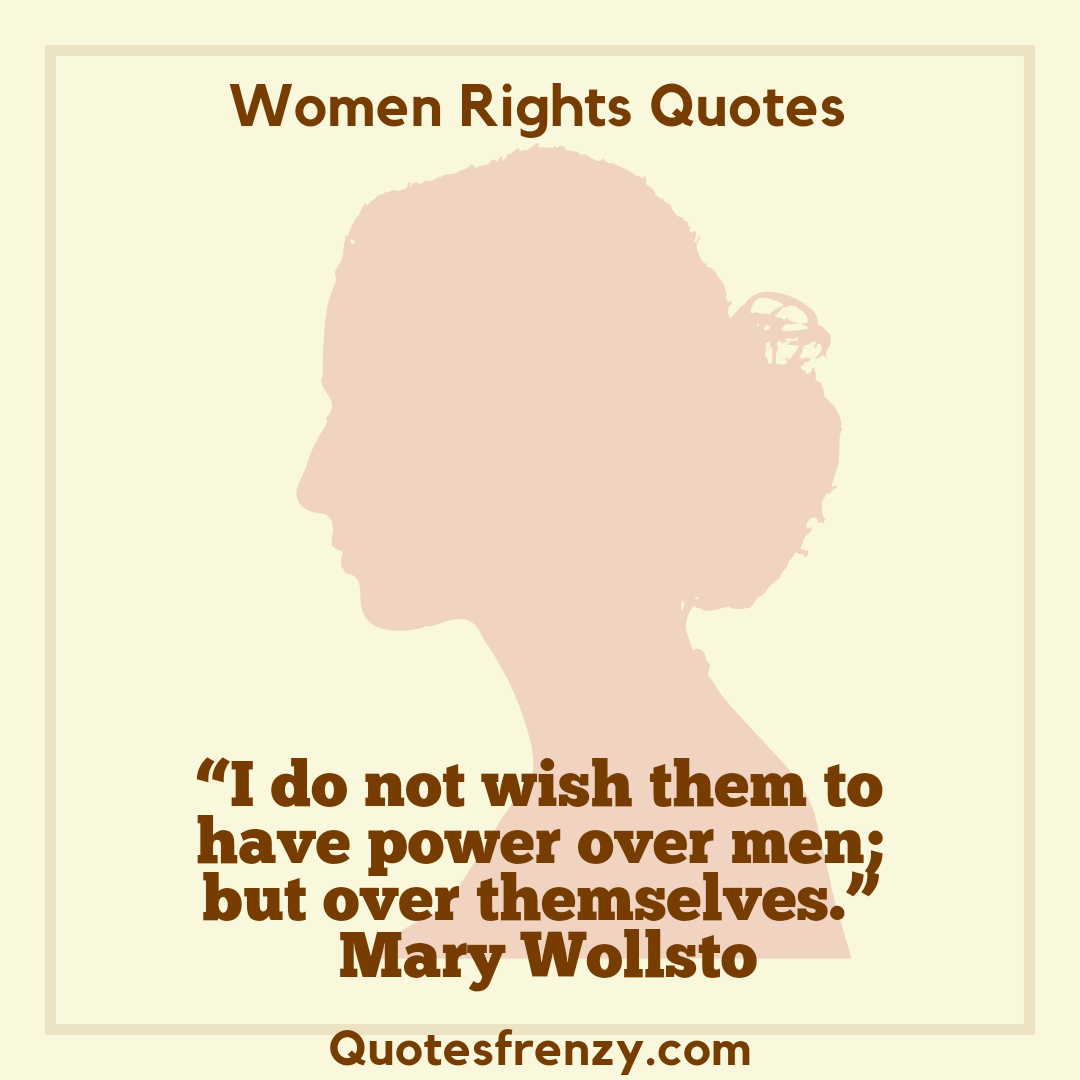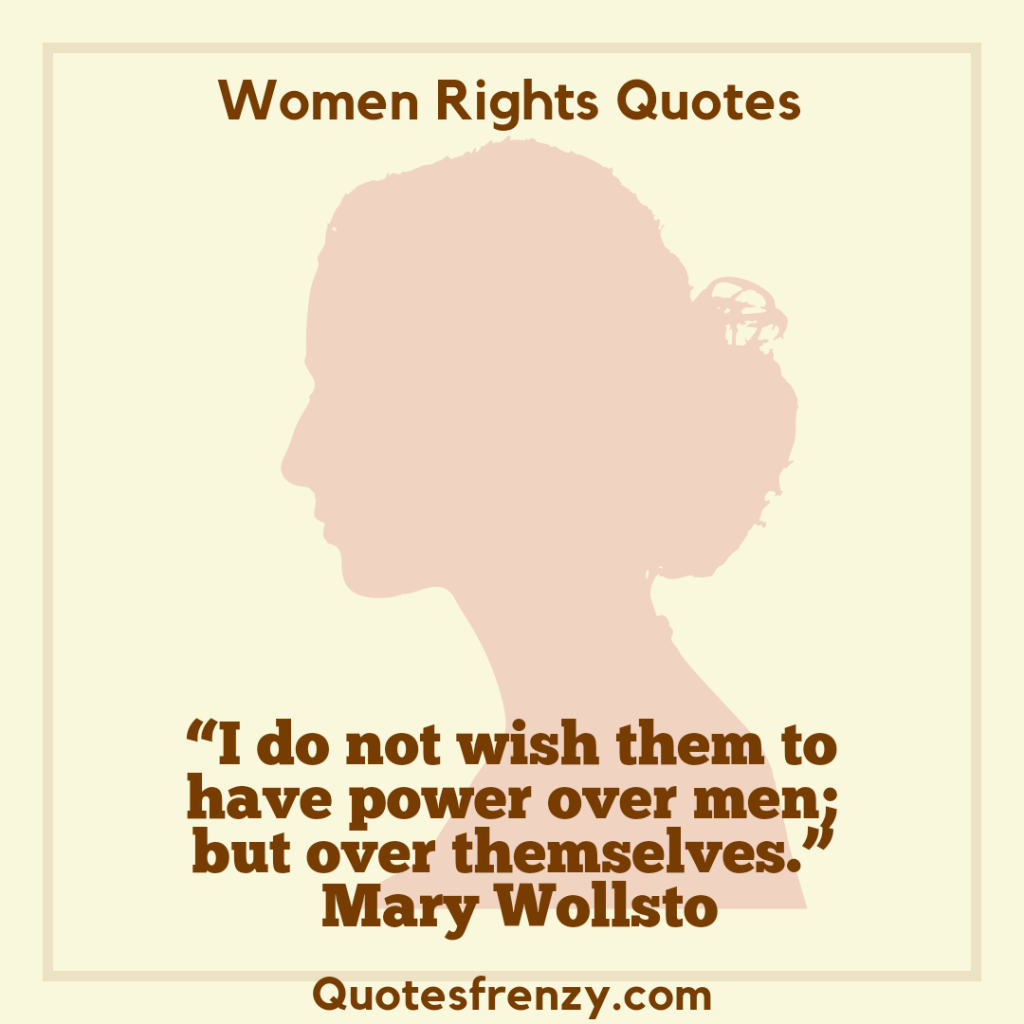 ---
"A state that does not educate and train women is like a man who only trains his right arm." Jostein Gaarder, Sophie's World
---
"There are two powers in the world; one is the sword and the other is the pen. There is a great competition and rivalry between the two. There is a third power stronger than both, that of the women." Muhammad Ali Jinnah
---
Top 80 Home Quotes And Sayings
---
"Of all the evils for which man has made himself responsible, none is so degrading, so shocking or so brutal as his abuse of the better half of humanity; the female sex." Mahatma Gandhi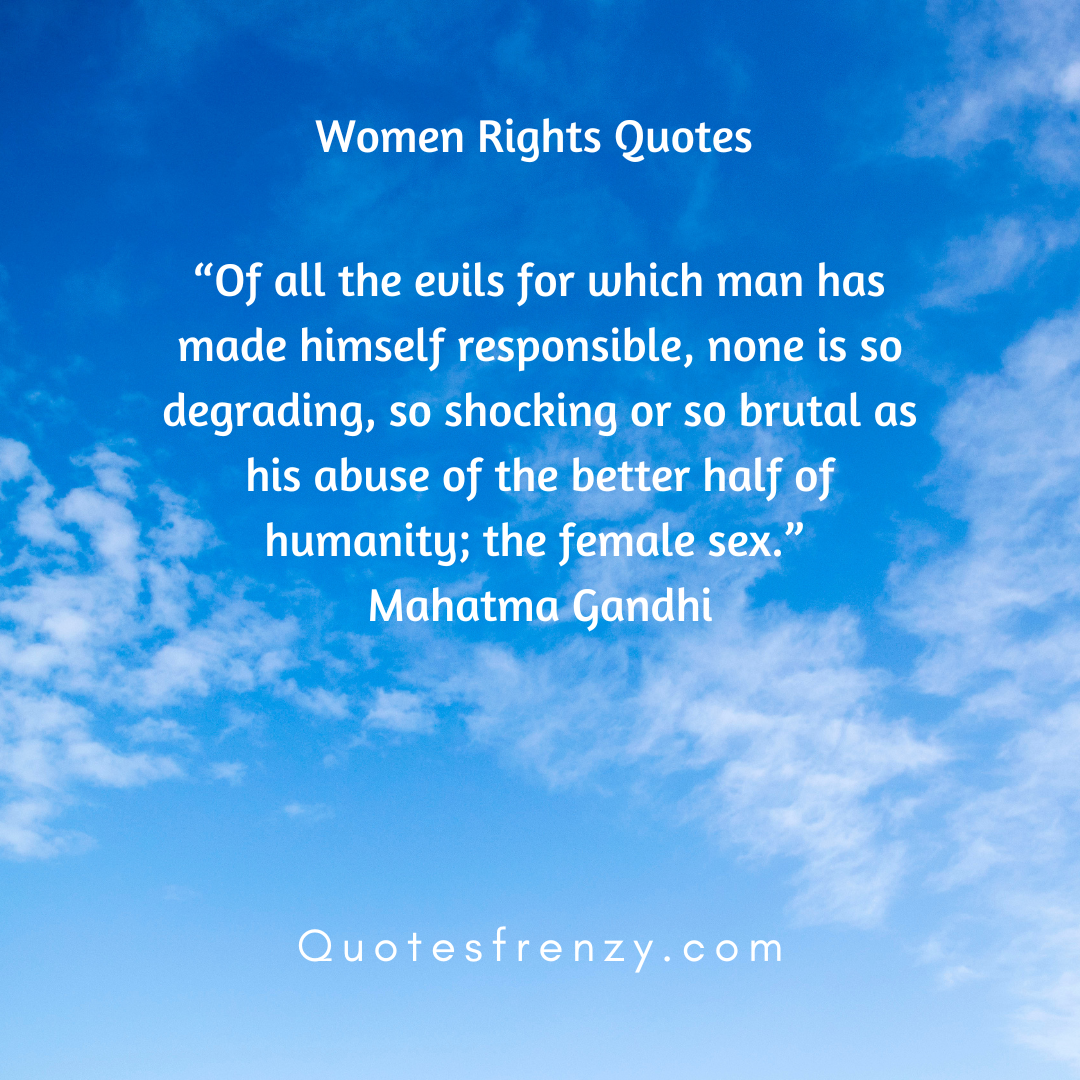 ---
"Each time a woman stands up for herself, without knowing it possibly, without claiming it, she stands up for all women." – Maya Angelou.
---
"Women are always saying, 'We can do anything that men can do'. But men should be saying, 'We can do anything that women can do'." – Gloria Steinem.
---
"I raise up my voice—not so that I can shout, but so that those without a voice can be heard… We cannot all succeed when half of us are held back." – Malala Yousafzai.
---
"I recognize no rights but human rights – I know nothing of men's rights and women's rights." – Angelina Grimke.
---
"We need to reshape our own perception of how we view ourselves. We have to step up as women and take the lead." – Beyoncé.
---
"To all the little girls who are watching this, never doubt that you are valuable and powerful, and deserving of every chance and opportunity in the world to pursue and achieve your own dreams."
---
"Blindness separates people from things;deafness separates people from people." Helen Keller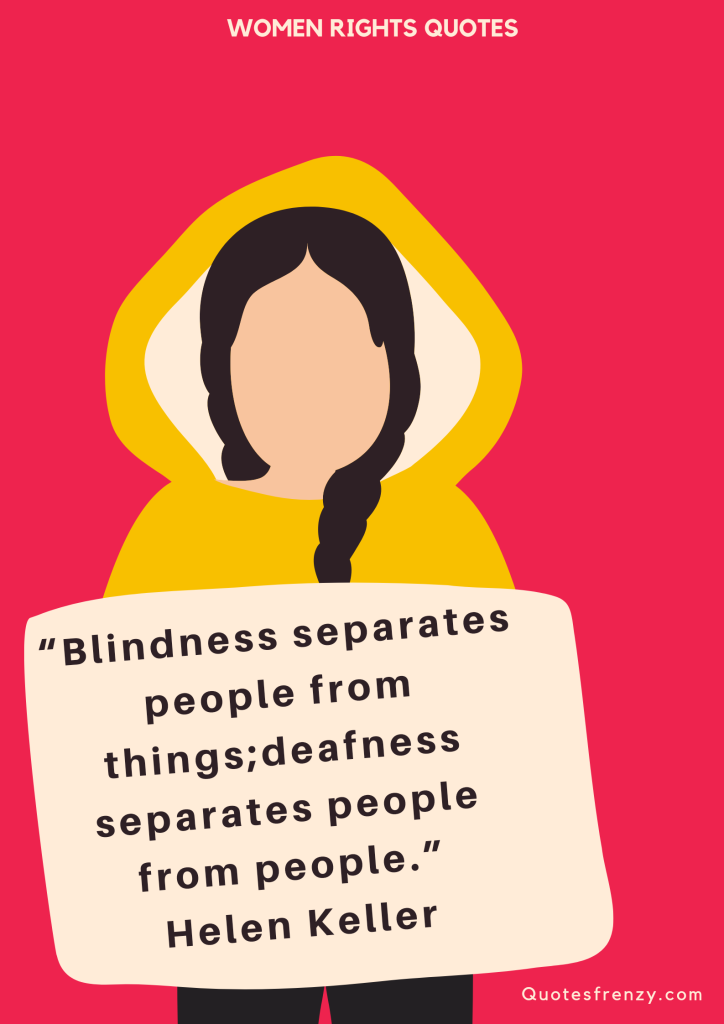 ---
"Men and women should own the world as a mutual possession." Pearl S. Buck, Of Men and Women
---
"The word feminism has become synonymous with man-hating when in fact it has more to do with women than men." Aysha Taryam
---
"Women have a much better time than men in this world; there are far more things forbidden to them." Oscar Wilde
---
"Men should think twice before making widowhood women's only path to power." Gloria Steinem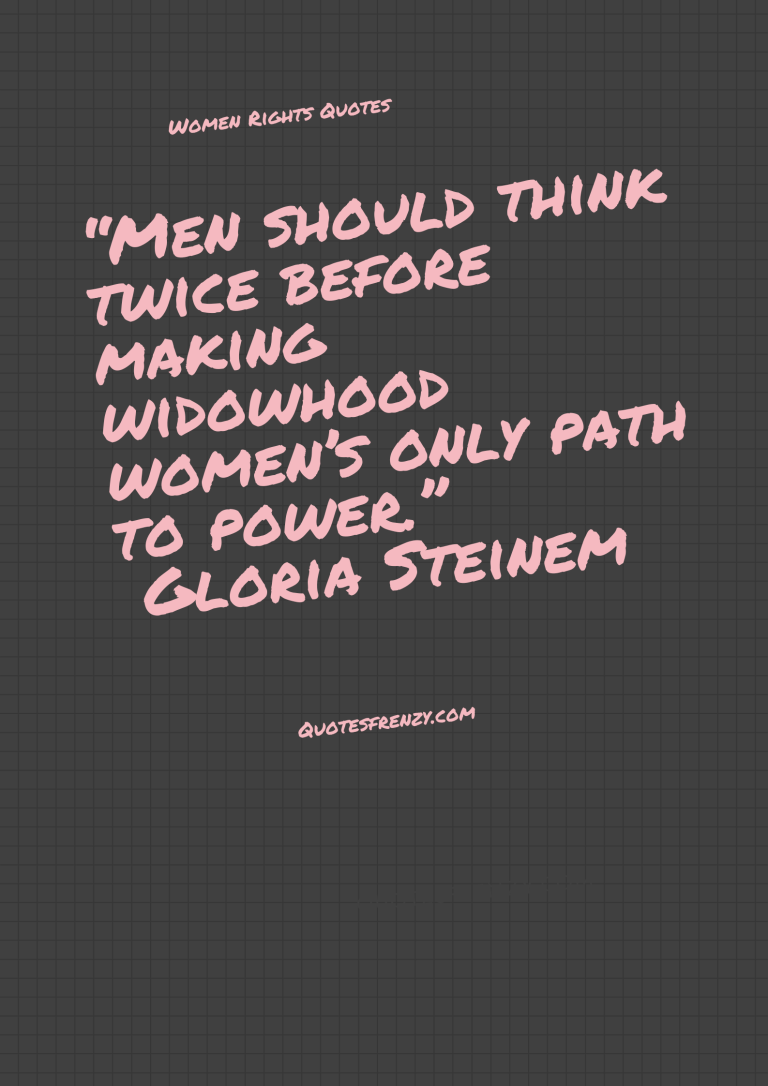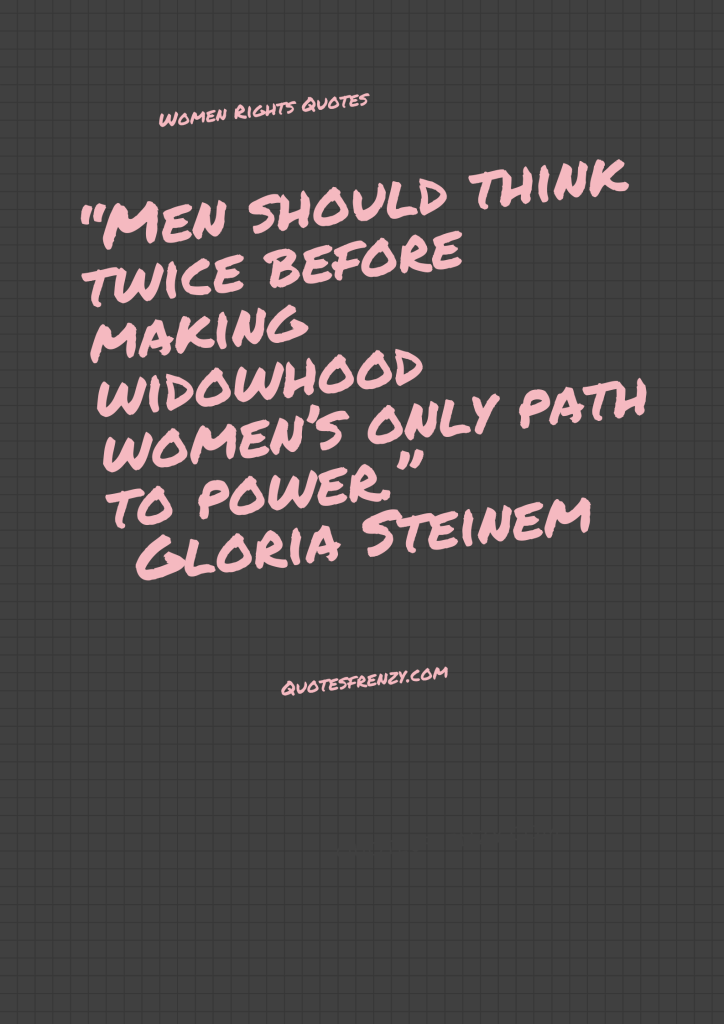 ---
"In the future, there will be no female leaders. There will just be leaders." Sheryl Sandberg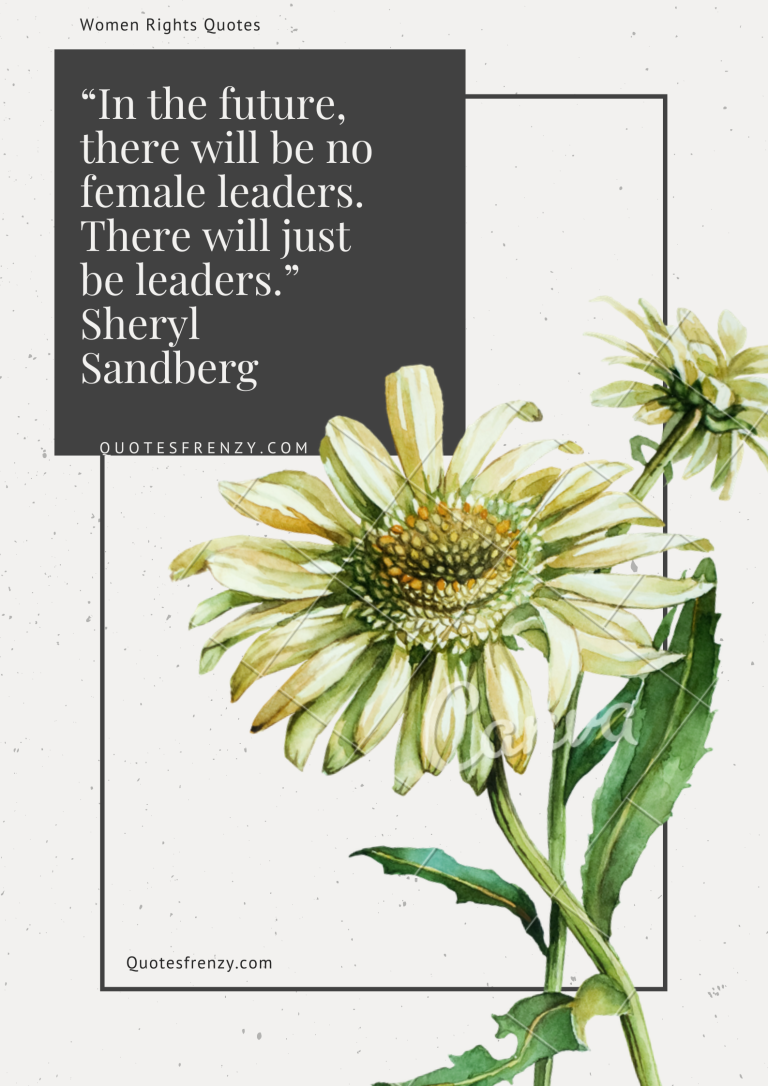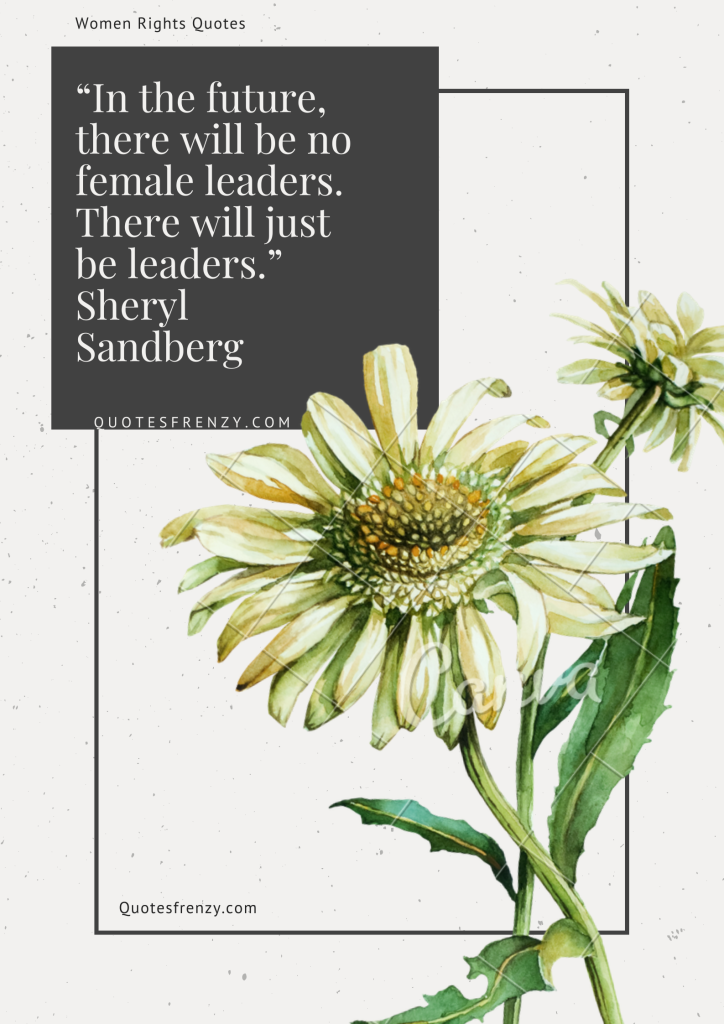 ---
"Feminism is the radical notion that women are people." Marie Shear
---
"You have to remember, rights don't come in groups we shouldn't have 'gay rights'; rights come as individuals, and we wouldn't have this major debate going on. It would be behavior that would count, not what person belongs to what group." Ron Paul
---
"Why is a woman to be treated differently? Woman suffrage will succeed, despite this miserable guerilla opposition." Victoria Claflin Woodhull
---
"When there are no ceilings, the sky's the limit. So let's keep going – let's keep going until every one of the 161 million women and girls across America has the opportunity she deserves to have." – Hillary Clinton.
---
"Teach her that the idea of 'gender roles' is absolute nonsense. Do not ever tell her that she should or should not do something because she is a girl. 'Because you are a girl' is never a reason for anything. Ever." – Chimamanda Ngozi Adichie.
---
"Women belong in all places where decisions are being made… It shouldn't be that women are the exception." – Ruth Bader Ginsburg.
---
"The emerging woman… will be strong-minded, strong-hearted, strong-souled, and strong-bodied… strength and beauty must go together." – Louisa May Alcott.
---
"I only know that people call me a feminist whenever I express sentiments that differentiate me from a doormat." – Rebecca West.
---
"The new century is coming. Young women should have a chance to make something of themselves. Heaven knows that most of the cooks in the great houses around the country are women. It's a natural art for us females." – Rhys Bowen.
---
"Every women's civil rights struggle around the world, in a democratic or totalitarian country, whether Christian, Muslim, Hindu, Buddhist, or Jewish – is a struggle of all of ours." –Bill Madden.
---
"The new information technology, indifferent to human suffering, does not accommodate humane needs unless we harness it and make it do so." – Mahnaz Afkhami.
---
"She was warned. She was given an explanation. Nevertheless, she persisted. The history of progress for women, summed up in 11 words." – Cecile Richards.
---
"Given the same honor and dignity as men, women can build a much better and more harmonious world." Abhijit Naskar
---
"Having the right to choose determines whether women will find an equal place at life's table, whether children will be truly valued, and whether everyone's personal liberties, privacy, and bodily integrity will be safeguarded against the ideology of the right." Gloria Feldt
---
"Tolerating women is surprisingly easier than understanding them." Raheel Farooq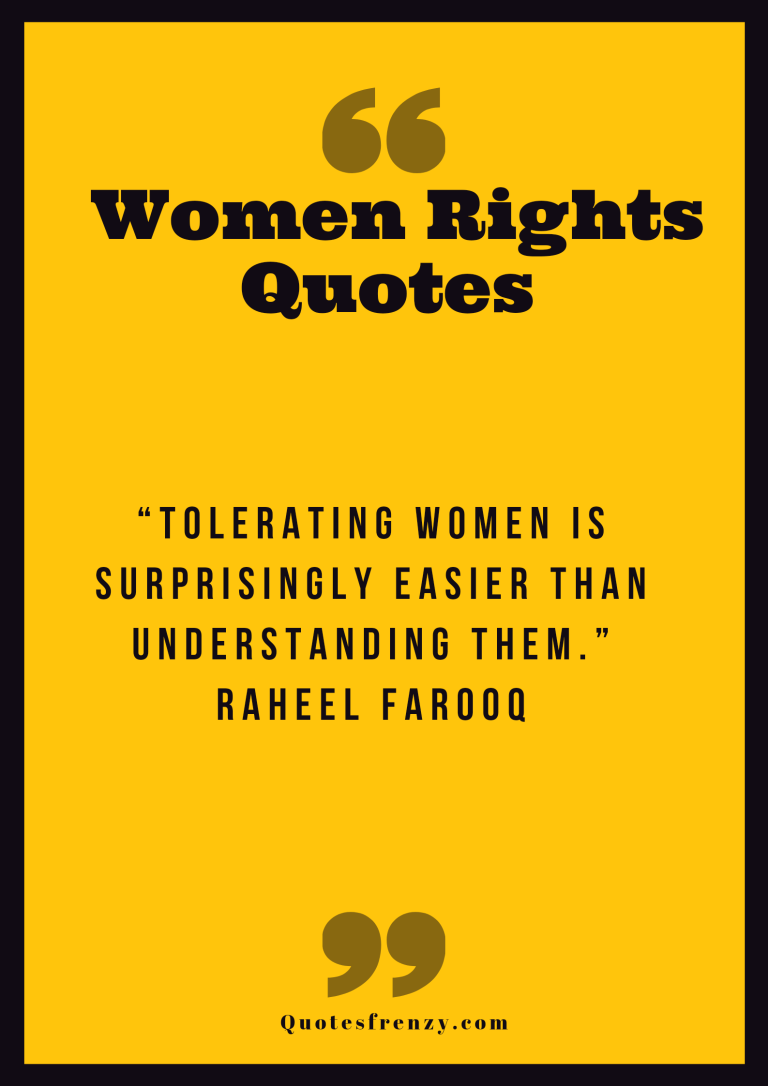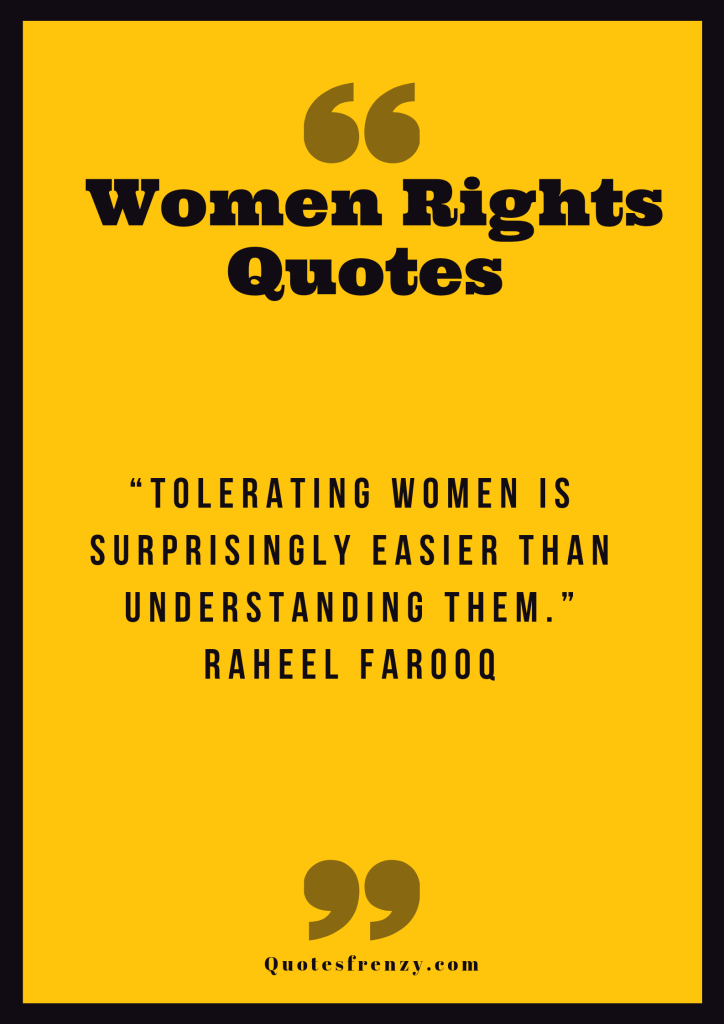 ---
"The connection between women's human rights, gender equality, socioeconomic development and peace is increasingly apparent." Mahnaz Afkhami
---
"Women's empowerment is intertwined with respect for human rights." Mahnaz Afkhami
---
"Equal pay for women is a matter of simple justice." Mary Anderson
---
"…gender equality is critical to the development and peace of every nation."   Kofi Annan
---
"women themselves have the right to live in dignity, in freedom from want and freedom from fear. On this International Women's Day, let us rededicate ourselves to making that a reality." Kofi Annan
---
"I hate to hear you talking so like a fine gentleman, and as if women were all fine ladies, instead of rational creatures. We none of us expect to be in smooth water all our days." – Jane Austen.
---
"It took me quite a long time to develop a voice, and now that I have it, I am not going to be silent." – Madeleine Albright.
---
"I feel now that the time has come when even a woman or a child who can speak a word for freedom and humanity is bound to speak." – Harriet Beecher Stowe.
---
"Women have a lot to say about how to advance women's rights, and governments need to learn from that, listen to the movement and respond." Charlotte Bunch
---
"The extension of women's rights is the basic principle of all social progress." Charles Fourier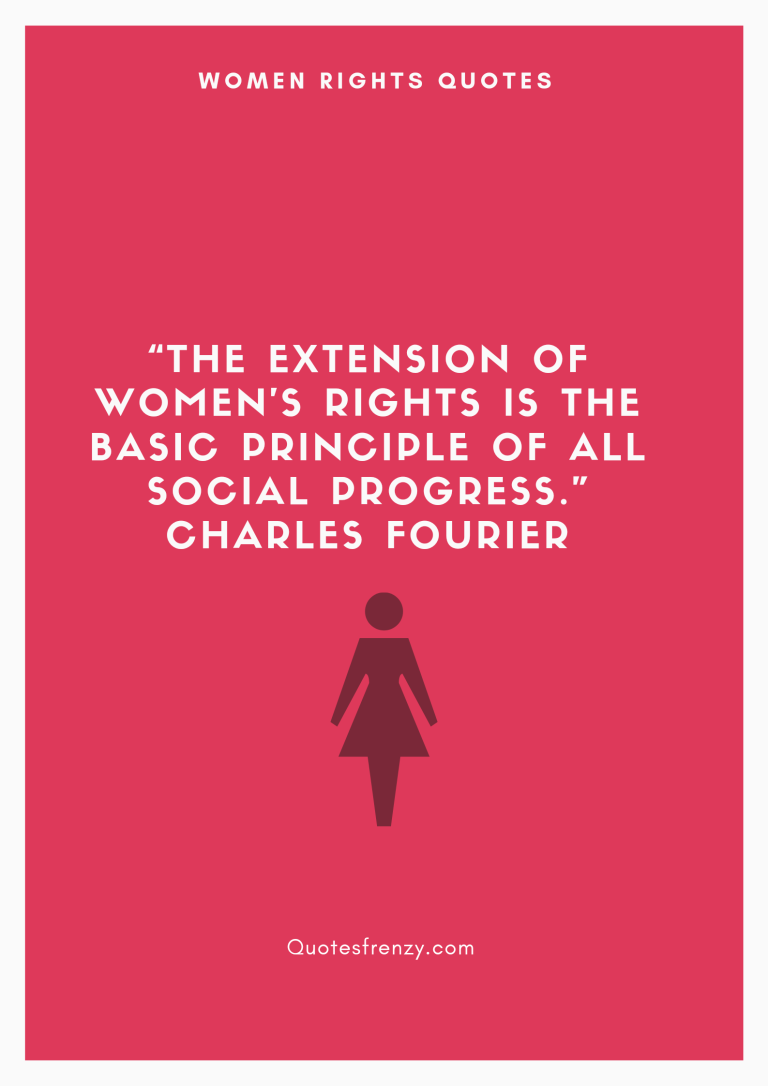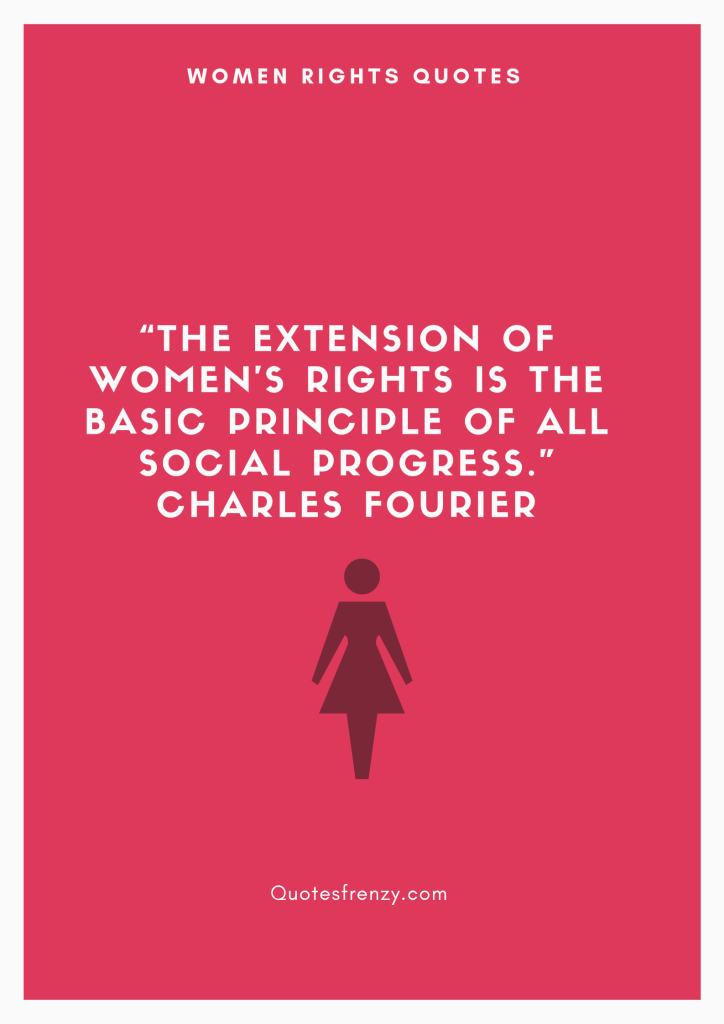 ---
"We wish for a broad-based government with the active participation of women, which will promote freedom and equal rights for women" Sima Samar
---
"In passing, also, I would like to say that the first time  Adam had a chance he laid the blame on a woman " Nancy Astor – Women Rights Quotes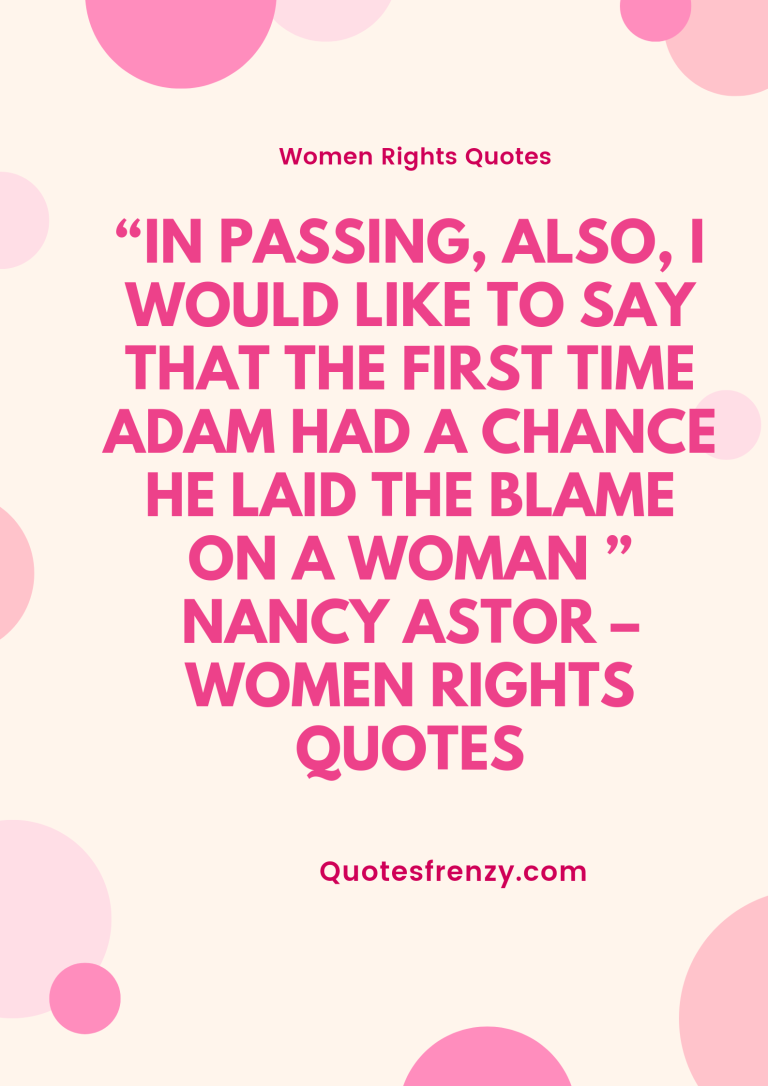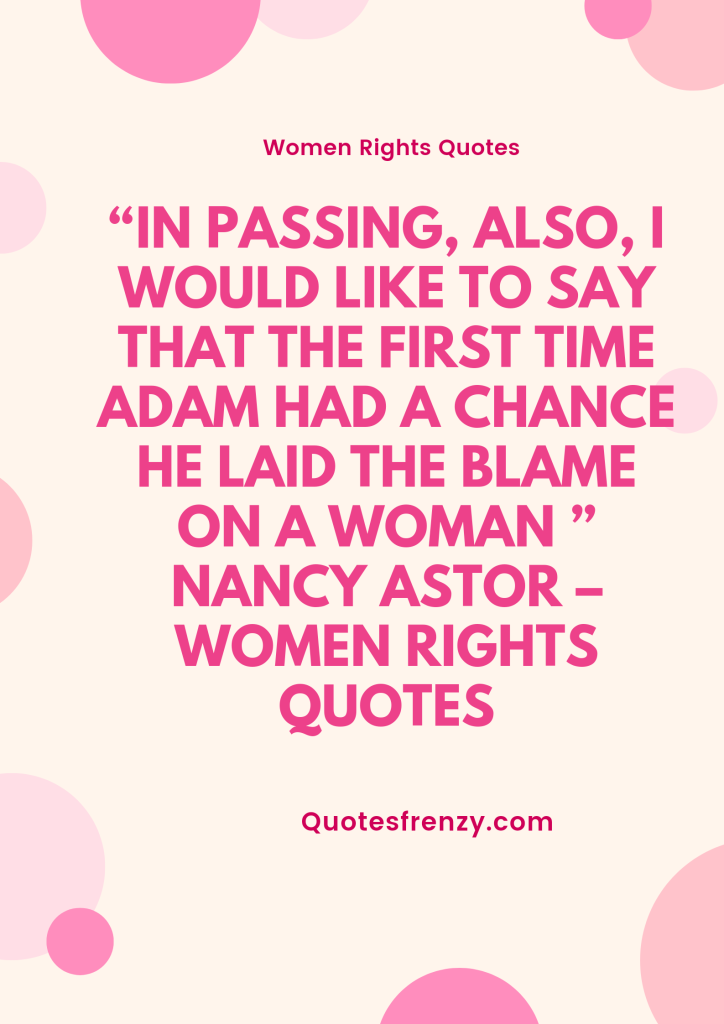 Nancy Astor was one of the most outspoken  British politicians. In this quote Nancy puts the blame of women's inequality on men. She says that since time immemorial, men have always attacked the equality of women. Is this true? Well, women have been pretty mad at the laxity of men in passing bills pertaining to women's rights. Women should therefore understand where they lost the equality they are fighting for, this way they will win.
---
"She who succeeds in gaining the mastery of the bicycle will gain the mastery of life"  Susan B. Antony – Women Rights Quotes

Finally, this quote explains that women's rights and feminism is based on control. A woman who knows how to manage the little things in her life is well off. Women rights and freedom comes with responsibility as well. If the full freedom is offered to one who does not understand feminism, she might as well misuse those rights.
All women should be treated with the respect that they deserve. They should not be pushed aside in matters pertaining to their own families and children. These  women's rights quotes explain the complexities accompanied by women's rights and how to achieve them