Cute Relationship Quotes -When we are in love, it is often the only thing we can think about. Our world seems to revolve around that person. Feeling affection and wanted is something that many desire, and once we find it we don't want to let it go. Read these Cute Relationship Quotes that will make you say aww….!
"We are like a deck of cards; different colors and symbols but one cannot work without the whole set". – Unknown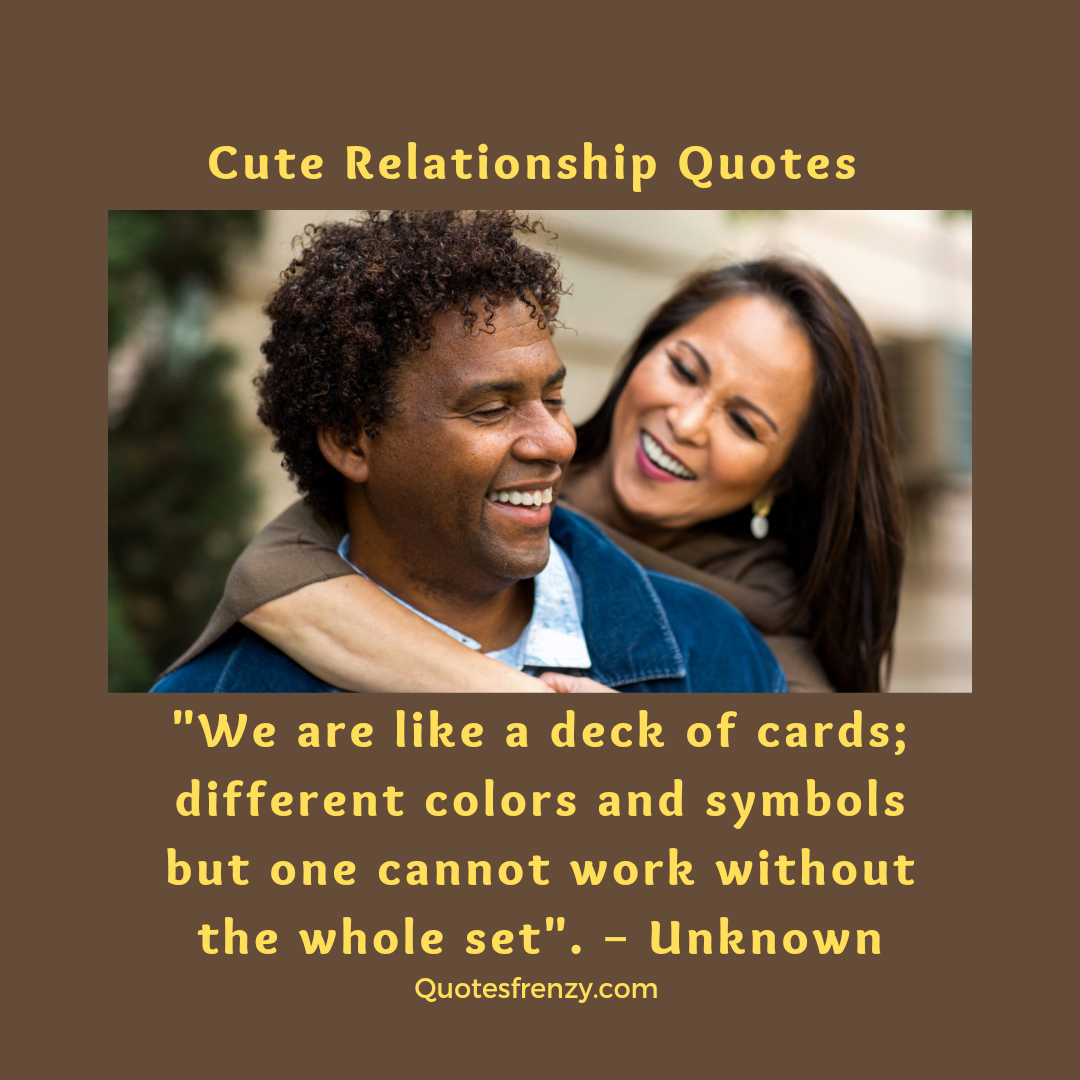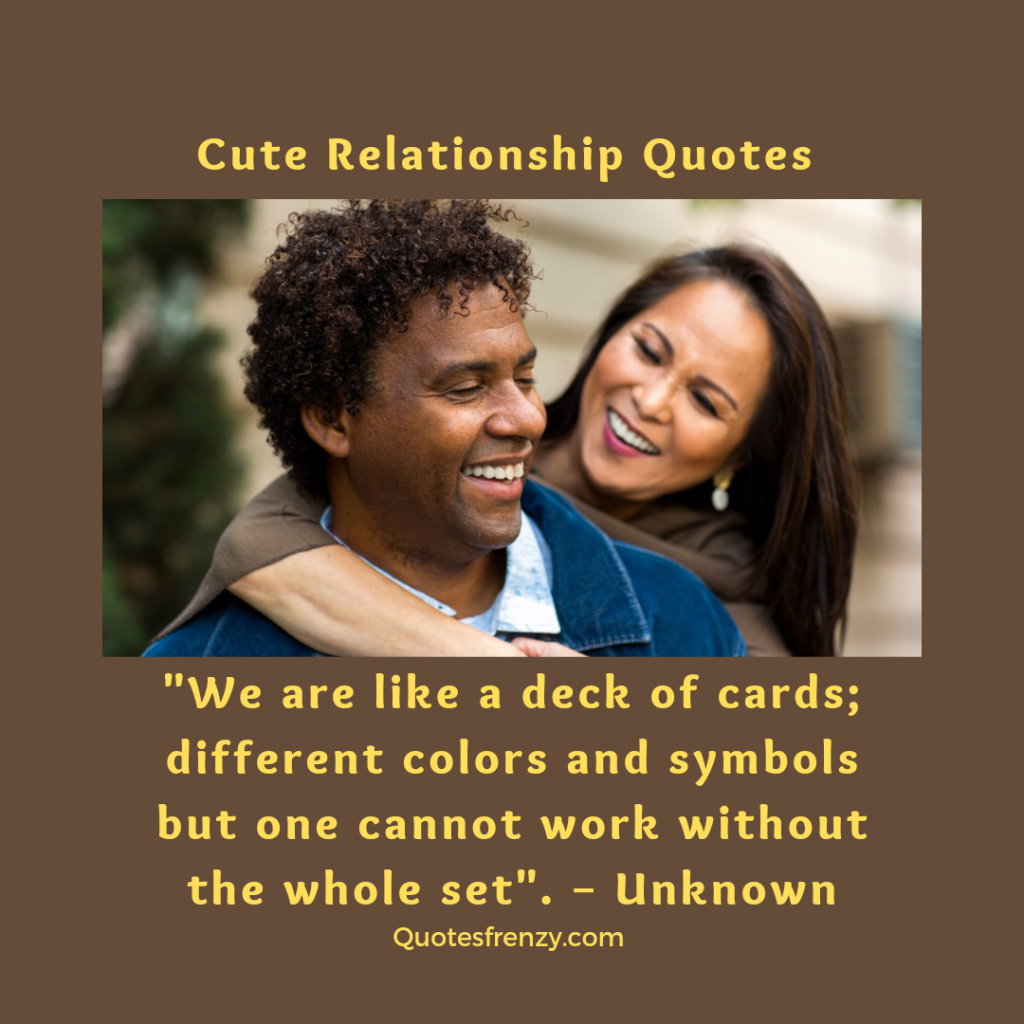 A relationship is about how two people combine and compromise to form a magical bond. It takes perseverance and hard work, and no two relationships are the same. The beauty in a relationship is created by two completely different people who have come to an agreement to love each other and do whatever they can to be selfless and make the other happy. A relationship depends on everyone involved.
---
Famous Cute Relationship Quotes
---
"I'd rather die tomorrow than live a hundred years without knowing you." Pocahontas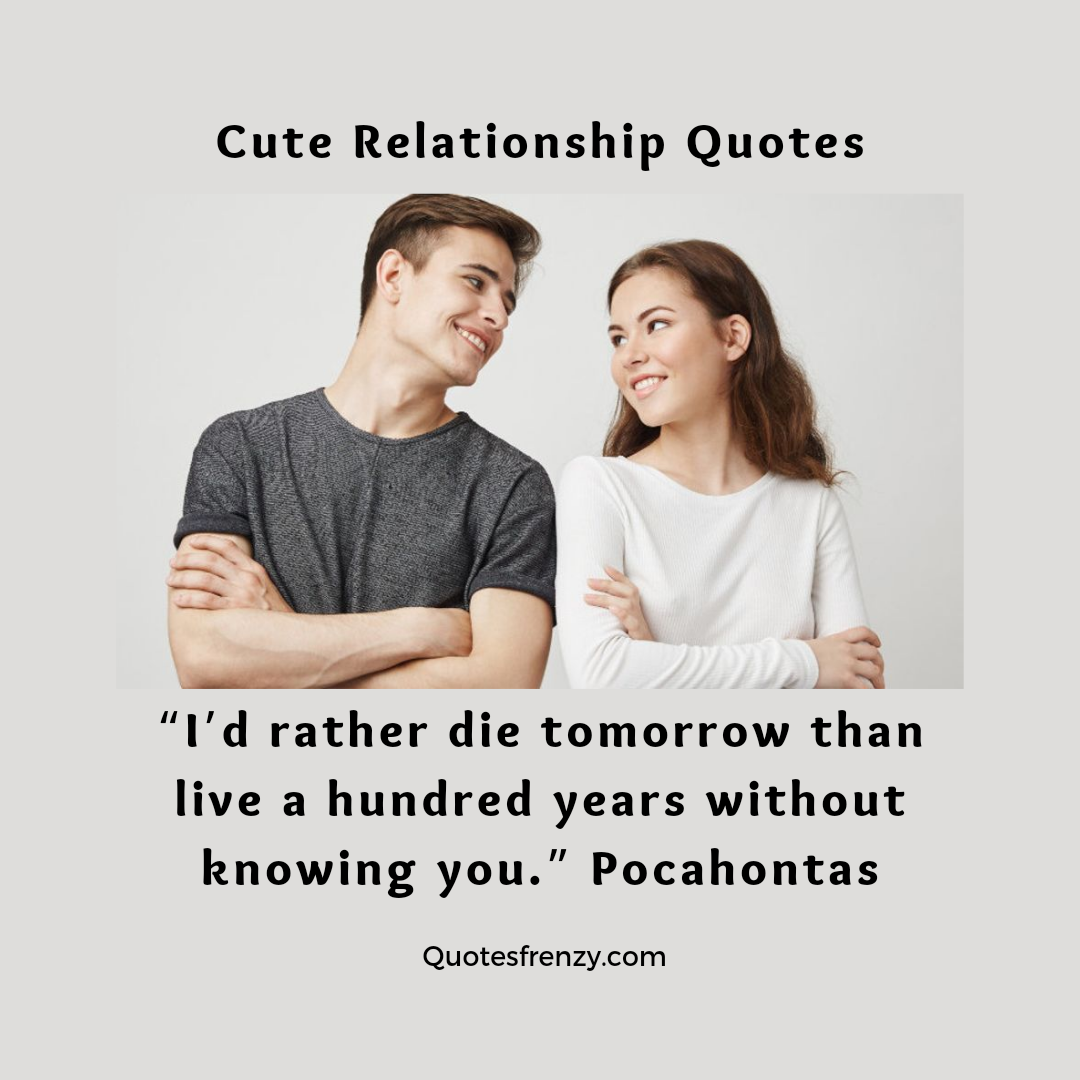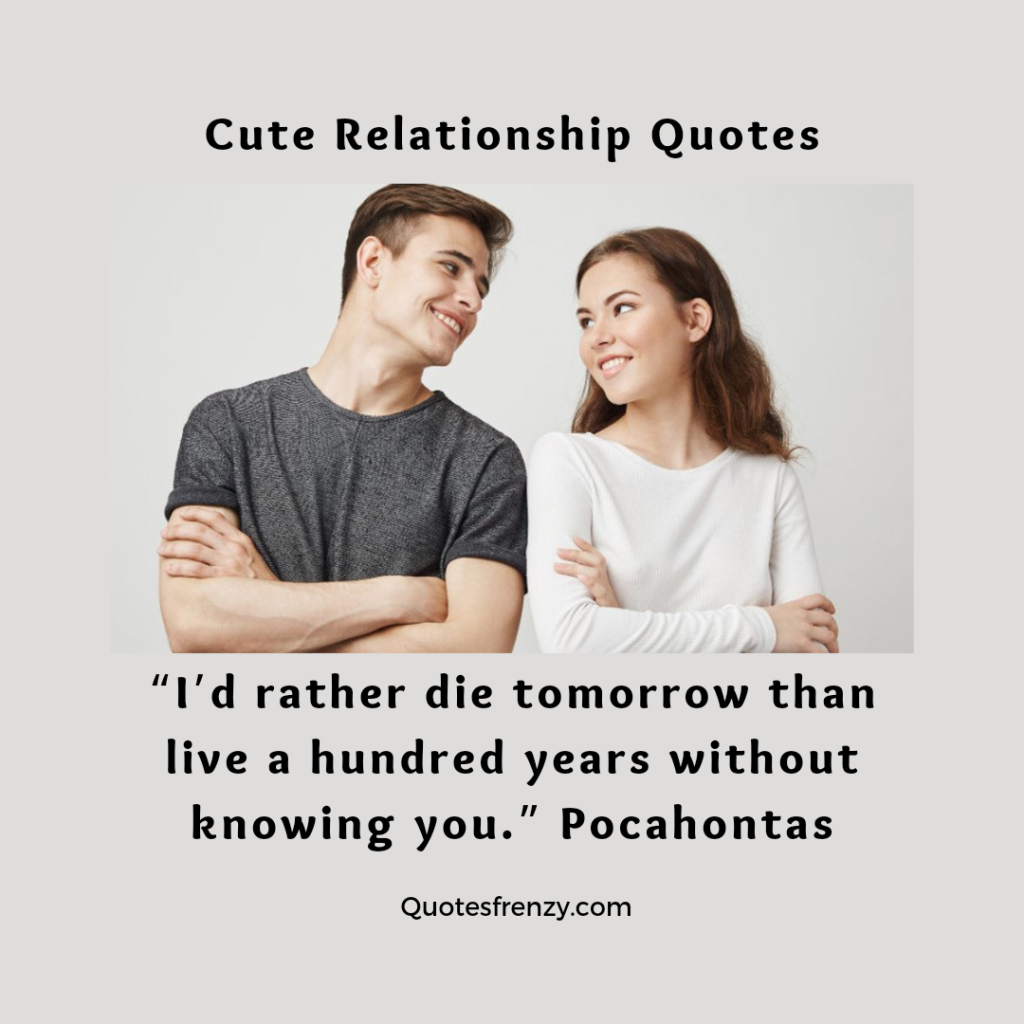 ---
Also read…
70+ Soulmate Quotes And Sayings
---
"For the two of us, home isn't a place. It is a person. And we are finally home." Stephanie Perkins
---
"Treasure your relationships, not your possessions." Anthony J D'Angelo
---
"Do what you did in the beginning of the relationship and there won't be an end." Anthony Robbins
---
"The reason it hurts so much to separate is because our hearts are connected." Nicholas Sparks
---
"A successful relationship requires falling in love multiple times, but always with the same person." Mignon McLaughlin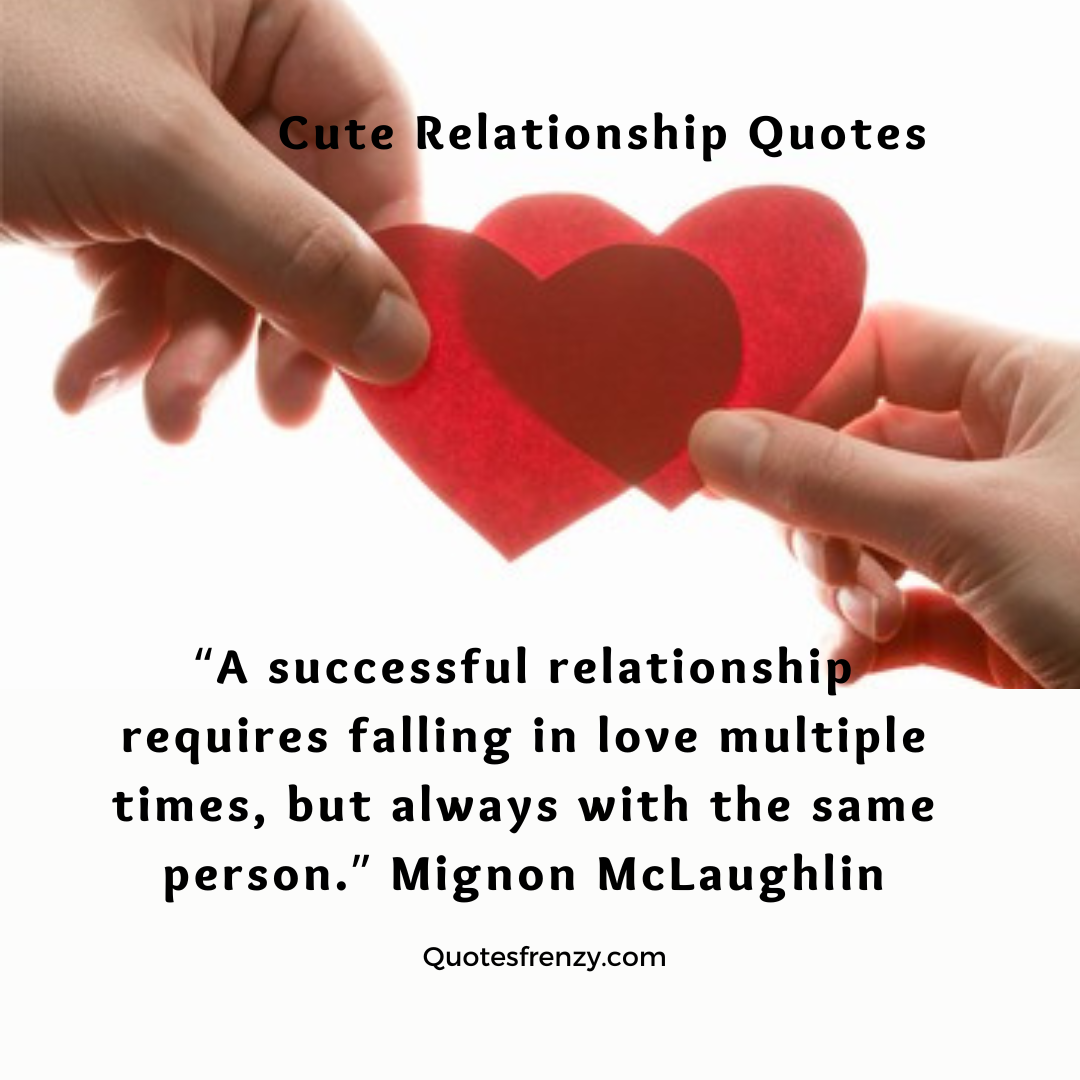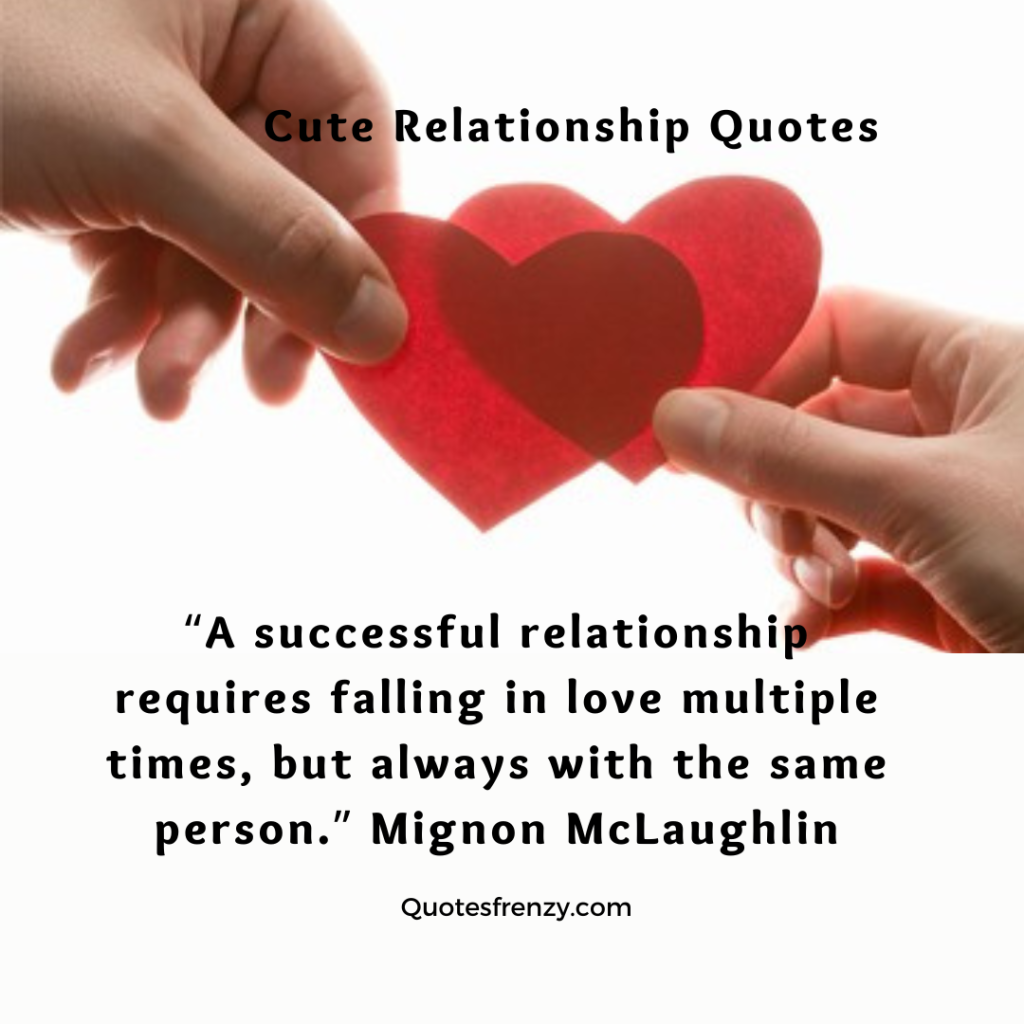 ---
"The most exciting, challenging and significant relationship of all is the one you have with yourself." Carrie Bradshaw
---
"I love the way you make me so happy, and the ways you show you care. I love the way you say, "I love you", and the way you are always there." Crystal Jensen
---
"Being deeply moved by someone gives you the strength, while loving someone deeply gives you courage." Lao Tzu
---
"When you're in a relationship and it's good, even if nothing else in your life is right, you feel like your whole world is complete." Keith Sweat
---
"Men always want to be a woman's first love – women like to be a man's last romance." Oscar Wilde
---
"For the two of us, home isn't a place. It is a person. And we are finally home." Stephanie Perkins
---
"Each relationship nurtures a strength or weakness within you." Mike Murdock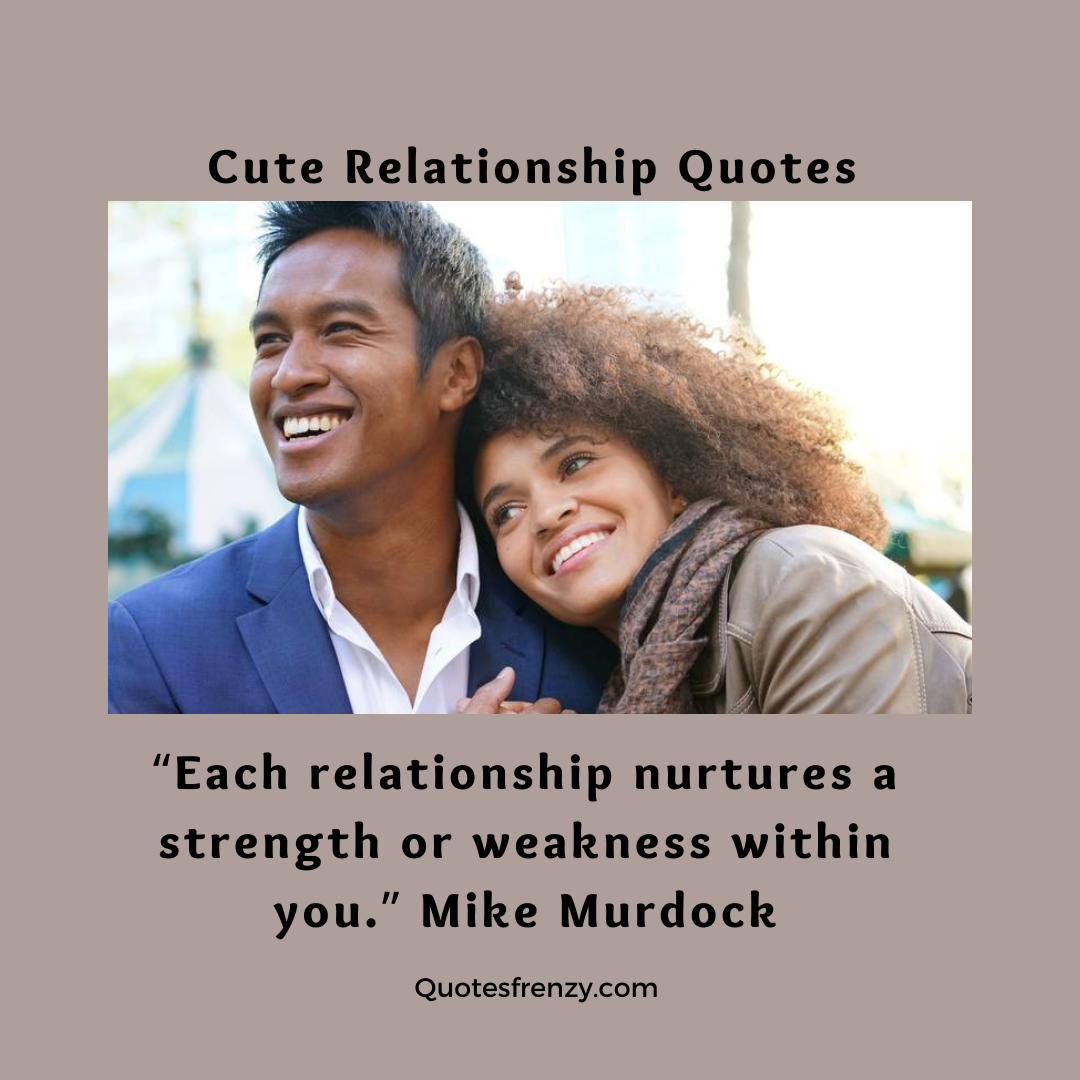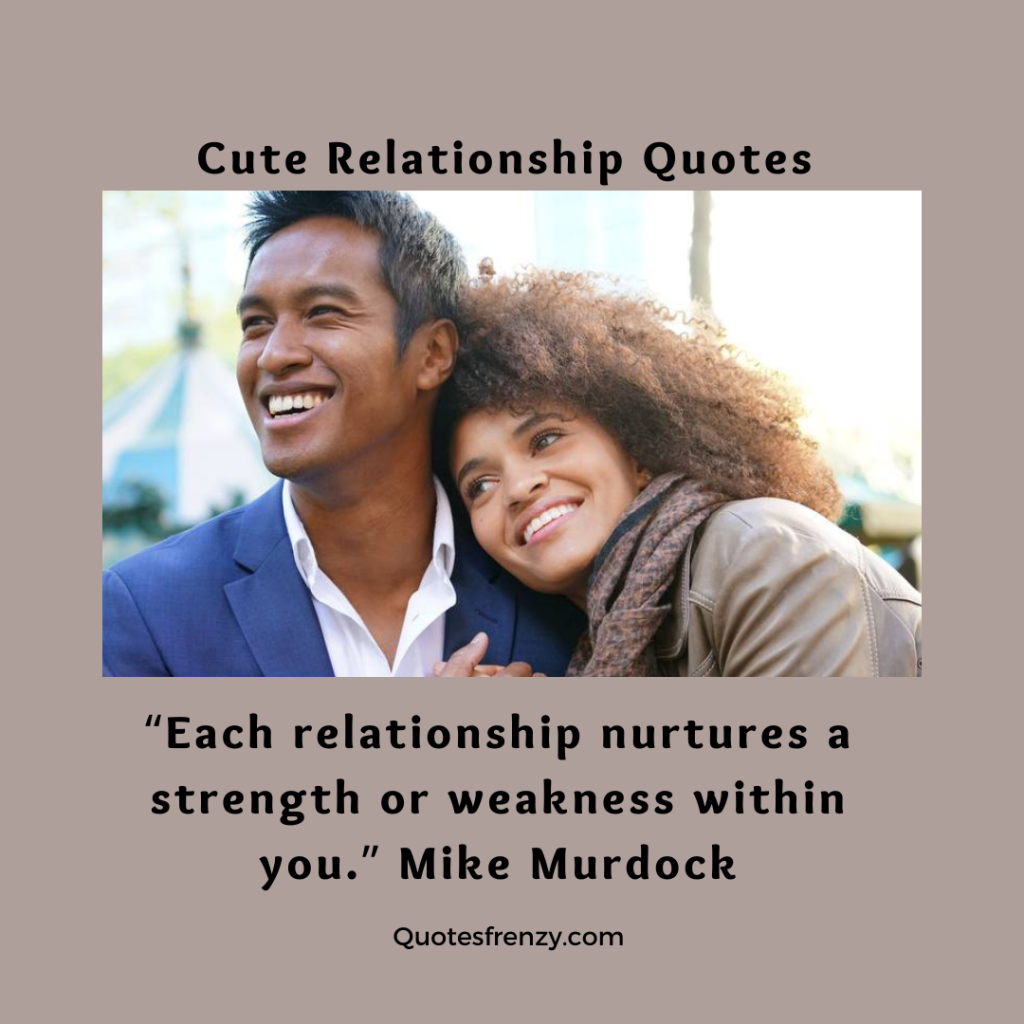 ---
"I would rather spend one lifetime with you than face all the ages of this world alone." Lord of the Rings
---
"A woman knows the face of the man she loves as a sailor knows the open sea." Honore de Balzac
---
"It is the things in common that make relationships enjoyable, but it is the little differences that make them interesting." Todd Ruthman
---
"Maybe you don't need the whole world to love you. Maybe you just need one person." Kermit The Frog
---
"You're my reflection, all I see is you." Justin Timberlake
---
"We fell in love. Mine became ours, minutes turned to hours, chocolates and flowers, you made me brave when life created a coward." Raghib Clitso
---
"In relationships, the little things are the big things." Stephen Covey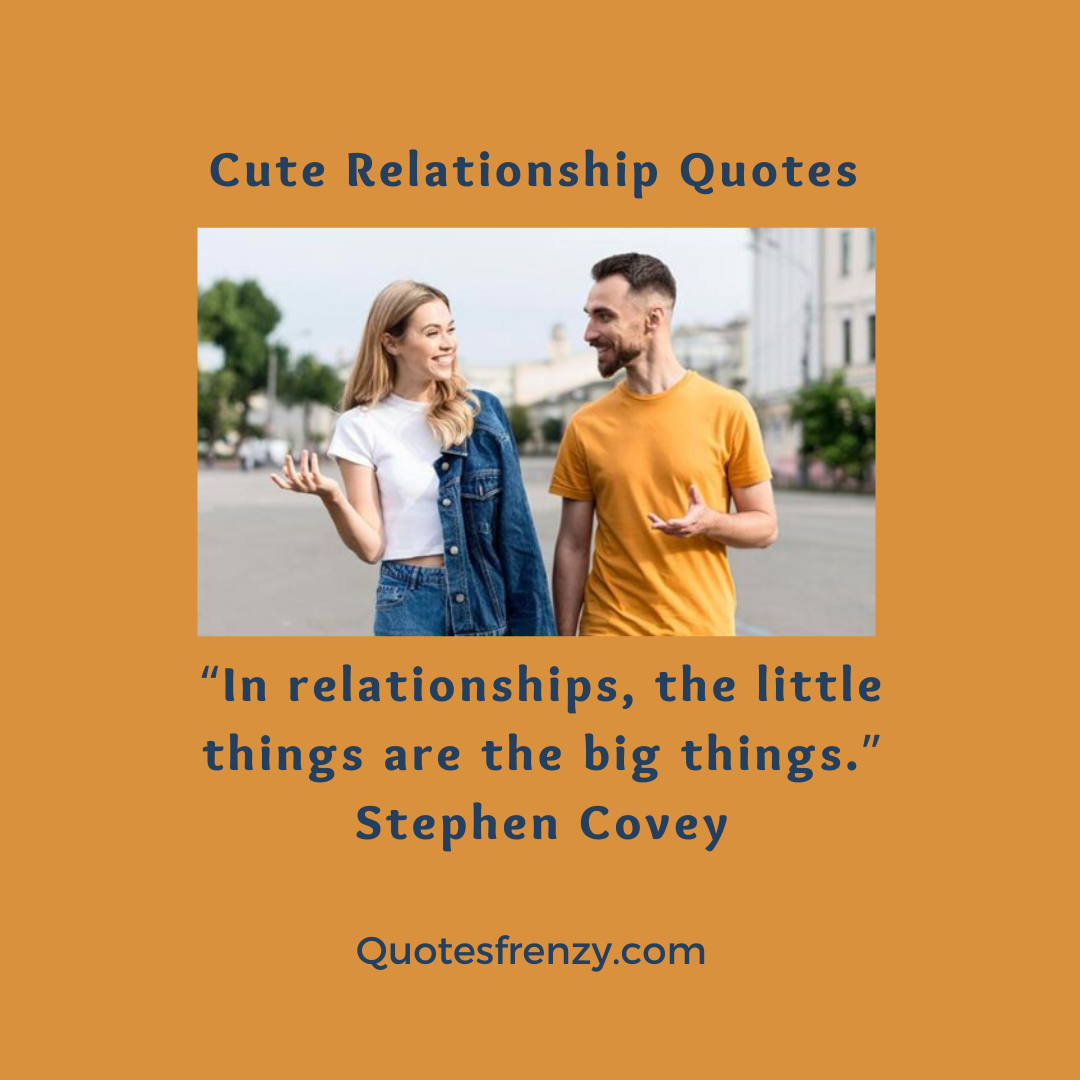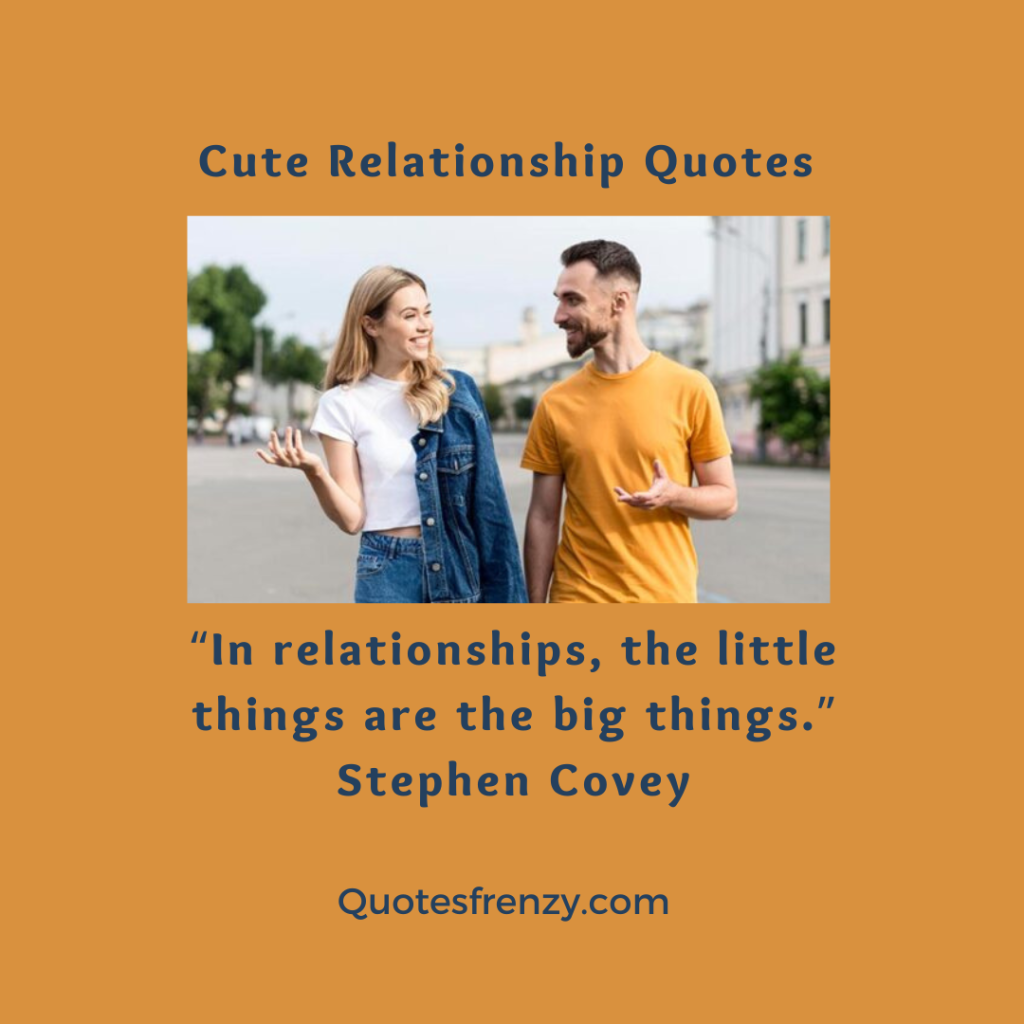 ---
"The most important ingredient we put into any relationship is not what we say or what we do, but what we are." Stephen R. Covey
---
"To know when to go away and when to come closer is the key to any lasting relationship." Doménico Cieri Estrada
---
"When you're in a relationship, you're always surrounded by a ring of circumstances… joined together by a wedding ring, or in a boxing ring." Bob Seger
---
"The ultimate test of a relationship is to disagree but to hold hands." Alexandra Penney
---
"Three things I want in a relationship: Eyes that won't cry, lips that won't lie, and love that won't die." Wiz Khalifa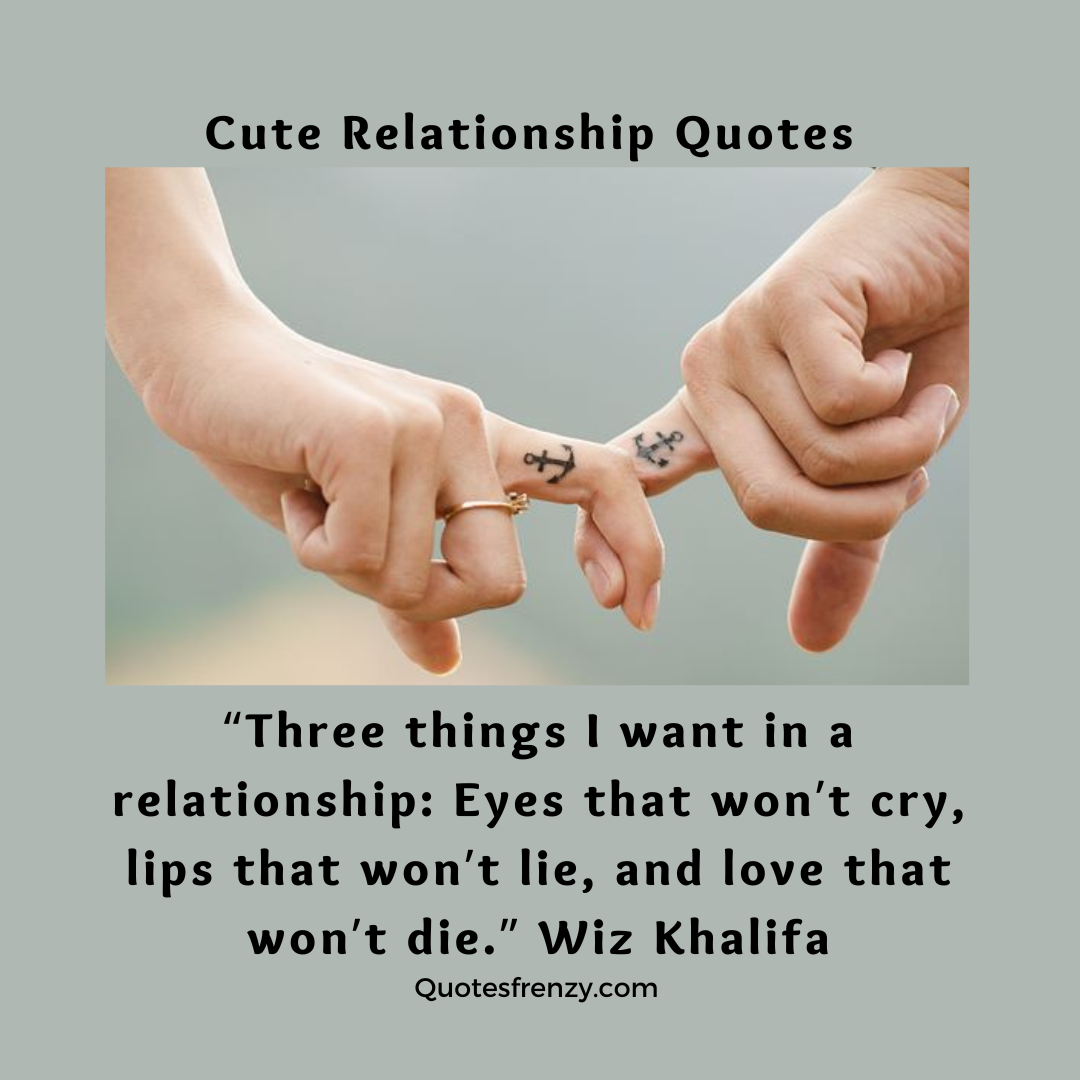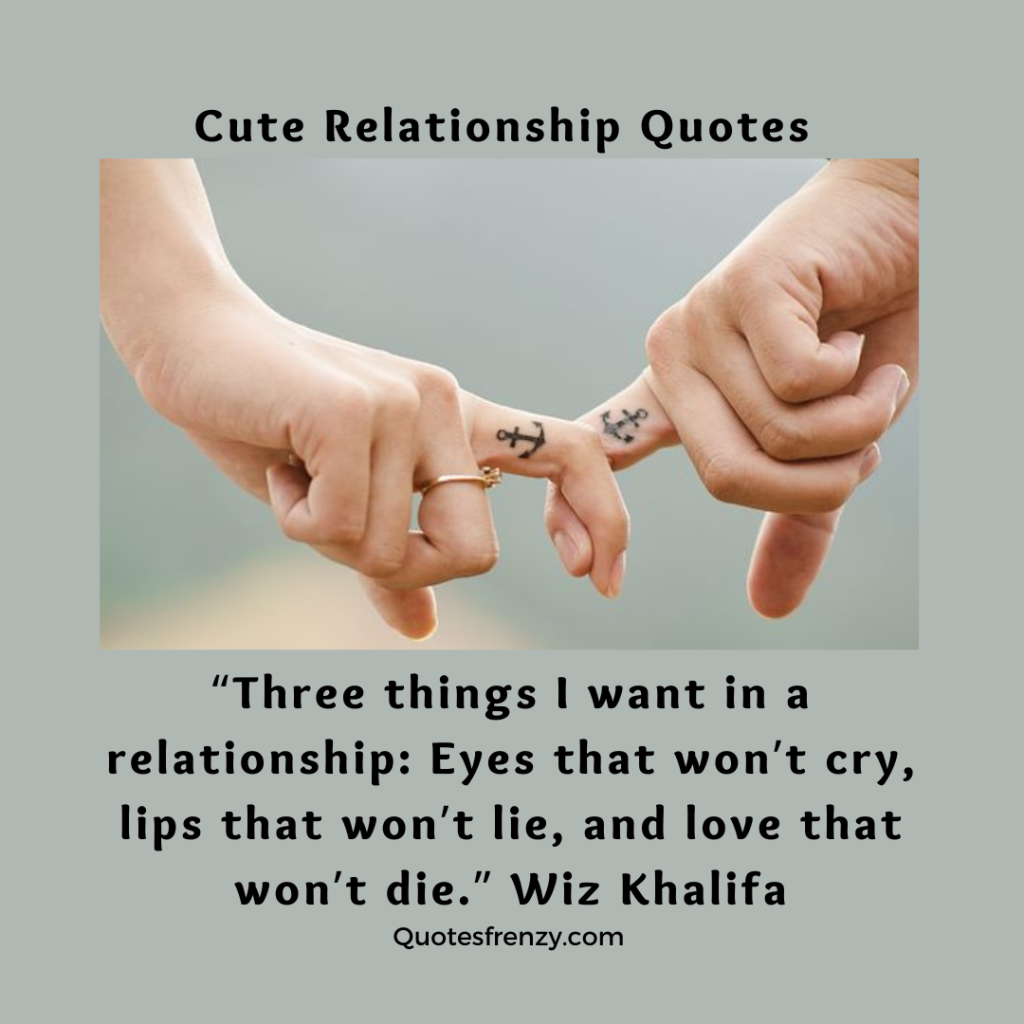 ---
A relationship, or a love, does not come and go away. It is always there.  At times, it is stronger than others, but it is always present. Sometimes all we need to know is that we are loved and cared for, whether our partner is physically present or not. We can feel their presence within our hearts and feel our love and bond grow stronger.
---
The sparks that fly when the person you love looks into your eyes; those butterflies you get when they walk into the room; it is so comforting and exhilarating when someone we love acknowledges us even in the simplest sense. The beauty that love creates Is something that should never be taken for granted. It makes us feel vulnerable and scared, but absolutely incredible at the same time. Be grateful for your partner and show them how important they are to you, even if it is with a deep gaze.
Build up good relationship with these quotes
Did those Cute Relationship Quotes make your heart pitter-patter or what? Relationships are hard work, but in the end, they are so worth those little moments of love and appreciation. Always show the one you love what they mean to you. Feel lucky to have love in your life.