Fall In Love Quotes-There are few things and feelings that never fade way. Just like the first time when you ride a bicycle or go for bungee jumping. Yet most special of all these instances is love, it never fades away. Whenever we come across some breathtaking song, scenery we go back to that time when love meant everything. Our imagination is a very powerful and beautiful gift from nature. When we transform these imaginations into words that have far reaching effects than a beautiful scenery or song. You may find path to your heart again through these beautiful Fall In Love Quotes
" Love is like the wind, you cannot see it but you always feel it" Nicholas Sparks – In Love Quotes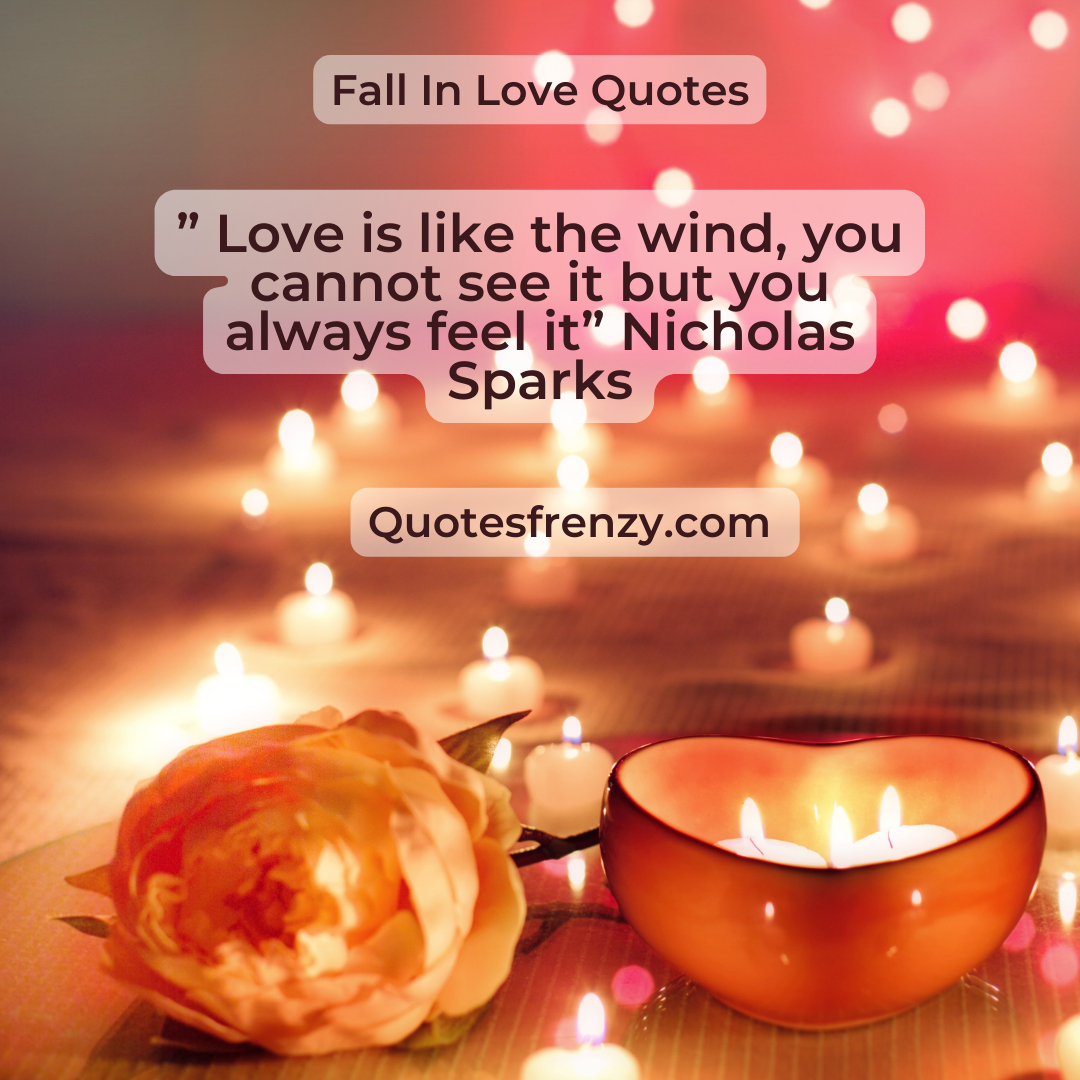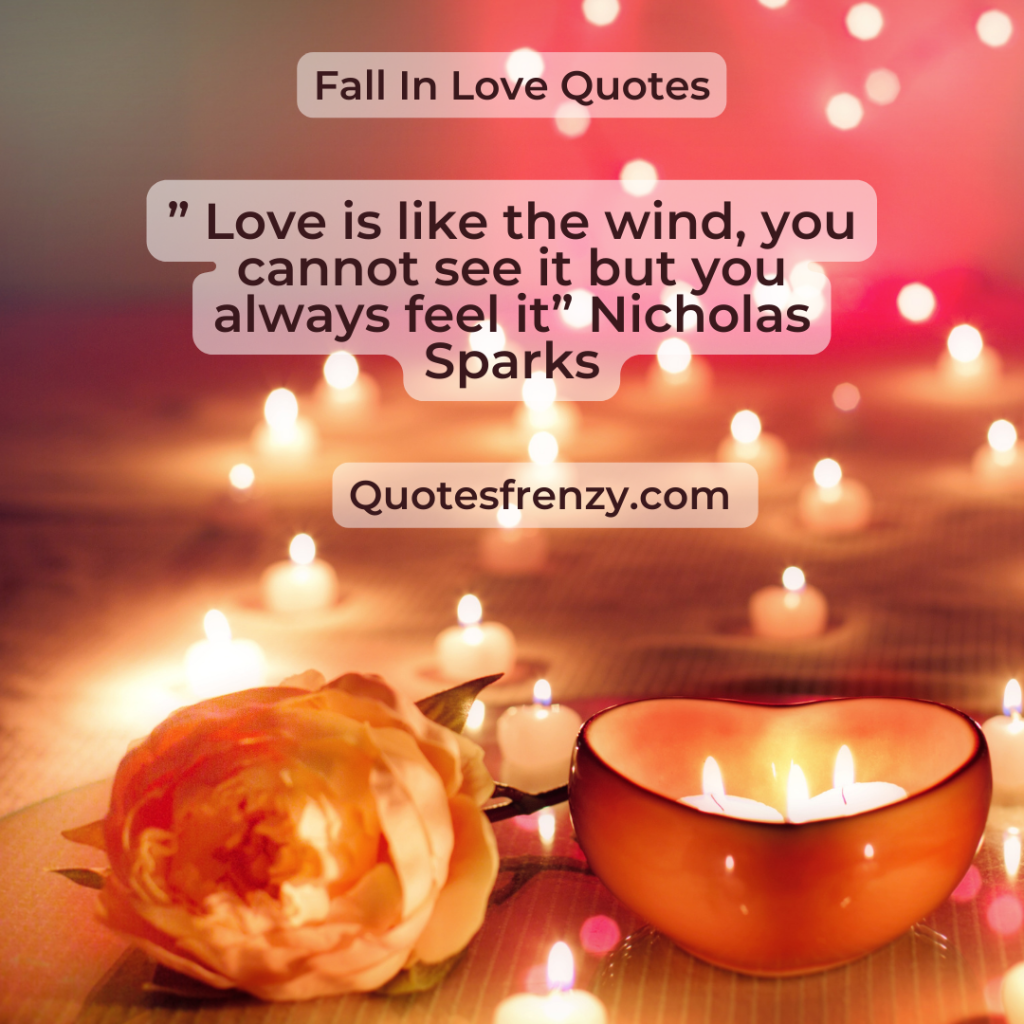 This one sentence by Nicholas Sparks is so profound and meaningful that we can literally picture the feeling of love through this analogy. Love is such a profound feeling yet is not observed or felt by anyone else but the person actually experiencing it.
---
Top Fall In Love Quotes
---
"He who falls in love with himself will have no rivals." Benjamin Franklin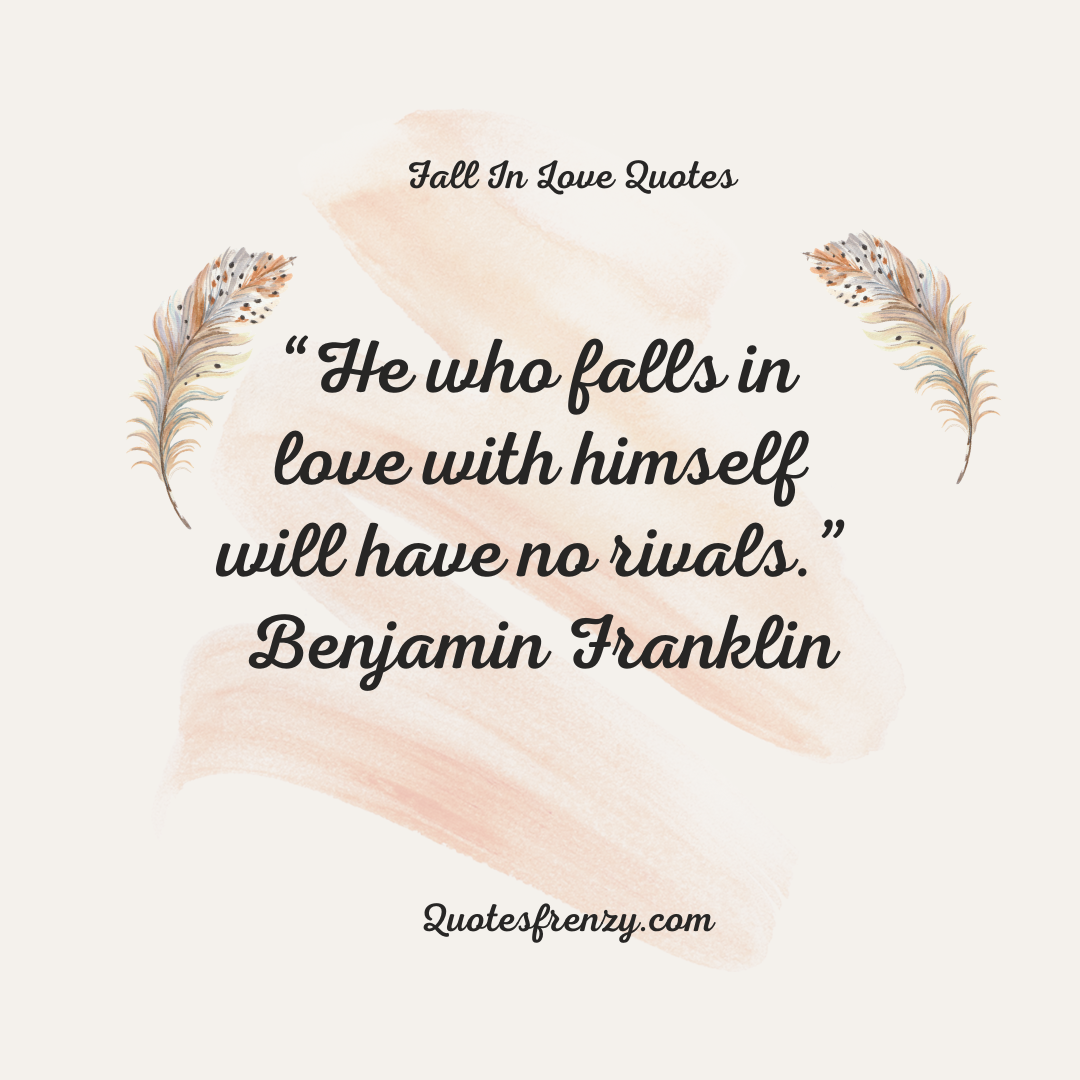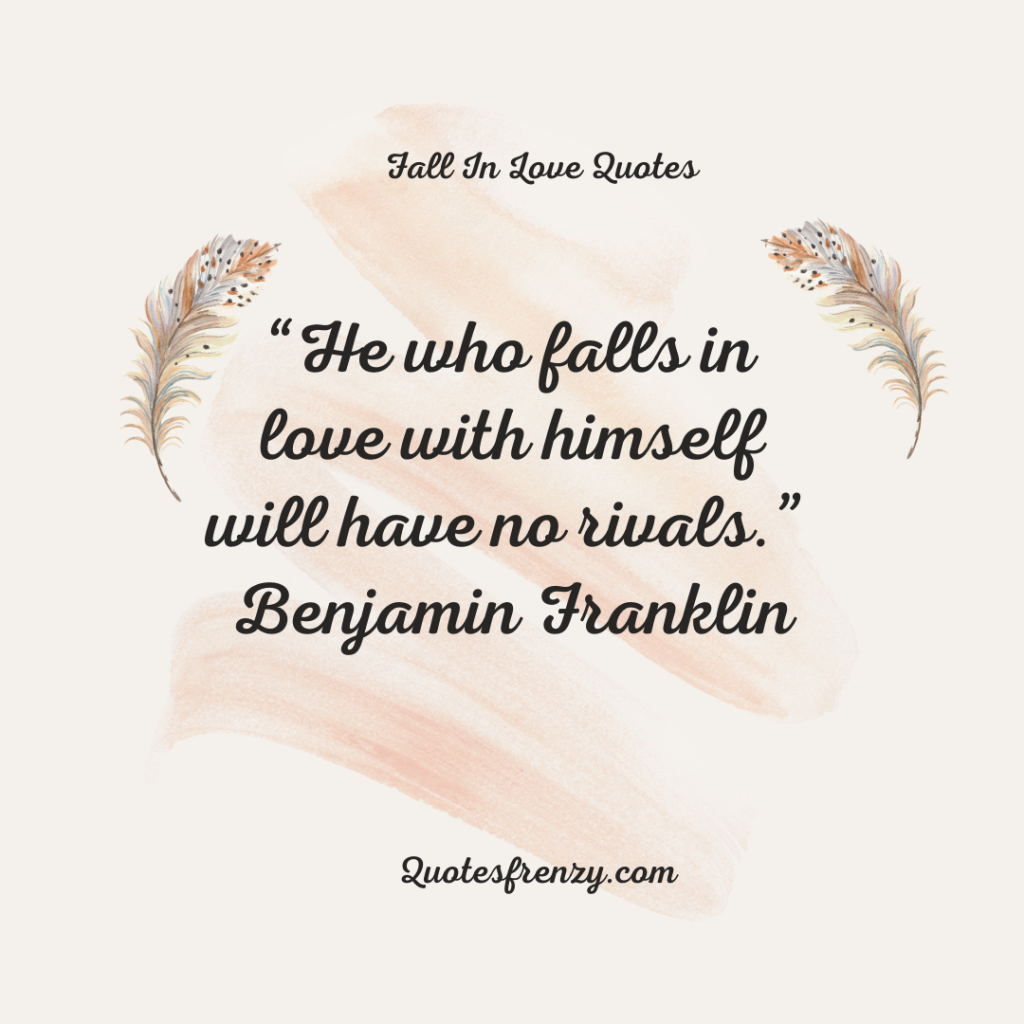 ---
Also read…
---
"Let the man who does not wish to be idle, fall in love." Ovid
---
"To fall in love is to create a religion that has a fallible god." Jorge Luis Borges
---
"Gravitation is not responsible for people falling in love." Albert Einstein
---
"We never get enough of falling in love and believing in love." Shemar Moore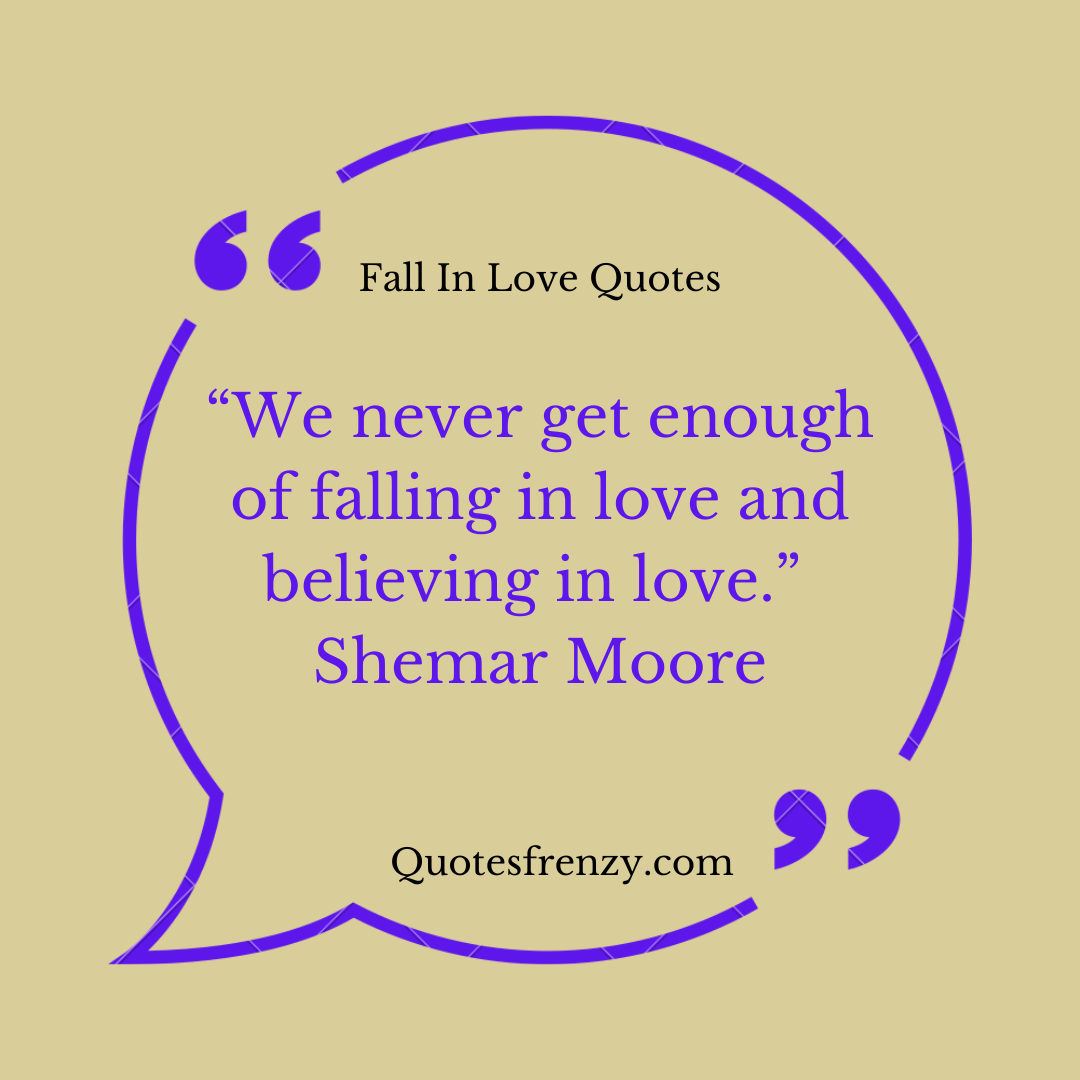 ---
"Sometimes love is stronger than a man's convictions." Isaac Bashevis Singer
---
"No one ever fell in love gracefully." Connie Brockway
---
"It's never too late to fall in love." Sandy Wilson
---
"Where there is love there is life." Mahatma Gandhi
---
"Love is the triumph of imagination over intelligence." H. L. Mencken
---
"… it's a blessed thing to love and feel loved in return." E. A. Bucchianeri
---
"Love is life. And if you miss love, you miss life." Leo Buscaglia
---
"Life is the flower for which love is the honey." Victor Hugo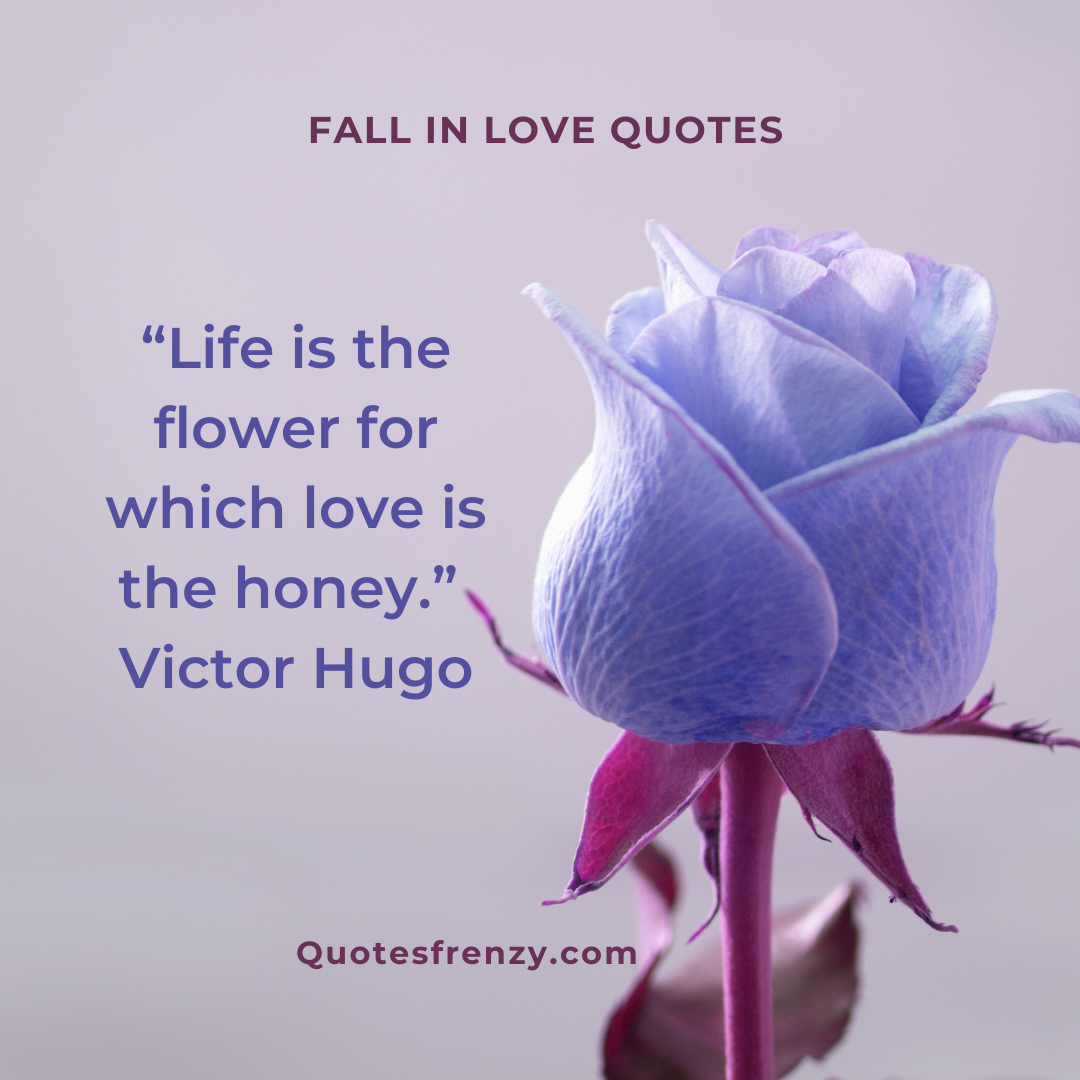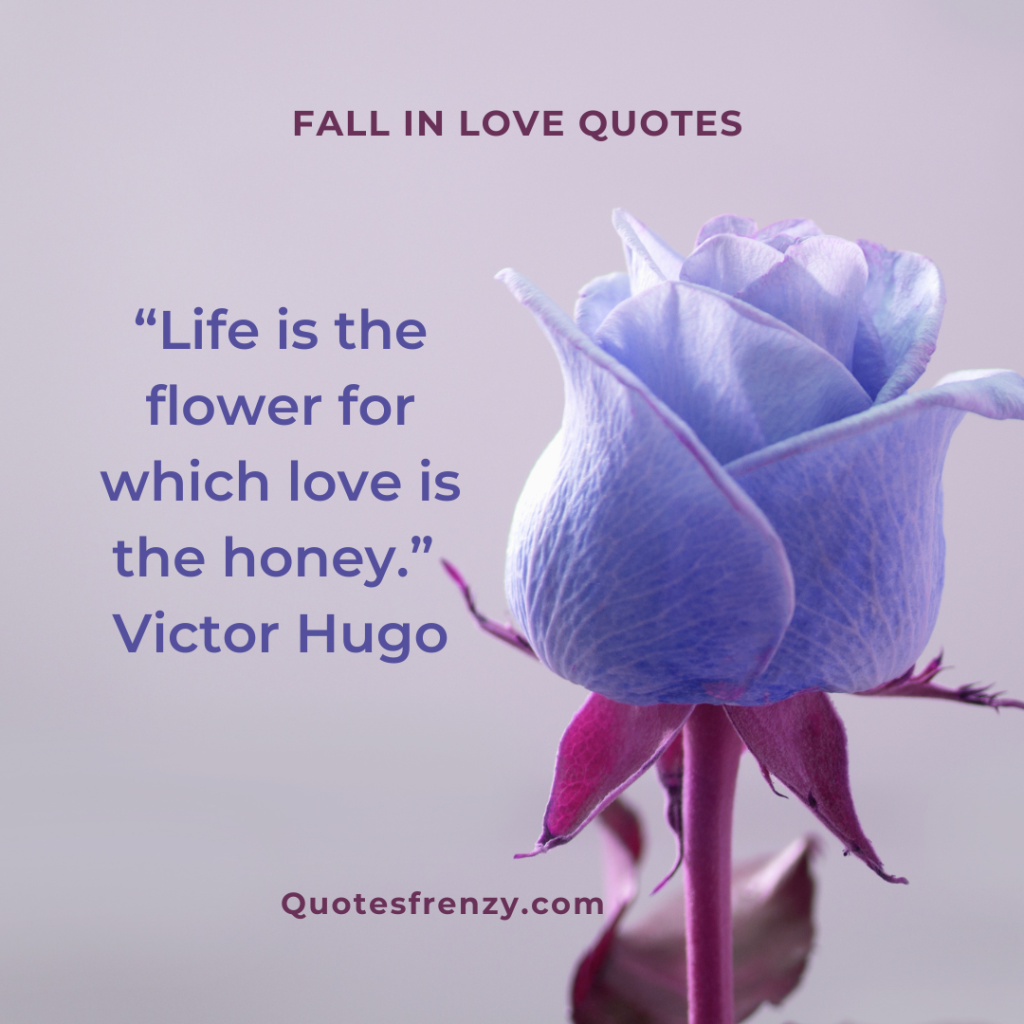 ---
"A happy wedlock is a long falling in love." Theodore Parker
---
"You have to fall in love with hanging around words." John Ciardi
---
"I did not just fall in love. I made a parachute jump." Zora Neale Hurston
---
"When you connect with a cause, it's like falling in love." Debra Winger
---
"We are asleep until we fall in Love!" Leo Tolstoy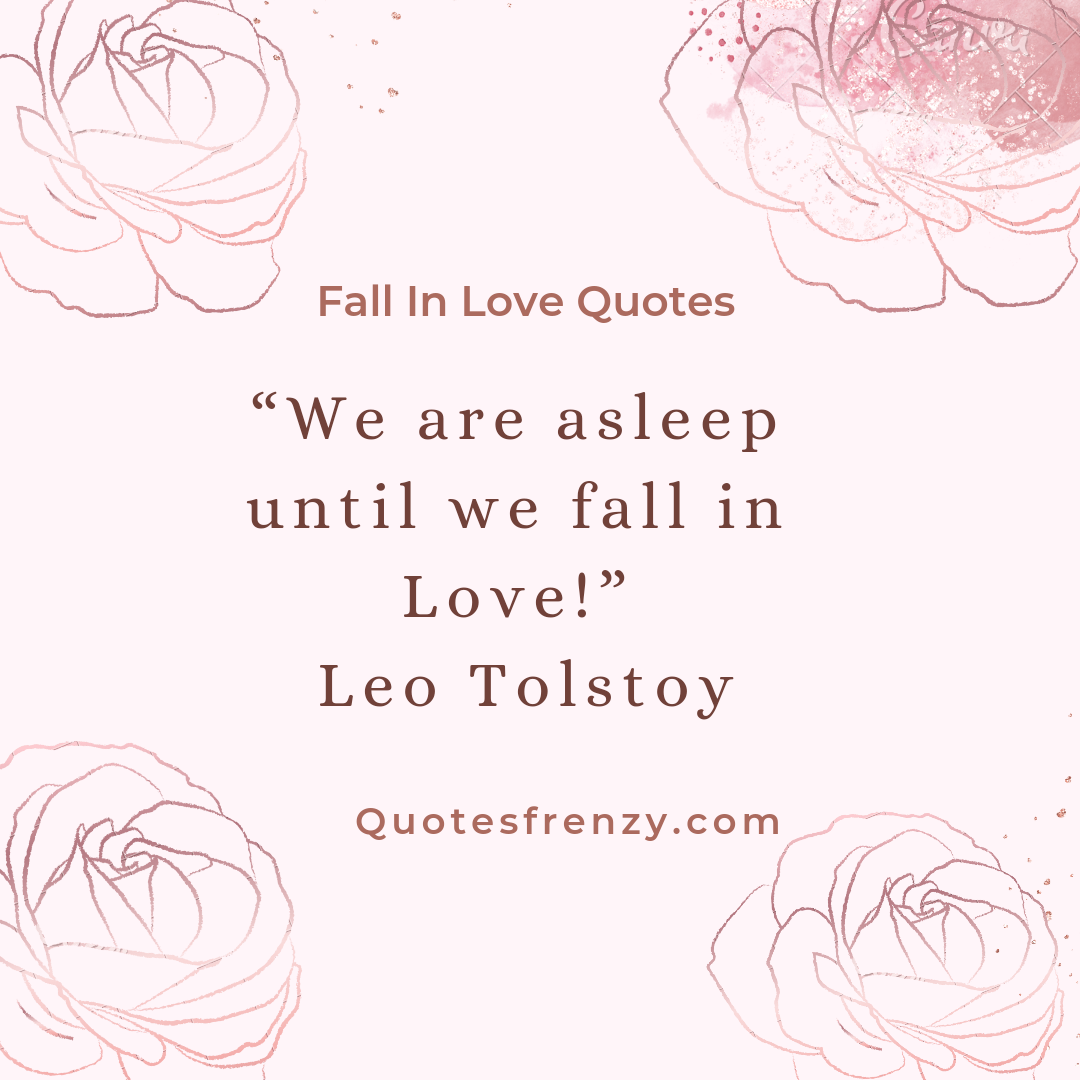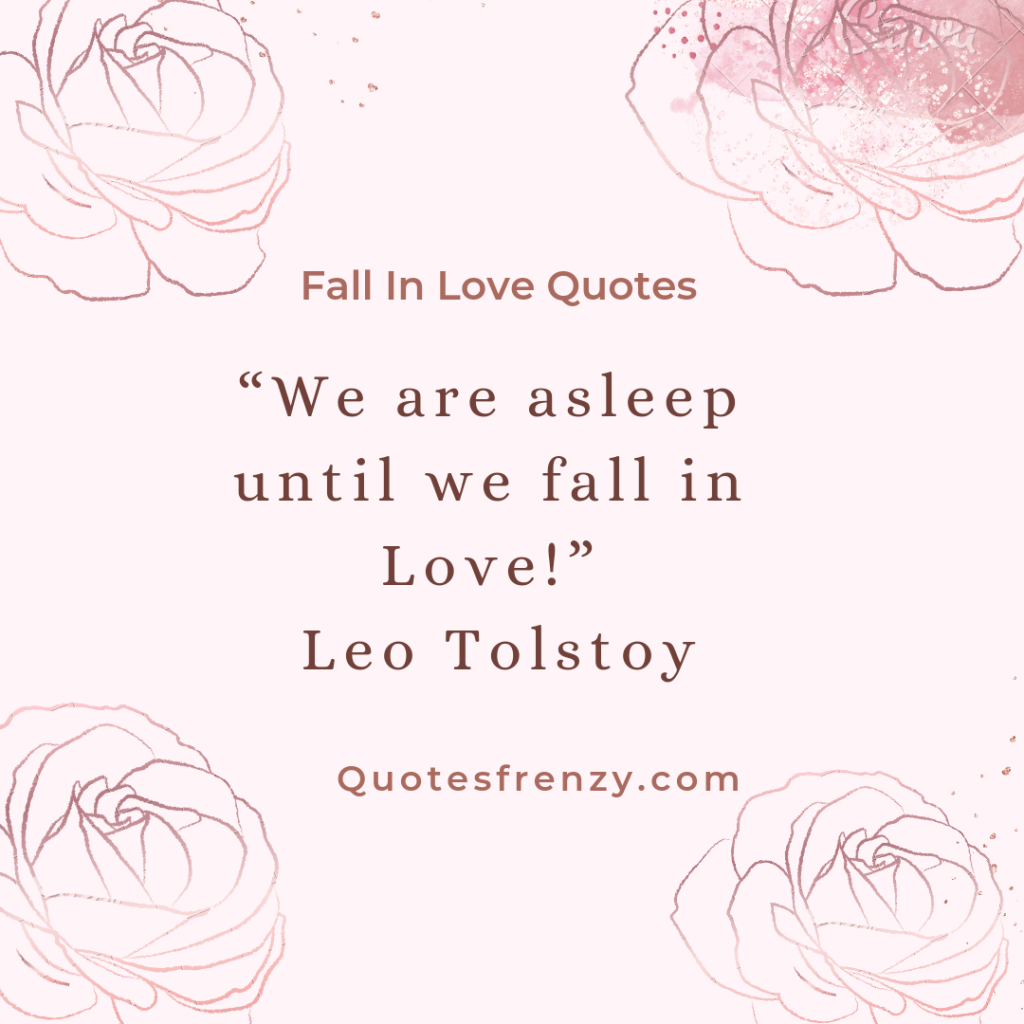 ---
"If truth does not lead to falling in love, it fails." John Piper
---
"To fall in love with yourself is the first secret to happiness." Robert Morley
---
"We don't fall in love, we fall in lust. We ascend to love." Dean Cavanagh
---
"Close your eyes, fall in Love, stay there." Rumi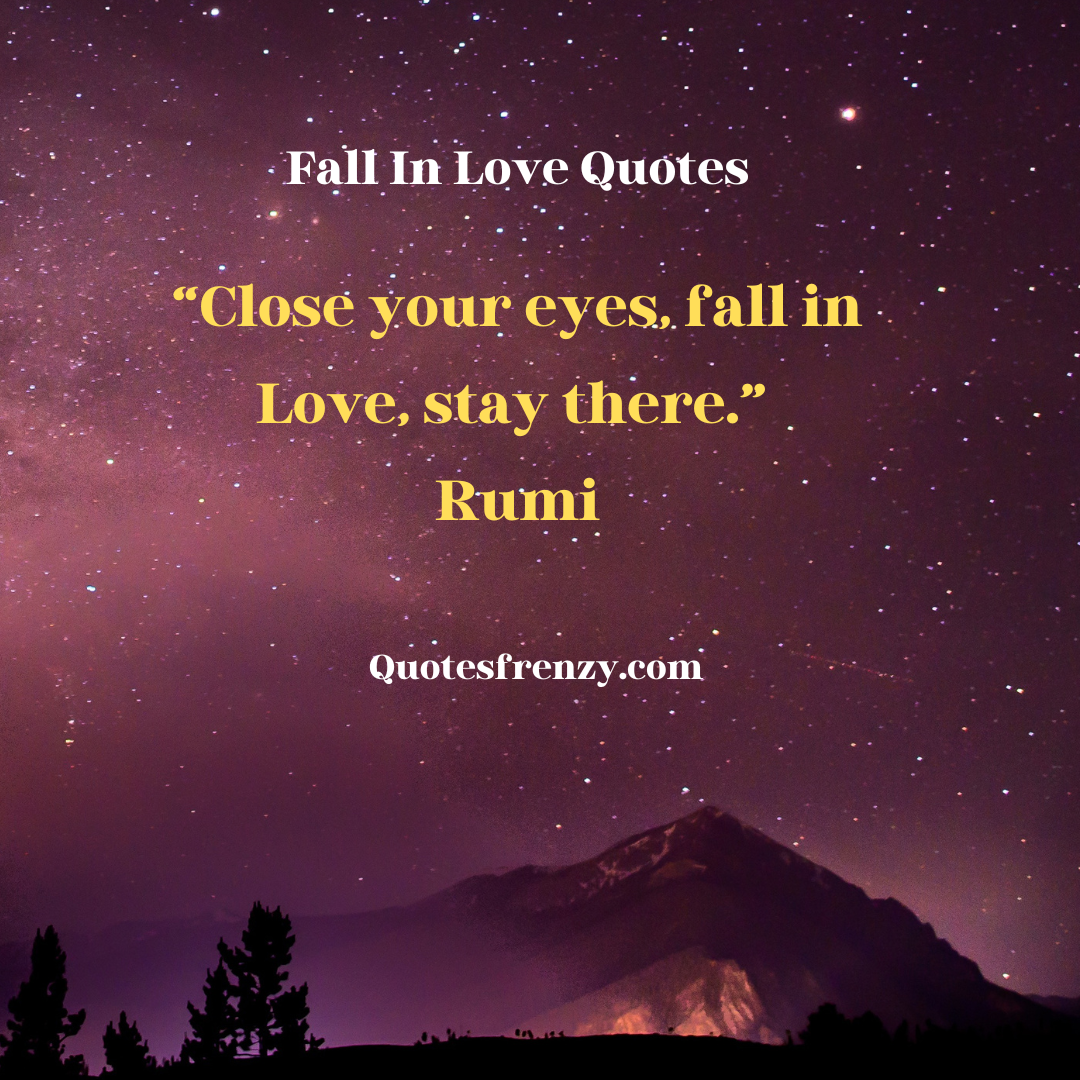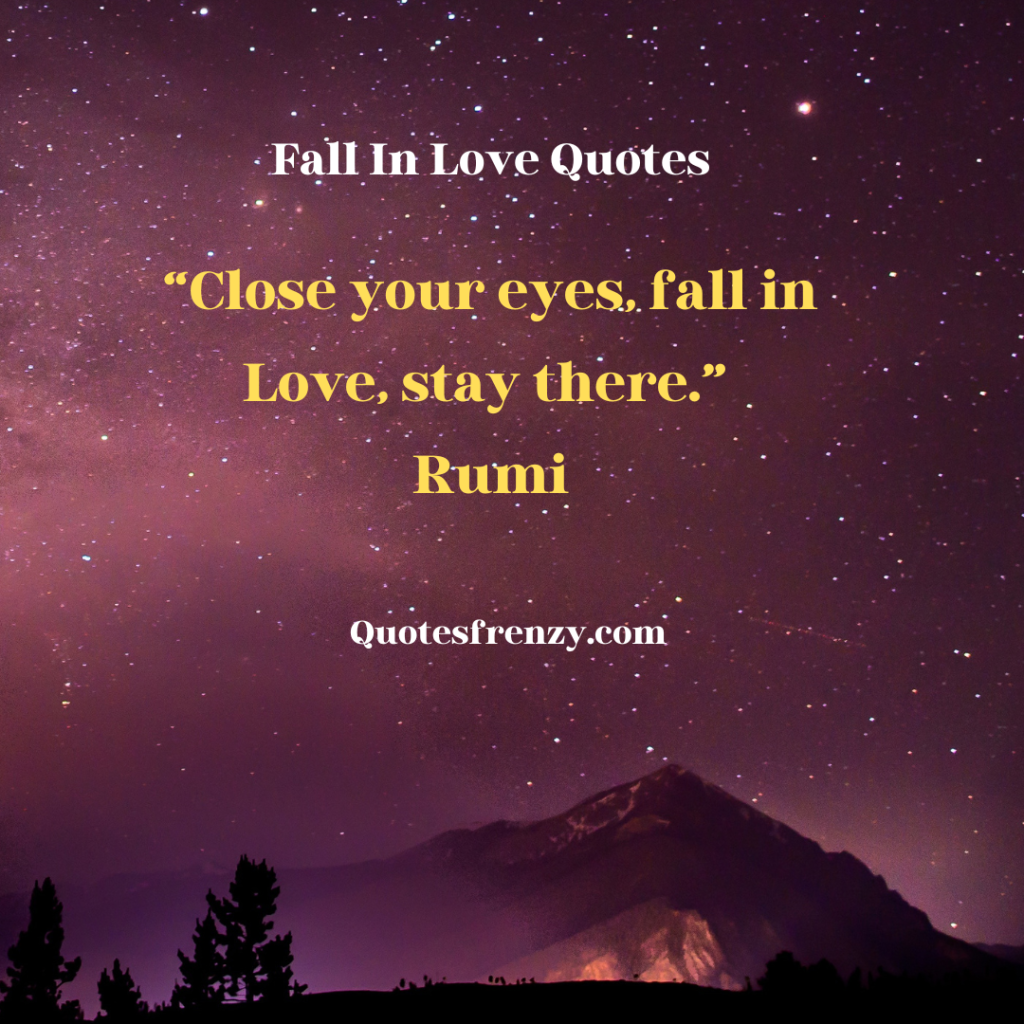 ---
"People fall in love with a person, not a gender." Darren Criss
---
"You don't fall in love. You commit to it." Timothy Keller
---
"Nobody should go through life without falling in love." Sue Monk Kidd
---
"If I know what love is, it is because of you" Herman Hesse – Fall In Love Quotes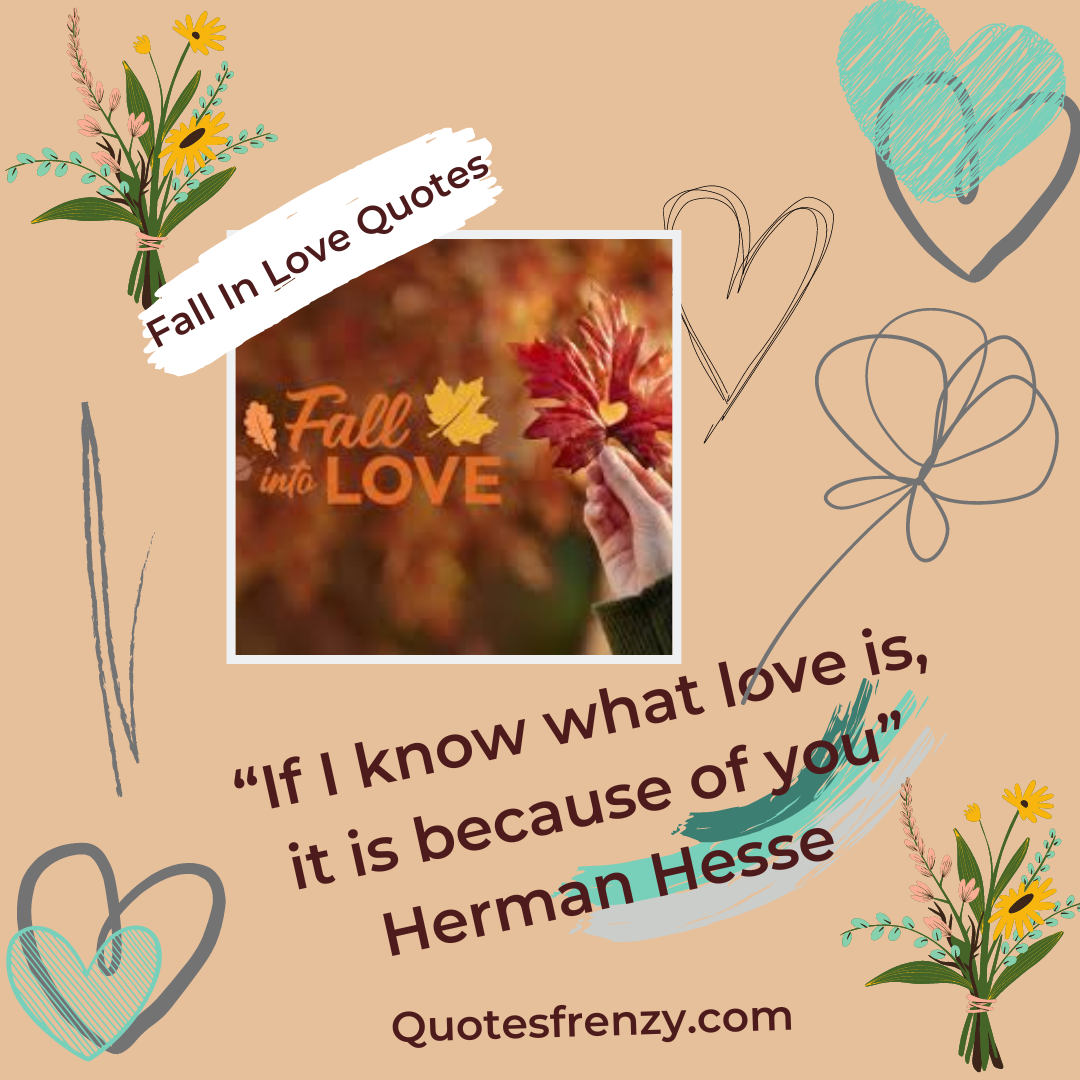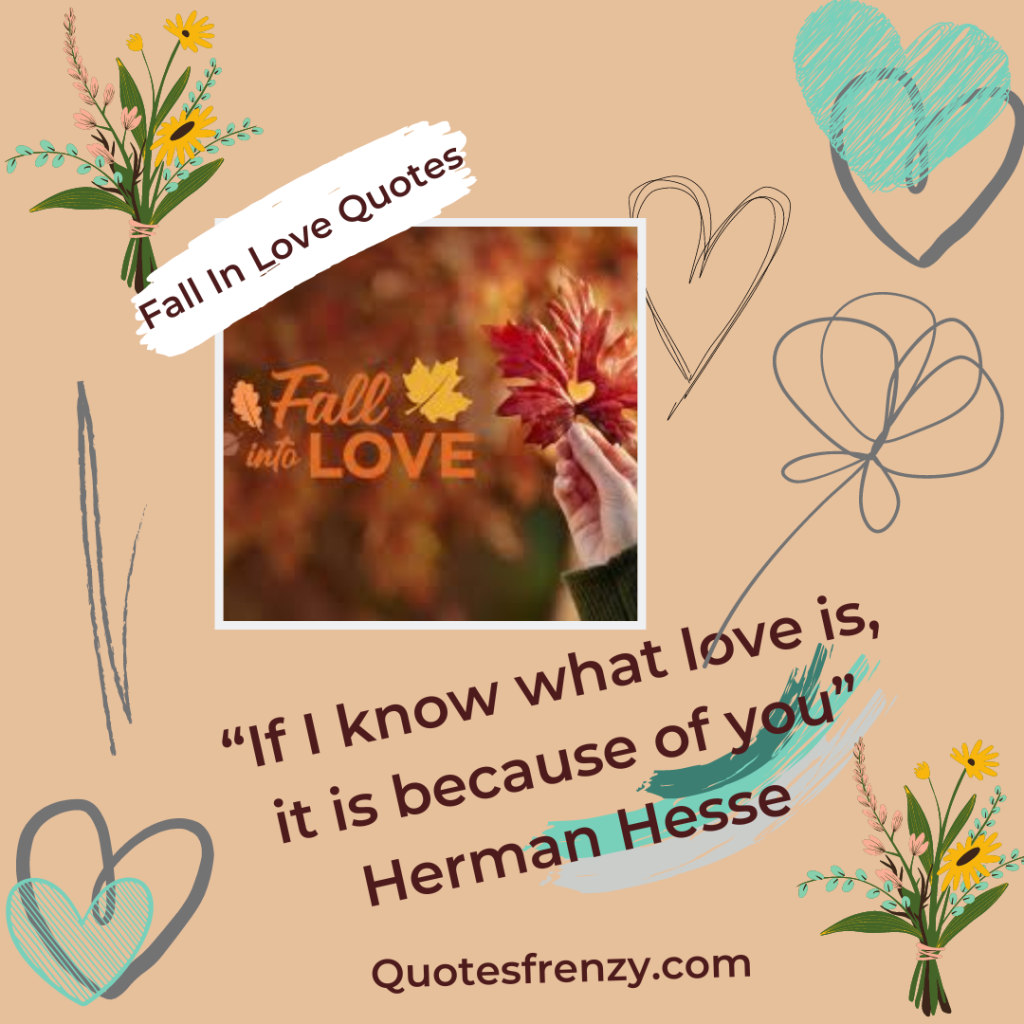 It is very well said that love is just a word until someone comes and gives meaning to it. Herman Hesse so beautifully put that fact into words. Love not only becomes meaningful because of someone but it also give meaning and colors to life and everything in it.
"Before marriage a girl has to make love to a man to hold him.  After marriage, she has to hold him to make love to him"  Marilyn Monroe – Fall In Love Quotes

Just like her own beauty Marilyn Monroe beautifully captures the essence of a long-term love relationship. It shows us the untold truth of relationships that girls feel insecure as to their love and fear to lose it before marriage. The relationship is fragile and unpredictable but after marriage she owns the man she loves. She can give her heart to him without any fear of losing him to anyone. This beautiful beginning marks commencement of an era full of love, hope and confidence.
Love is the heart of the picture called life. If someone finds their love of life it's like they own whole world and everything in it. On the other hand, if we lose the love of our life, we lose everything even if we own the whole world and everything in it!