Goodbye Quotes-It is difficult to say goodbye.  It is even harder to hear it.  You will feel that the world is crumbling down.  And your life has no meaning.
This is our normal feeling towards goodbyes.
If you sense that the point of no return is turning up, do not take it casually and recklessly.  Prepare yourself.  Hang tough. And pull out of it.
Here are some Goodbye Quotes that can help you get through.
"Love is an album of hellos and goodbyes." – Jimi Hendrix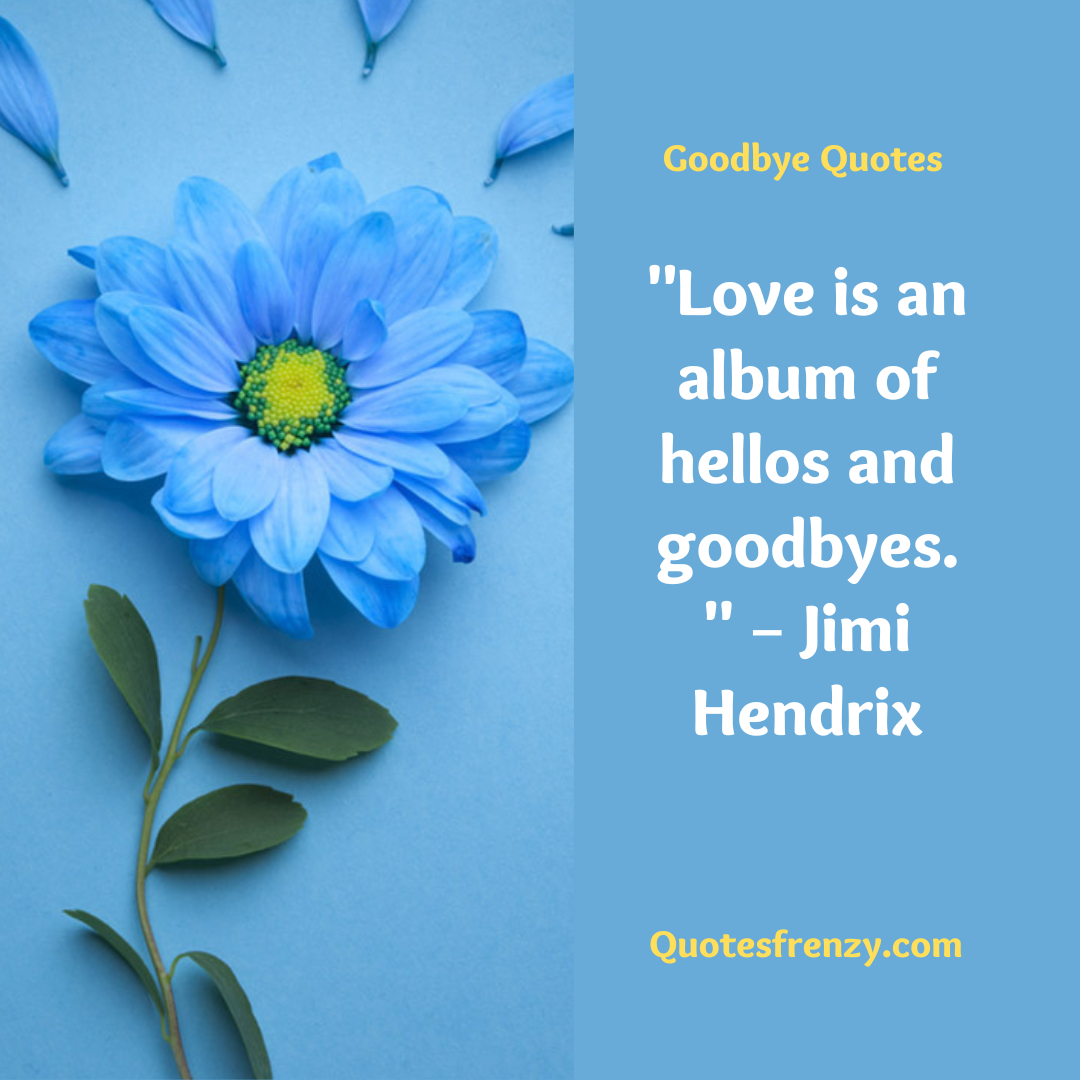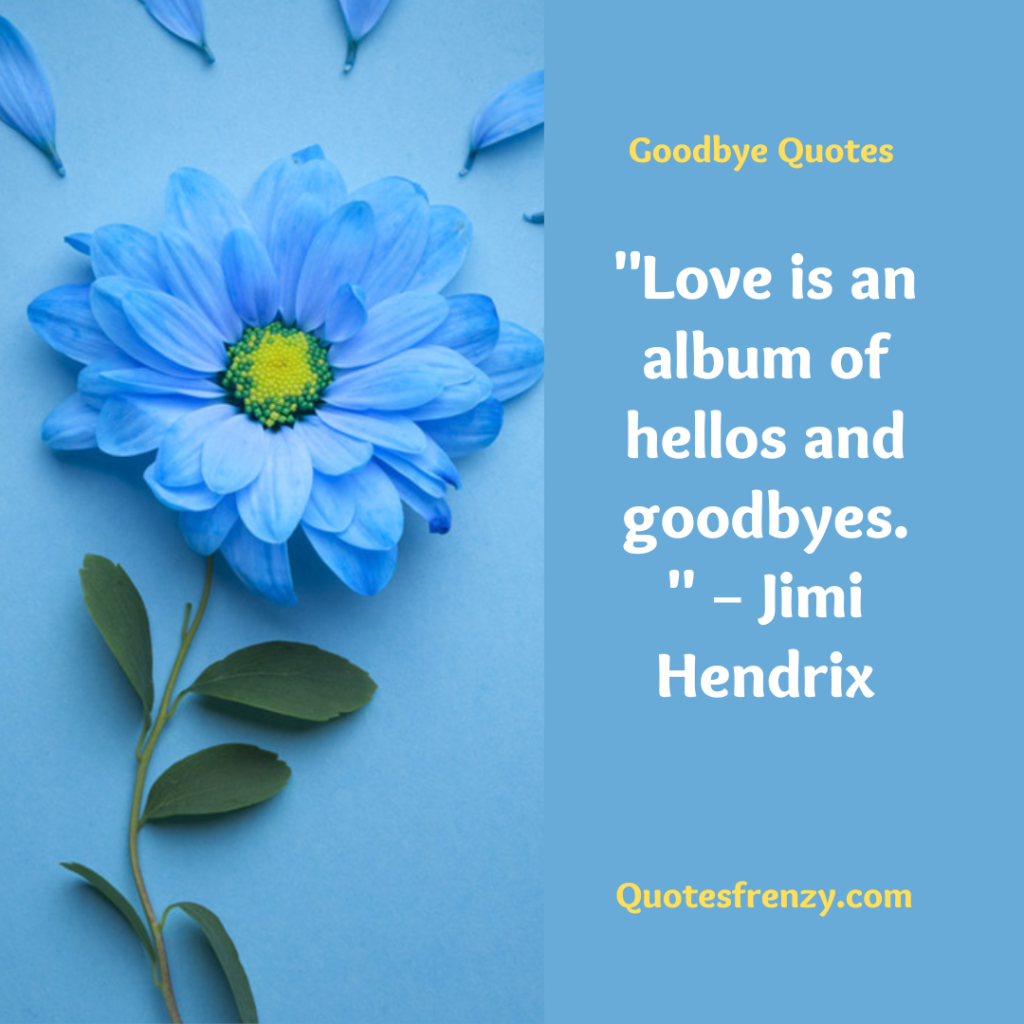 Loving someone is the most beautiful emotion in the world. It inspires you to live.  It paints a smile in your face.  And makes your whole body glow and awaken.
But love has a cycle in life.
It is born with the first hello and will fade with the last goodbye. What remains are the memories of a time spent together. This is our reality.  The beginning and the end are inevitable.  You have to prepare yourself when the end comes.
---
Famous Goodbye Quotes
---
"There are no good-byes, where ever you'll be, you'll be in my heart. " Mahatma Gandhi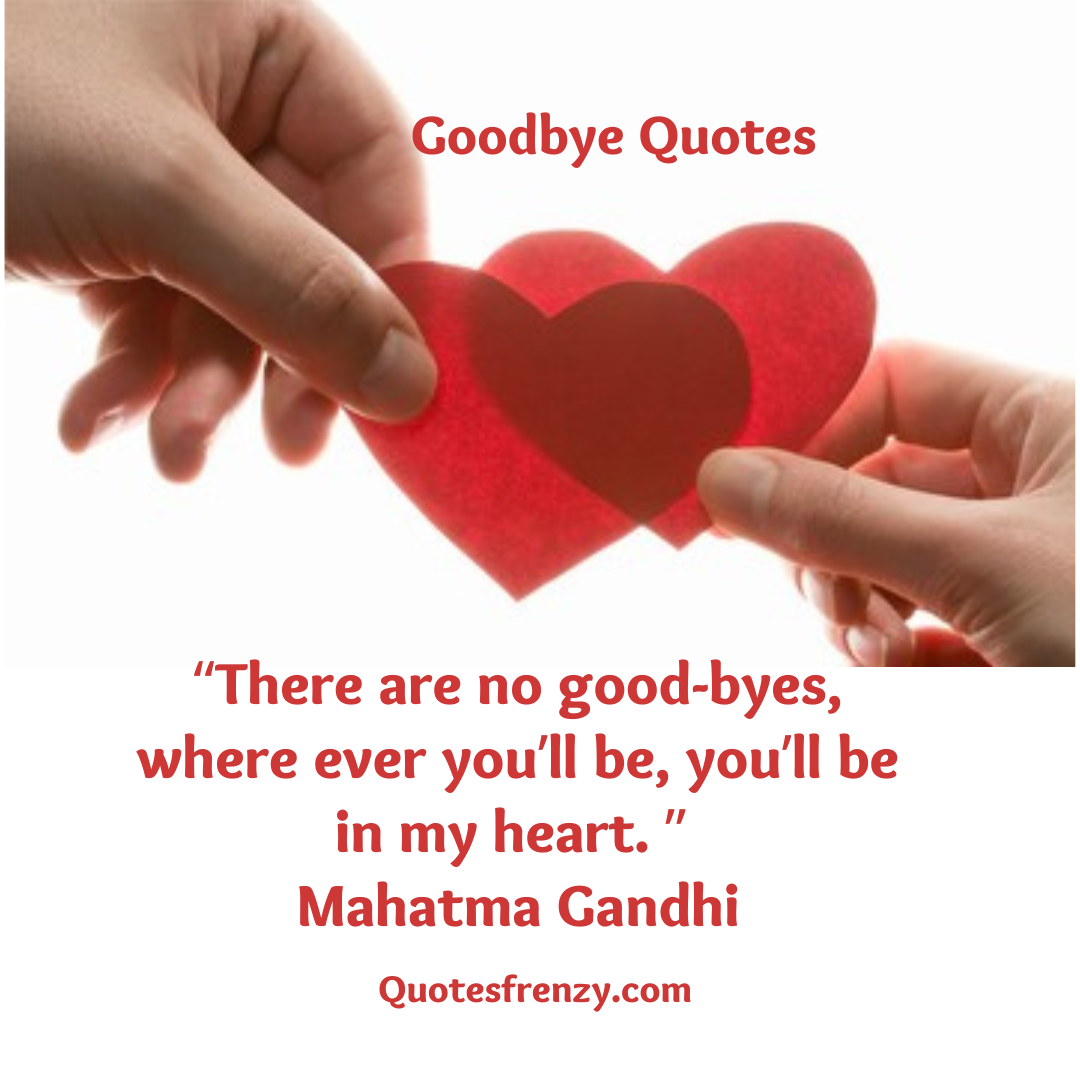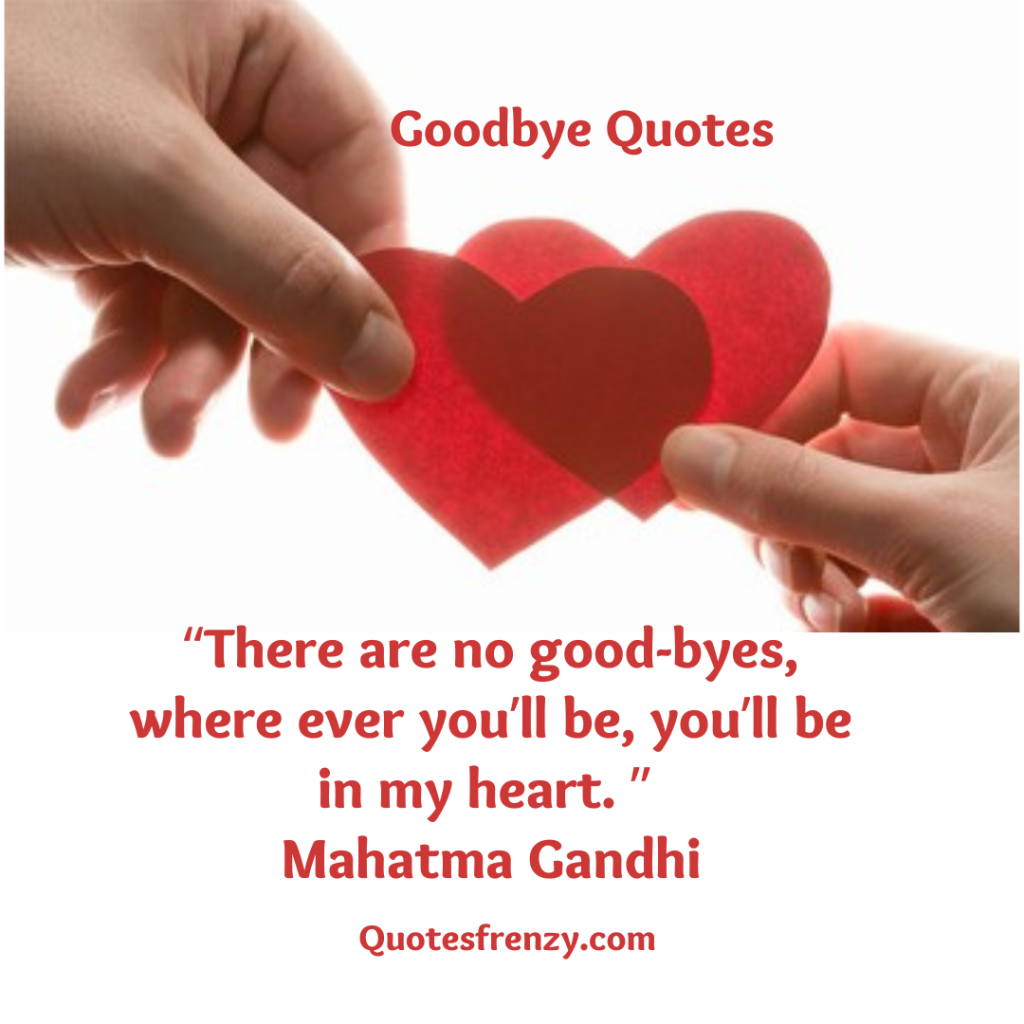 ---
Also read…
New Beginning Quotes And Sayings
---
"How lucky I am to have something that makes saying goodbye so hard." A. A. Milne
---
"Farewell! God knows when we shall meet again." William Shakespeare
---
"Happy trails to you, until we meet again." Dale Evans
---
"Where is the good in goodbye?" Meredith Willson
---
"Never say goodbye because goodbye means going away and going away means forgetting." James M. Barrie
---
"Adieu! I have too grieved a heart to take a tedious leave." William Shakespeare
---
"May everyone live, And may everyone die. Hello, my love, And my love, Goodbye." Leonard Cohen
---
"Goodbye to the sun that shines for me no longer." Sophocles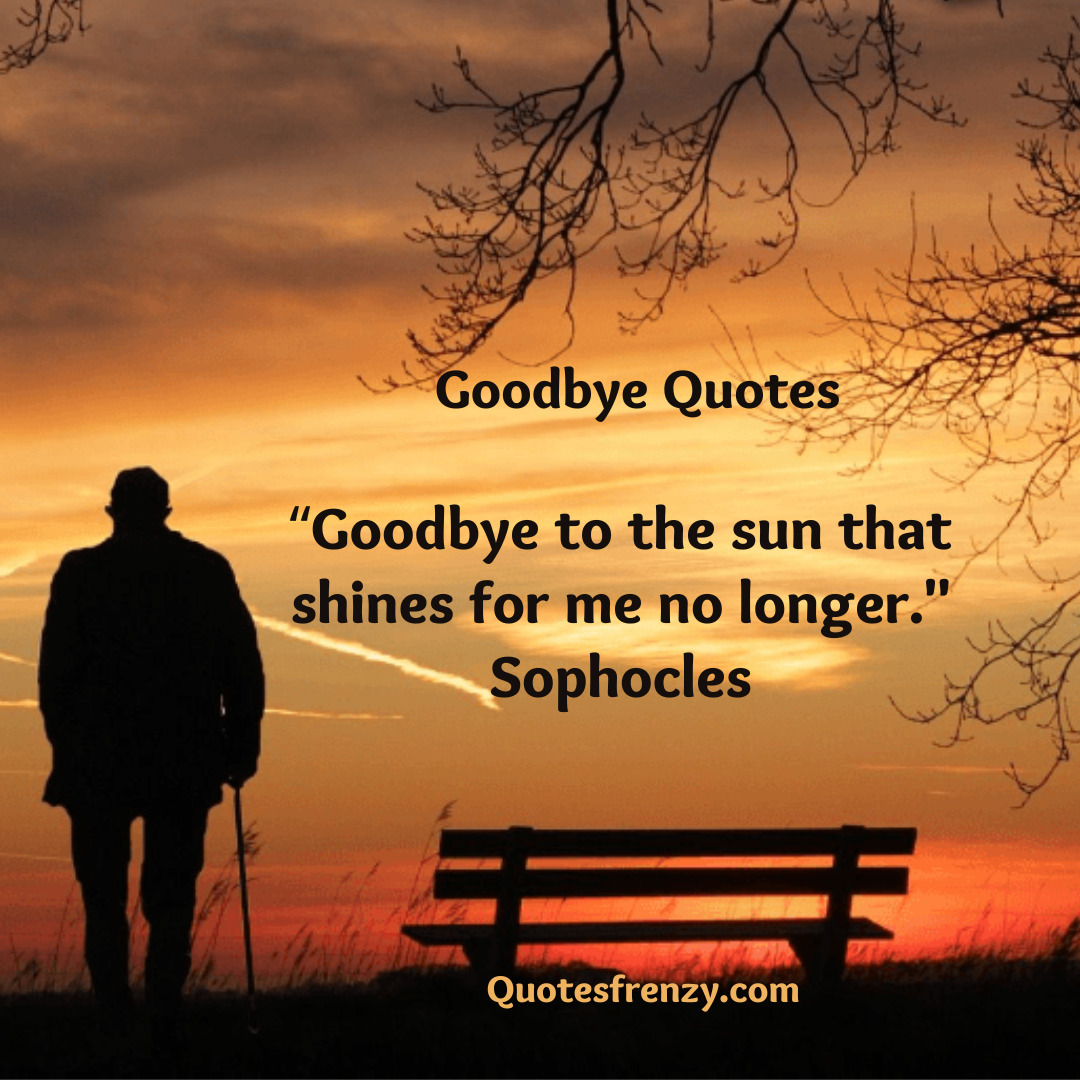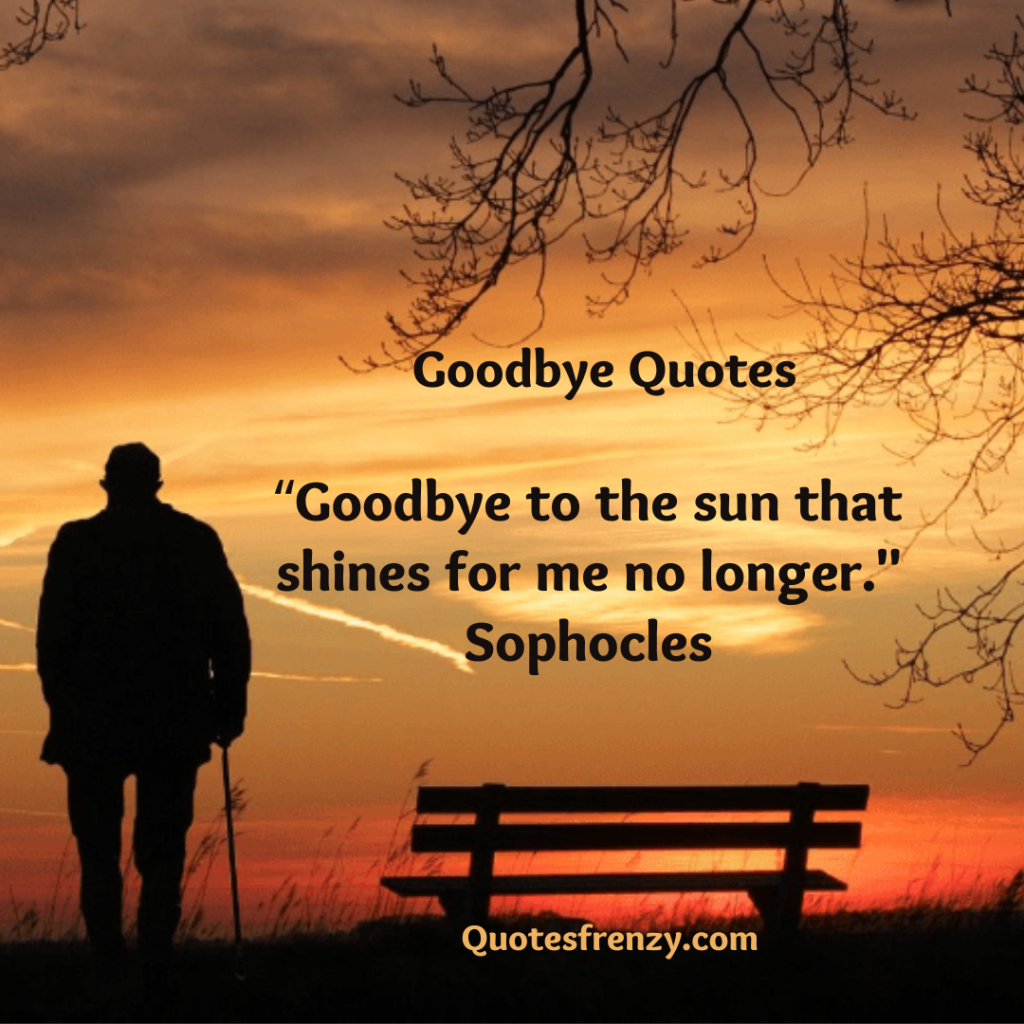 ---
"Fare thee well, and if for ever Still for ever fare thee well." Lord Byron
---
"I wonder how you say goodbye to someone forever?" Ann M. Martin
---
"When I go to a party, nobody says hello. But when I leave, everybody says goodbye." George Gobel
---
"The return makes one love the farewell." Alfred de Musset
---
"Life is a series of hellos and goodbyes; I'm afraid it's time for goodbye again." Billy Joel
---
"Driving me away is easier than saying goodbye." Erica Jong
---
"We laughed until we had to cry, we loved until we said goodbye." Melissa de la Cruz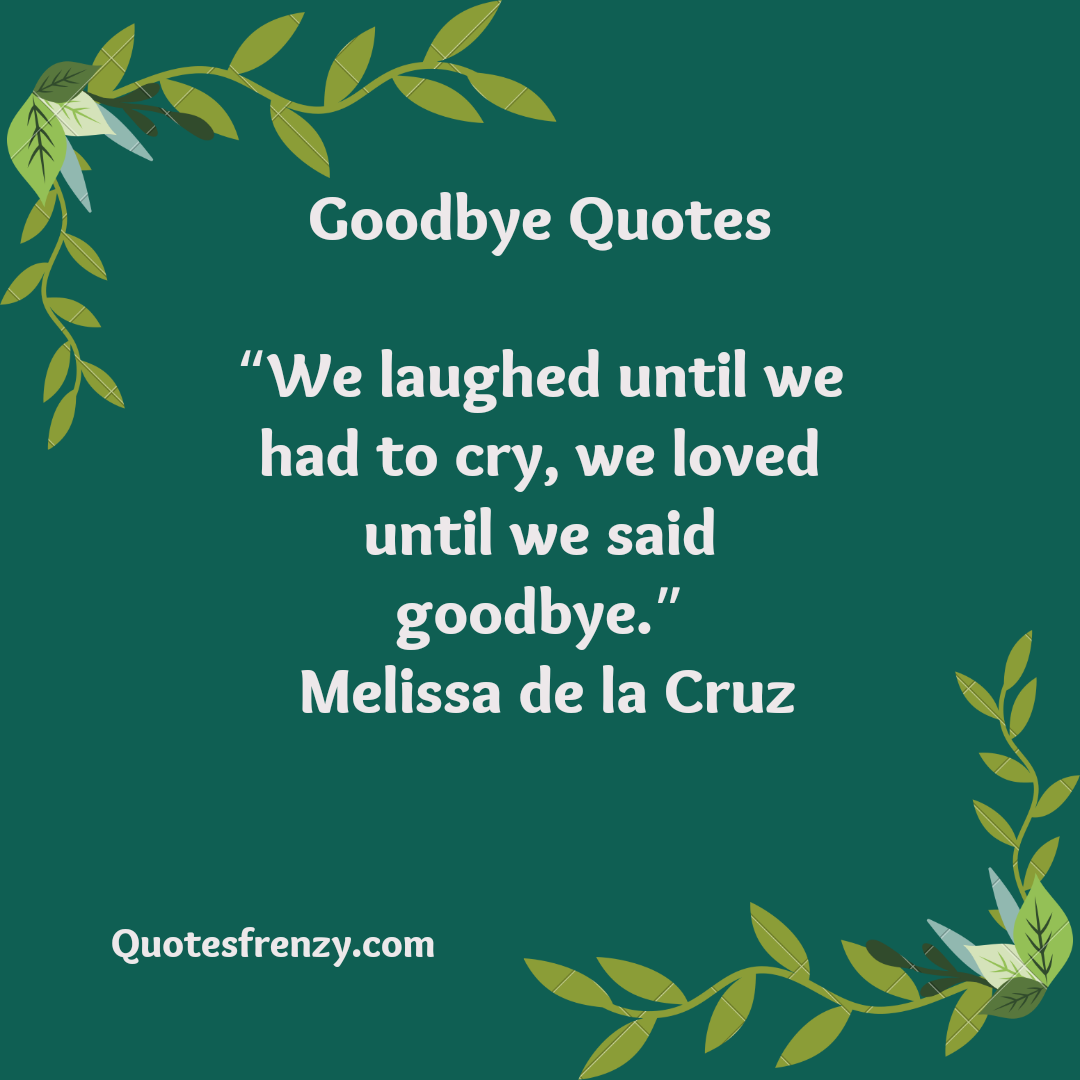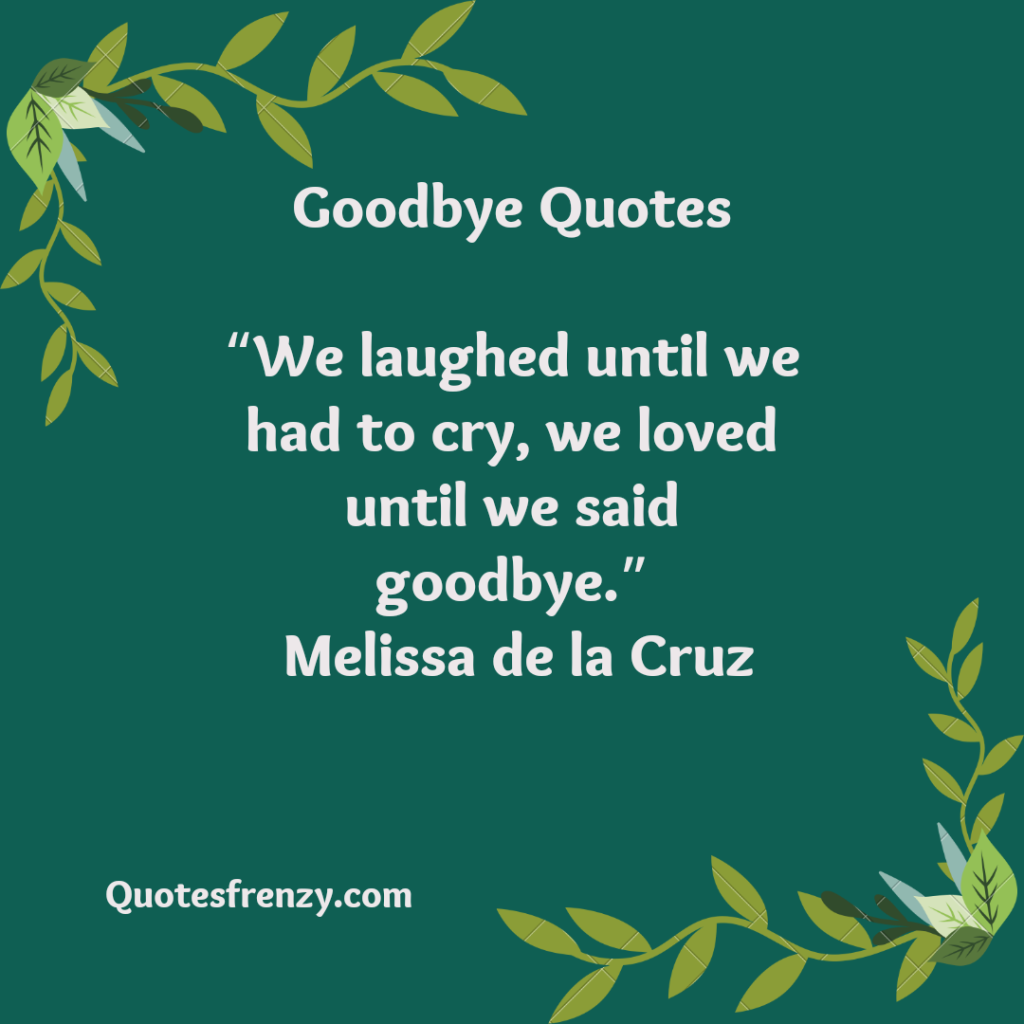 ---
"Goodbyes are sad, no matter what the promise of tomorrow is." Janet Leigh
---
"Death's in the good-bye." Anne Sexton
---
"Thank God I found the GOOD in goodbye." Beyonce Knowles
---
"To say goodbye is to die a little." Raymond Chandler
---
"History never really says goodbye. History says, see you later." Eduardo Galeano
---
"Less feelings means less goodbyes." Drake
---
"True love never says goodbye." Lauren Kate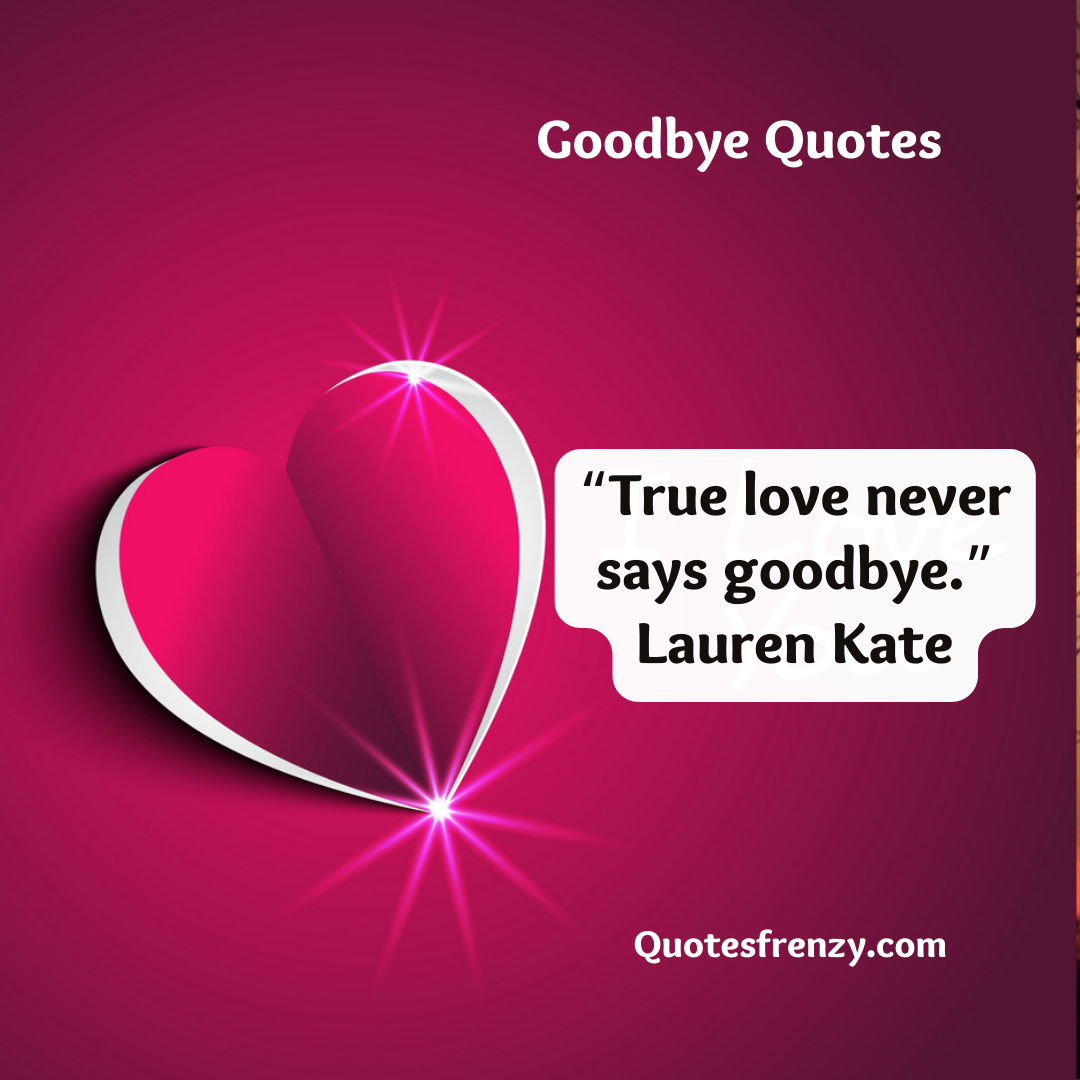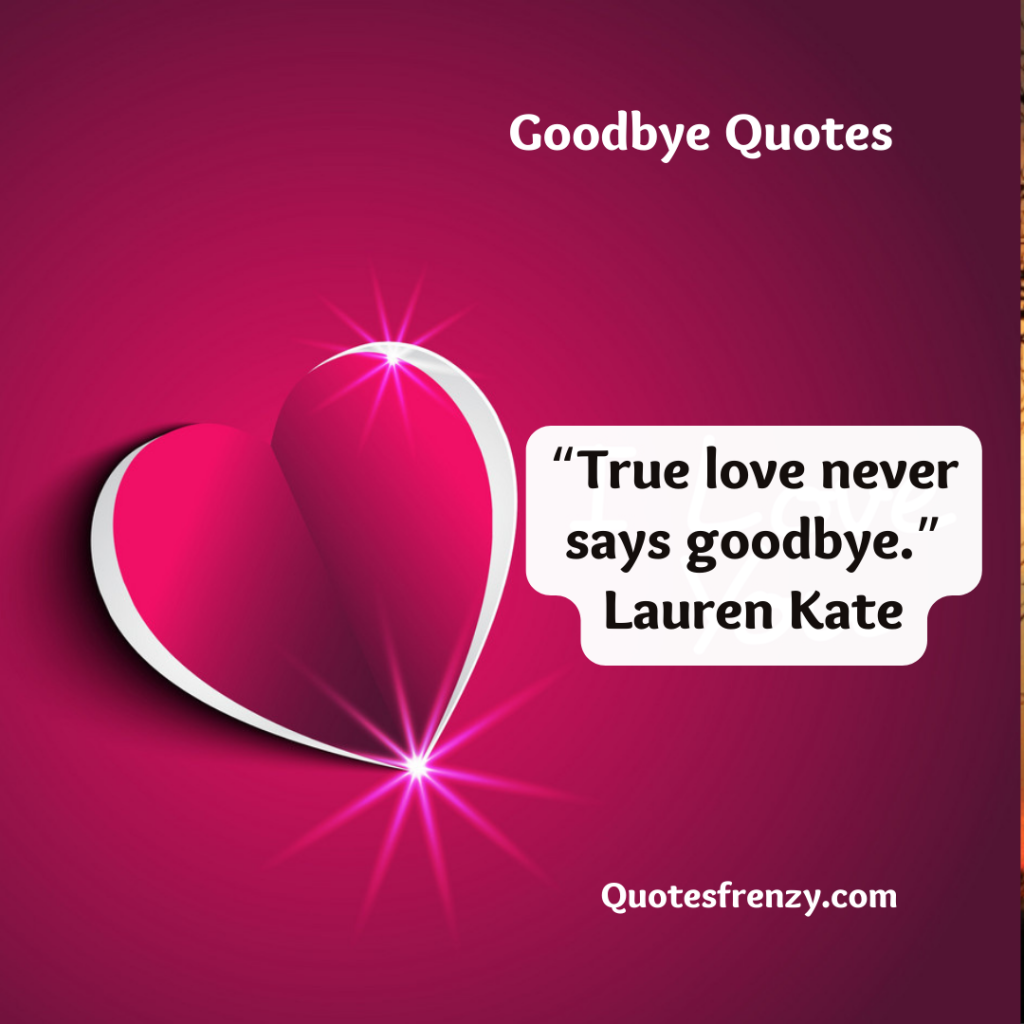 ---
"Being able to say goodbye is a sign of growth." Gustavo Cerati
---
"Love tends to end in a very painful goodbye." Taylor Swift
---
"Saying goodbye is never pretty." – Elisabetta Canalis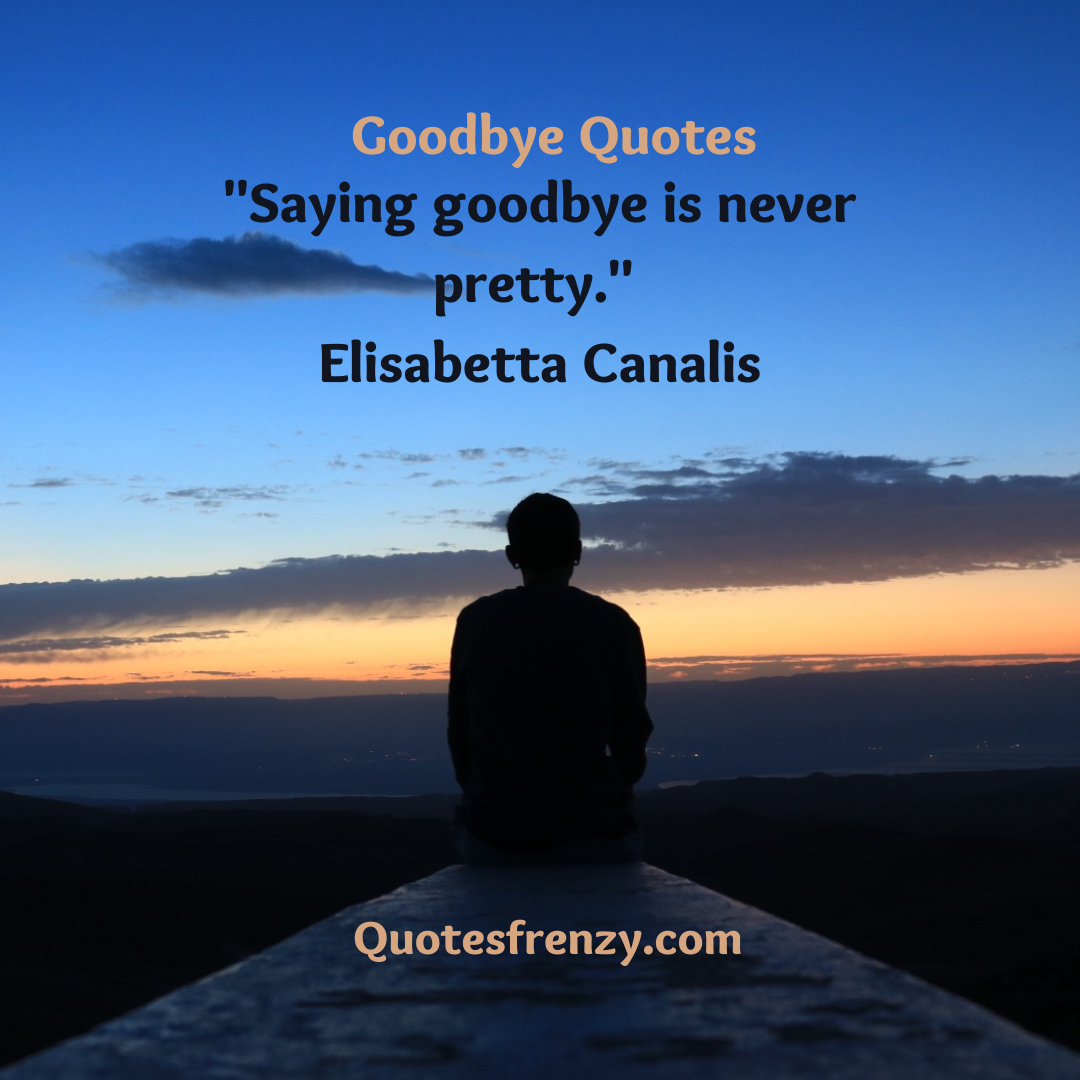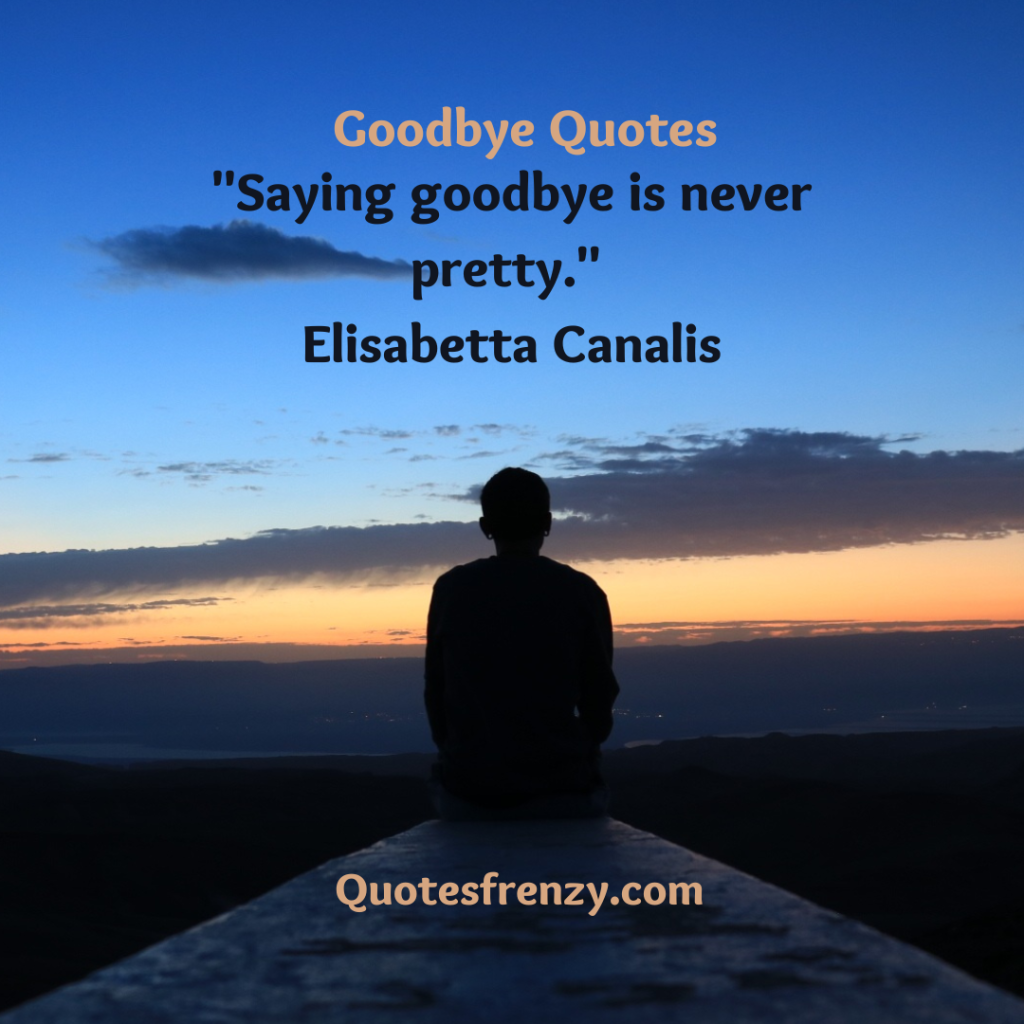 The end of something is never pleasant.  Death is in not in any way beautiful.  A break-up is no more charming.  Yet it happens.
When there is a need to give things up, say it with a full heart.  Better yet, say it with a feeling of content – an appreciation for spending those meaningful moments.
Make that goodbye more memorable as much as the time you spent side by side.
"Don't say goodbye because goodbyes are sad." – Ernie Harwell
It is hard to say goodbye especially if you do not want things to end. It is even harder receiving it from someone you anchor your life with. Goodbyes are always depressing.  It repeatedly makes us cry.
Stir yourself and say instead, "until we meet again…"
"Say goodbye and life will honor you with a new hello." – Paulo Coelho
Life ends at death.  As long as you are breathing and your heart is pumping, life has a lot to offer.  When the time to say farewell comes, always remember that there is another door that will be opened.
It is normal to be unhappy at the parting time.  Who knows, there is another thing that life will offer.  Smile.  A new journey has just begun.
Always remember, that when the last goodbye has been said.  Accept it.  Decide to move on.  Be motivated with these Goodbye Quotes.