Loss of Father Quotes: Grief is a path we all walk at some point of a lifetime.But there's no remedy for grief, when it comes to the profound loss of a parent.
Here are some qoutes to help you describe your pain on the loss of Father.
---
Loss of Father Quotes
---
"Let me tell you, he is the hole in my heart. His loss is my scar. But let me tell you something, his memory drives me forward every single day of my life."_Michelle Obama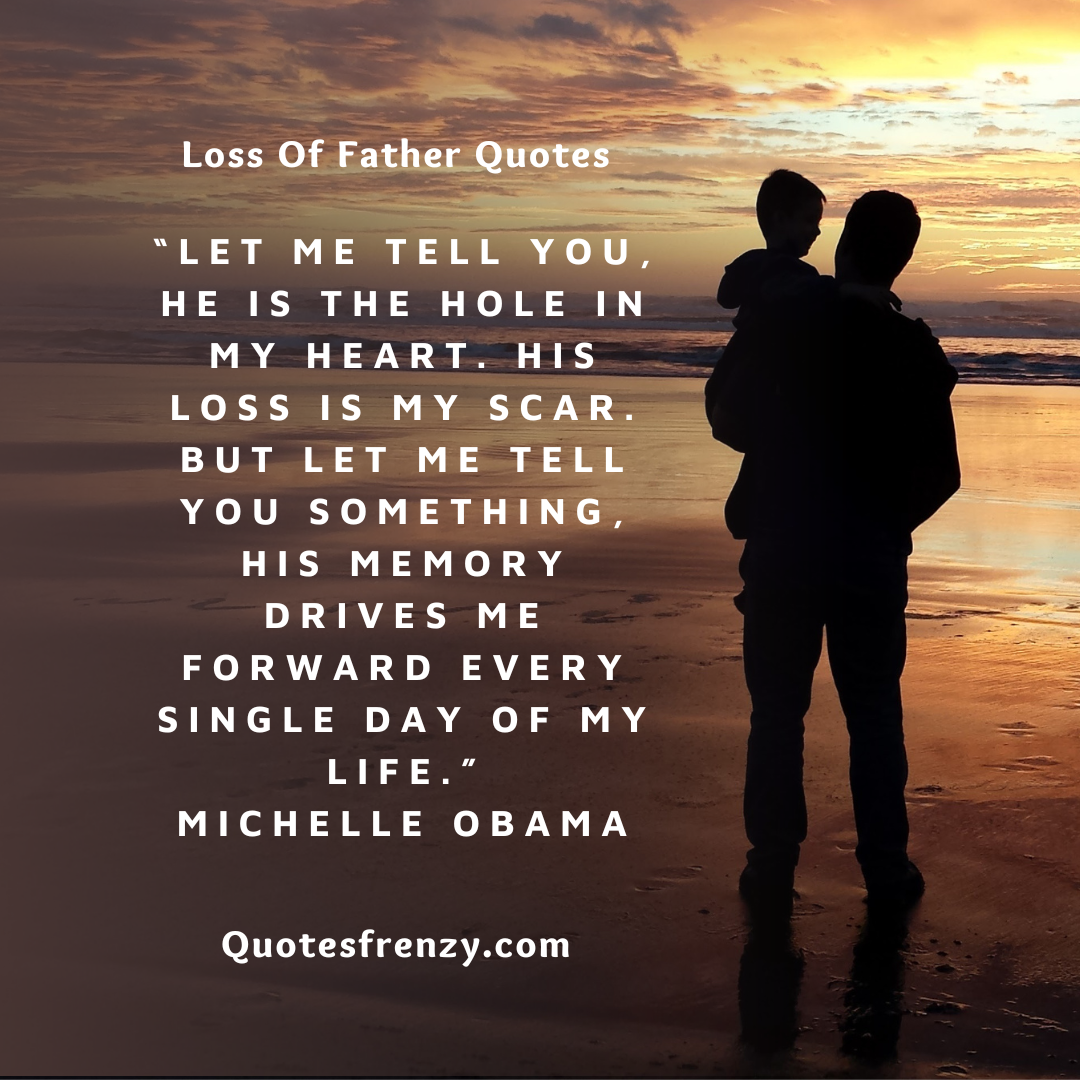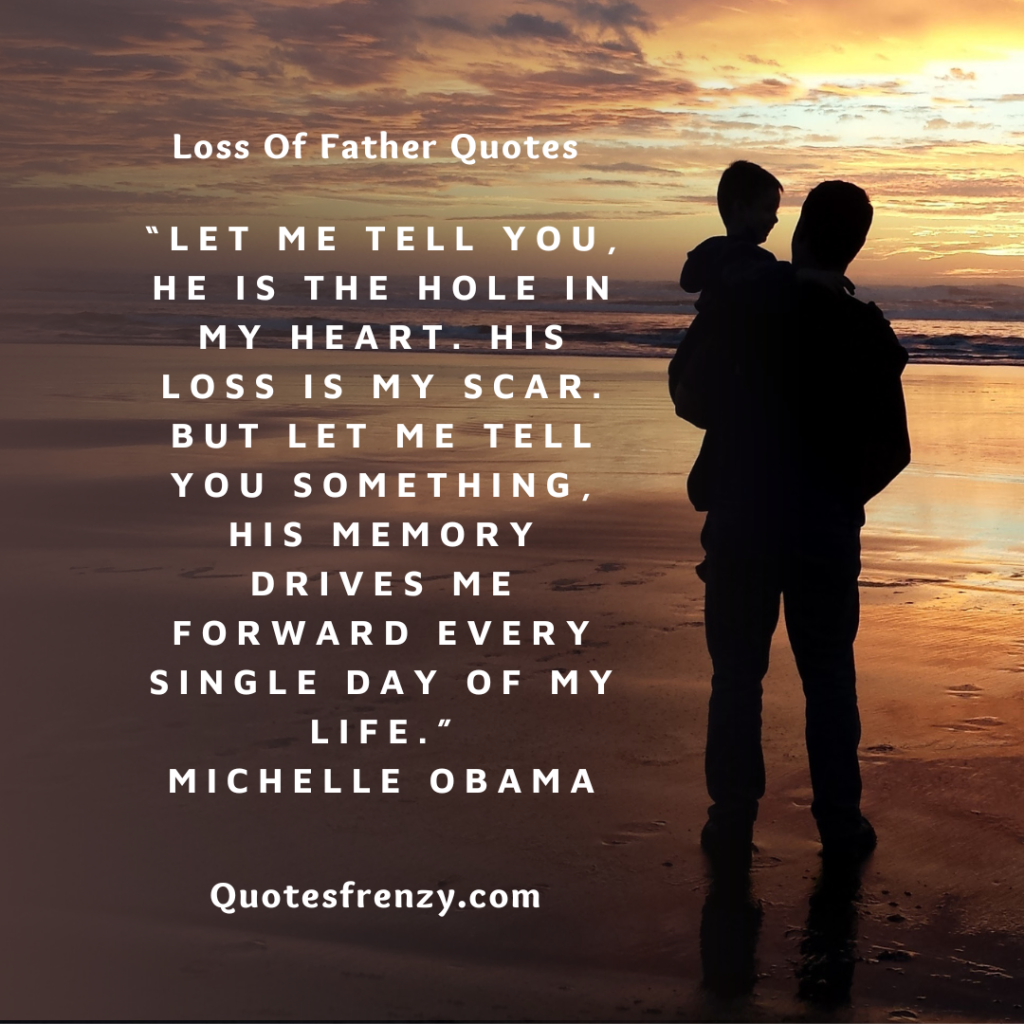 ---
"What we once enjoyed and deeply loved we can never lose, for all that we love deeply becomes part of us." – Helen Keller
---
"It doesn't matter who my father was; it matters who I remember he was." – Anne Sexton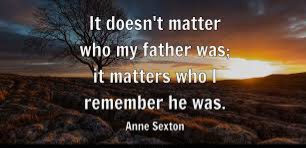 ---
"Say not in grief 'he is no more' but in thankfulness that he was."– Hebrew Proverb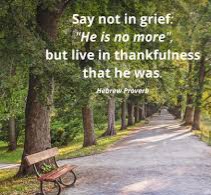 ---
"There is no expiration date on the love between a father and his child." – Jennifer Williamson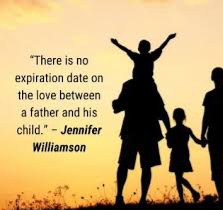 ---
"The heart of a father is the masterpiece of nature." – Antoine Francois Prevost
---
"Love has no age, no limit; and no death." – John Galsworthy
---
"Deeply, I know this, that love triumphs over death. My father continues to be loved, and therefore he remains by my side." – Jennifer Williamson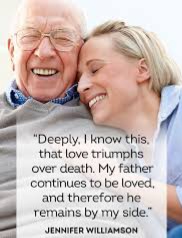 ---
"It's so much darker when a light goes out than it would have been if it had never shone." – John Steinbeck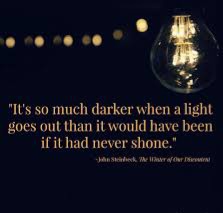 ---
"The pain passes, but the beauty remains." – Pierre Auguste Renoir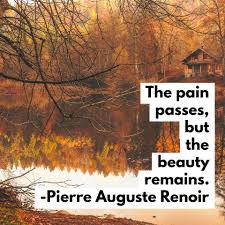 ---
"Death ends a life, not a relationship." – Robert Benchley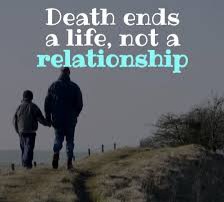 ---
"When a great man dies, for years the light he leaves behind him lies on the paths of men." – Henry Wadsworth Longfellow
---
"At the blueness of skies and in the warmth of summer, we remember them."– Sylvan Kamens & Rabbi Jack Reimer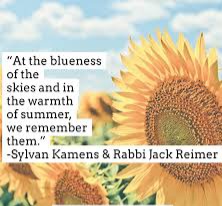 ---
"Only people who are capable of loving strongly can also suffer great sorrow, but this same necessity of loving serves to counteract their grief and heals them."– Leo Tolstoy
---
"If there ever comes a day when we can't be together, keep me in your heart. I'll stay there forever."– Winnie the Pooh
---
"A great soul serves everyone all the time. A great soul never dies. It brings us together again and again."– Maya Angelou
---
"Every man's life ends the same way. It is only the details of how he lived and how he died that distinguish one man from another."– Ernest Hemingway
---
, "I often feel that when someone passes, you now have an angel you can call by name."_Oprah
---
"To lose your father is to lose the one whose guidance and help you seek, who supports you like a tree trunk supports its branches,"_Yann Martel
---
… in losing him I lost my greatest blessing and comfort, for he was always that to me."_Saint Teresa of Ávila
---
"The gift my father gave me every day of my life was he believed in me."_Jim Valvano
---
"Many people long for a father's love. I had it. I have it still."_Jennifer Grant
---
"Of course, losing my father was traumatic. I was an only child. But from the time my father died, my general theme in life has been to turn adversity into  opportunity."_Thomas G. Stemberg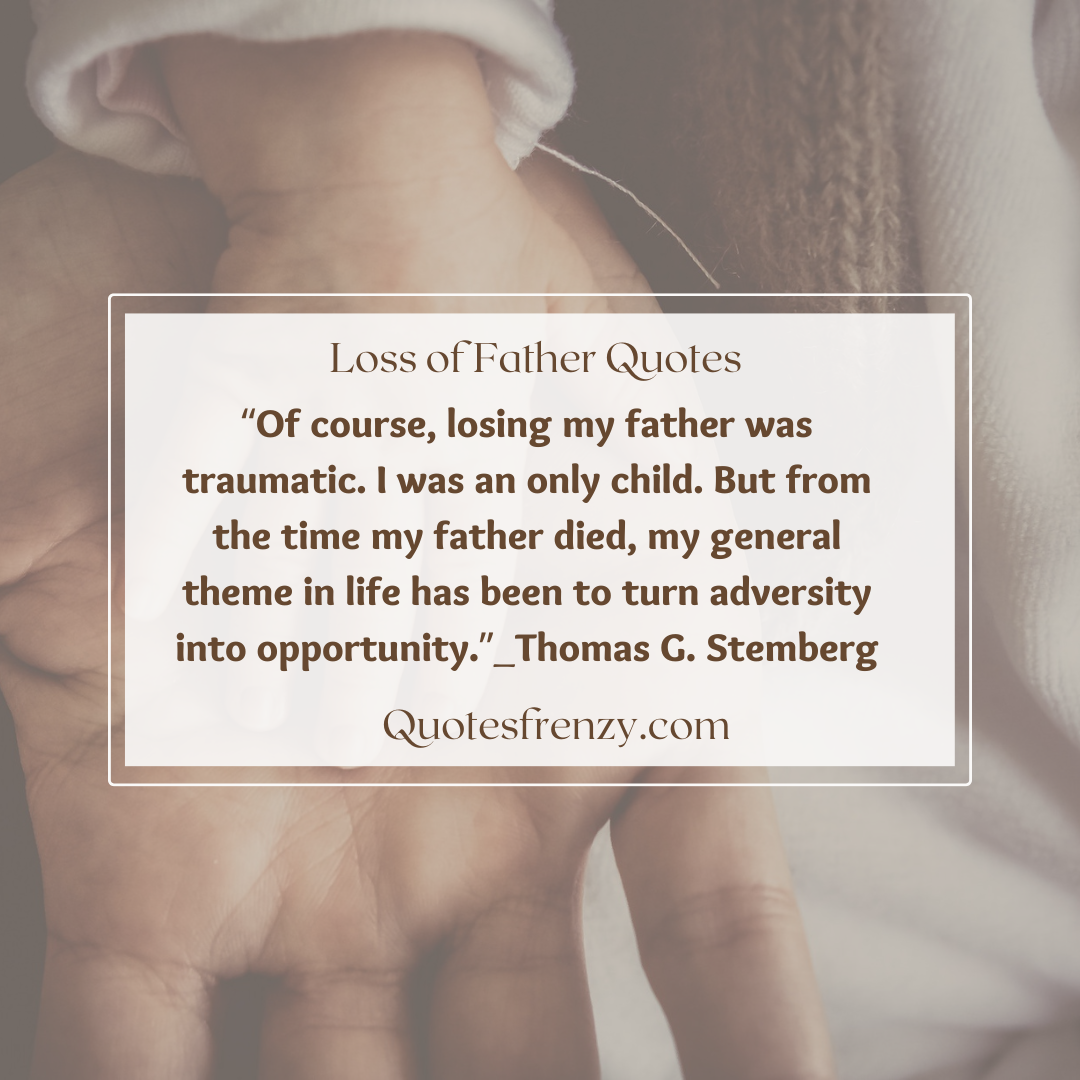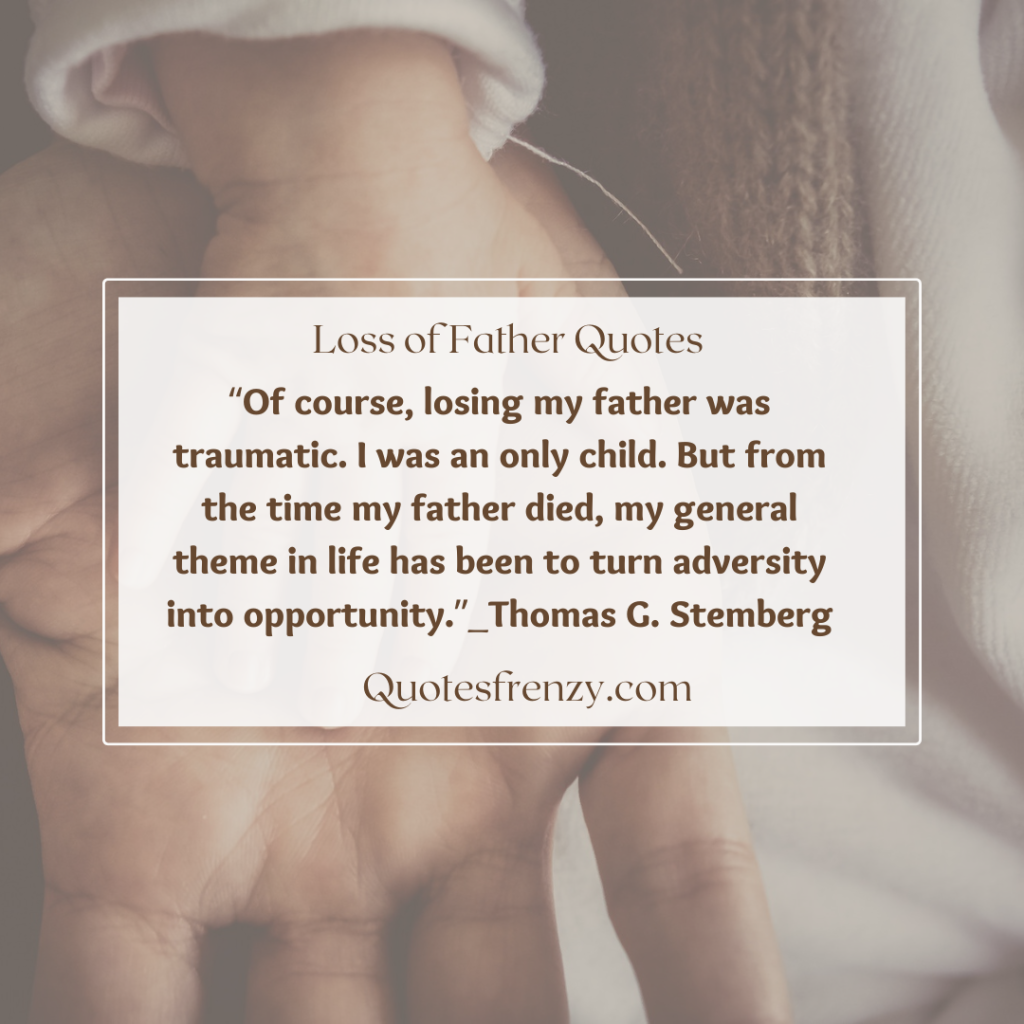 ---
"The words that a father speaks to his children in the privacy of home are not heard by the world, but, as in whispering galleries, they are clearly heard at the end, and by posterity," _Jean Paul
---
"It was a portion of my own self-analysis, my reaction to my father's death—that is to say, to the most important event, the most poignant loss of a man's life," _Sigmund Freud
---
"To his very last days, dad's life was instructive. As he aged, he taught us how to grow old with dignity, humor, and kindness—and, when the Good Lord finally called, how to meet Him with courage and with joy in the promise of what lies ahead."_President George W. Bush
---
"My father was always there for me when I lost. But, then, I never really lost when my father was there."_Laurie Beth Jones
---
"I am not ashamed to say that no man I ever met was my father's equal, and I never loved any other man as much," _Hedy Lamarr
---
Poetic Verses On The Loss Of Father
---
Just one more time, I wish
I could hear your voice
Unfortunately, life hasn't
Given me that choice
I feel lost and dazed
In memories, I seek solace
For your hugs, will forever
Be my happy place….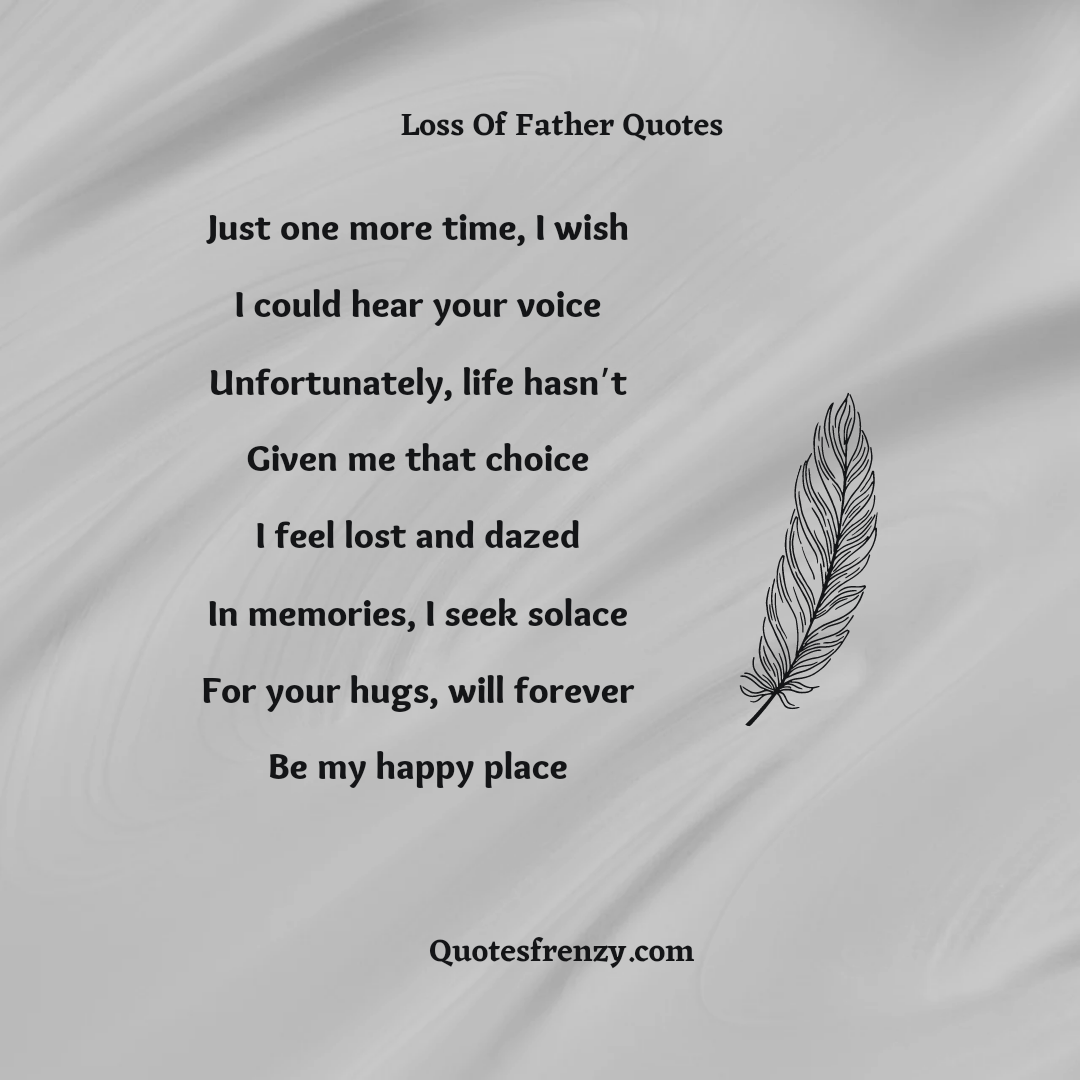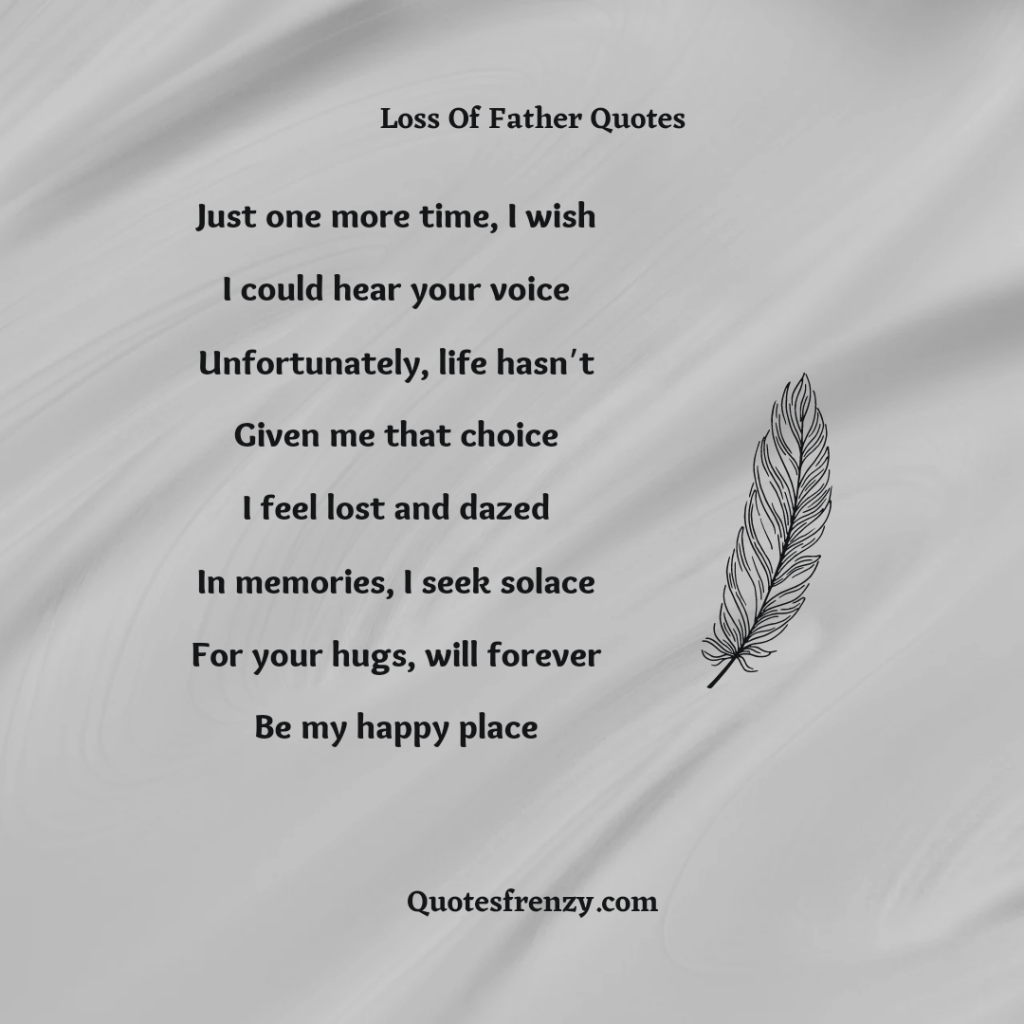 ---
Dad, I don't even know where to begin
An endless pit, my life has been thrown into
My friend, my guide, my hero
Don't know, what I'll do without you
What a great human being you were
Not just I, everyone will remember
A tough road ahead, it'll be ahead
Missed you will be, now and forever..
---
I don't think that even I
Will ever be able to comprehend
How deeply you loved me
Till the very end
A blessing, of the truest type
In your love, I have seen
Not just my father
But my greatest friend you've been….
---
Never ever for a single moment in my life
Did I ever imagine, that I'd see this day
Guess there was never a moment that I thought
That destiny would take you away
I've been living a nightmare, not a life
Ever since that fateful moment
In my heart and in my soul
Your absence has left a gaping dent
Not just a father
But a hero to me every single day
My only prayer in life, is
With me forever, wish you could stay…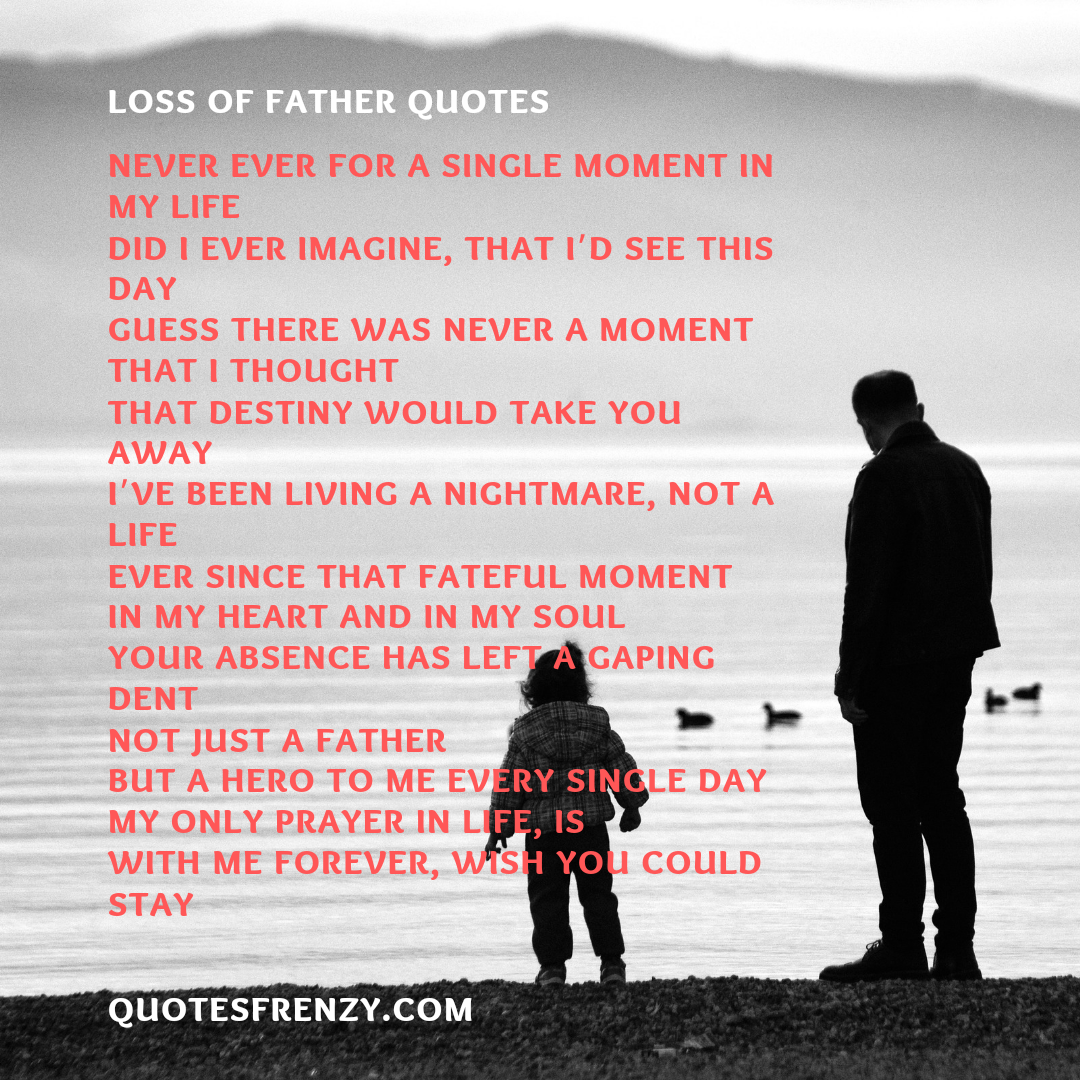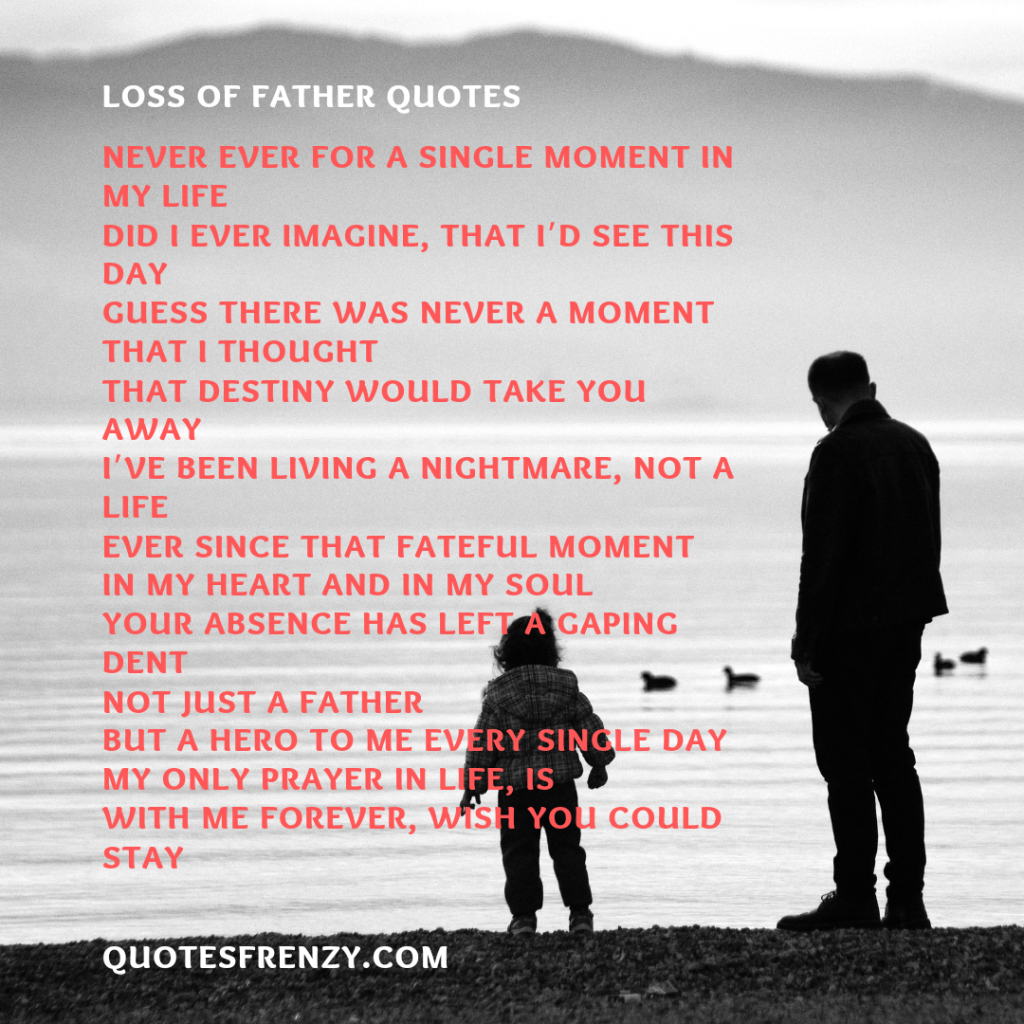 ---
Called away too early
By the heavens above
RIP, my dad, my friend
My true first love
Ripped away by fate
Torn apart mortally
Separated by death
But loving you eternally
---
I'd be lying if I said
That you were just my father
A friend, a supporter, a mentor, a coach
All this combined, unlike any other
Large-hearted and always there
That's what you've been to me
Death may have taken you away
But in my heart, you'll always be
---
Now I realize
What you taught me to be strong
Whatever I thought about your advice
Turned out to be wrong
It was for this fateful day
When you wouldn't be there
That I'd be able to, for myself
Fend and take care
Sorry for misunderstanding
All your tough love, Dad
Your words were the best advice
I could've ever had
---
No one will ever understand
I don't know where to begin
Since the day you were gone
I've been numb from within
Dad, you were more than a father
You were what no one else could be
Days and years may go by
But my hero, you'll forever be…
---
I'm lost and dazed
As life get tougher
Dad, I miss you now
More than ever
The pain inside me
Is bursting at the seams
Dad, I wish all this was
Just a bad dream
---
I've wished for a lot of things
All my life, up until now
My thoughts, since the day you left
Have changed and how
All I want, is to be with the man
In whose arms, I grew
All I want dad
Is one more day with you….
---
Feelings, that makes my soul happy
Memories, that words can't explain
Hugs, that still give me warmth
Thinking of which, I feel the pain
An abyss, is where I feel like I'm in
A void, life has been thrown into
Even silence, is painfully loud
Dad, what will I do without you
---
Taken away too soon
Life is cruel, now I know
My existence itself
Has lost its glow
Not just a human being
Not just a dad
The most precious person
My life's ever had
---
Can't help but smile
As I look back on the years gone by
Can't help but smile
Even when the tears flow as I cry
Can't help but smile
Even when I know we'll never speak again
Can't help but smile
Even when my heart is throbbing with pain
That's the kind of amazing life
And upbringing you've given me
That no matter how bad a situation
The beautiful memories, I'll always see
---
A gentleman, full of class
A friend, always a supporter
A man, always of his words
A father, unlike any other
A human being, always so helpful
A dad, beyond compare
A soul, always kind-hearted
An unsung hero, who's always been there…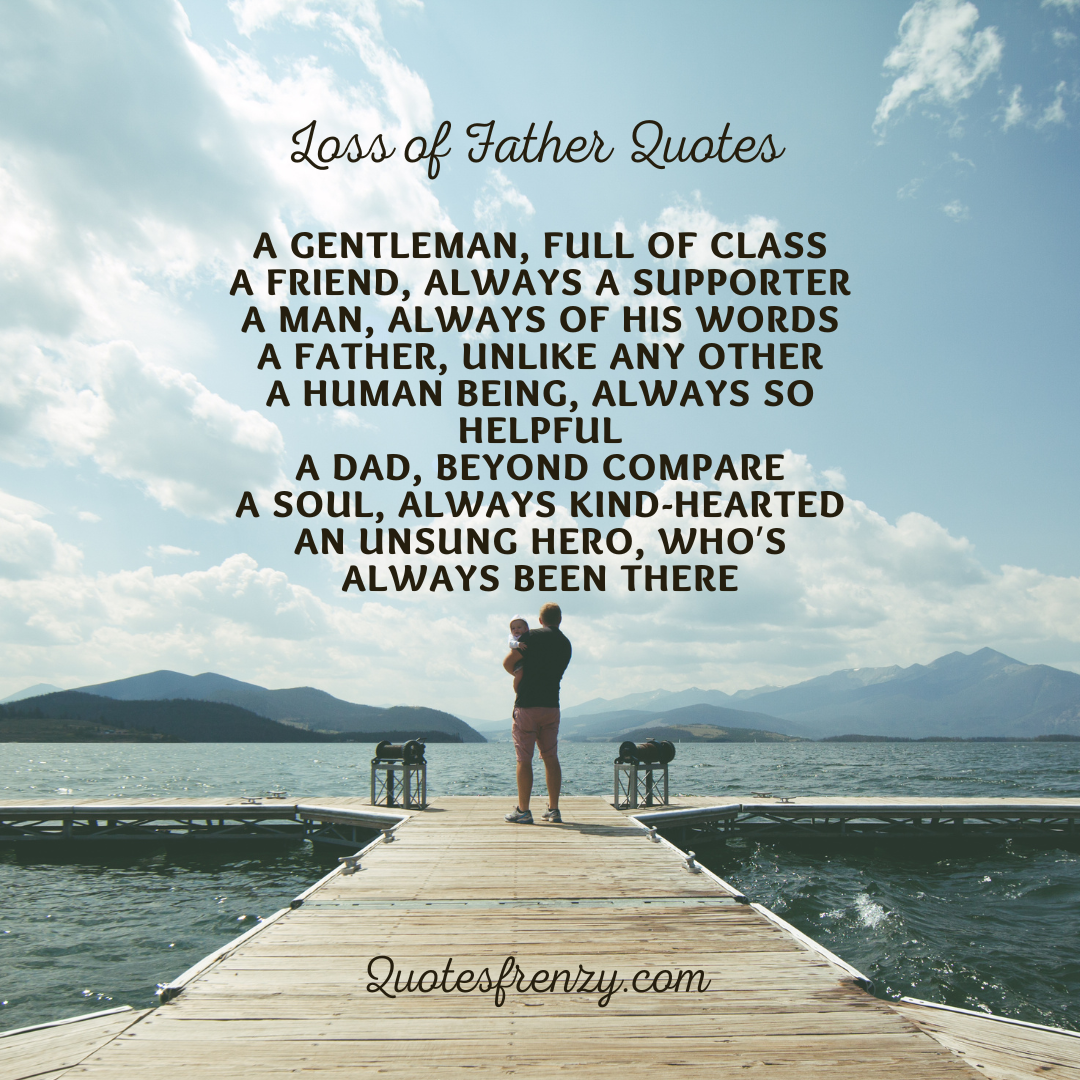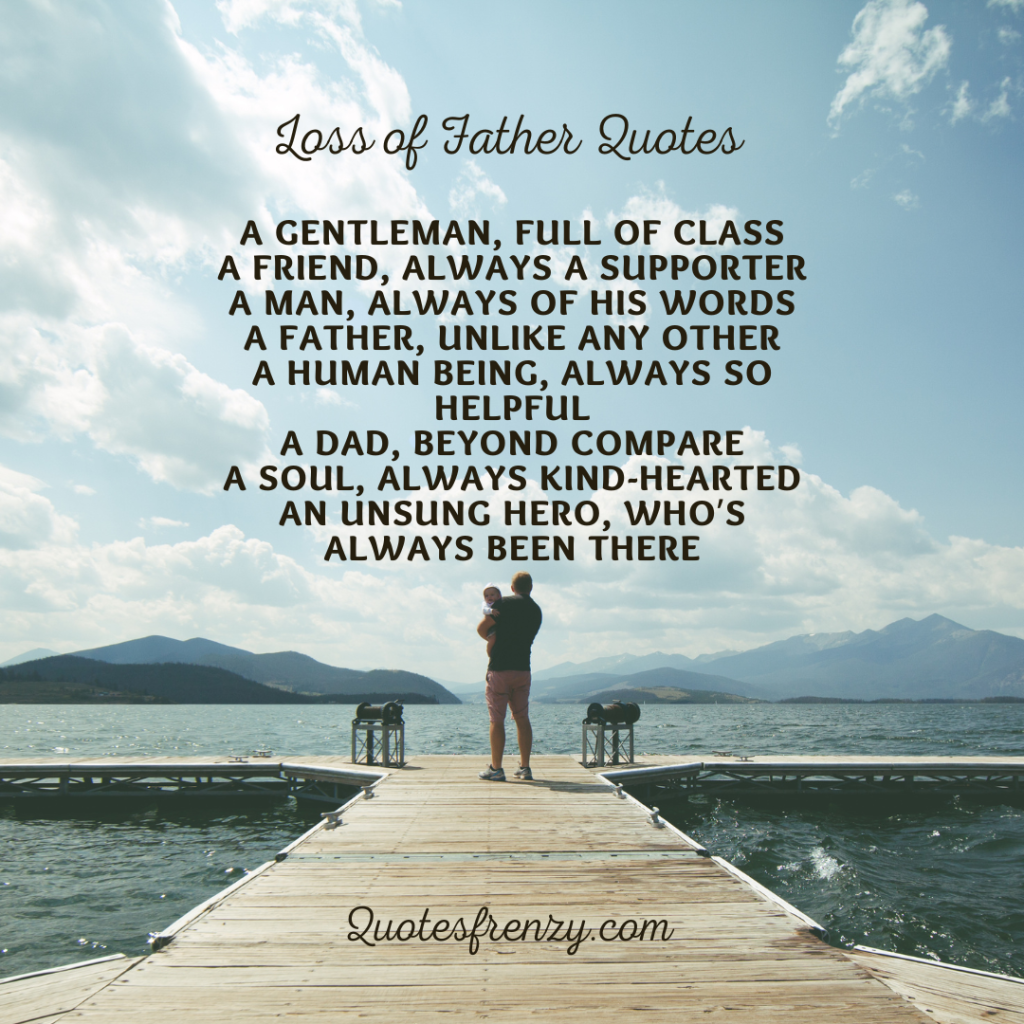 ---
Condolance Messages On The Loss Of Father
---
May his memory be eternal. Your Dad truly loved his family.
---
Your dad was a kind man and a true gentleman, he always put others before himself. He will undoubtedly be missed.
---
My sincere condolences. Your father was a remarkable friend, and his passing was tragic. We will be praying for your family.
---
I am sorry for your loss. Your Dad was the pillar of our community and will be missed. Your family is in our prayers.
---
Your Dad was such a nice man. It saddened us when we heard he passed on. Rest in Heaven.
---
I was so sorry to learn of your father's passing. He was such an outstanding individual. I know he suffered for so long. I hope you can find solace that his suffering has ended, and he has returned home to God.
---
Please accept my deepest sympathies with the passing of your father. God in his mercy has ended his long suffering and called him home. May God's love and mercy comfort you and your family.
---
Losing a parent leaves an empty place in your heart, but God in his mercy offers comfort with the promise of eternal life through Jesus Christ. This means you will one day have a joyous reunion in the kingdom of God. You and your family are in my thoughts and prayers.
---
I was heartbroken to learn about your dad's passing. I shall never forget all the kind things he did for me.
---
Your father was an excellent role model for so many of us. He positively influenced my life and countless others. He will be greatly missed but never forgotten.
---
We are profoundly saddened for the loss of your father. You will be in our prayers.
---
Your Dad always boasted about what a beautiful family he had. I know that you meant so much to him. Truly sad for your loss.
---
I know, he will be looking out for you and your brothers always. That's the type of guy he was.
---
I worked with your Dad for over 35 years, he was a kind and honest man. Please, tell your Mom that we share her sorrow.
---
Your Father has passed on, but his thoughts, hopes, and dreams live on.
---
I am genuinely sorry for your loss. No condolence message can express how much your Dad meant to me and how sad I am about your loss.
---
Your father was all these things but so much more. He was a pillar of strength to me and I don't know what I'll do without him, but I'm comforted that he is in heaven.
---
No words can ever express how devastated we are with your father's passing. We loved him so much! He will forever be in our hearts and we look forward to the day we will see him again in heaven.
---
My prayers and thoughts are with you during your time of loss. May God's mercy give you comfort knowing that your father's long suffering has ended, and he is at peace. He will forever remain in our hearts.
---
Please accept my deepest sympathy for the unexpected loss of your father. I know right now is a trying time and want you to know that I'm here for you – anytime you need me. With you in prayer, [insert your name]
---
Your Dad was a fantastic man who loved everyone, we were privileged to work and golf with him.
---
I want you to know that all the people that worked with your Dad are saddened. He was indeed a delightful man, and we will miss him dearly.
---
I know how proud you were of your Father. His passing must me hard on the family. We are praying for you.
---
I played high school football with your Dad, many years ago. Over the years he would mention what a beautiful family he had and thanked God for that blessing. He will be missed.
---
Your Dad brought much joy to all his Golf buddies. As you grieve, I will keep you in my thoughts and prayers.
---
I was saddened when I learned of your father's death. (Name of Deceased) was a wonderful friend and co-worker.
---
Your Dad was respected by all the people that worked for him. He was a true leader, and we will miss him. Condolences from everyone at the plant.
---
I was shocked by the news that your Dad has passed. He was a great guy and will be missed by all of us. We are praying for your entire family.
---
I'm in shock over the sudden loss of your father and want to extend my condolences. Your father was highly respected and deeply loved by all who knew him. His presence and influence in the community will be greatly missed.
---
We just learned of your father's accident and just can't believe he's gone. He was a force to reckon with when it came to protecting this city and everyone living here. I just don't know what we'll do without him. He was such a good friend and loyal ally. We shall never forget his kindness and strength.
---