Halloween Quotes-Halloween is a scary time.  It is filled with celebration plus superstition.  Many believe it originated from the ancient Celtic festival, Samhain.  This was a time when people would usually light fires while adorned in outfits to chance away ghosts.  It was not until Pope Gregory III, set November 1 as an occasion to reverence all holy individuals and saints.  This occurred sometime during the eighth century.  This time became known as All Saints' Day.  This event later incorporated some Samhain practices.  The night before the celebration became All Hallows' Eve.  Then Halloween years later.  Halloween further progressed into an occasion featuring, trick-or-treating.  Have fun reading the following superstitious Halloween Quotes.
---

---
Short funny Halloween quotes
---
"I didn't know if you have kids you need five different costumes." — Mindy Kaling
---
"How many more months of Halloween this year?" — Jim Gaffigan
---
"Every day is Halloween, isn't it? For some of us." — Tim Burton
---
"For Halloween I'm going as a narcissist." — Conan O'Brien
---
"On Halloween, the parents sent their kids out looking like me." — Rodney Dangerfield
---
"Halloween is just finals week for parents." — Jim Gaffigan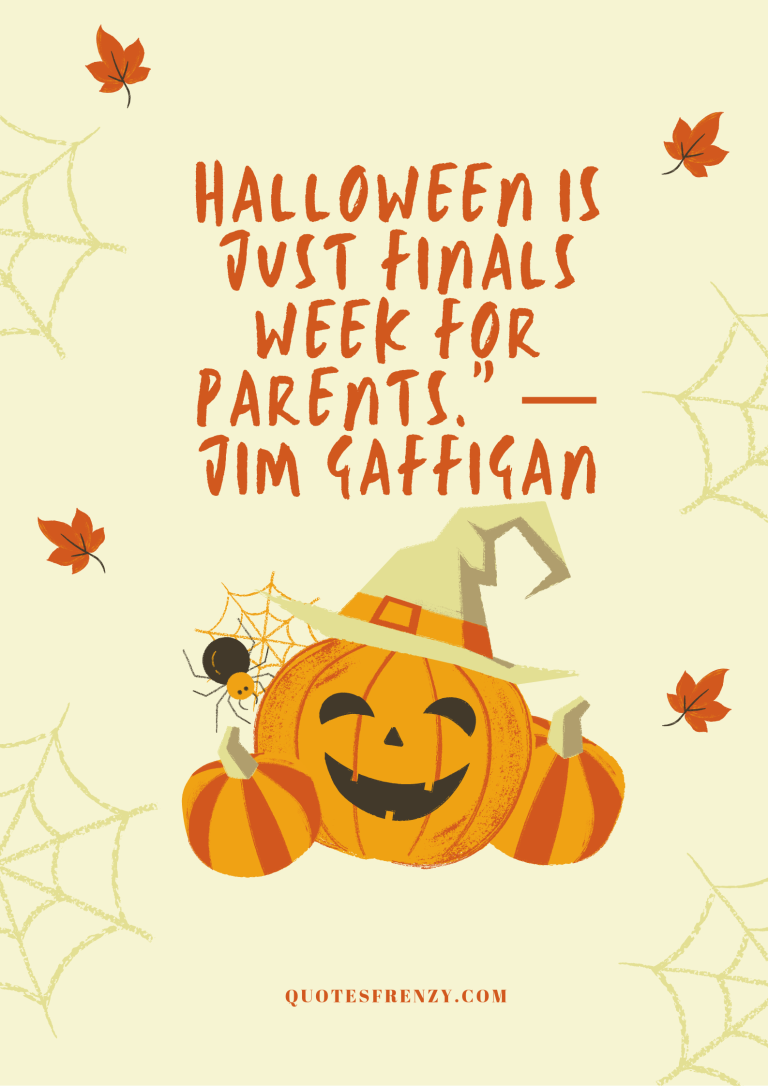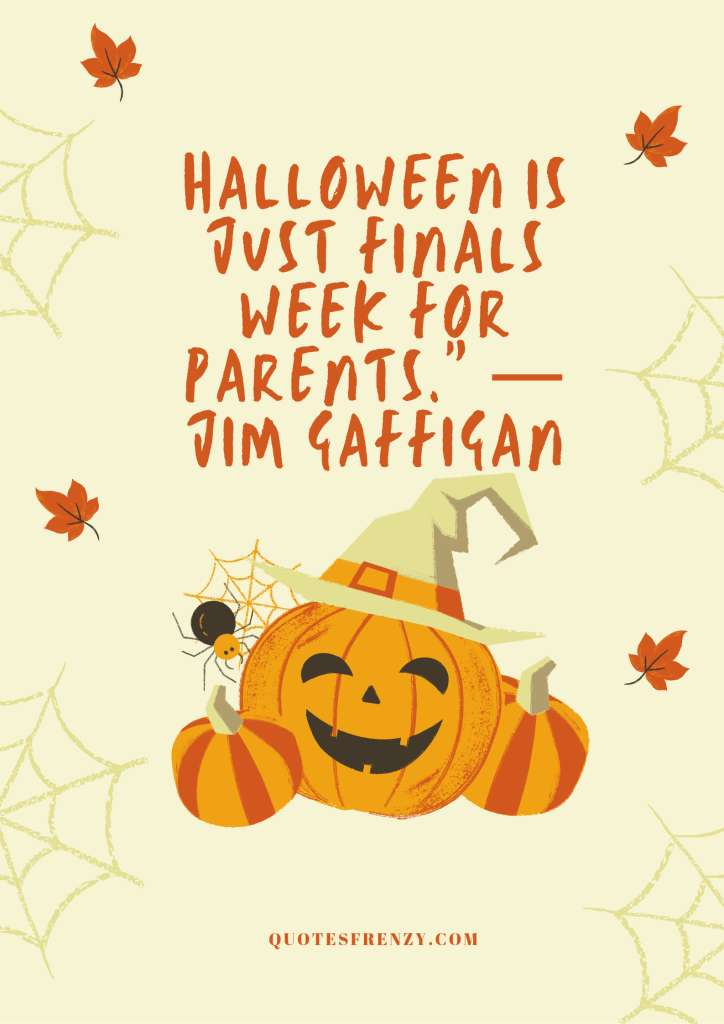 ---
"Halloween: the night that fathers get their hearts broken when they see their daughters costume." — Whitney Cummings
---
"Was deciding if I should dress as Batman or Spiderman for Halloween, when I realized I'm a grown man. So, Batman." — Stephen Colbert
---
"For Halloween, I'm going as that feeling you get at a store when you try to refold a sweater property and put it back on the shelf." — Rob Delaney
---
"How many girls are telling themselves right now: "Dammit Becky learn your lesson; even on Halloween, glitter is NEVER worth it." — Anne Kendrick
---
"We've made it to Sunday. Halloween is still 4 days away. We have to stay strong together. It will all be over soon." — Jesse Tyler Ferguson
---
"As a kid, Halloween was amazing. You dress like a superhero, you bang on your neighbor's door, and they give you candy. I do that today, and my neighbor wants me arrested." — Jim Gaffigan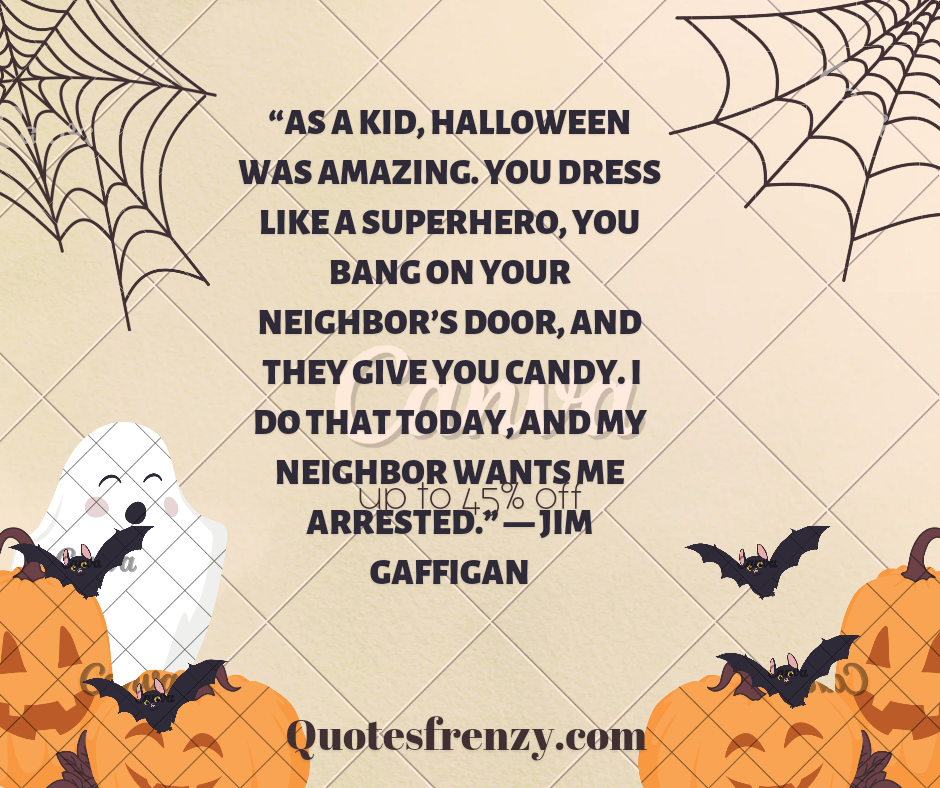 ---
"Now Halloween's over, it's time to start thinking about the next time you're gonna annoy your neighbors — caroling." — Ellen DeGeneres
---
"Candy was my whole life when I was a kid. The first ten years of my life, I think the only clear thought I had was 'get candy.' Family, friends, school; they're just obstacles in the way of the candy." — Jerry Seinfeld
---
"Every October I'm kidnapped and forced to scare birds at a local pumpkin patch." — Conan O'Brien
---
"Halloween was confusing. All my life my parents said, 'Never take candy from strangers.' And then they dressed me up and said, 'Go beg for it.' I didn't know what to do! I'd knock on people's doors and go, 'Trick or treat…no, thank you.'" — Rita Rudner
---
"The first time you hear the concept of Halloween when you're a kid, your brain can't even process the information. You're like, 'What is this? What did you say about giving out candy? Who is giving out candy?' Everyone that we know is just giving out candy?'" — Jerry Seinfeld
---
"It's that special time of year where we voluntarily imbibe pumpkin-spiced lattes: the coffee that tastes like a candle." — John Oliver
---
"Just put on my Halloween costume! This year I'm going as 'Guy Who Thinks Halloween Is On October 18th.'" — Stephen Colbert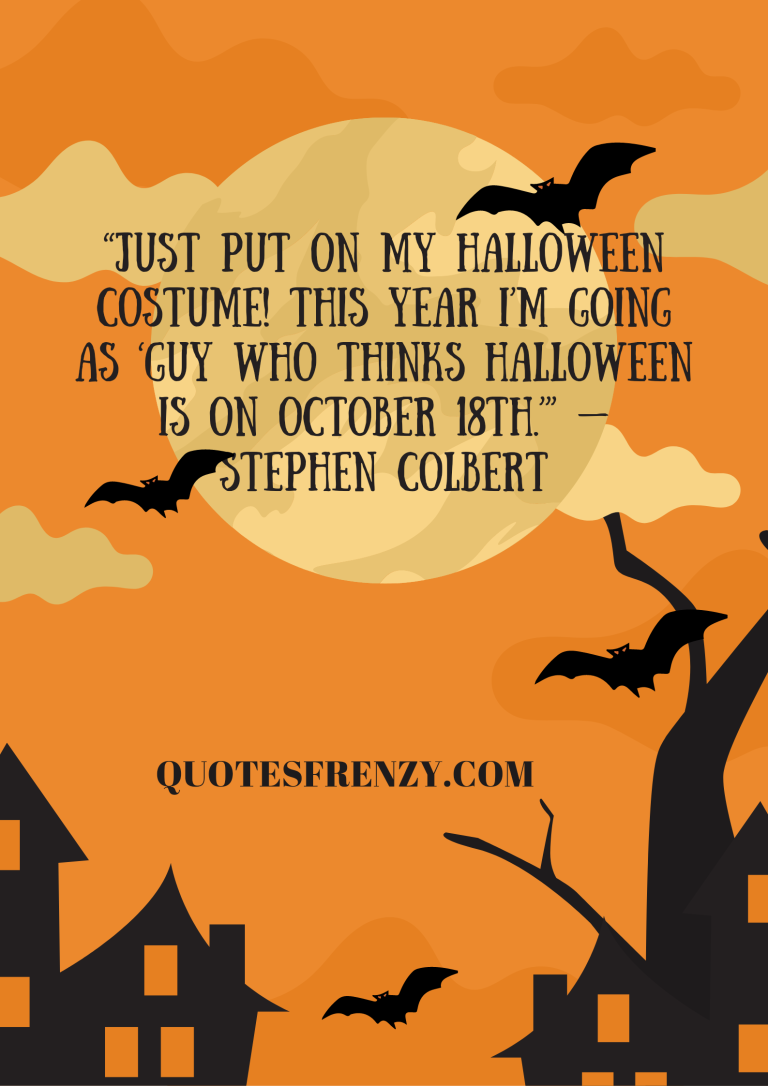 ---
"Little tip, when you show up to a Halloween party not dressed up, it's the same as showing up to a normal party in a costume." — Josh Groban
---
"Halloween is right around the corner. You can tell because all the stores are decked out for Christmas." — Stephen Colbert
---
"If the ghost of a murdered girl really existed I think she'd have something better to do than haunt people who don't forward chain emails." — Rhys James
---
"This Halloween I'm going as a human disaster that way I don't have [to] get dressed up." — Jim Gaffigan
---
"Kinda spooky that Halloween has never fallen on Friday the 13th." — Stephen Colbert
---
"There is something at work in my soul, which I do not understand." Mary Shelley, Frankenstein
---
"Halloween is an opportunity to be really creative." Judy Gold, American Comedian
---
"Fear,' the doctor said, 'is the relinquishment of logic, the willing relinquishing of reasonable patterns. We yield to it or we fight it, but we cannot meet it halfway.'" Shirley Jackson, The Haunting of Hill House
---
"I heard all things in the heaven and in the earth. I heard many things in hell." Edgar Allan Poe, The Tell-Tale Heart
---
"Clothes make a statement. Costumes tell a story." Mason Cooley, American Aphorist
---
"Not every witch lives in Salem." Unknown
---
"We make up horrors to help us cope with the real ones." Stephen King, American Author
---
" I dropped the candies into the children's bags, thinking: You small mortals don't realize the power of your stories." Karen Russell, Vampires in the Lemon Grove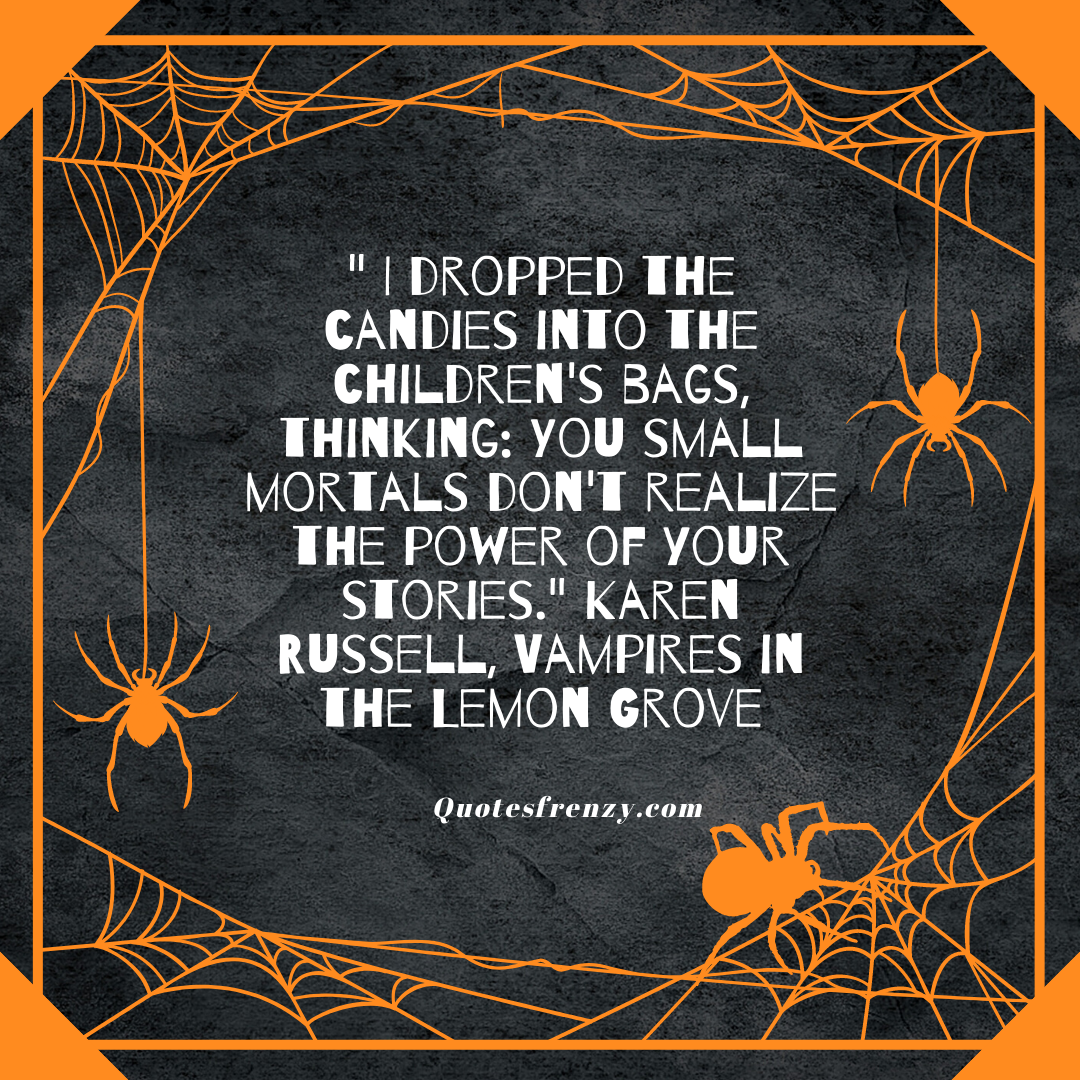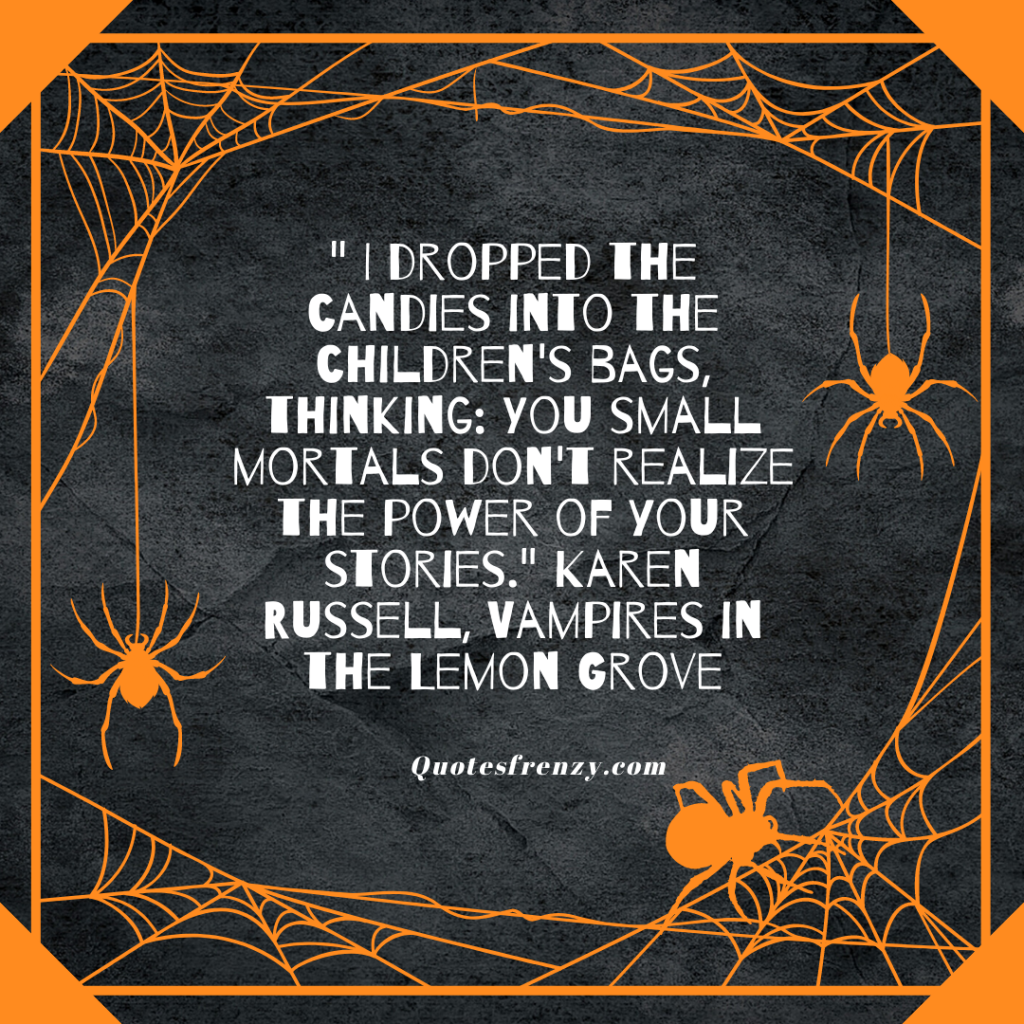 ---
"I would die for her. I would kill for her. Either way, what bliss." Gomez, The Addams Family
---
"Everything seemed cut from soft black velvet or gold or orange velvet. Smoke panted up out of a thousand chimneys like the plumes of funeral parades. From kitchen windows drifted two pumpkin smells: gourds being cut, pies being baked." Ray Bradbury, American Author
---
"Anyone could see that the wind was a special wind this night, and the darkness took on a special feel because it was All Hallows' Eve." Ray Bradbury, American Author
---
"During the day, I don't believe in ghosts. At night, I'm a little more open-minded." Unknown
---
"Double, double toil and trouble; Fire burn, and cauldron bubble." William Shakespeare, Macbeth
---
"Villainy wears many masks, none so dangerous as the mask of virtue." Ichabod Crane, Sleepy Hollow
---
"No good deed will I do again." Elphaba, Wicked
---
"Witch parking. All others will be toad." Unknown
---
"Goodbye cruel world." Winifred Sanderson, Hocus Pocus
---
"The world turned upside down—in a good way—for one black velvet night." Karen Fortunati, American Author
---
"Believe nothing you hear, and only one half that you see." Edgar Allan Poe, American Writer
---
"Where there is no imagination there is no horror." Arthur Conan Doyle, British Writer
---
"Harvey wasn't interested in the clothes, it was the masks that mesmerized him. They were like snowflakes: no two alike. Some were made of wood and of plastic; some of straw and cloth and papier-mâché. Some were as bright as parrots, others as pale as parchment. Some were so grotesque he was certain they'd been carved by crazy people; others so perfect they looked like the death masks of angels. There were masks of clowns and foxes, masks like skulls decorated with real teeth, and one with carved flames instead of hair." Clive Barker, The Thief of Always
---
"Good-bye, Ichabod Crane. I curse the day you came to Sleepy Hollow." Katrina Van Tassel, Sleepy Hollow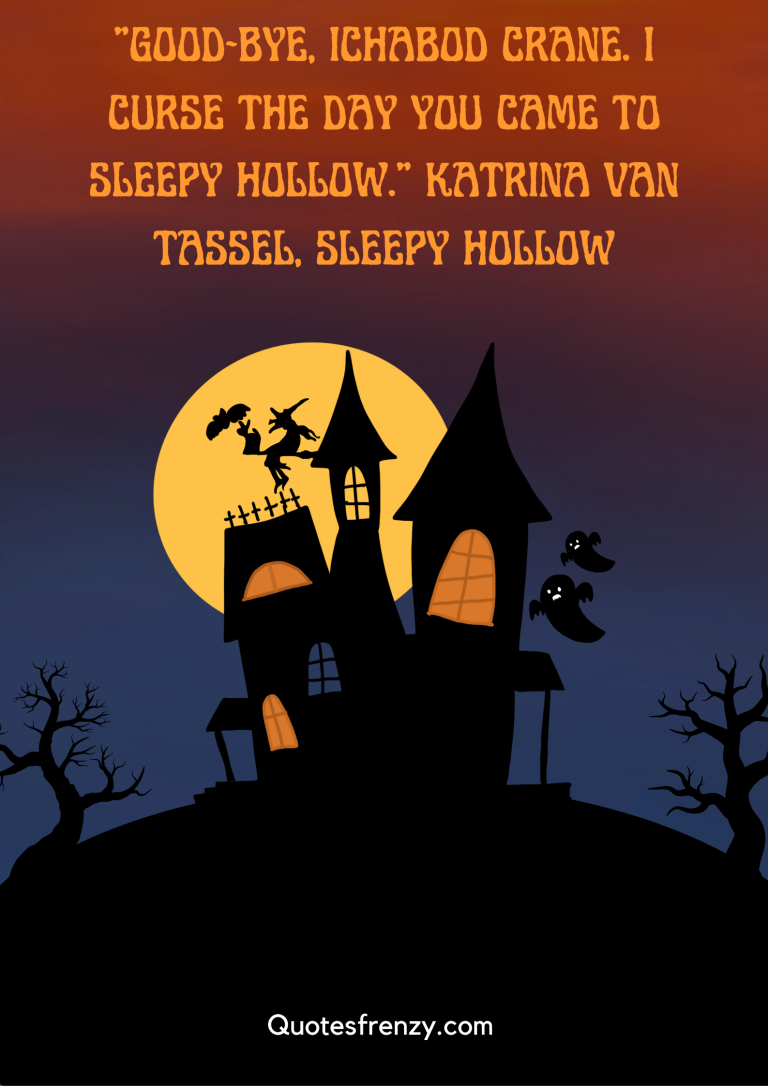 ---
"I was born on the night of Samhain, when the barrier between the worlds is whisper-thin and when magic, old magic, sings its heady and sweet song to anyone who cares to hear it." Carolyn MacCullough, Once a Witch
---
"Listen to them—the children of the night. What music they make!" Bram Stoker, Irish Author
---
"It is impossible to say how first the idea entered my brain; but once conceived, it haunted me day and night." Edgar Allan Poe, The Tell-Tale Heart
---
"You must believe me, it was a horseman, a dead one! Headless!" Ichabod Crane, Sleepy Hollow
---
"He had arranged the arms and legs in letters, and the letters spelled out a single small word: BOO. The three torsos were carefully arranged below the BOO in a quarter-circle, making a cute little Halloween smile a scamp." Jeff Lindsay, Darkly Dreaming Dexter 
---
"Halloween shadows played upon the walls of the houses. In the sky the Halloween moon raced in and out of the clouds. The Halloween wind was blowing, not a blasting of wind but a right-sized swelling, falling, and gushing of wind. It was a lovely and exciting night, exactly the kind of night Halloween should be." Eleanor Estes, The Witch Family
---
"Halloween is an ancient druidic holiday, one the Celtic peoples have celebrated for millennia. It is the crack between the last golden rays of summer and the dark of winter; the delicately balanced tweak of the year before it is given over entirely to the dark; a time for the souls of the departed to squint, to peek and perhaps to travel through the gap." Jenny Colgan, Welcome To Rosie Hopkins' Sweetshop Of Dreams
---
"I put a spell on you because you're mine." Jay Hawkins, American Singer-Songwriter
---
"They who dream by day are cognizant of many things which escape those who dream only by night." Edgar Allan Poe, The Tell-Tale Heart
---
"We gladly feast on those who would subdue us." The Addams Family
---
"Sticky fingers, tired feet; one last house, trick or treat!" Rusty Fischer, American Author
---
"Trick or treat, bag of sweets, ghosts are walking down the street." Unknown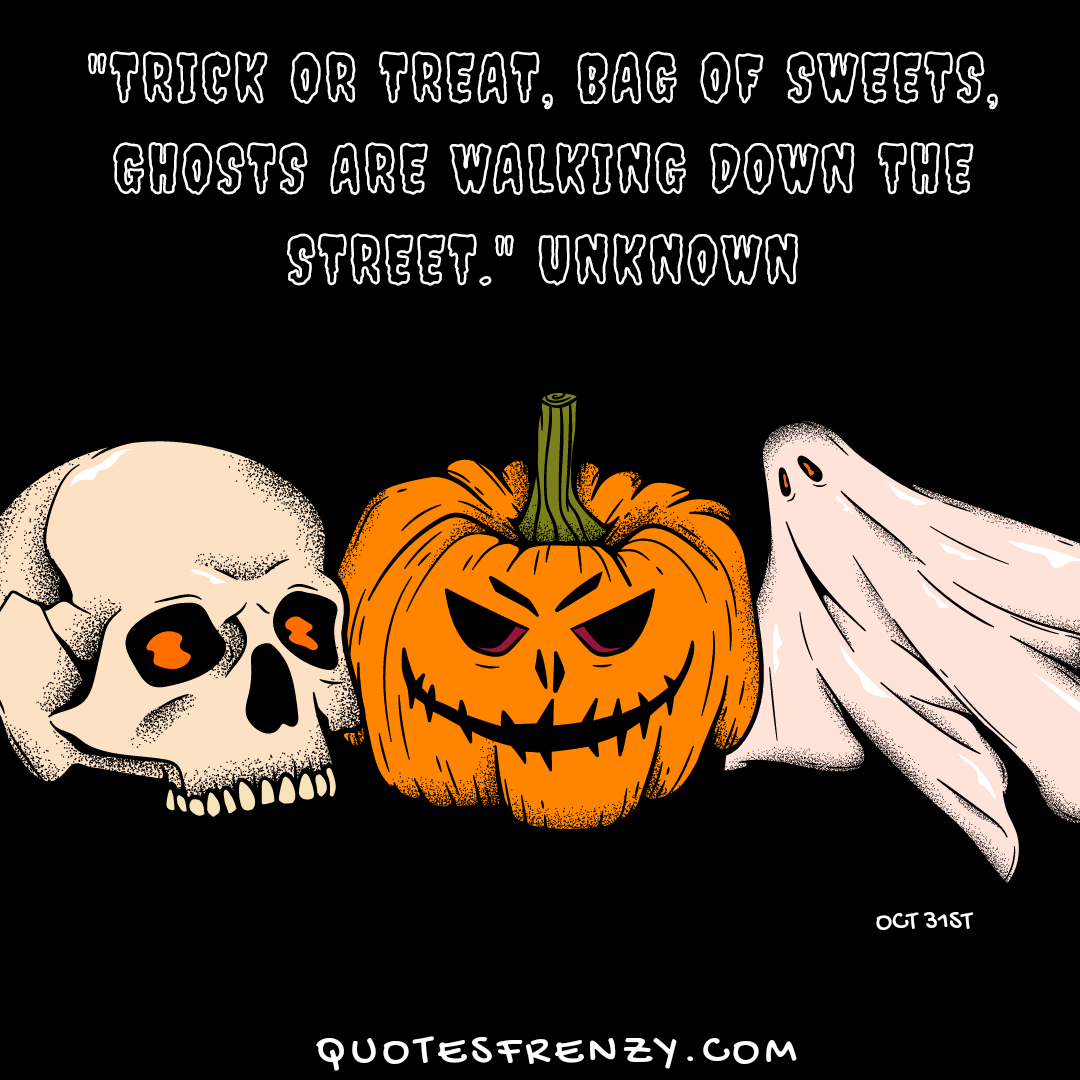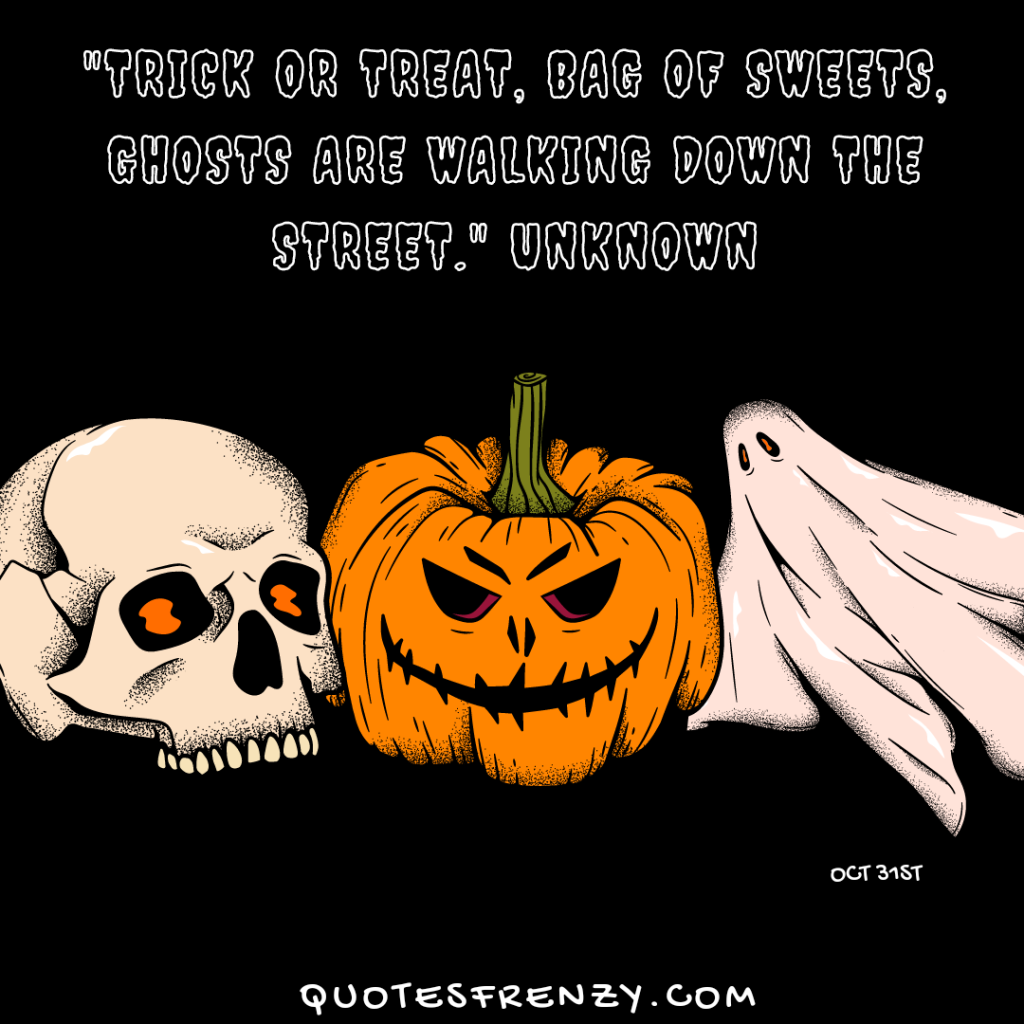 ---
"I must go in. The fog is rising." Emily Dickinson, American Poet
---
"Things are never quite as scary when you've got a bestfriend ." Bill Waterson, American Cartoonist
---
"I'm wicked through and through." Elphaba, Wicked
---
"It's all just a bunch of hocus pocus." Max, Hocus Pocus
---
"The dead rise again, bats fly, terror strikes and screams echo, for tonight it's Halloween." Unknown
---
"When the witches go riding, and black cats are seen, the moon laughs and whispers 'tis near Halloween." Unknown
---
"Am I walking toward something I should be running away from?" Shirley Jackson, The Haunting of Hill House
---
"We have had our summer evenings, now for October eves!" Humbert Wolfe, British Poet
---
"On Halloween you get to become anything that you want to be." Ava Dellaria, American Author
---
"Never trust anything that can think for itself if you can't see where it keeps its brain." J.K. Rowling, English Author
---
"Now this is the point. You fancy me a mad. Madmen know nothing. But you should have seen me. You should have seen how wisely I proceeded…" Edgar Allan Poe, The Tell-Tale Heart
---
"I'm so glad I live in a world where there are Octobers." L.M. Montgomery, Canadian Author
---
"This wallpaper and I are fighting a duel to the death. Either it goes or I do." Oscar Wilde
---
"Hell is empty and all the devils are here." William Shakespeare, The Tempest
---
"Hill House, not sane, stood by itself against its hills, holding darkness within; it had stood so for eighty years and might stand for eighty more. Within, walls continued upright, bricks met neatly, floors were firm, and doors were sensibly shut; silence lay steadily against the wood and stone of Hill House, and whatever walked there, walked alone." Shirley Jackson, The Haunting of Hill House
---
"When witches go riding, and black cats are seen, the moon laughs and whispers 'tis near Halloween" Author Unknown – Halloween Quotes

Witches, and black cats are a major part of the Halloween festivities.  Stories are told of their prevalence during the celebration.  This could be in a costume or a real witch!  The black cat is a symbol of bad luck as it relates to superstition.
"She used to tell me that a full moon was when mysterious things happen and wishes come true" Shannon A. Thompson – Halloween Quotes
If there is a full moon on Halloween that is double scary celebrations.  This is since a full moon is also associated with superstitious beliefs.  This plus the Halloween factor spells double trouble.
"I love Halloween, and I love that feeling: the cold air, the spooky dangers lurking around the corner" Evan Peters – Halloween Quotes
Halloween is a scary time particularly for children.  The stories passed on through generations about witches, ghost and goblins being very active around this time will live forever.  The mood created through these tales aid in the feeling of danger, accompanied with a chill in the air.  Many children are afraid to go trick-or treating during this night because of this.
"Shadows of a thousand years rise again unseen. Voices whisper in the trees, 'Tonight is Halloween! " Dexter Kozen – Halloween Quotes

The return of those dead love ones or others who may have gone on is a common element of the Halloween celebration.  This quote allures to the notion that those who have been resting even up to a thousand years will once again visit for the celebration.  These spirits are happy to be back and announce their return.
---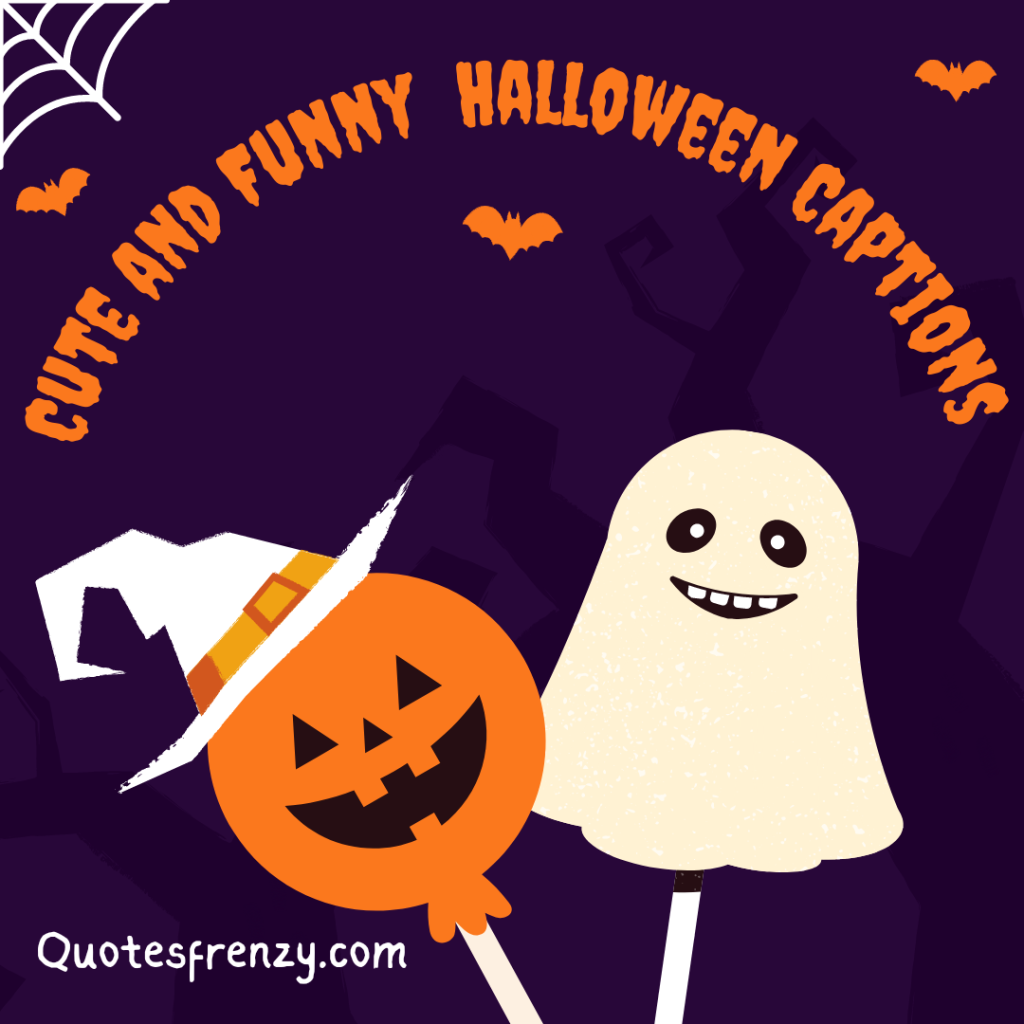 ---
Cute and Funny Halloween Captions
---
What's up, pumpkin?
Ghouls just wanna have fun!
This witch can be bribed with chocolate.
No tricks, just treats!
Keep calm and scare on.
Something wicked this way comes.
Cutest pumpkin in the patch.
Eat, drink, and be scary.
Too cute to spook.
Boo from the crew.
Everything's better with a little magic.
Witchful thinking.
Happy Howl-oween.
Creature feature.
A real witch is nothing without her ghoul friends.
Too ghoul for school.
Bad to the bone.
Bugs and hisses.
Having a boo-tiful night.
This is where the magic happens.
You've got me under your spell.
Brrr … it's cold in here. There must be some spirits in the atmosphere!
Keep calm and carry a wand.
Mischief managed.
Ready, set, ghoul!
Absolutely fa-boo-lous.
Ghouls just wanna have fun.
My broomstick runs on scares.
#HotGhoulFall
HalloQueen
Mummy of the year.
Keep calm and carry a wand.
Have a fang-tastic Halloween.
A better costume than me? That's just witch-ful thinking.
Witch-ing you a very Happy Halloween!
Oh my gourd, Becky, look at her bat.
Resting witch face.
You better work, witch.
Creep it real.
Trick or treat yo' self.
Here for the boos.
Witch better have my candy.
Who run the world? Ghouls.
I can't be held responsible for stolen candy.
#SquadGhouls.
Swish swish, witch.
What's up, witches?
Ghostest with the mostest.
Have a fa-boo-lous Halloween!
Demons are a ghouls best friend.
You look better with the mask on.
Don't make me get the flying monkeys.
Had a bloody good Halloween.
Life is gourd.
Basic witch.
We had a fang-tastic time!
Have a spooktacular night
Fangs for the memories.
Oh! I'm so sorry – I thought that was your costume.
Bow down, witches.
If the broom fits, fly it.
Shake your BOOty.
Not every witch lives in Salem.
Never fully dressed without a wand.
Trick or tequila.
Feeling gourd, like I should.
Catch treats, not tricks.
Too gourd to be true.


---