Memories Quotes-Sometimes the best way to spend your to enjoy your day is to take a stroll down memory lane. Our memories define us, they shape the way we see the world, and even affect the way we strive towards the future. For some people, the past can be painful too, but even painful memories can be a gateway to a brighter tomorrow. Memories, both good and bad, contain the wisdom we need to better ourselves. They help us to understand the world around us and act as our greatest tool on the path to wisdom. Let us keep these things in mind as we turn our attentions to these incredibly insightful quotes, left behind by those who truly knew how to appreciate the past.
"Memories Of Our Lives, Of Our Works And Our Deeds Will Continue In Others" Rosa Parks – Memories Quotes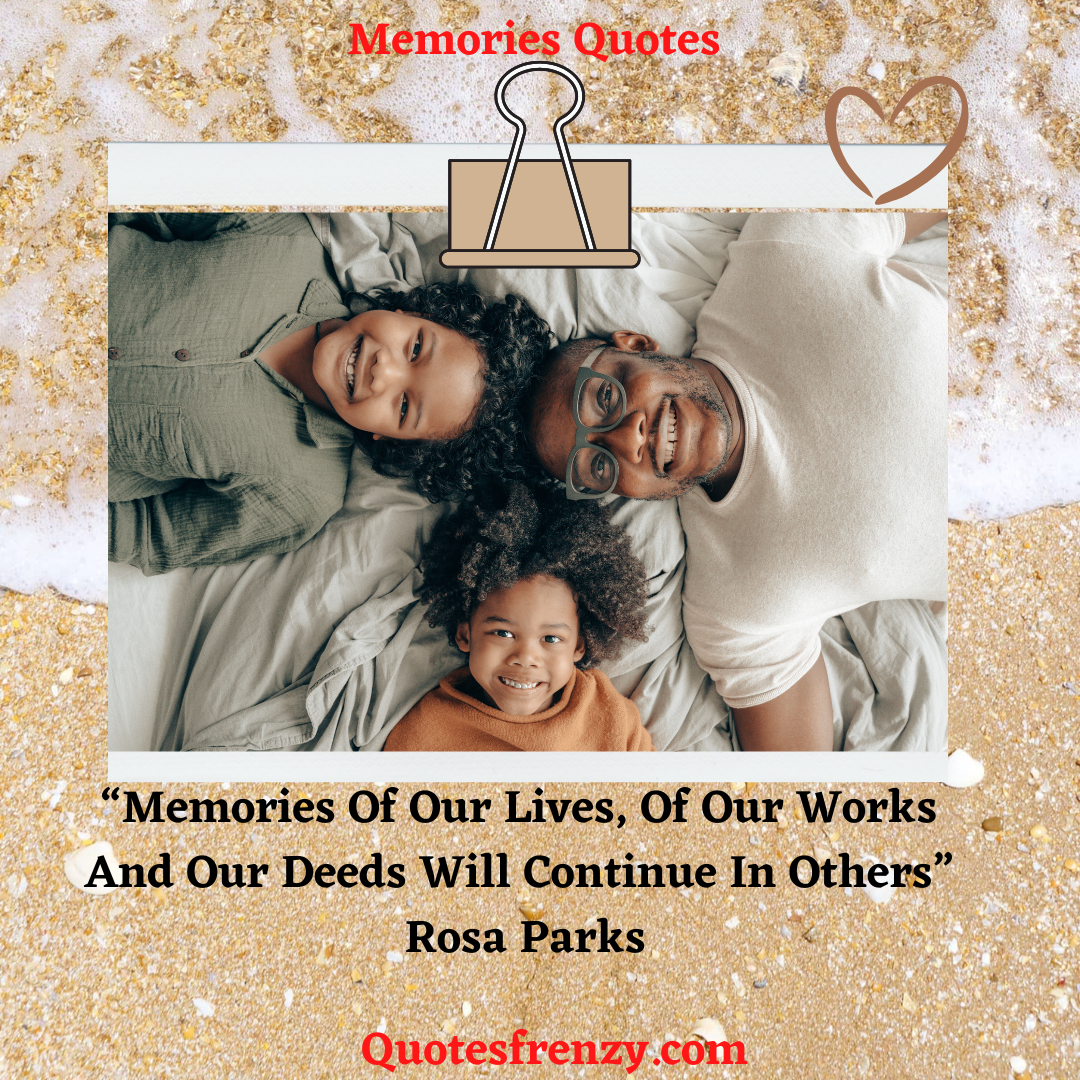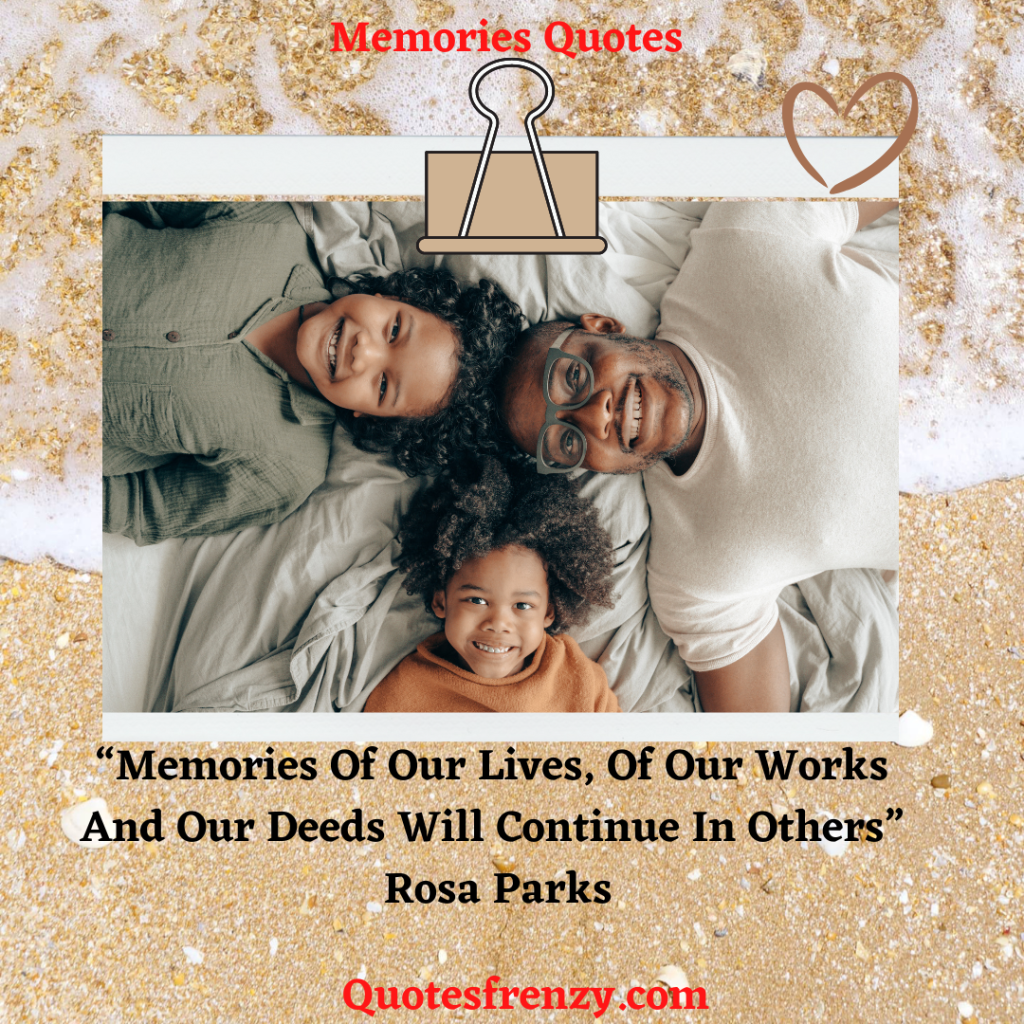 Her words are the hallmark of her legacy. This woman clearly left her mark on the world with her brave defiance in the face of social injustice. Going on to become a leader of the women's rights movement and a pioneer of social justice across the world, she will be remembered forever. All of us serve to benefit from this bit of guidance. We can all accomplish incredible things, but we must remember the impact that we have on the world.
---
Famous Memories Quotes
---
"Memory is the treasury and guardian of all things." Marcus Tullius Cicero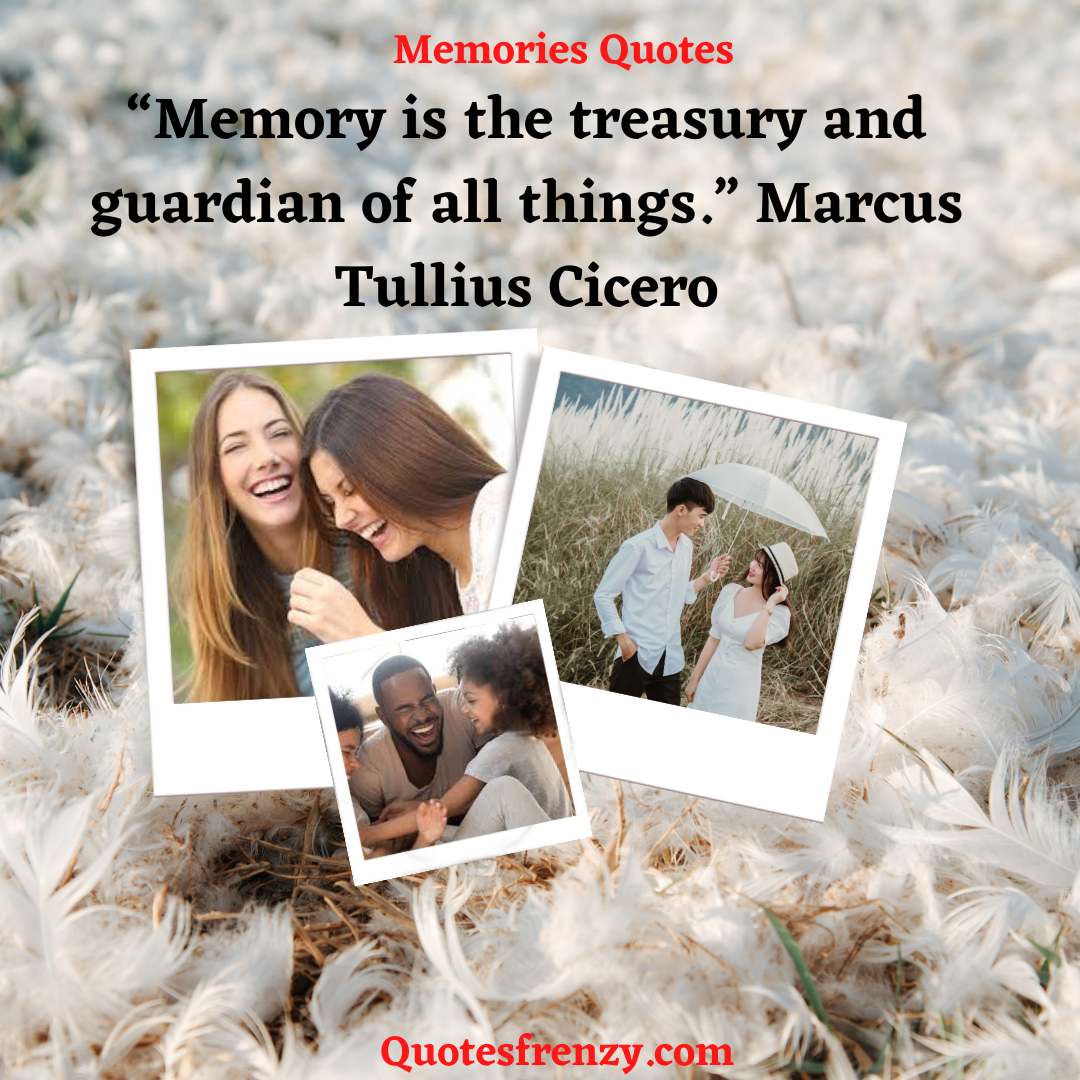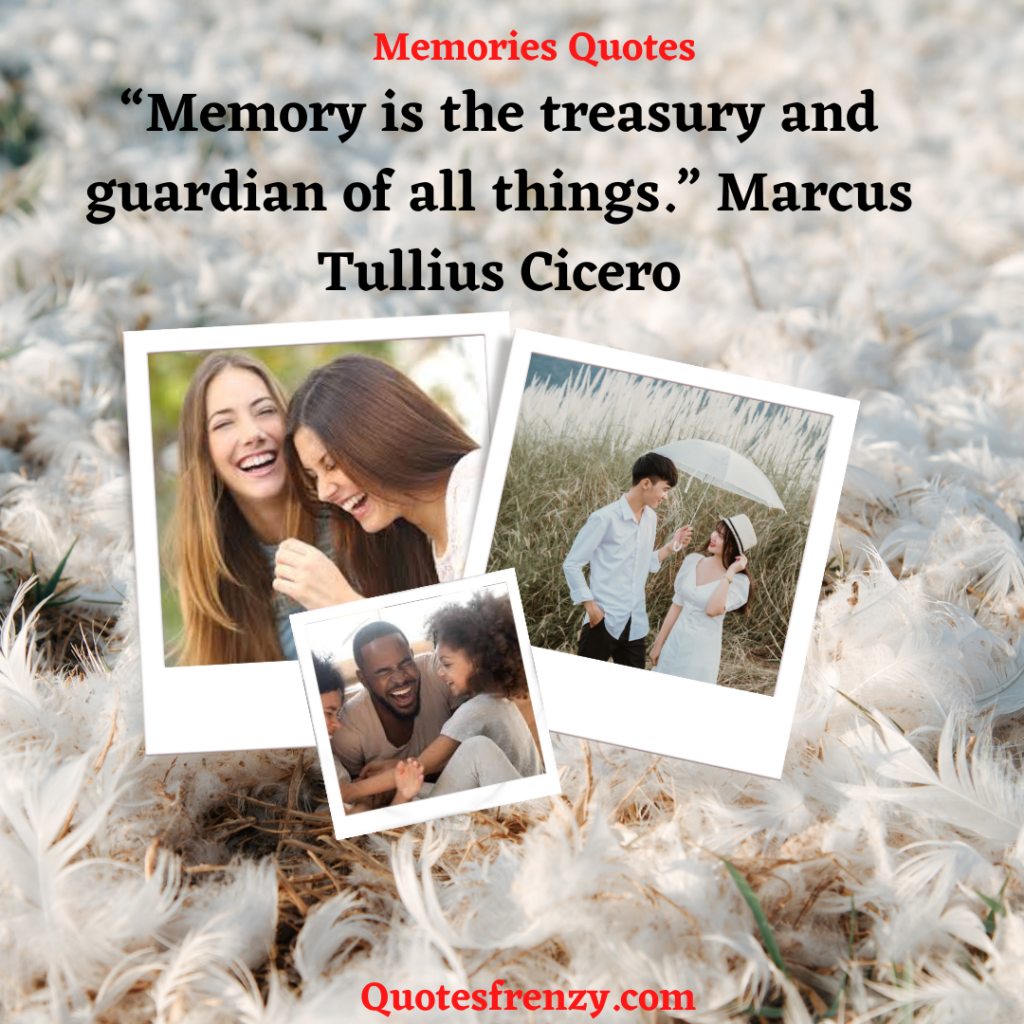 ---
"Take care of all your memories. For you cannot relive them." Bob Dylan
---
"We do not remember days, we remember moments." Cesare Pavese
---
Also read..
---
"The life of the dead is placed in the memory of the living." Marcus Tullius Cicero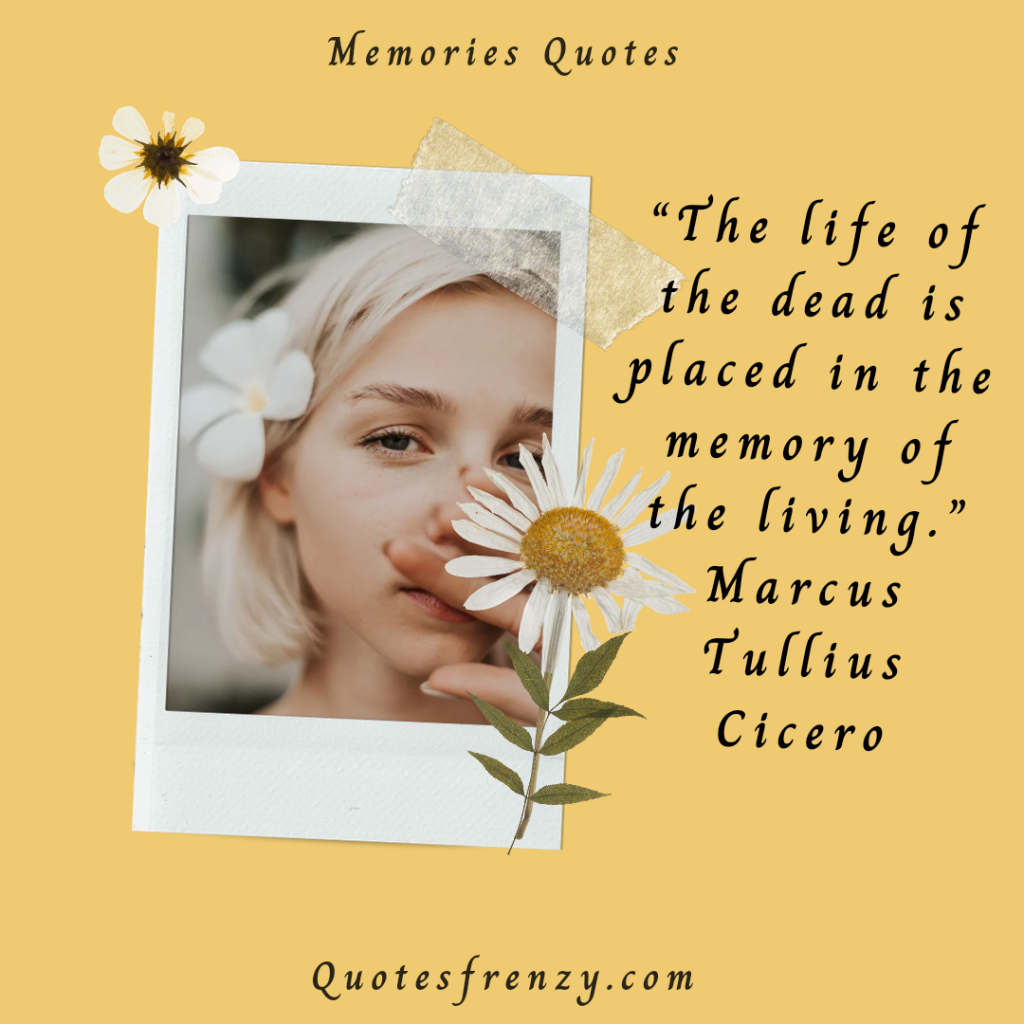 ---
"Whenever I think of the past, it brings back so many memories." Steven Wright
---
"Gratitude is when memory is stored in the heart and not in the mind." Lionel Hampton
---
"Things that were hard to bear are sweet to remember." Seneca the Younger
---
"Every man's memory is his private literature." Aldous Huxley
---
"I'm always fascinated by the way memory diffuses fact." Diane Sawyer
---
"Memory is the mother of all wisdom." Aeschylus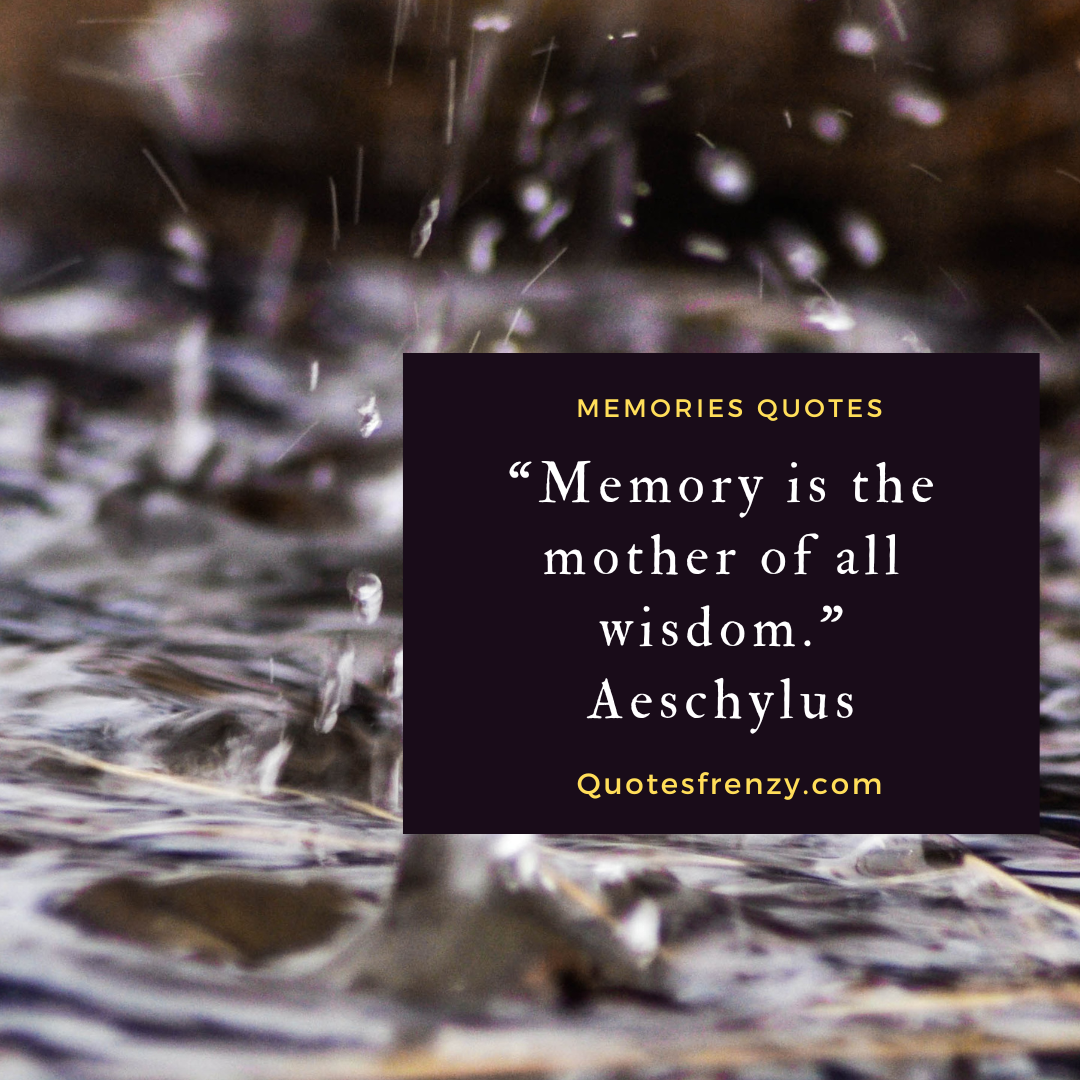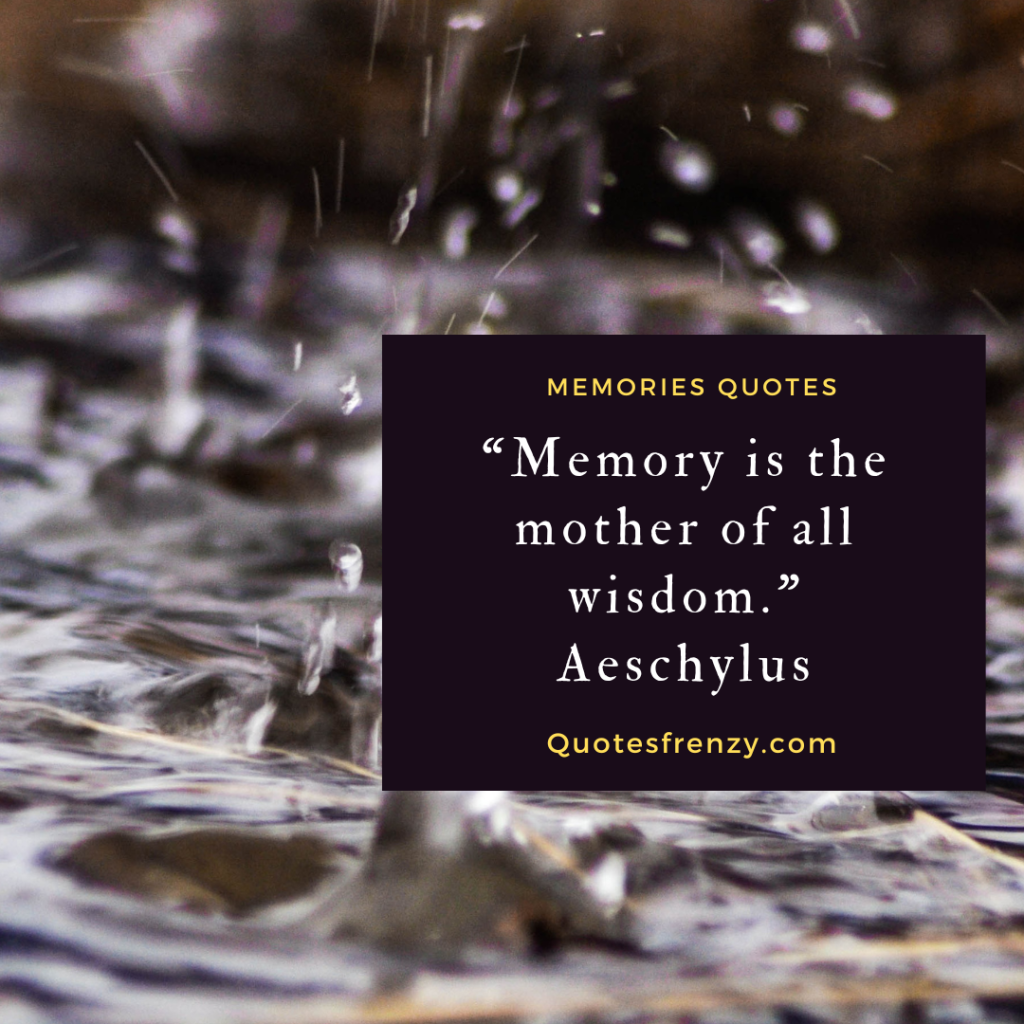 ---
"Gratitude changes the pangs of memory into a tranquil joy." Dietrich Bonhoeffer
---
"Fond memory brings the light of other days around me." Thomas Moore
---
"A whole stack of memories never equal one little hope." Charles M. Schulz
---
"Happiness is nothing more than good health and a bad memory." Albert Schweitzer
---
"A clear conscience is usually the sign of a bad memory." Steven Wright
---
"You dont have to hold on to the pain, to hold on to the memory." Janet Jackson
---
"You never know when you're making a memory." Rickie Lee Jones
---
"Memory feeds imagination." Amy Tan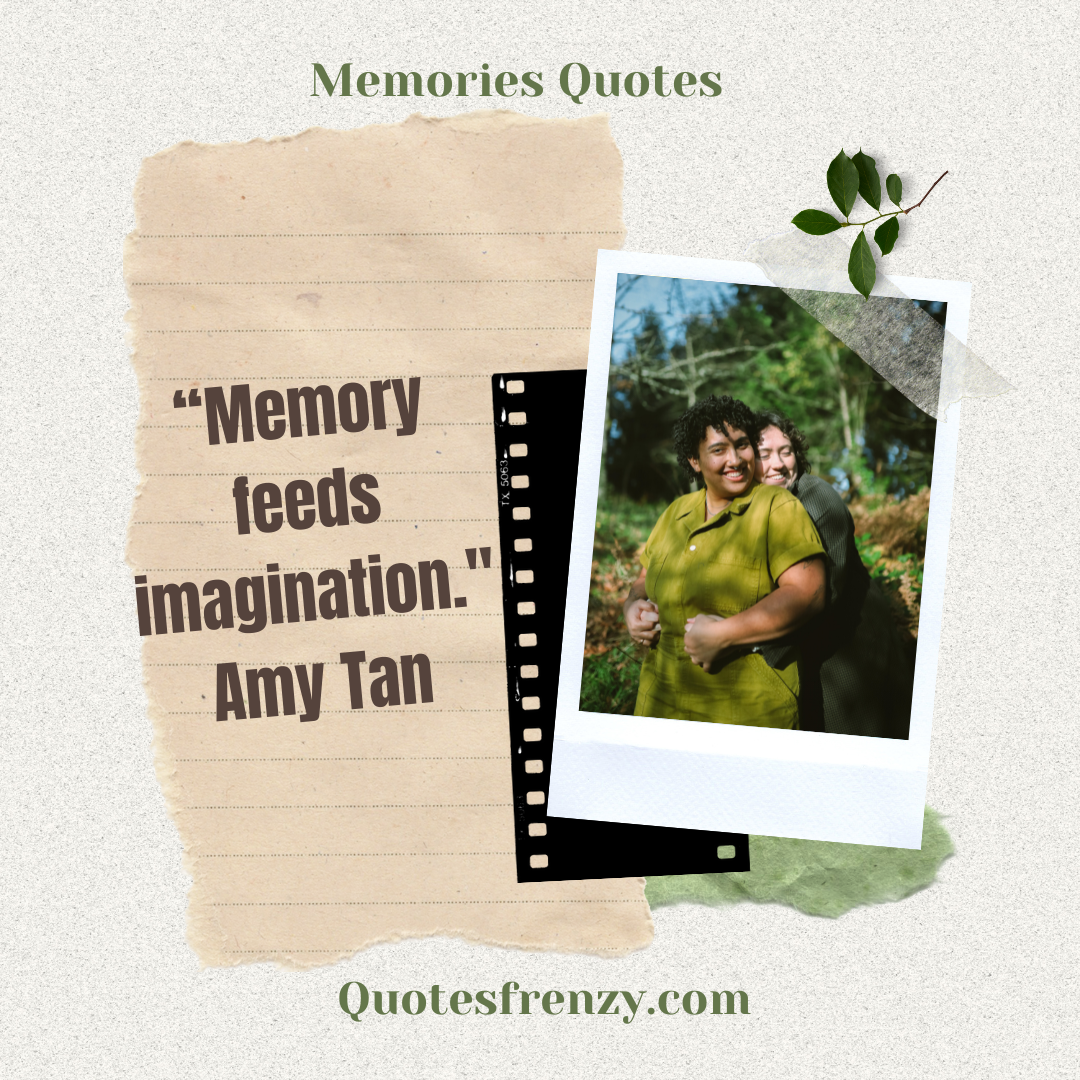 ---
"In memory's telephoto lens, far objects are magnified." John Updike
---
"Memory itself is an internal rumour." George Santayana
---
"Yesterday is but today's memory, and tomorrow is today's dream." Khalil Gibran
---
"Memories are the key not to the past, but to the future." Corrie Ten Boom
---
"Memory is a complicated thing, a relative to truth, but not its twin." Barbara Kingsolver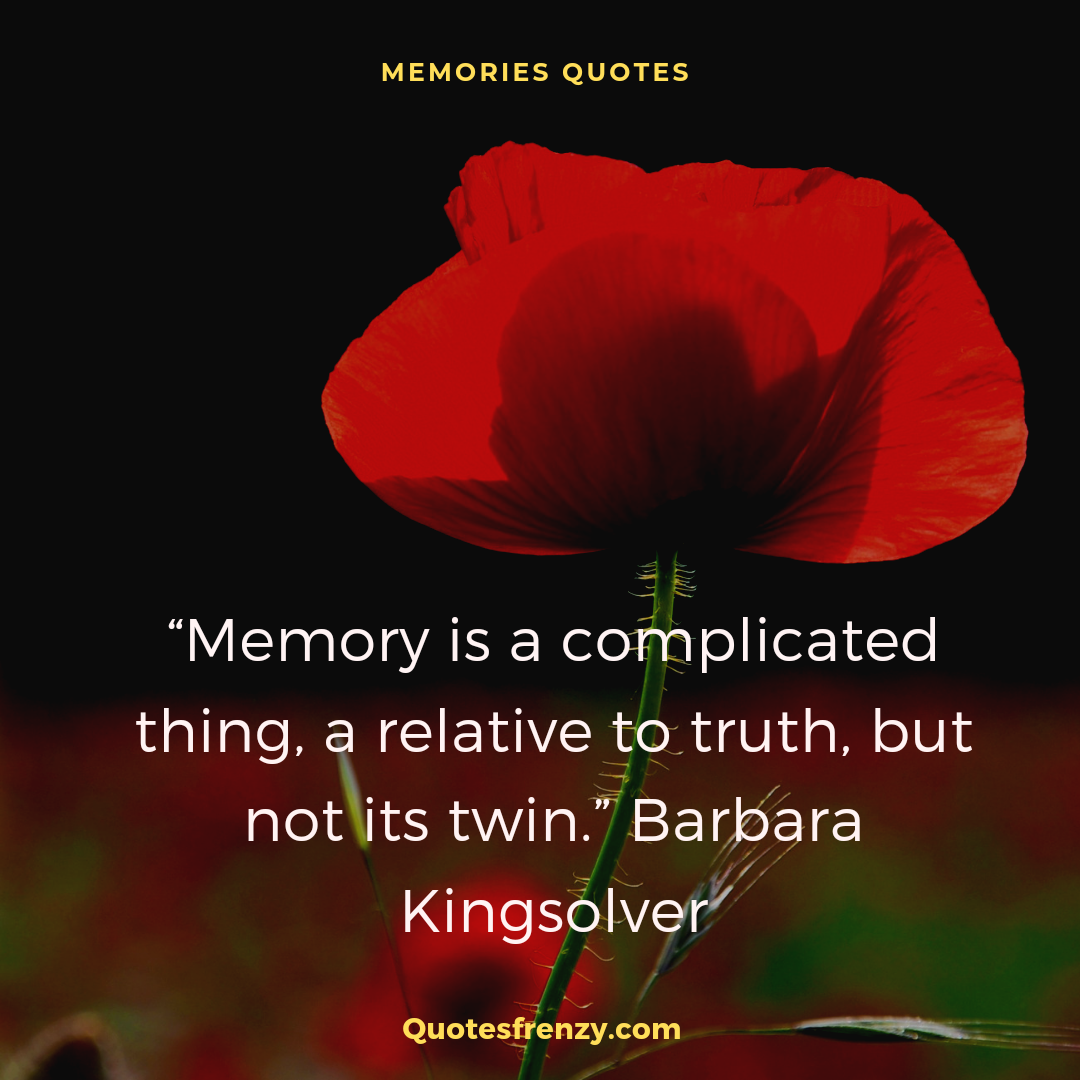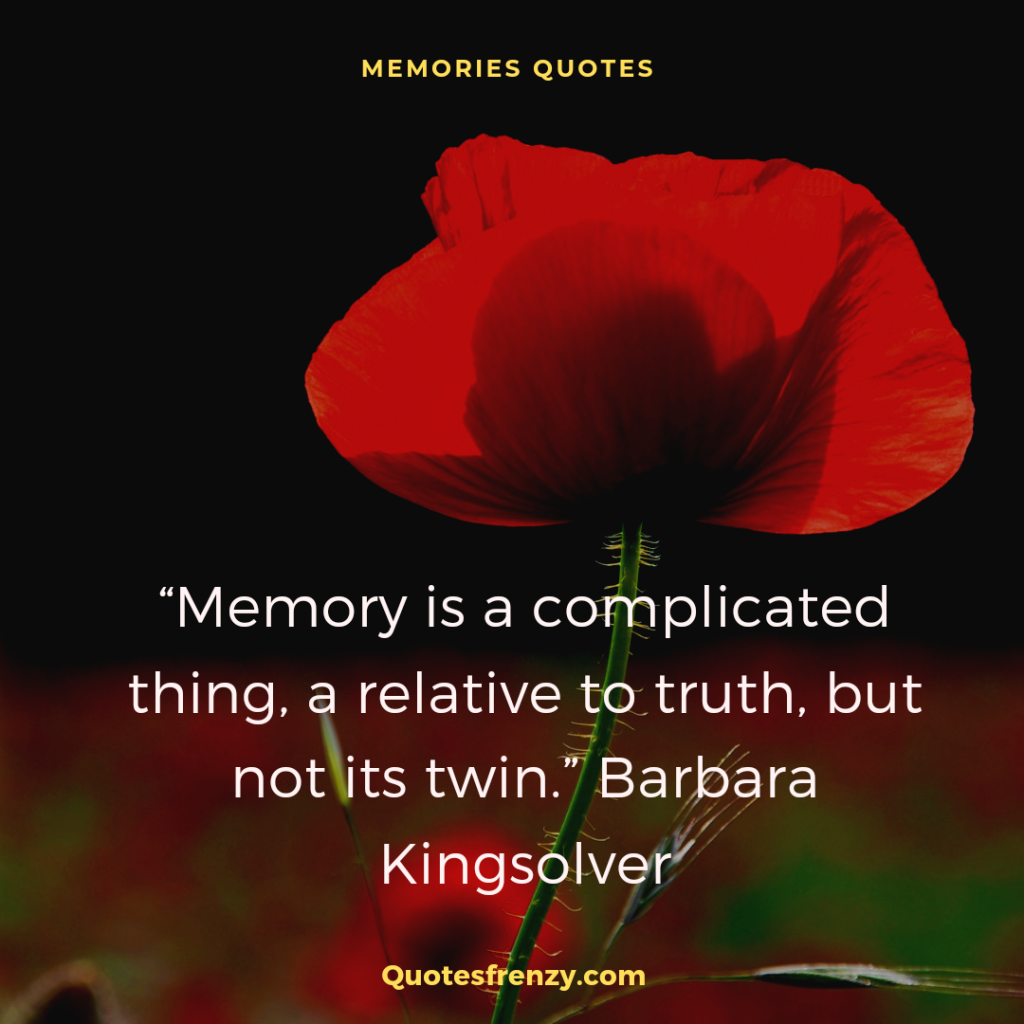 ---
"One lives in the hope of becoming a memory." Antonio Porchia
---
"Memory diffuses fact." Diane Sawyer
---
 Memories are a lot like photos. We create them to enjoy later in our lives. But what good are your photos if you lose them? Just like photos, memories are irreplaceable. But you can't back up your memories, so once you have them be careful to cherish them for as long as you can. Keep a journal, write a blog, set a facebook status- whatever you do to keep track of your memories, make sure that you do it consistently. You'll never know when you'll have your last kiss, see your loved ones for the final time, or get to see your kids again after college. Enjoy the moments that you get and when you run out of them, make sure you have your memories to keep you company.
"My Memories Are Inside Me…I Can Take Them Anywhere" Olivia Newton John – Memories Quotes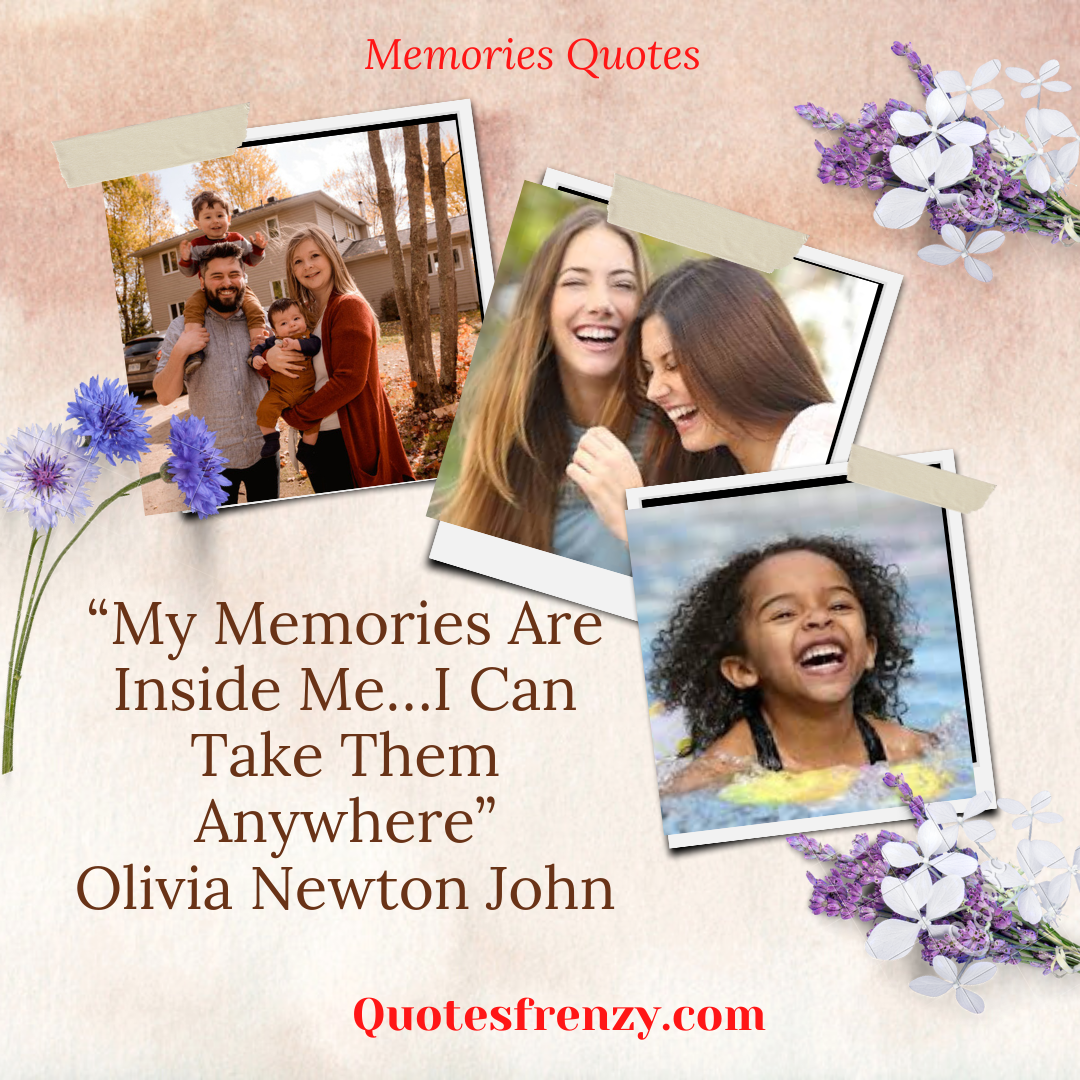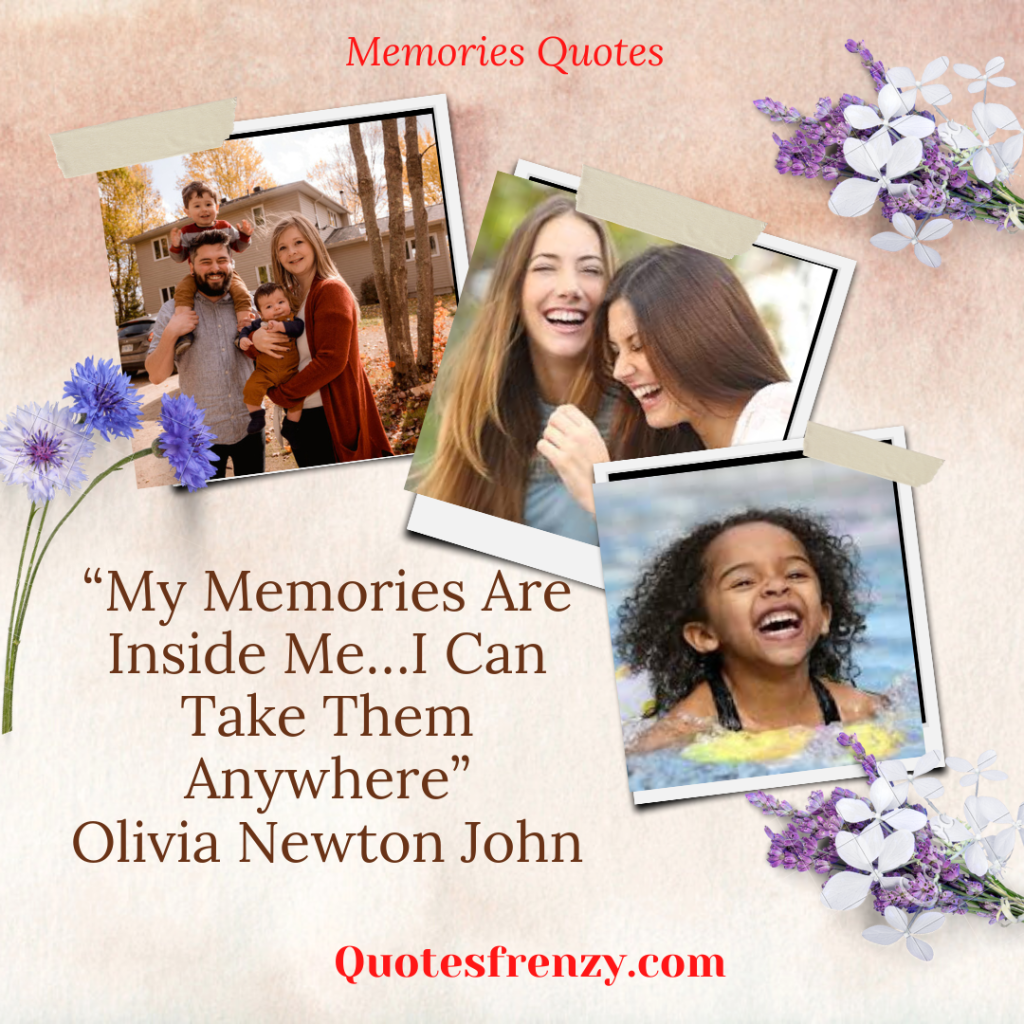 Have you ever heard that a good book can take you all over the world in a single night? Well so can your memories, and they're just as portable. Unlike your phone, camera, or journal you'll always have access to your memories. The true insight of this quote lies in the fact that,  you can't take your loved ones with you everywhere you go or that awesome football game where you caught your first baseball. You might not be able to see your best friends after high school or your closest coworkers after retirement, but you can take your memories of them no matter where your life takes you. You don't even have to pack.
With these quotes in mind, enjoy the rest of your week to the fullest. Give your parents a call, or whoever is special to you, and share some of those hard earned memories with them. Go out to the bar and tell a few stories, or stay at home and write them for yourself. Act carefully, with others in mind, and how they'll remember you. Most of all, be memorable.