Missing You Quotes-Missing a loved one is a terrible thing for anyone having to go through it. It is a dull aching emptiness that radiates toward the stomach. On the positive side, there is a quick cure for this and it comes in the shape of Missing You Quotes.
Whether you send or receive it, it seems like the distance is instantly diminished. Receiving one often has better results but sending one could be the catalyst needed to receive one. Let's take a look at a few good quotes for this purpose.
If I had a single flower for every time I think about you, I could walk forever in my garden. – Claudia Ghandi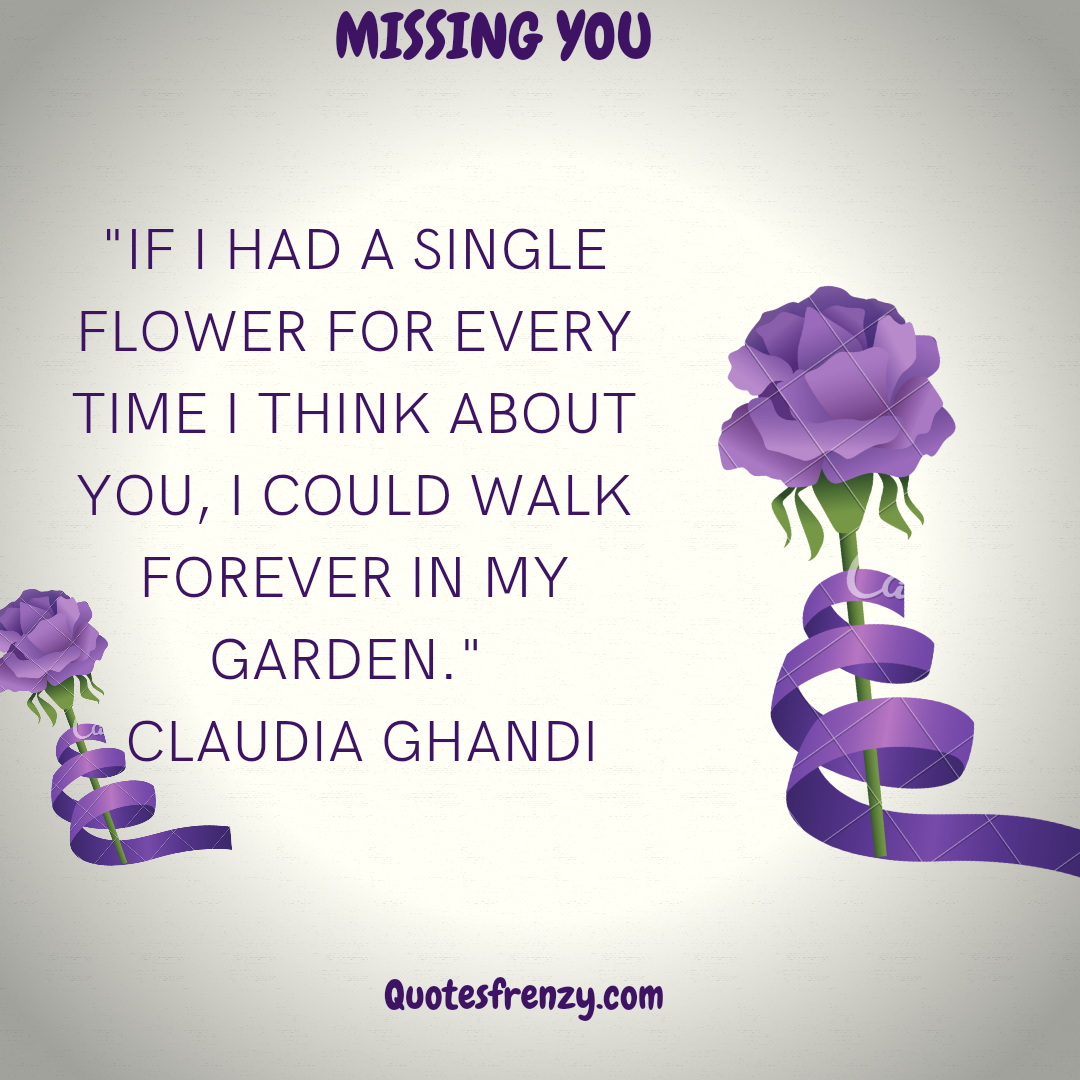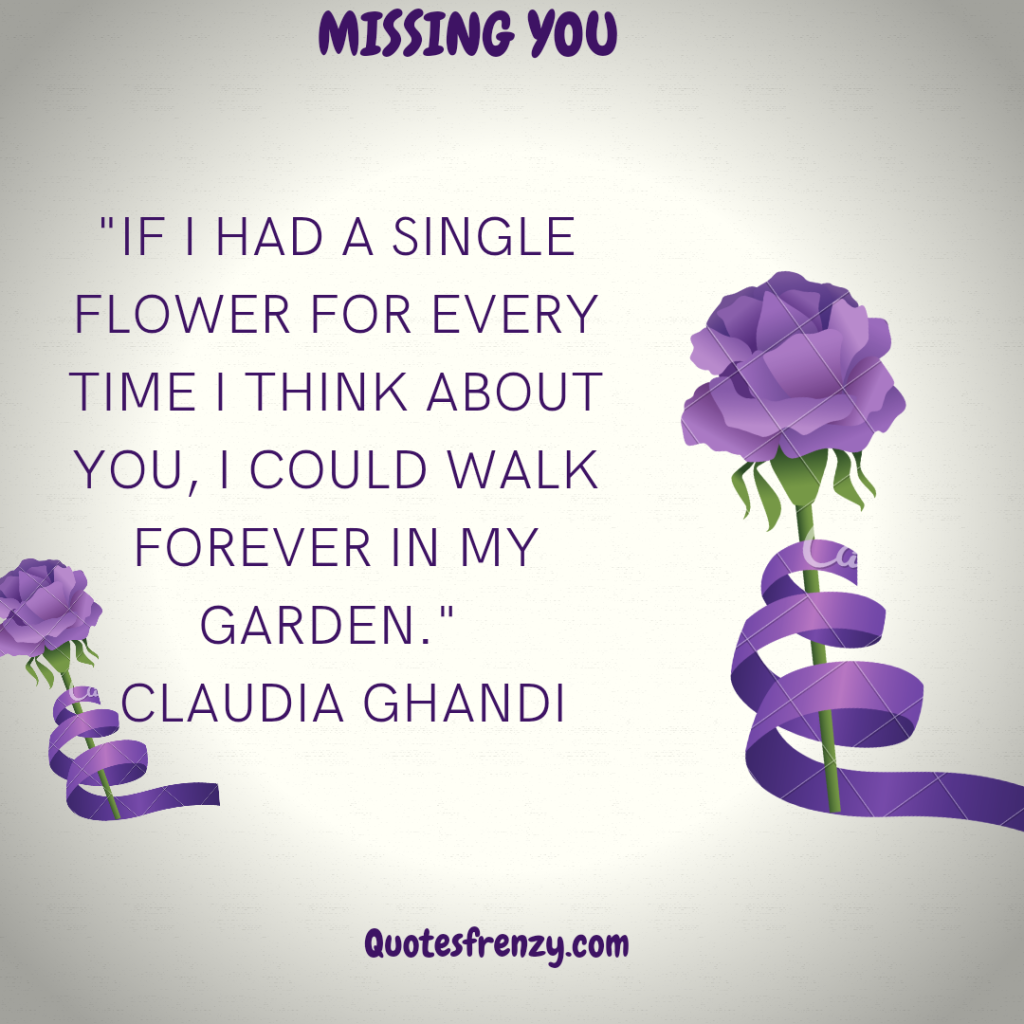 The thing that makes us miss a person is having them in your thoughts all the time. Claudia hit the hammer on its head with this quote because we often think of nothing else than the person we are missing.
Can miles truly separate you from friends….If you want to be with someone you love, aren't you already there? – Richard Bach
The other side of the spectrum when you have the one you miss in your thoughts all the time is that the thoughts brings them closer. Even though you miss them, they are just a memory or a thought away.
---
Famous Missing You Quotes
---
"Your absence has gone through me." W. S. Merwin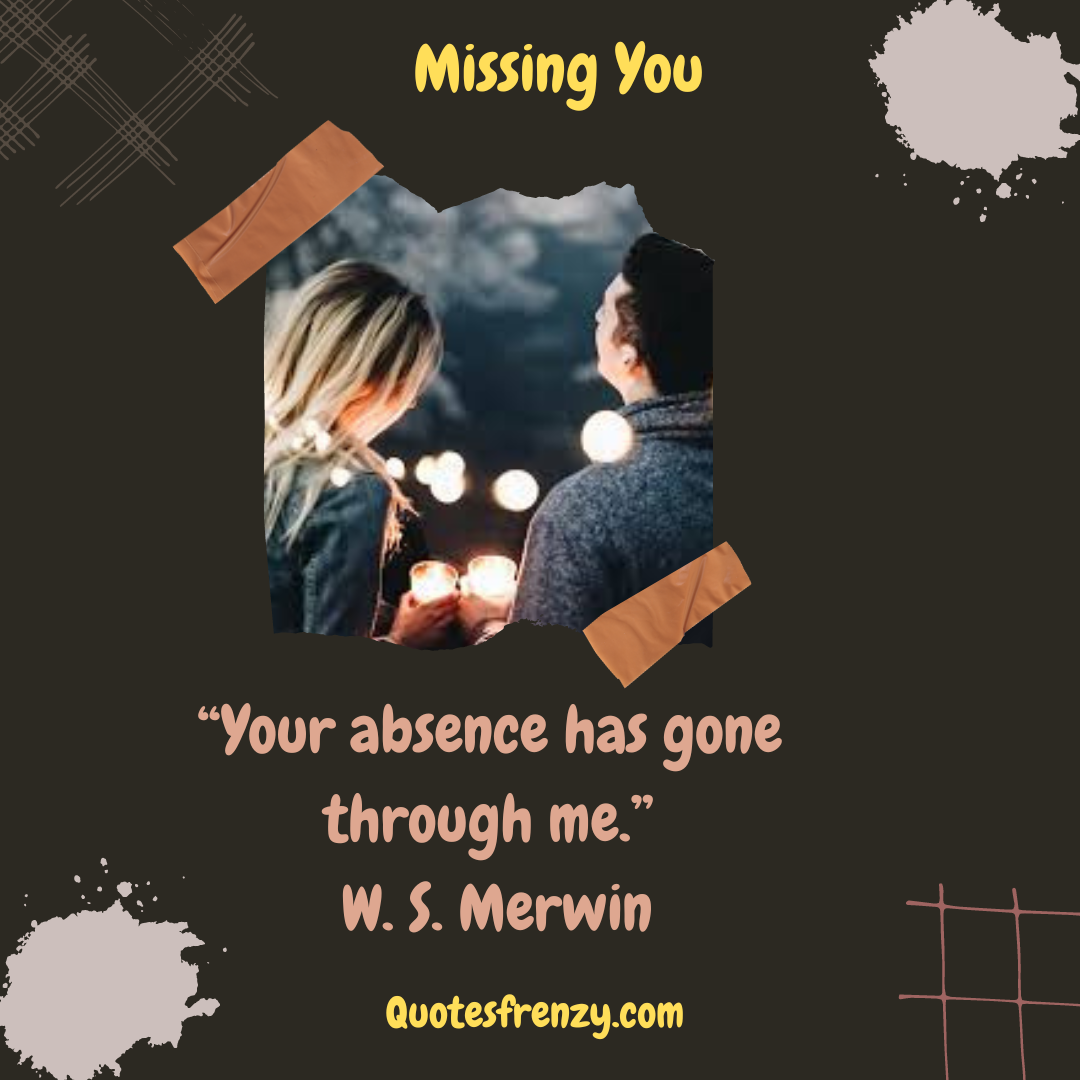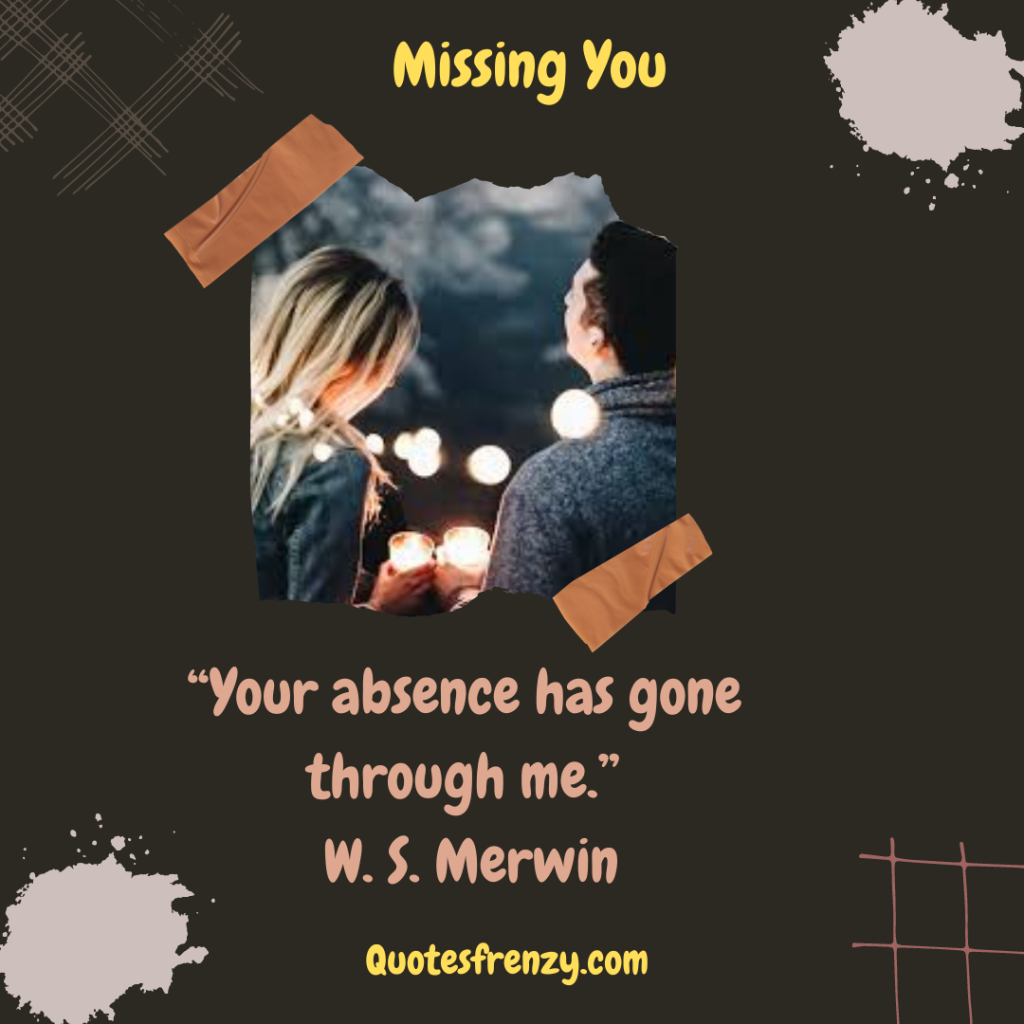 ---
"My heart wont let you go, and I need you to know, I miss you." Miley Cyrus
---
"Absence from whom we love is worse than death, and frustrates hope severer than despair." William Cowper
---
Also read…
Being Single Quotes And Sayings
---
"Absence makes the heart grow fonder." Eleanor Roosevelt
---
"What is the opposite of two? A lonely me, a lonely you." Richard Wilbur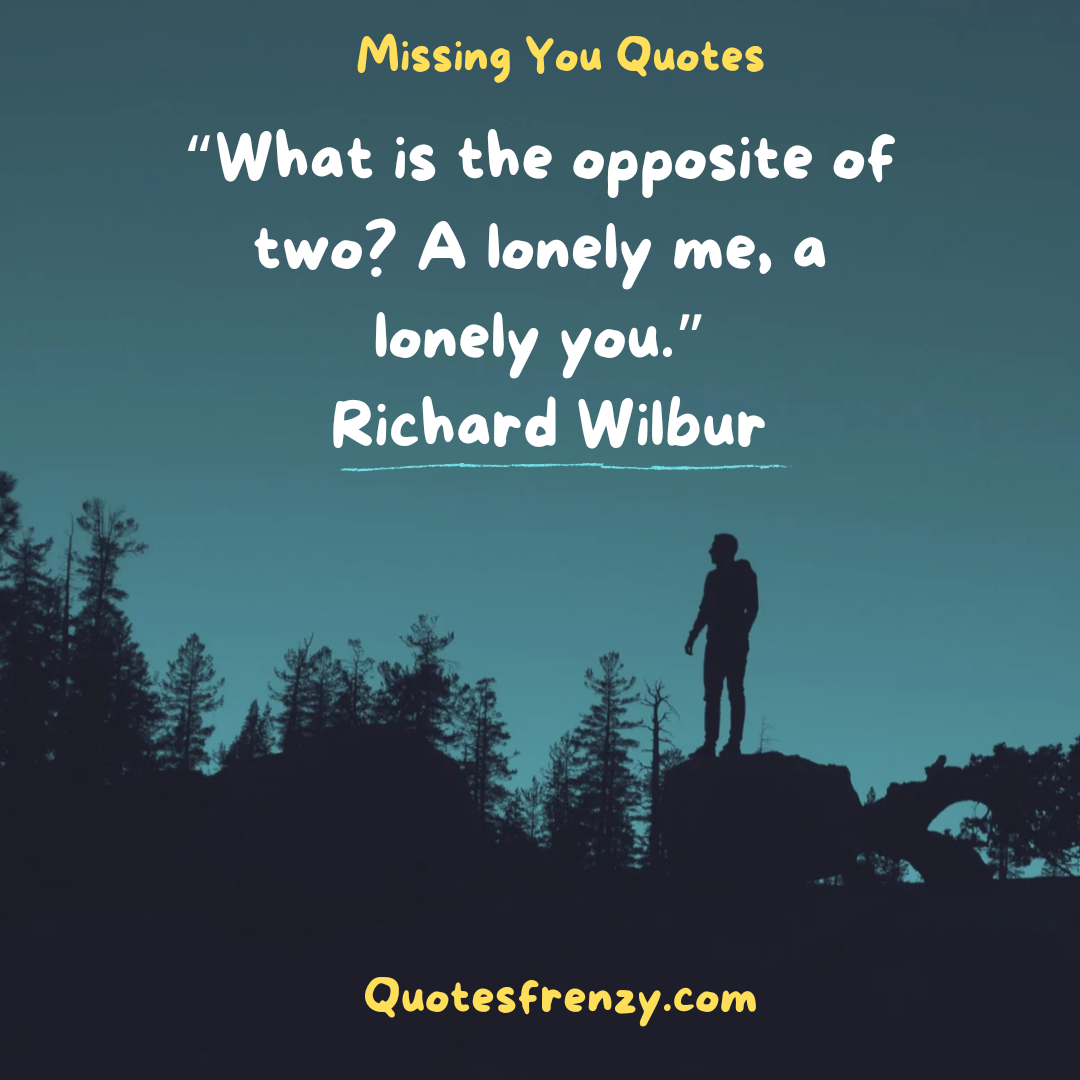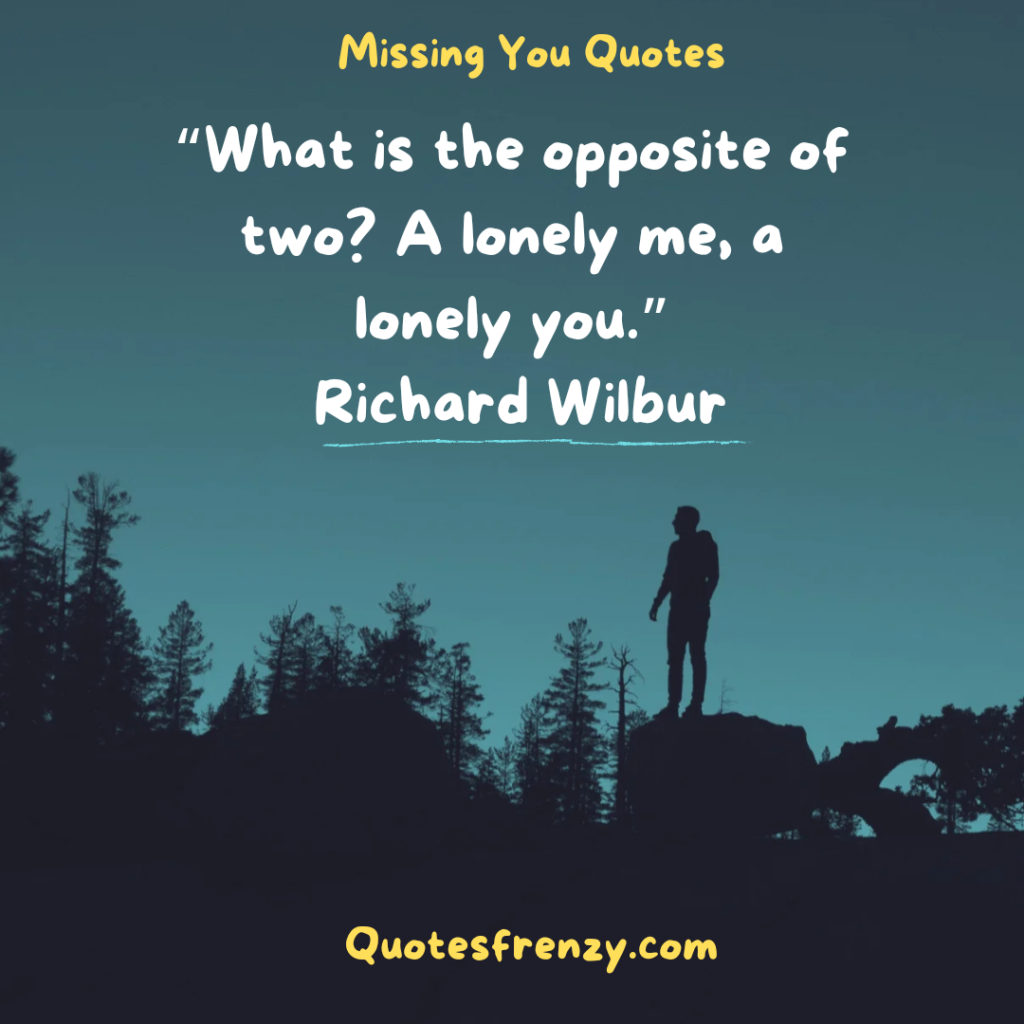 ---
"All days are nights to see till I see thee, And nights bright days when dreams do show thee me." William Shakespeare
---
"The reason it hurts so much to separate is because our souls are connected." Nicholas Sparks
---
"The eternal quest of the individual human being is to shatter his loneliness." Norman Cousins
---
"I just…I just miss him. And I hate being so alone." Suzanne Collins
---
"Love reckons hours for months, and days for years; and every little absence is an age." John Dryden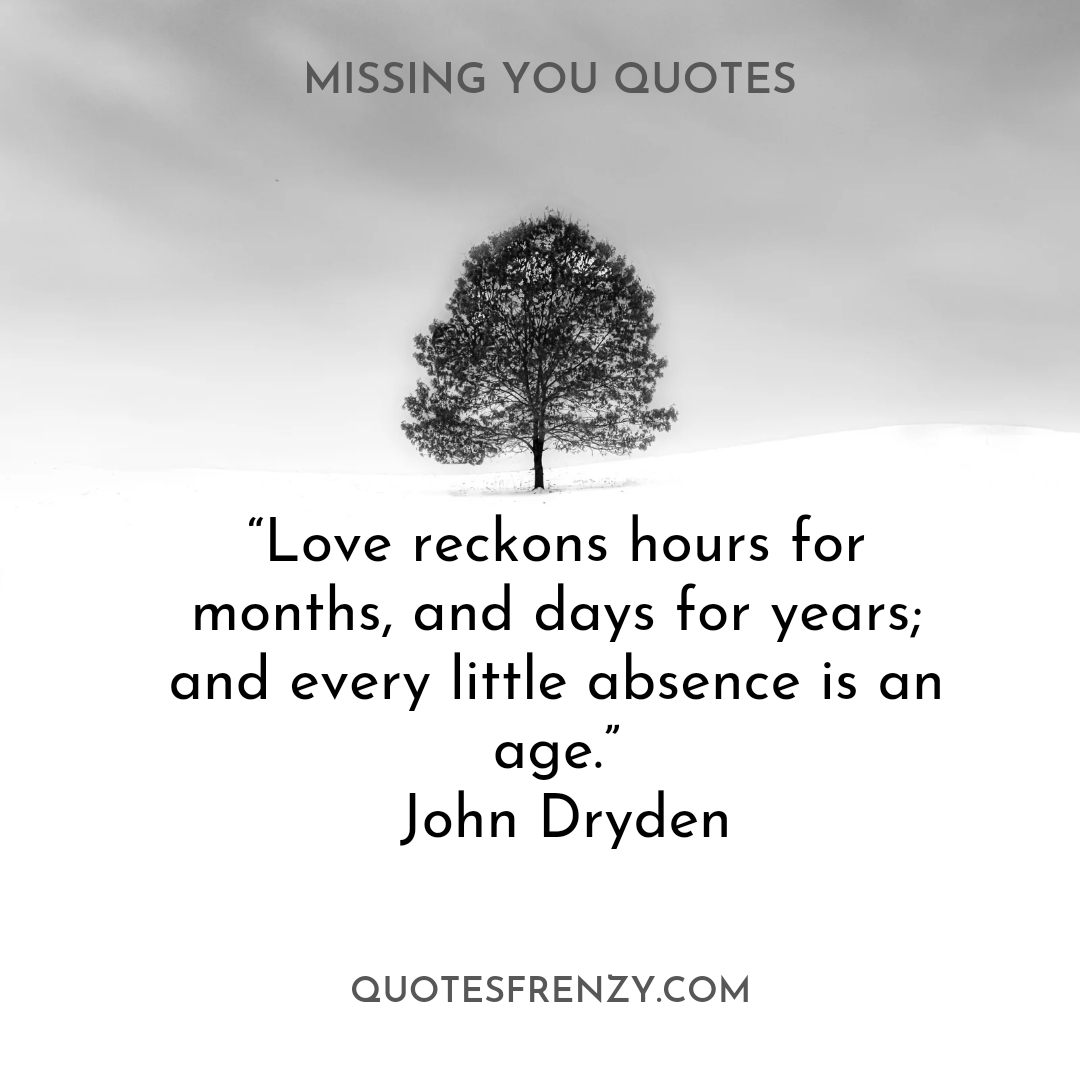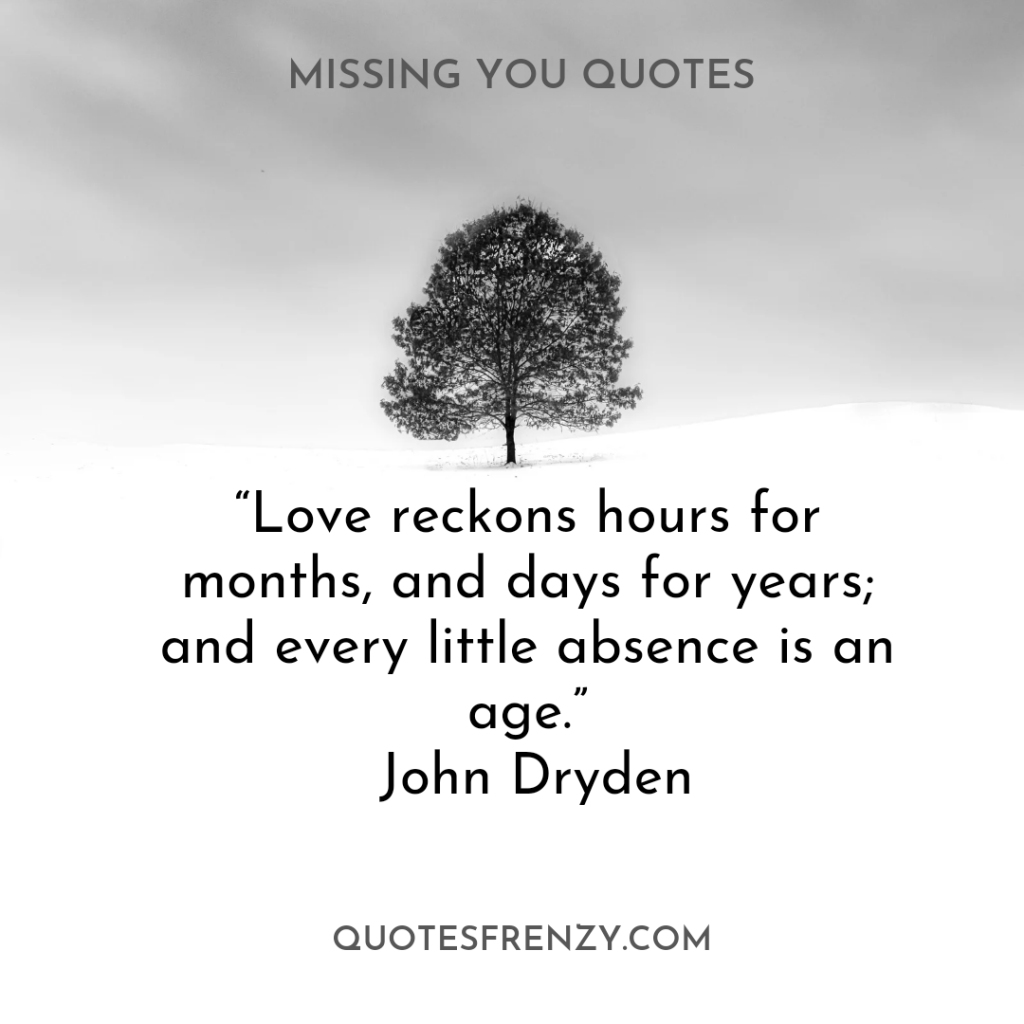 ---
"You can love someone so much…But you can never love people as much as you can miss them." John Green
---
"Every parting is a form of death, as every reunion is a type of heaven." Tryon Edwards
---
"If there ever comes a day when we can't be together, keep me in your heart. I'll stay there forever." A. A. Milne
---
"I keep coming back to you in my head, but you couldn't know that, and I have no carbons." Adrienne Rich
---
"Separation Your absence has gone through me Like thread through a needle. Everything I do is stitched with its color." W. S. Merwin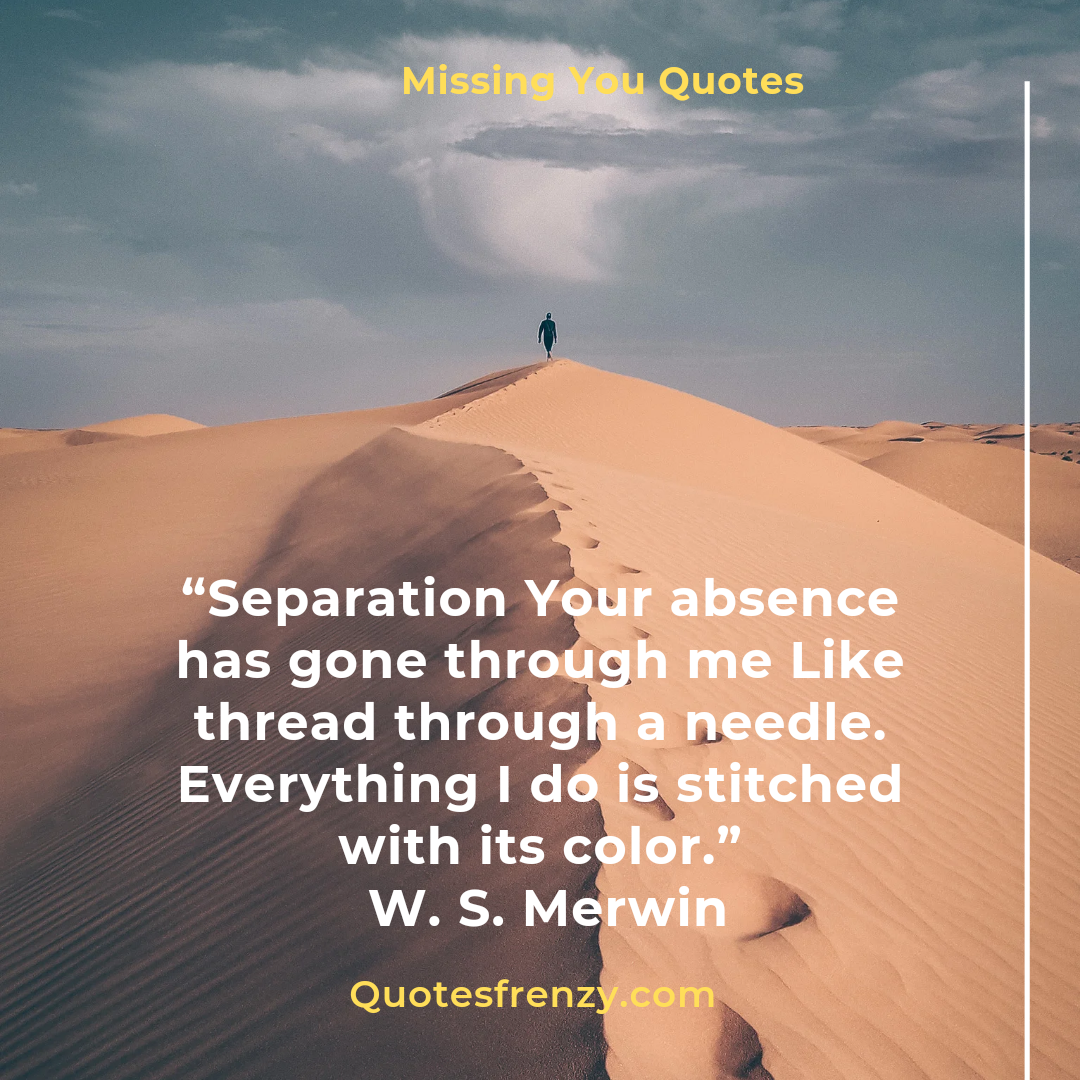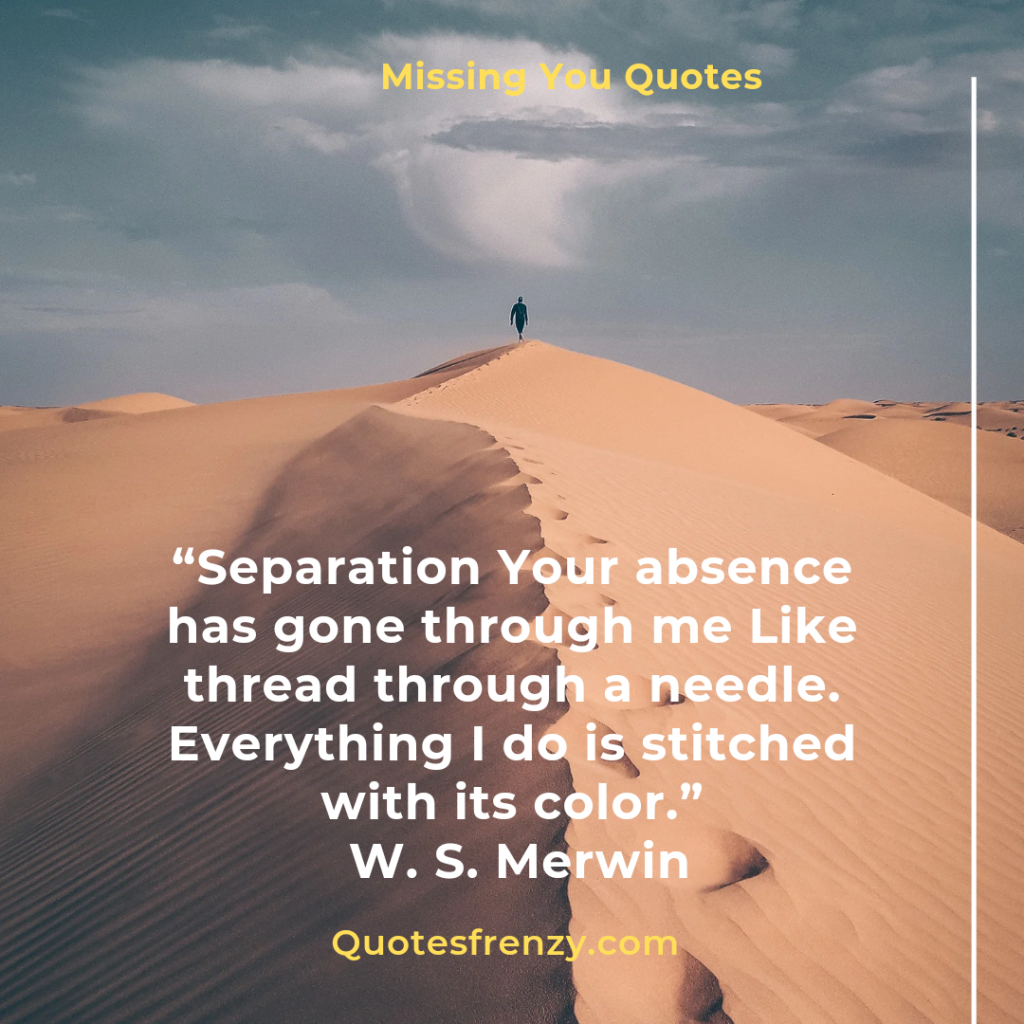 ---
"Absence diminishes mediocre passions and increases great ones, as the wind extinguishes candles and fans fires." Francois de La Rochefoucauld
---
"Love is missing someone whenever you're apart, but somehow feeling warm inside because you're close in heart." Kai Knudsen
---
"I only miss you when I'm breathing" Jason Derulo
---
"I miss you more than the sun misses the sky at night." Taylor Swift
---
"I miss everything about you. Can't believe that I still want youAnd after all the things we've been through." Colbie Caillat
---
"You left , and my heart is a ceaseless sermon of loneliness." Jesse Tyler Ferguson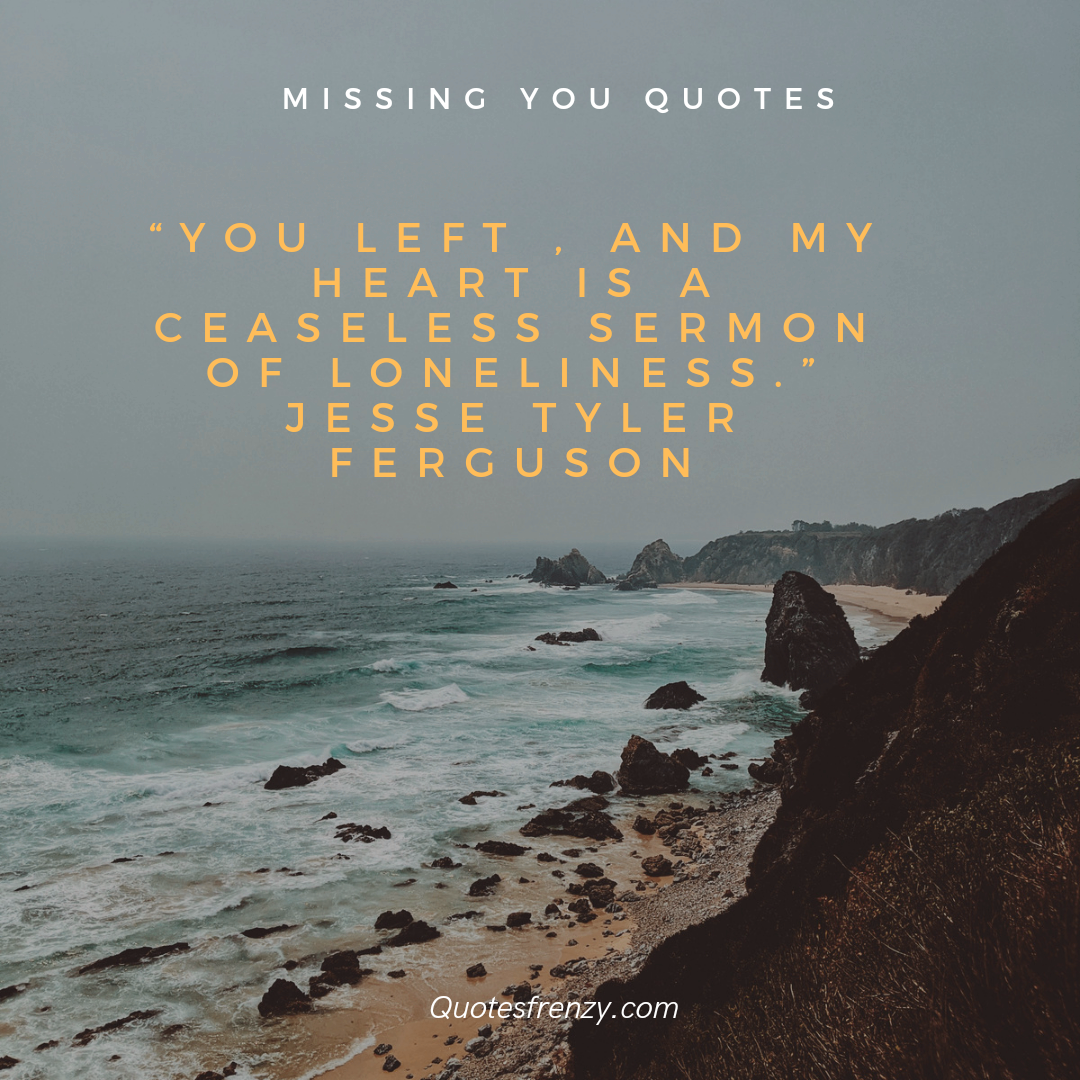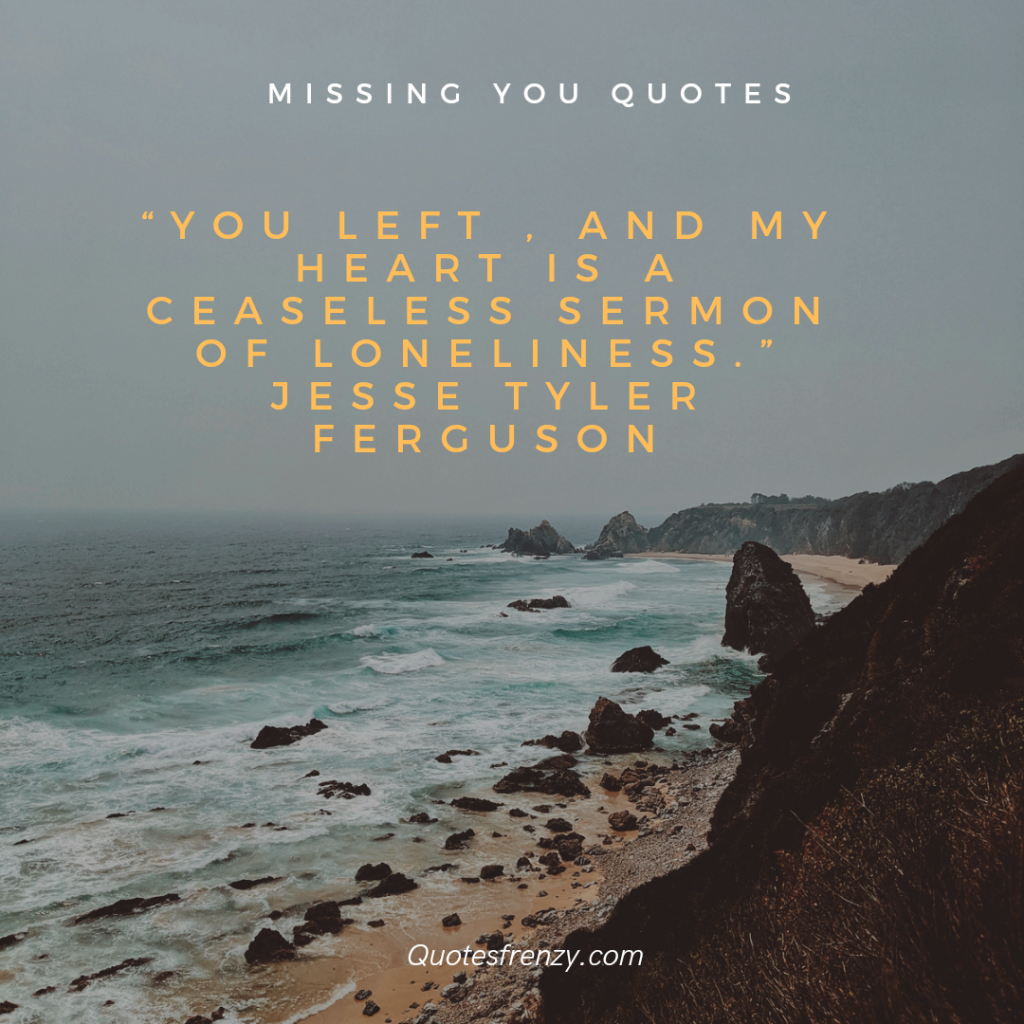 ---
"Shoot for the moon and if you miss you will still be among the stars." Les Brown
---
"I miss you so much it's giving me a pain in my pancreas." Maureen Johnson
---
"When I go away from you the world beats dead Like a slackened drum." Amy Lowell
---
"Close your eyes and I'll kiss you, Tomorrow I'll miss you." Paul McCartney
---
Missing someone is your heart's way of reminding you that you love them. – Abby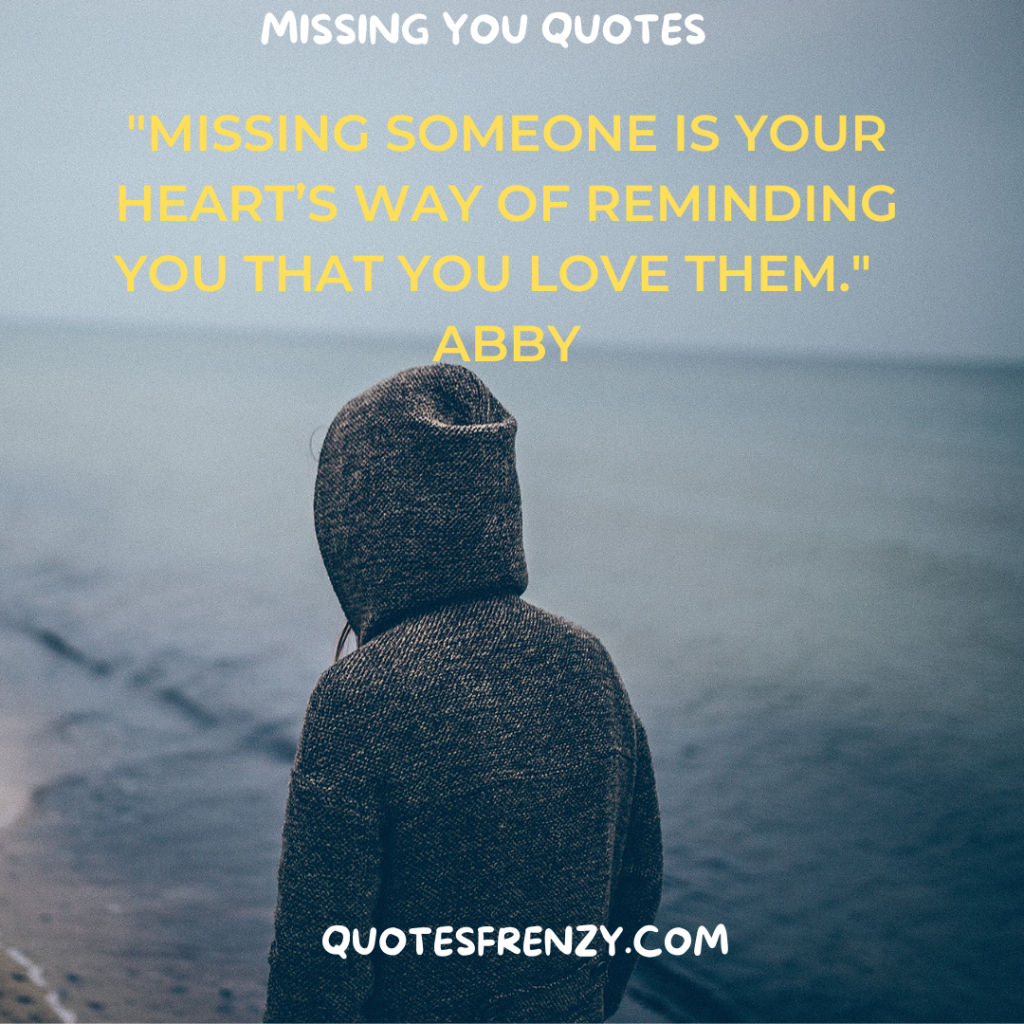 You do not miss people that you don't love. Missing a person goes hand in hand with strong feelings for them. The important question here is whether they love you back. Do they miss you too?
We miss people from all parts of our life and the love we have for them differs, just like the way we miss them in differs. Missing family, lovers or friends can all be painful but in varied ways. Next time you find yourself in such a position, send a few missing you quotes and see what happens. It could be a great indicator of how much you are missed or, in essence, loved.