Song Quotes-The song is magical creations, they are created to suit every situation in life. Listening to songs is an amazing experience. There are several genres of songs, there are songs written and sung to express affection, others to express grief, others to express joy and many others.
Song Quotes And Sayings have been written by different people to show how they embrace songs in their lives. These quotes are people's experience of how song have changed their lives or have played part in their lives. For instances some songs make one to remember the past amazing moments or moments of sorrows. Besides pleasure that is drawn from songs, songs are also a source of advice, this is because songs carry strong messages. The following people have shared experiences through Song Quotes
Music, at its Essence, is what gives us Memories. And the Longer a Song Has Existed In Our Lives, the More Memories We Have Of It – Stevie Wonder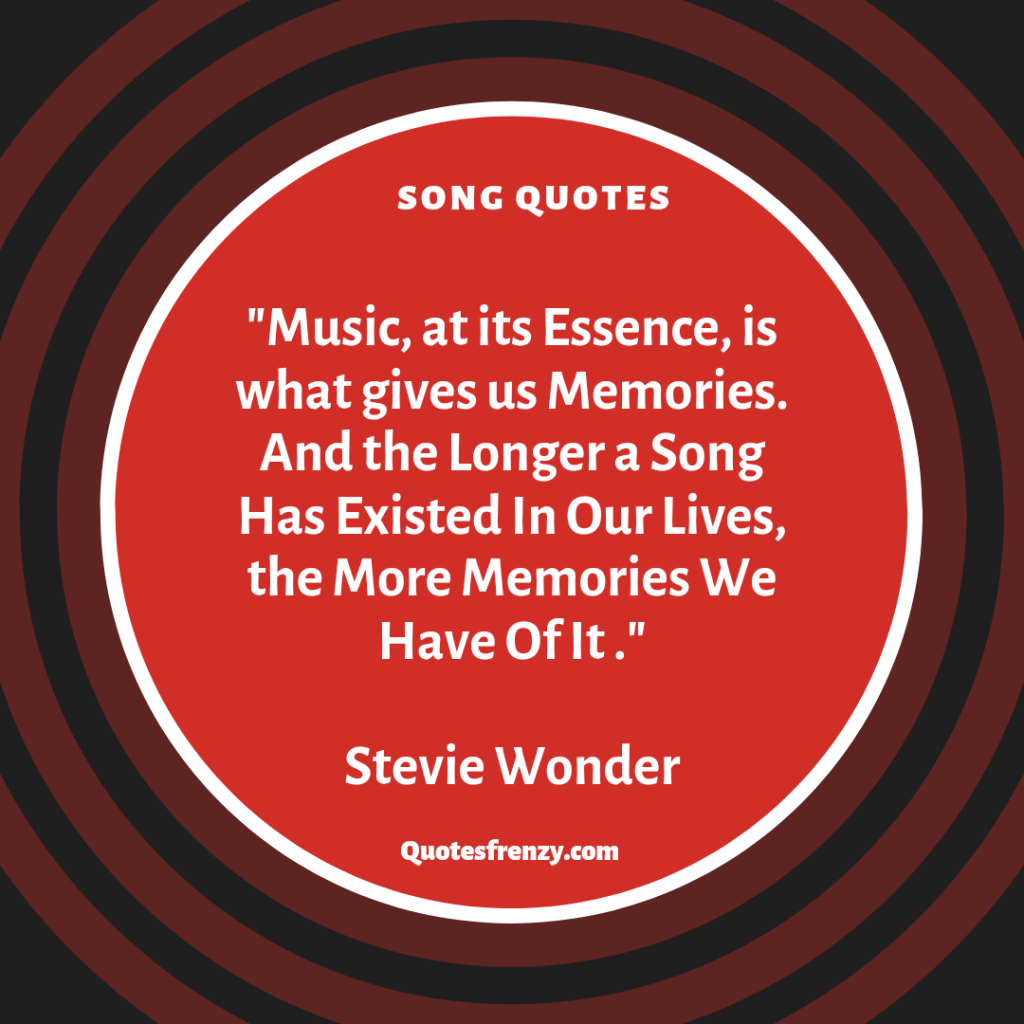 How do songs create memories? Memories are the past experiences that were either good or bad and at some point, we tend to remember them. Music is an instrument that triggers us to remember such past experiences, some of the experience makes us happy and brighten up our days. However, songs can also trigger us to remember bad experiences that will spoil the day or on the positive side help we make right decision to avoid creating another bad memory. People have some particular song that they hold on, this is because they bring joy to them, and the song will eventually be part of them.
---
Famous Song Quotes
---
"Life is a song, sing it. Life is a struggle, accept it." Mother Teresa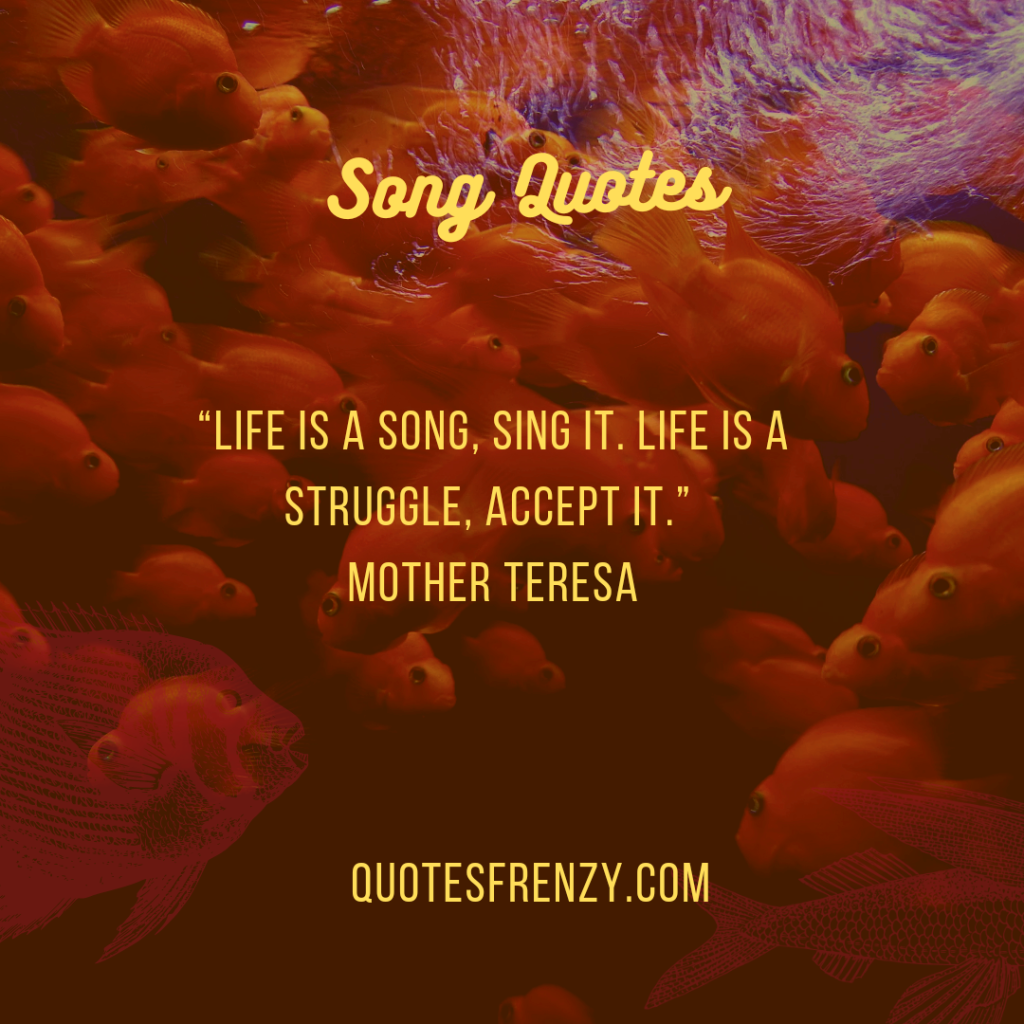 ---
Also read…
120 Clive Staples Lewis Quotes And Sayings
Top 100 Dance Quotes And Sayings
---
"You can cage the singer but not the song." Harry Belafonte
---
"Start off each day with a song." Jimmy Durante
---
"A few songs with Him might change the way you sing. Forever." Max Lucado
---
"A great song should lift your heart, warm the soul and make you feel good." Colbie Caillat
---
"The history of a people are found in its songs." George Jellinek
---
"I think often sadness is a great place to get songs from." Sarah McLachlan
---
"A song is anything that can walk by itself." Bob Dylan
---
"Without a song, each day would be a century." Mahalia Jackson
---
"There are as many ways to write songs as there are songs." Gregg Allman
---
"Every song is like a painting." Dick Dale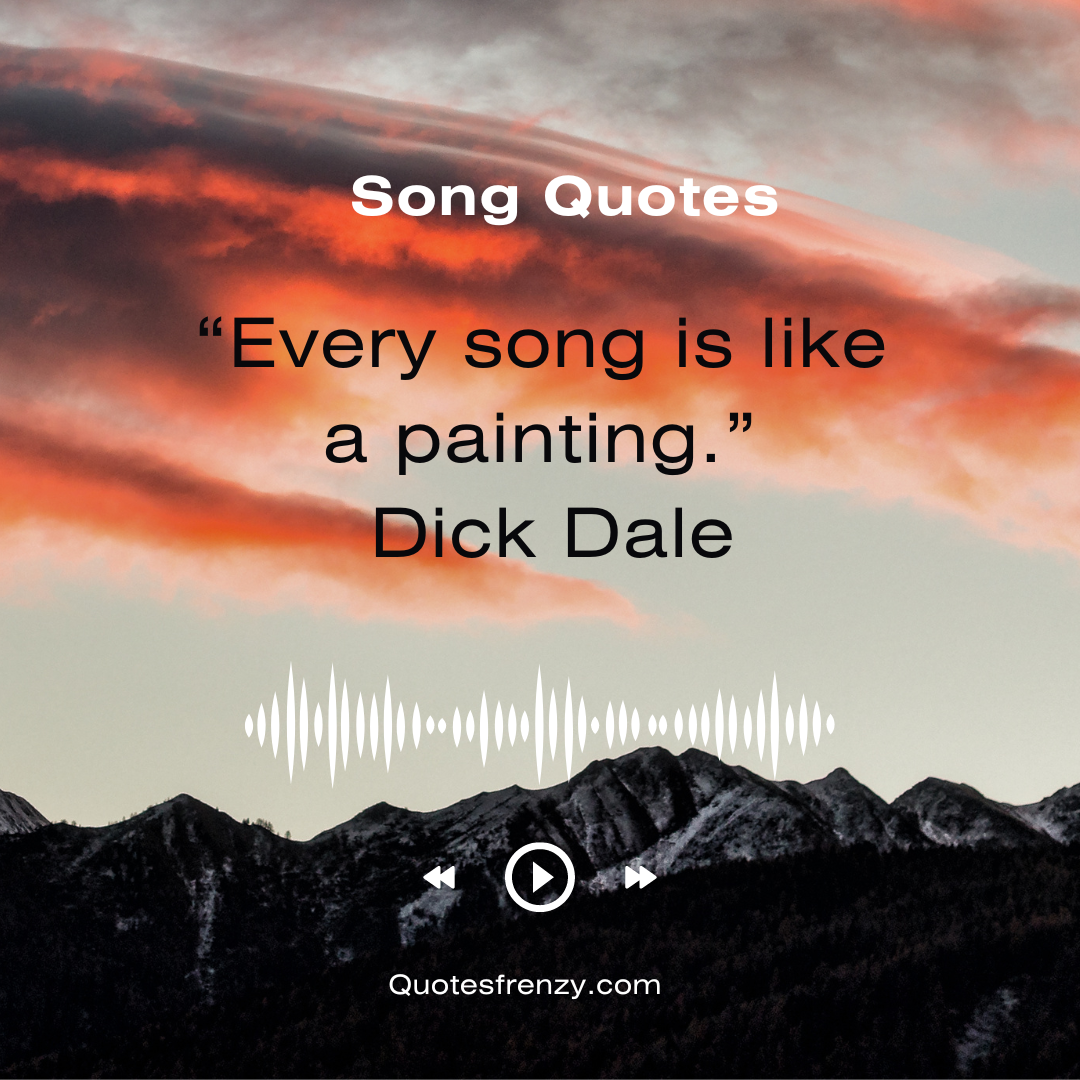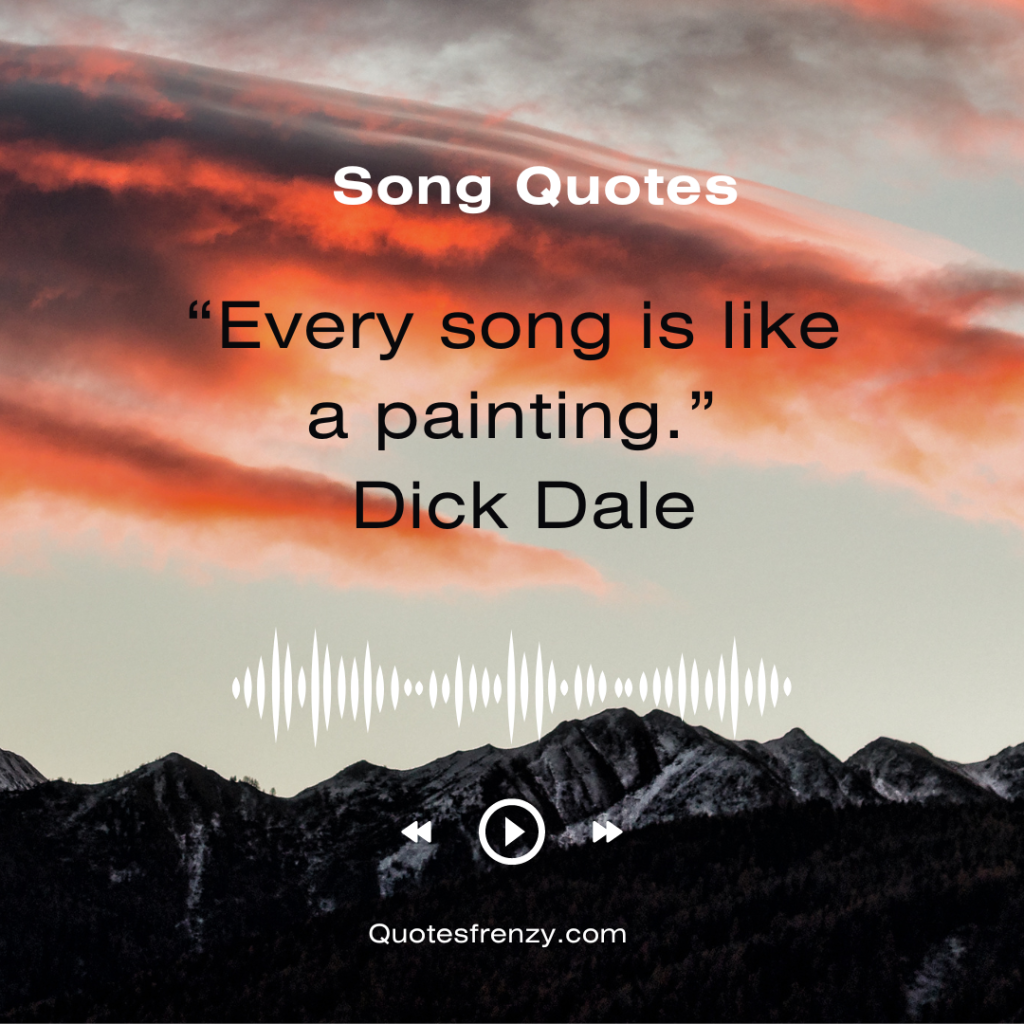 ---
"funny how a beautiful song could tell such a sad story." Sarah Dessen
---
"I believe you have to live the songs." Tammy Wynette
---
"A country song is a song about life." Alan Jackson
---
"Sing your death song and die like a hero going home." Tecumseh
---
"I close my eyes when I sing so I can feel the song better." Mahalia Jackson
---
"A great song will say how you feel better than you ever could." Taylor Swift
---
"A good song reminds us what we're fighting for." Pete Seeger
---
"If it was never new and it never gets old, then it's a folk song." Oscar Isaac
---
"One good thing about music, when it hits you, you feel no pain." Bob Marley
---
". . . everything in life responds to the song of the heart." Ernest Holmes
---
"There will be no song on our lips if there be no anguish in our hearts." Karl Barth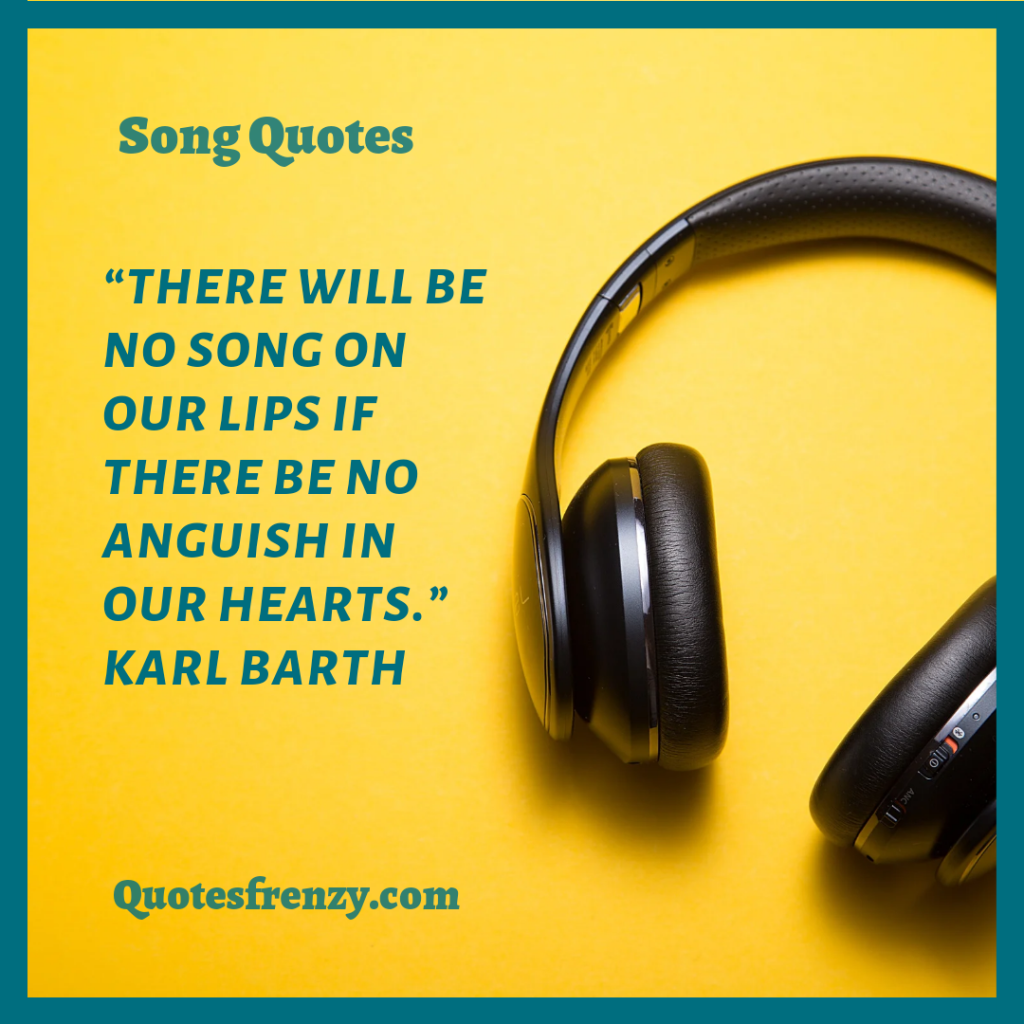 ---
"The universe corresponds to the nature of your song." Michael Beckwith
---
"Music is the soul of language." Max Heindel
---
"Song is the heroics of speech." Thomas Carlyle
---
That's The Amazing Thing about Music: There's a Song for Every Emotion. Can You Imagine the World With No Music? It Would Suck – Harry Styles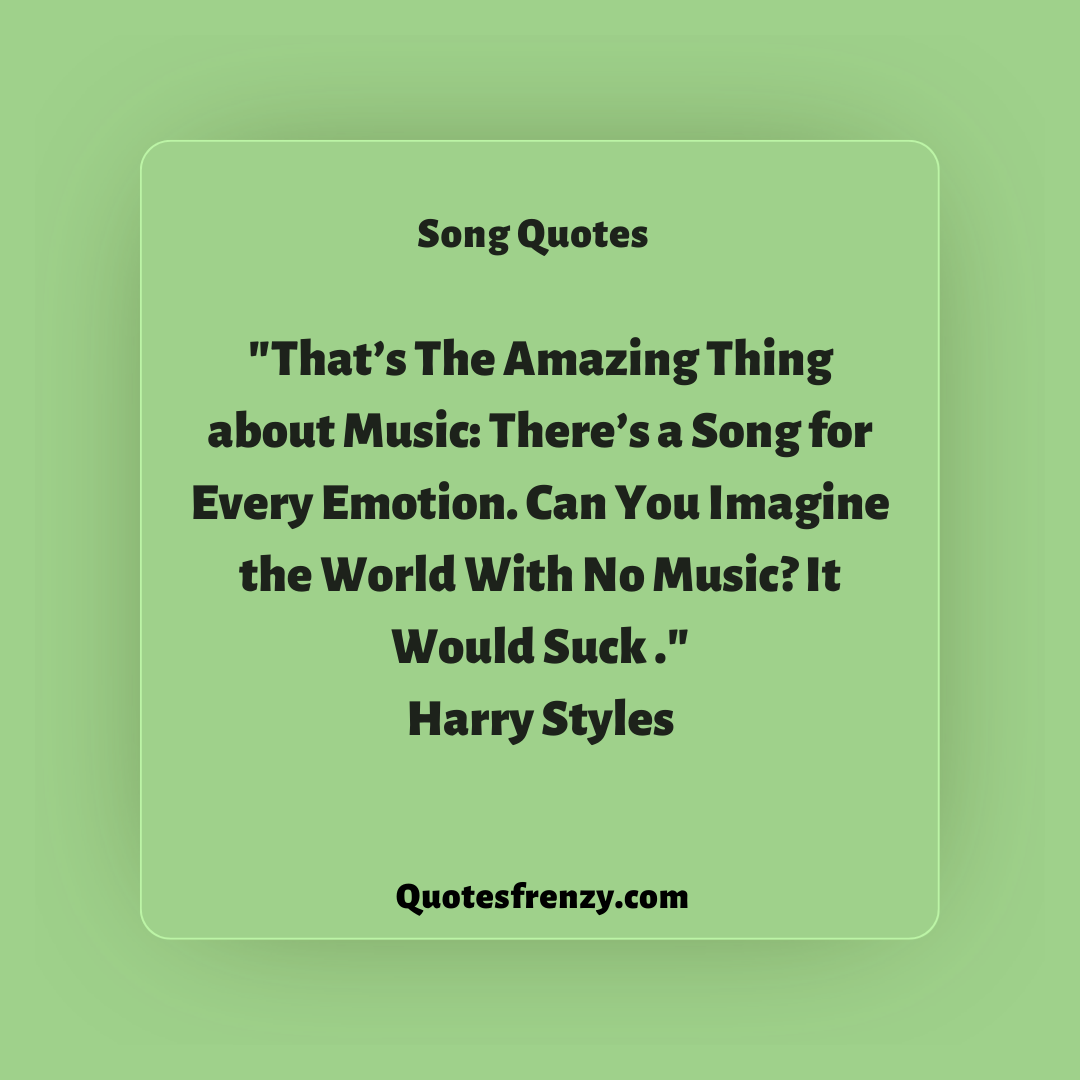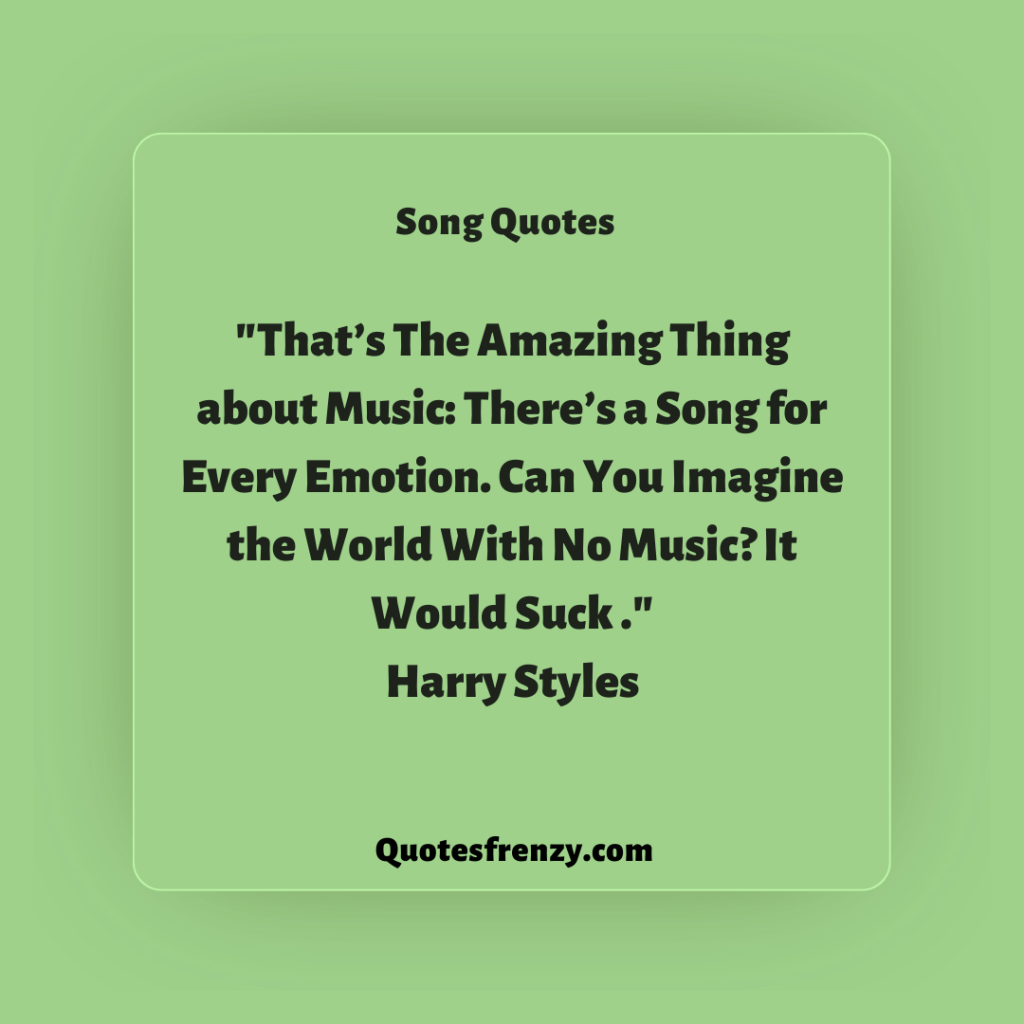 Some would say music is life, I also agree with them, this is because songs are part of our daily life. Every human emotion has been represented in some kind of song. Songs that represents emotions include joyful songs, thankful songs, love songs, praise songs, grief songs and many others. Songs have become part of us such that we cannot live without them.
I Don't Ask For the Meaning of the Song of a Bird or the Rising of the Sun on a Misty Morning. There they are, and they are Beautiful – Pete Hamil
Hamil recognizes the chirping patterns and sound of birds to be songs, actually, they are, though we do not get their message, we do feel good when we hear them. Songs are supposed to bring emotions and yes singing birds make us feel happy.
Who can deny the beauty of songs?  Every song is meant to help everyone, and there is no one who does not enjoy listening to songs.