Veterans Day Quotes-A considerable amount of men have sacrificed their lives in the service of their country.  Soldiers fight to protect their nation from threats or they may be required to assist other nations.  With this said, those brave men who return home are sometimes rewarded for their gallant effort.  Each year on November 11 America celebrates Veterans Day.  This day credits the service of all U.S military Veterans.  Tribute is paid to both the living and dead.  However, emphasis is placed on the living veterans.  The soldiers who managed to make it back home breathing.  The notion of Veterans Day has sparked lots of discussion throughout the years.  There are many views on the topic.  Consider these few Veterans Day Quotes associated with Veterans Day.
---
Famous Veterans Day Quotes
---
"Valor is stability, not of legs and arms, but of courage and the soul." Michel de Montaigne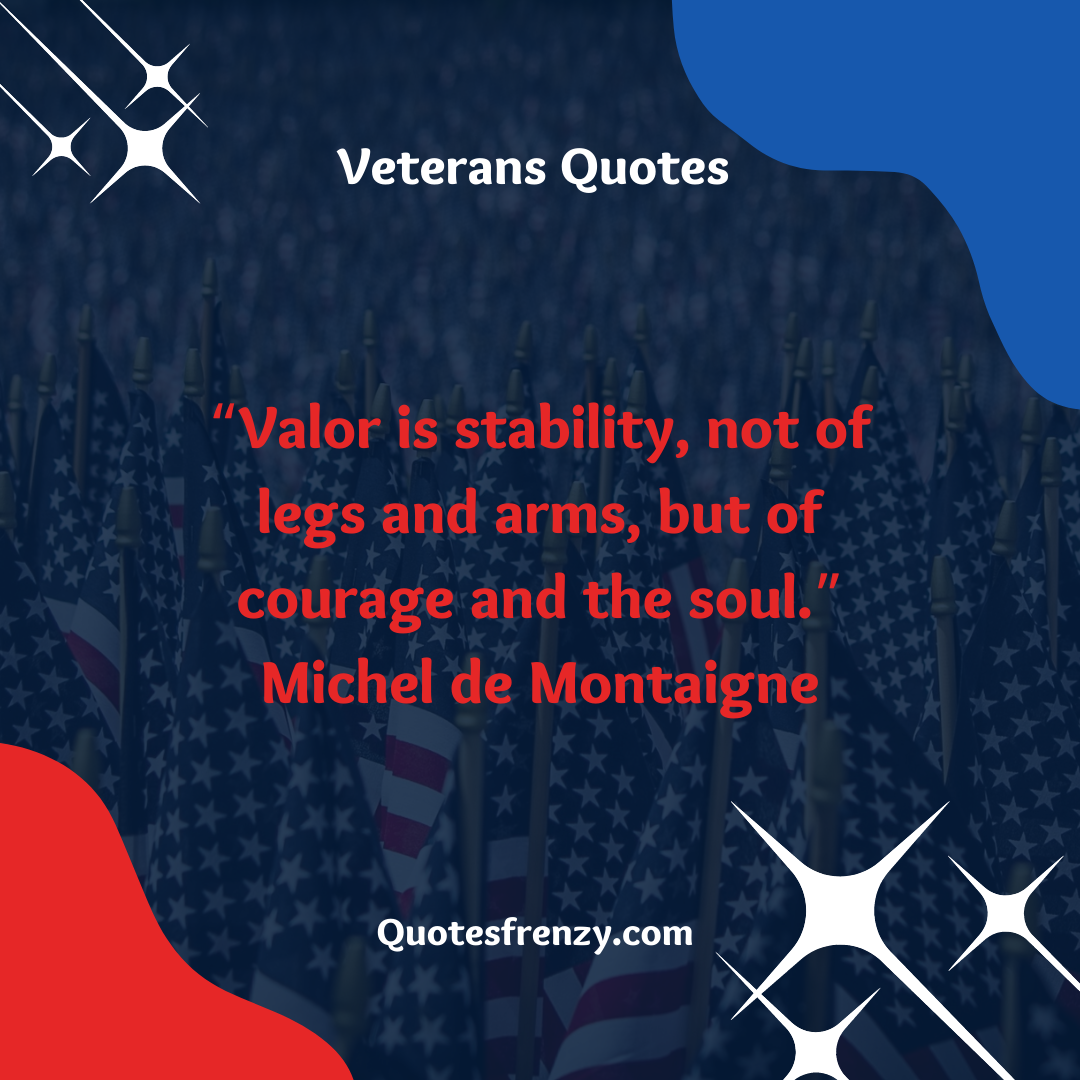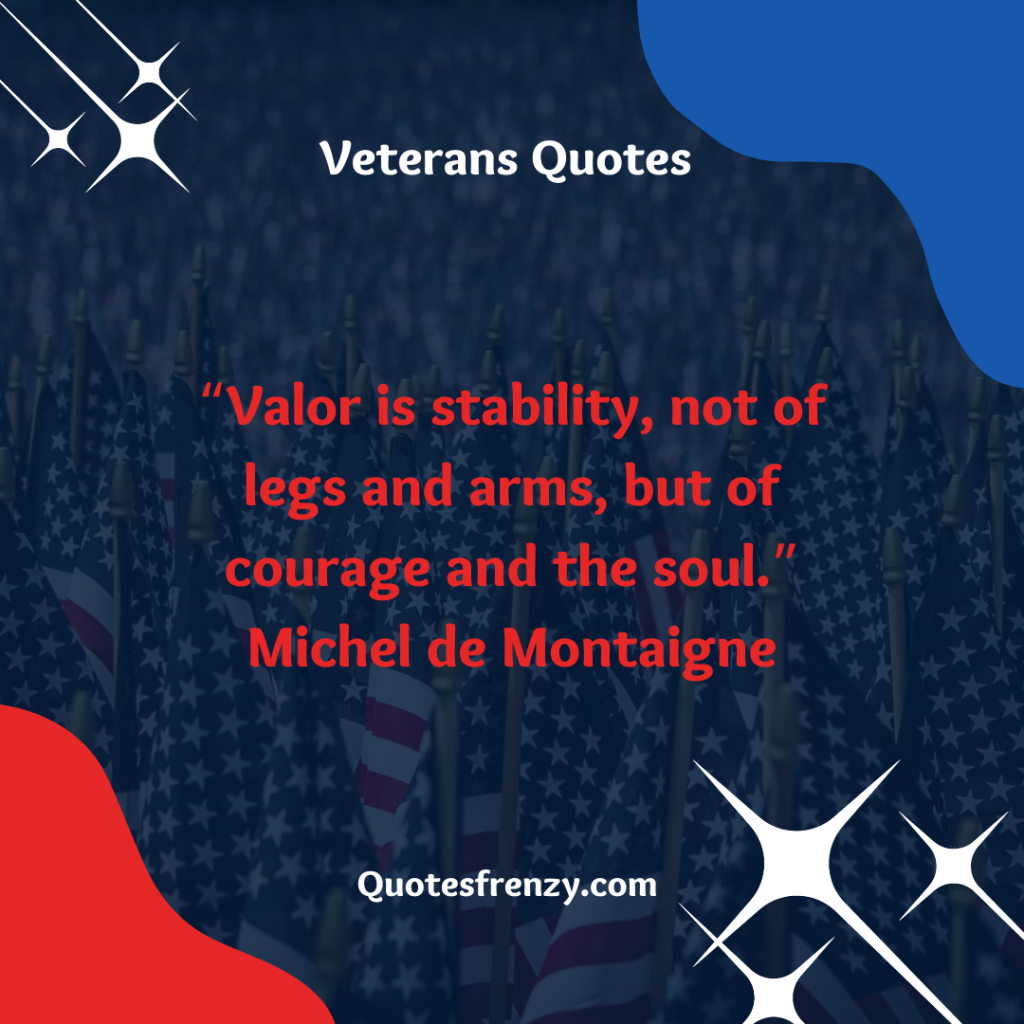 ---
Also read…
Happy 4th of July Quotes And Sayings
130+ Loyalty Quotes And Sayings
Top 75 Joe Biden Quotes And Sayings
---
"History does not long entrust the care of freedom to the weak or the timid." Dwight D. Eisenhower
---
"If there must be trouble, let it be in my day, that my child may have peace." Thomas Paine
---
"Courage is fear holding on a minute longer.George S." Patton
---
"In valor there is hope." Tacitus
---
"In war, there are no unwounded soldiers." Jose Narosky
---
"Freedom is never more than one generation away from extinction." Ronald Reagan
---
"Freedom is never free." Maya Angelou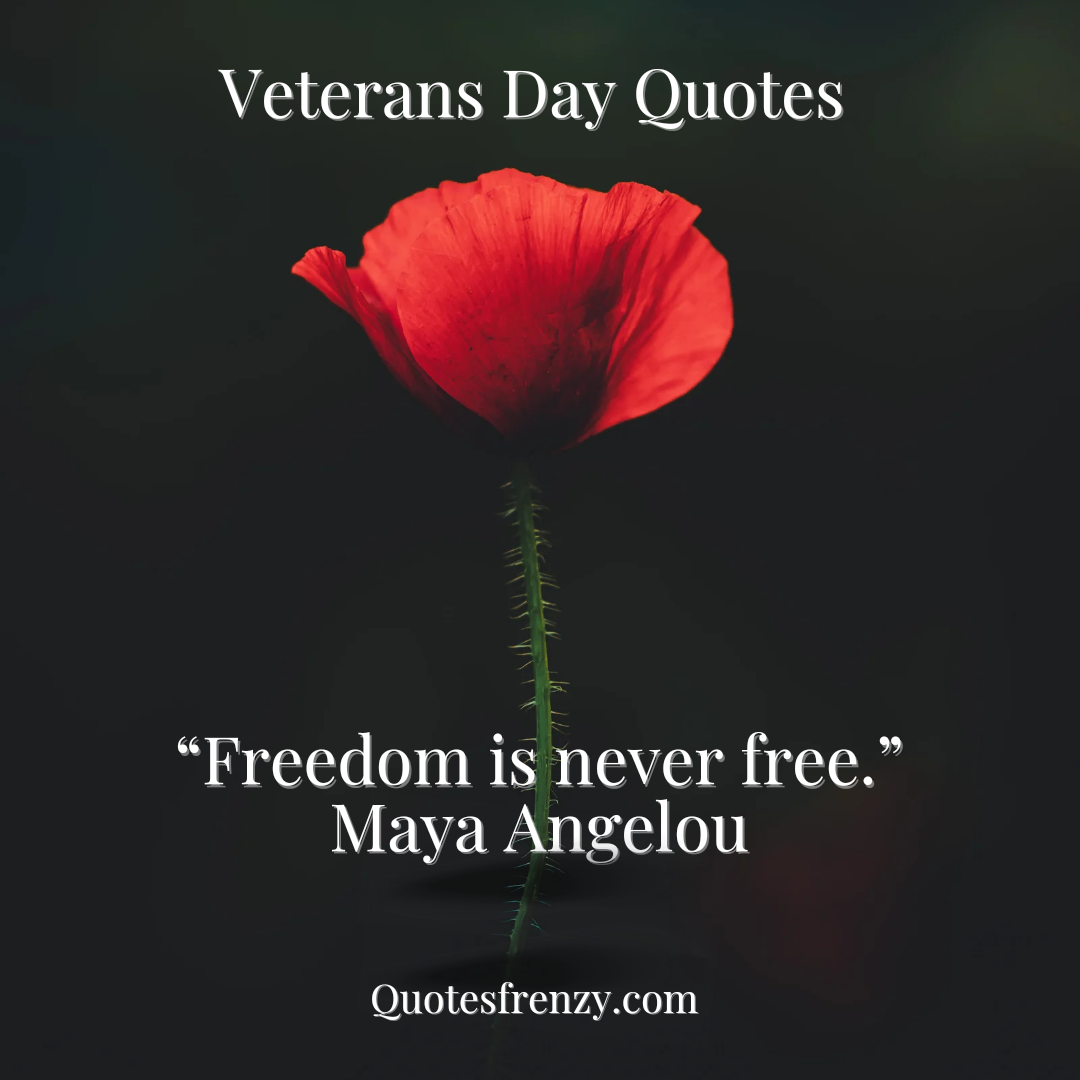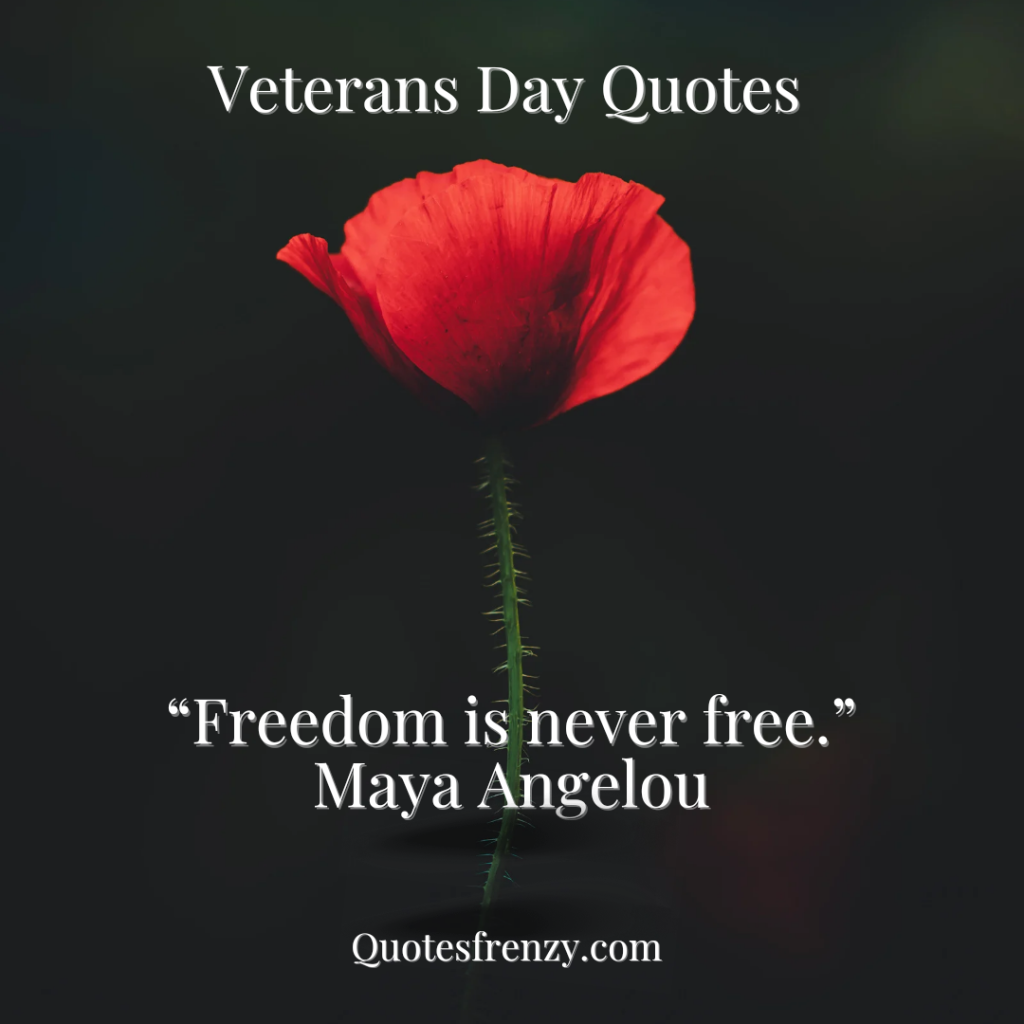 ---
"We make war that we may live in peace." Aristotle
---
"We are not retreating – we are advancing in another direction." Douglas MacArthur
---
"Have the courage to act instead of react." Oliver Wendell Holmes
---
"Soldiers generally win battles; generals get credit for them." Napoleon Bonaparte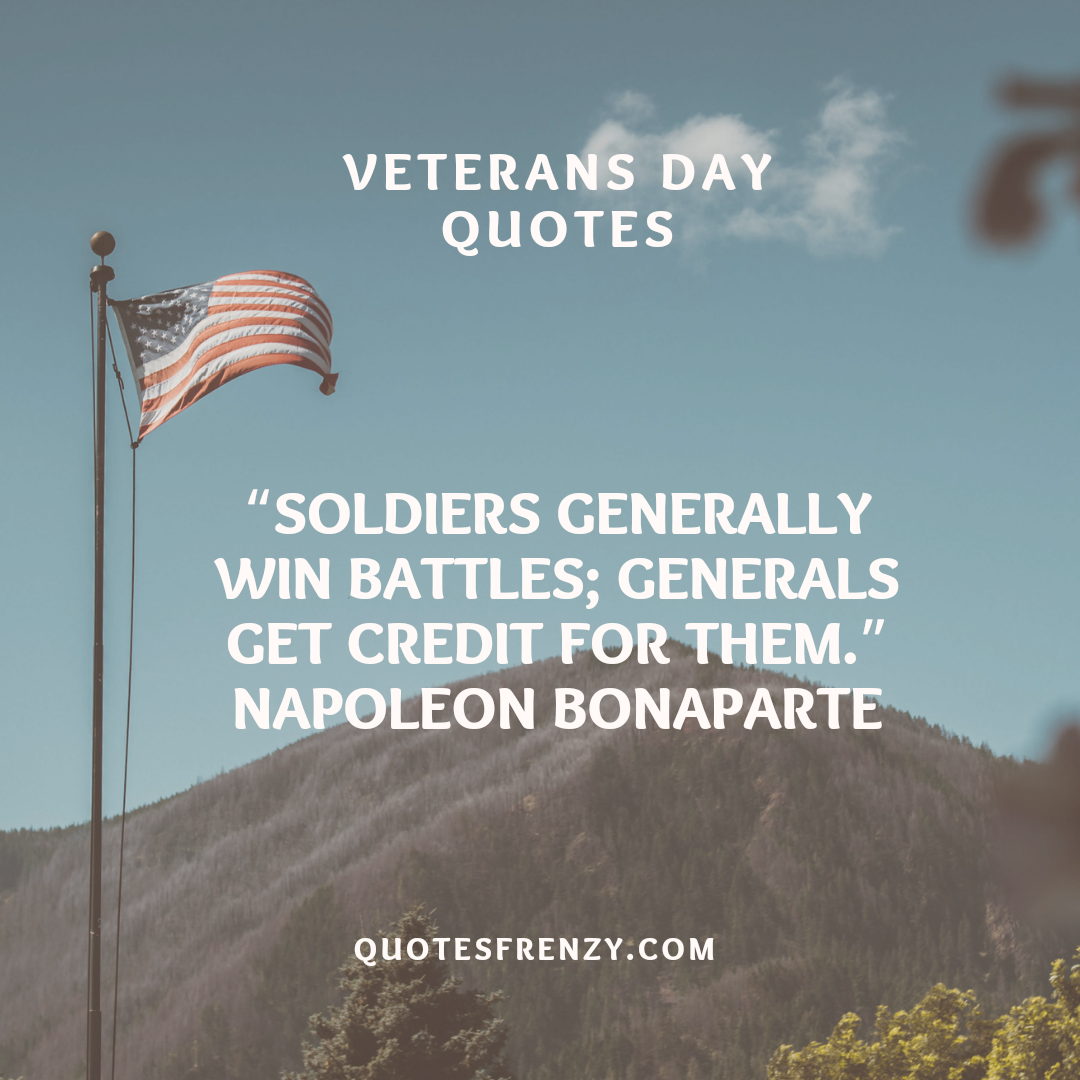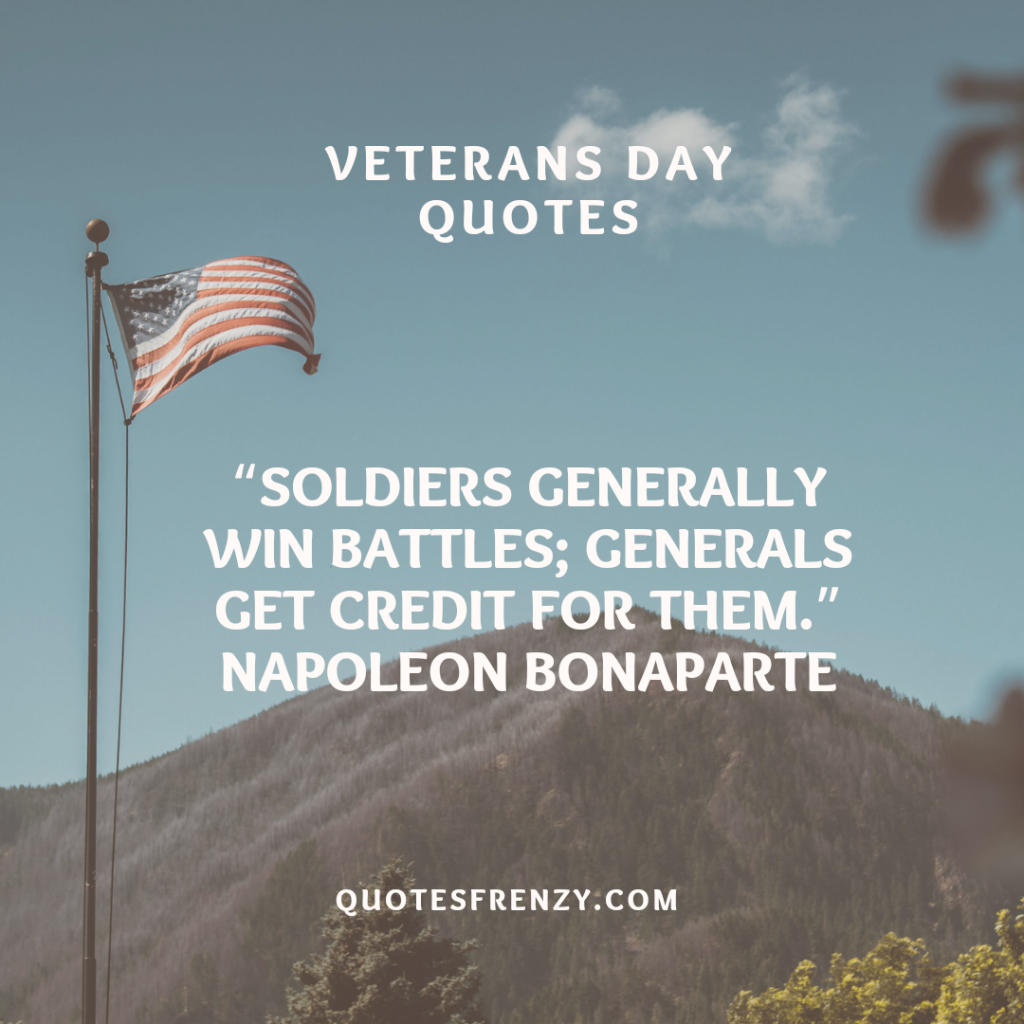 ---
"These are the times that try men's souls." Thomas Paine
---
"Either war is obsolete, or men are." R.Buckminster Fuller
---
"We have met the enemy and they are ours." Oliver Hazard Perry
---
"There never was a good war or a bad revolution." Edward Abbey
---
"So shines a good deed… in a weary world." Gene Wilder
---
"They may take our lives, but they'll never take our freedom!" Mel Gibson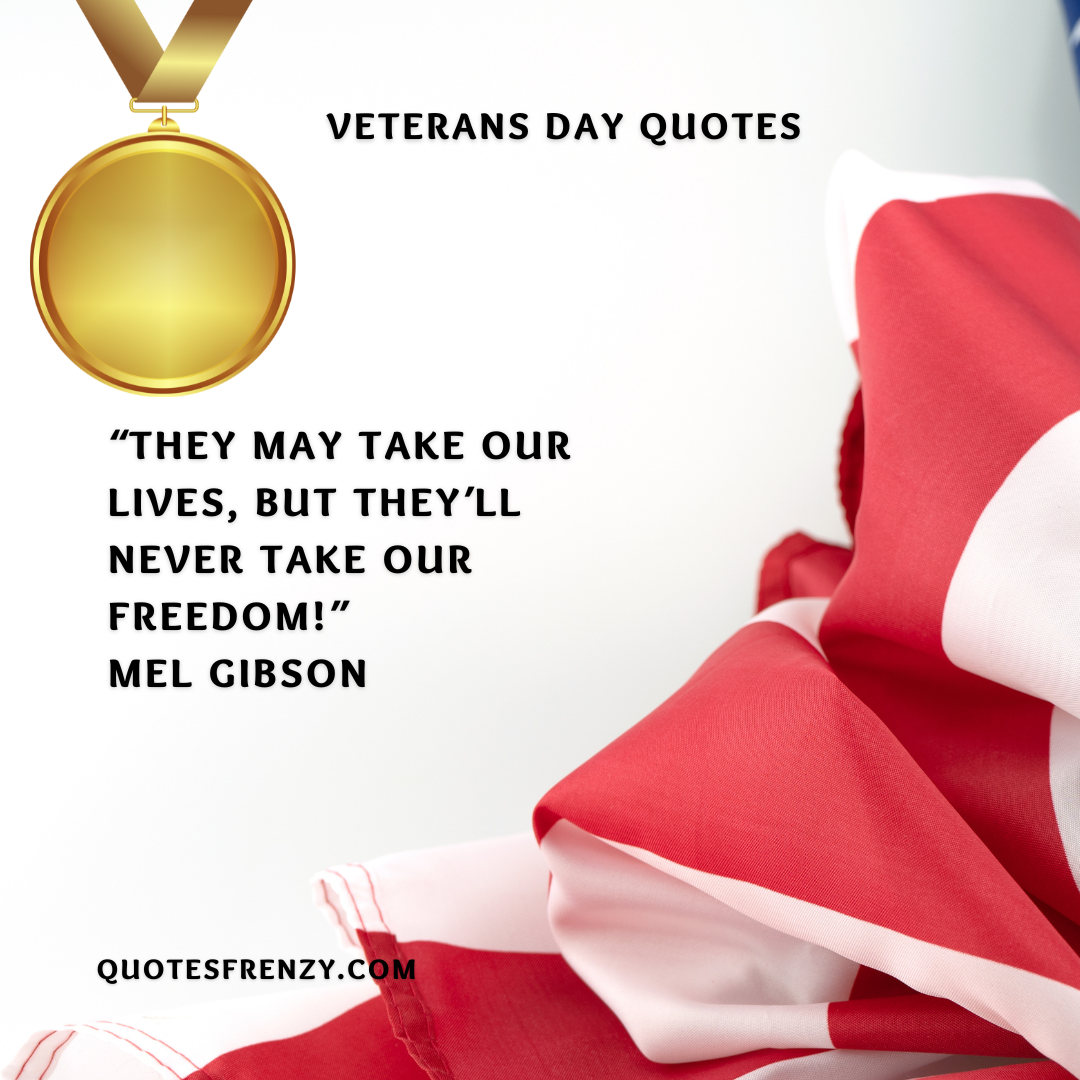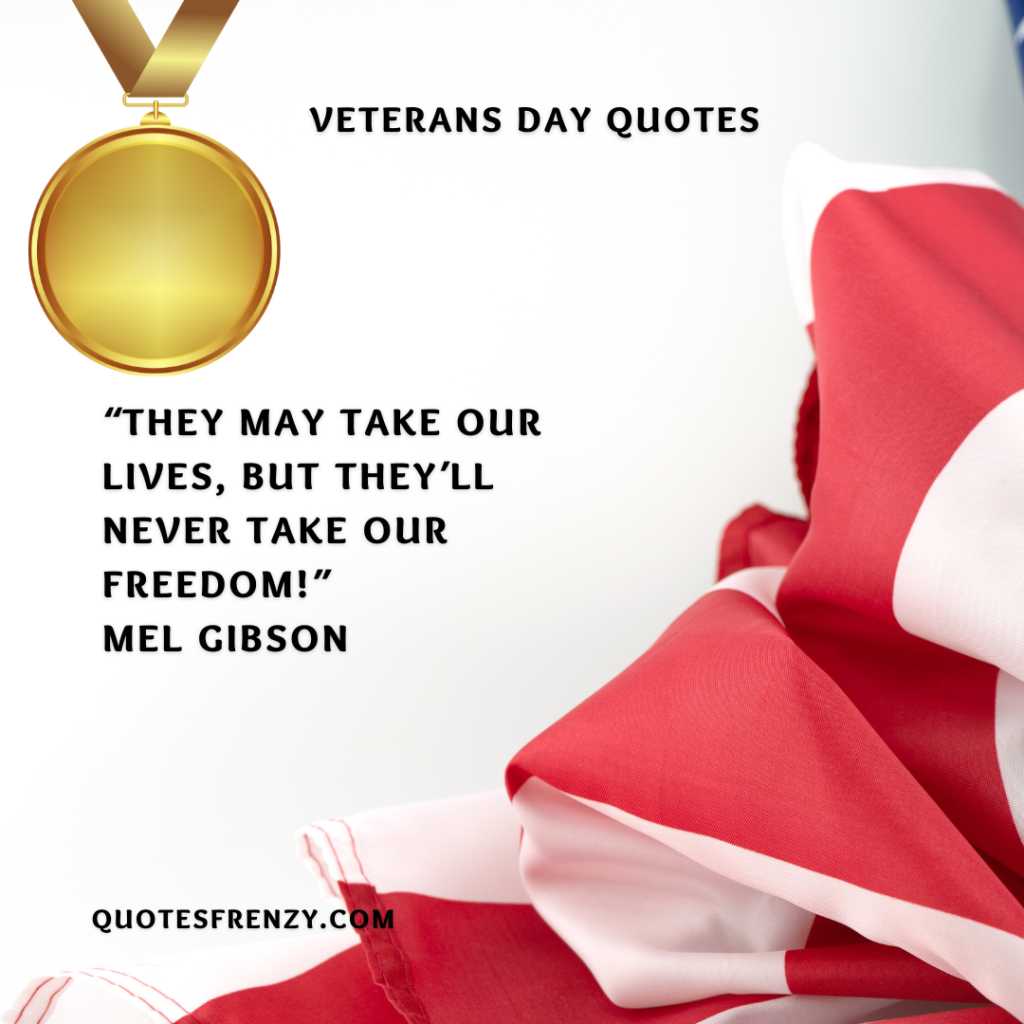 ---
"A soldier is he whose blood makes the glory of the general." Henry George Bohn
---
"Never give in except to convictions of honor and good sense." Winston Churchill
---
"Freedom lies in being bold." Robert Frost
---
"Courage is being scared to death… and saddling up anyway." John Wayne
---
"Old soldiers never die; they just fade away." Douglas MacArthur
---
"If you're not gonna pull the trigger, don't point the gun." James Baker
---
"The guts carry the feet, not the feet the guts." Miguel de Cervantes
---
"It is foolish and wrong to mourn the men who died. Rather we should thank God that such men lived" George S. Patton – Veterans Day Quotes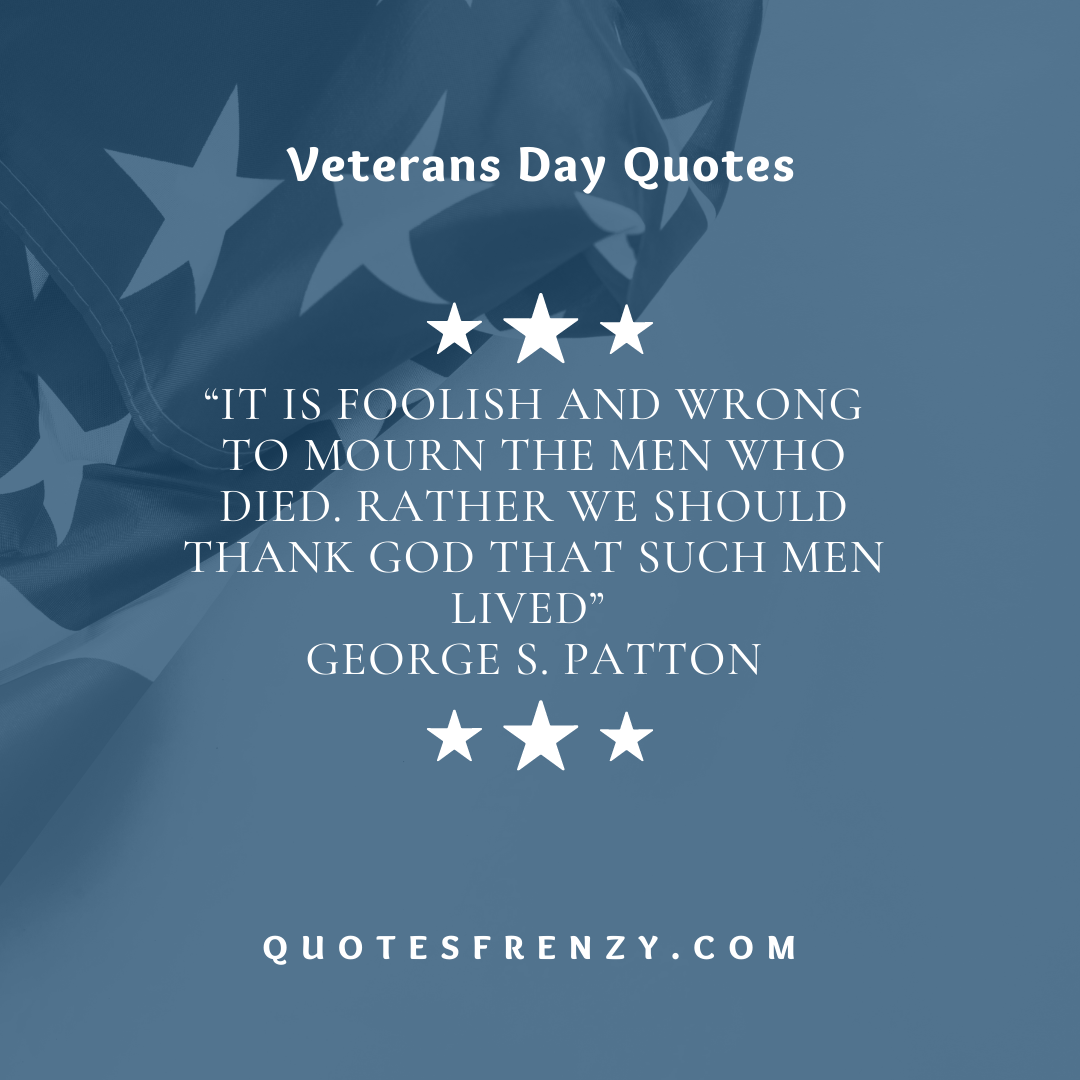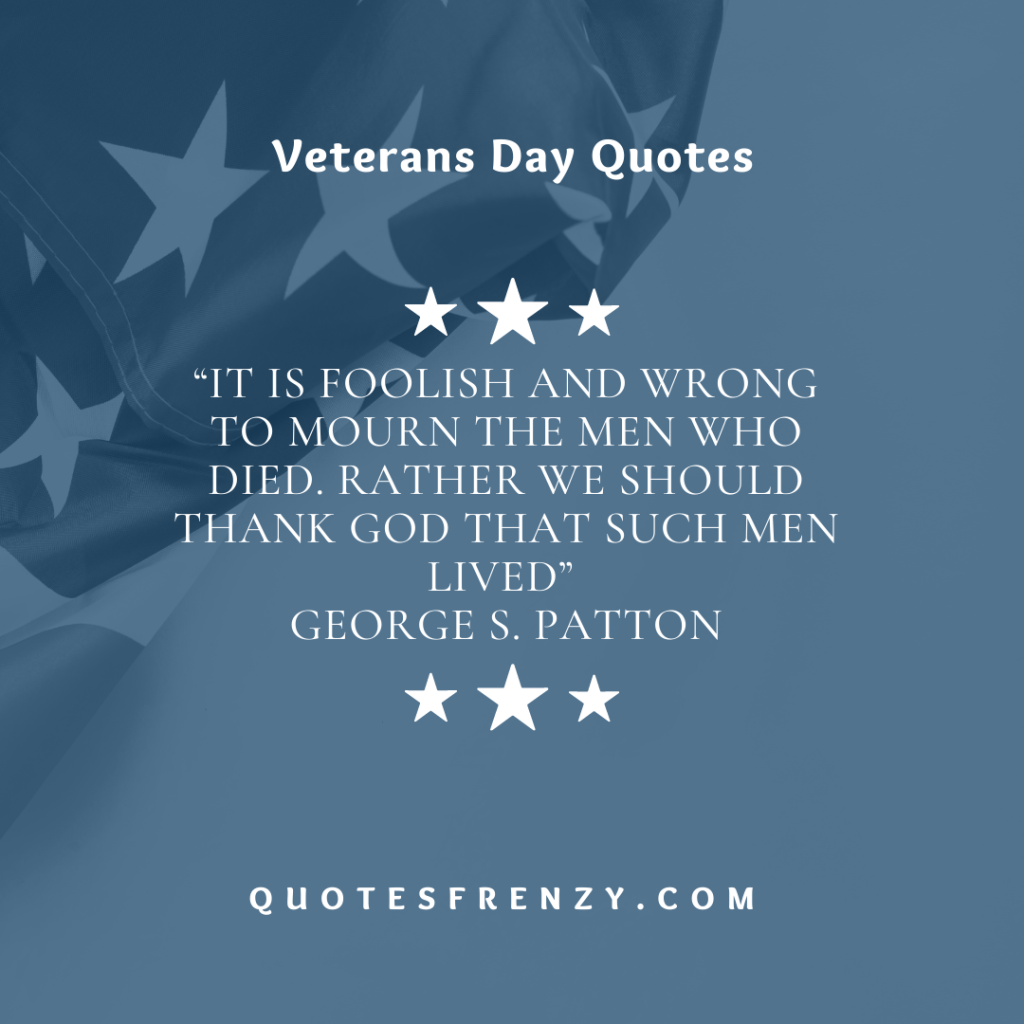 The battles fought by soldiers will directly impact on the lives of each citizen they represent.  Soldiers bravely step forward to do what many are afraid to do.  Many commit the ultimate sacrifice. They give their lives so their country and its citizens can be safe.  Mr. Patton believes such individuals are worthy of praise.  Those who died on the battled field should not be grieved but we need to be grateful that these men were around and willing and able to fight.  If they were not present many other innocent people may be deed too.
"I go where the sound of thunder is" Alfred M. Gray – Veterans Day Quotes
These words tell you what sort of individual you are dealing with.  Alfred M. Gray Jr is a former United States Marine Corps general.  He speaks of the sound of thunder which is a representative of the load explosive sounds heard during war.  Shots being fired, bombs going off and these brave men charge forward.  They do this when the average man may look to flee.
"When soldiers have been baptized in the fire of a battle-field, they have all one rank in my eyes" Napoleon Bonaparte – Veterans Day Quotes
The job of being a soldier is highly dangerous.  Regardless of your military rank once you are on the battle field there is the very likely chance that you can be killed.  The shots, bombs or any other weapon used by the opposing army do not select their target based on rank.  Bonaparte knew this he was a French military leader and would be familiar with the art of war.