Wedding Anniversary Quotes: It is probably your wedding anniversary which is why you are here. Searching good quotes to wish your better half this anniversary with absolutely beautiful Wedding Anniversary Quotes. There are always these awesome words which you think will make your partner happy. So it can be great for you if prepare a nice wedding anniversary card and fill it up with the quotes. Quotes that will tell your partner how beautiful is your love for them. These quotes can also be used to wish your best friend on their wedding anniversary. So here I have listed some beautiful Wedding Anniversary Quotes below
---
Famous Wedding Anniversary Quotes
---
"A successful marriage requires falling in love many times, always with the same person." Mignon McLaughlin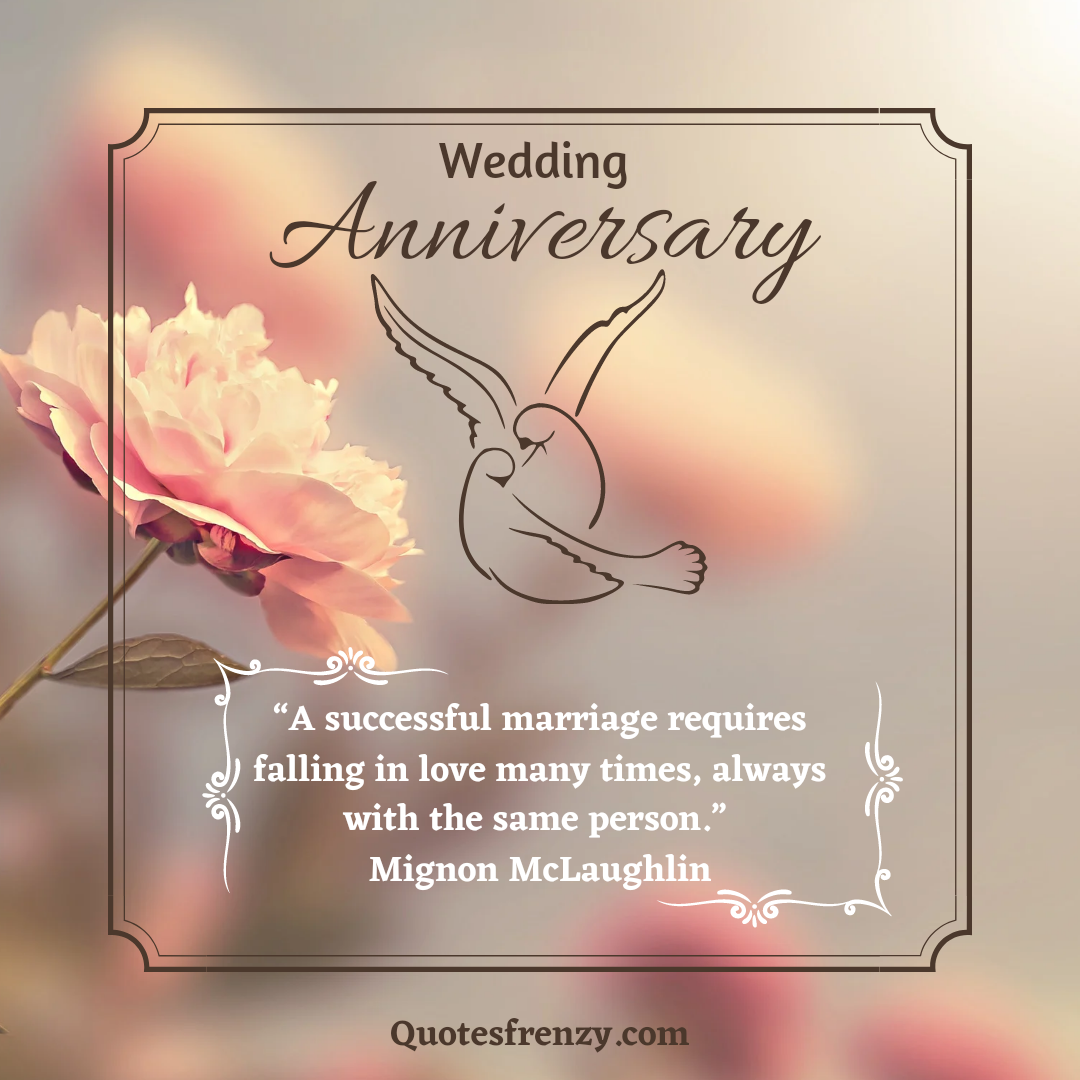 ---
Also read…
Best 200+ Anniversary Quotes and Sayings
---
"The richest love is that which submits to the arbitration of time." Lawrence Durrell
---
"One should believe in marriage as in the immortality of the soul." Honore de Balzac
---
"My most brilliant achievement was my ability to be able to persuade my wife to marry me." Winston Churchill
---
"More marriages might survive if the partners realized that sometimes the better comes after the worse." Doug Larson
---
"The bonds of matrimony are like any other bonds – they mature slowly." Peter De Vries
---
"The secret of a happy marriage remains a secret." Henny Youngman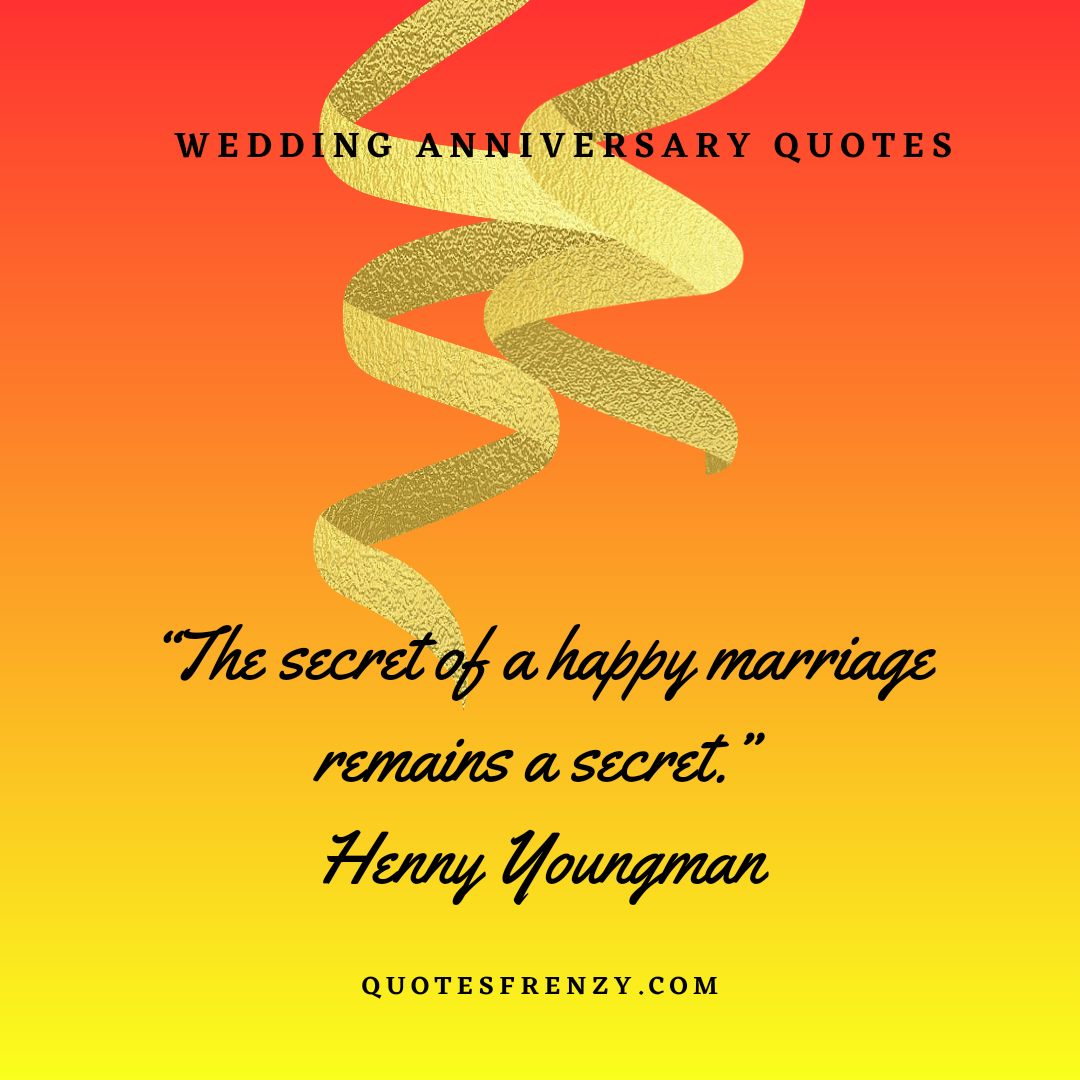 ---
"A good marriage would be between a blind wife and a deaf husband." Michel de Montaigne
---
"For you wake one day, look around and say, somebody wonderful married me." Fred Ebb
---
"We come to love not by finding the perfect person, but by learning to see an imperfect person perfectly." Sam Keen
---
"A wedding anniversary is the celebration of love, trust, partnership, tolerance and tenacity. The order varies for any given year." Paul Sweeney
---
"The difficulty with marriage is that we fall in love with a personality, but must live with a character." Peter De Vries
---
"Only choose in marriage a man whom you would choose as a friend if he were a woman." Joseph Joubert
---
"No matter how much cats fight, there always seem to be plenty of kittens." Abraham Lincoln
---
"I love being married. It's so great to find that one special person you want to annoy for the rest of your life." Rita Rudner
---
"Let us be grateful to people who make us happy, they are the charming gardeners who make our souls blossom." Marcel Proust
---
"Love is that condition in which the happiness of another person is essential to your own." Robert A. Heinlein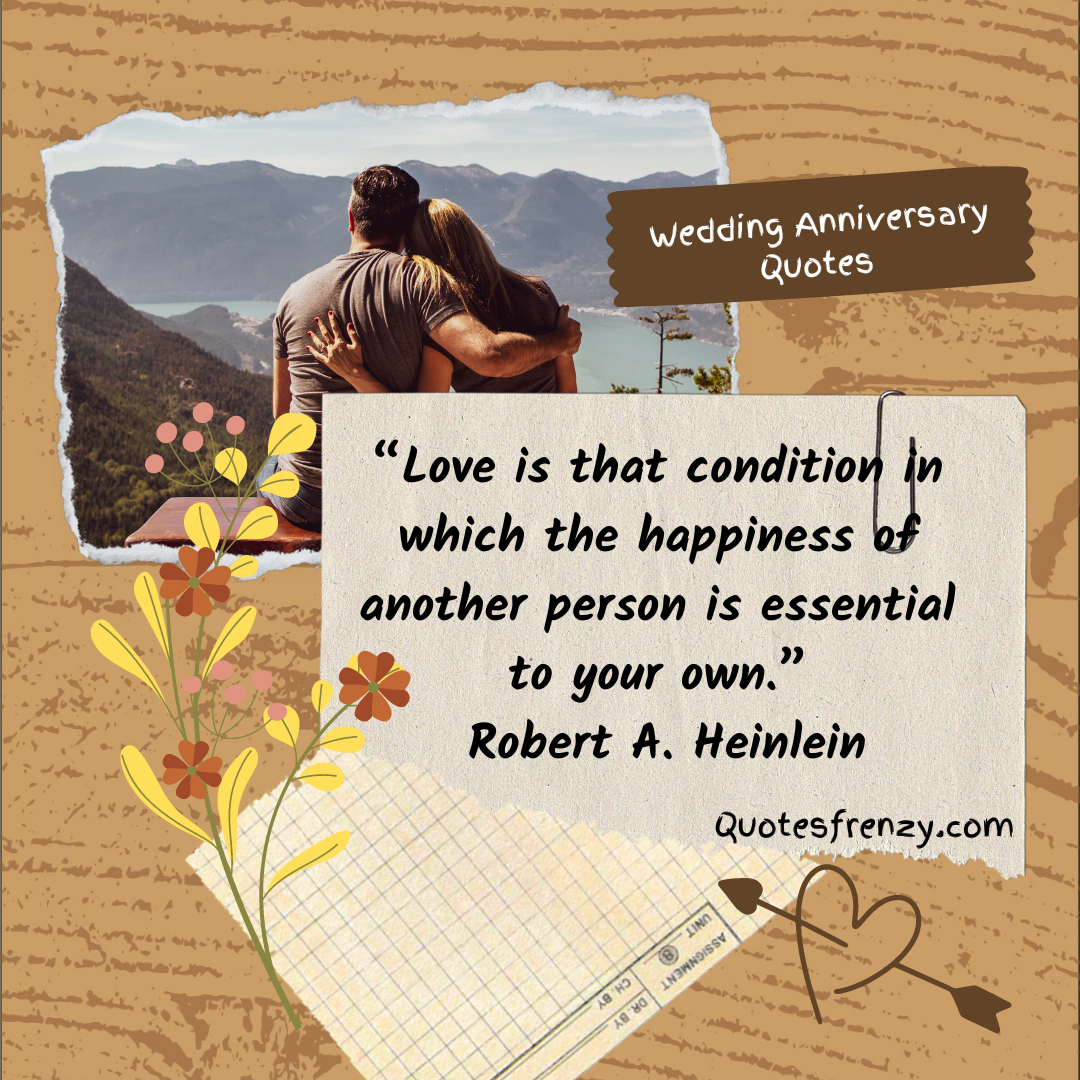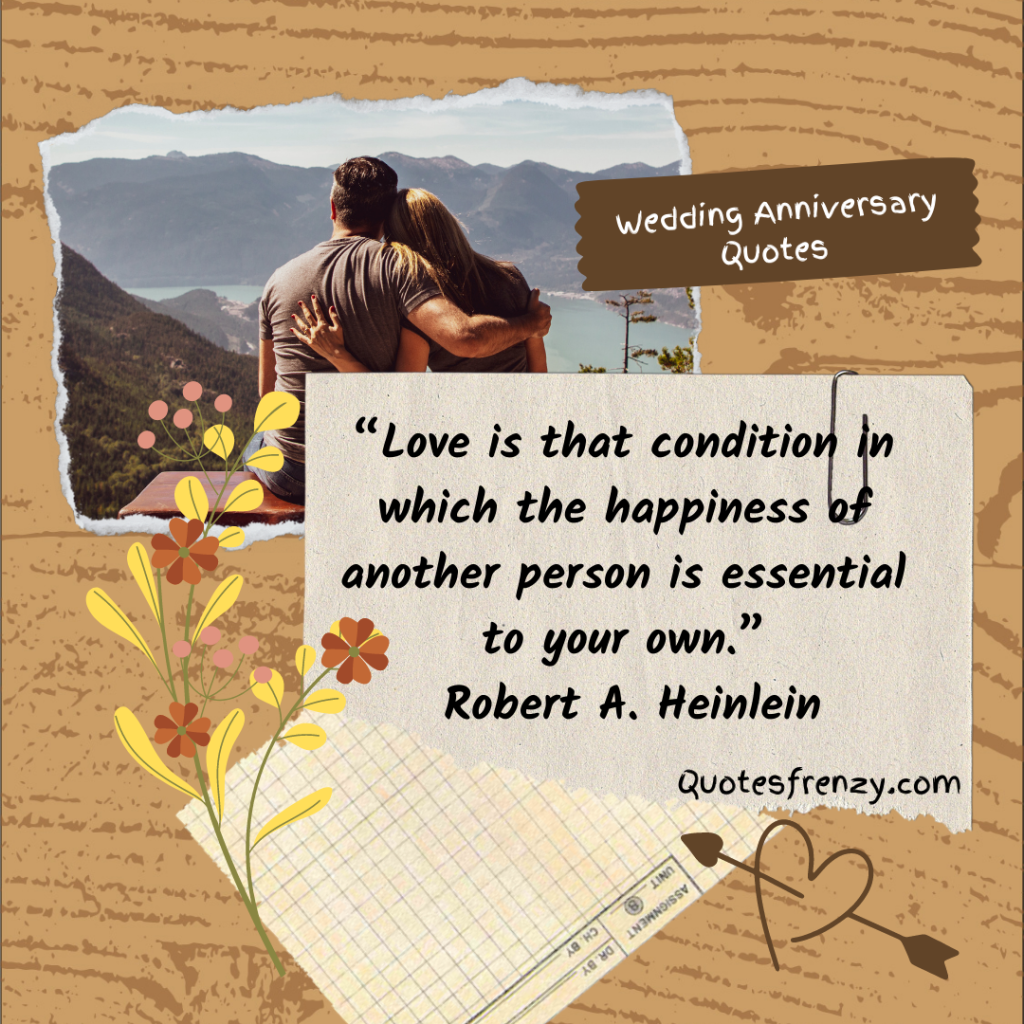 ---
"If I had a flower for every time I thought of you…I could walk through my garden forever." Alfred Lord Tennyson
---
"Two minds with but a single thought, two hearts that beat as one." Jasper Fforde
---
"Our marriage has always been a 50-50 proposition – with the possible exception of closet space." Gene Perret
---
"Wedded love is founded on esteem." Elijah Fenton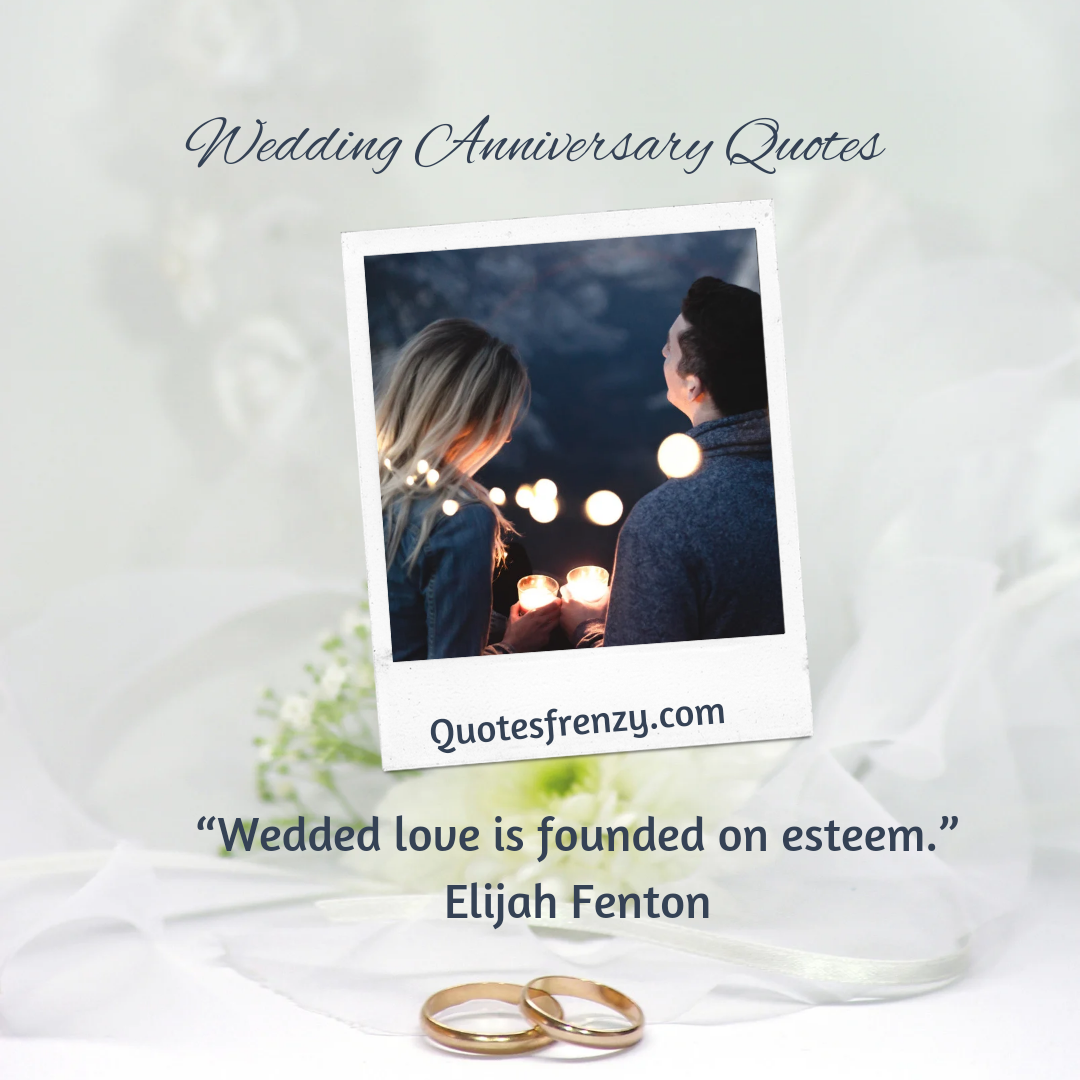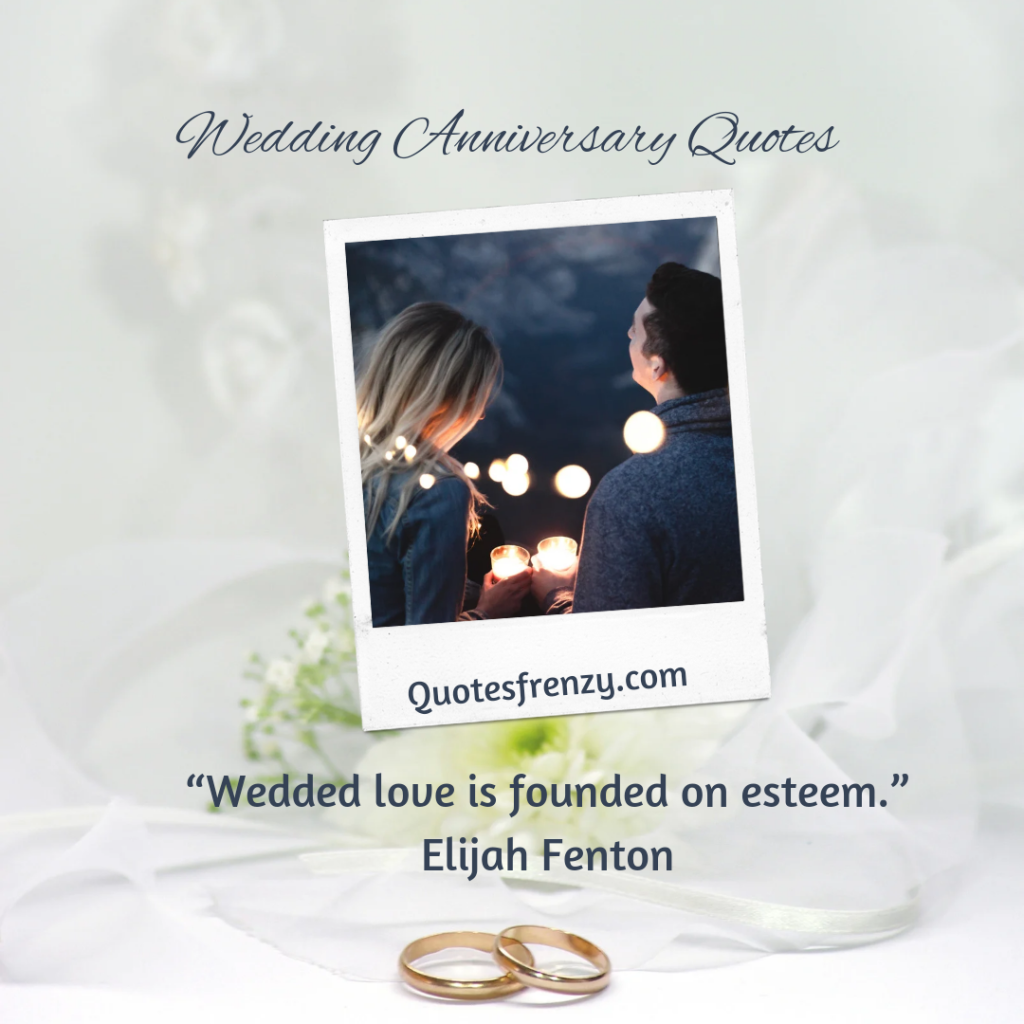 ---
"Heaven give you many, many merry days." William Shakespeare
---
"You are my heart, my life, my one and only thought." Arthur Conan Doyle
---
"Married life teaches one invaluable lesson: to think of things far enough ahead not to say them." Jefferson Machamer
---
"The concept of two people living together for 25 years without a serious dispute suggests a lack of spirit only to be admired in sheep." A. P. Herbert
---
This wedding anniversary is made for your partner. Say it or text it on his/her phone make feel really special. She'll realize how important he/she is in your life. You can also prepare a nice comfy card and attach some quotes on it.
---
There is no more lovely, friendly and Charming relationship, communion or company than a good marriage.- Martin Luther
Martin Luther very briskly describes what a pure and lovely relationship is made up of. The partners must be charming, responsive and friendly with each other. This above-mentioned quote has everything which the relationship requires. This can be a very good quote to express your feeling towards your partner. So wrap this quote in the fashionable card and wish him/her a very happy wedding anniversary.
Some people ask the secret of our long marriage. We take the time to go to a restaurant two times a week. A little Candlelight, dinner, soft music and dancing. She goes Tuesdays, I go Fridays. – Henny Youngman     
The very often question you might encounter is How you maintain you marriage life so good? Now the above quote is an answer to all the questions. Tell them how regular you are with your partner, How much you love your partner. How often you still go on a date with her. Even after the marriage what all plans you make so that you two can spend some lonely time. Tell them that the anniversary is the reminder of why toy loves and married this person.