25 Yearbook Quotes-Noy your high school days are coming to an end. Have you thought of a good year book quote.? One that describes your personality and lets everyone remember you whenever they read it? Does it relate to the type of person you want to be remembered as? These yearbook quotes are specially analyzed to help you select the best that will send you off.
---
I am actually not funny, I am just really mean and people think am joking – Alixandra Garcia
So once in a while you have felt like these are people who have misunderstood your personality. This is the best chance to set things straight. The year book quote above  is an example of a mistaken identity. Alexandria knows she is mean, the rest of the school thought she was funny. She took the only chance she had to explain herself to the rest of the world. However, I wonder if this will profit her friends in the future.
---
25 Yearbook Quotes
---
"It is better to be respected than it is to be popular. Popularity ends on yearbook day, but respect lasts forever." John Bytheway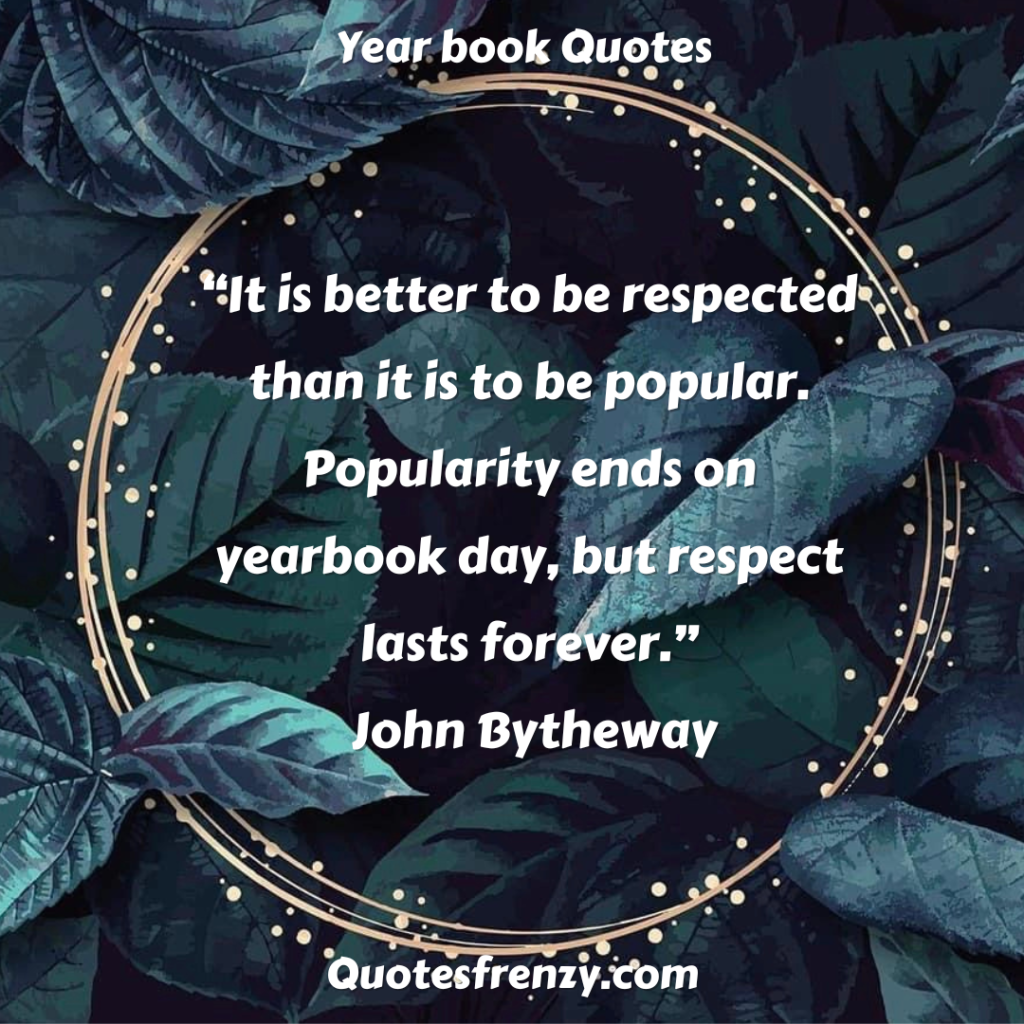 ---
"I think my favorite thing is when people send me Instagram photos of people's yearbooks, and one guy will put "Are you calling me a liar?," and his friend will have "I ain't calling you a truther." And those are people's actual yearbook quotes. That's so amazing." Drake Bell
---
"There are two kinds of people in this world: those who know where their high school yearbook is and those who do not." Sloane Crosley
---
Happy Anniversary Quotes And Sayings
---
"In my fifth-grade yearbook – it's right up there on the top shell – the last page says, "What about your future?" and under my name, it says, "When I grow up, I would like to be either an actor, a radio announcer, an impersonator or a comedian." George Carlin
---
"I was home schooled, so I never got a yearbook." Lucy Hale
---
"I have a hard time watching the shows now. It is like opening up a yearbook when you were in junior high. I think everybody looks back at their photos and cringe, and I get to experience it with everybody else in the world looking at mine." Mark-Paul Gosselaar
---
"My father…made us shop at Goodwill. I found things to wear and got Best Dressed (in the yearbook) two years in a row. I had lemons, so I made lemonade." Nick Cannon
---
"In my 8th grade yearbook picture I had on 2 chains." 2 Chainz
---
"I saw the yearbook picture. There was six of them! I ain't have six friends in high school, I don't have six friends now! That's three on three with a half court." Chris Rock
---
Photography Quotes And Sayings
---
"I definitely wasn't cool in high school. I really wasn't. I did belong to many of the clubs and was in leadership on yearbook and did the musical theater route, so I had friends in all areas, but I certainly did not know what to wear, did not know how to do my hair, all those things." Dianna Agron
---
"oh, my God," I whispered. "But how did they get my photo? Alex tapped his mouth with his thumb. "That …book with everyone's picture in it, that you have in high school." "Yearbook," I said. Was he trying to be funny? But of course he was right; that's exactly where it was from." L.A. Weatherly
---
"Suddenly, it's all too much. Bryn and the bump watch. Vanessa with my high school yearbook. The idea that nothing's sacred. Everything's fodder. That my life belongs to anyone but me." Gayle Forman
---
"Popularity ends on yearbook day-Respect stays forever." John Bytheway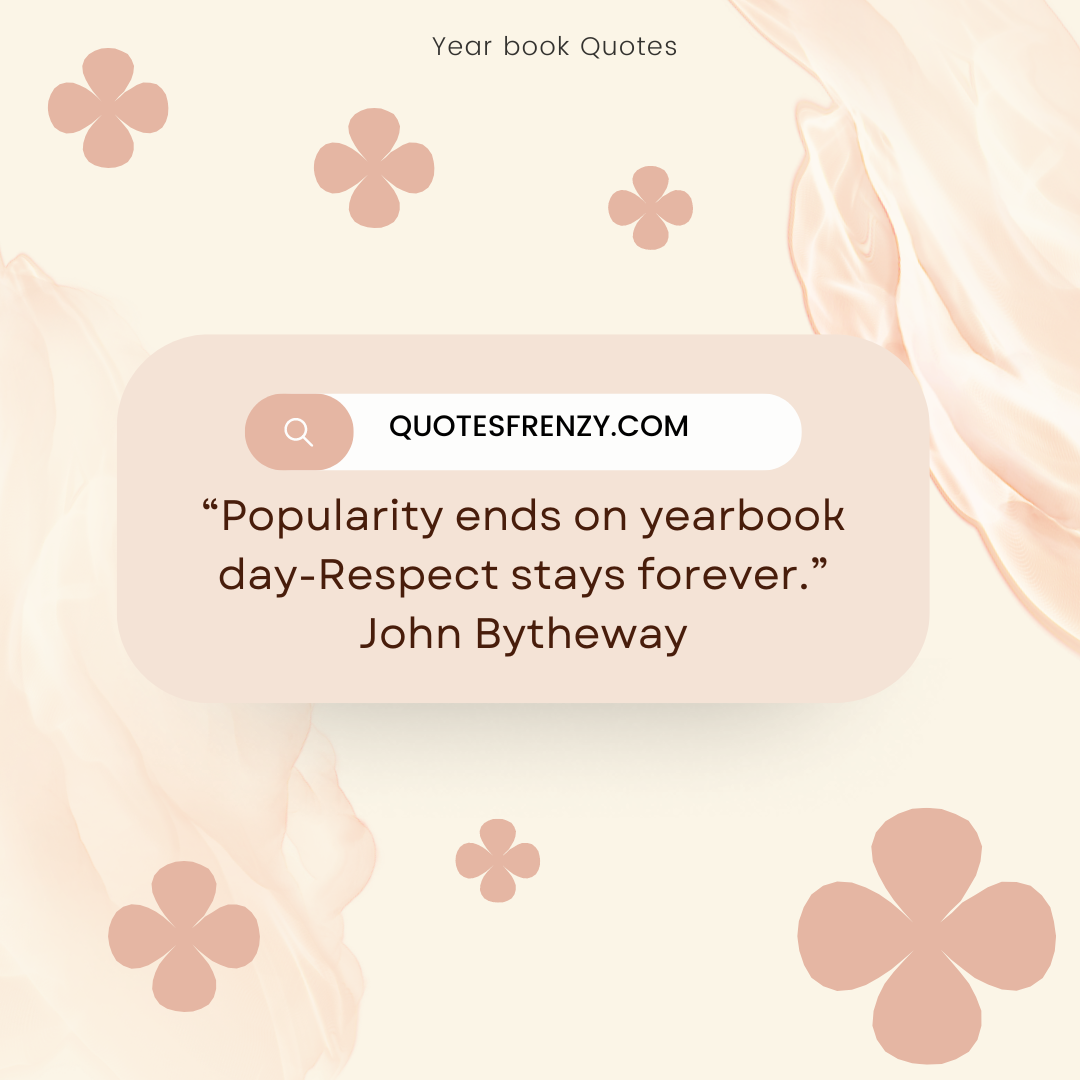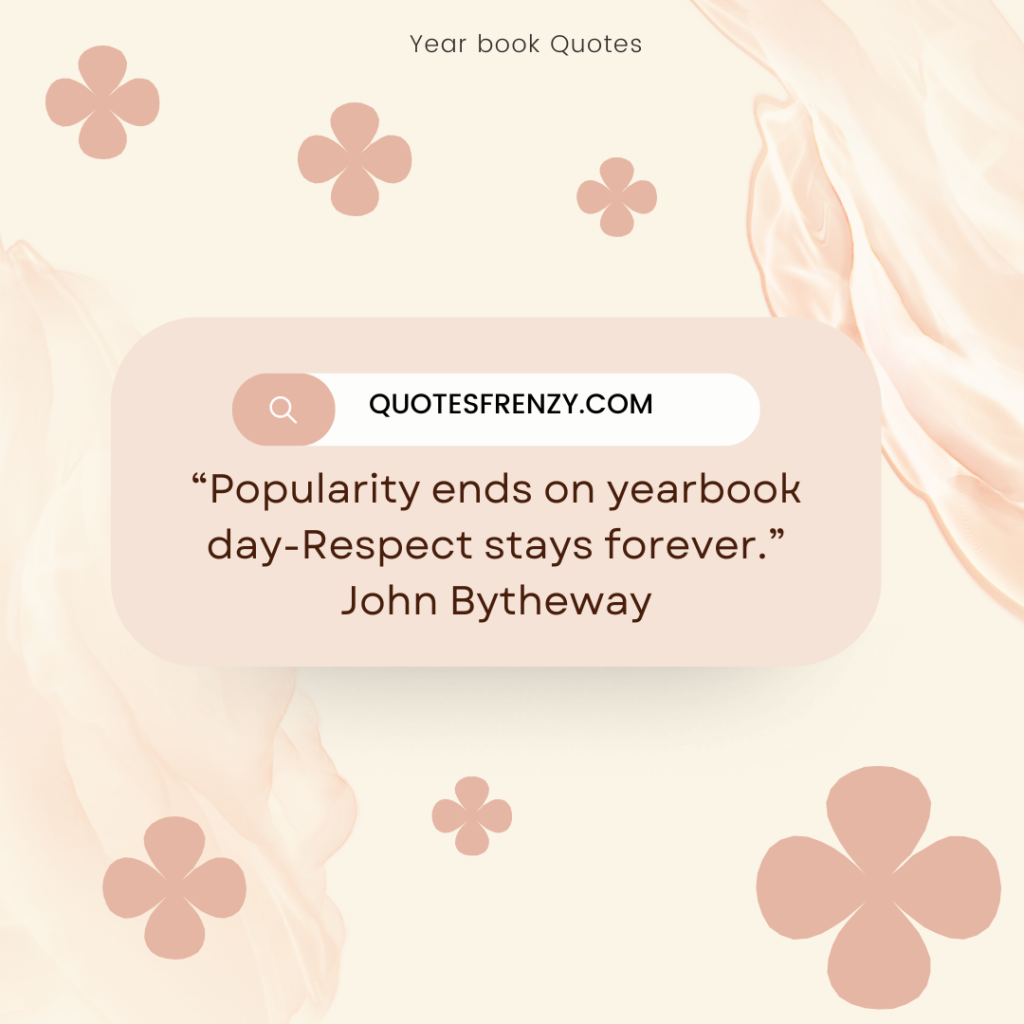 ---
"I grew up in a suburb of Baltimore with an extremely high concentration of Jewish families – where the Levys and Cohens in the high school yearbook went on for pages, where I could count far more temples than I ever could churches. Anti-Semitism, in our cultural biodome, was mostly an abstract concept." Jeffrey Kluger
---
"There's a picture of my dorm room in the college yearbook as the most messy, most disgusting room on the Harvard campus, where I was an undergraduate." Brian Greene
---
---
"I don't Twitter, I don't MyFace, I don't Yearbook," Bill Belichick
---
"In fact almost everyone in my yearbook wrote the same thing to me: "To weird girl, you're nice." I didn't think it was bad. When I showed my mother she said, "Everyone is different." Being weird became my tool. I'm weird; that's who I am. It was my coping badge." Jenny Lawson
---
"The yearbook voted me most likely to be scraped off an onramp by a puking fireman." Christopher Titus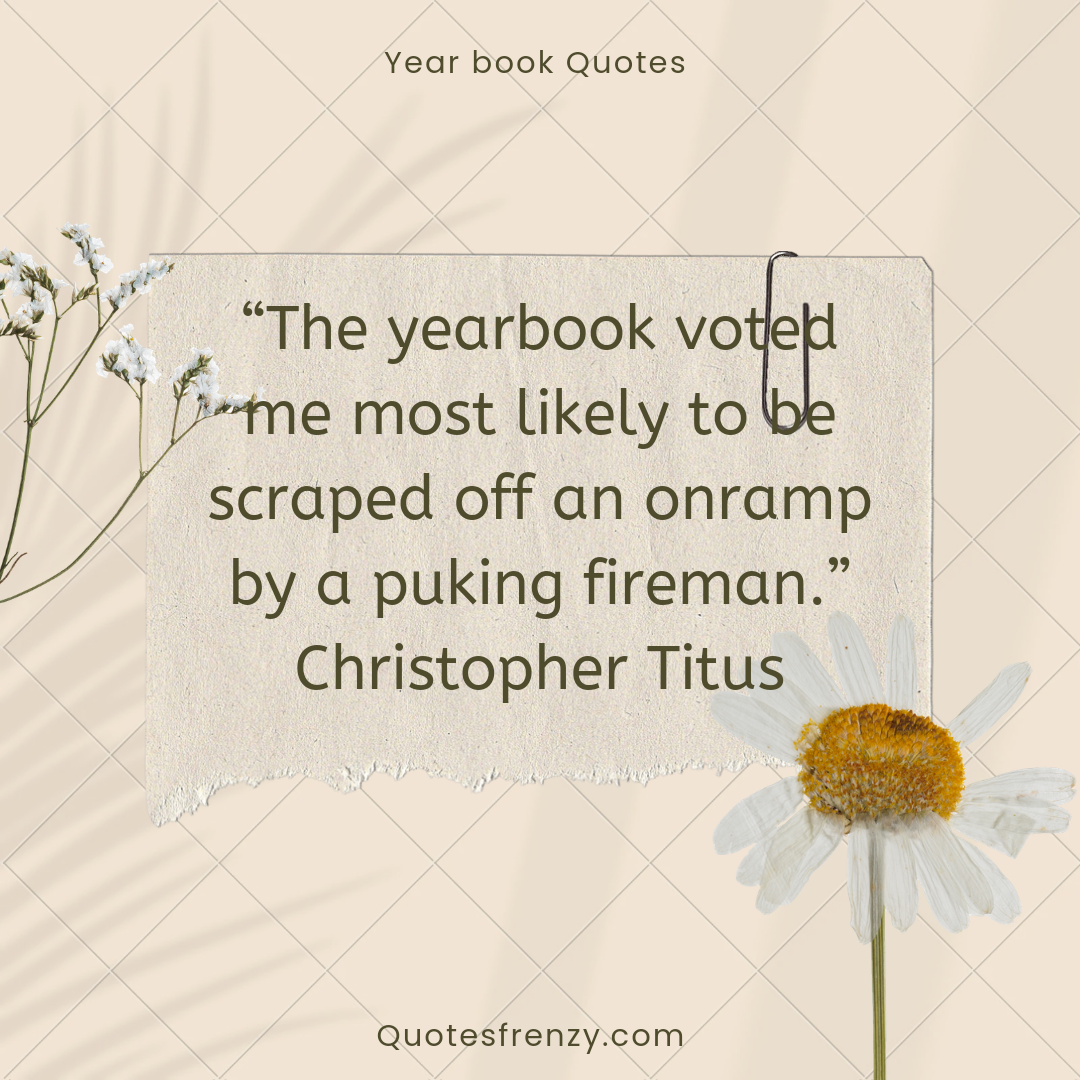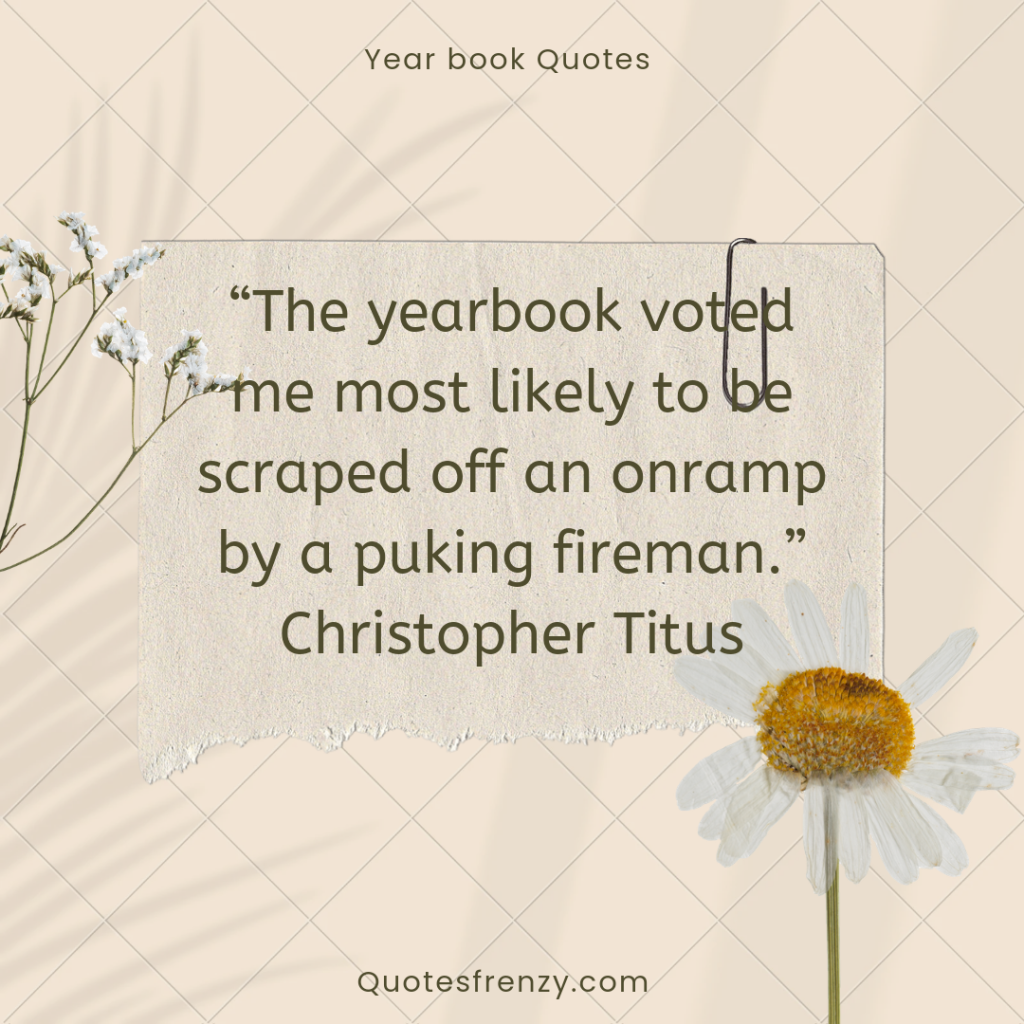 ---
"As a teenager I just wanted to fit in, just to be one of the boys. It was tough. I went to an all black school. I went so far as to have them print my negative in the yearbook. I think it was the black teeth that gave me away." Ronnie Shakes
---
"Too often girls accept that of course the boys will get better lighting and seating at their sports events, of course the football team will get more attention, privileges, and space in the yearbook. We need to teach girls to look around and notice when they're being treated like second-class citizens, and then to insist on equal treatment." Mariah Nelson
---
"A writer without a sense of justice or injustice would be better off editing the yearbook for a school for exceptional children." Ernest Hemingway
---
"I've been interested in cartooning all my life. I read the comics as a kid, and I did cartoons for high school publications – the newspaper and yearbook and soon. In college, I got interested in political cartooning and did political cartoons." Bill Watterson
---
"I was named Class Clown in the high school yearbook, so I was always turning to comedy and laughter to heal and to get me through things." Guillermo Diaz
---
"I was voted funniest person in my middle-school yearbook. So I guess I was funny in middle school?" Cecily Strong
---
"It's like those high-school yearbook photos that everyone would rather not see: Oh my God, look at that mullet hair. I have those photos too, but for me, they're, like, entire movies. And they show them on cable." John Cusack
---
"Should have burned this place down when I had the chance" Michael Scott – Yearbook Quotes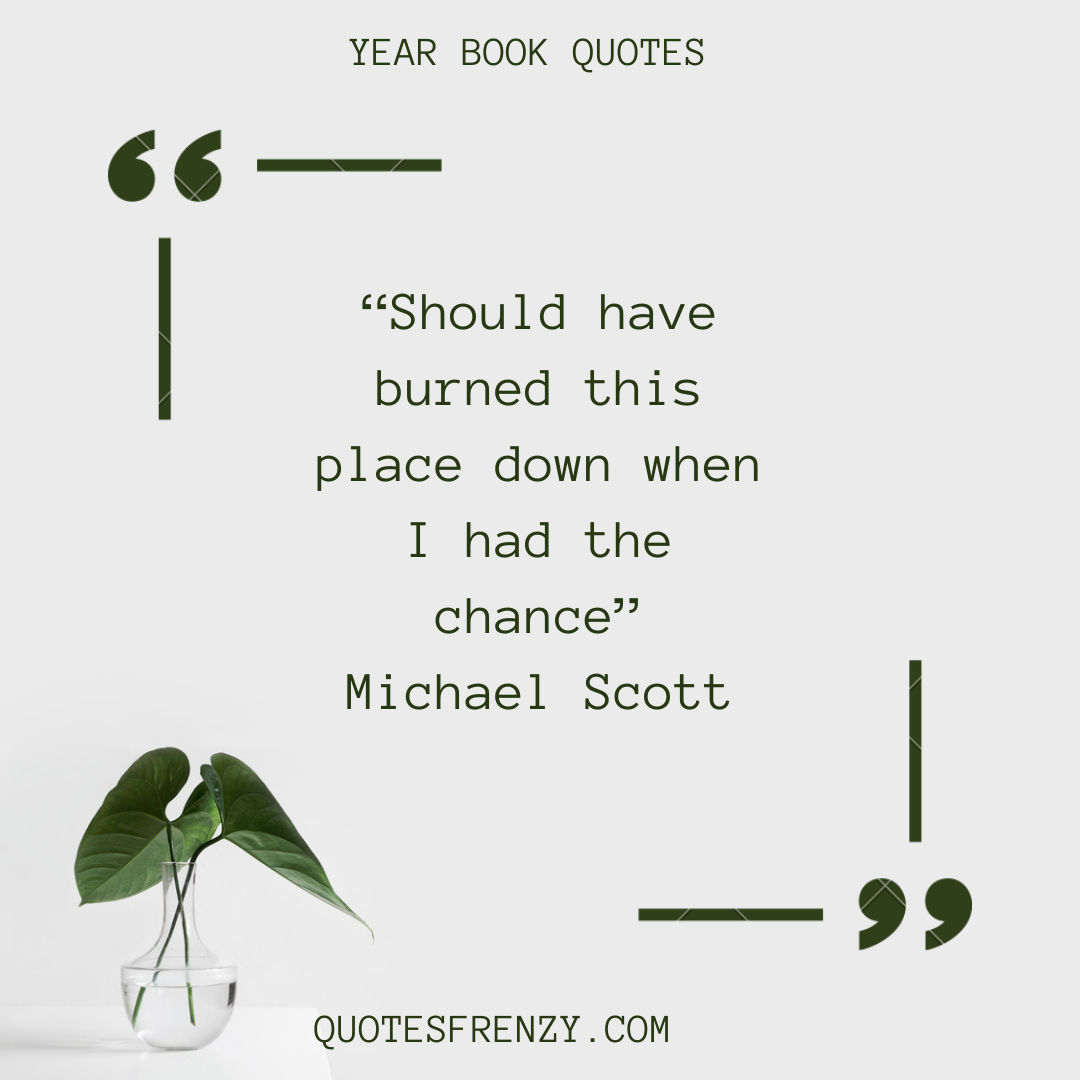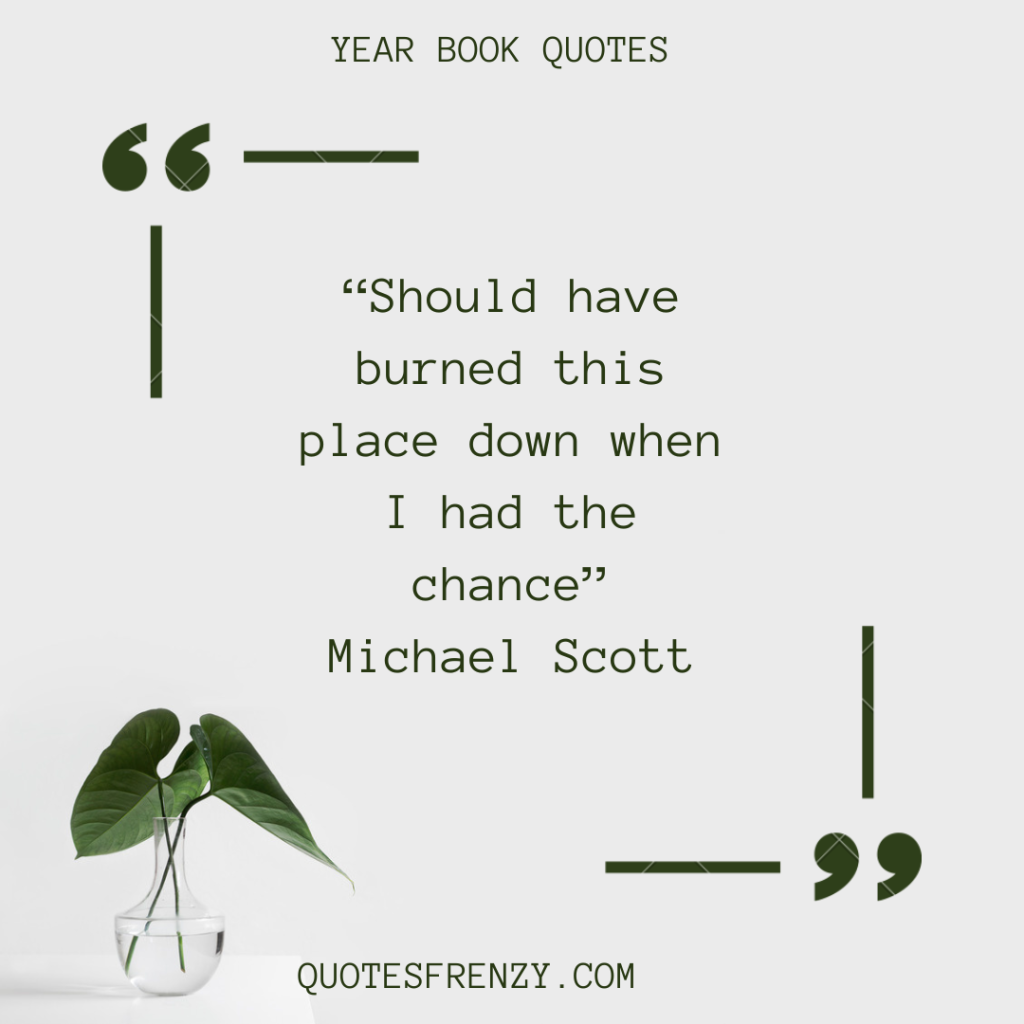 This year book quote is quite overstated. You do not really know what the author was thinking about while writing it. Could it be that they actually wanted to burn down the school? Other students have used this opportunity to settle scores with the administration. Be careful, this might just be a place where you leave an evidence that will cause jail time! Just kidding, but be sure you would like to read what you wrote many years down the line.
---
"My heart may be big, and my eyes may be small, but my heart is just the right size" Alan Nguyen – Yearbook Quotes

In high school, we care so much about our outward looks. In fact, if you are not good looking, but smart, then you will be nicknamed a 'weirdo'. If you felt that the students were too much for you, why not tell them one thing you are so proud of at the end of this year. Maybe your cool bike that they never appreciated, your heart, which is the same size as theirs. Yearbooks are fun to create, you definitely will miss your friends from back there. But your yearbook will be a good statement of the friends you had.
Let these quotes be just a guide. Create something simple but straight to the point. Do not be afraid of being yourself.