Jesus Quotes: Jesus or the Jesus of Nazareth is mostly known to all as:'Jesus Christ' where Christ means "Anointed One".There are many different opinions about Jesus Christ. Some say He was just a man or one of the great prophets of old. But according to the Gospel of Saint Matthew, Simon Peter confessed that Jesus is the Christ, the Son of the living God.
His birth was miraculous, the way he lived was very sin free and religious and his death changed people's lives forever.
Here we have empowering qoutes from Jesus to help you understand the meaning of life, love , struggle and hope.
---
Empowering  Jesus Quotes
---
"But seek first his kingdom and his righteousness, and all these things will be given to you as well." – Matthew 6:33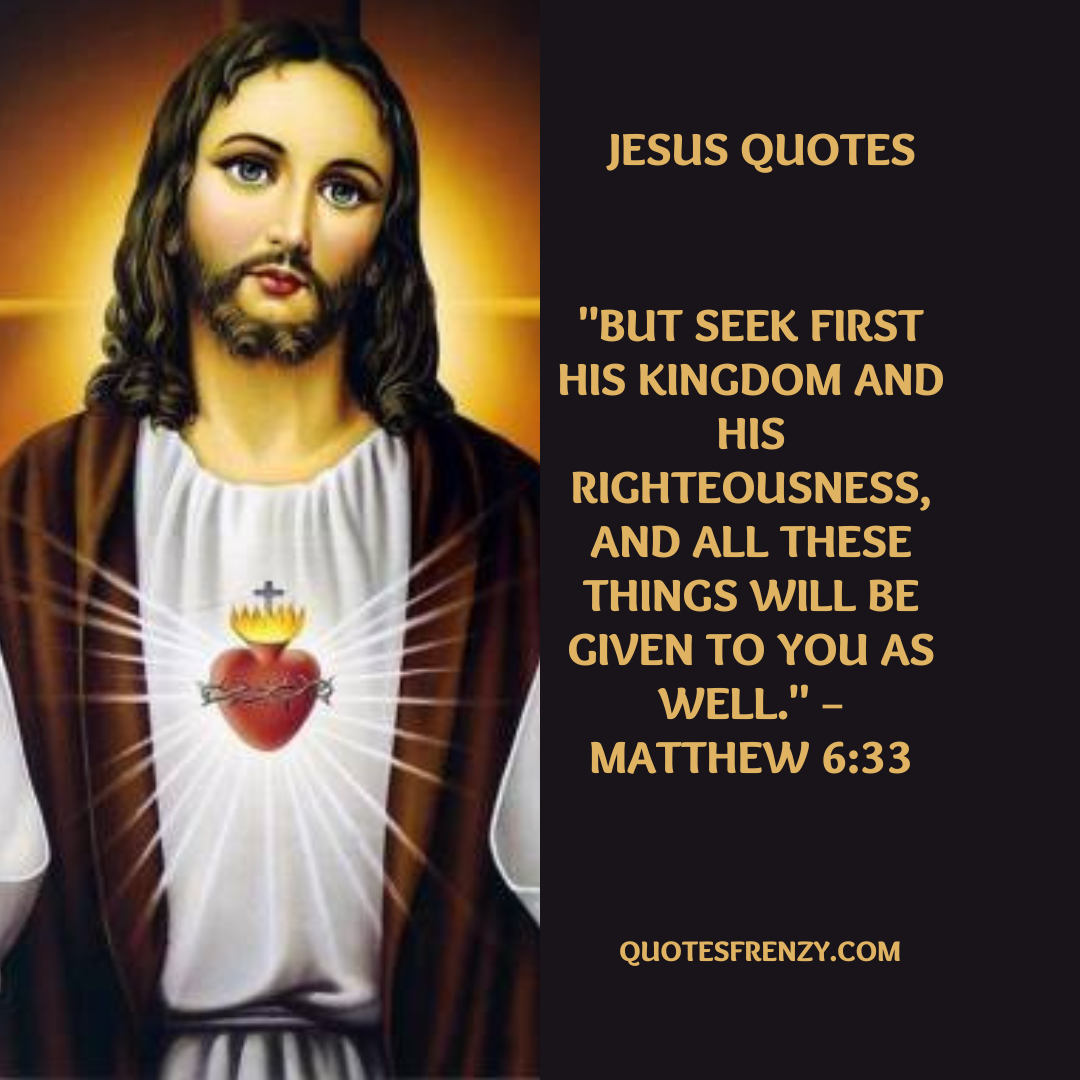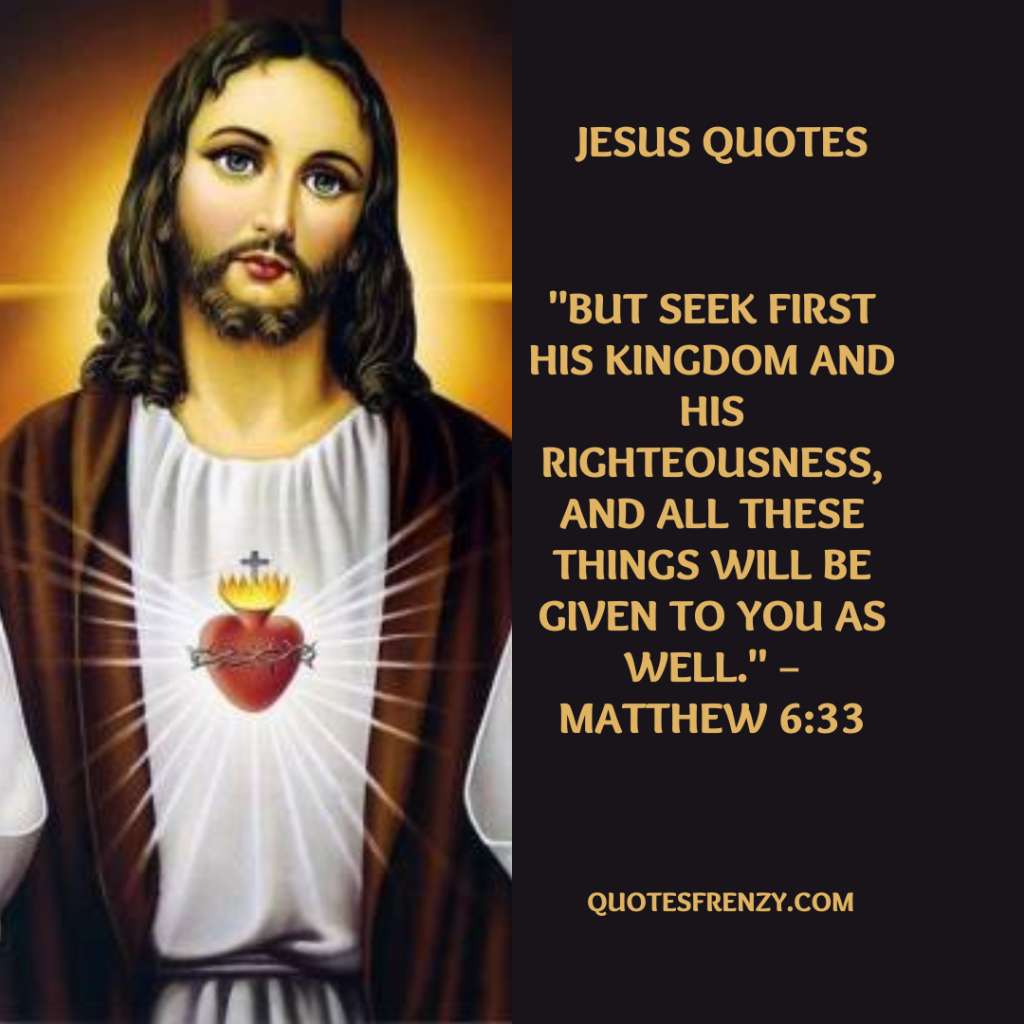 ---
Also read…
140+ Inspirational God Quotes And Sayings
---
"I am the way and the truth and the life. No one comes to the Father except through me".  – John 14:6
---
"With men this is impossible, but with God all things are possible." Matthew 19:26
---
"So when Jesus had received the sour wine, He said, "It is finished!" And bowing His head, He gave up His spirit." – John19:30
---
"But seek first his kingdom and his righteousness, and all these things will be given to you as well." – Matthew 6:33
---
"In the same way, let your light shine before others, that they may see your good deeds and glorify your Father in heaven. "– Matthew 5:16
---
"Ask and it will be given to you; seek and you will find; knock and the door will be opened to you. For everyone who asks receives; the one who seeks finds; and to the one who knocks, the door will be opened." – Matthew 7:7-8
---
"The Lord is merciful and forgiving, even though we have rebelled against him." – Daniel 9:9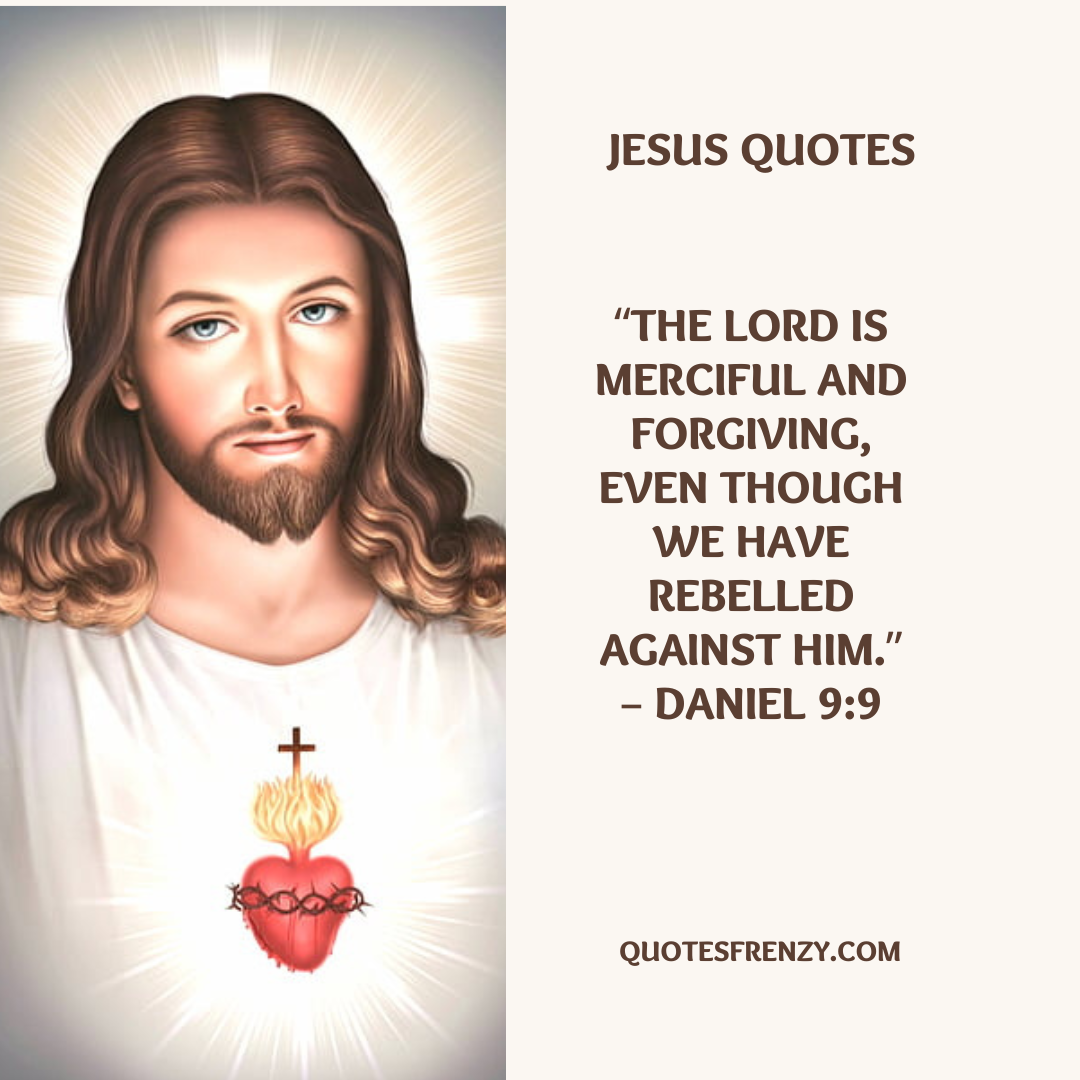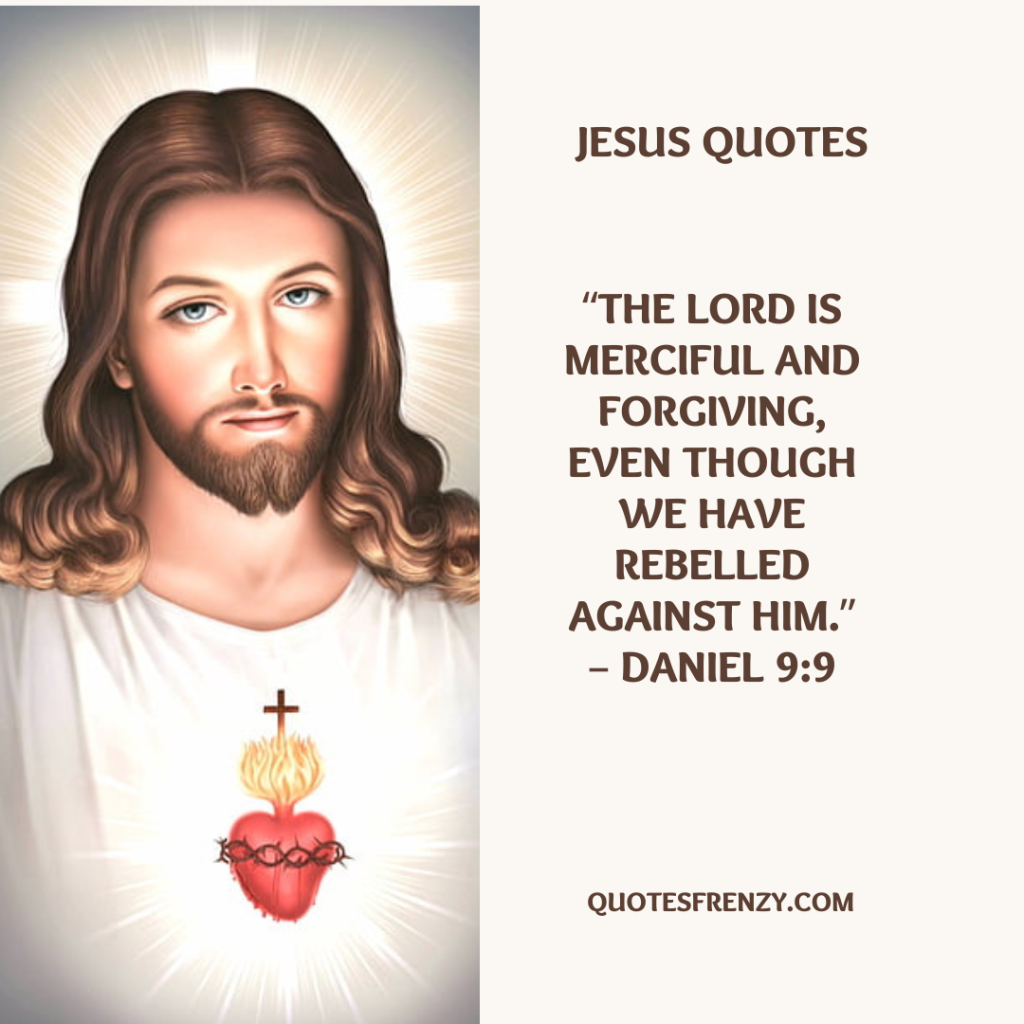 ---
"For I will forgive their wickedness and will remember their sins no more." – Jeremiah 31:34
---
"Then Peter came to Jesus and asked, 'Lord, how many times shall I forgive my brother or sister who sins against me? Up to seven times?' Jesus answered, 'I tell you, not seven times, but seventy-seven times.'" – Matthew 18: 21-22
---
Jesus replied: " 'Love the Lord your God with all your heart and with all your soul and with all your mind.' This is the first and greatest commandment. And the second is like it: 'Love your neighbor as yourself.' All the Law and the Prophets hang on these two commandments." – Matthew 22:37-40
---
"God loves each of us as if there were only one of us"  – Augustine
---
"But God shows his love for us in that while we were still sinners, Christ died for us."– Romans 5:8
---
"For God so loved the world, that he gave his only Son, that whoever believes in him should not perish but have eternal life." – John 3:16
---
"By this all people will know that you are my disciples, if you have love for one another." – John 13:35
---
"For if you forgive men when they sin against you, your heavenly Father will also forgive you. But if you do not forgive men their sins your Father will not forgive your sins." – Matthew 6:14-15
---
"My sheep hear my voice, and I know them, and they follow me: And I give unto them eternal life; and they shall never perish, neither shall any man pluck them out of my hand. My Father, which gave them me, is greater than all; and no man is able to pluck them out of my Father's hand. I and my Father are one." – John 10:27-30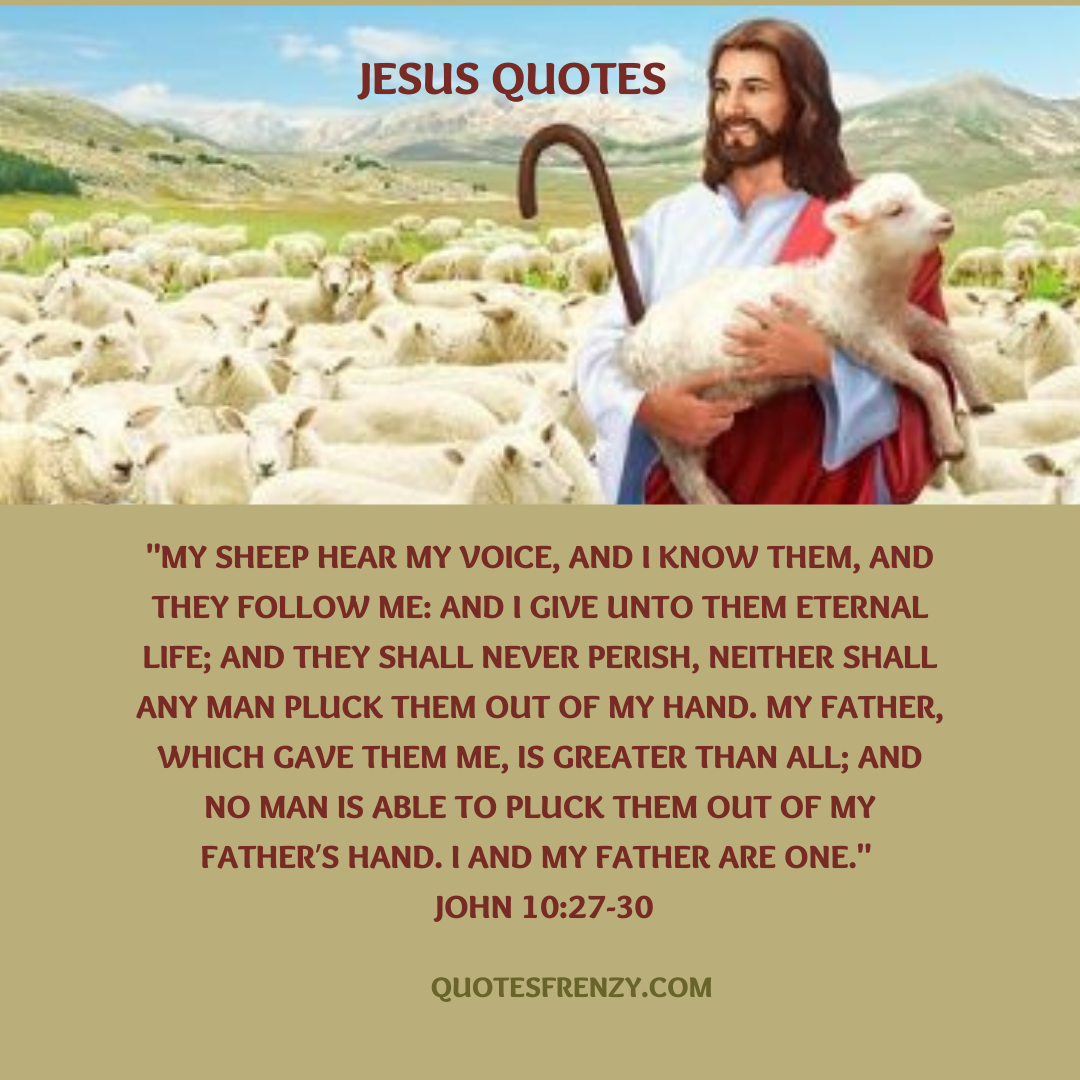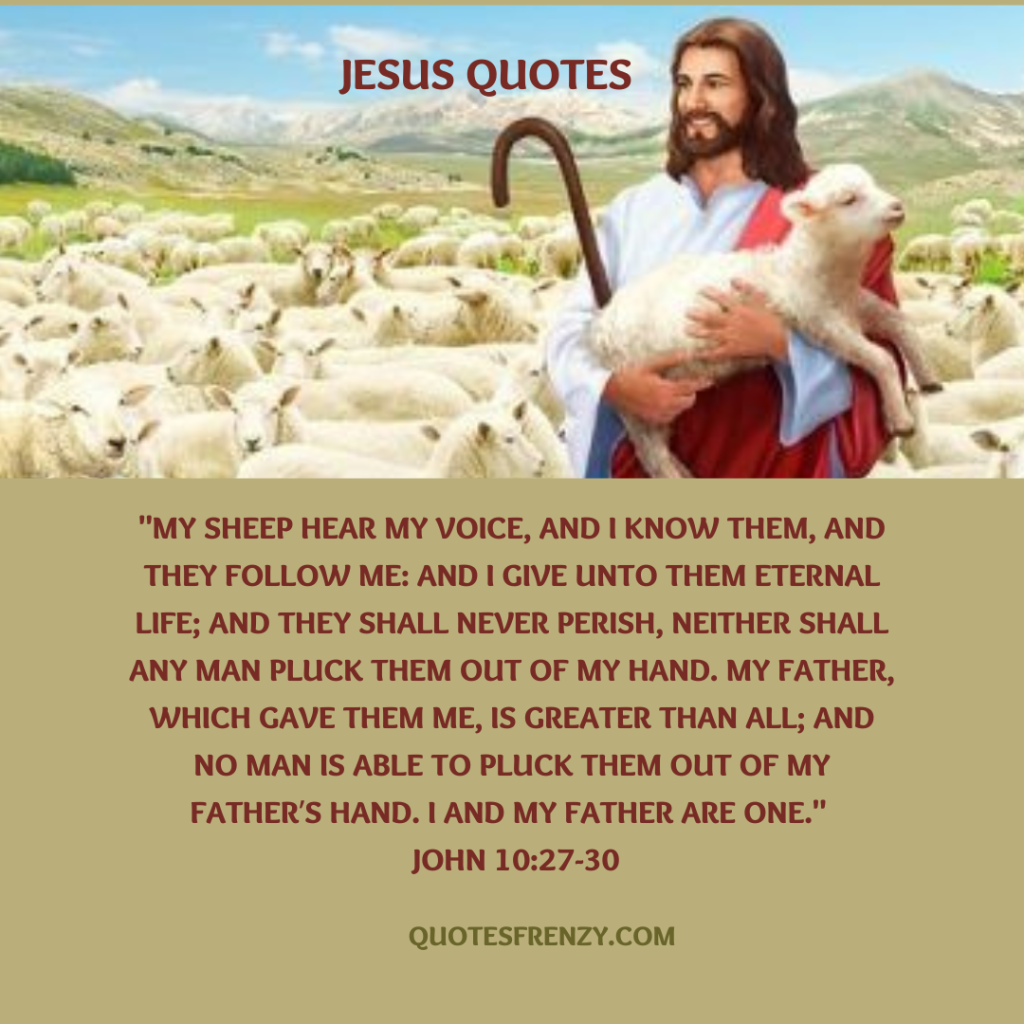 ---
"In him we have redemption through his blood, the forgiveness of sins, in accordance with the riches of God's grace." – Ephesians 1:7
---
"Jesus said unto him, Thou shalt love the Lord thy God with all thy heart, and with all thy soul, and with all thy mind. This is the first and great commandment. And the second is like unto it, Thou shalt love thy neighbour as thyself. On these two commandments hang all the law and the prophets." – Matthew  22:37-40
---
"Go therefore and make disciples of all the nations, baptizing them in the name of the Father and of the Son and of the Holy Spirit, teaching them to observe all things that I have commanded you; and lo, I am with you always, even to the end of the age." Amen." – Matthew  28:19-20
---
"Jesus said to him, "I am the way, the truth, and the life. No one comes to the Father except through Me. 7 "If you had known Me, you would have known My Father also; and from now on you know Him and have seen Him." – John 14:6-7
---
"Let not your heart be troubled; you believe in God, believe also in Me. In My Father's house are many mansions; if it were not so, I would have told you. I go to prepare a place for you." – John 14:1-2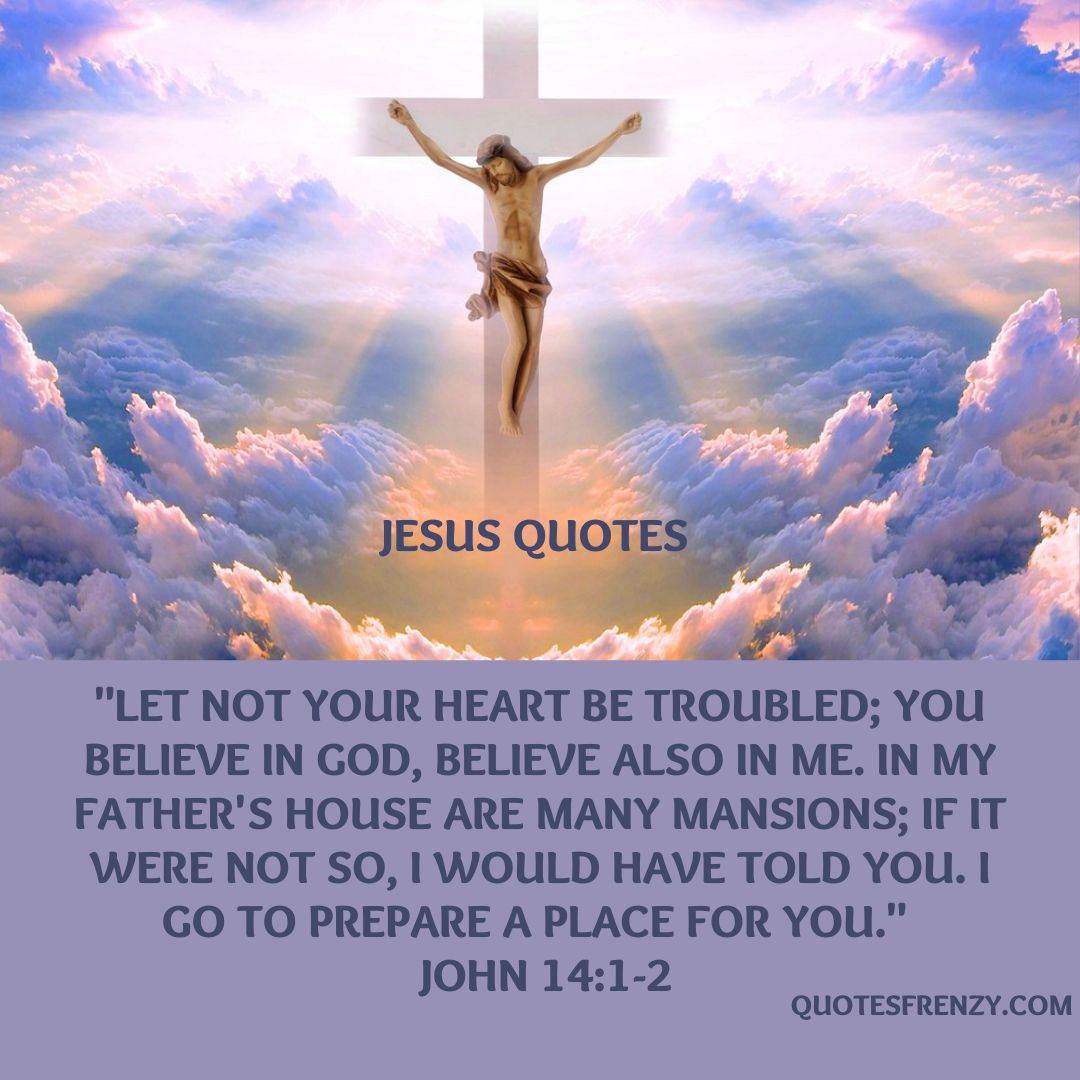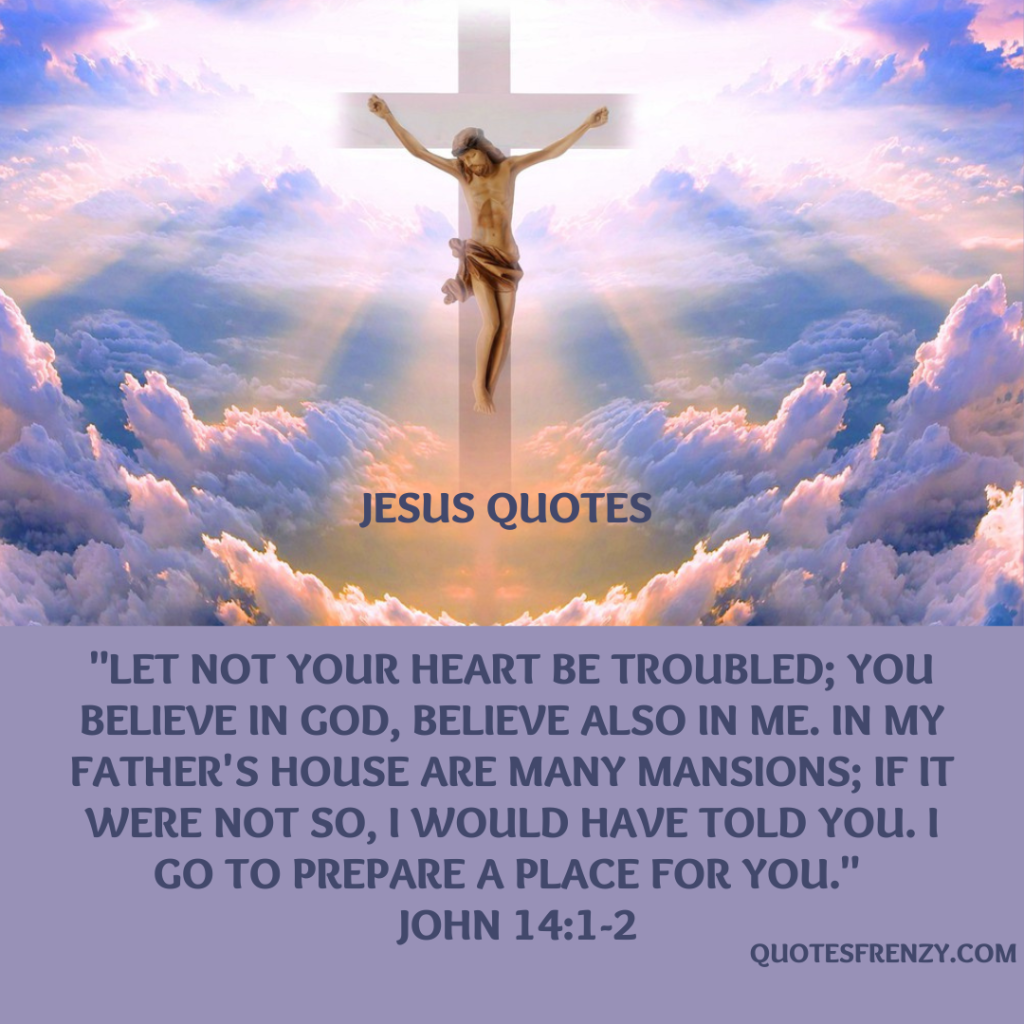 ---
"Beloved, let us love one another, for love is from God, and whoever loves has been born of God and knows God." – John 4:7
---
"That if you confess with your mouth Jesus is Lord and believe in your heart that God raised Him from the dead you will be saved." – Romans 10:9
---
"So they said, 'Believe on The Lord Jesus Christ and you will be saved, you and your household." – Acts 16:31
---
"And He said to the woman, 'Your faith has saved you; go in peace.'" – Luke 7:50
---
"But I say to you who hear: Love your enemies, do good to those who hate you, bless those who curse you, and pray for those who spitefully use you." – Luke
---
"Jesus Christ, the faithful witness, the firstborn from the dead, and the ruler over the kings of the earth." – Revelation 1:5 NKJV
---
"Jesus, the name above every name." – Philippians 2:9
---
"Bear with each other and forgive one another if any of you has a grievance against someone. Forgive as the Lord forgave you." – Colossians 3:13
---
"And when you stand praying, if you hold anything against anyone, forgive them, so that your Father in heaven may forgive you your sins." – Mark 11:25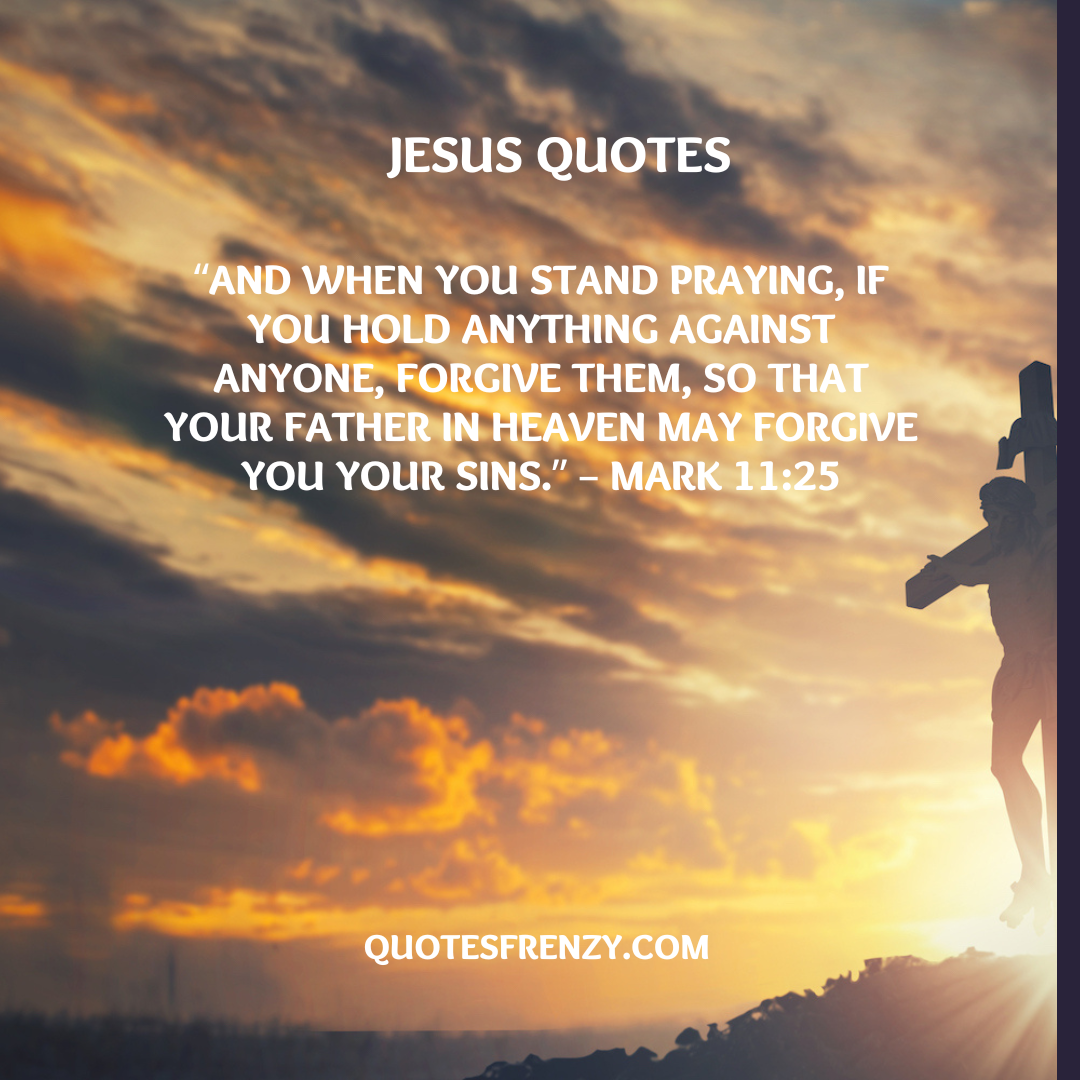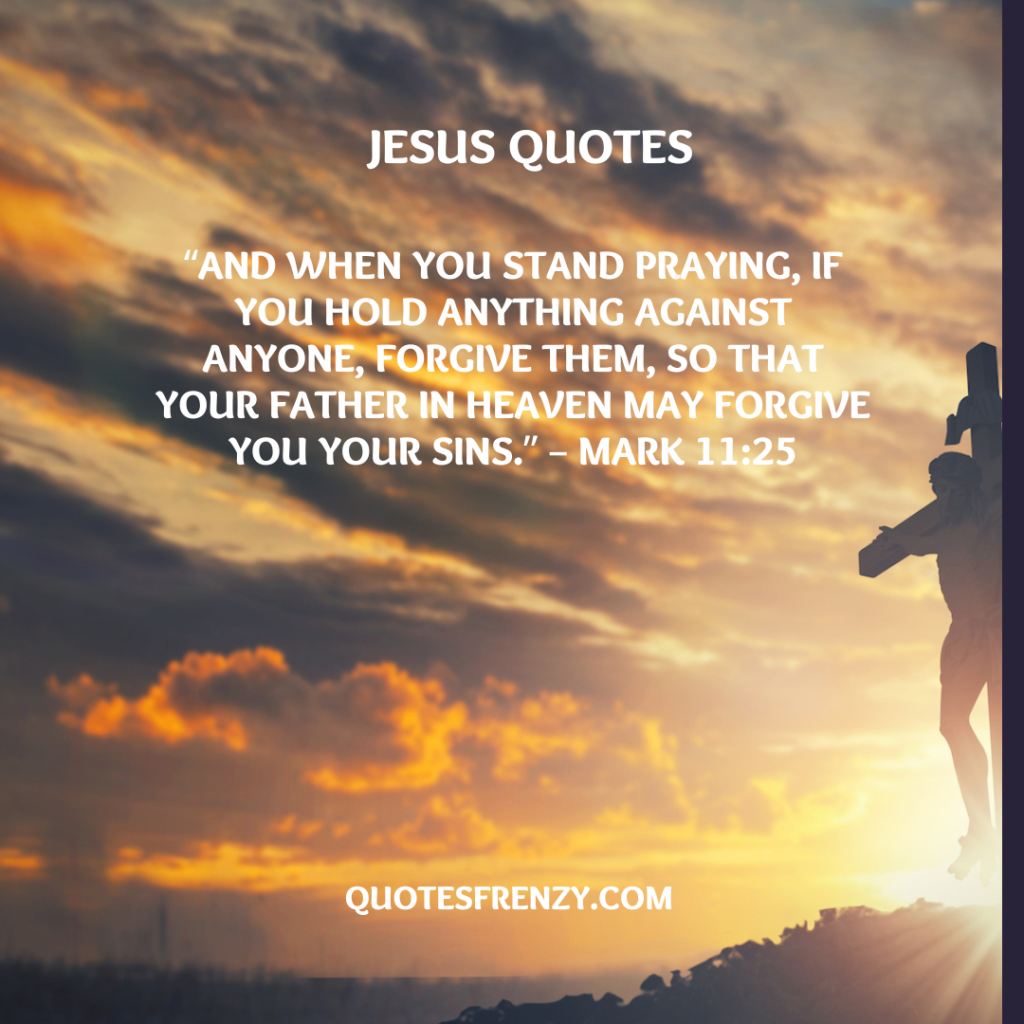 ---
"Jesus saith unto him, I am the way, the truth, and the life: no man cometh unto the Father, but by me." – John 14:6
---
"But seek ye first the kingdom of God, and his righteousness; and all these things shall be added unto you." – Matthew 6:33
---
"Ask, and it shall be given you; seek, and ye shall find; knock, and it shall be opened unto you: For every one that asketh receiveth; and he that seeketh findeth; and to him that knocketh it shall be opened." – Matthew 7:7-8
---
"And when he had called the people unto him with his disciples also, he said unto them, Whosoever will come after me, let him deny himself, and take up his cross, and follow me. For whosoever will save his life shall lose it; but whosoever shall lose his life for my sake and the gospel's, the same shall save it. For what shall it profit a man, if he shall gain the whole world, and lose his own soul? Or what shall a man give in exchange for his soul?" – Mark 8:34-37
---