Burger Quotes: Burger lovers believe a well made burger is the best food on the planet.It is a kind of fast food, a type of sandwich. A quick and easy meal to prep, burgers are the perfect staple for creating memories with loved ones at a party, event, or dining room table.
Here is a list of famous burger quotes to inspire burger lovers.
---
Famous Burger Quotes
---
"A balanced diet is a burger in each hand." Unknown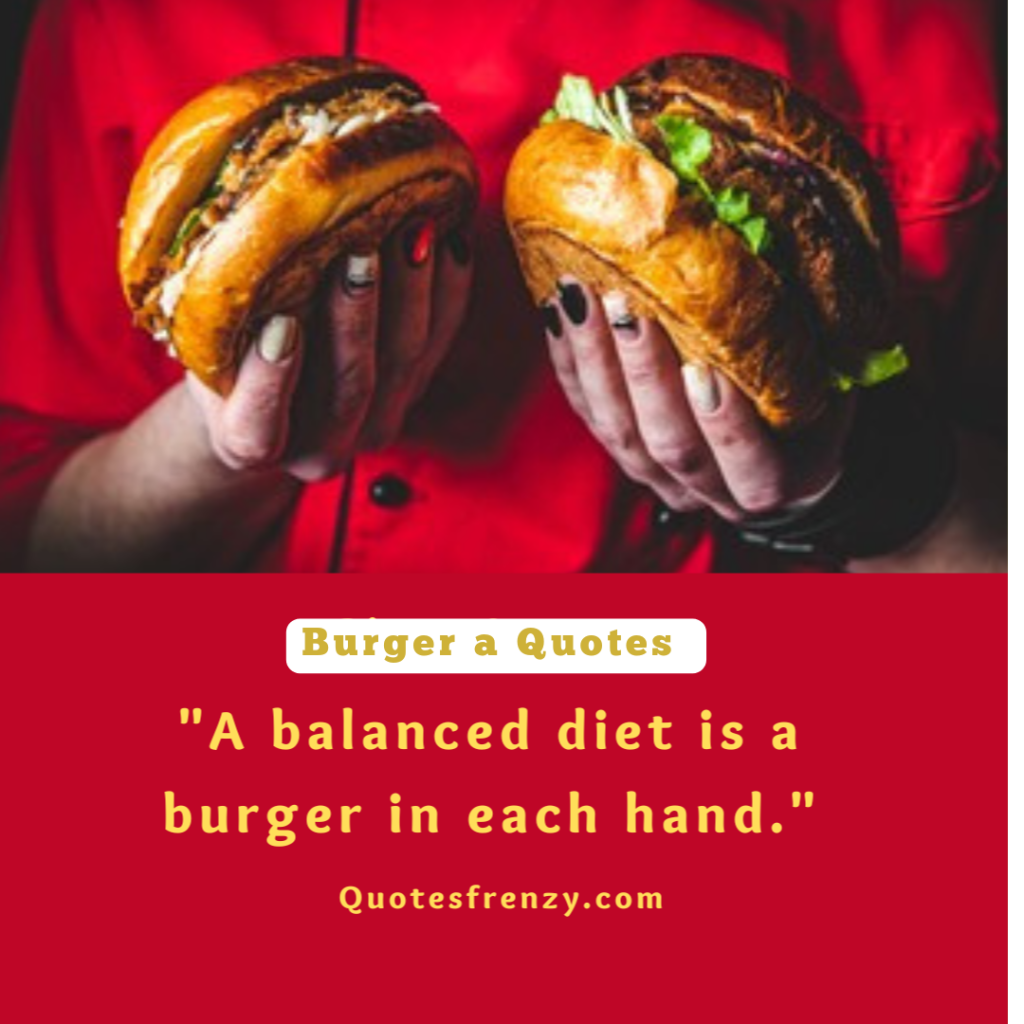 ---
Also read…
50 Delicious Pizza Quotes And Sayings
---
"Flipping burgers is not beneath your dignity. Your grandparents had a different word for burger flipping; they called it opportunity." – Charles J. Sykes
---
"I am burger obsessed and I love playing with the idea of what a burger can be for people. I make burgers out of everything from grains to seafood to, of course, browned meats of every kind. What I love about the burger is it makes food accessible and fun for everyone." – Rachael Ray
---
"I adore burgers. I know they are bad for me, and only technically a sandwich, but a well made burger, juicy and hot off the grill, is wonderful!" – Faith Hunter
---
"I enjoy the burger joint the same way I enjoy fancy meals." – Aby Rosen
---
"I still eat a burger at a counter with ketchup dripping down my face." – Scarlett Johansson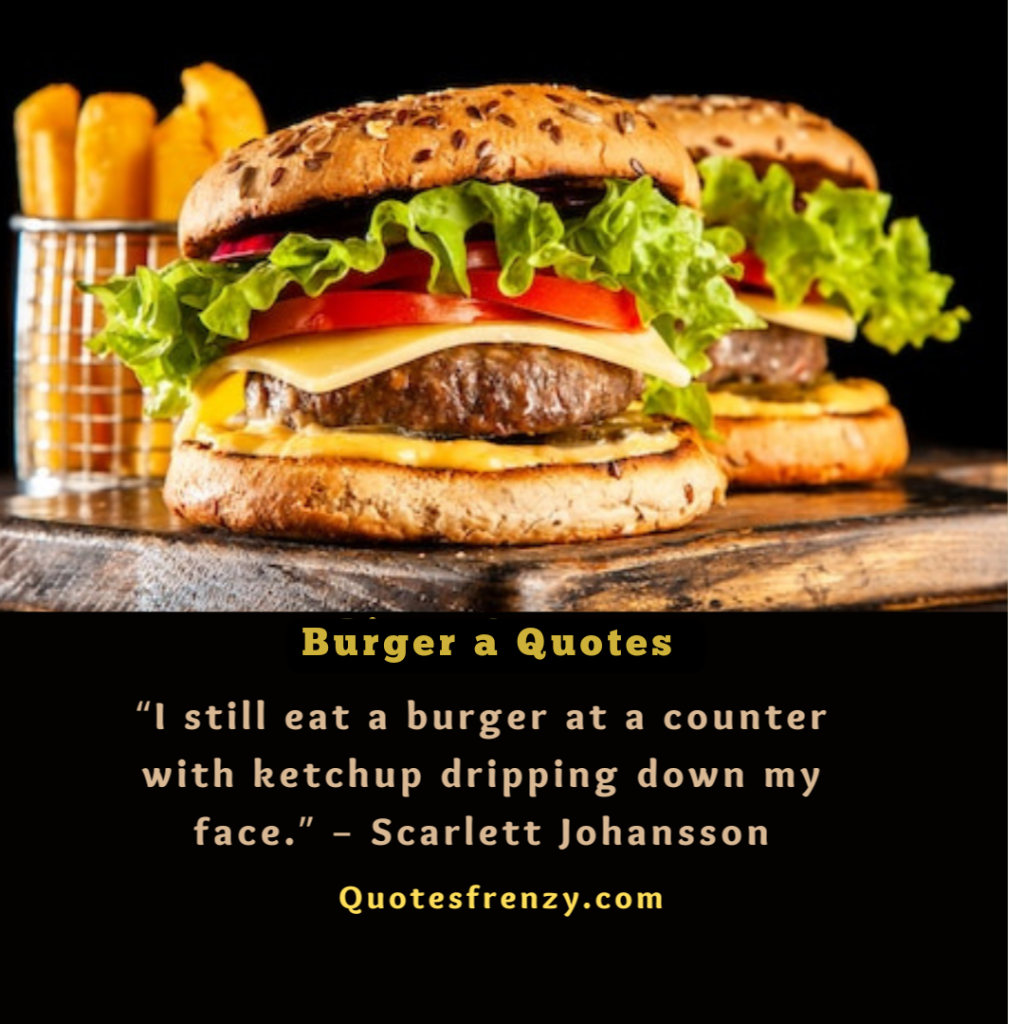 ---
"Oh, I love a good burger, I really do. With chips and a beer and ice cream afterwards." – Joe Wicks
---
"If I'm going to eat poorly, I'm going all the way."
---
"You did something today to deserve a burger."
---
"Most people want a perfect relationship. I just want a hamburger that looks like the ones in commercials."
---
"Nobody knew they needed a smartphone, an automobile, or even a cheeseburger from a drive-through window."
---
"Cheeseburgers Are The Reason Why I Exercise Vigorously."
---
"Opening a family-style restaurant with comfort food like mac 'n' cheese, ribs and burgers has always been my dream." – Bridget Hall
---
"I don't have a diet, and whenever I feel like eating a burger or pizza or tacos, and I just go for it. I feel like my body is telling me and I need that. And I think it's important for an actress to look like a real person." – Stephanie Sigman
---
"Heaven between two buns"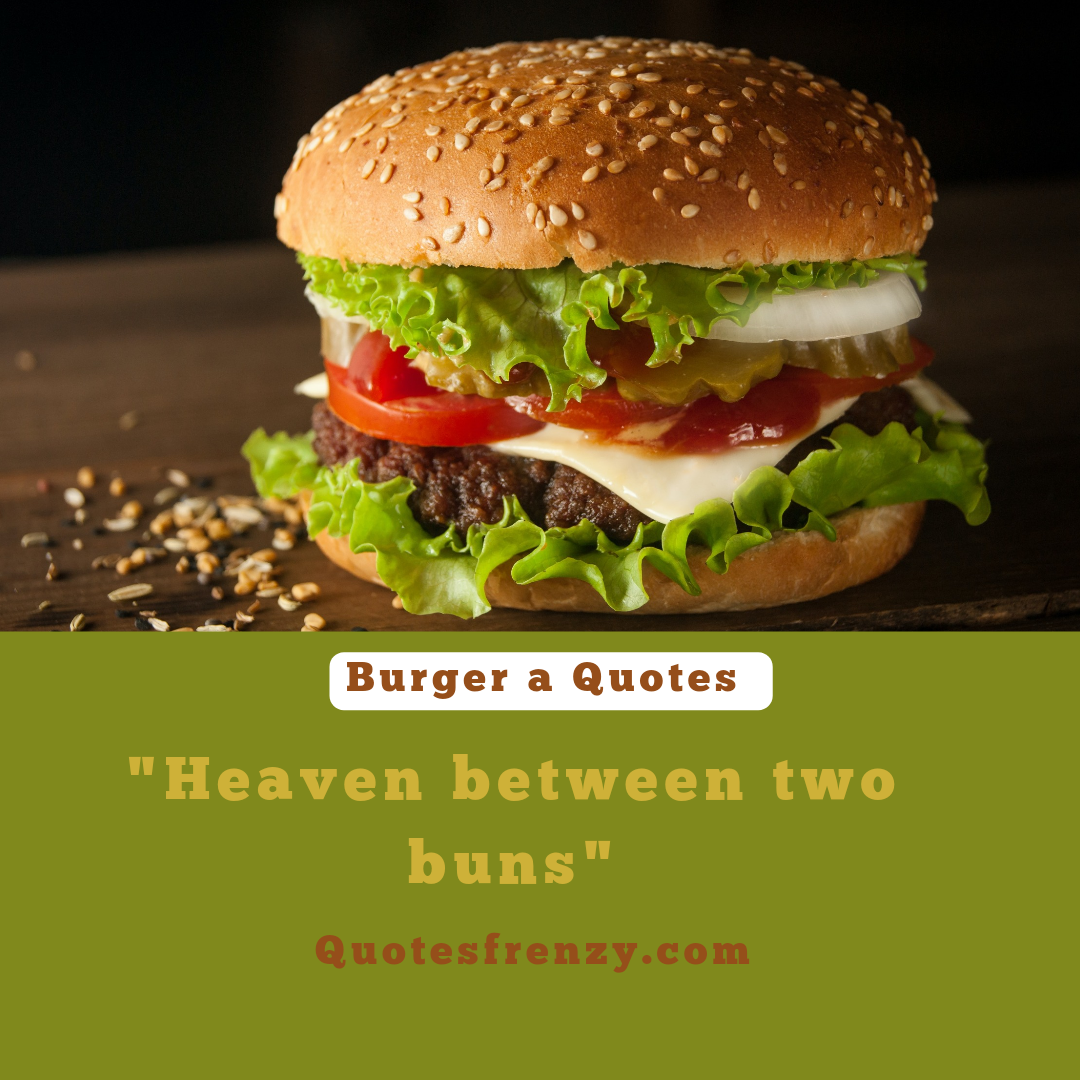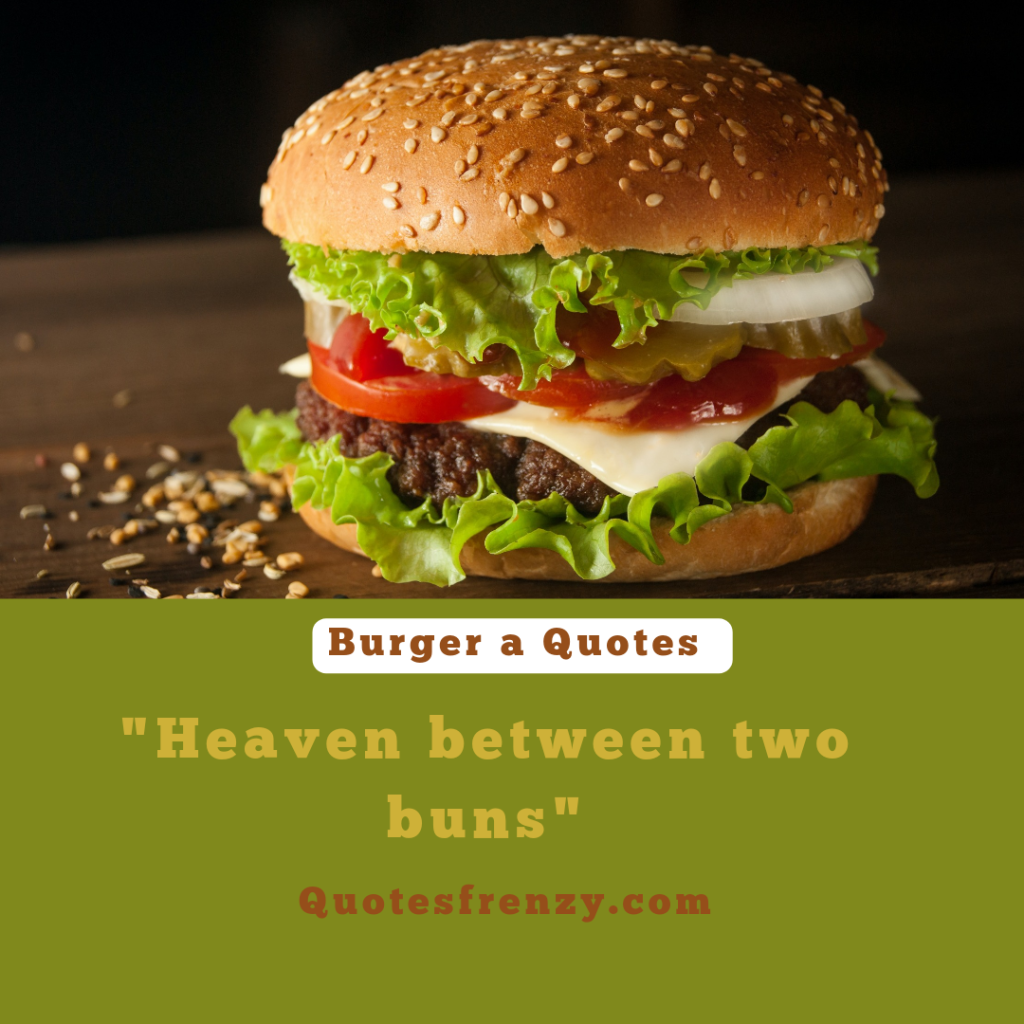 ---
"Burger = good. cheeseburger = better. bacon cheeseburger = ?"
---
"Just a cheeseburger; and yet…something so much more."
---
"Ketchup is dripping down my face? I don't care!"
---
"You did something today to deserve a burger."
---
"Find someone who looks at you like she's looking at this burger."
---
"What's slower — a microwave minute, or a "waiting for my burger" minute?
---
"We go together like a cheeseburger and French fries."
---
"The hamburgers in America are the best in the world." – Liam Hemsworth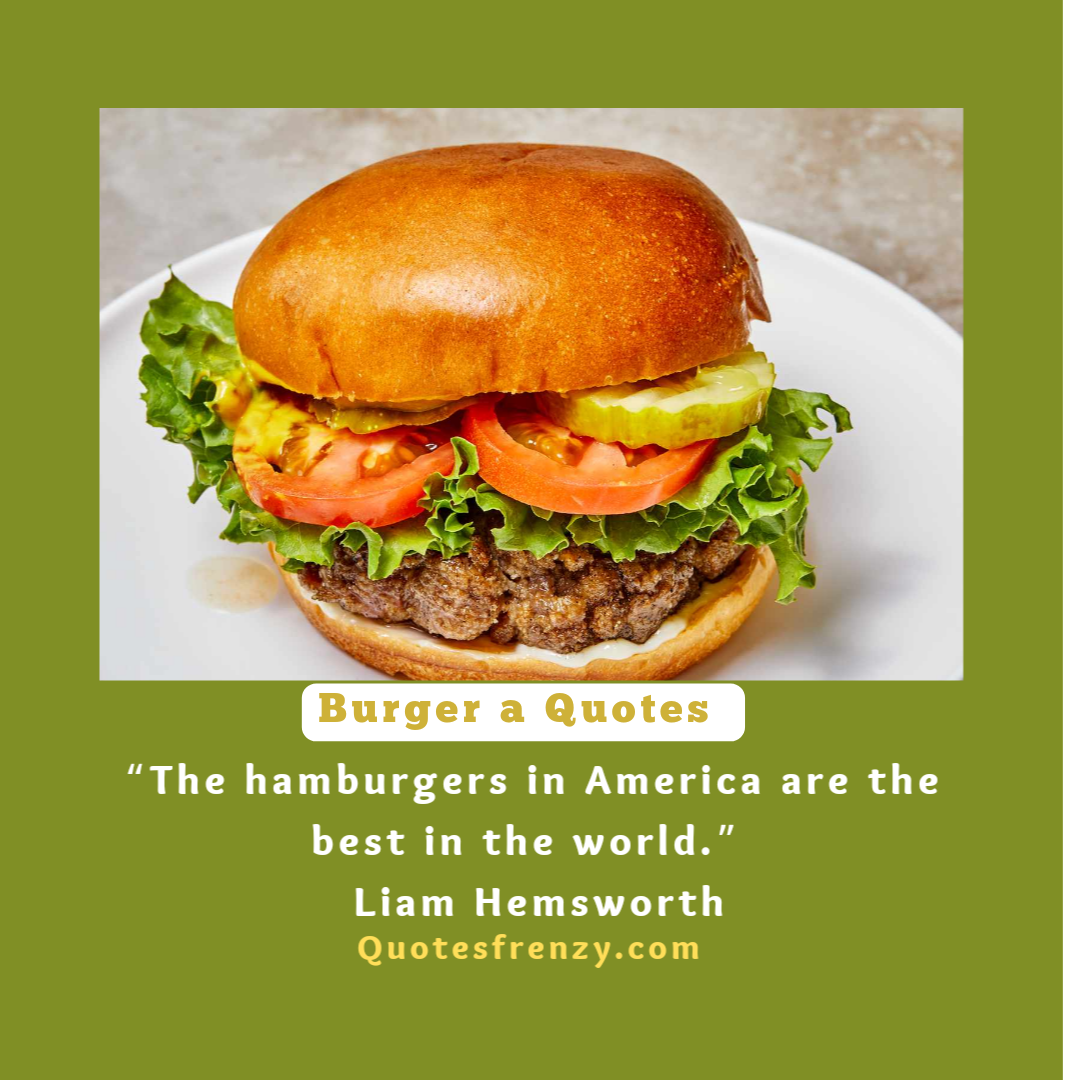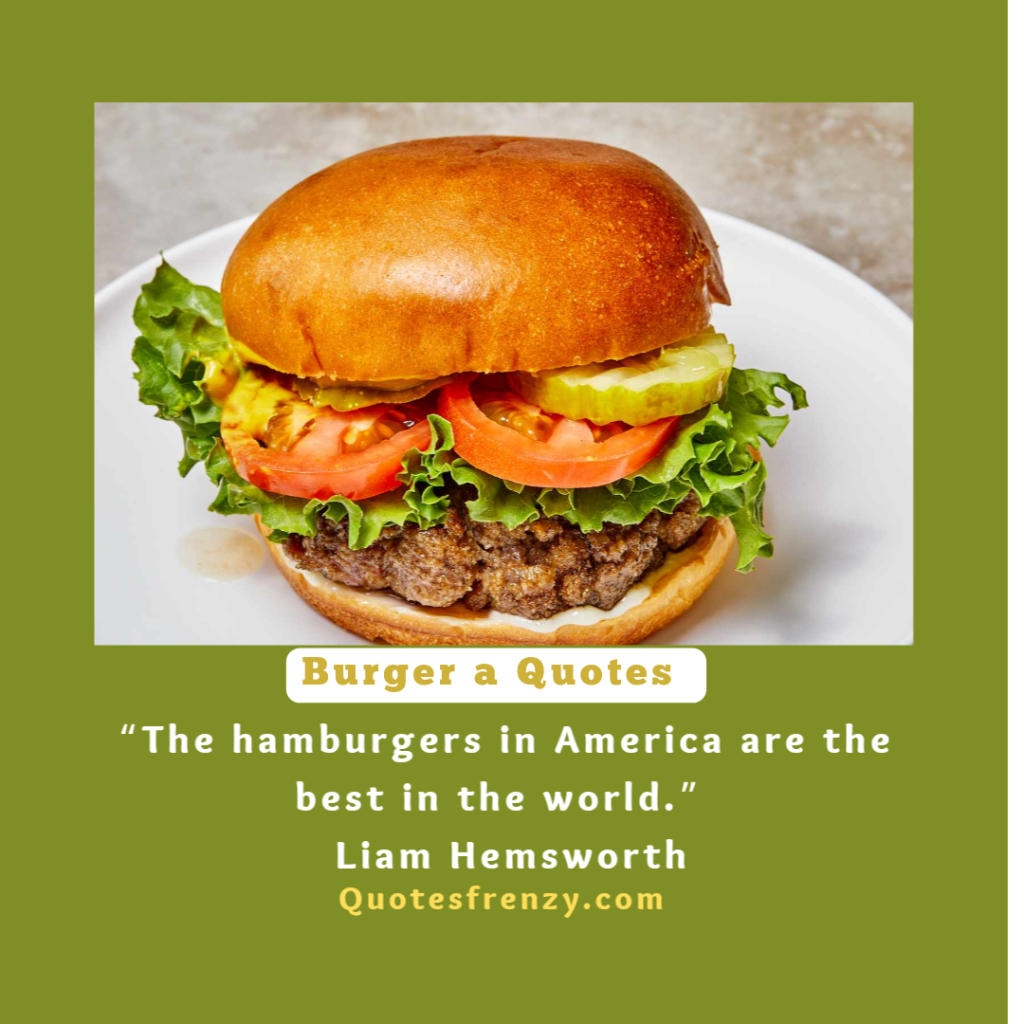 ---
"We all need to make time for a burger once in a while." – Erica Durance
---
"I'll have a salad served between two buns and a quarter pound of beef."
---
"I'm sorry for how grumpy I was before I had my cheeseburger."
---
"This burger has too much cheese, said no one ever."
---
"Life is too short to miss out on beautiful things like a double cheeseburger."
---
"Man who invented the hamburger was smart; a man who invented the cheeseburger was a genius."
---
"It Requires A Certain Kind Of Mind To See Beauty In A Hamburger Bun." -Ray Kroc
---
"Home is where my dad's cheeseburgers are."
---
"Time fries when I'm with you."
---
"In time, foods such as hamburgers and ice cream became more than just meals. They became part of American history and culture, touchstones that are almost immediately nostalgic and sentimental no matter how old you are or what part of the country you are from." – Homaro Cantu
---
"I still love making hamburgers on the grill. I guess whenever I eat them childhood memories come up for me." – Bobby Flay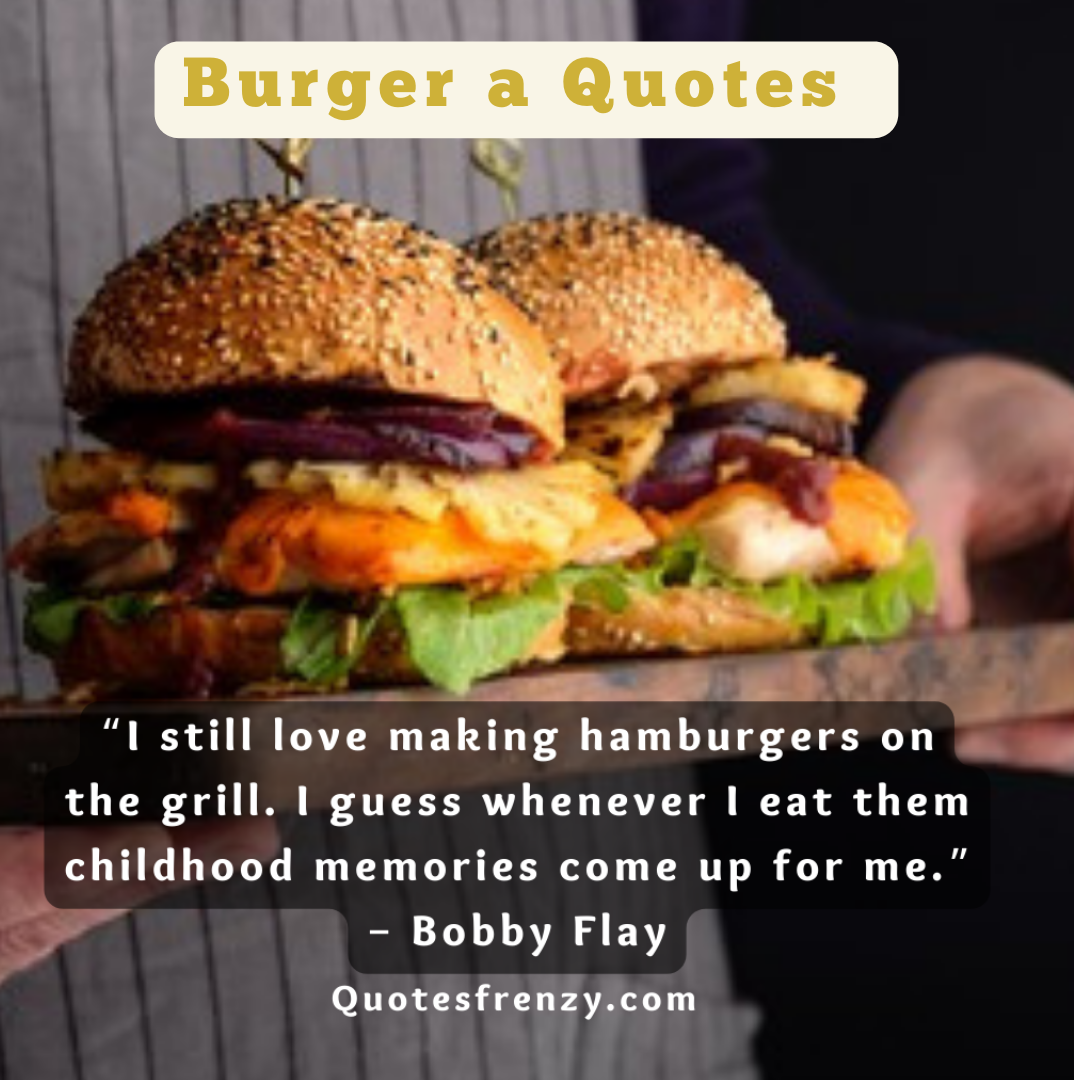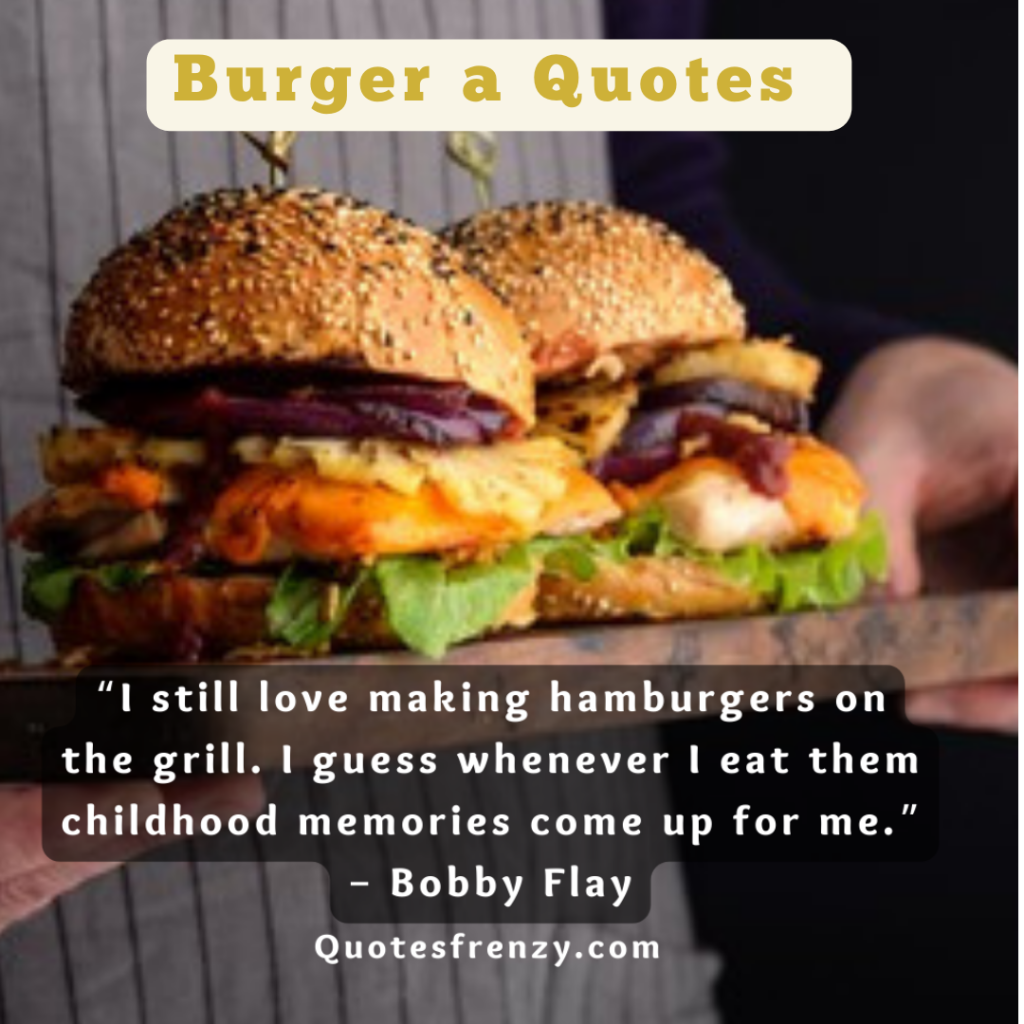 ---
Just Because People Want To Eat The Burger Doesn't Mean They Want To Meet The Cow. -Steve Buscemi
---
"I'm a chicken and fish guy, but I throw a burger in once, maybe twice a week." – Jason Winston George
---
"A burger is a black dress; a kebab is a Met Gala gown." – Samin Nosrat
---