Change Quotes: Life is dynamic, nothing in life will ever remain constant. All the activities we do, people we interact with, situations in life will always change. People do change too, growth is one of the change, as you progress in life there is some part of you that will change, be it physically, emotionally or behavioral. Since change is inevitable we should learn to always embrace it and adjust to it in order to live a comfortable life. The following are some of the Change Quotes that will help us adjust to life changes
---
Change is the Law of Life. And Those Who Look Only to the Past or Present are certain to Miss the Future – John F. Kennedy
Just as law is mandatory and should be always adhered to, change too is life law.  In life, we should always expect changes to occur, since they are mandatory to happen, we should always be ready to face any change that comes to us. To look in the past and present means sticking to your usual or daily activities that you are used to. Change comes with both negative and positive aspects. In most cases, change comes to improve our present and past lives, therefore accepting the change means accepting the future good things.
---
Famous Change Quotes
---
"The secret of change is to focus all of your energy, not on fighting the old, but on building the new." Socrates
---
Also read…
45 Spiritual Quotes And Sayings
Happy 4th of July Quotes And Sayings
---
"Sometimes it's the smallest decisions that can change your life forever." Keri Russell
---
"All great changes are preceded by chaos." Deepak Chopra
---
"By changing nothing, nothing changes." Tony Robbins
---
"Change is inevitable. Growth is optional." John C. Maxwell
---
"Change your thinking, change your life." Ernest Holmes
---
"To improve is to change; to be perfect is to change often." Winston Churchill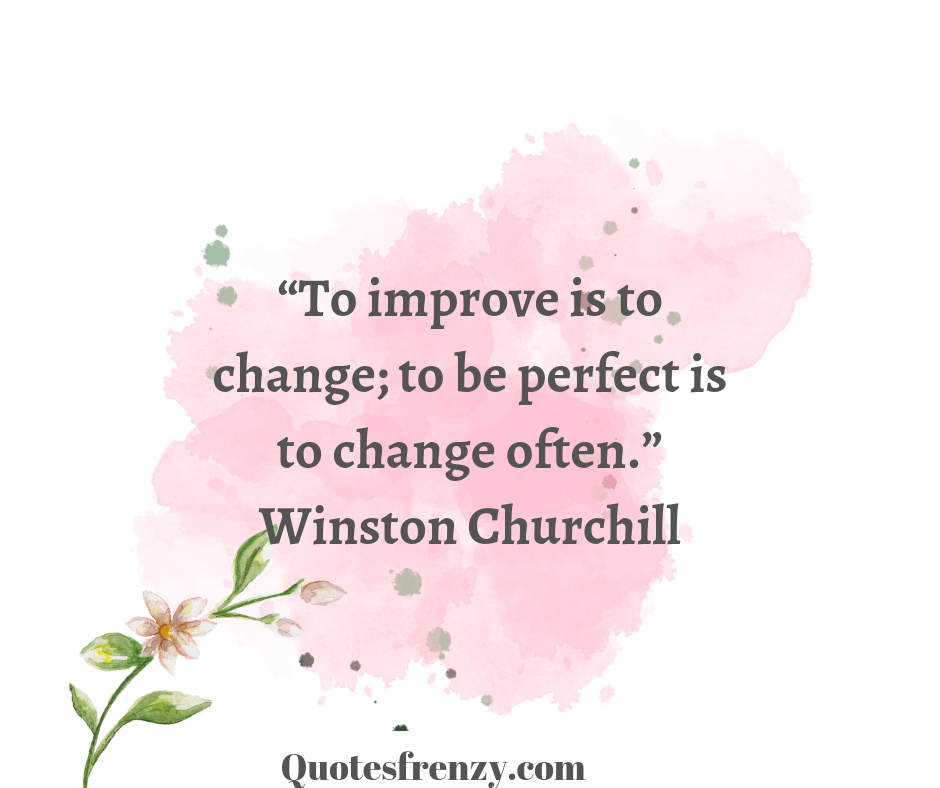 ---
"Failure is not fatal, but failure to change might be." John Wooden
---
"Your life does not get better by chance, it gets better by change." Jim Rohn
---
"Only I can change my life. No one can do it for me." Carol Burnett
---
"There is nothing wrong with change, if it is in the right direction." Winston Churchill
---
"We cannot change anything unless we accept it." Carl Jung
---
"They must often change, who would be constant in happiness or wisdom." Confucius
---
"Change your opinions, keep to your principles; change your leaves, keep intact your roots." Victor Hugo
---
"Everyone thinks of changing the world, but no one thinks of changing himself." Leo Tolstoy
---
"A person who never made a mistake never tried anything new." Albert Einstein
---
"Change your life today. Don't gamble on the future, act now, without delay." Simone de Beauvoir
---
"One must change one's tactics every ten years if one wishes to maintain one's superiority." Napoleon Bonaparte
---
"You're only as young as the last time you changed your mind." Timothy Leary
---
"In a chronically leaking boat, energy devoted to changing vessels is more productive than energy devoted to patching leaks." Warren Buffett
---
"When you're finished changing, you're finished." Benjamin Franklin
---
"The pessimist complains about the wind; the optimist expects it to change; the realist adjusts the sails." William Arthur Ward
---
"Change your thoughts and you change your world." Norman Vincent Peale
---
"If you can't change your fate, change your attitude." Amy Tan
---
"If you change the way you look at things, the things you look at change." Wayne Dyer
---
"You change your life by changing your heart." Max Lucado
---
"You must change in order to survive." Pearl Bailey
---
"Education is the most powerful weapon which you can use to change the world." Nelson Mandela
---
"The only constant is change." Heraclitus
---
"Everything changes, nothing remains without change." Gautama Buddha
---
"The measure of intelligence is the ability to change." Albert Einstein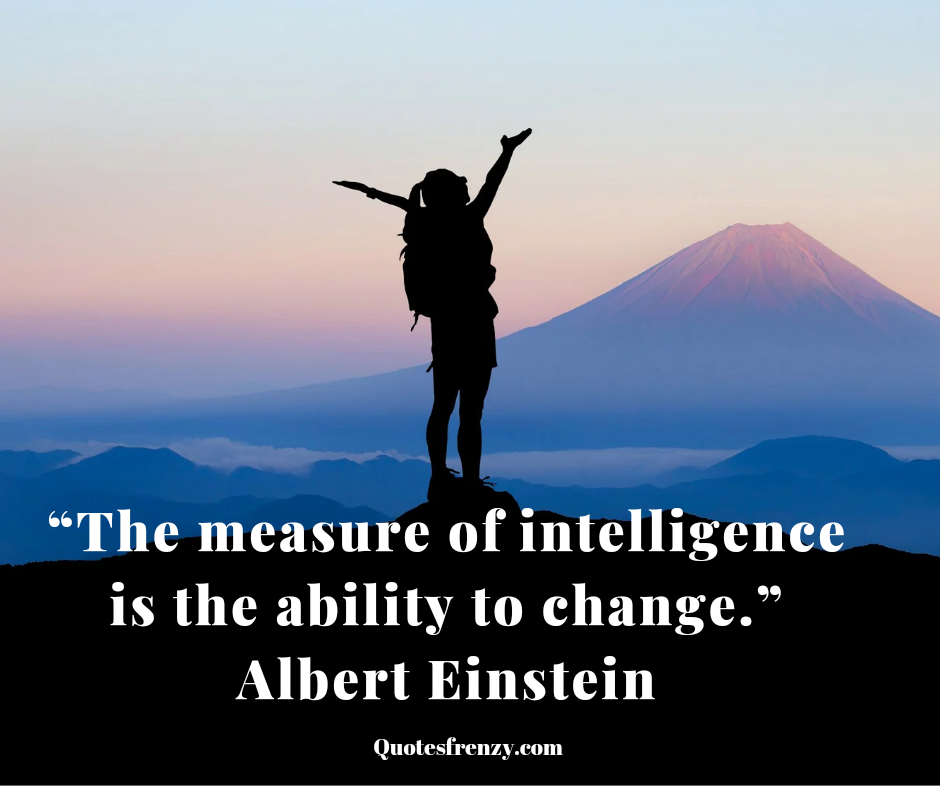 ---
"[Change is] the only evidence of life." Evelyn Waugh
---
"Change is not merely necessary to life – it is life." Alvin Toffler
---
"Don't spend time beating on a wall, hoping to transform it into a door." Coco Chanel
---
"Change is inevitable. Change for the better is a full-time job." Adlai Stephenson
---
"If you're in a bad situation, don't worry it'll change. If you're in a good situation, don't worry it'll change." John A. Simone, Sr.
---
"He who rejects change is the architect of decay. The only human institution which rejects progress is the cemetery." Harold Wilson
---
"If you think you're too small to have an impact, try going to bed with a mosquito in the room." Anita Roddick
---
"I want to change things for the better, just like everybody else." Henry Rollins
---
You must be the Change you wish to see in the World – Mahatma Gandhi
Humans have wishes, wishes that are beyond their ability now. We normally wish for better things than what we own now. People may wish for good life, a life of wealth, big houses and expensive cars. Apart from personal belongings, people do wish for better governance, a cleaner environment or high level of literacy. These changes that we wish for, do not only happen if we sit and we wish, we need to take part in making those wish to come true.
---
To improve is to Change; to be Perfect is to Change Often – Winston Churchill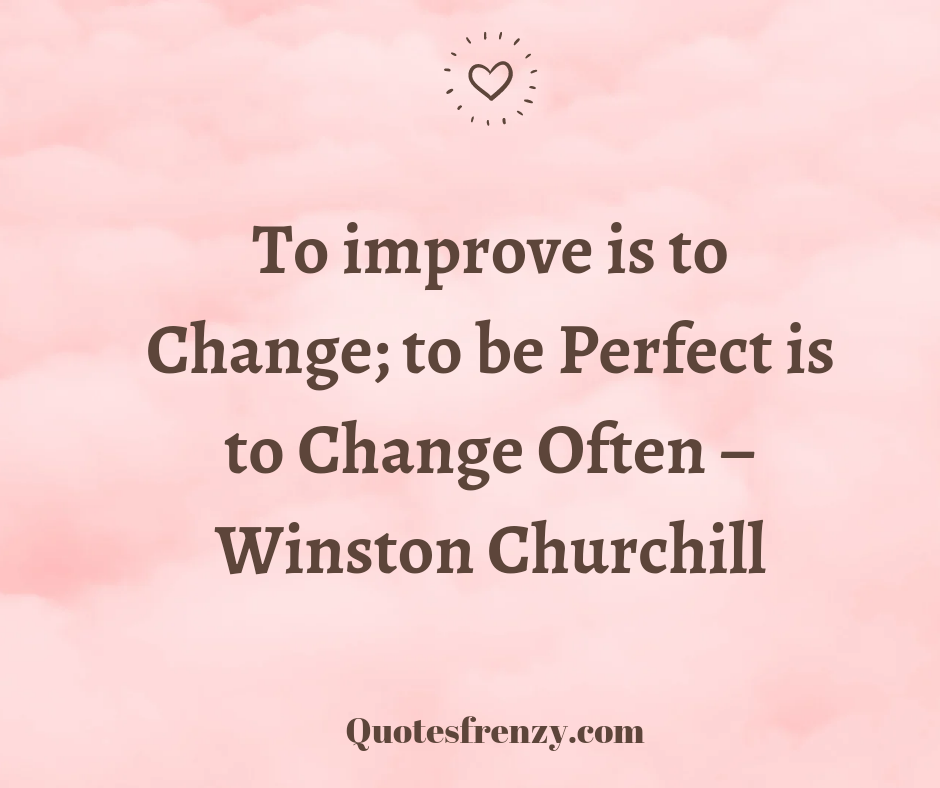 Perfection is more than improvement when we change, we get to improve our current state, but if we desire for perfection we must never stop to change. We as humans do not get satisfied, even when we get what we desired for, we will still desire for more that is we always strive to be perfect.  The perfection that we yearn for is only brought by constant change.
The Change Quotes are to help us become happy with our lives. These quotes help us realize that change is good and change leads to satisfaction.