Friday Quotes-Everyone loves to have a break after a long week of hard work.  As we flip the pages of Monday to Tuesday all the way to Friday, laxity encroaches. We begin to feel less and less energetic as we were on Monday. We yearn to relax and have a good fun Friday night to usher in the long weekend. But, what should you do with your free weekends? These Friday Quotes will help you have fun, relax and be happy with each and every Friday weekend.
"Friday' is about hanging out with friends, having fun. I felt like it was my personality in that song" Rebecca Black – Friday Quotes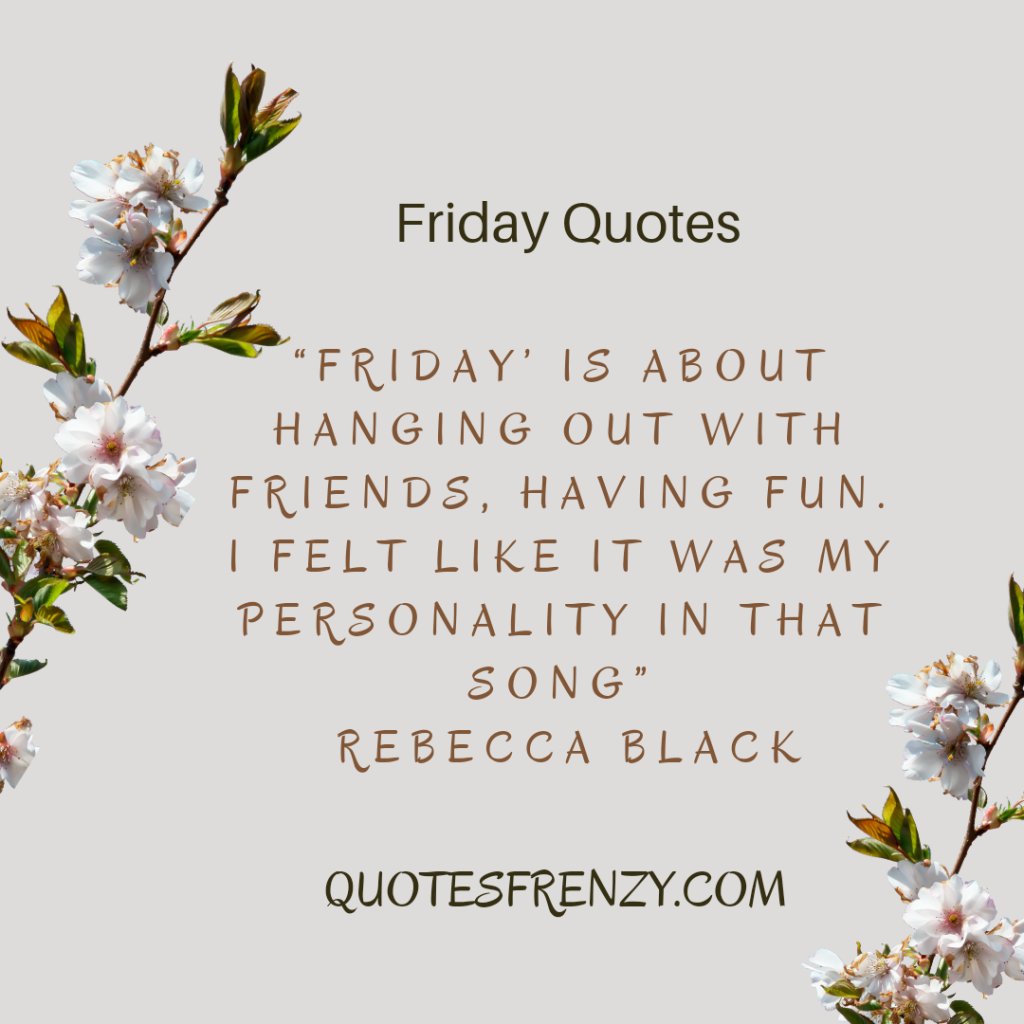 One of the recipes to having a fun-filled Friday evening is being surrounded by fun loving friends. These friends will offer you suggestions that will blow you away. If they are extroverts then that is even better. You will have an opportunity to walk and go far away from work and home. A change in the environment is a good therapy for the mind.
---
Famous Friday Quotes
---
"Fridays are the hardest in some ways: you're so close to freedom." Lauren Oliver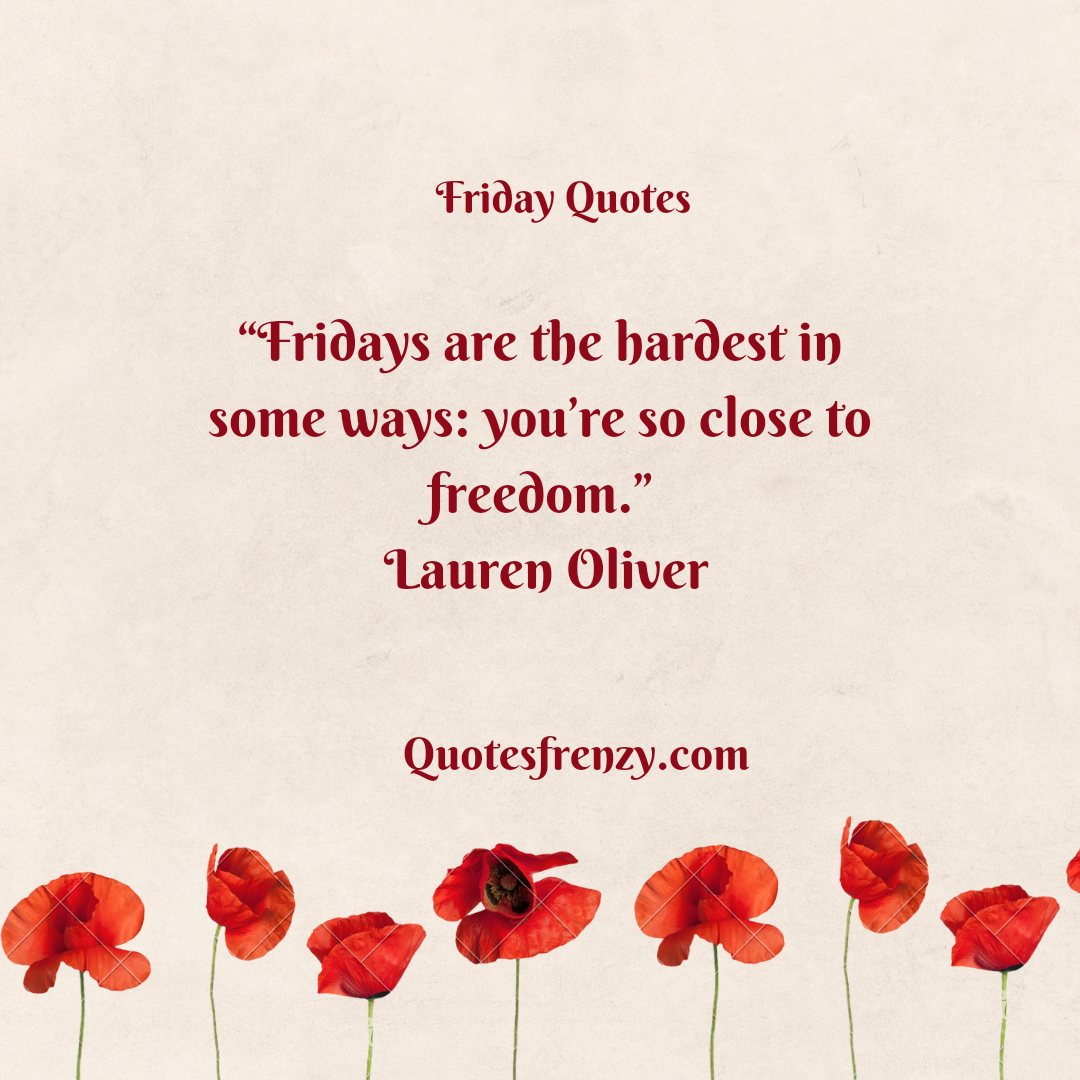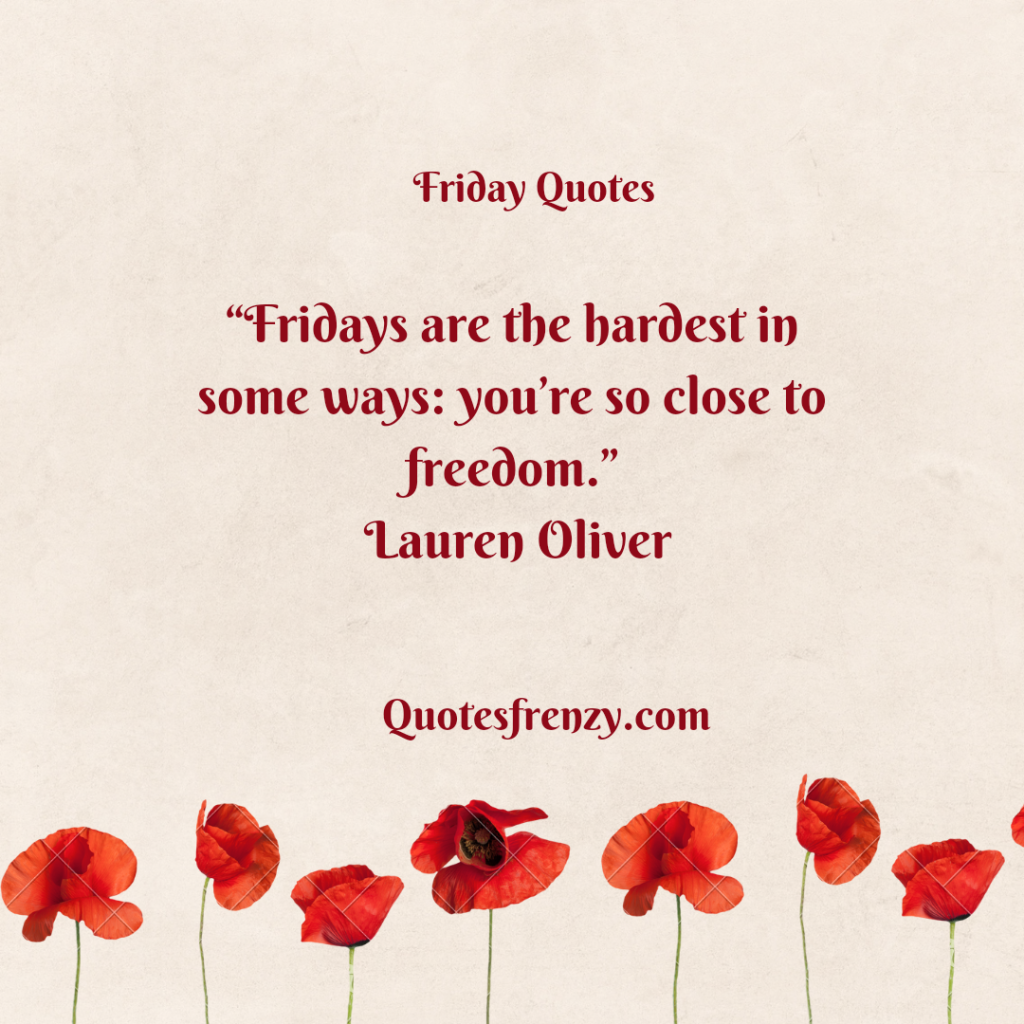 ---
Also read…
---
"Friday night is our date night. We really carve out time for each other." Karen Kain
---
"Music always sounds better on Friday." Lou Brutus
---
"Friday' is about hanging out with friends, having fun. I felt like it was my personality in that song." Rebecca Black
---
"If I don't die by Thursday, I'll be roaring Friday night." Jimmy Buffett
---
"It's always difficult to keep Fridays confined within themselves..they tend to spill over." Kai Sinclair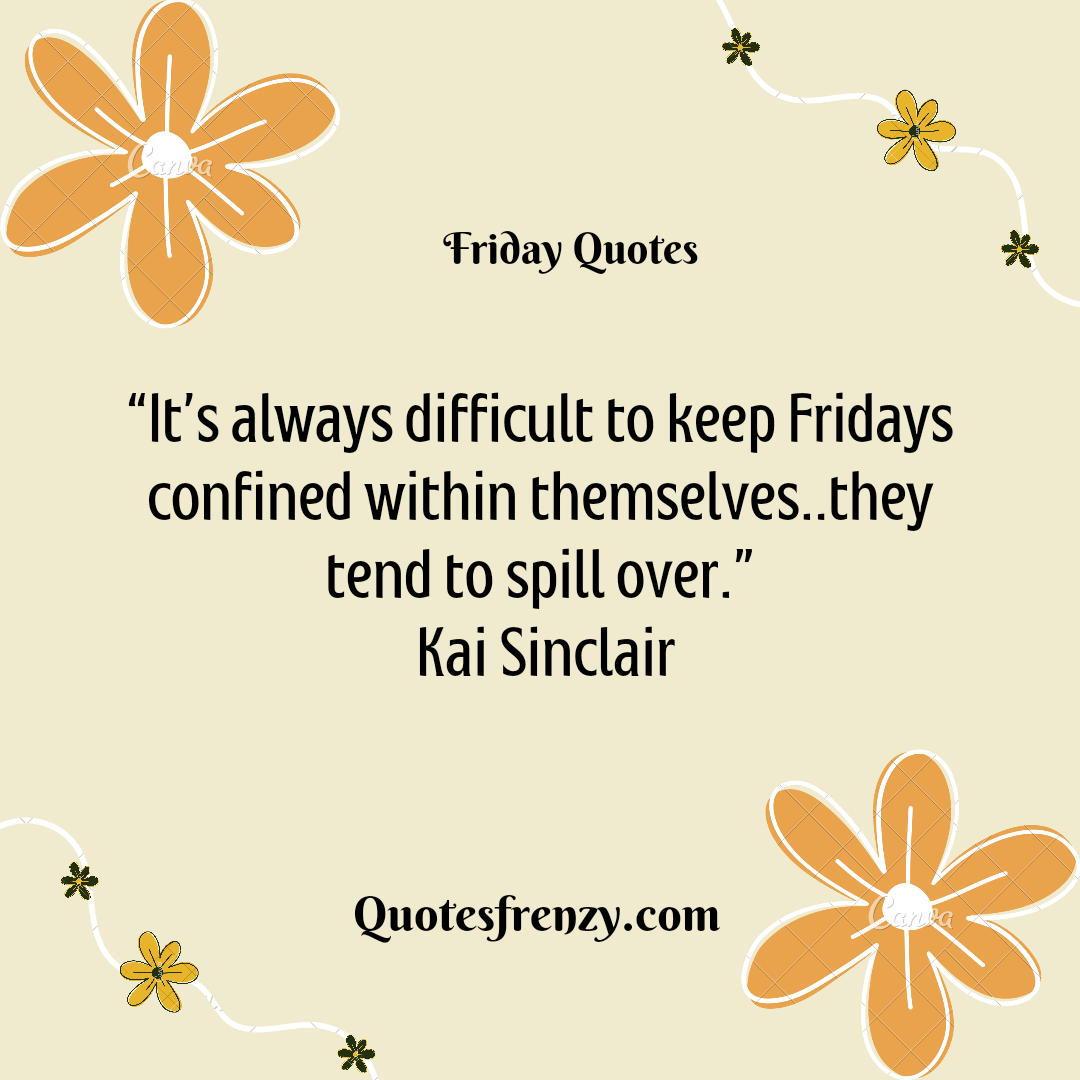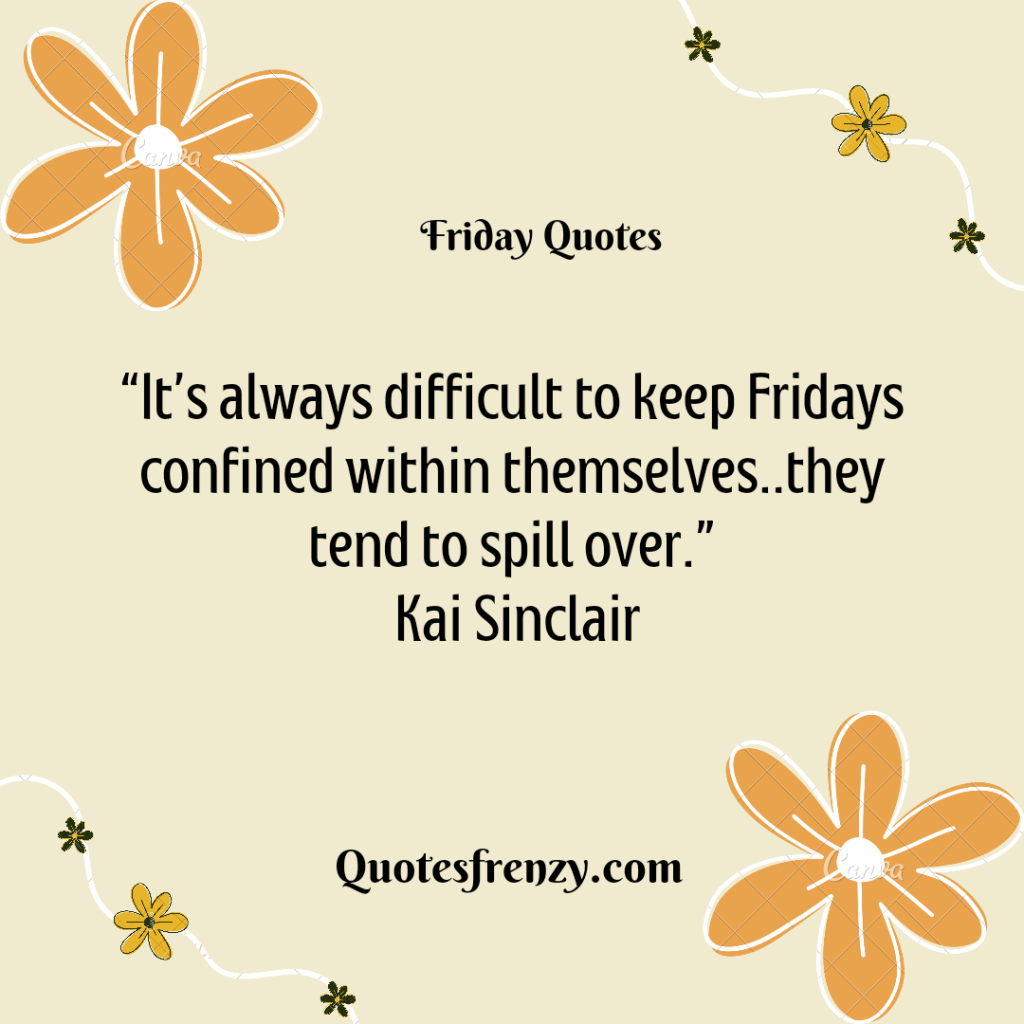 ---
"Employers are at their happiest on Mondays. Employees are at their happiest on Fridays." Mokokoma Mokhonoana
---
"Friday is like a superhero that always arrives just in time to stop me from savagely beating one of my coworkers with a keyboard." Rico
---
"Youth is like a long weekend on Friday night. Middle age is like a long weekend on Monday afternoon." Richard Nelson Bolles
---
"If my boss knew how unproductive I am on Fridays, he wouldn't want me here either." James Johnson
---
"Make a Friday a day to celebrate work well done that you can be proud of knowing that you just didn't put in time to the next pay check." Byron Pulsifer
---
"It is bad luck to fall out of a thirteenth story window on Friday." Proverb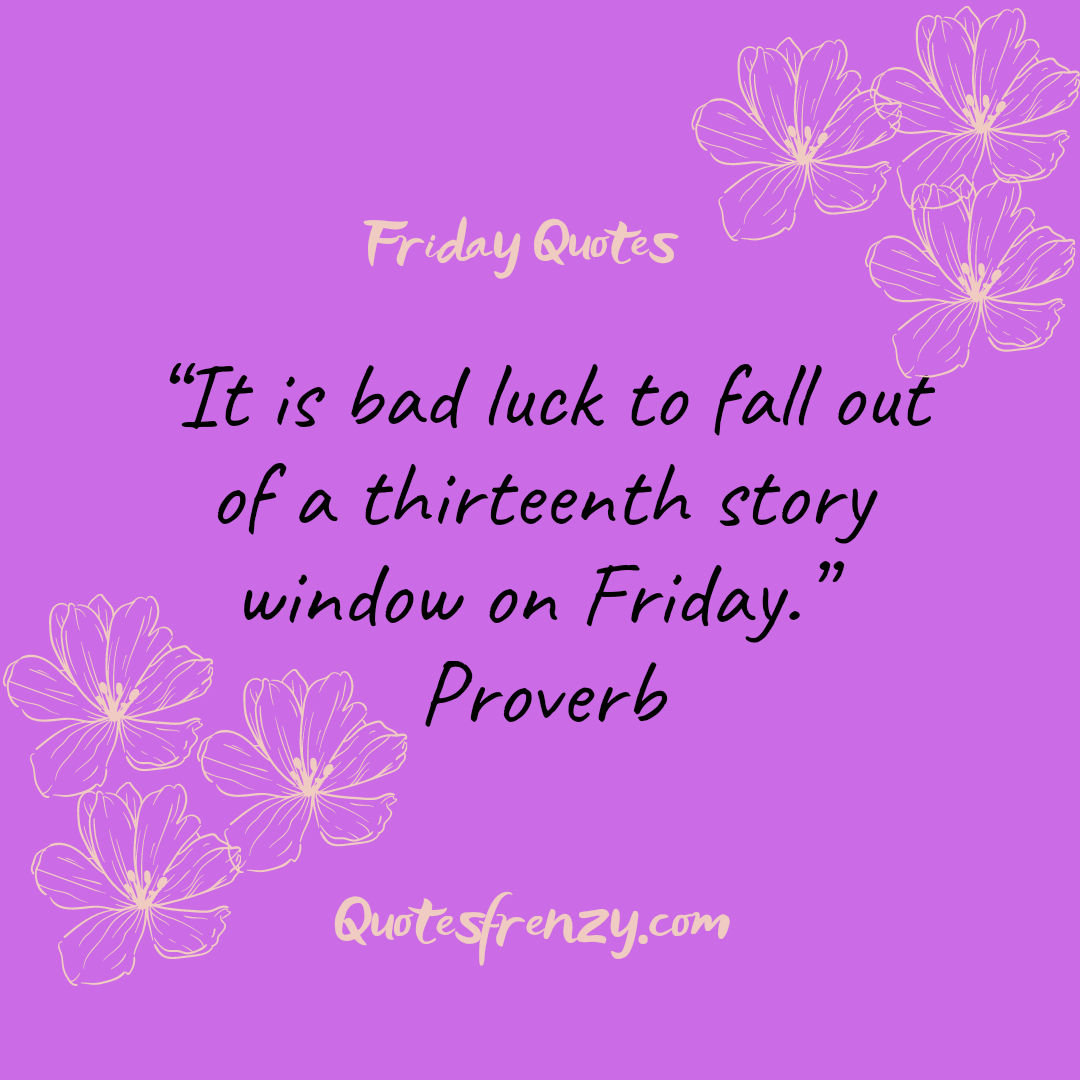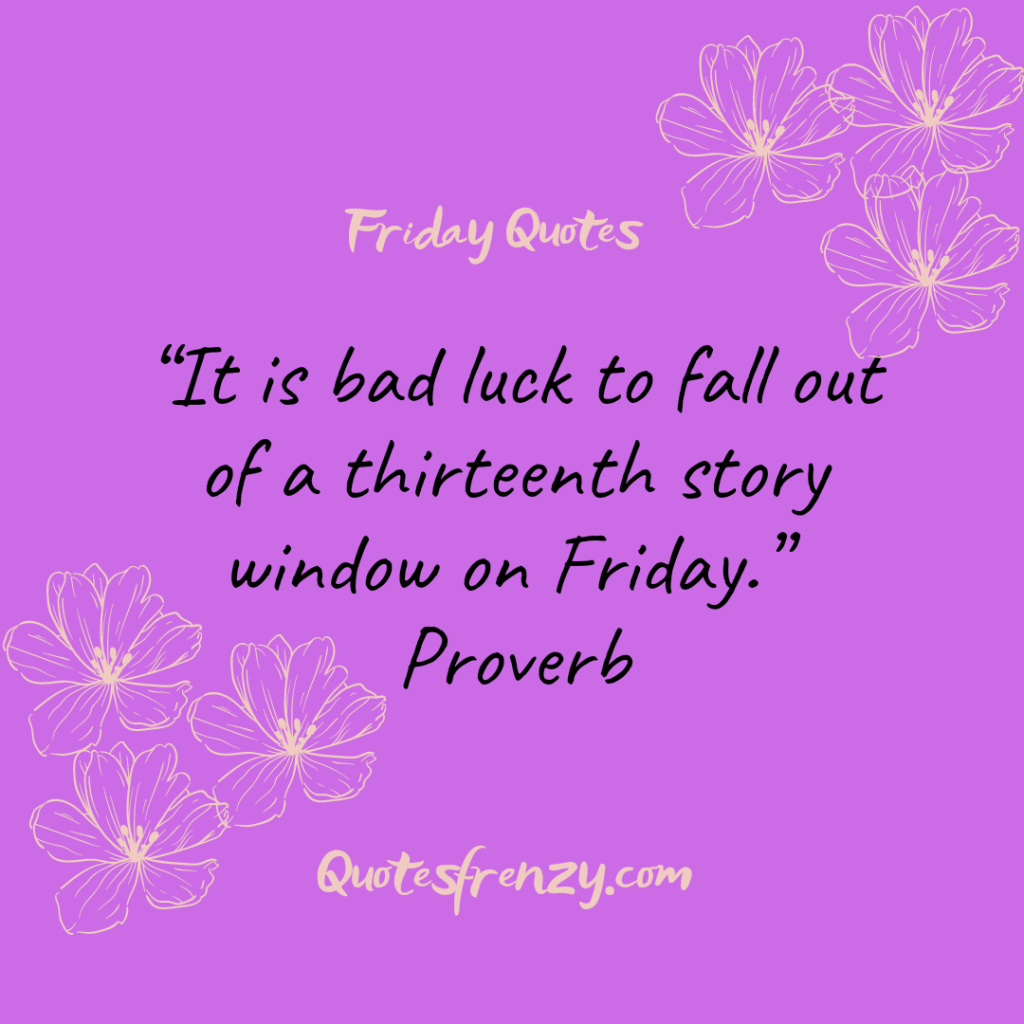 ---
"If you see me on Friday, you'll see different material on Saturday night." Kathy Griffin
---
"If it comes back, I think that Friday night is not a good night to be on." Amber Tamblyn
---
"Friday's a free day. A woman's day." Neil Gaiman
---
"Friday afternoon feels like heaven…" El Fuego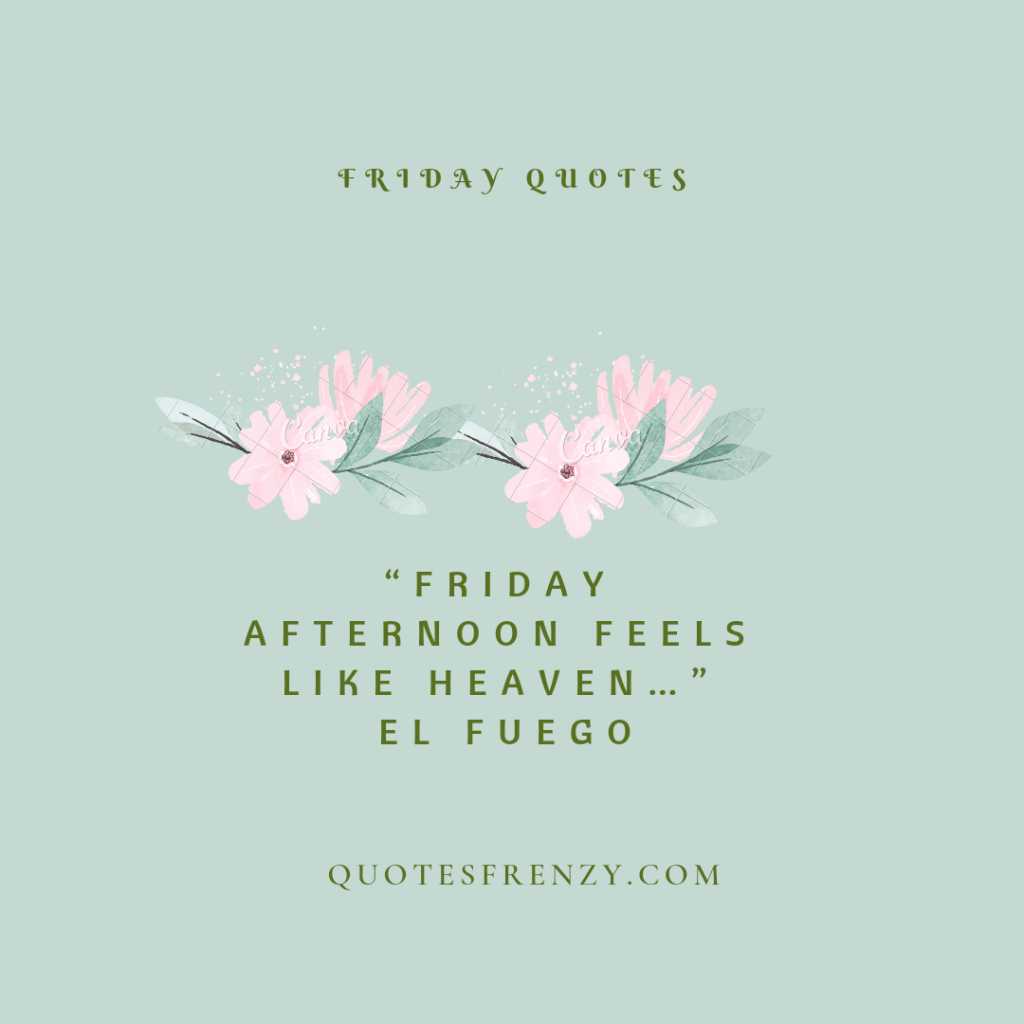 ---
"Things people say: It's Friday! Things self-employed people say: It's Friday?" Anonymous
---
"Oh! It's Friday again. Share the love that was missing during the week, In a worthy moment of peace and bliss." S. O' Sade
---
"Creativity Is a fancy word for the work we have to do by Friday." David Ogilvy
---
"If you must have motivation, think of your paycheck on Friday." Noel Coward
---
"Although I understand that all days are equal with 24 hours each, most of us agree that Friday is the longest day of the week and Sunday the shortest!" D.S. Mixell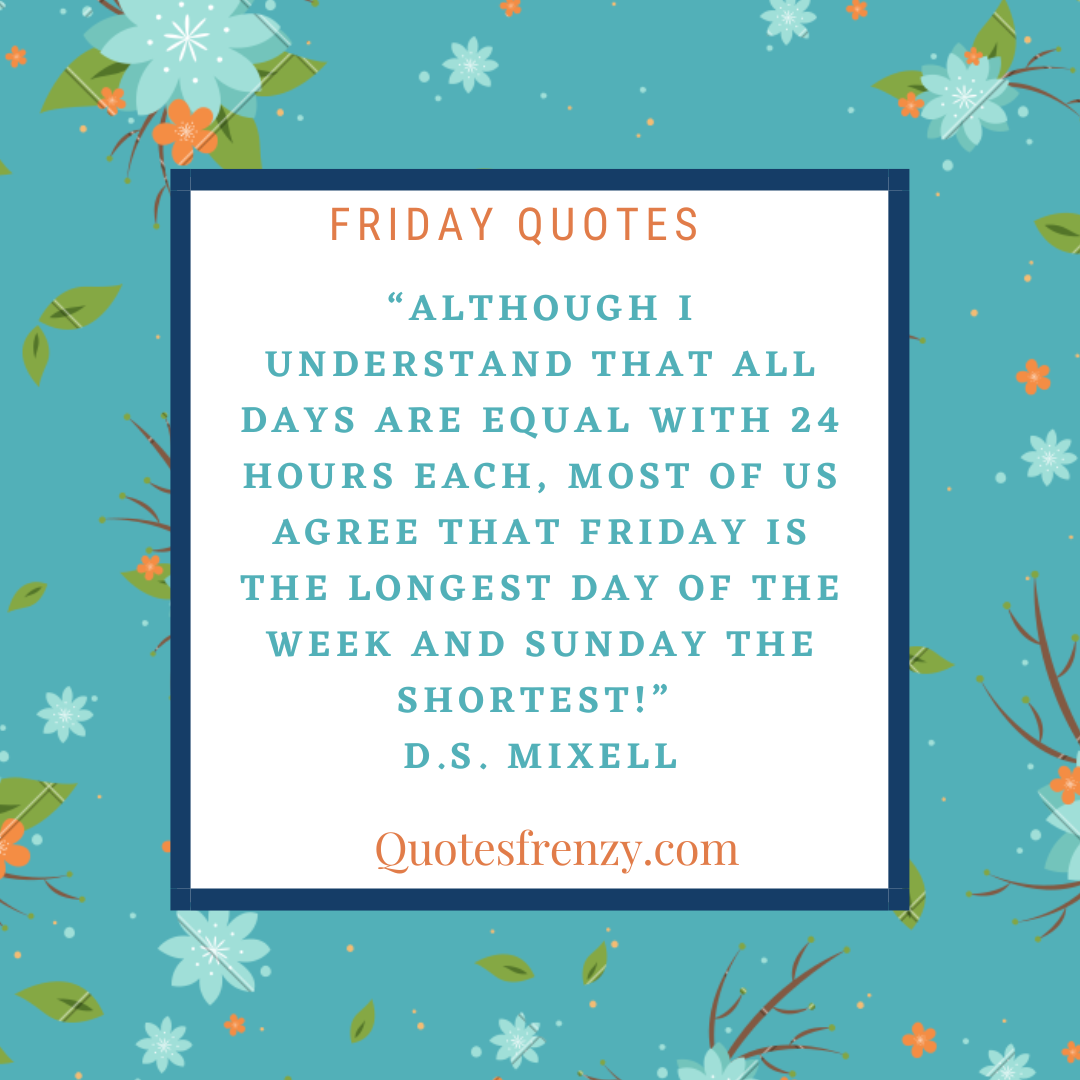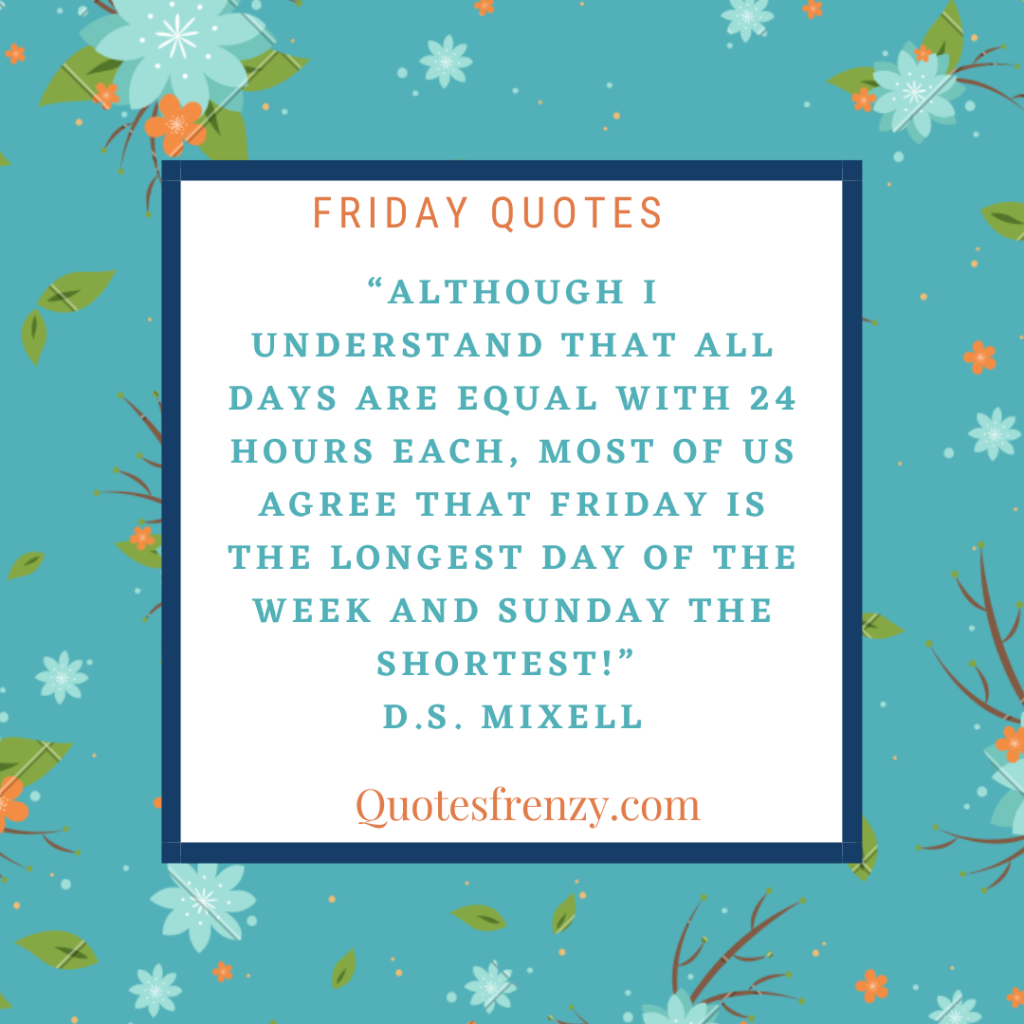 ---
"Now on Friday nights, if I want to go hang out with friends, I go hang out with friends. If I want to stay in and be in the hot tub and have people over to watch movies, I do that." Demi Lovato
---
"There are two tests in life, more important than any other test. On Monday morning, when you wake up, do you feel in the pit of your stomach you can't wait to go to work? And when you're ready to go home Friday afternoon, do you say, 'I can't wait to go home?" Chuck Schumer
---
"Making food is a wonderful way to spend a Friday night." Chrissy Teigen
---
"It's Friday! I can't wait to be ashamed of what I do this weekend." Anonymous
---
"You always feel like your 18-year-old self in some sense. And that's what walking through New York on a June evening feels like – you feel like it is Friday and you are 17 years old" John Darnielle – Friday Quotes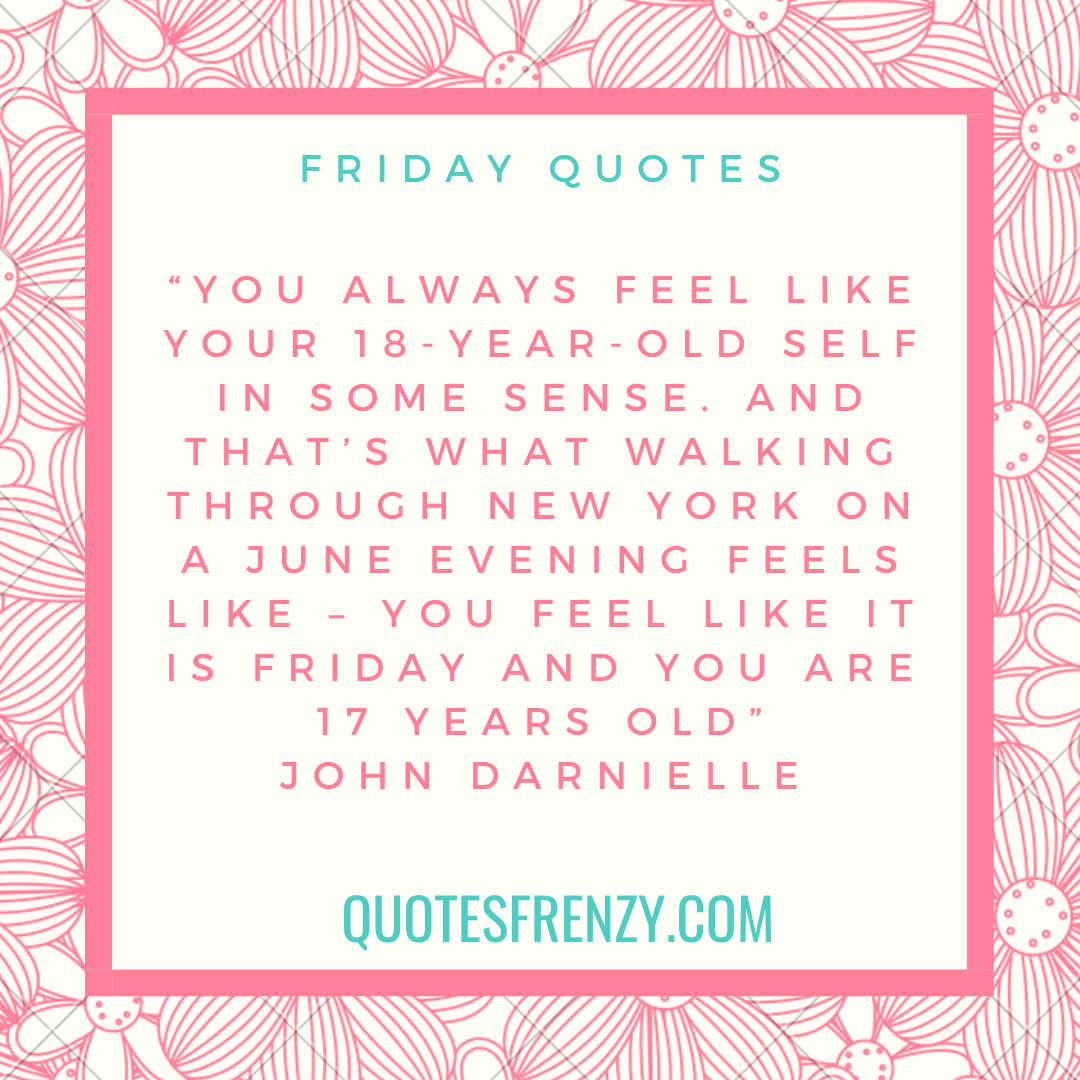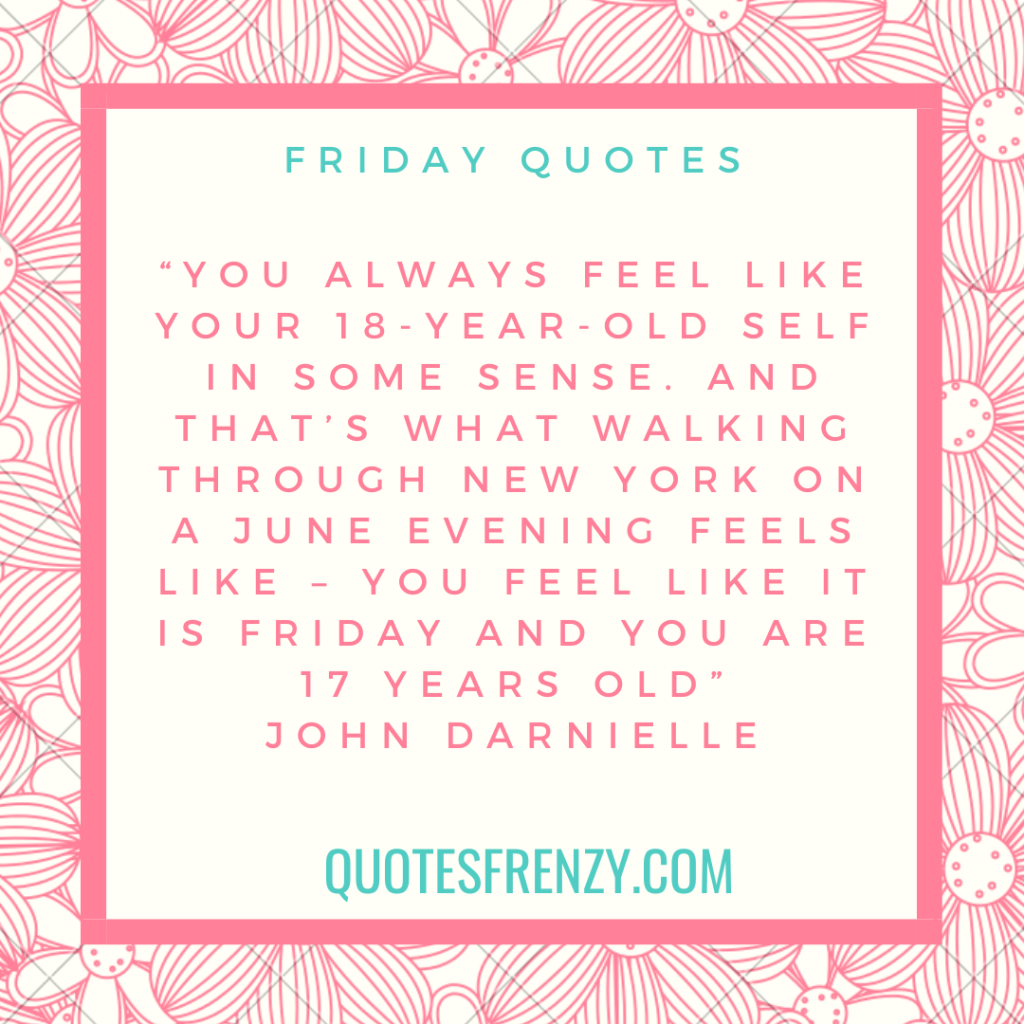 What makes a good Friday do to us that we never have enough of it? It makes us feel young again. We become carefree and concentrate on just letting it out. This is one of the things which teenagers are good at. With no responsibilities at all, they just have fun. Once in a while, it is good to feel young once more. It is so refreshing.
"I understand what it is  like to work all week and on Friday night just want to go and leave your brain at the door, buy some popcorn and be thrilled by something"  Don Cheadle – Friday Quotes

If you like staying indoors, then movies or indoor games will be a good option for you. Just snuggling on the couch, with your baggy pajamas, with popcorn in your hands with an amazing blockbuster will do the trick. You can have a few friends over or take this opportunity to spend with the family.
Fridays are days of the week which cannot pass unnoticed. If not planned for, they lead to a non-productive week. On the other hand, if you overdo your Fridays, you might get a hangover which will ruin the first few days of your week. These Friday Quotes will guide you away from such mistakes.