Hope Quotes-No one what tomorrow holds, it is like a room with darkness, we can only perceive the possibilities of tomorrow but we are never really sure of. Hope is simply having faith and believing that your future desires will be fulfilled according to your wish. Being hopeful of tomorrow helps us to live a happy life today. There are so many Hope Quotes that inspire us to live fully today and expect the best tomorrow. Most of them have been quoted by prominent people, such as leaders, they are as follows
---
Optimism Is The Faith That Leads To Achievement. Nothing Can Be Done Without Hope and Confidence- Helen Keller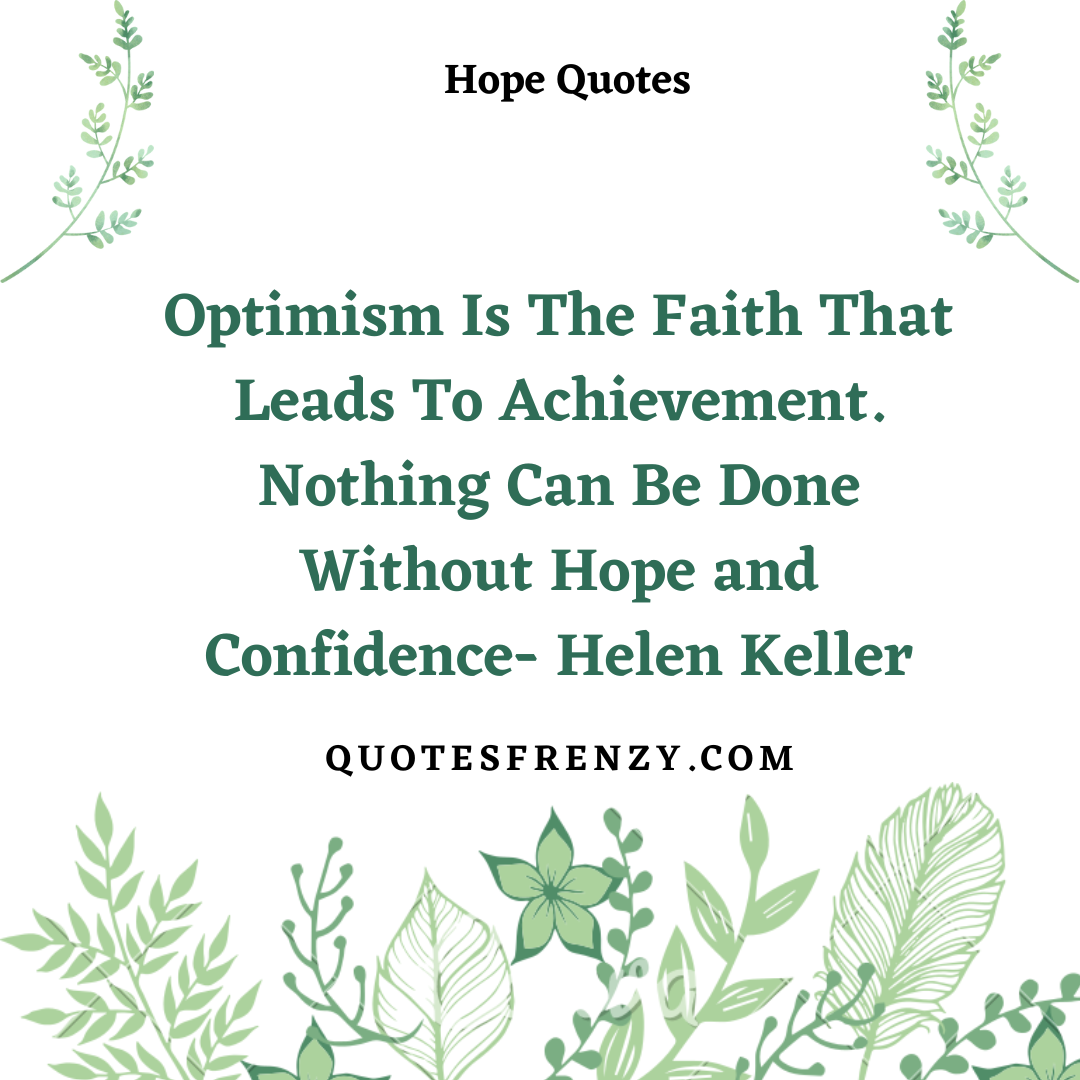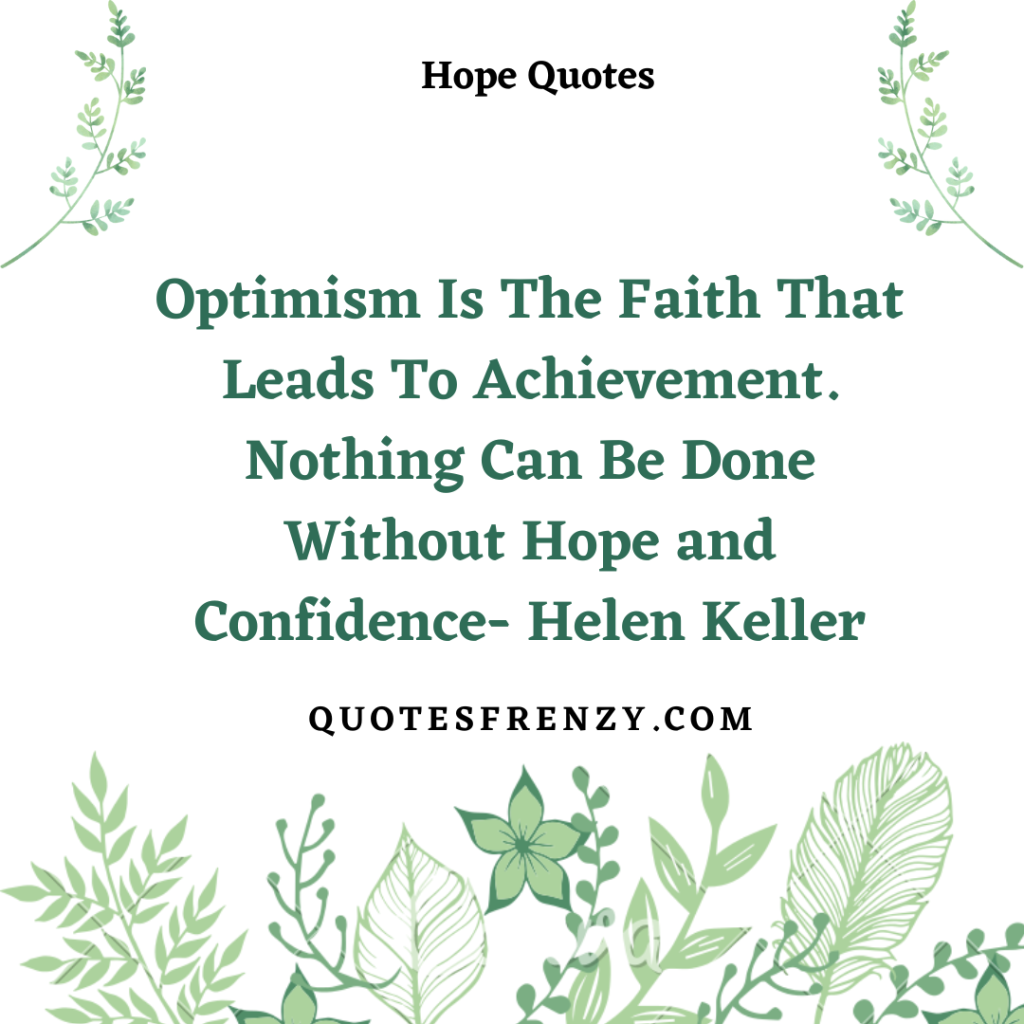 For one to achieve his or her desires and goals, the initial step to take is to become hopeful and confident. Keller, an American author, quoted that it is faith that brings achievements, in whatever one does, it is a key factor to be always optimistic. Someone who is not hopeful does not have confidence in whatever he or she is undertaking, and in most cases, the person will even lose the energy of completing her work. Keller's quote is simply an advice that working without hoping is fruitless.
---
Inspirational Hope Quotes
---
"Hope is passion for what is possible." Soren Kierkegaard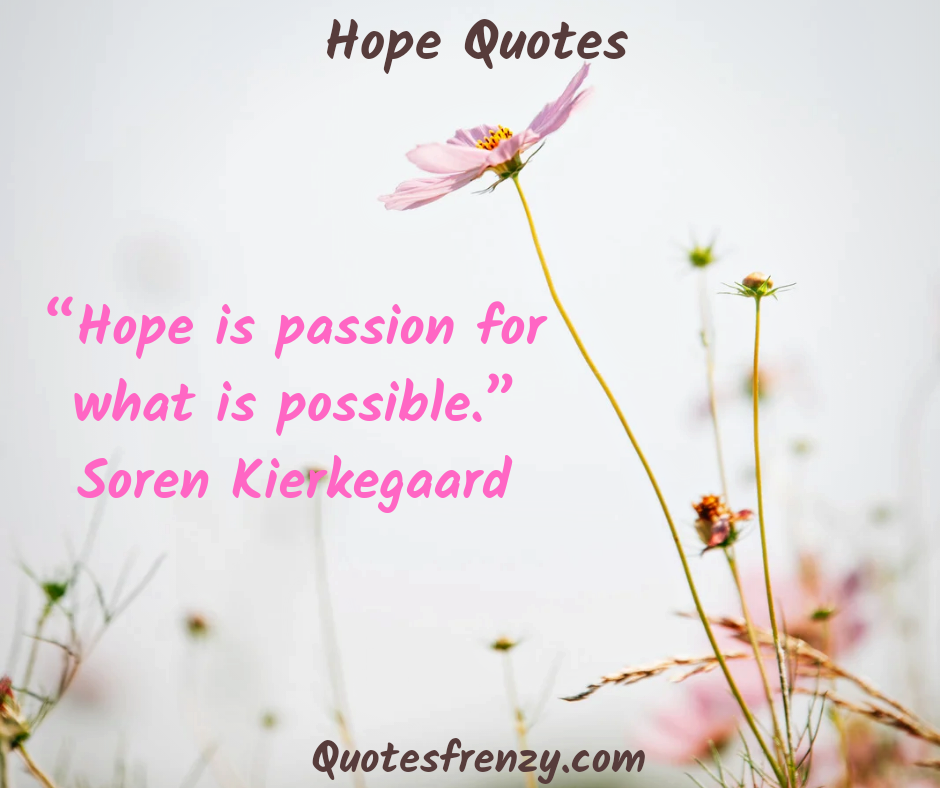 ---
Also read…
---
"Hope is brightest when it dawns from fears." Walter Scott
---
"A leader is a dealer in hope." Napoleon Bonaparte
---
"Hope is a waking dream." Aristotle
---
"Hope is patience with the lamp lit." Tertullian
---
"Once you choose hope, anything's possible." Christopher Reeve
---
"Courage is like love; it must have hope for nourishment." Napoleon Bonaparte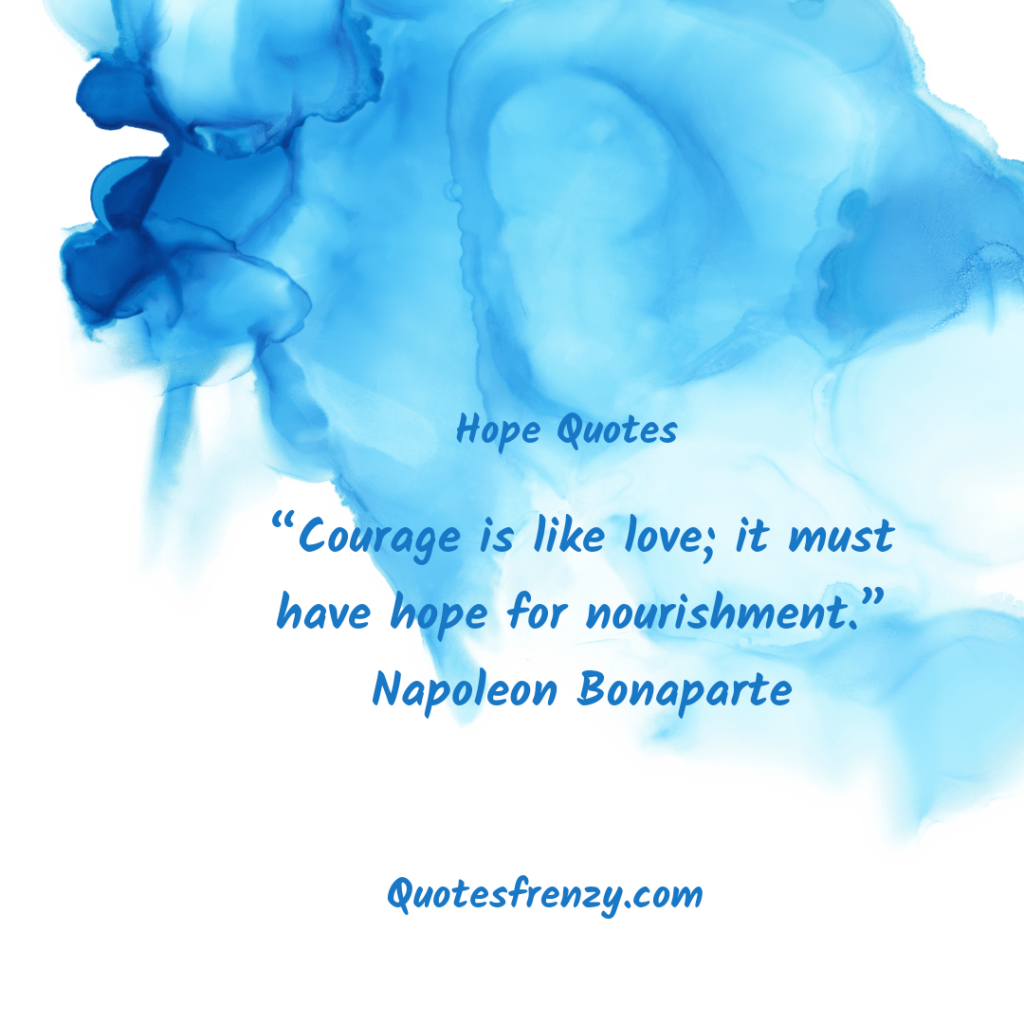 ---
"Hope is the thing with feathers that perches in the soul." Emily Dickinson
---
"Hope is the second soul of the unhappy." Johann Wolfgang von Goethe
---
"As I breathe, I hope." Marcus Tullius Cicero
---
"Great hopes make great men." Thomas Fuller
---
"Hope travels through, nor quits us when we die." Alexander Pope
---
"Hope is a good breakfast, but it is a bad supper." Francis Bacon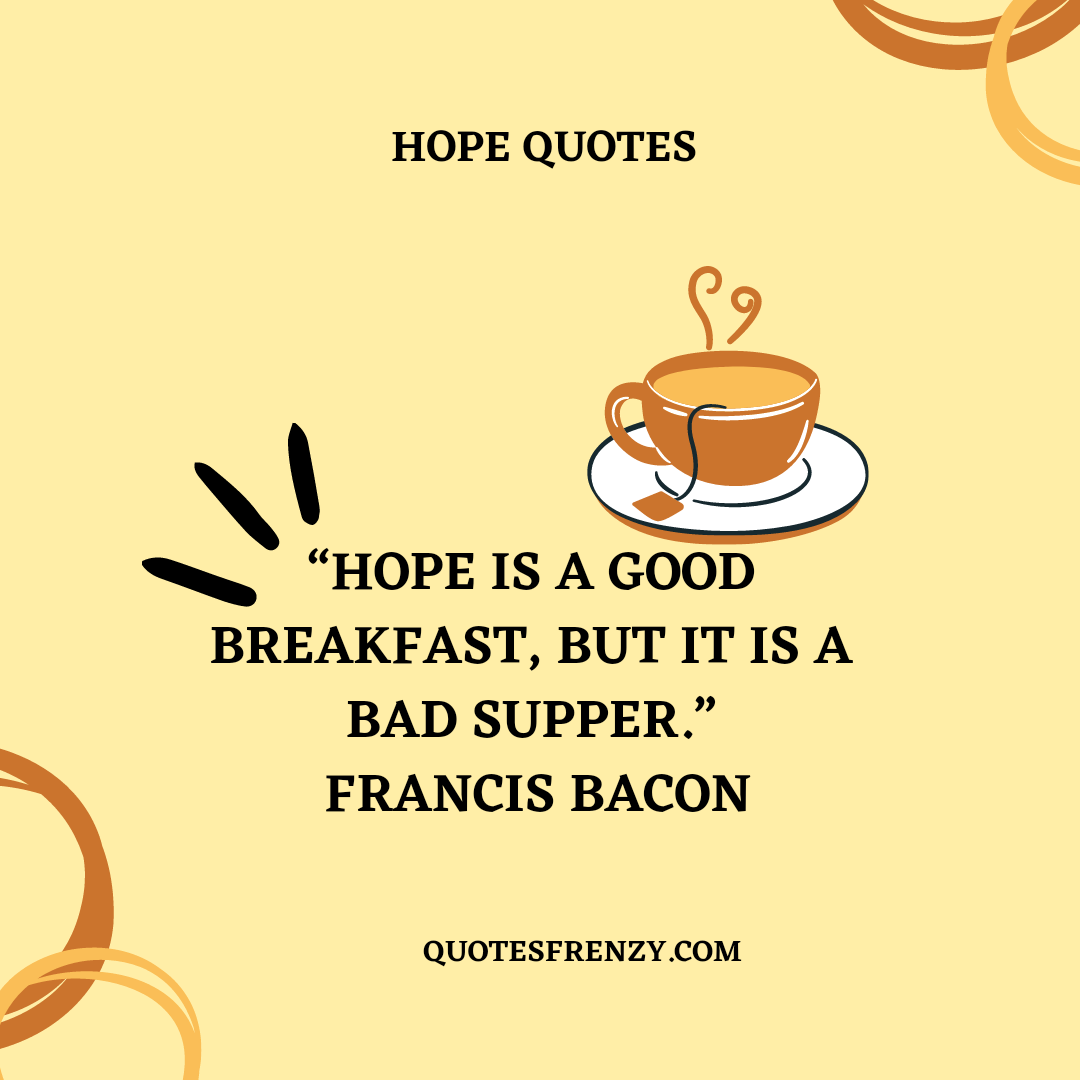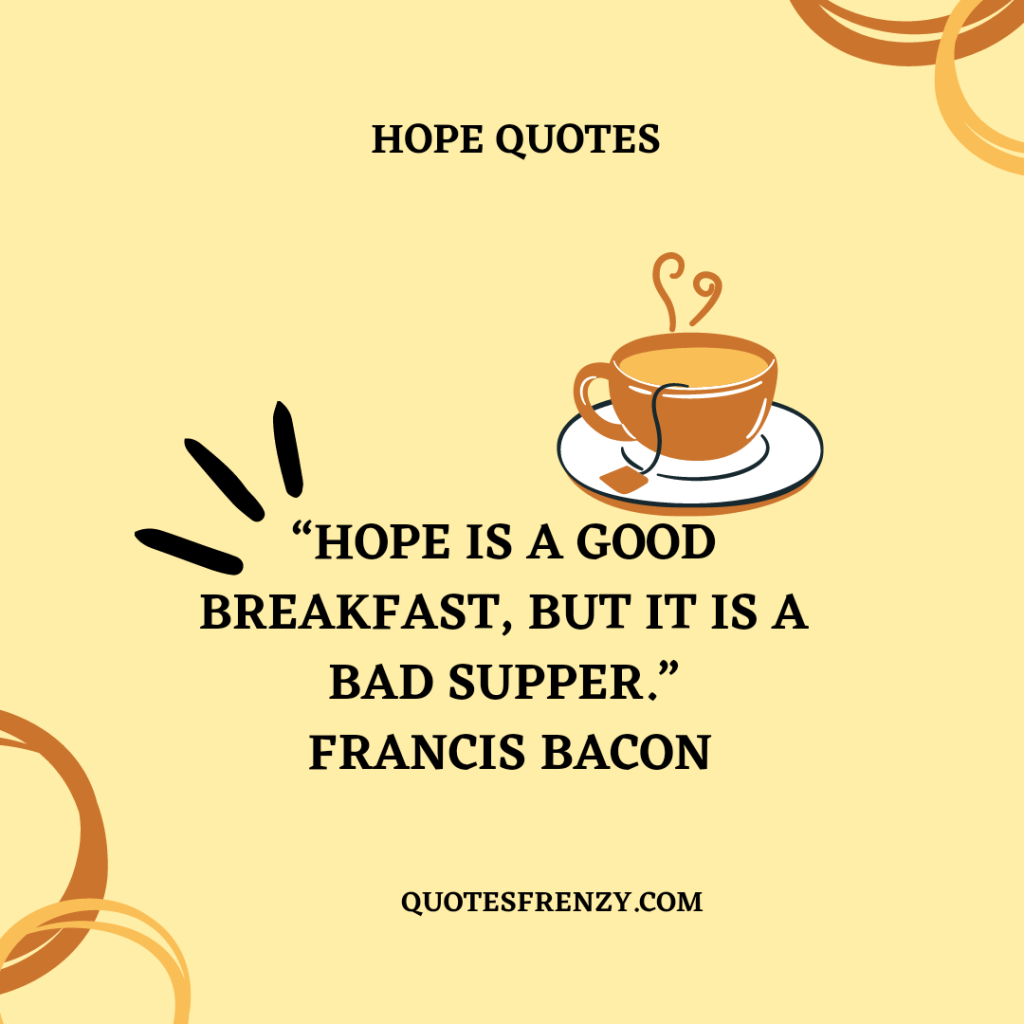 ---
"While there's life, there's hope." Marcus Tullius Cicero
---
"Hope is the dream of a waking man." Aristotle
---
"There is no medicine like hope." Orison Swett Marden
---
"Hope, like the gleaming taper." Oliver Goldsmith
---
"It is better to hope than to mope!" Margaret Atwood
---
"Hope is a risk that must be run." Georges Bernanos
---
"Hope springs exulting on triumphant wing." Robert Burns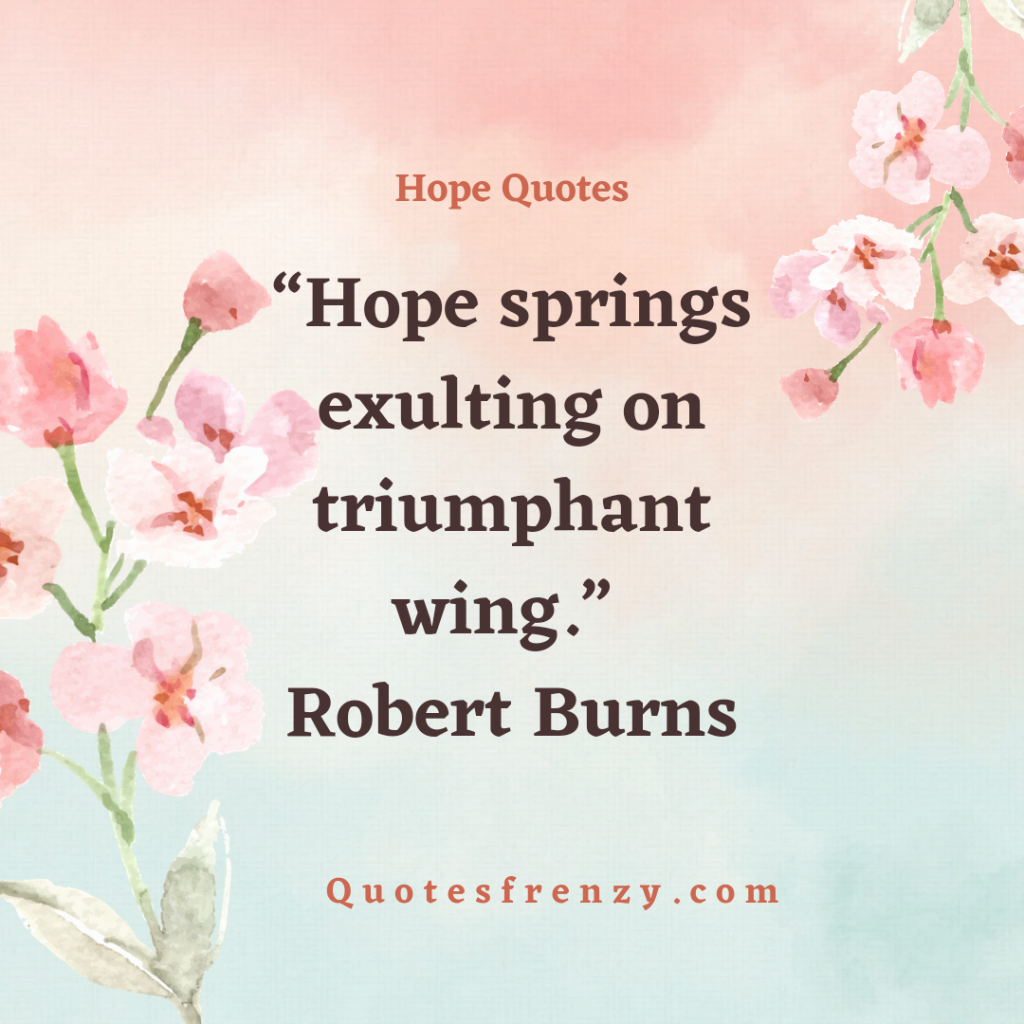 ---
"When there is no hope, there can be no endeavor." Samuel Johnson
---
"Hope is the last thing that dies in man." Francois de La Rochefoucauld
---
"Never talk defeat. Use words like hope, belief, faith, victory." Norman Vincent Peale
---
"Hope is a talent like any other." Storm Jameson
---
"He that lives upon hope will die fasting." Benjamin Franklin
---
Hope Is Being Able To See That There Is Light despite All of the Darkness – Desmond Tutu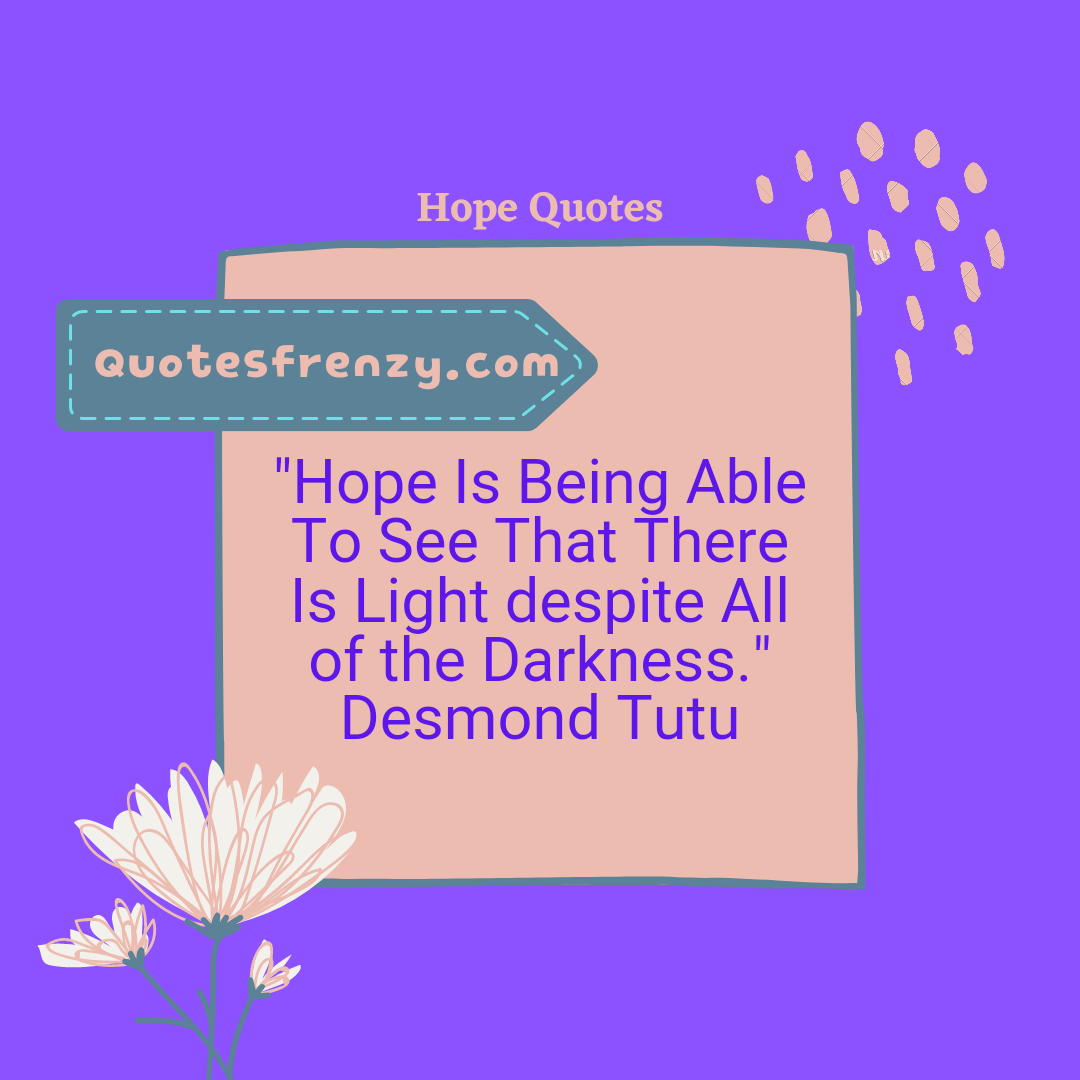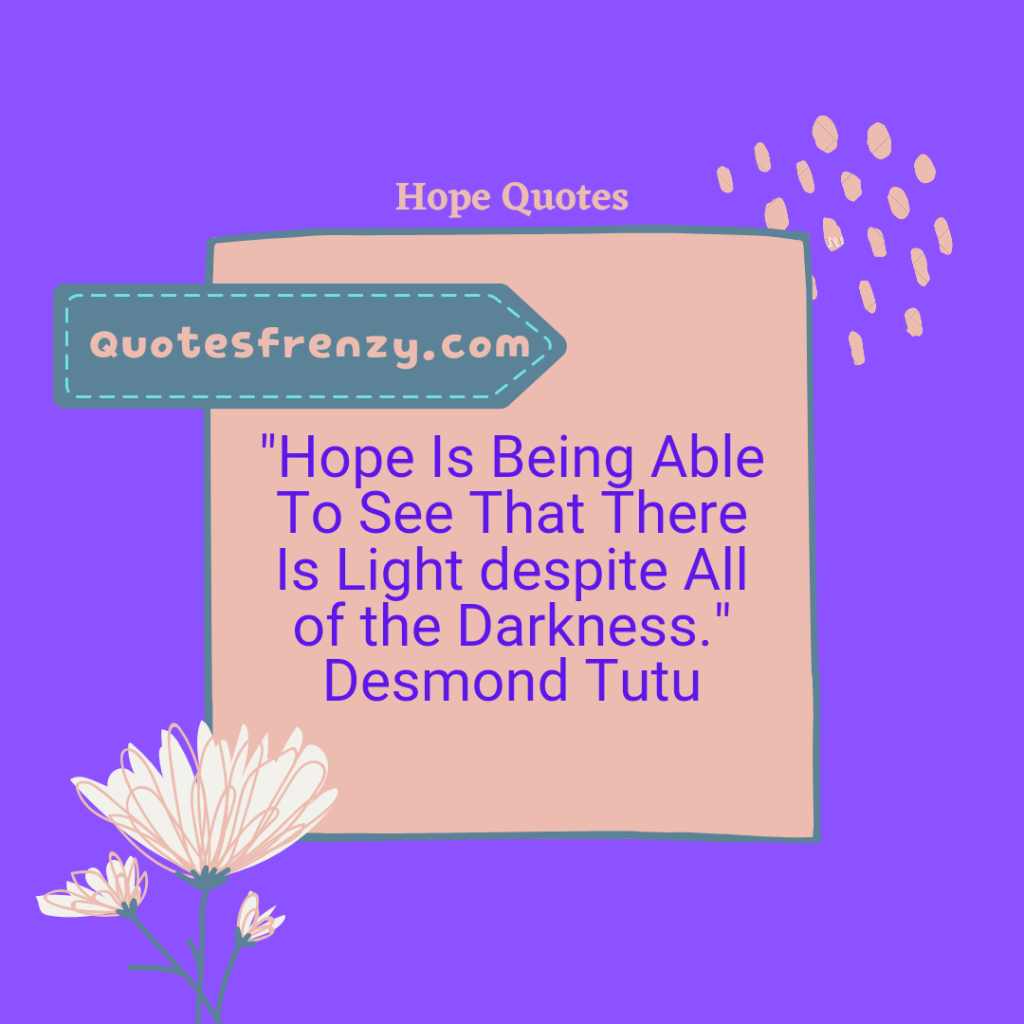 Tutu is a prominent South African leader who is known to be a wise man. His words of wisdom are quoted, so as to be used to inspire people. Among his many quotes is this quote that defines to us what hope exactly means. Darkness represents all the down moments in our lives, moments that seem to us as obstacles towards achieving what we most desire. It is not possible to literally see light in the darkness, hope, therefore, means believing that the impossible is possible.
---
We Must Accept Finite Disappointment, But Never Lose Infinite Hope –Martin Luther King, Jr.
At one or more points in life, you may have faced disappointments. Things do not always work as you expect, there are circumstances in life that do not agree with your expectations. Since they are a situation that has happened, we have no choice but accept them. One should not cease hoping for things that are yet to happen.
Learn From Yesterday, Live For Today, Hope For Tomorrow. The Important Thing Is Not To Stop Questioning – Albert Einstein
Einstein is renowned as a theoretical physicist who developed the theory of relativity. Besides being a scientist, he did have life enriching quotes. In this quote, hope was his central message, tomorrow is a day that we do not know what will happen but only hope for. Experiences of yesterday, helps us live right today but it is hoped that defines tomorrow.
In conclusion, hope is the key to success of what we do today and therefore living a hopeful life is advisable since it is free from stress and disappointments. People should learn to read Hope Quotes, as it helps to brighten today.