Hair Quotes-How much does hair matter to people?  It matters a lot for many. For few, their hair is like their life. They cannot take it something happens to their hair. Even though their life is not perfect, few people always expect their hair to be perfect. Hairstyles are the new trend. People follow a lot of hairstyles and trends these days. A good hairstyle adds up on to our beauty.
---
Famous Hair Quotes
---
"The winds long to play with your hair." Khalil Gibran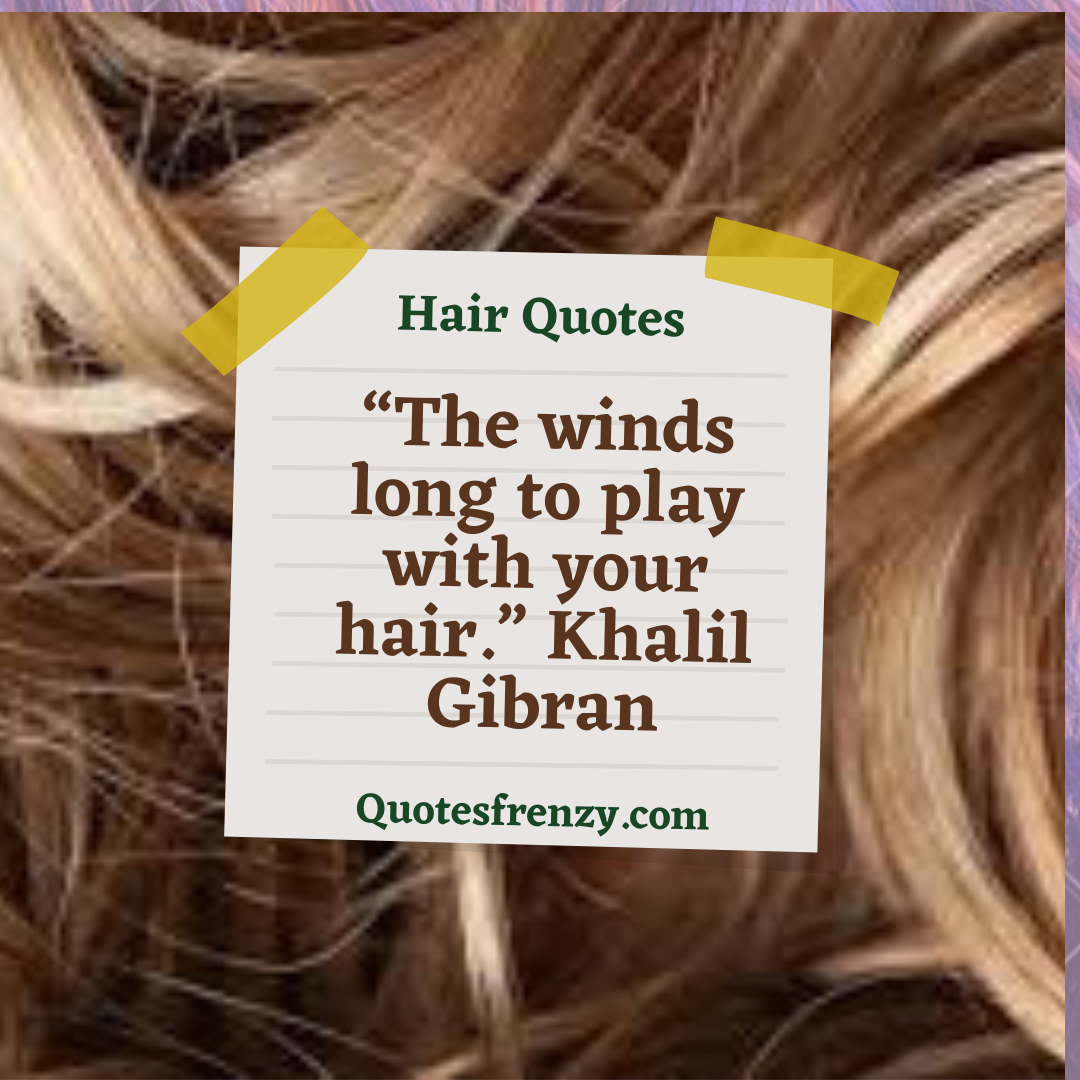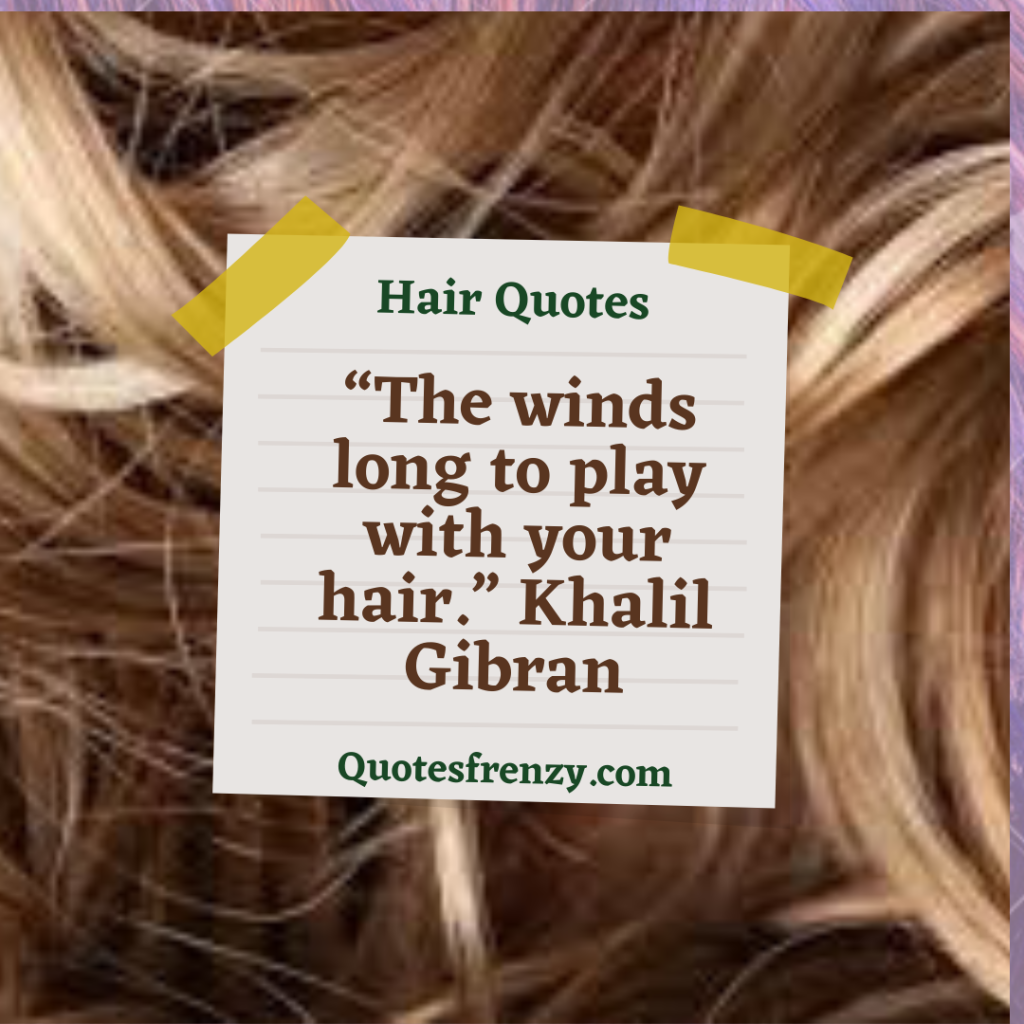 ---
Also read…
Women Rights Quotes And Sayings
---
"Hair has always been important." Diana Ross
---
"A woman who cuts her hair is about to change her life." Coco Chanel
---
"The beauty of a woman is not in the clothes she wears, the figure that she carries or the way she combs her hair." Audrey Hepburn
---
"When a woman ceases to alter the fashion of her hair, you guess that she has passed the crisis of her experience." Mary Hunter Austin
---
"I wish we did have responsibility for the hair. I have been screwed up by the hair on many occasions." Julie Harris
---
"I have always believed that hair is a very sure index of character." Katharine Tynan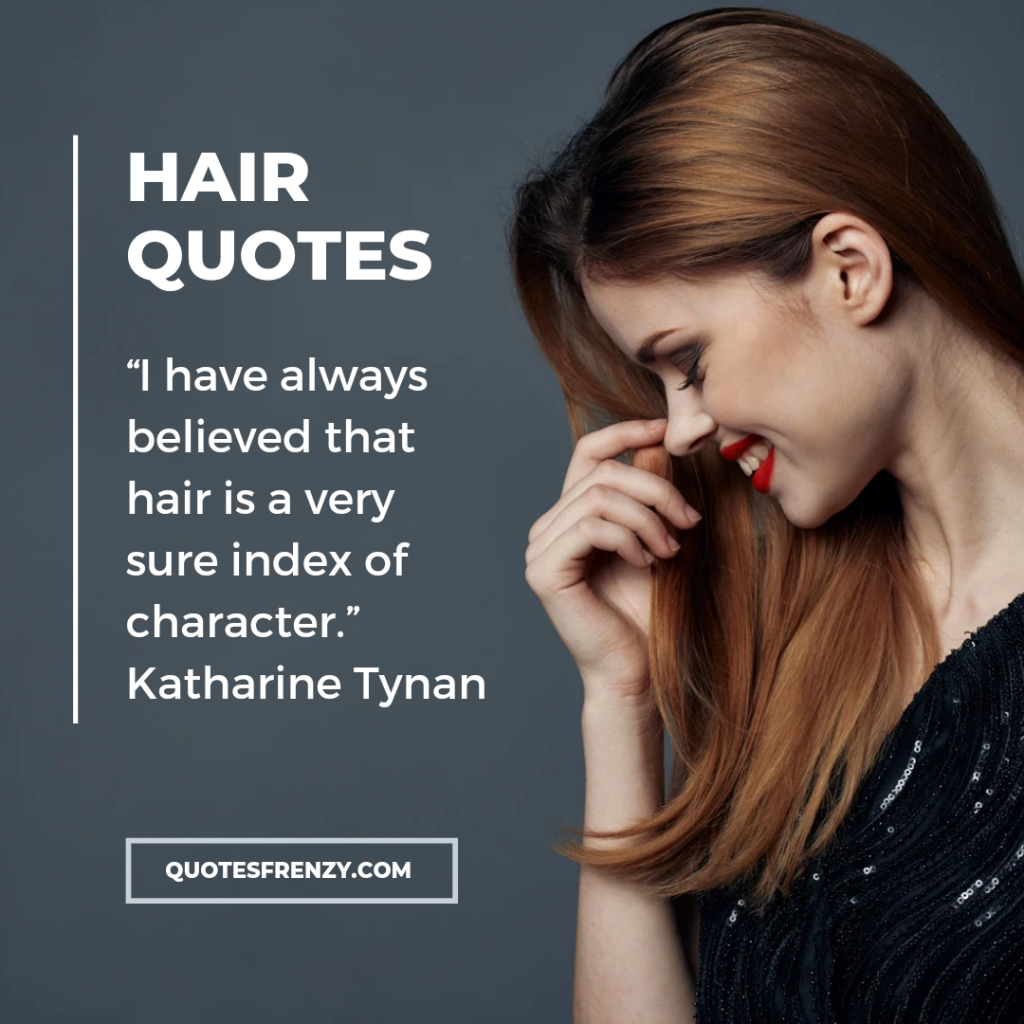 ---
"We grow gray in our spirit long before we grow gray in our hair." Charles Lamb
---
"It is not by the gray of the hair that one knows the age of the heart." Edward Bulwer-Lytton, 1st Baron Lytton
---
"When you see fair hair Be pitiful." George Eliot
---
"No rival will steal away my sure love; that glory will be my gray hair." Propertius
---
"It's not the hair on your head that matters. It's the kind of hair you have inside." Garry Shandling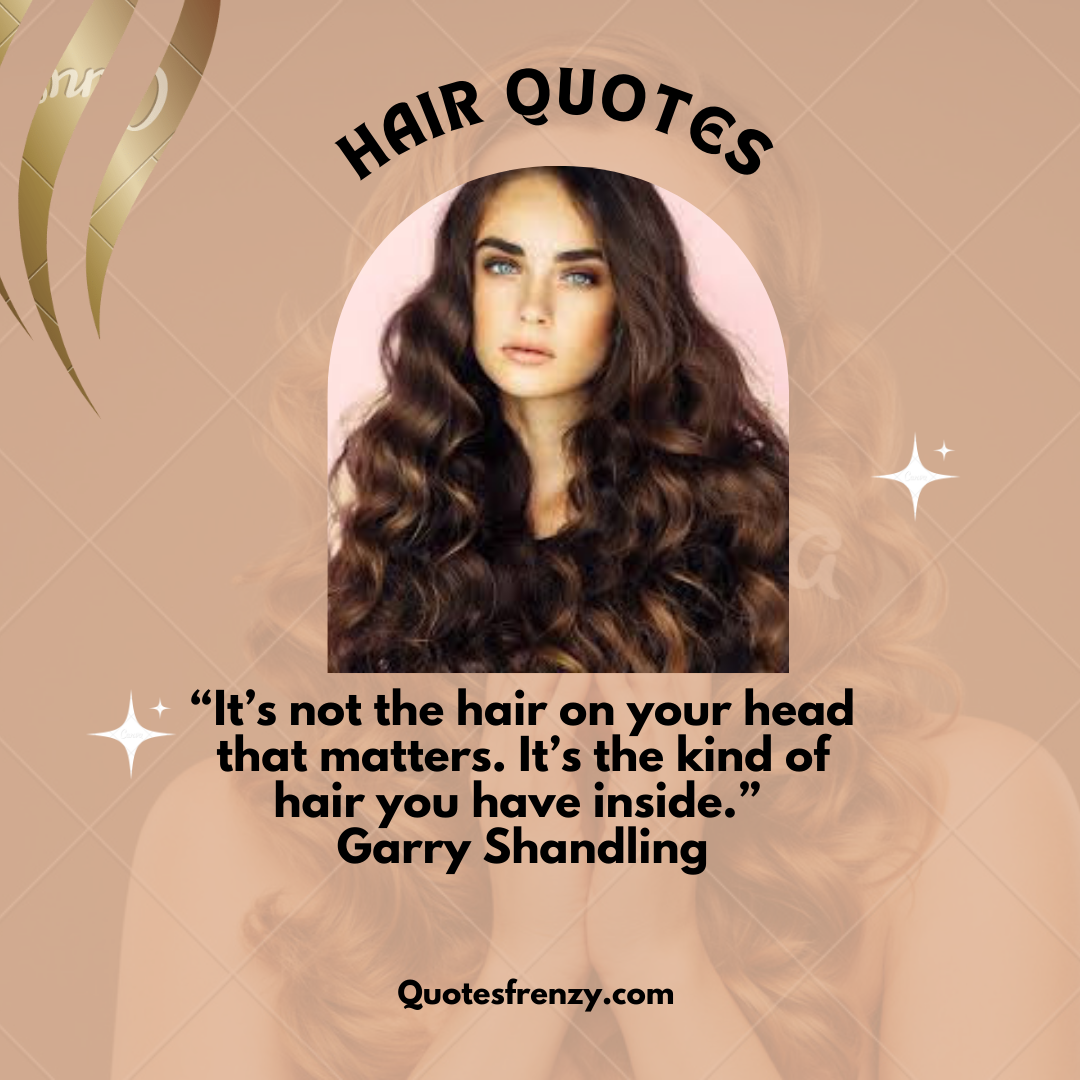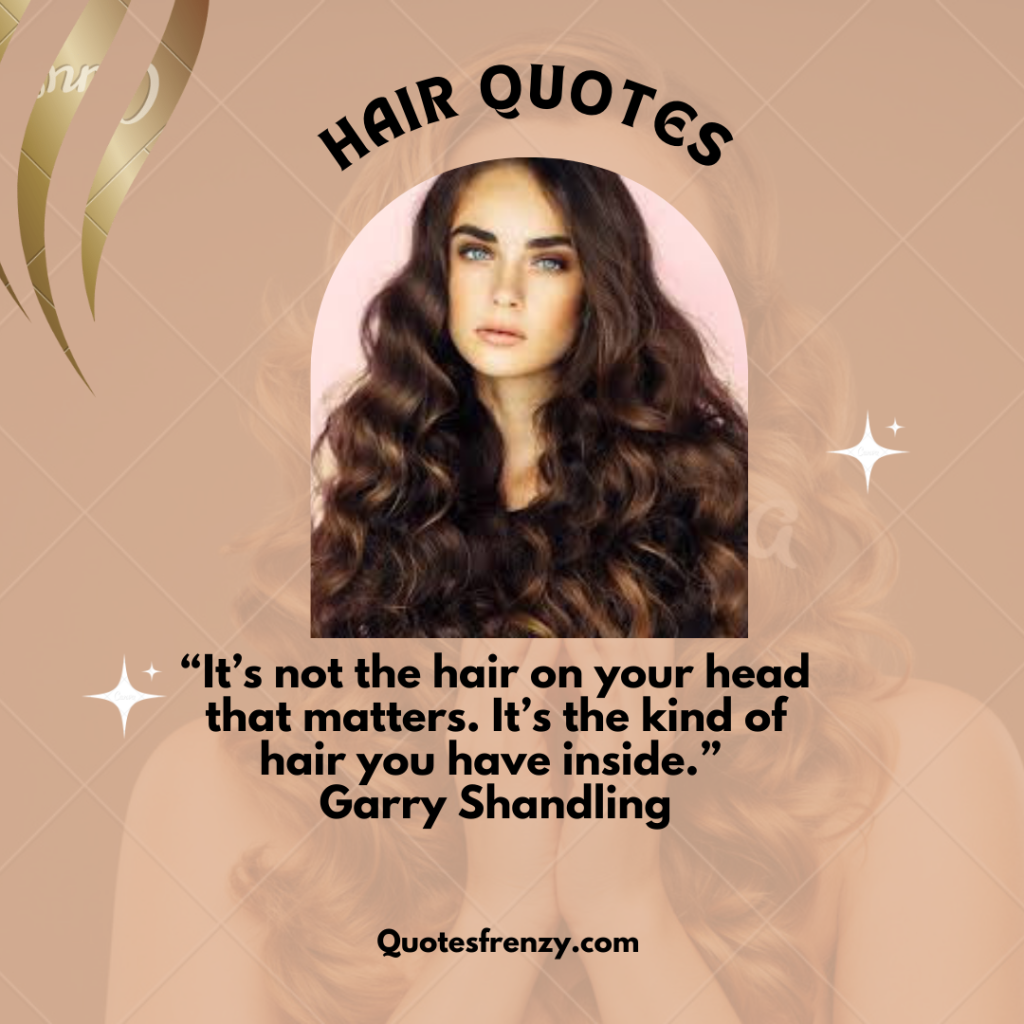 ---
"Gorgeous hair is the best revenge." Ivana Trump
---
"Judgment is discernment on a bad hair day." Mary Anne Radmacher
---
"Hair style is the final tip-off whether or not a woman really knows herself." Hubert de Givenchy
---
"The hair is the richest ornament of women." Martin Luther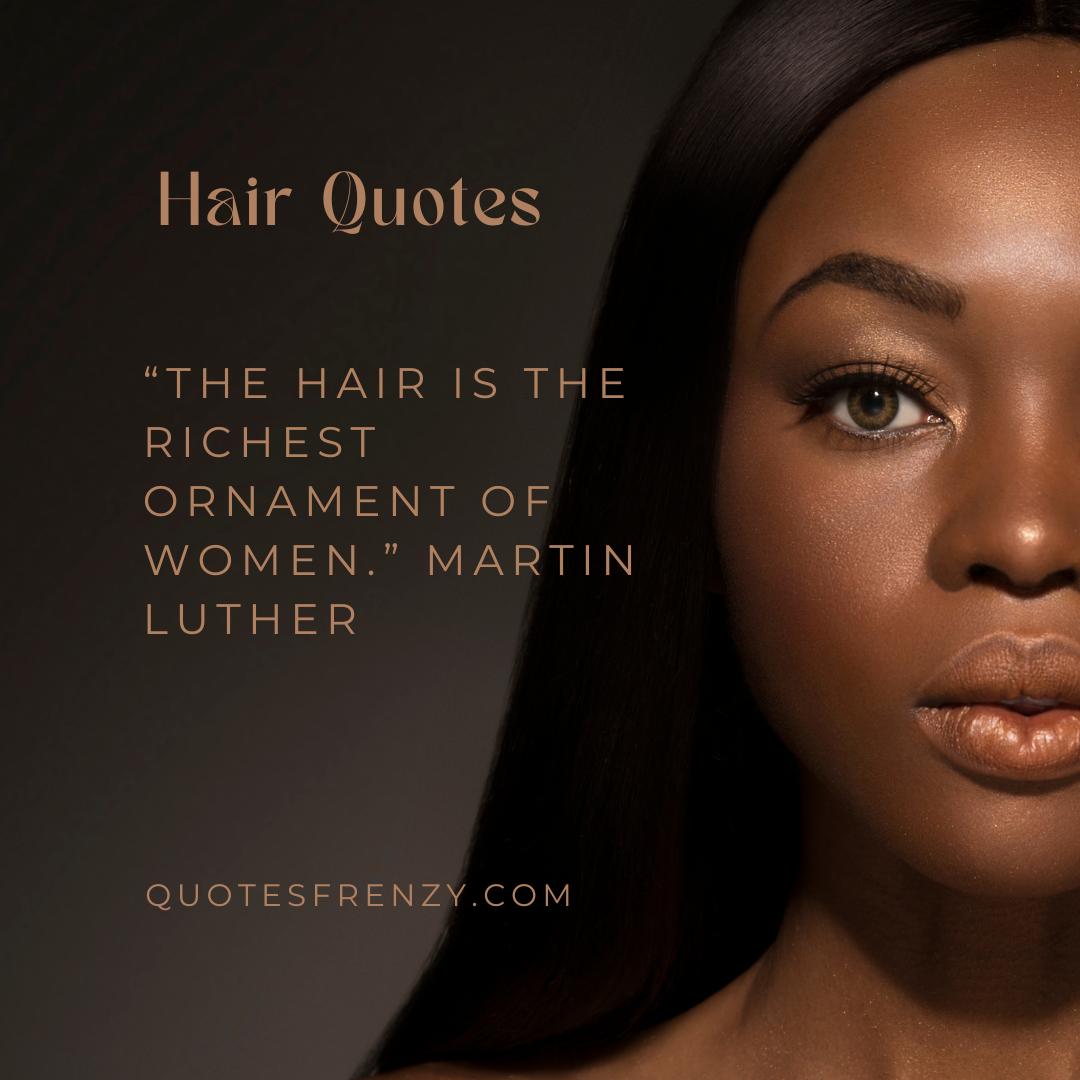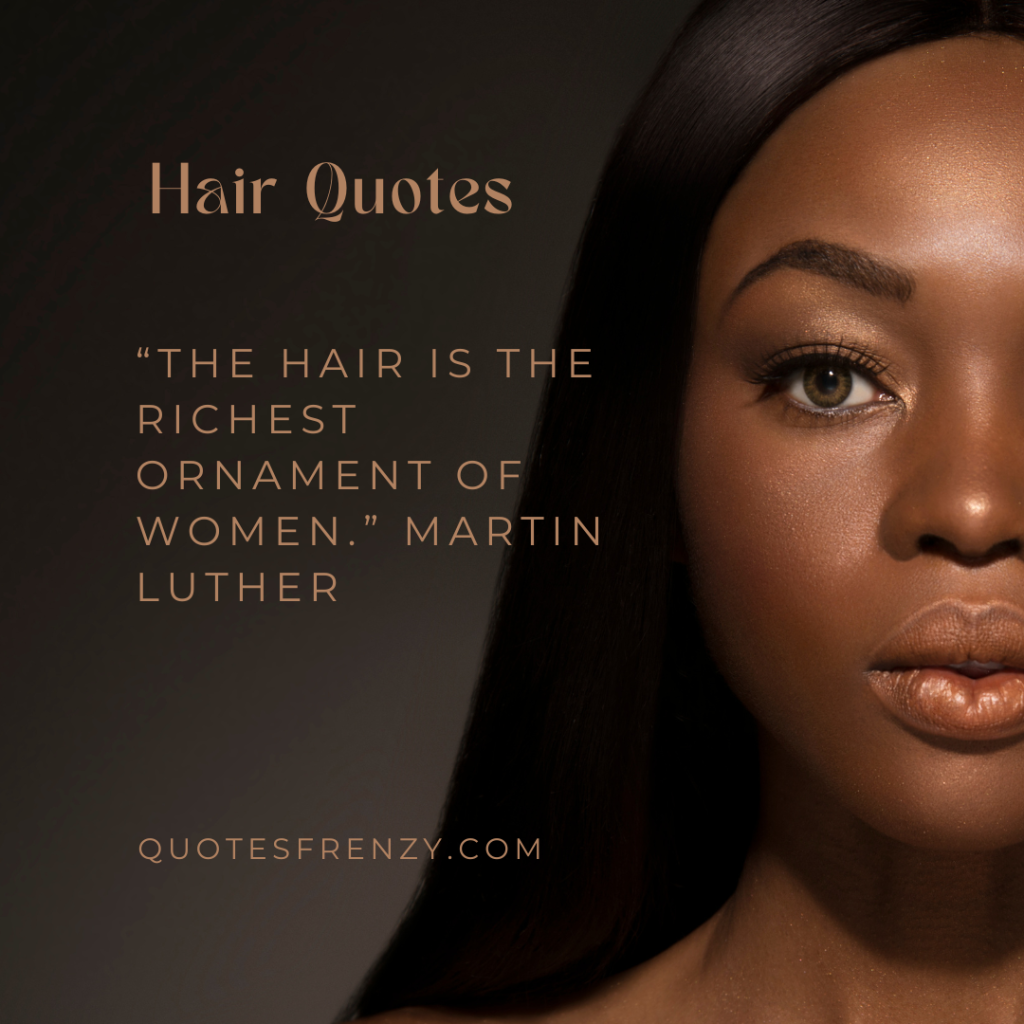 ---
"A fine head of hair adds beauty to a good face, and terror to an ugly one." Lycurgus of Sparta
---
"The higher the hair, the closer to god." Chris Colfer
---
"Prose is like hair; it shines with combing." Gustave Flaubert
---
"An uneasy conscience is a hair in the mouth." Mark Twain
---
"For me, hair is an accoutrement. Hair is jewelry. It's an accessory." Jill Scott
---
"What people don't get is that hair is such a big part of our identity." Melissa Etheridge
---
A woman who cuts her hair is about to change her life – Coco Chanel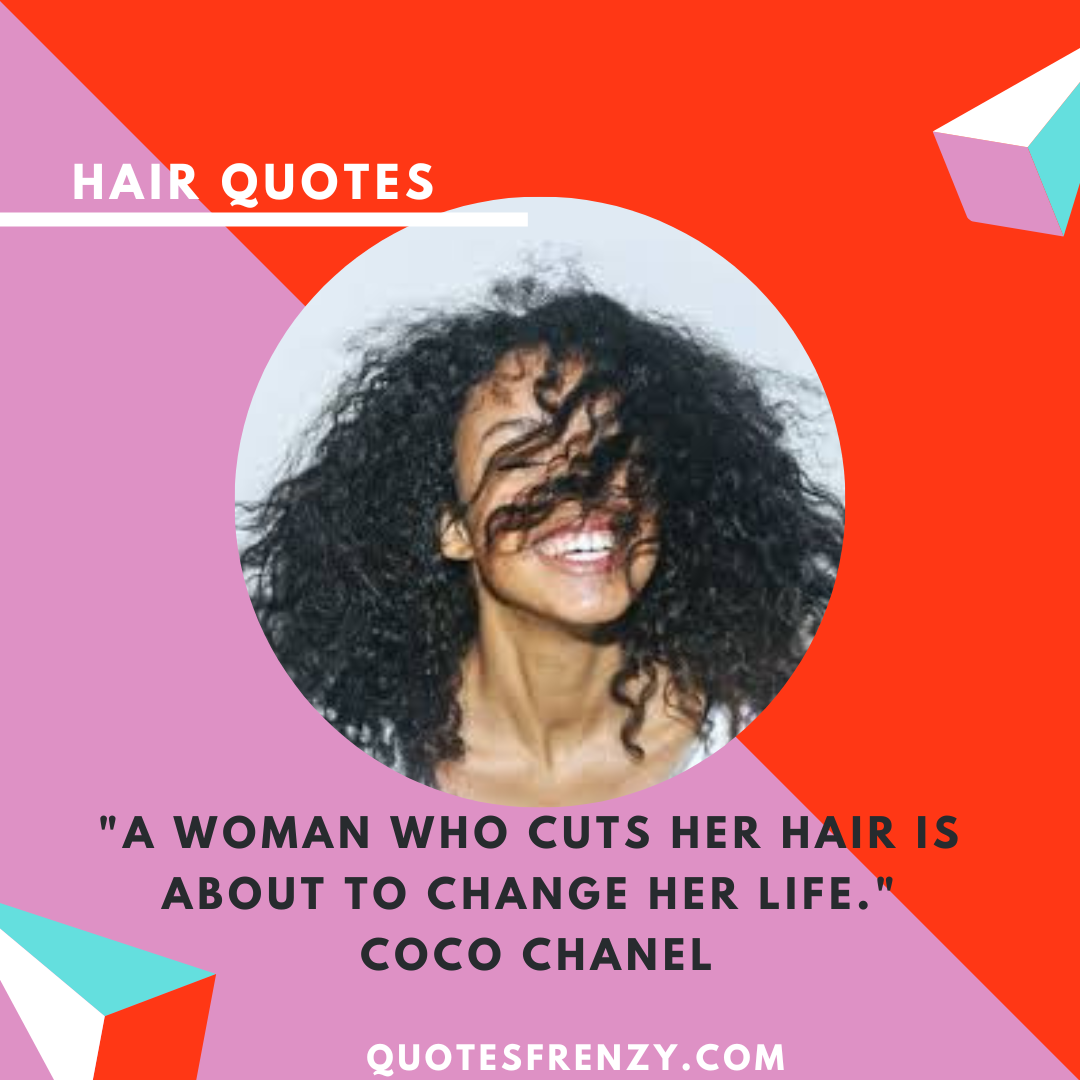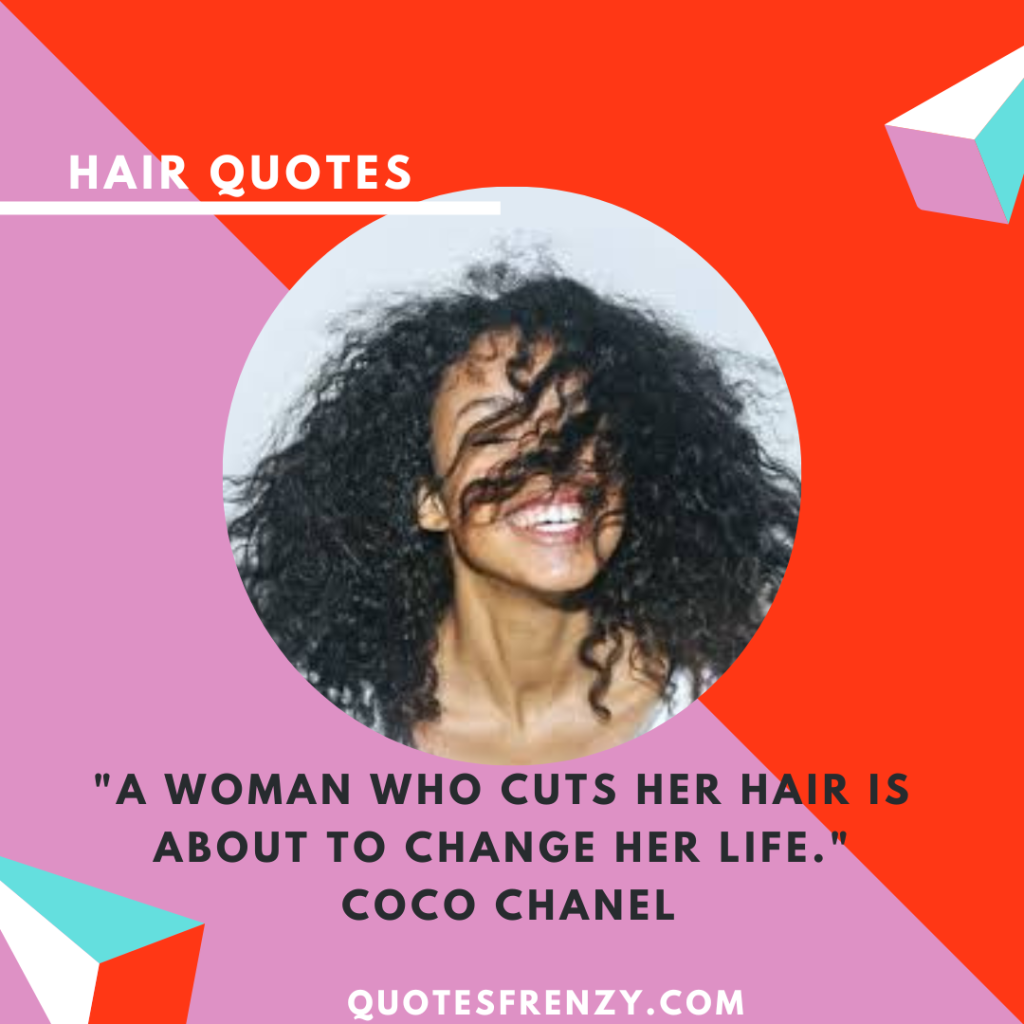 This is a very famous Hair Quotes. This quote says us that, the woman loves her hair more than anything and then when she cuts it, it is something for a good or bad. When the woman decides to cut her hair we can expect a change in life. She decides to change or take a life changing a decision. For women, hair contains that much power and specialty. They take their hair way too serious than many things. Note this hair quote and observe.
Invest in your hair, you wear it every day – anonymous
This is a wonderful Hair Quotes. This says that food, clothes and all are never permanent in life. When it comes to hair, it is the best thing that can ever be worn. It is something which you can have it on daily. We never need to change it daily. It is something which stays with you, permanently. So, it is always better to invest on hair that investing on something. Pay to your hair it pays you back. It adds extra beauty to your personality, notes it down.
Life isn't perfect, but your hair can be – Nick Jonas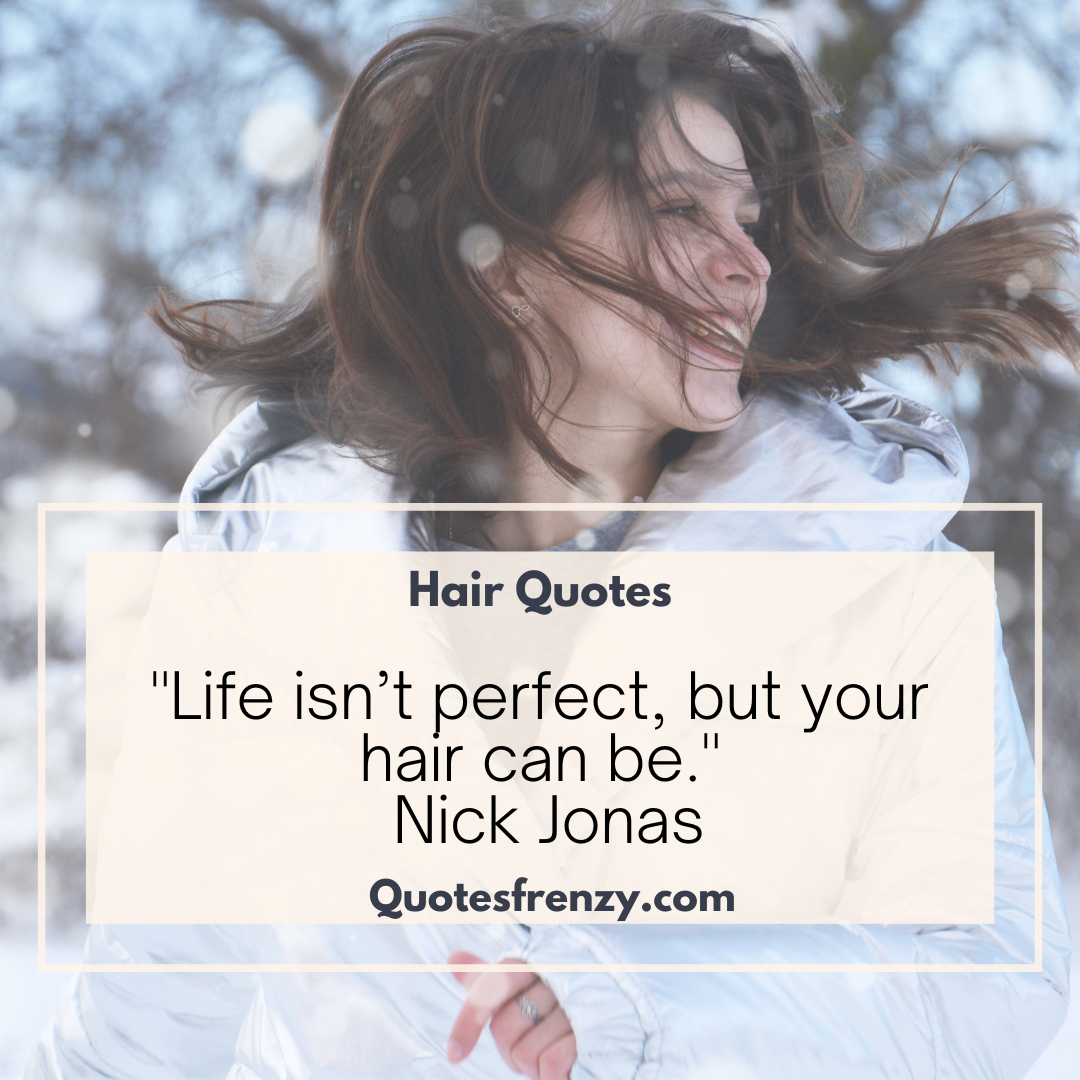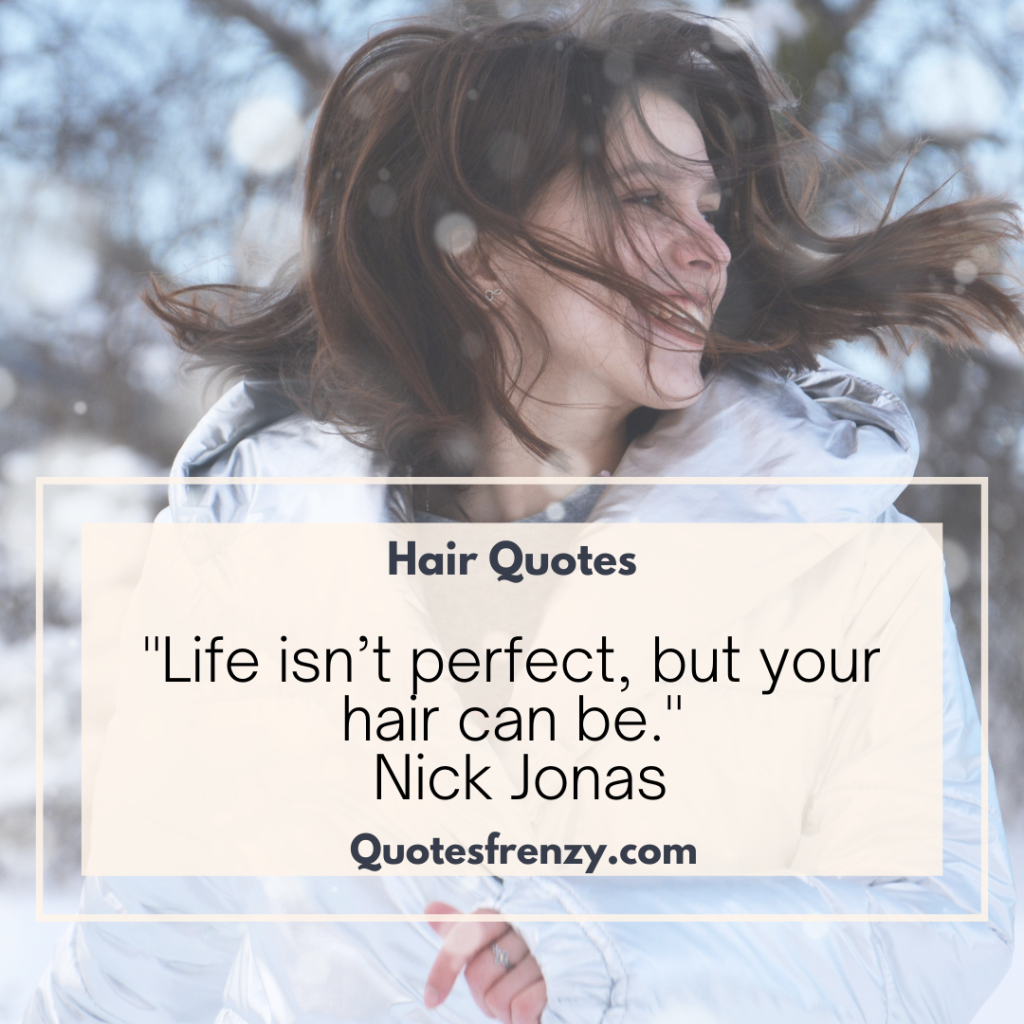 This quote gives us a great relief, it says that our life may have many problems in it. It may not always be successful.  There are ups and downs surely in your life. When it comes to your hair, setting it and making it as we like, is in our hands. We can make our hair perfect and get happiness through it.  We can always take good care of our hair and make it feel special every day. People generally feel happy, when they get good compliments for their hair.
Keep your hair happy and be happy. Follow those quotes to make it happen.