Summer Quotes-Summer is the best season for everyone. Summer is filled with warmth and life. Summer has been likened to many good things life in life. Joyful and bright moments in life are said to like summer. Summer is the time for celebration and time to enjoy life. During summer people go camping and visit sandy beaches to enjoy the breeze from the oceans or seas. Summer is the season to let go of the stress in life. The following are some of the Summer Quotes that surely tells us that summer is the best season
Summer Means Happy Times And Good Sunshine. It Means Going To the Beach, Going To Disneyland, Having Fun – Brian Wilson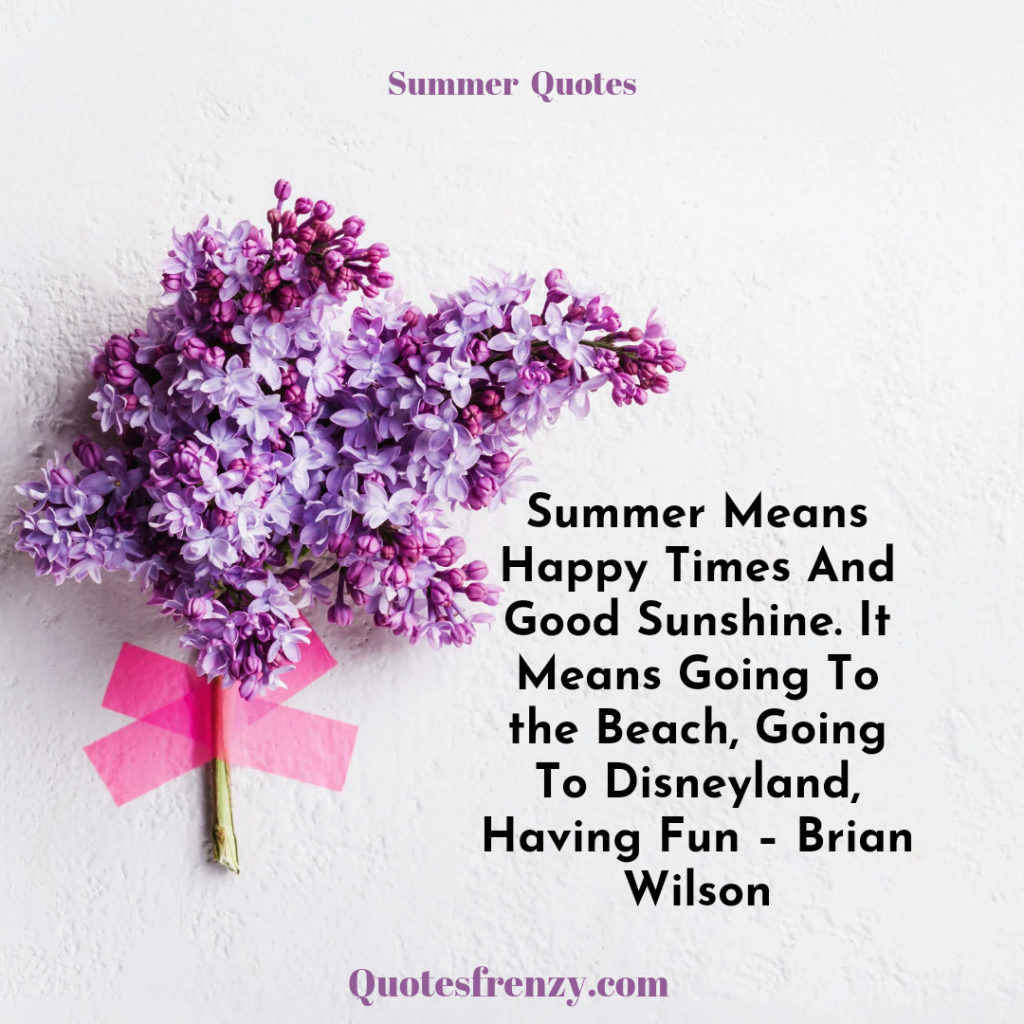 Summer season comes with all the happiness. It is a time for the family to be together. The summers ignite the love for the people we are together. It creates a happy mood for everyone, seeing the sun again is like meeting your expectations. The good sunshine enables people to be active and have fun. Without summer season life will be very dull.
---
Famous Summer Quotes
---
"Summer's lease hath all too short a date." William Shakespeare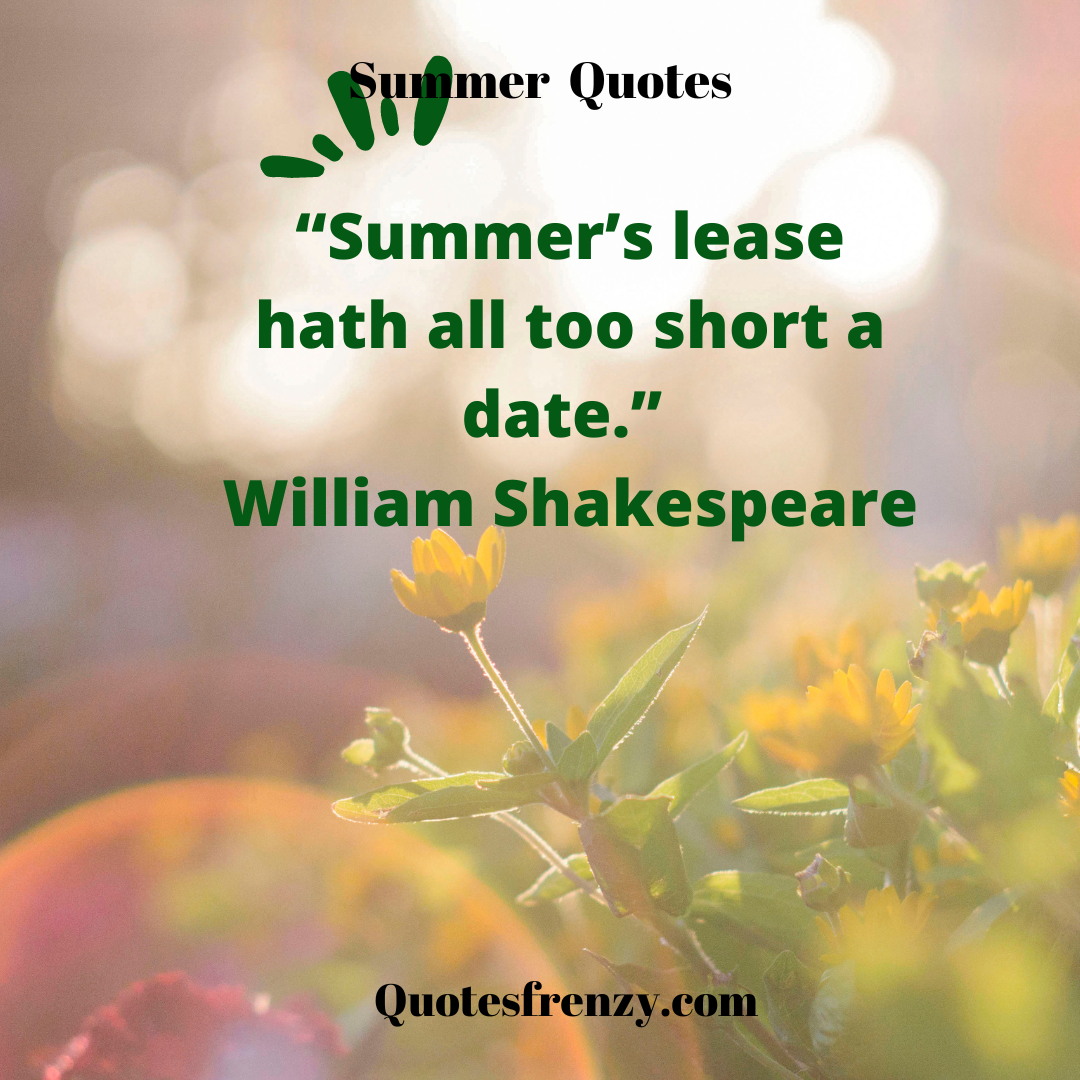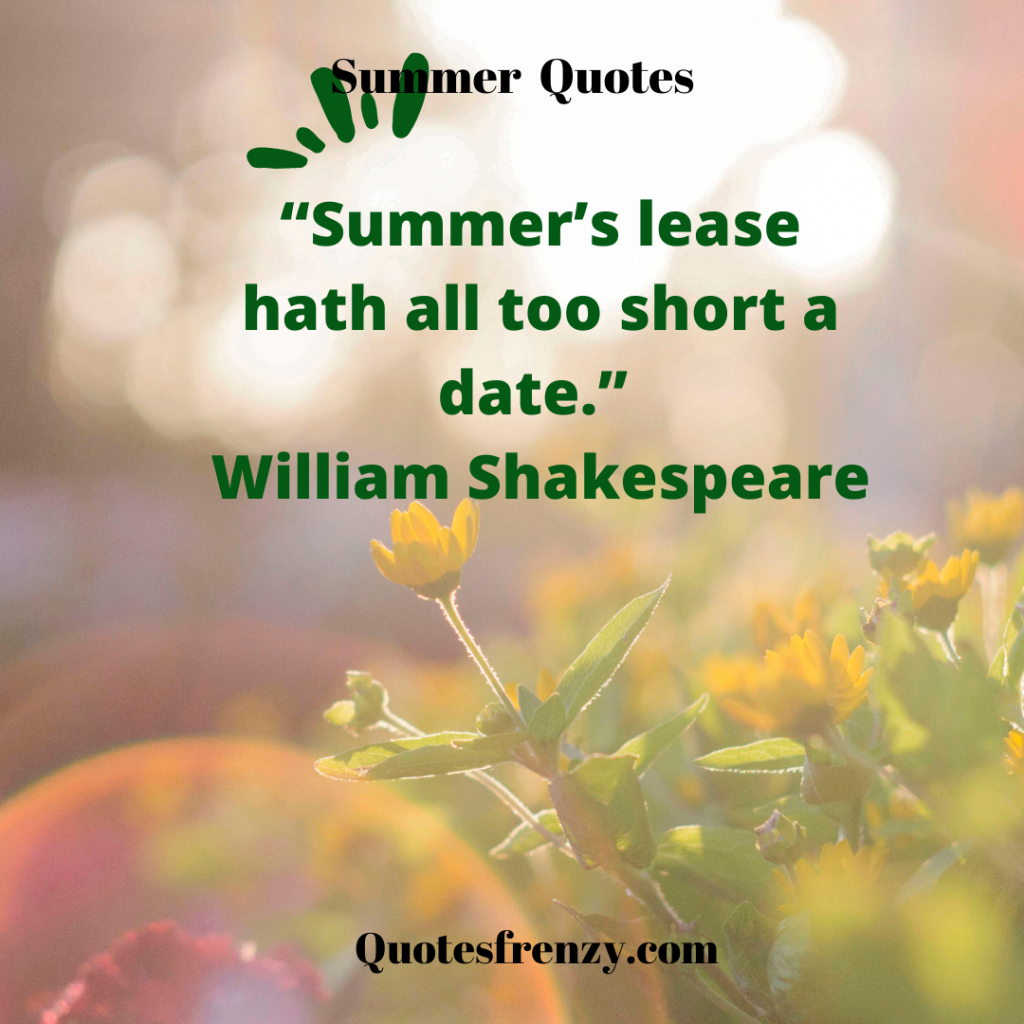 ---
"Do what we can, summer will have its flies." Ralph Waldo Emerson
---
Also read…
Top 60 Vacation Quotes And Sayings
---
"Ah, summer, what power you have to make us suffer and like it." Russell Baker
---
"In summer, the song sings itself." William Carlos Williams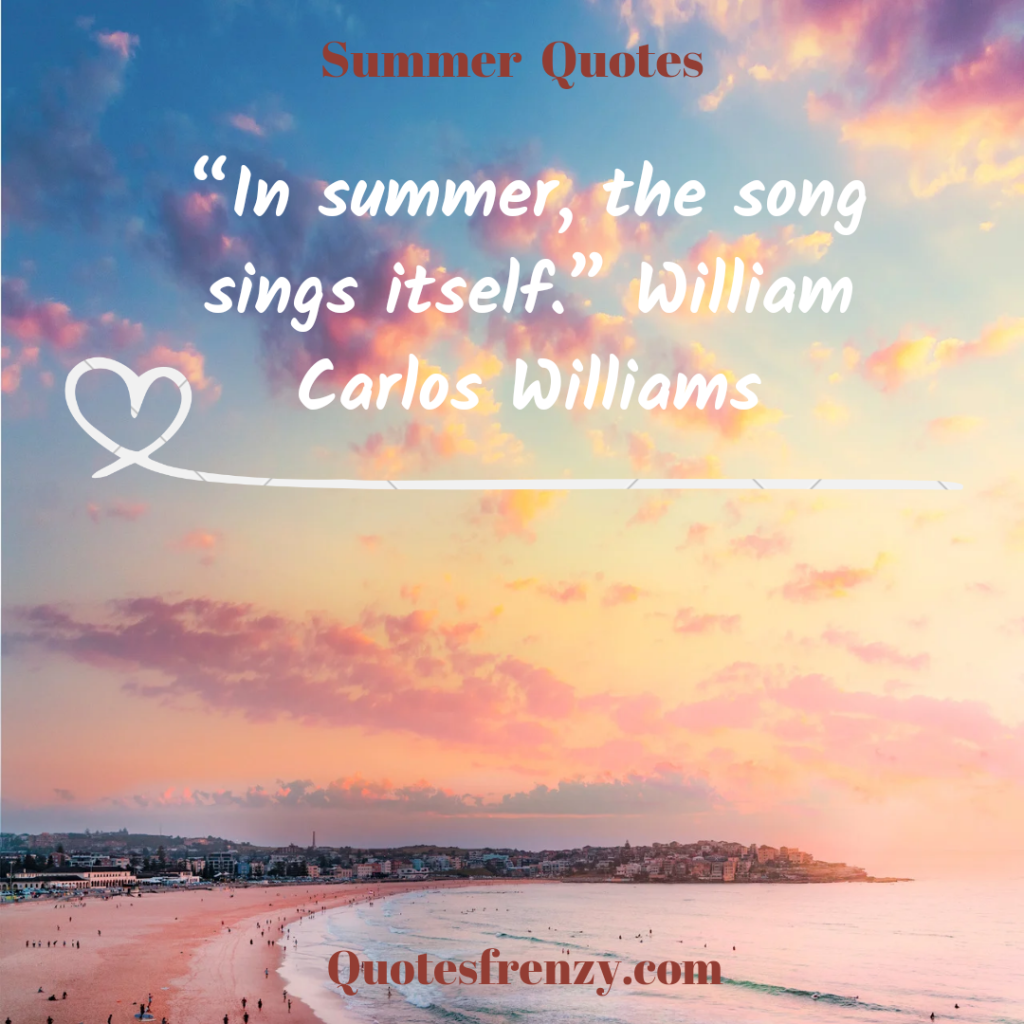 ---
"And the summer seems as though it would dream on for ever." Elizabeth von Arnim
---
"There shall be an eternal summer in the grateful heart." Celia Thaxter
---
"The summer night is like a perfection of thought." Wallace Stevens
---
"But thy eternal summer shall not fade." William Shakespeare
---
"Summer has set in with its usual severity." Samuel Taylor Coleridge
---
"Warm summer sun, shine kindly here." Mark Twain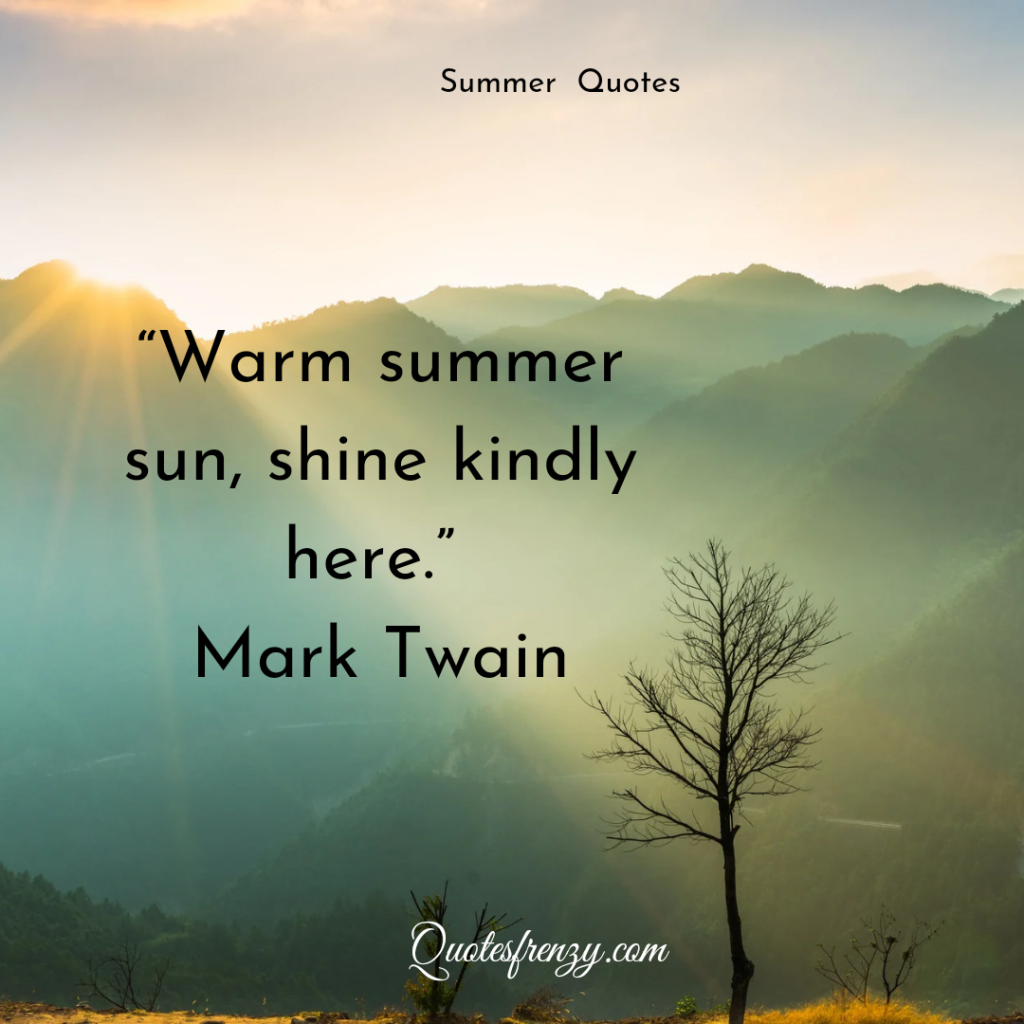 ---
"Tears are the summer showers to the soul." Alfred Austin
---
"The end-of-summer winds make people restless." Sebastian Faulks
---
"It's a sure sign of summer if the chair gets up when you do." Walter Winchell
---
"It will not always be summer: build barns." Hesiod
---
"I equate peonies with love because they're the first blooms of summer." Isaac Mizrahi
---
"The winding down of summer puts me in a heavy philosophical mood." Robert Fulghum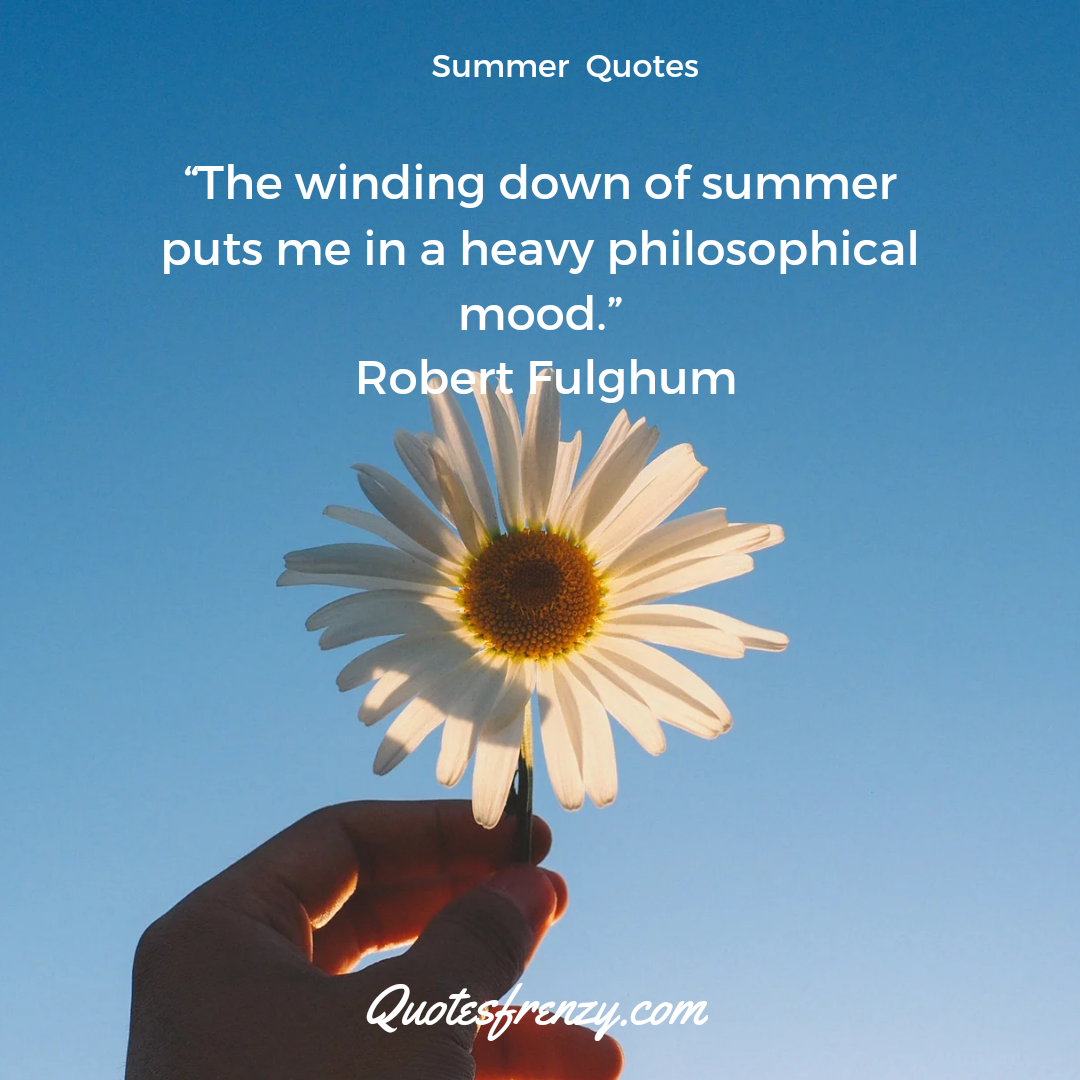 ---
"Integrity is so perishable in the summer months of success." Vanessa Redgrave
---
"Let life be beautiful like summer flowers and death like autumn leaves." Rabindranath Tagore
---
"The hearts that love will know never winter's frost and chill.  Summer's warmth is in them still." Eben E. Rexford
---
"As far as I am concerned, freedom summer never really ended." Victoria Gray Adams
---
"Words make love on the page like flies in the summer heat and the poet is only the bemused spectator." Charles Simic
---
"Poetry is a fireplace in summer or a fan in winter." Robert Hass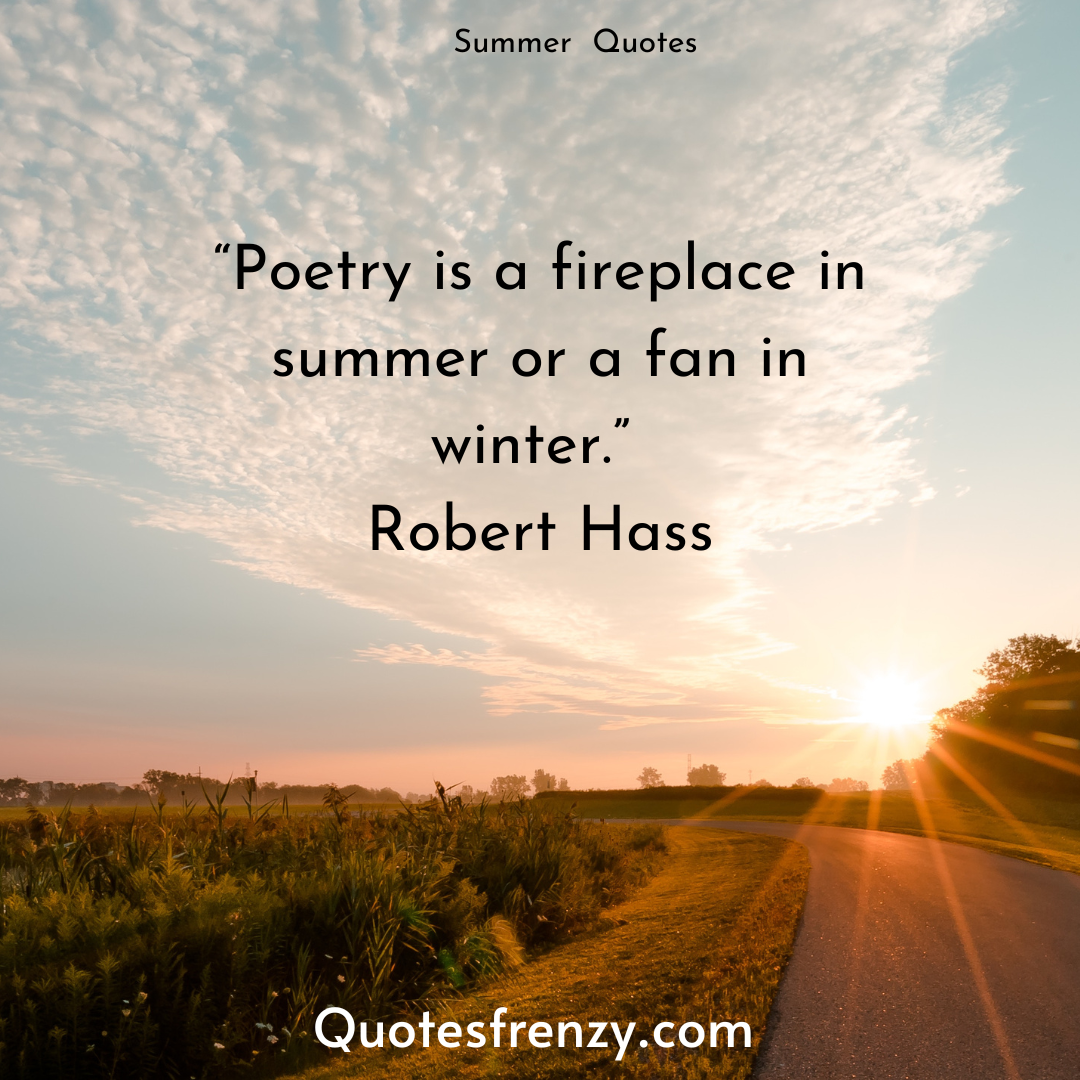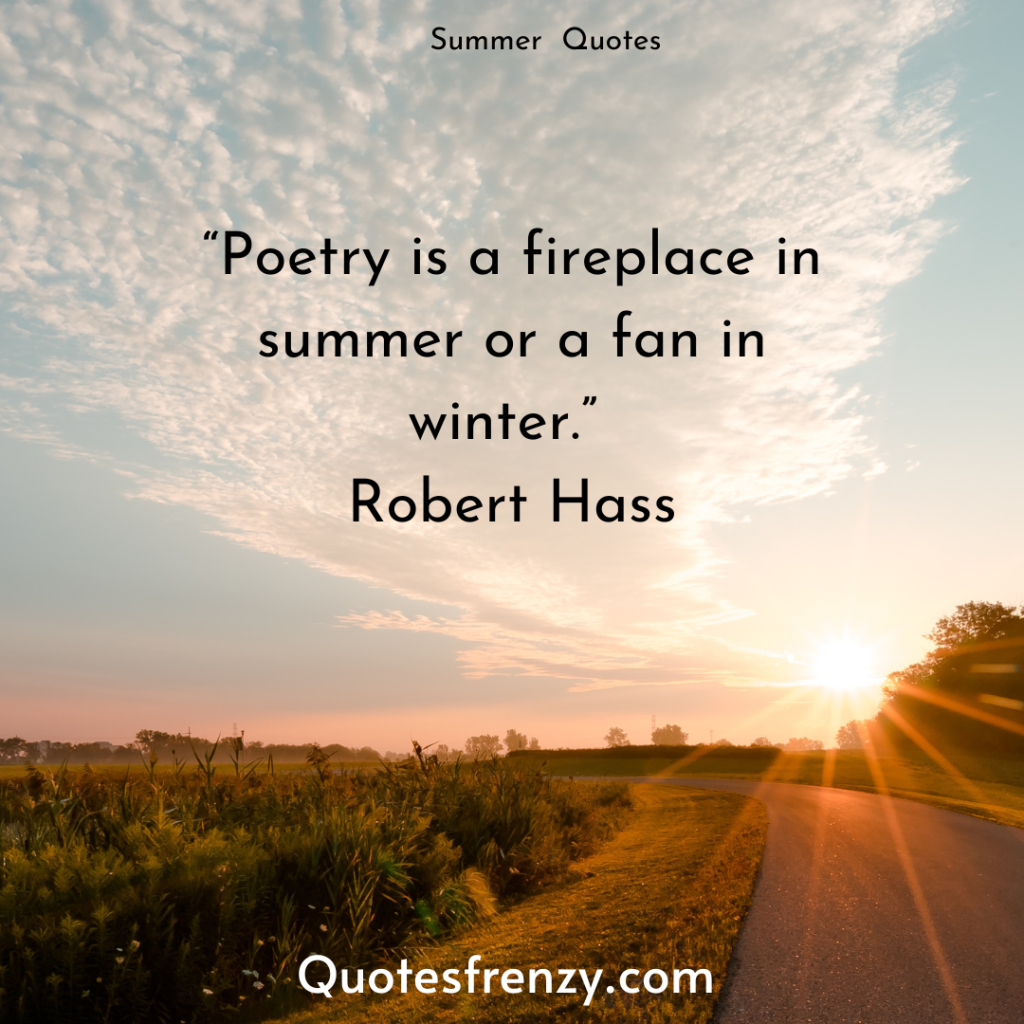 ---
"You know you're grown up when summer is just a season." Michael Greger
---
"Summer specializes in time, slows it down almost to dream." Jennifer Grotz
---
"Soldiers in peace are like chimneys in summer." William Cecil, 1st Baron Burghley
---
Summer Is Very Precious – Dylan Lauren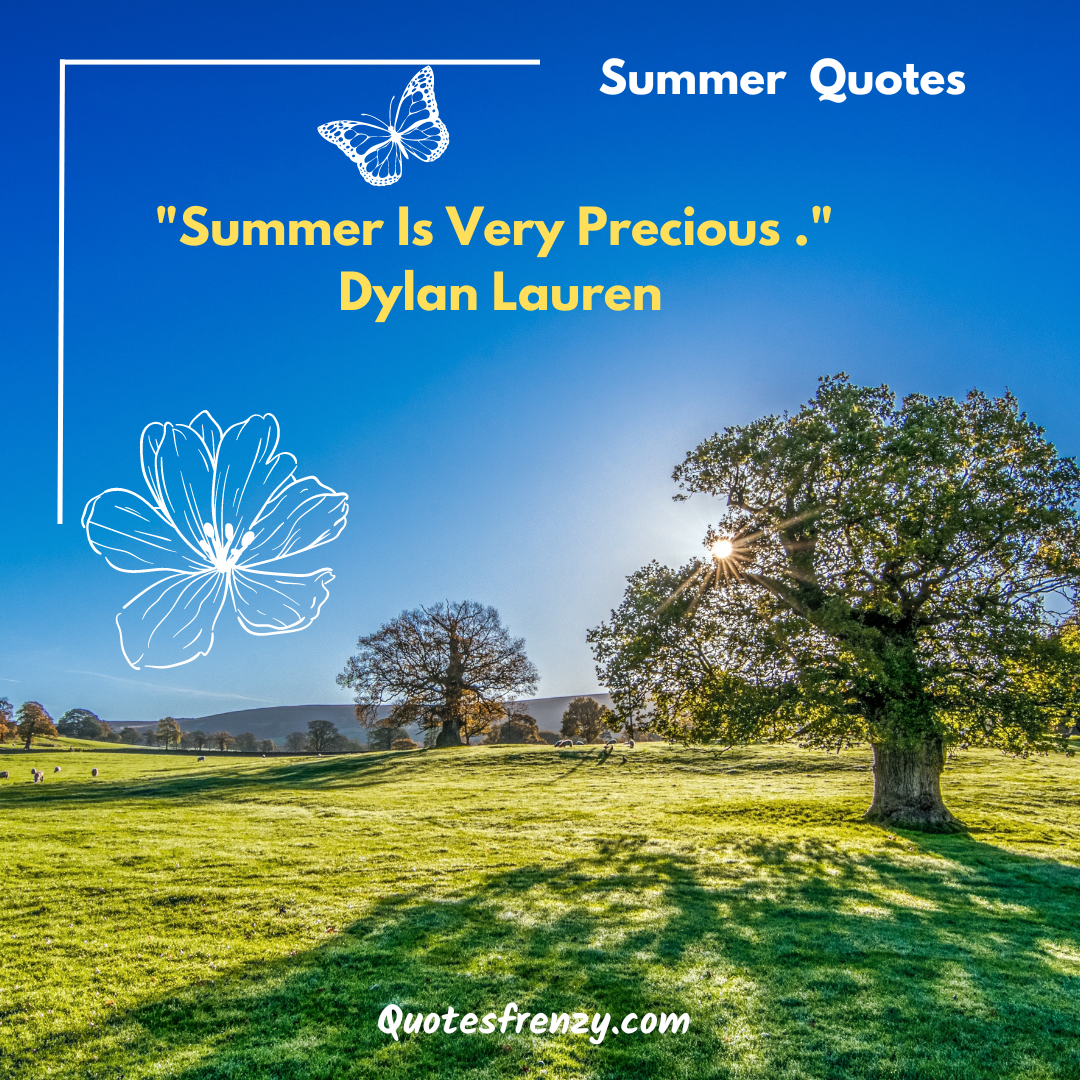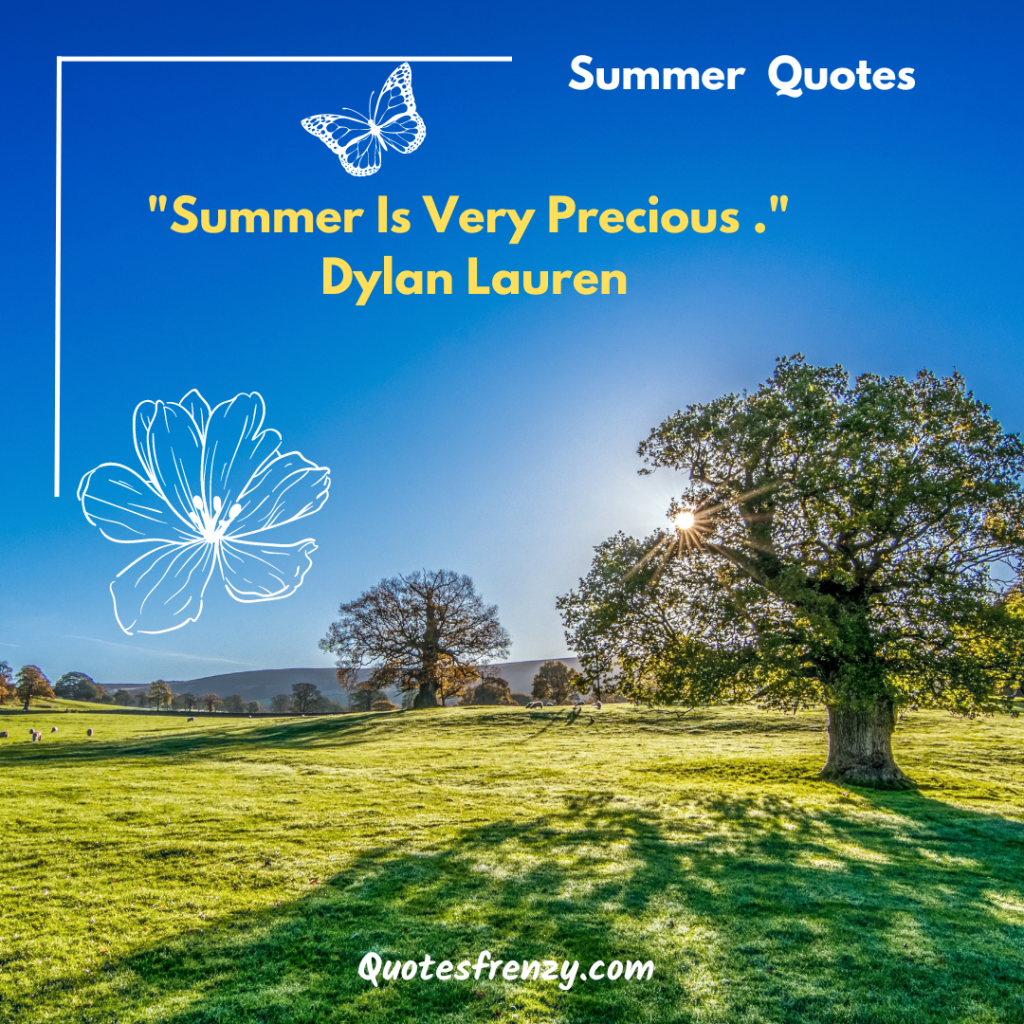 Everyone values summer. There is no one who hates summer, it is a precious time for everyone. Something that is precious is something that we treasure and would not want to let go. It the season that is treated with a lot of value, it is full of fun and warmth. Both the adults and the children love summer. Summer is said to be precious since it is a rare commodity, it is only there for some time, therefore we should enjoy to the fullest.
Like a Summer Rain, Humor May Suddenly Cleanse And Cool the Earth, the Air And You – Langston Hughes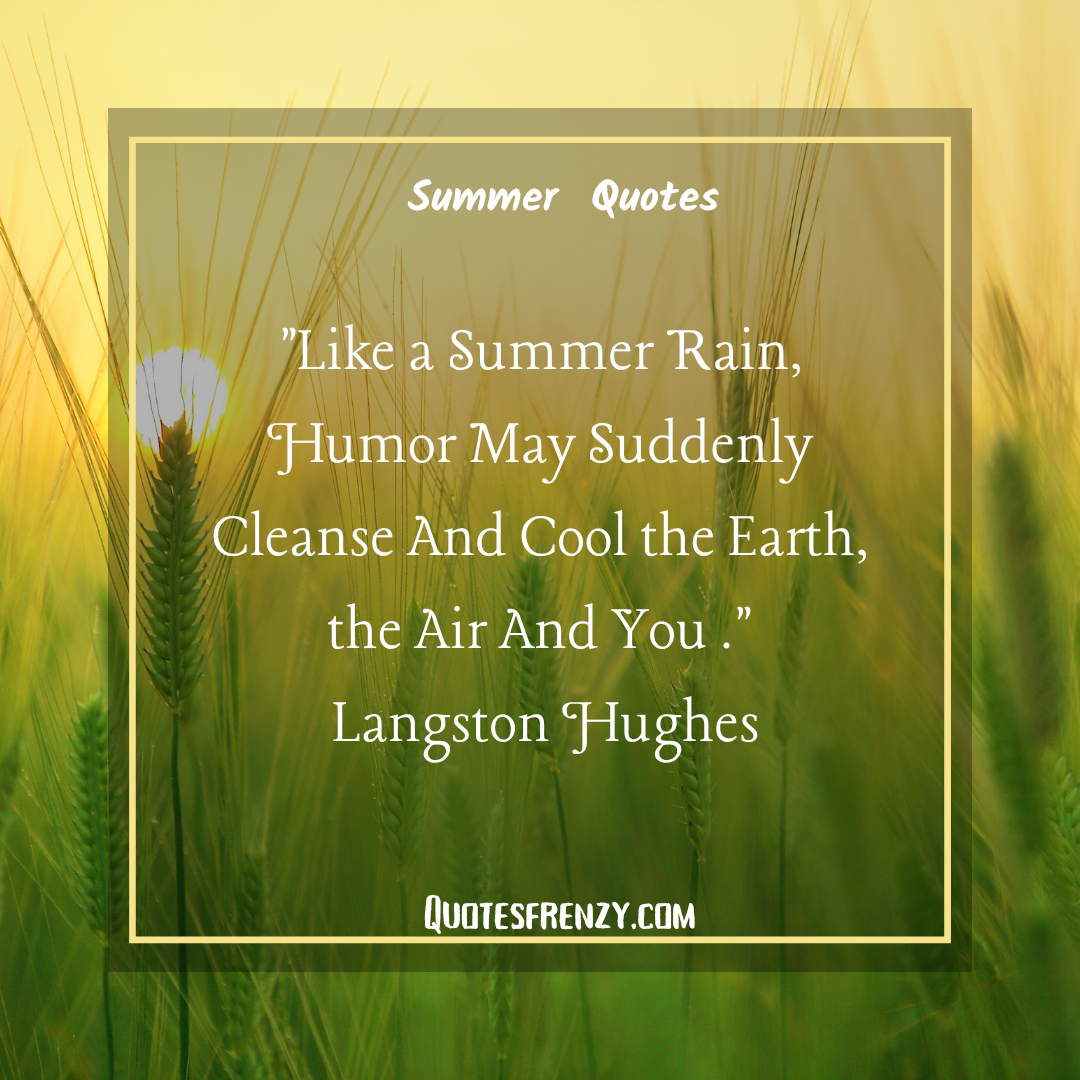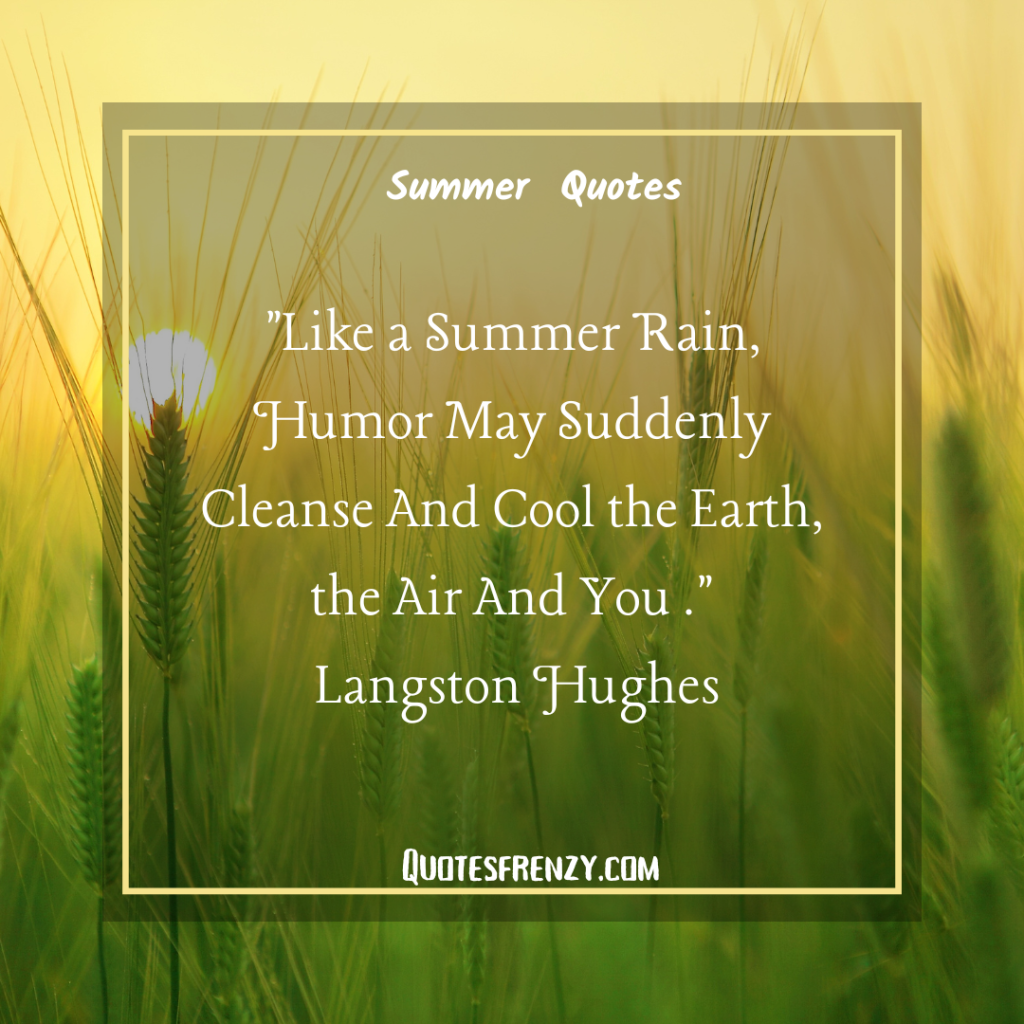 The sense of humor has been likened to the summer season's rains. The rains that fall during the summer season brings a cooling effect to the earth. Humor too is like the rains, it cools down hot tempers and anger in people. A humorous thing can make someone forget about the things that may have brought him or her sadness.
Summer Quotes help us to appreciate summer seasons. The season is the love of every person, it is what make people lively. Summer is also a season that does not last for long, it thus teaches that we should enjoy what we have at the moment because we do not know what will follow.