Graduation Quotes-Graduation comes after a time of hard work and commitment. It is a time to celebrate the achievement and progress attained. It comes with a great promise of better prospects and outcomes.
These Graduation Quotes summarize the hope and pride that is a major part of the celebrations at graduation.
 We don't stop going to school when we graduate – Carol Burnett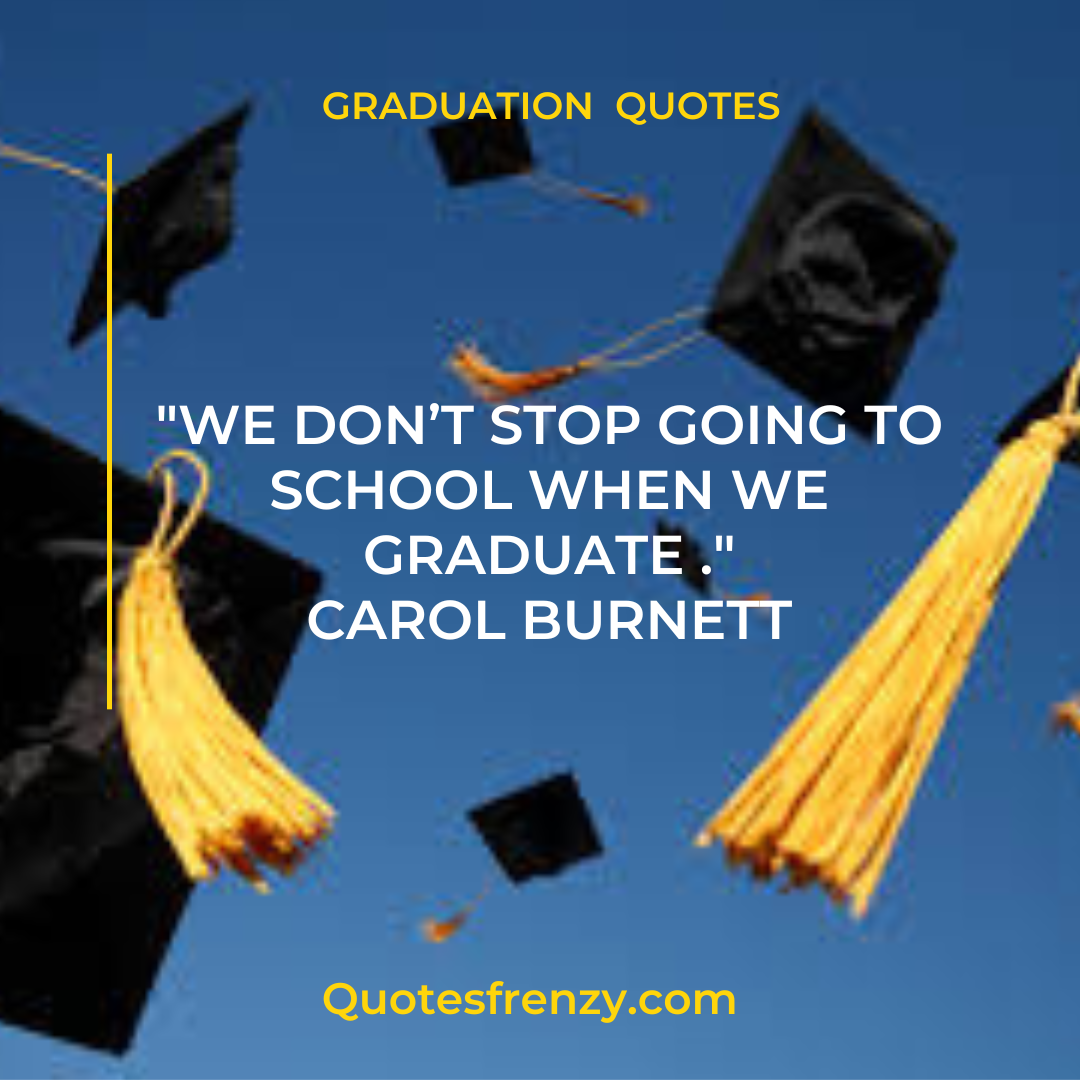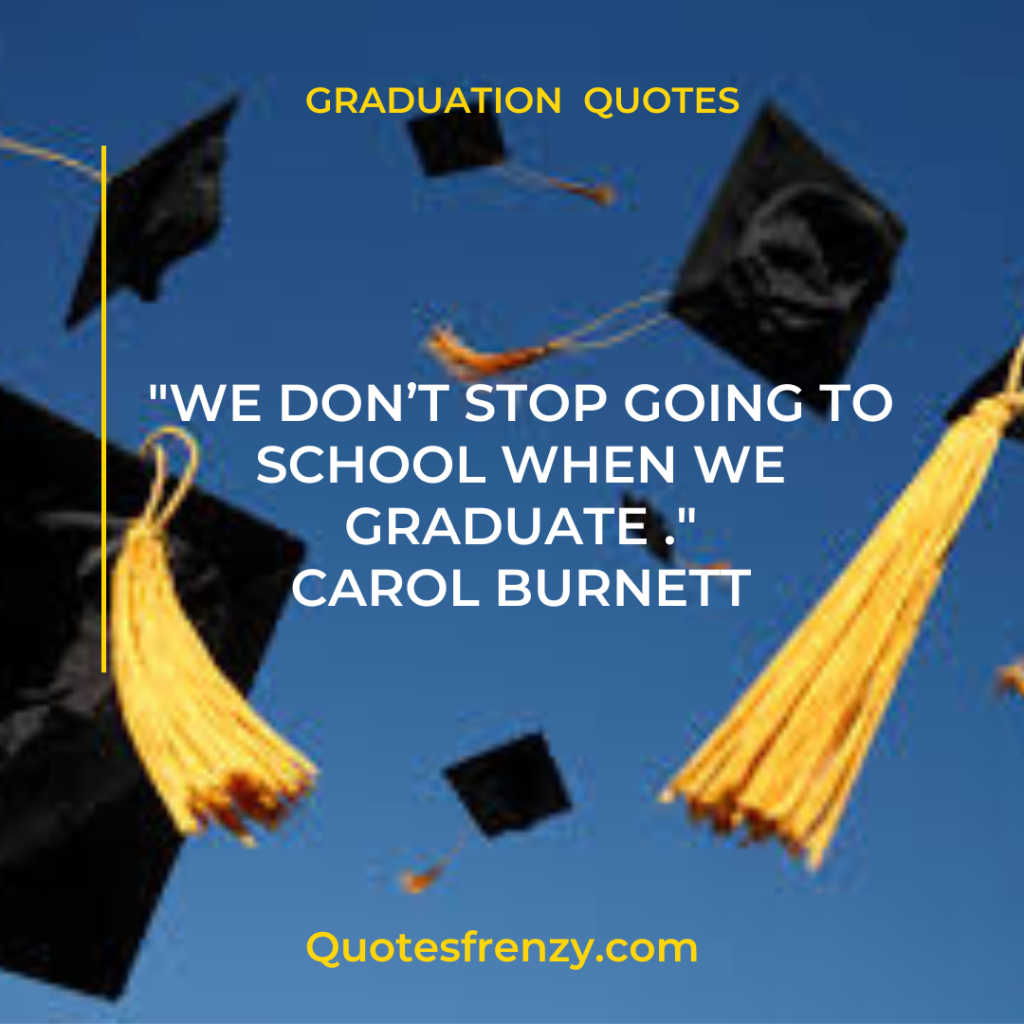 Graduation is sometimes seen as the end of a journey. We graduate after every level from elementary to college. We don't stop learning, but in essence, graduation is only the beginning of a life of learning. The more we learn, the more questions we have. That is why people continue studying even when they seem to know too much. Carol's quote explains this and she encourages a never-ending pursuit of knowledge. Life always has something new to teach us.
---
Famous Graduation Quotes
---
"All our dreams can come true, if we have the courage to pursue them." Walt Disney
---
"The man who graduates today and stops learning tomorrow is uneducated the day after." Newton D. Baker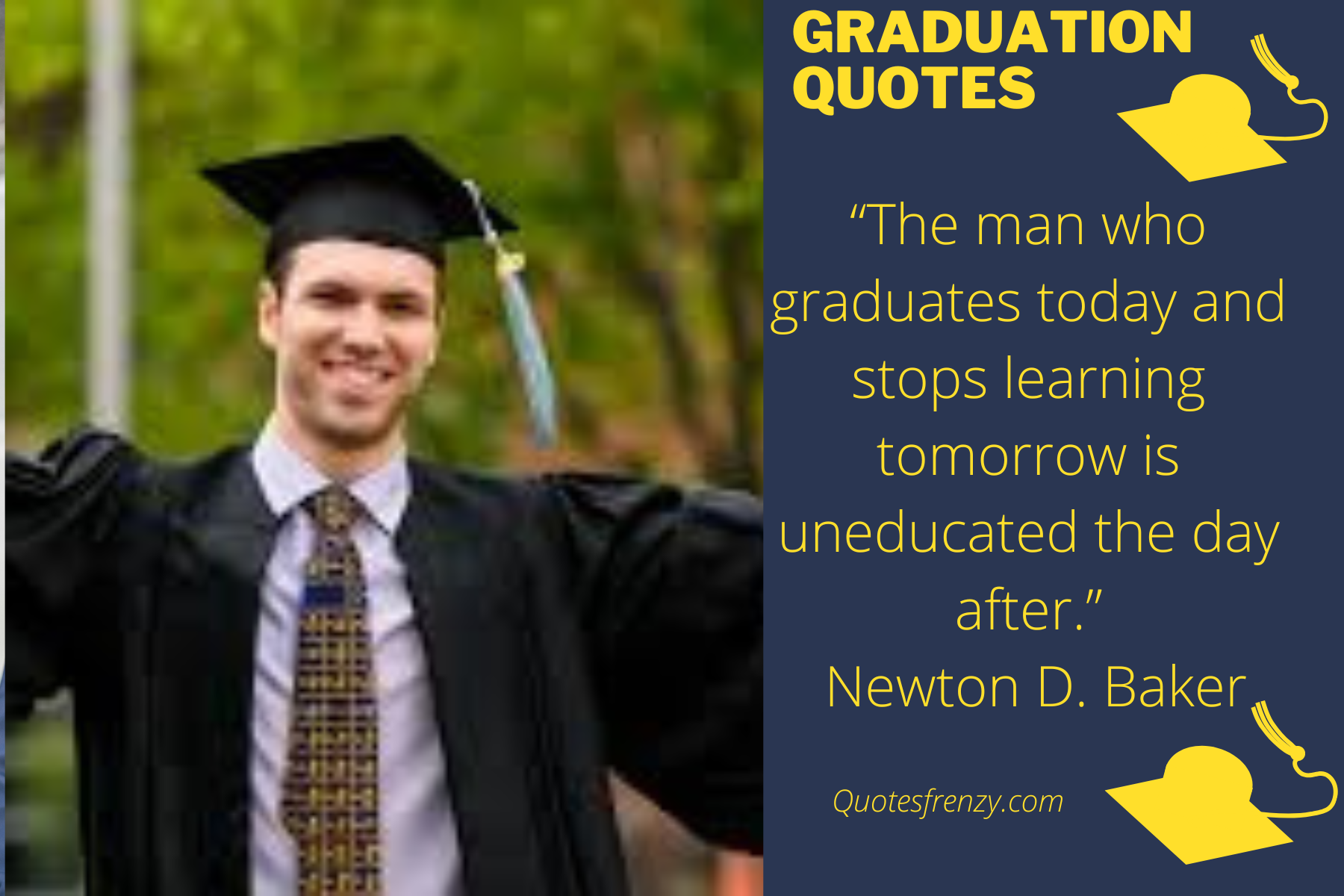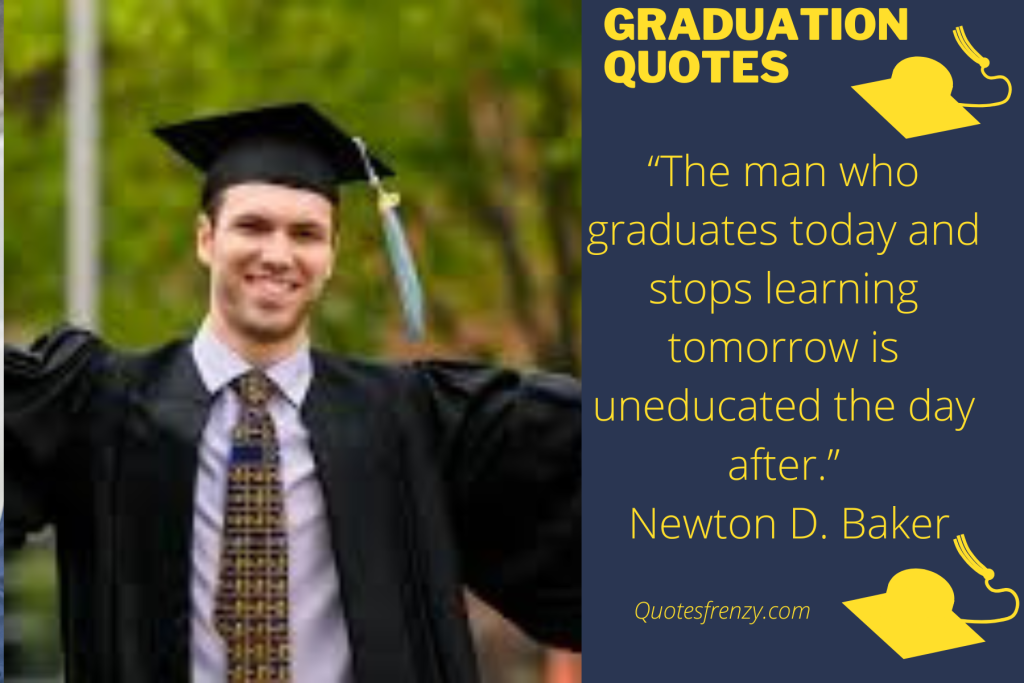 ---
Also read…
---
"The two most important days in your life are the day you are born and the day you find out why." Mark Twain
---
"The whole purpose of education is to turn mirrors into windows." Sydney J. Harris
---
"Be nice to people on your way up because you'll meet them on your way down." Wilson Mizner
---
"Every person that you meet knows something you don't; learn from them." H. Jackson Brown, Jr.
---
"You can steer yourself in any direction you choose." Dr. Seuss
---
"Never bend your head. Always hold it high. Look the world straight in the eye." Helen Keller
---
"If opportunity doesn't knock, build a door." Milton Berle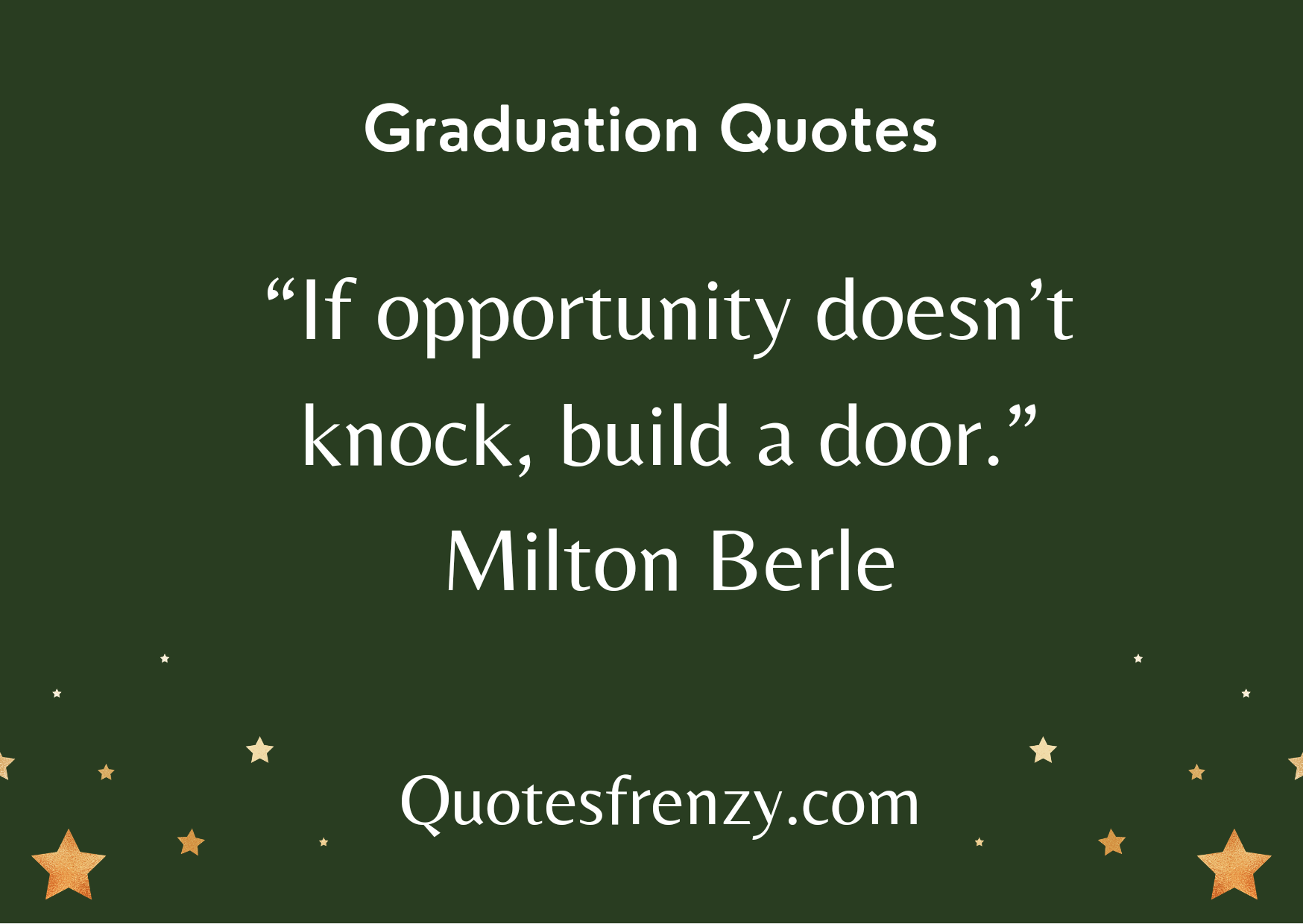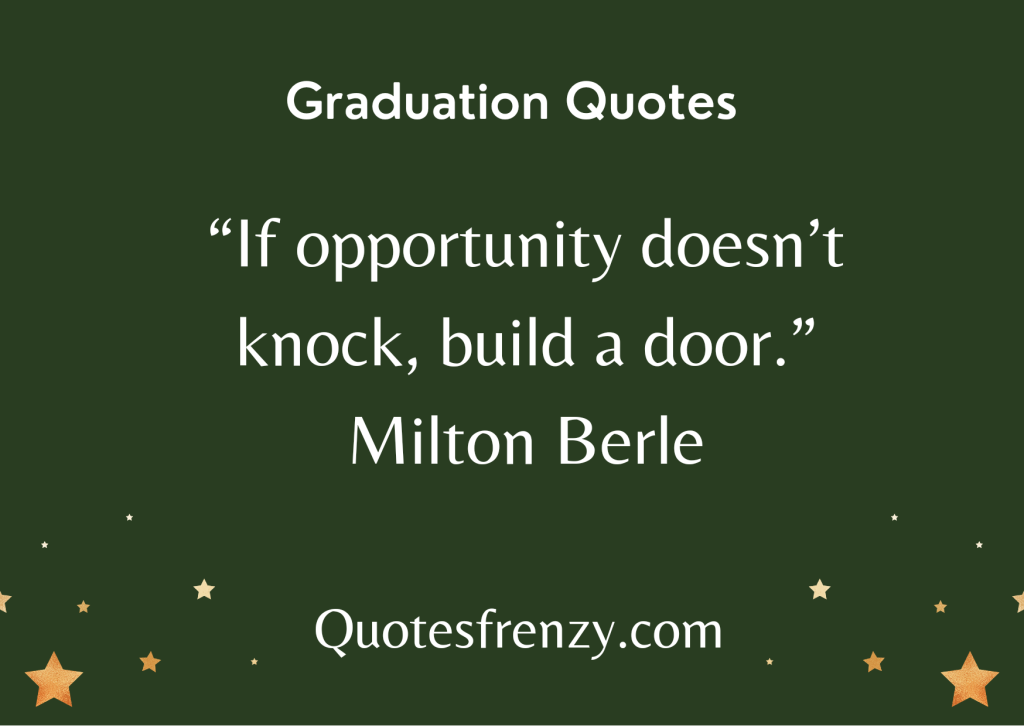 ---
"A professor is someone who talks in someone else's sleep." W. H. Auden
---
"Think big thoughts but relish small pleasures." H. Jackson Brown, Jr.
---
"It is not the mountain we conquer but ourselves." Edmund Hillary
---
"As knowledge increases, wonder deepens." Charles Morgan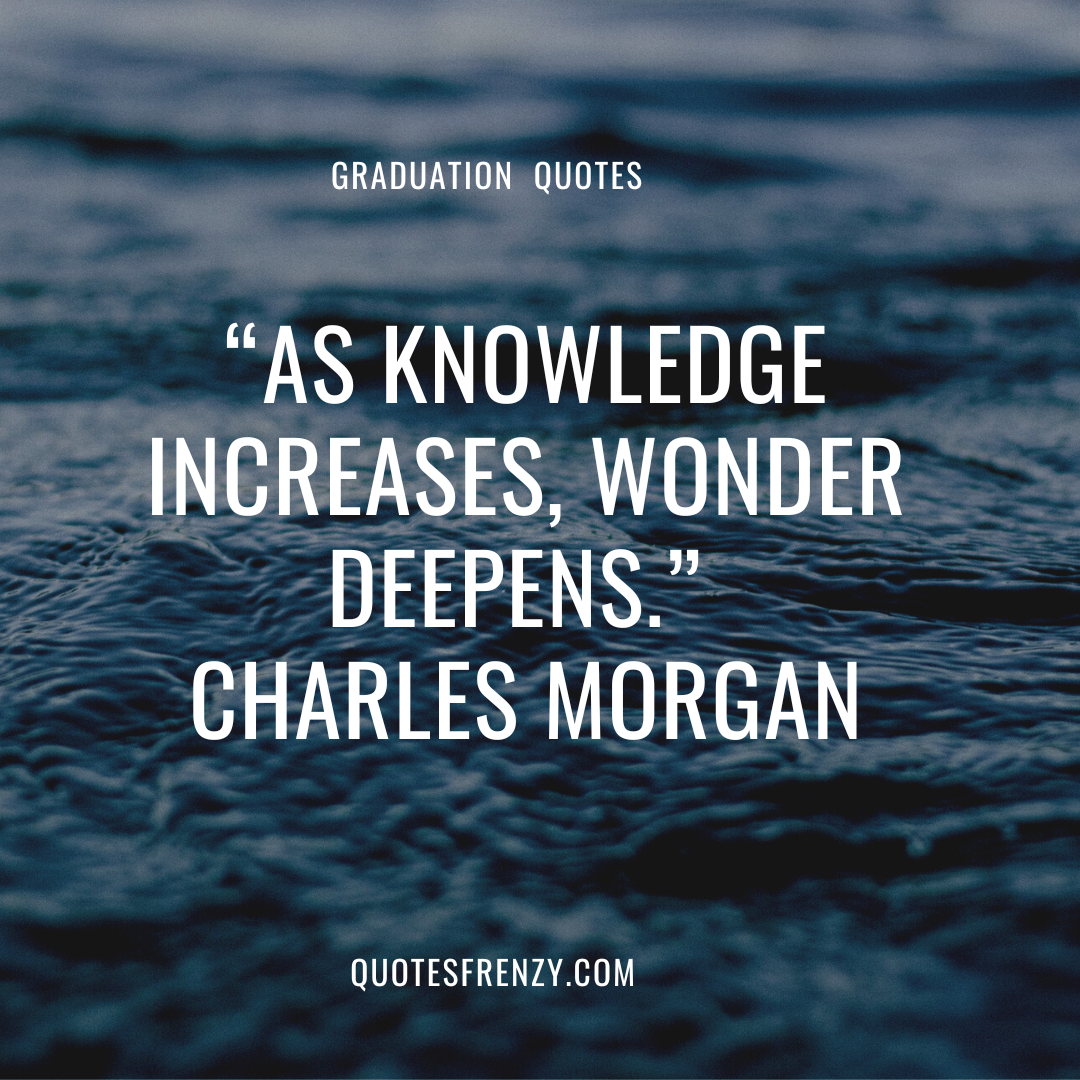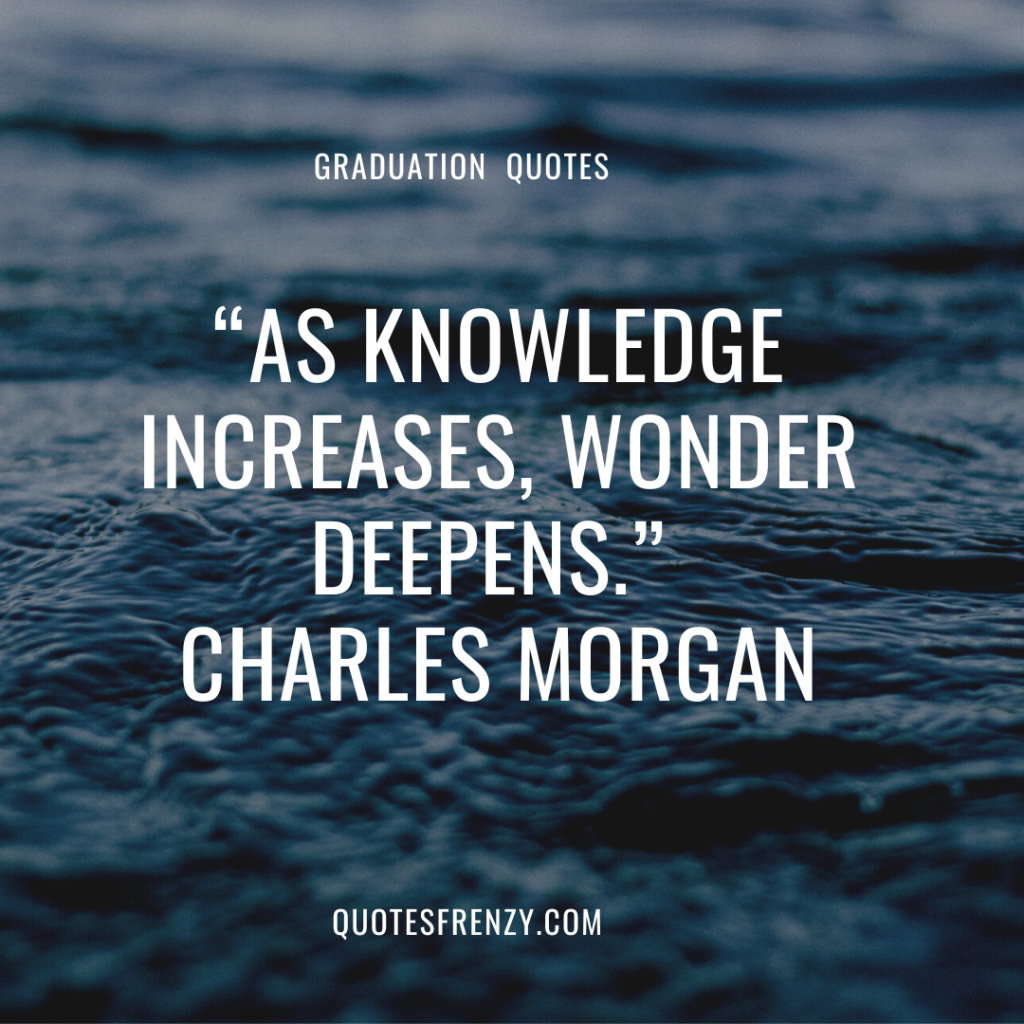 ---
"Always do more than is required of you." George S. Patton
---
"It was only when I finished the course and left my graduation diploma on the bus that I realized I'd become an actor." James D'arcy
---
"Be the author, not the reader, of your own life." Paul Gibbons
---
"Success is going from failure to failure without losing your enthusiasm." Sir Winston Churchill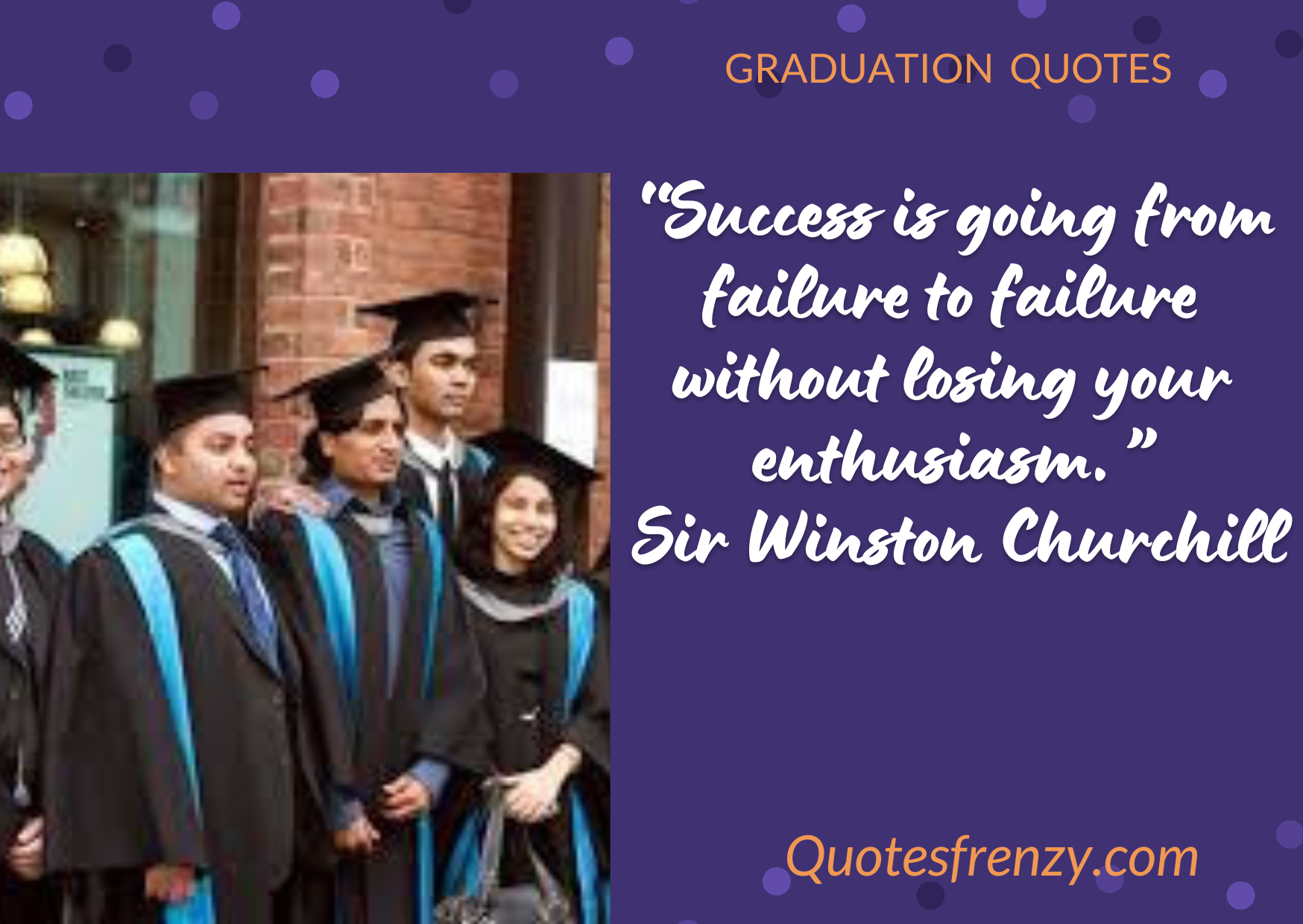 ---
"You may never know what results come of your action, but if you do nothing there will be no result." Mahatma Ghandi
---
"The fireworks begin today. Each diploma is a lighted match, each one of you is a fuse." Ed Koch
---
"Sending you a day full of sunshine, a heaven filled with rainbows, and a pocket full of dreams. May the future ahead of you be as wonderful as you are." Judith Wibberley
---
"Never doubt you were born to do great things!" Catherine Pulsifer
---
"Always be a first-rate version of yourself, instead of a second-rate version of somebody else." Judy Garland
---
"Be clear about what you want to accomplish, and whether the circumstances surrounding you are actively helping you toward the goal." Wally Amos
---
"Today is the day I will change my mind, and leave all the negative things behind." Semetra C. Vanison
---
The beautiful thing about knowledge is that no one can take it away from you – B. B. King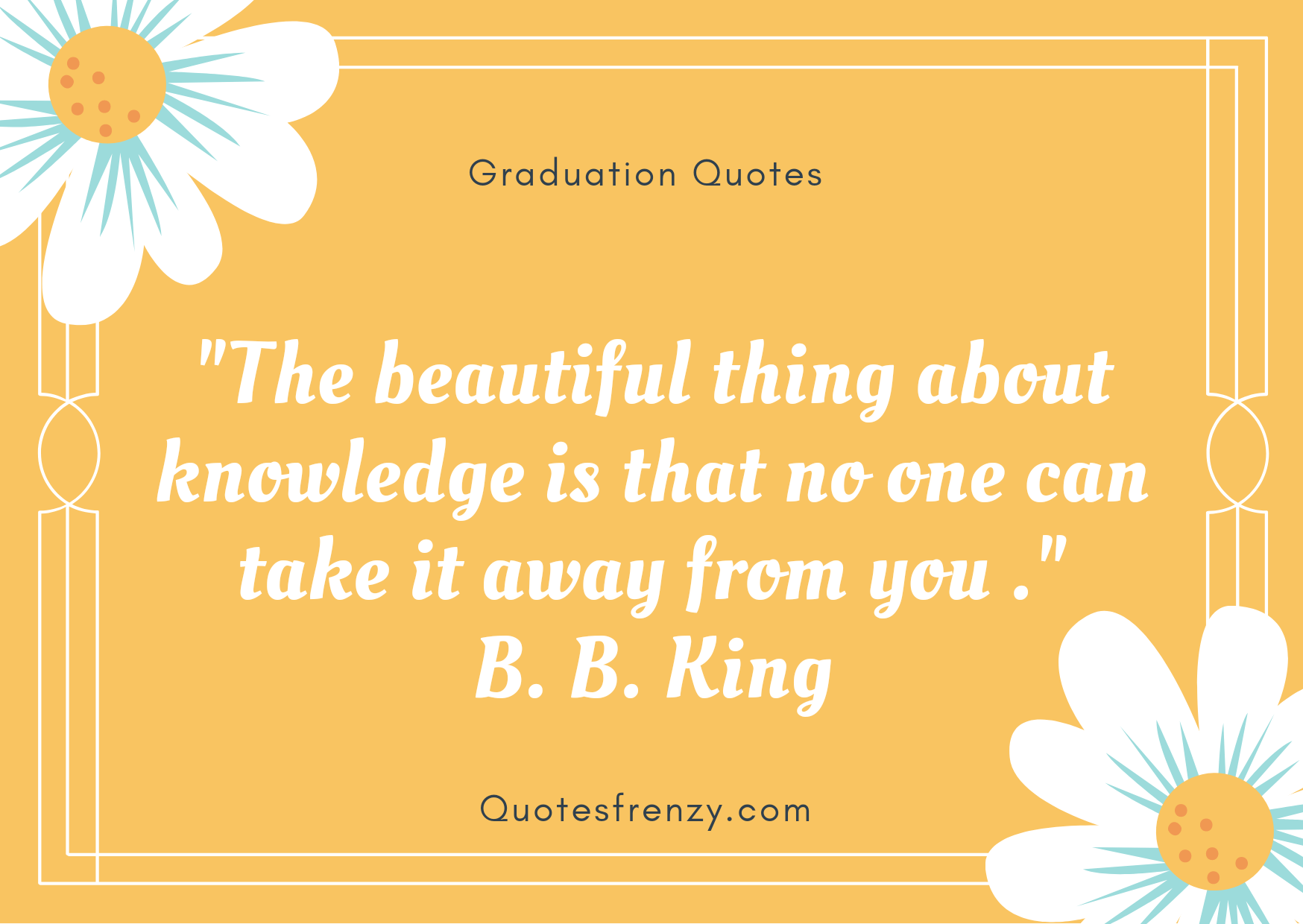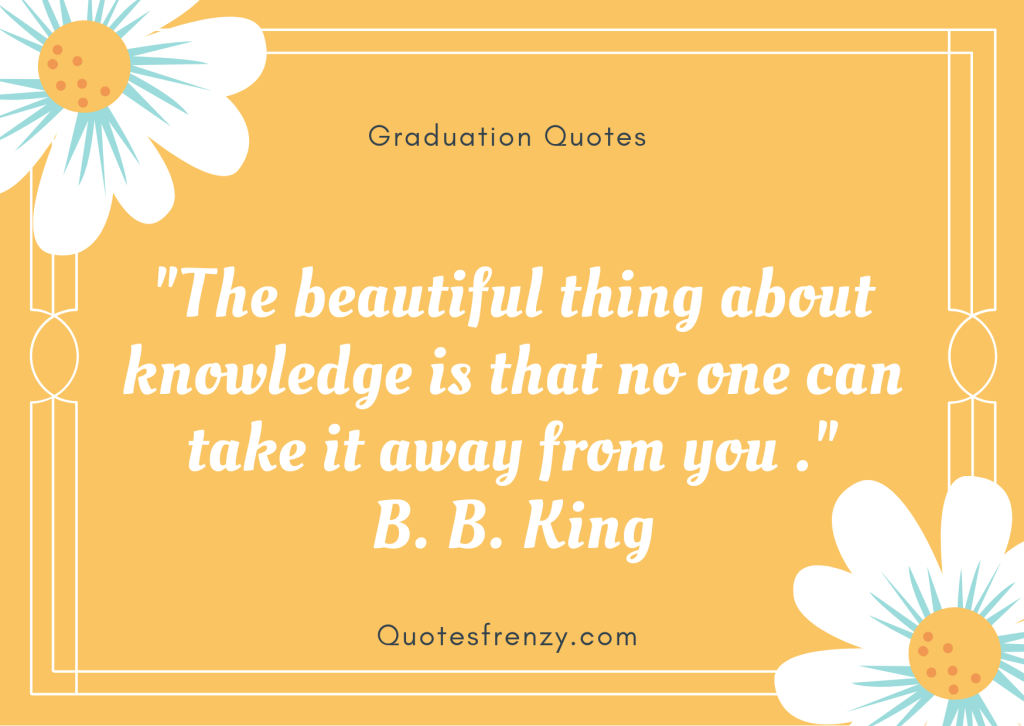 In a world of uncertainty and loss, we sometimes forget to invest in the things that no one can take away from us. Education gives us knowledge that stays with us no matter what else we lose. The skills acquired can keep us moving even if we lose the paperwork that affirms our educational background. We are well equipped when we have knowledge because it is ours to use as we please. We determine the value of our knowledge and how far we can take it. This is one of the only things in life that is still within our control.
Take pride in how far you've come. Have faith in how far you can go. But don't forget to enjoy the journey — Michael Josephson
Michael celebrates the magnitude of graduation because of the growth achieved. It is easy to, settle on one success while you could always go further. He helps one see that they can achieve much more. It is great to progress in life, but not at the expense of happiness. We can always progress while we are enjoying our lives. Happiness will help you achieve greater heights and do bigger things. The power to make a difference is within you if you never stop believing in yourself.
Graduation is a step in education that highlights a person's achievements. These Graduation Quotes help the achiever to keep achieving while enjoying the progress they have made. Our minds become more open as we learn more about the world and the people in it.