Labor Day Quotes: 1st May is celebrated as International Labor Day all over the world. It is set to celebrate the hard work and achievements of the labor group.
Labor Day is a celebration for the working class who have suffered a long time under capitalist rule. The day impresses upon us the vitality to fight for our rights. Thus, it is an important event that we should celebrate humbly and with a cheerful heart.
Here are some labor day quotes to inspire you.
---
Famous Labor Day Quotes
---
"Pleasure in the job puts perfection in the work." – Aristotle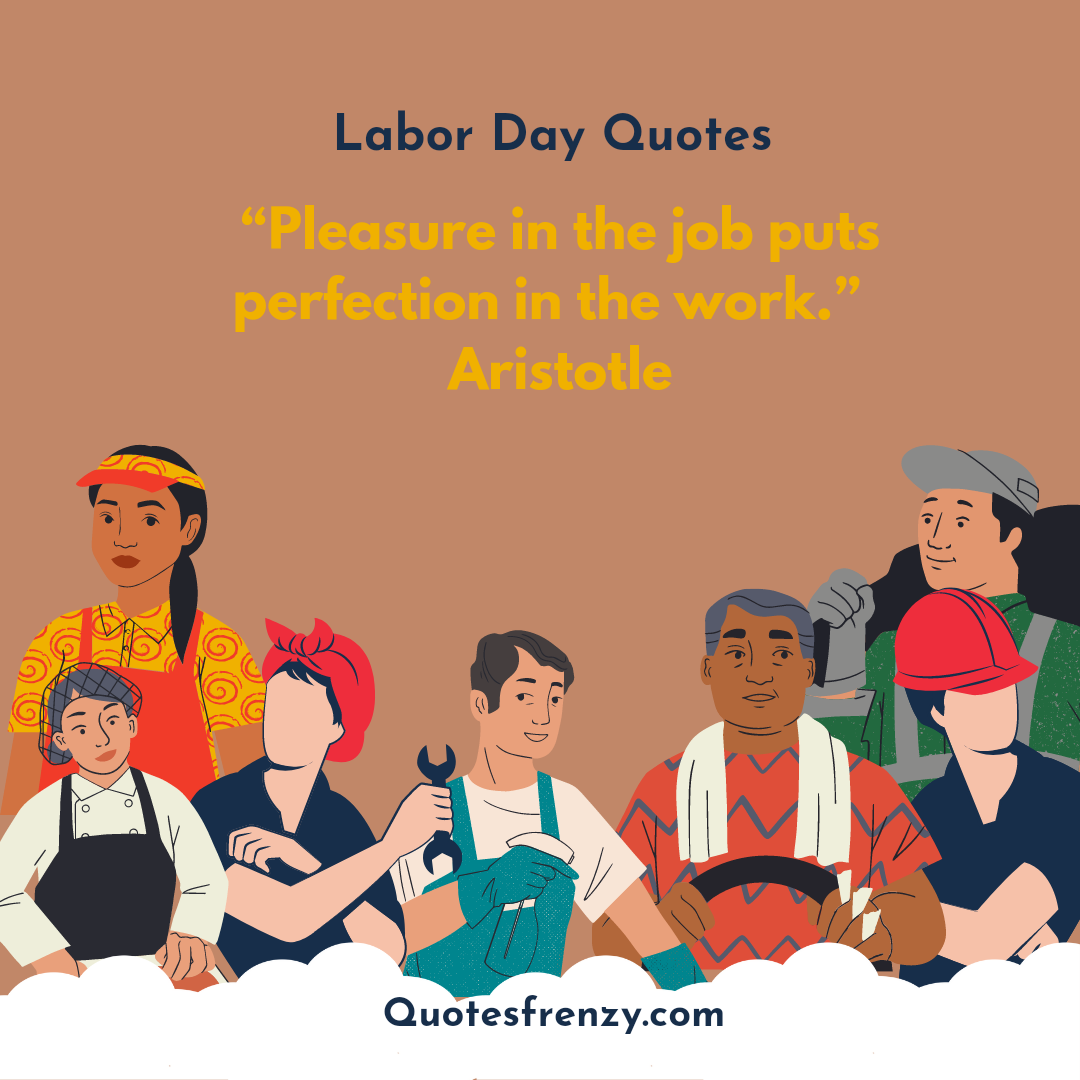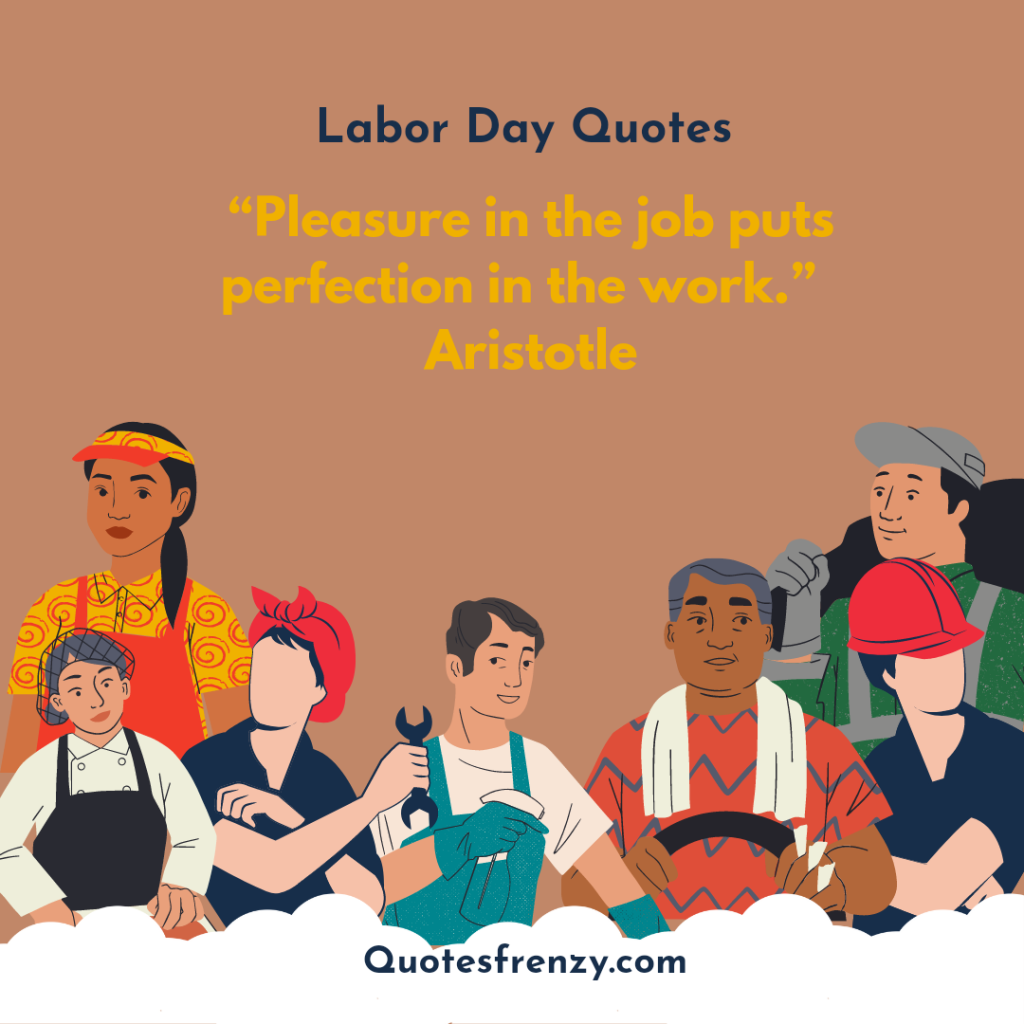 ---
Also read…
Happy 4th of July Quotes And Sayings
Quotes About Community And Sayings
---
"Genius is 1% inspiration and 99% perspiration."  –  Thomas Edison
---
"Labor Day is "the first Monday in September, is a creation of the labor movement and is dedicated to the social and economic achievements of American workers. It constitutes a yearly national tribute to the contributions workers have made to the strength, prosperity, and well-being of our country."
---
"Without labor nothing prospers." – Sophocles
---
"I've heard of nothing coming from nothing, but I've never heard of absolutely nothing coming from hard work."— Uzo Aduba
---
"Follow your passion, be prepared to work hard and sacrifice, and, above all, don't let anyone limit your dreams."— Donovan Bailey
---
"There is no substitute for hard work."— Thomas A. Edison
---
"Nothing ever comes to one that is worth having except as a result of hard work." – Booker T. Washington
---
"Choose a job you love, and you will never have to work a day in your life."- Confucius
---
"The best way to find yourself is to lose yourself in the service of others." ― Mahatma Gandhi
---
"Dare to be honest and fear no labour." – Robert Burns
---
"There is precious little hope to be got out of whatever keeps us industrious, but there is a chance for us whenever we cease work and become stargazers." – H.M. Tomlinson
---
"Find something you love to do, and you'll never have to work a day in your life." – Harvey Mackay
---
"Before the reward there must be labor. You plant before you harvest. You sow in tears before you reap joy." – Ralph Ransom
---
"The miracle is not that we do this work, but that we are happy to do it." – Mother Teresa
---
"No human masterpiece has been created without great labour." – Andre Gide
---
"The supreme accomplishment is to blur the lines between work and play." – Arnold J. Toynbee
---
"Take rest. A field that has rested gives a bountiful crop." – Ovid
---
"When you put a lot of hard work into one goal and you achieve it, that's a really good feeling."— Derek Jeter
---
"Nothing will work unless you do" – Maya Angelou
---
"If people knew how hard I had to work to gain my mastery, it would not seem so wonderful at all." – Michelangelo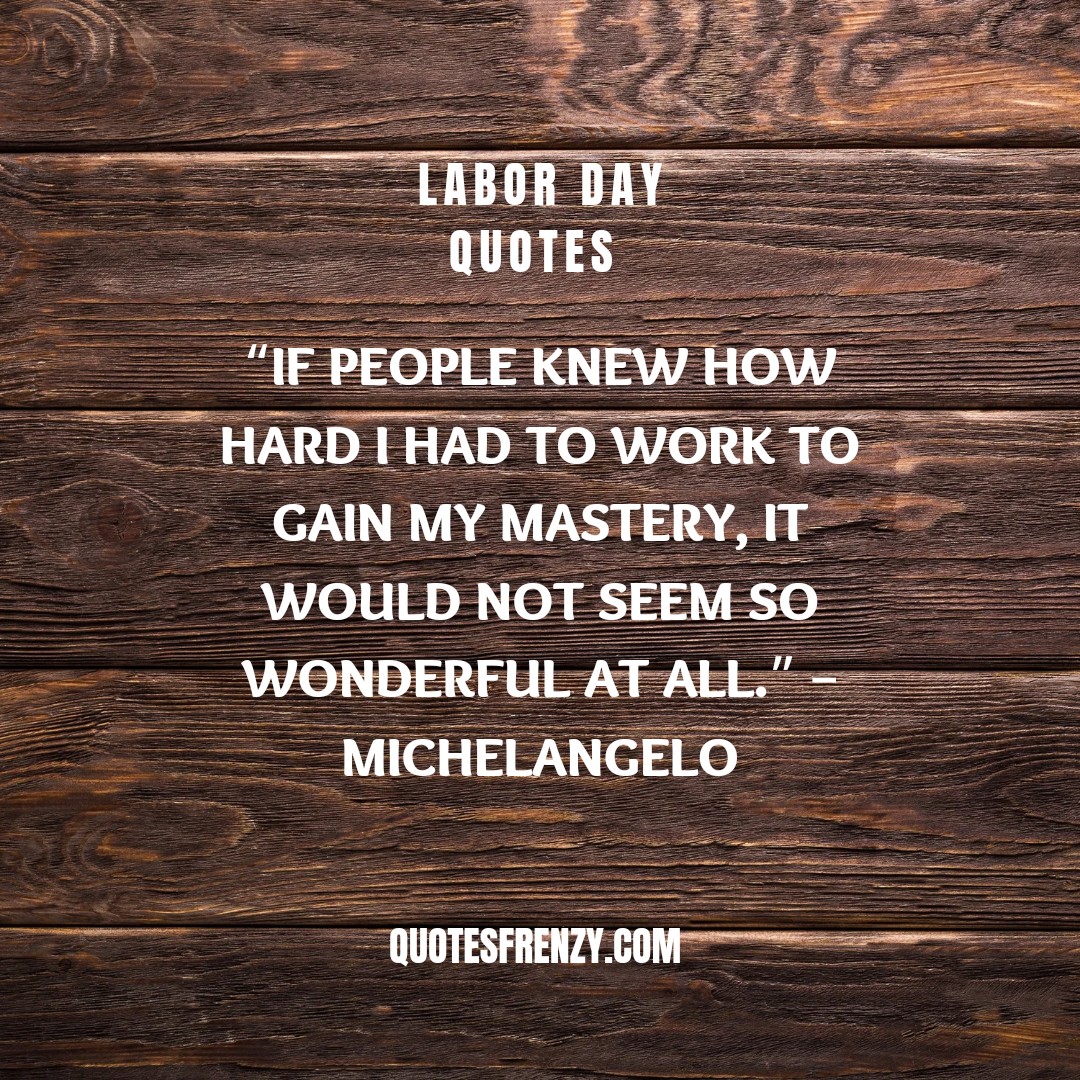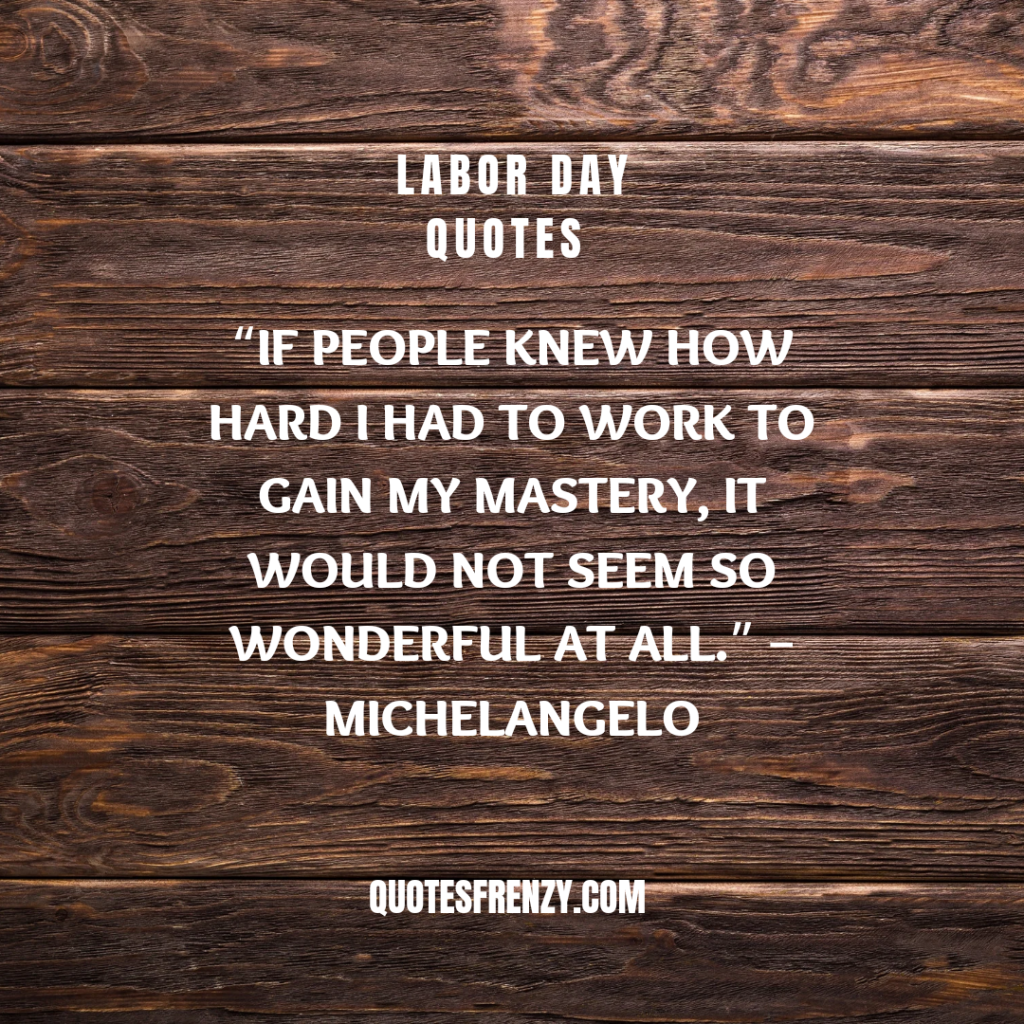 ---
"Your friends will believe in your potential, your enemies will make you live up to it." – Tim Fargo
---
"I like work: it fascinates me. I can sit and look at it for hours."― Jerome K. Jerome
---
"A man is not idle because he is absorbed in thought. There is visible labor and there is invisible labor."― Victor Hugo
---
"The difference between ordinary and extraordinary is that little extra."― Jimmy Johnson
---
"We often miss opportunity because it's dressed in overalls and looks like work"― Thomas A. Edison
---
"Make your work to be in keeping with your purpose"― Leonardo da Vinci
---
"It doesn't matter how great your shoes are if you don't accomplish anything in them." – Martina Boone
---
"Though you can love what you do not master, you cannot master what you do not love." – Mokokoma Mokhonoana
---
"It is labor indeed that puts the difference on everything." – John Locke
---
"As we celebrate Labor Day, we honor the men and women who fought tirelessly for workers' rights, which are so critical to our strong and successful labor force." – Elizabeth Esty
---
"Our labour preserves us from three great evils — weariness, vice, and want."― Voltaire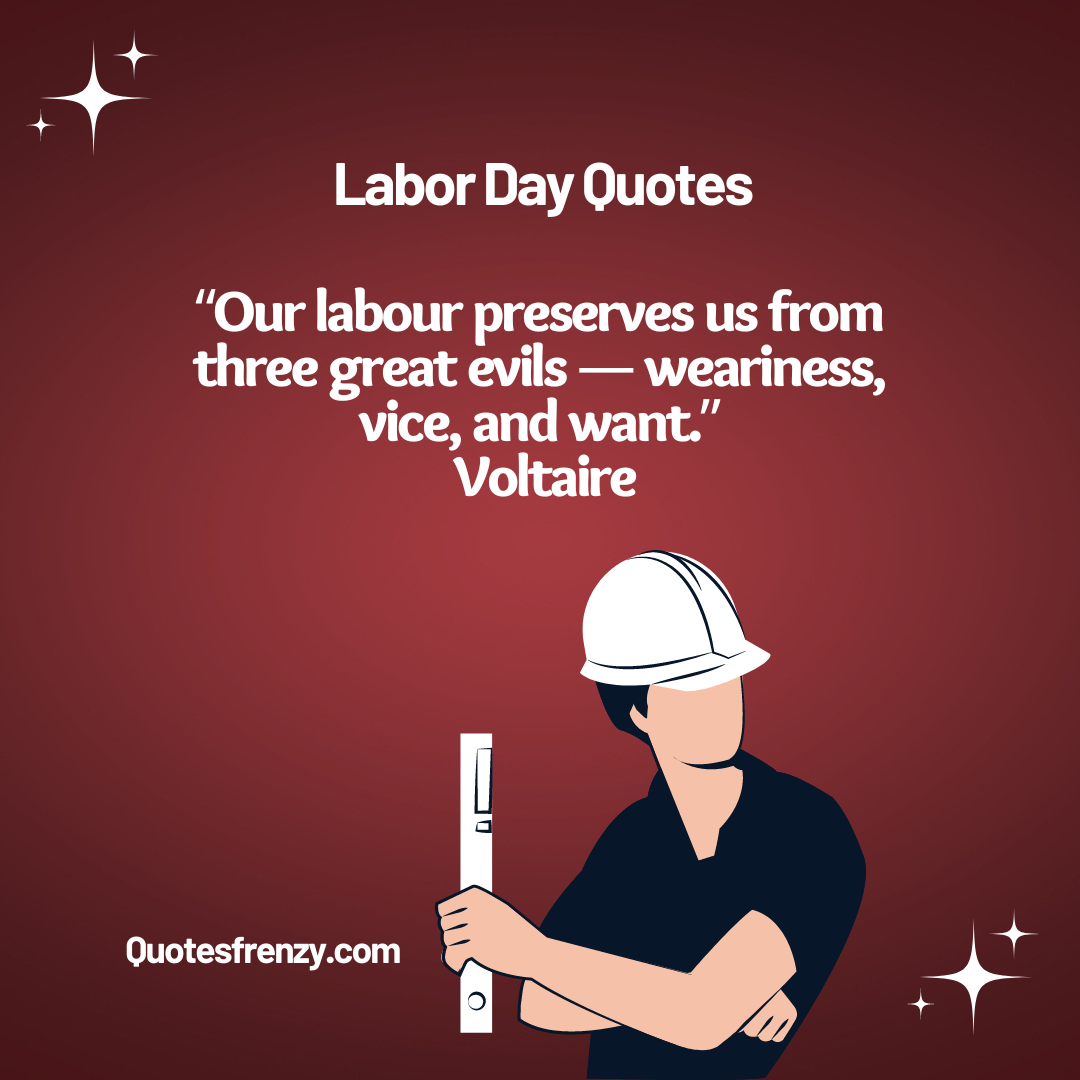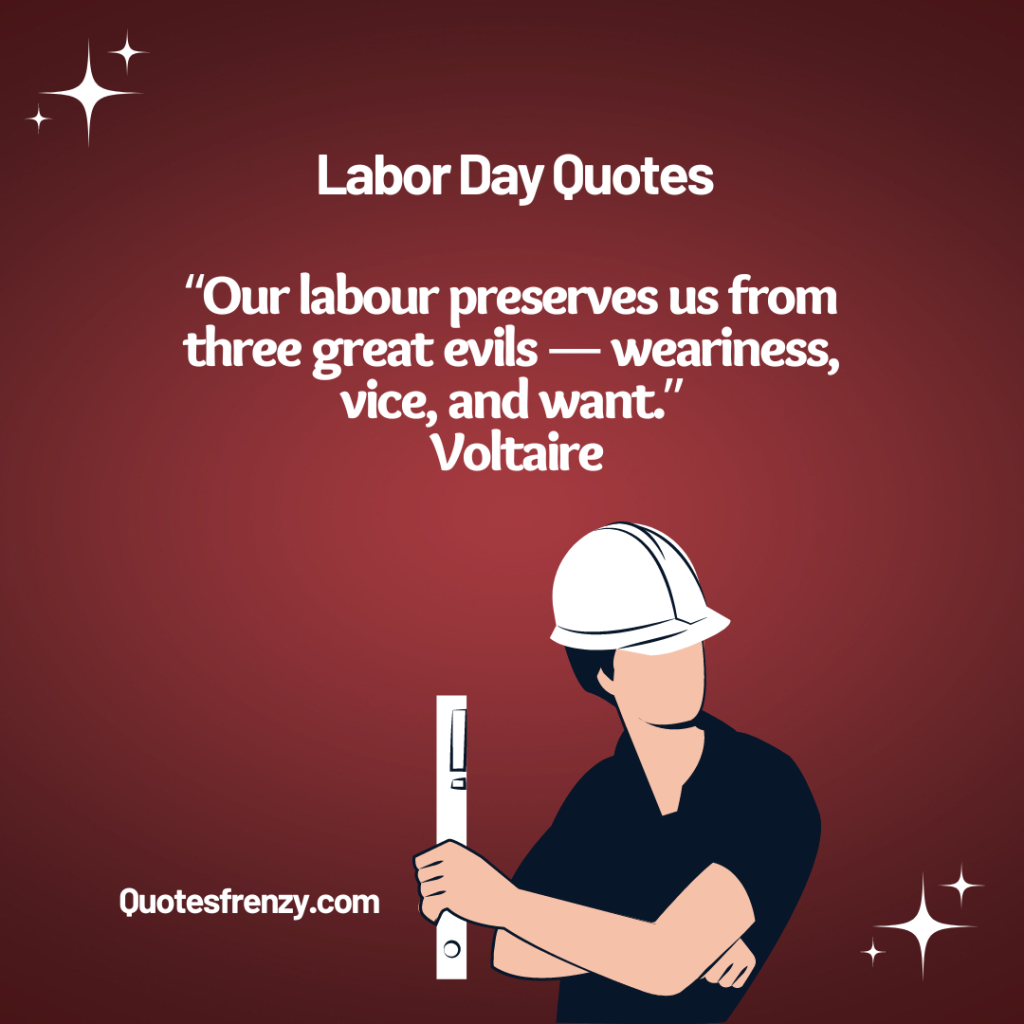 ---
"Inspiration usually comes during work, rather than before it." – Madeleine L'Engle
---
"All happiness depends on courage and work."― Honoré de Balzac
---
"Employment is nature's physician, and is essential to human happiness." – Galen
---
"I love deadlines. I love the whooshing noise they make as they go by."― Douglas Adams
---
"Without hard work, nothing grows but weeds."― Gordon B. Hinckley
---
"Labor Day is devoted to no man, living or dead, to no sect, race or nation." – Samuel Gompers
---
"Labor Day means grilling outside!" – Katie Lee
---
"The man who moves a mountain begins by carrying away small stones." – Confucius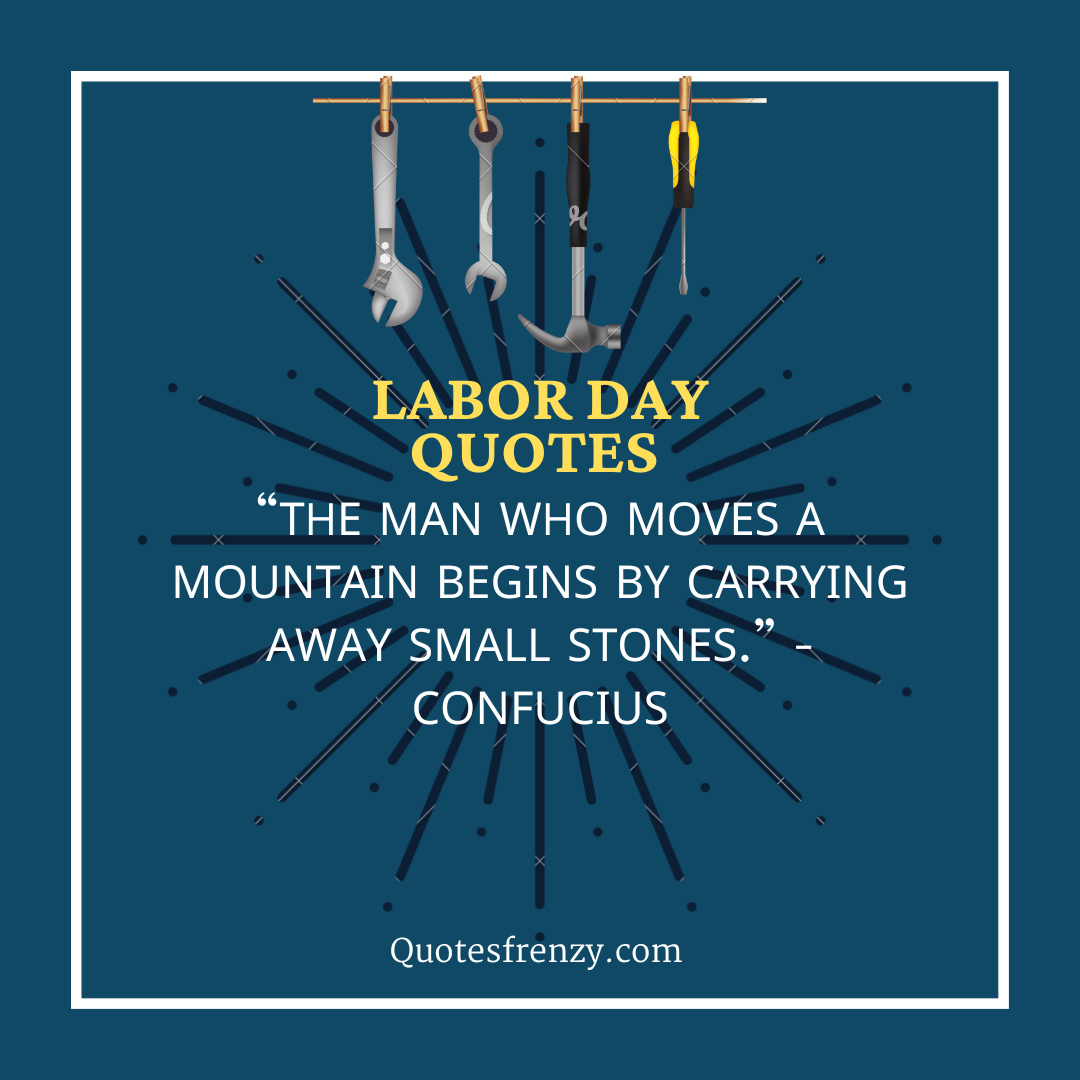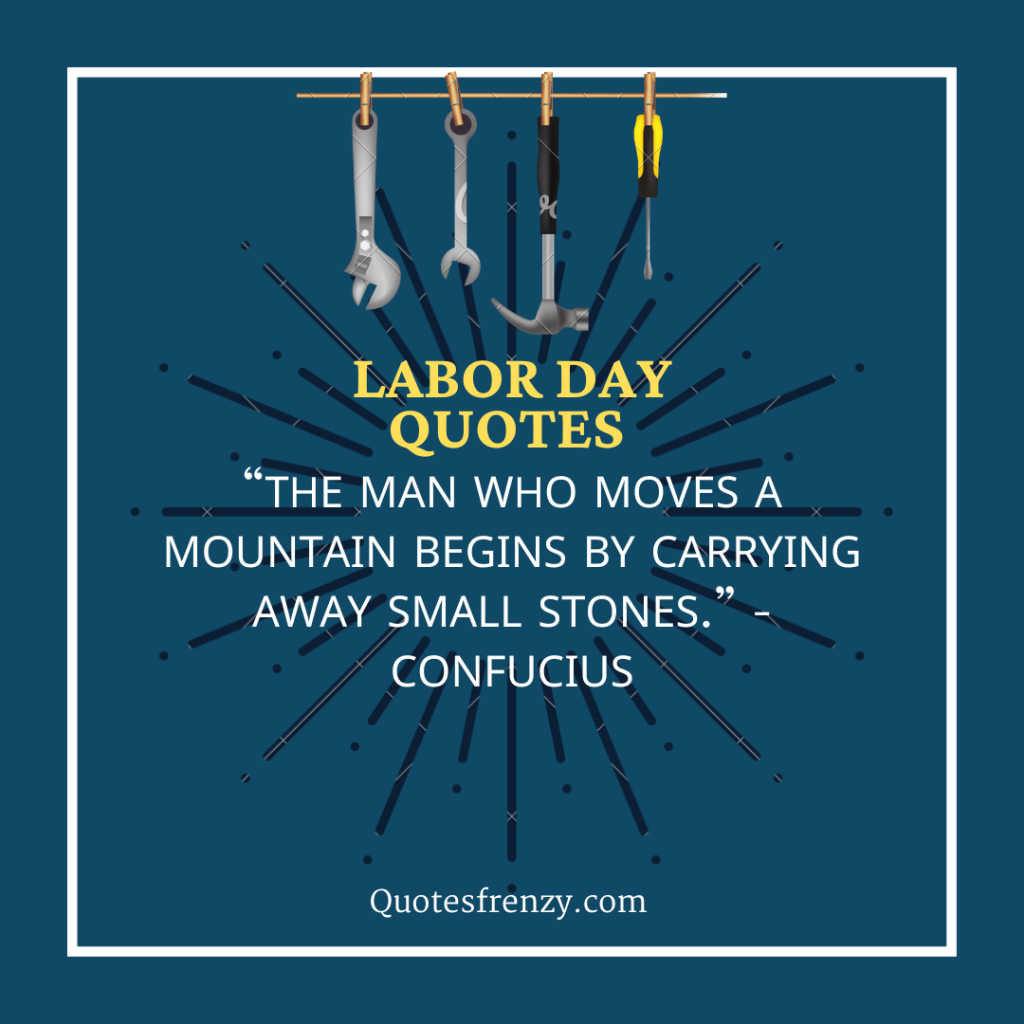 ---
"If you don't burn out at the end of each day, you're a bum."– George Lois
---
"You will never plough a field if you only turn it over in your mind." –
Irish Proverb
---
"Success is no accident. It is hard work, perseverance, learning, studying, sacrifice and most of all, love of what you are doing or learning to do." – Pelé
---
"Happiness is the real sense of fulfillment that comes from hard work." Joseph Barbara
---
"Yesterday's home runs don't win today's games." —Babe Ruth
---
"Just try new things. Don't be afraid. Step out of your comfort zones and soar, all right?"— Michelle Obama
---
"When we strive to become better than we are, everything around us becomes better too." – Paulo Coelho
---
"The question isn't who's going to let me; it's who is going to stop me?" —Ayn Rand
---
"Don't wish it were easier. Wish you were better." – Jim Rohn
---
Quotes About Importance Of Labor
---
"All labor that uplifts humanity has dignity and importance and should be undertaken with painstaking excellence." — Martin Luther King, Jr.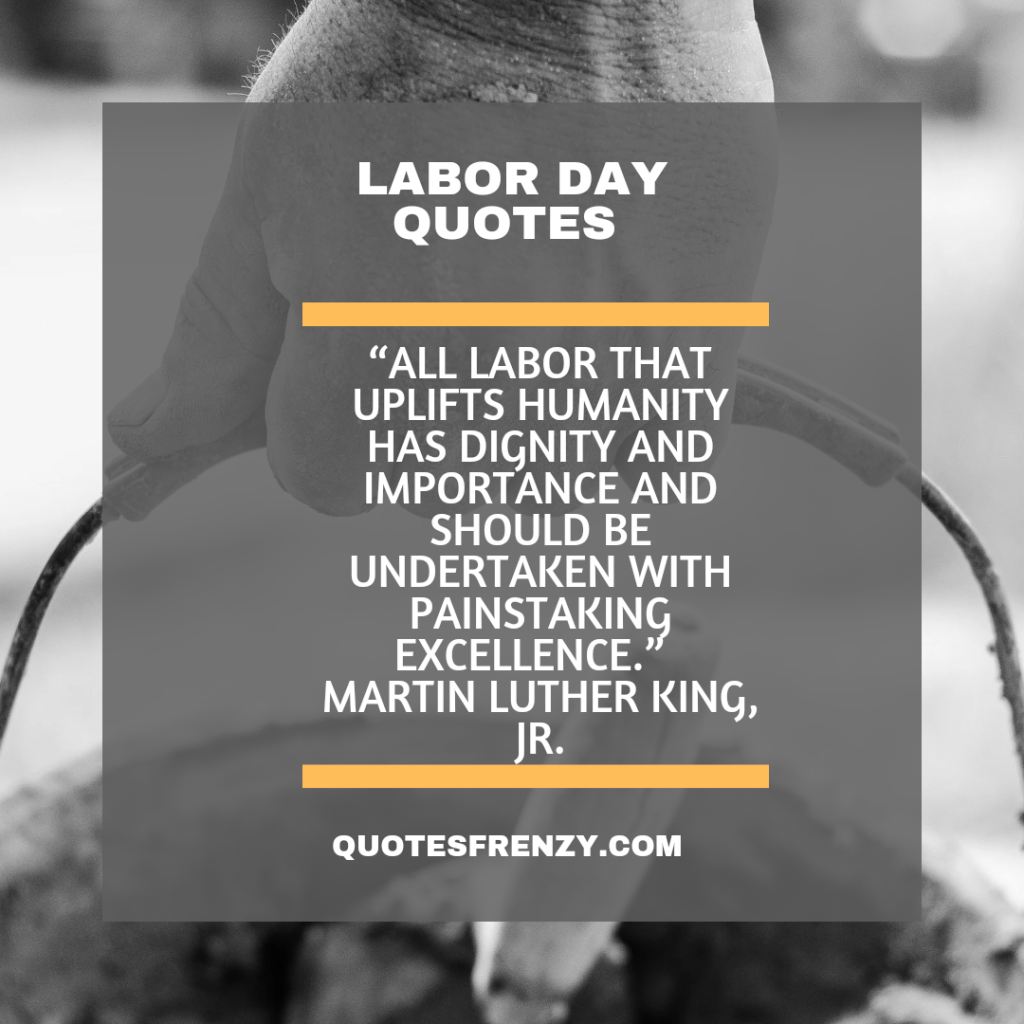 ---
"You may not know it's coming / But it's coming, almost die / Labor Day's around the corner / Happy Labor Day to You!" — Jim Lowery.
---
"Labor in this country is independent and proud. It has not to ask the patronage of capital, but capital solicits the aid of labor." — Daniel Webster
---
"Socialist William Kruse explained that the roots of the labor holiday go back to ancient Rome and sacrifices to Mai, Mother Earth, and Flora, goddess of flowers." — Colin Fisher
---
"Labor Day is a glorious holiday because your child will be going back to school the next day. It would have been called Independence Day, but that name was already taken." — Bill Dodds
---
"Everything in the world is purchased by labor." — David Hume
---
"Labor is the superior of capital and deserves much the higher consideration." — Abraham Lincoln
---
"While we are fighting for freedom, we must see, among other things, that labor is free." — Woodrow Wilson
---
"If all the cars in the United States were placed end to end, it would probably be Labor Day Weekend." — Doug Larson
---
"One machine can do the work of fifty ordinary men. No machine can do the work of one extraordinary man." — Elbert Hubbard.
---
Quotes About Hard Work
---
"There is no substitute for hard work."— Thomas A. Edison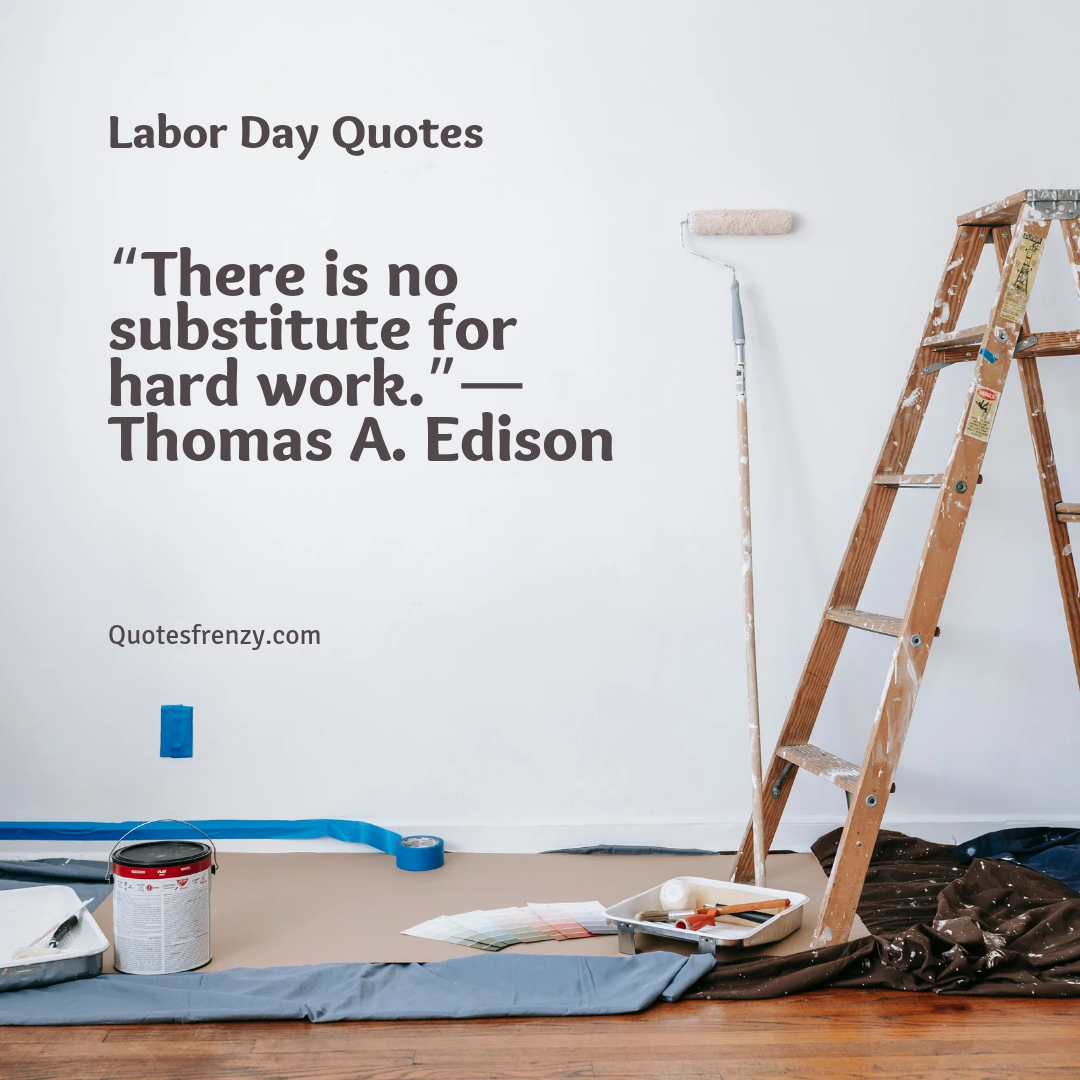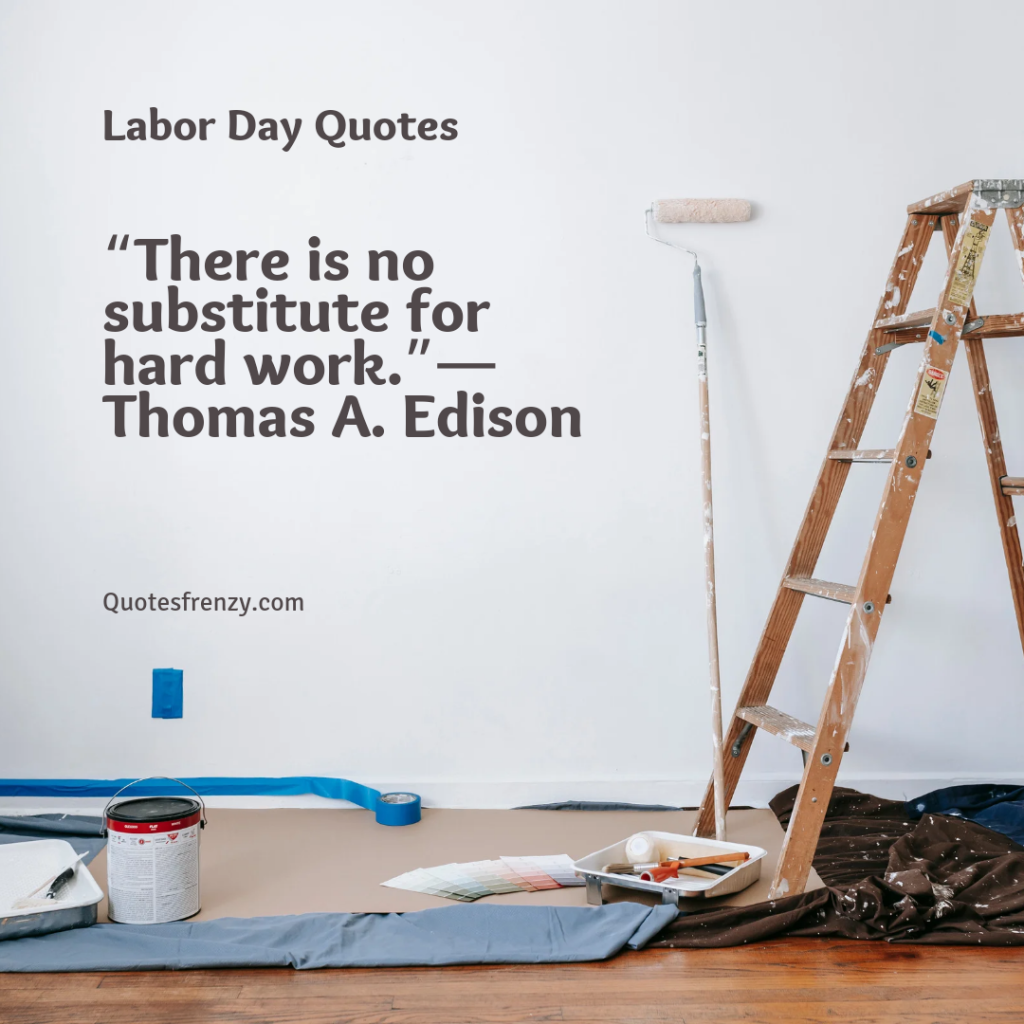 ---
"This is just the beginning of a new era for America's workers." – james P. Hoffa
---
"Work harder than you think you did yesterday." – Alex Elle
---
"The moment we believe that success is determined by an ingrained level of ability as opposed to resilience and hard work, we will be brittle in the face of adversity." – Joshua Waitzkin
---
"Find something you love to do, and you'll never have to work a day in your life." – Harvey Mackay
---
"Most of the time you will fail, but you will also occasionally succeed. Those occasional successes make all the hard work and sacrifice worthwhile." – Dean Kamen
---
"Labor Day is seen as a day of rest for many hardworking Americans." – James P. Hoffa
---
"Labor Day 2013 is special. This year marks the centennial of the U.S. Department of Labor – 100 years of working for America's workers." – Tom Perez
---
"Work hard at work worth doing." – Theordore Roosevelt
---
"The reward of a thing well done, is to have done it." – Ralph Waldo Emerson
---
"Success doesn't come from what you do occasionally. It comes from what you do consistently." – Marie Forleo
---