Photography Quotes-Photography is an art, its game of light. It's a favorite of all age group people from a kid to an old person. Any gear can be used for photography from a normal mobile to highly gear up camera anything can serve us with good photographs. As we know photographs are liked by all photography is also liked by the majority of people all over the world.
There are many private photographer and organizations to help us out with photography for an event. If not so we can become the photographers. We just need to know the techniques, the principles of light and all then we can have good photographs in hand. Photographs help us to cherish our memorable moments even after many years and they are a treasure. Photography is not at all difficult it's a very easy art to learn and improvise sometimes even beginners give us many good pictures.
---
Famous Photography Quotes
---
"Photography takes an instant out of time, altering life by holding it still." Dorothea Lange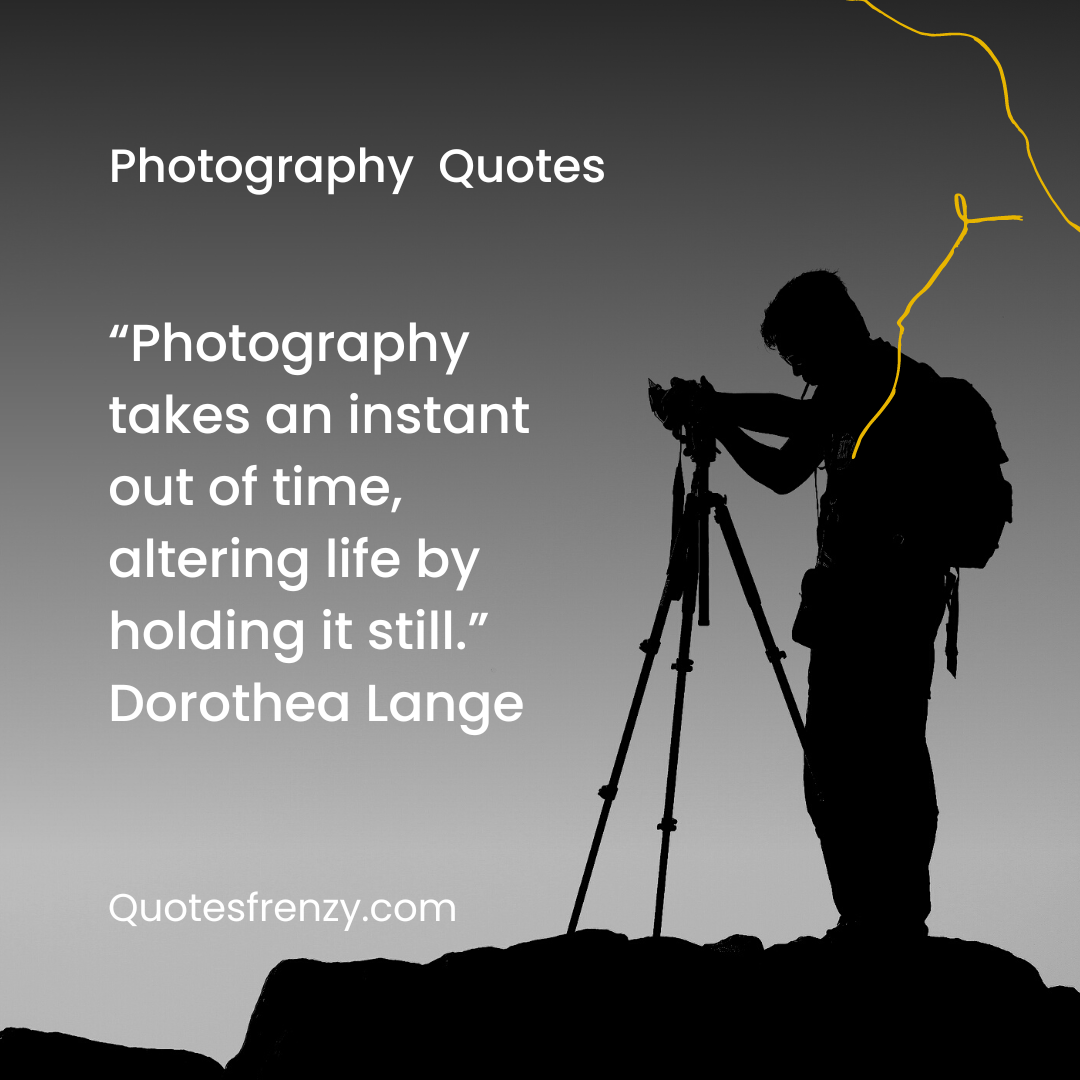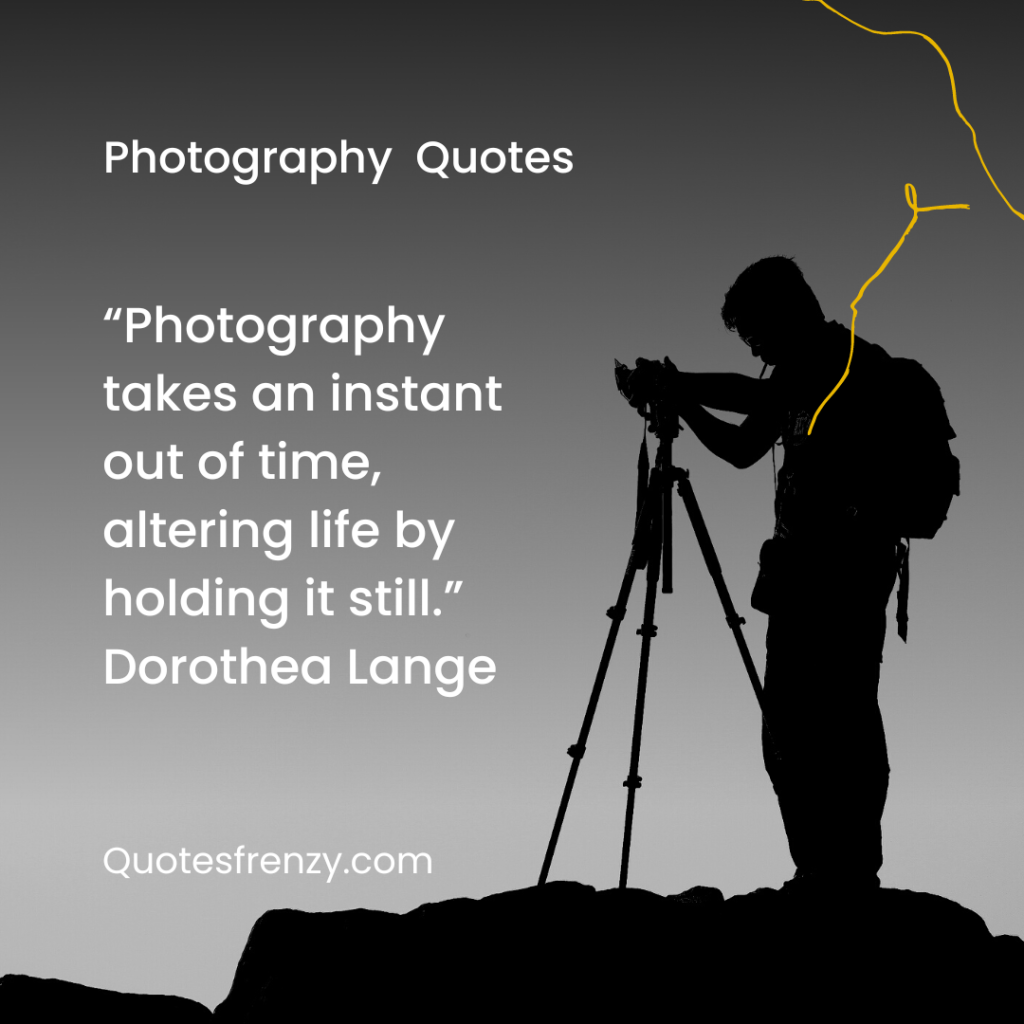 ---
Also read…
---
"Photography is an immediate reaction, drawing is a meditation." Henri Cartier-Bresson
---
"There are no rules for good photographs, there are only good photographs." Ansel Adams
---
"Photography is the only language that can be understood anywhere in the world." Bruno Barbey
---
"Not everybody trusts paintings but people believe photographs." Ansel Adams
---
"Photography is truth. The cinema is truth twenty-four times per second." Jean-Luc Godard
---
"A good photograph is knowing where to stand." Ansel Adams
---
"A true photograph need not be explained, nor can it be contained in words." Ansel Adams
---
"Photography helps people to see." Berenice Abbott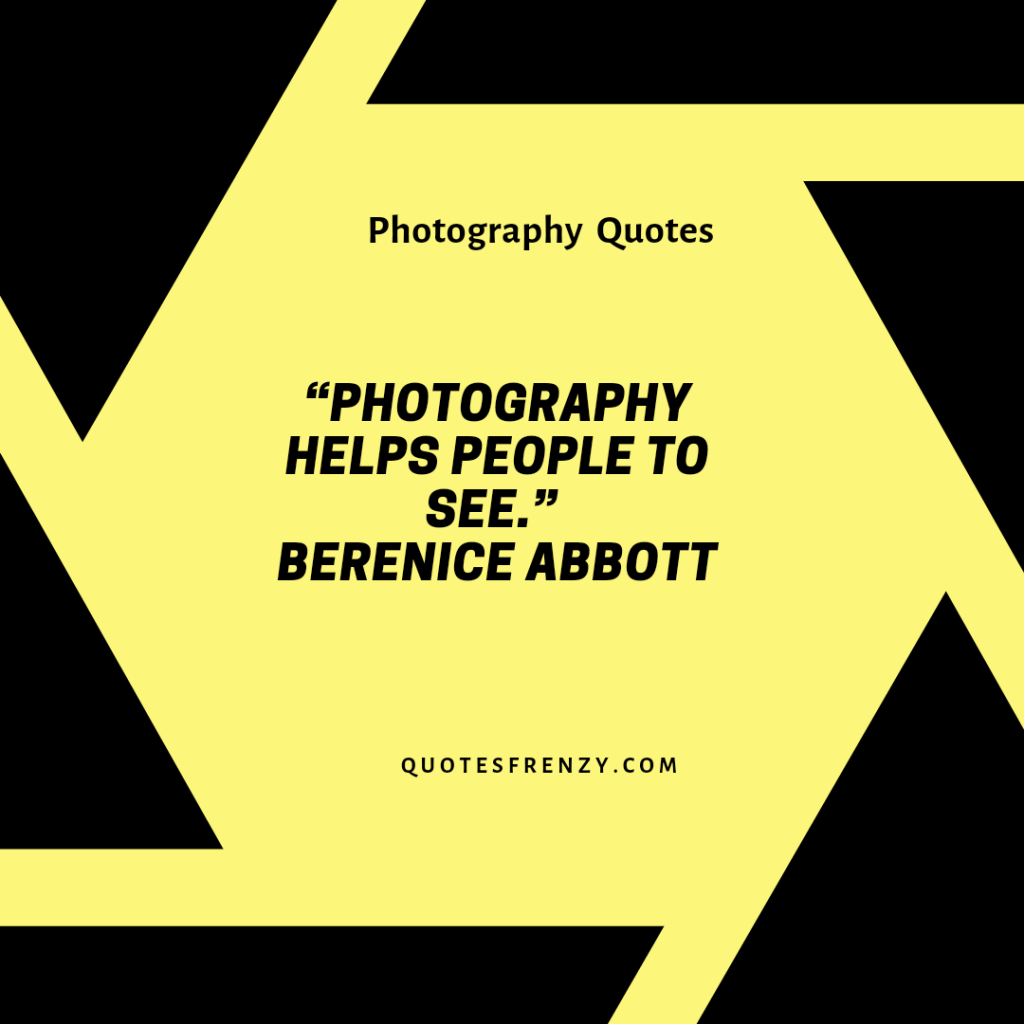 ---
"Light makes photography. Embrace light." George Eastman
---
"Your photography is a record of your living, for anyone who really sees." Paul Strand
---
"Photography is simply a function of noticing things." Elliott Erwitt
---
"Photography is the easiest art, which perhaps makes it the hardest." Lisette Model
---
"The hardest thing in photography is to create a simple image." Anne Geddes
---
"Photography has every right and every merit to claim our attention as the art of our age." Alexander Rodchenko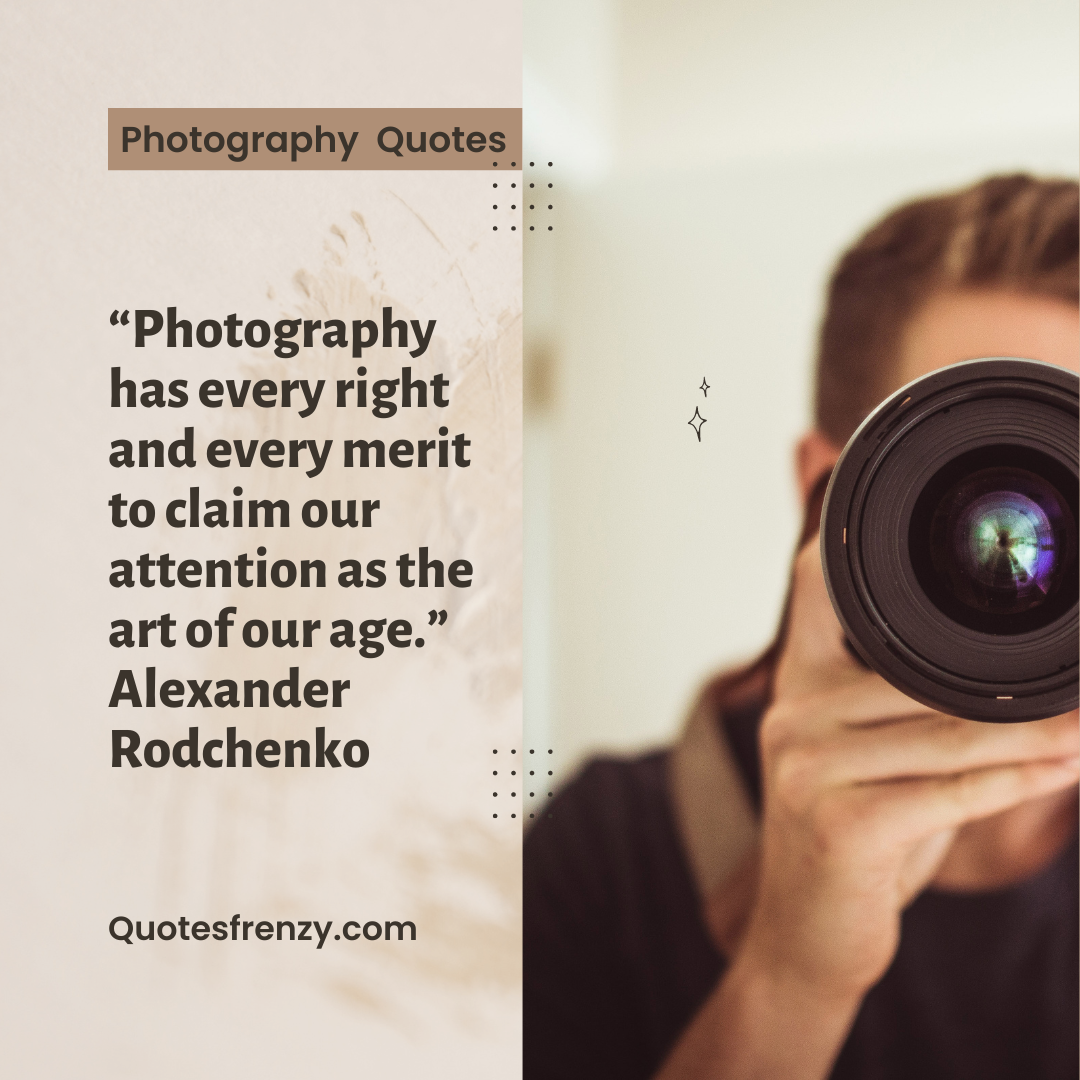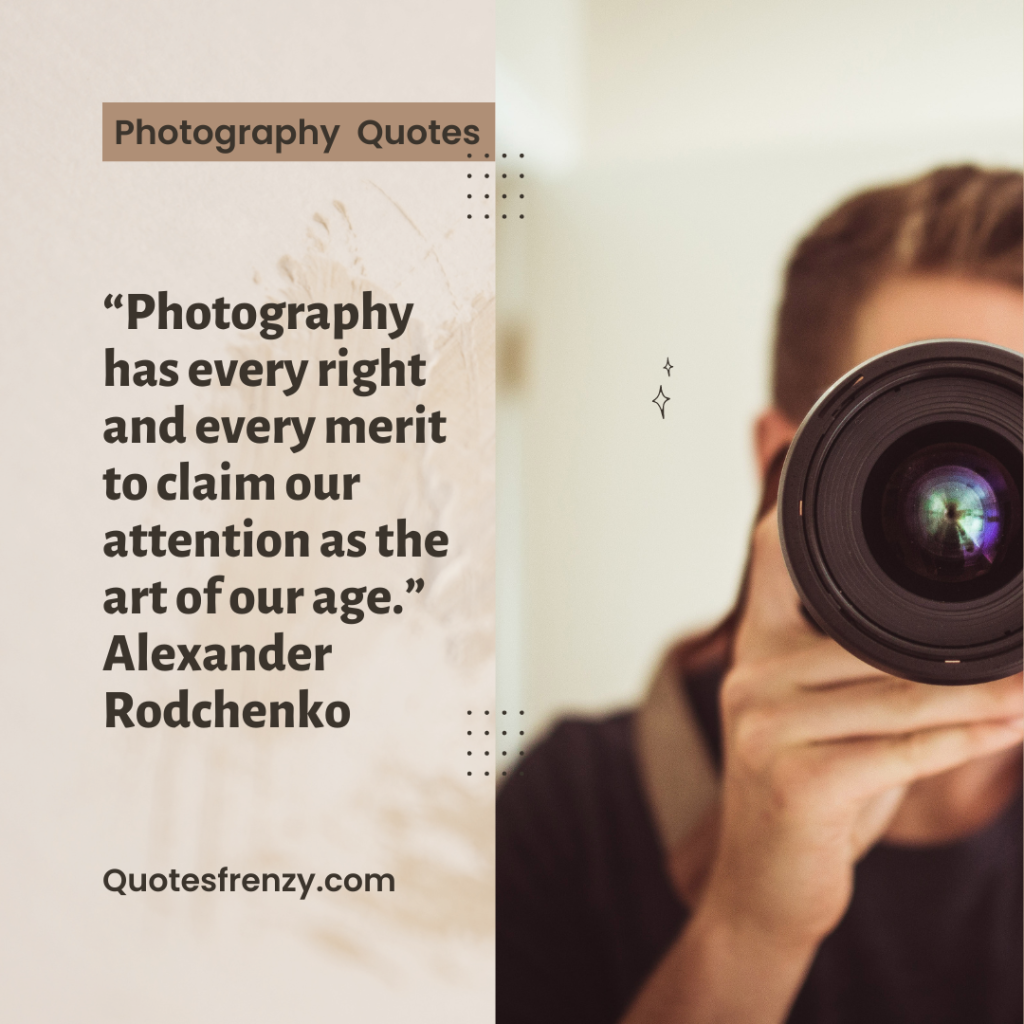 ---
"The over-reliance on photography holds so many artists back." Jacob Collins
---
"Photography is nature seen from the eyes outwards. Painting is nature seen from the eyes inwards." Charles Sheeler
---
"Contrast is what makes photography interesting." Conrad Hall
---
"Photography is more than a medium for factual communication of ideas. It is a creative art." Ansel Adams
---
"In photography there are no shadows that cannot be illuminated." August Sander
---
"Photography is a major force in explaining man to man." Edward Steichen
---
"Great photography is always on the edge of failure." Garry Winogrand
---
"Photography is truth." Jean-Luc Godard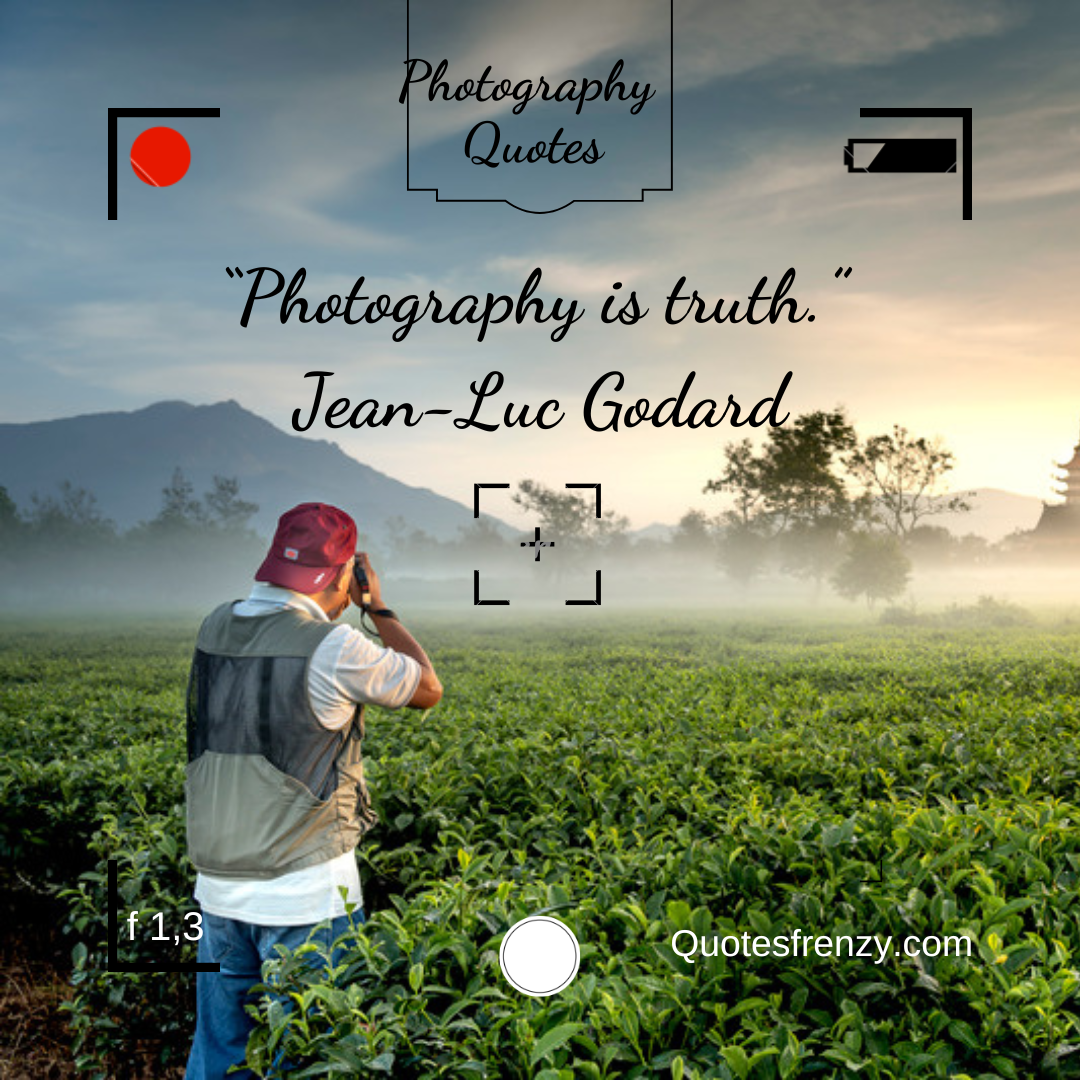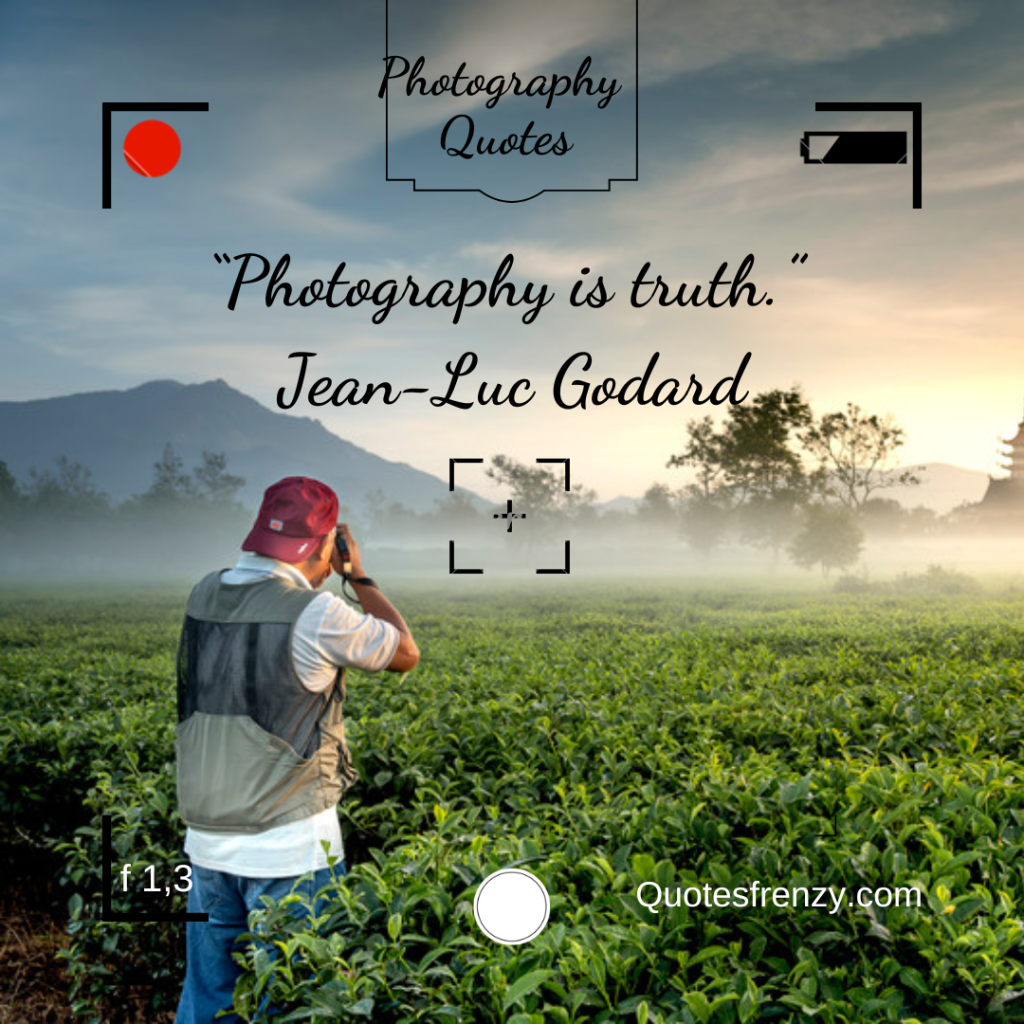 ---
"The craft of photography is the key to good images." Ansel Adams
---
"Photography is a way of feeling, of touching, of loving." Aaron Siskind
---
"You don't take a photograph. You make it." Ansell Adams – Photography Quotes

Photographs are not just to be taken as we see them, we should look through it. We should put us in that picture and make it a worthy one. When we click a picture we should show the depth in it as that helps us to convey what we want to the people and that makes us more special and different from others.
"I don't shoot what it looks like, I shoot what it feels like." David Alan Harvey – Photography Quotes

For a photographer to give his best he has to not only click the pictures but feel them. We should feel the pain, the pleasure, the beauty, the importance and every aspect relating to it. He should experience the photograph himself as a viewer. This helps us become much more creative and helps us capture the photograph in much better way.
"The photograph is the story I fail to put into words." Destin Sparks – Photography Quotes

We can convey many stories through photographs which we often fail to express. Photography can probably give life to a non-living thing. It is all about the story which things have to convey, which peoples face has to convey. Which are highly impossible to write on a piece of paper or sum up in a paragraph. It's an unending expression to be felt.