Christmas is about spending time with friends and family.From shopping for the gift to everyone on your list to making your Christmas party plans, the spirit of the season is full swing.
Many of us have special memories that evoke the true spirit of Christmas for us.They make us laugh, they make us smile, and they bring us together.
Blessed is the season which engages the whole world in a conspiracy of love." – Hamilton Wright Mabie
When you find a quote that truly speaks to you – it can be a really lovely thing to share with your family and friends on Christmas. So here is a list of quotes that we have complied for you.
---
120+ Christmas Quotes
---
"Peace on earth will come to stay, when we live Christmas every day." — Helen Steiner Rice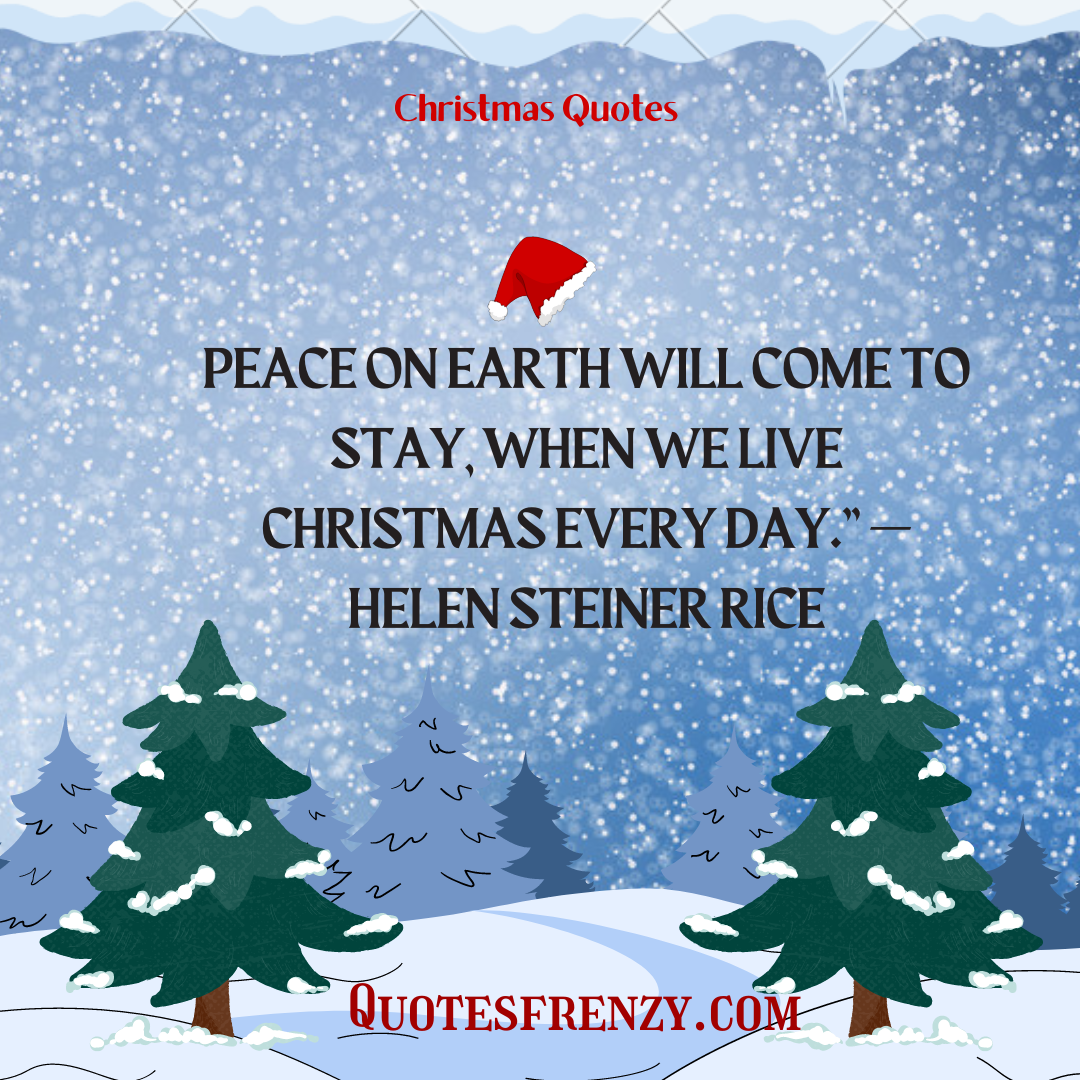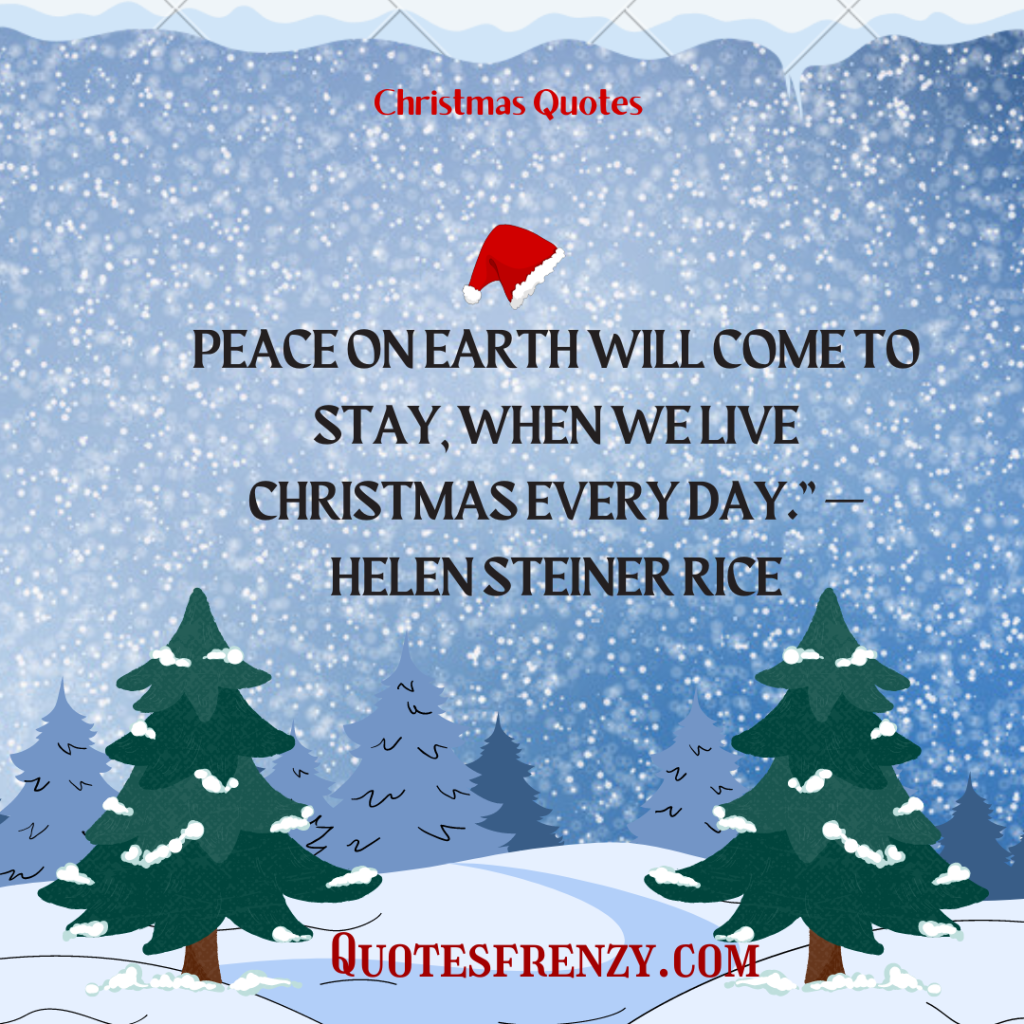 ---
"The way you spend Christmas is far more important than how much." — Henry David Thoreau
---
"The best and most beautiful things in the world cannot be seen or even touched. They must be felt with the heart." — Helen Keller
---
"Christmas will always be as long as we stand heart to heart and hand in hand." — Dr.Seuss
---
"Your children need your presence more than your presents." — Jesse Jackson
---
"Joy to the world, the Lord is come, let earth receive her King." – "Joy to the World"
---
"Walking in a winter wonderland." – "Winter Wonderland"
---
"Christmas and the holidays is the season of giving. It's a time when people are more kind and open-hearted." — Gisele Bundchen
---
"We count down the days, just to experience it nearly exactly as we always have. It is so comfortable, familiar and perfectly nostalgic that, frankly, we have no desire to improve upon it at all." — Joanna Gaines
---
"My brother, little sister and I decorate the tree together, and every year we fight over who gets to hang our handmade childhood decorations." — Carly Rae Jepsen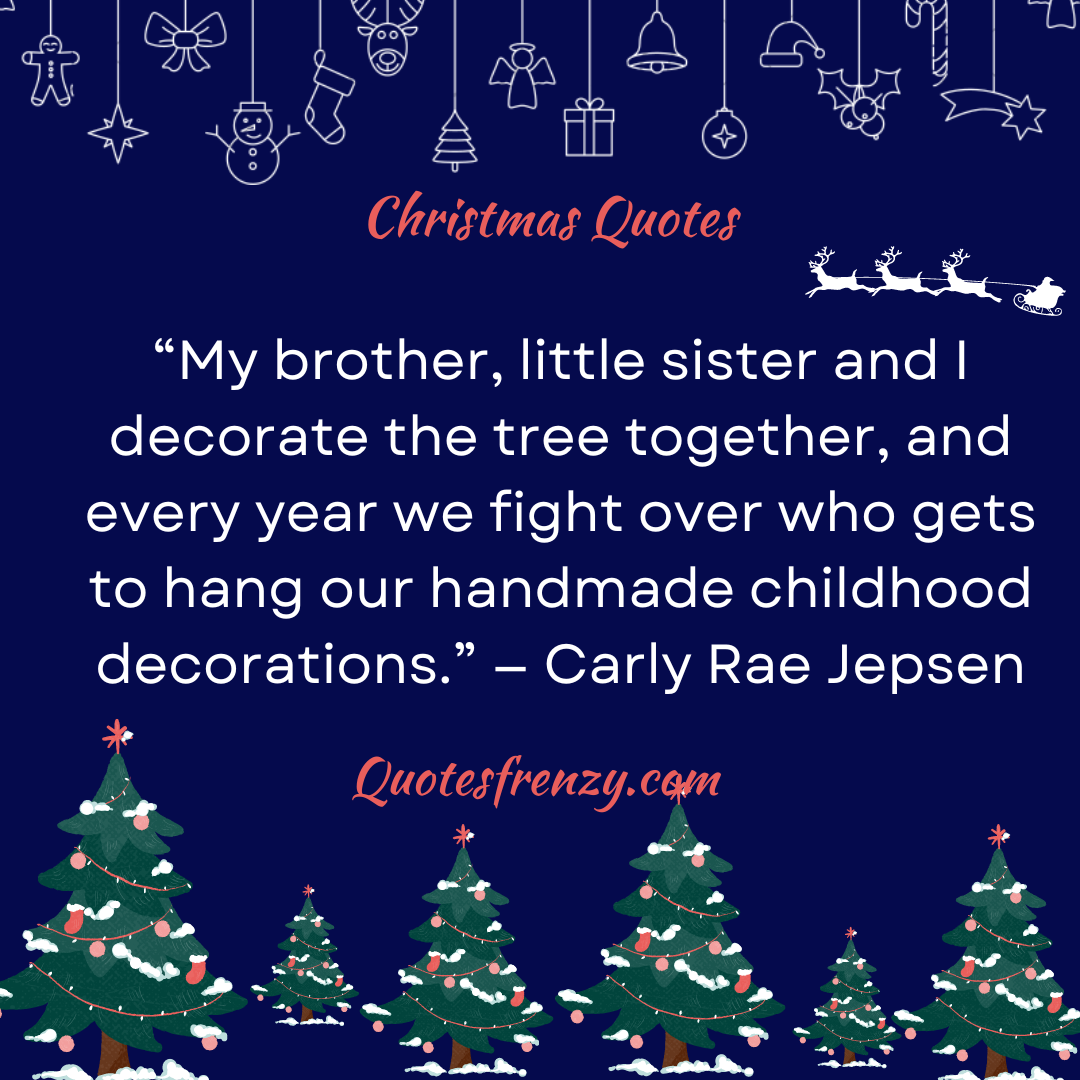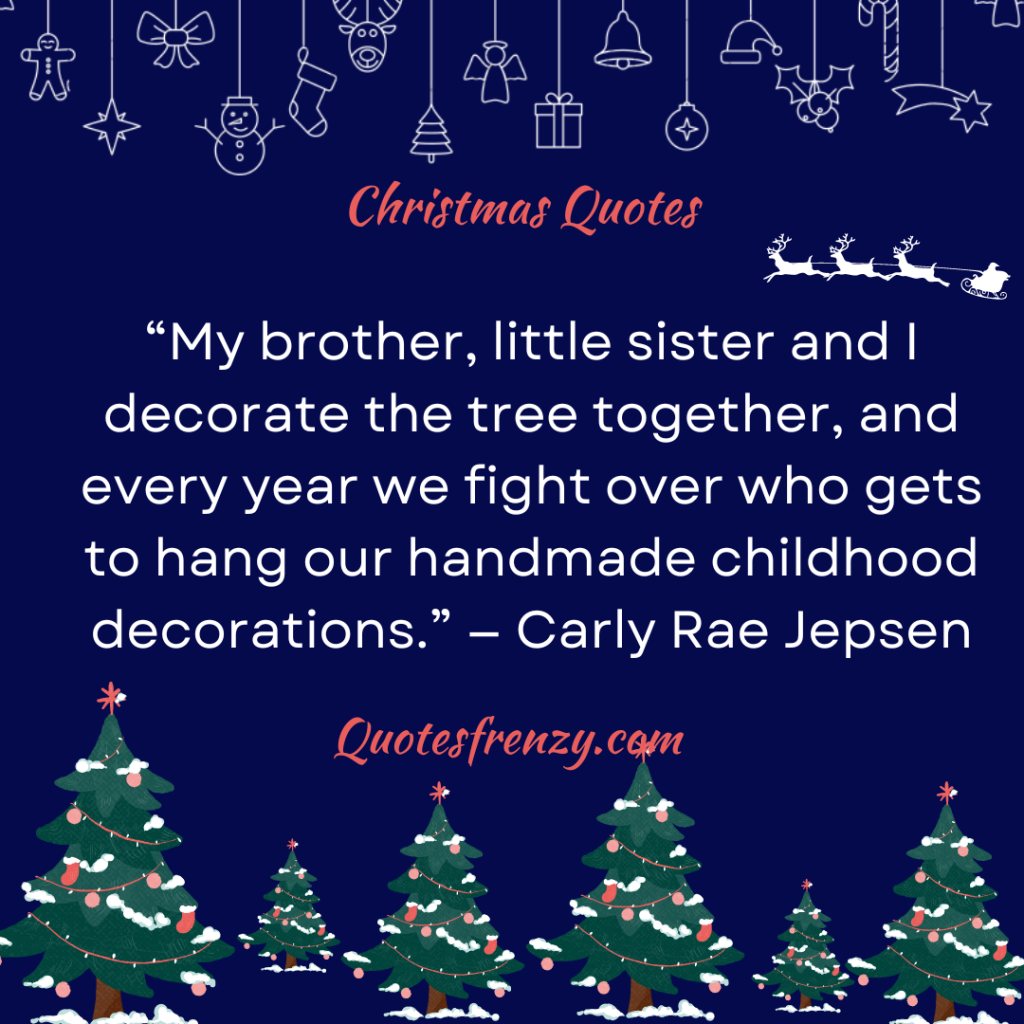 ---
"There's a certain magic that comes with the very first snow. For when the first snow is also a Christmas snow, well, something wonderful is bound to happen." — Frosty the Snowman
---
Also read ….
---
"Christmas is forever, not for just one day. For loving, sharing, giving, are not to put away." — Norman Wesley Brooks
---
"The world has grown weary through the years, but at Christmas, it is young." — Phillips Brooks
---
"Christmas is a piece of one's home that one carries in one's heart." — Freya Stark
---
"He who has not Christmas in his heart will never find it under a tree." — Roy L. Smith
---
"One of the most glorious messes in the world is the mess created in the living room on Christmas Day." — Andy Rooney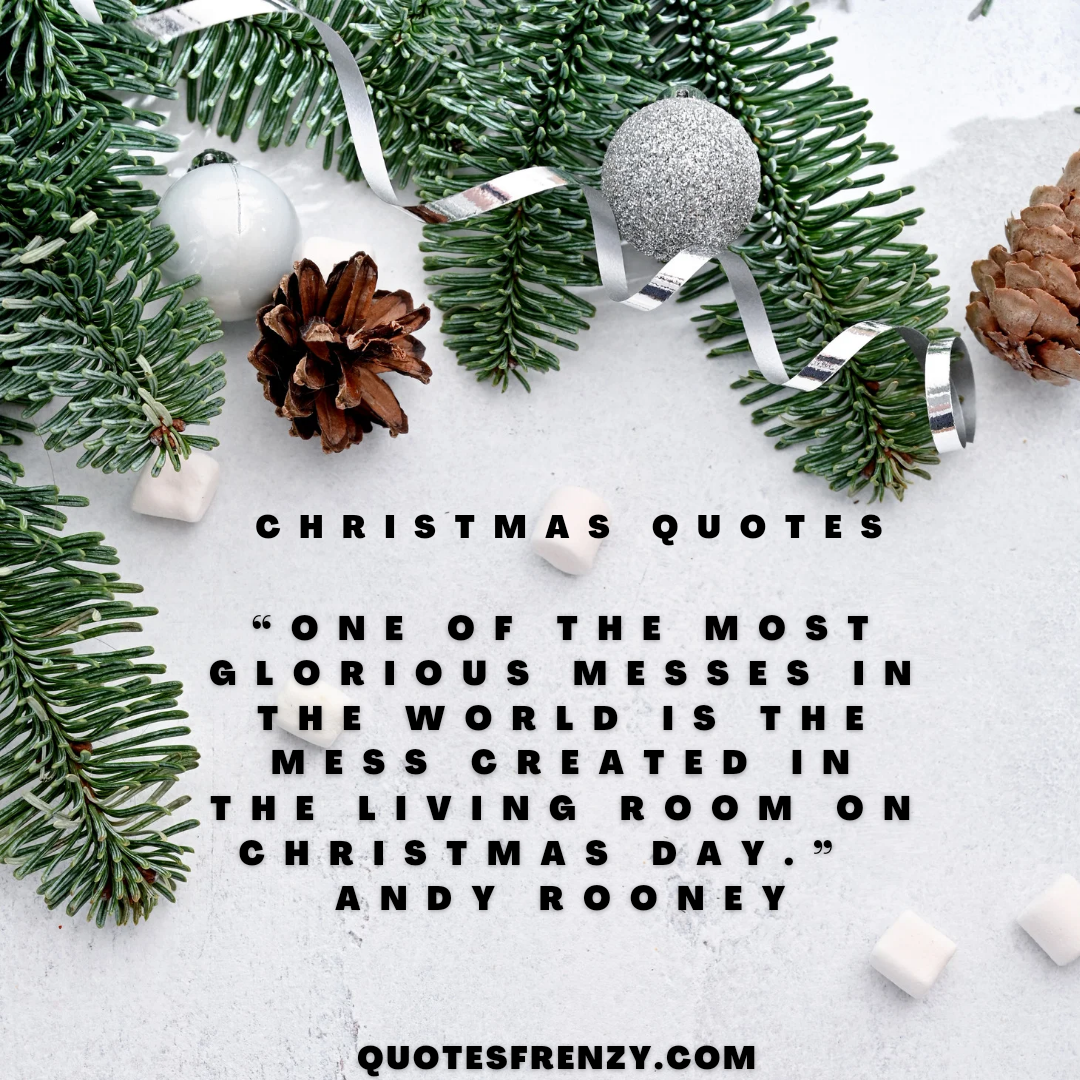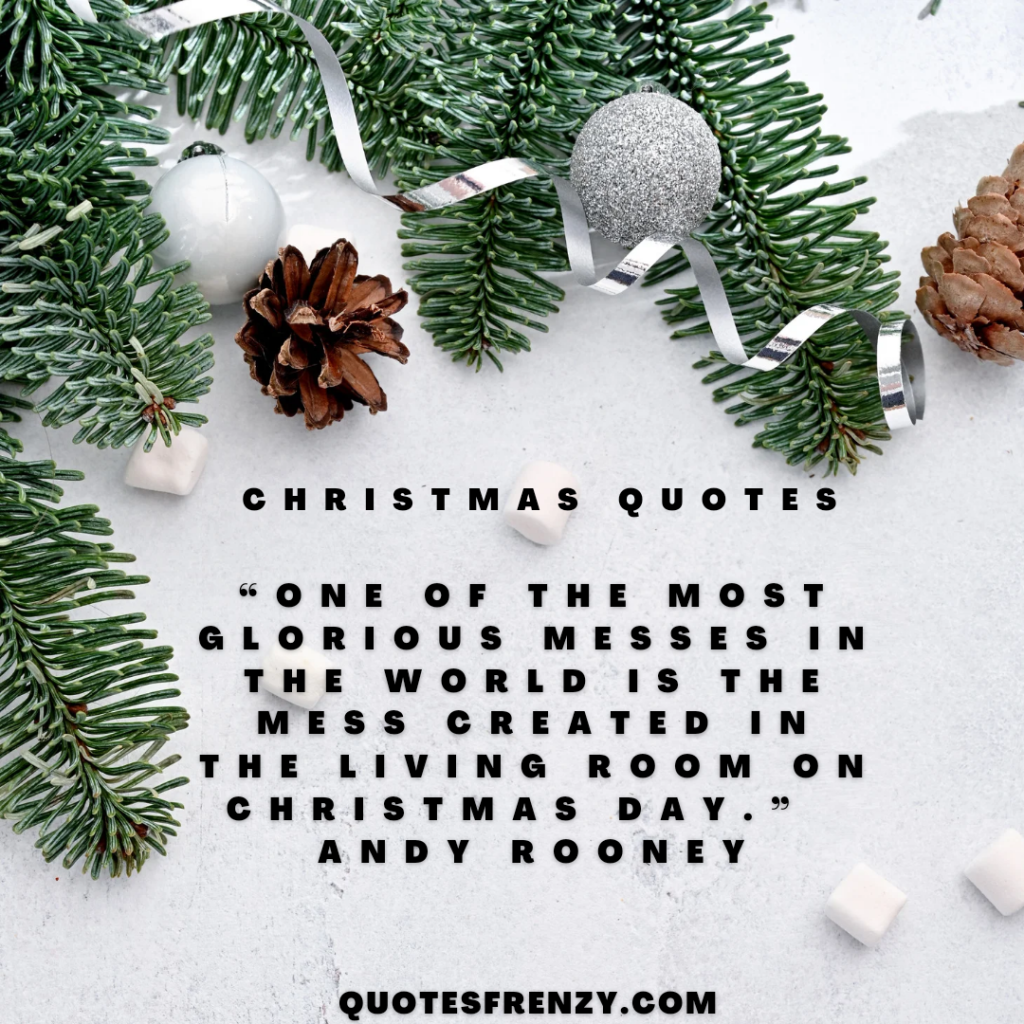 ---
"There has to be at least one day of the year to remind us that we're here for something else besides ourselves." — Eric Sevareid
---
"The joy of brightening other lives becomes for us the magic of the holidays." — W.C. Jones
---
"Christmas, my child, is love in action. Every time we love, every time we give, it's Christmas." — Dale Evans Rogers
---
"Christmas is like candy; it slowly melts in your mouth sweetening every taste bud, making you wish it could last forever." — Richelle E. Goodrich
---
"Christmas is a day of meaning and traditions, a special day spent in the warm circle of family and friends." — Margaret Thatcher
---
"It is Christmas in the heart that puts Christmas in the air." — W.T. Ellis
---
"At Christmas, play and make good cheer, for Christmas comes but once a year." — Thomas Tusser
---
"Every gift which is given, even though it be small, is in reality great, if it is given with affection." — Pindar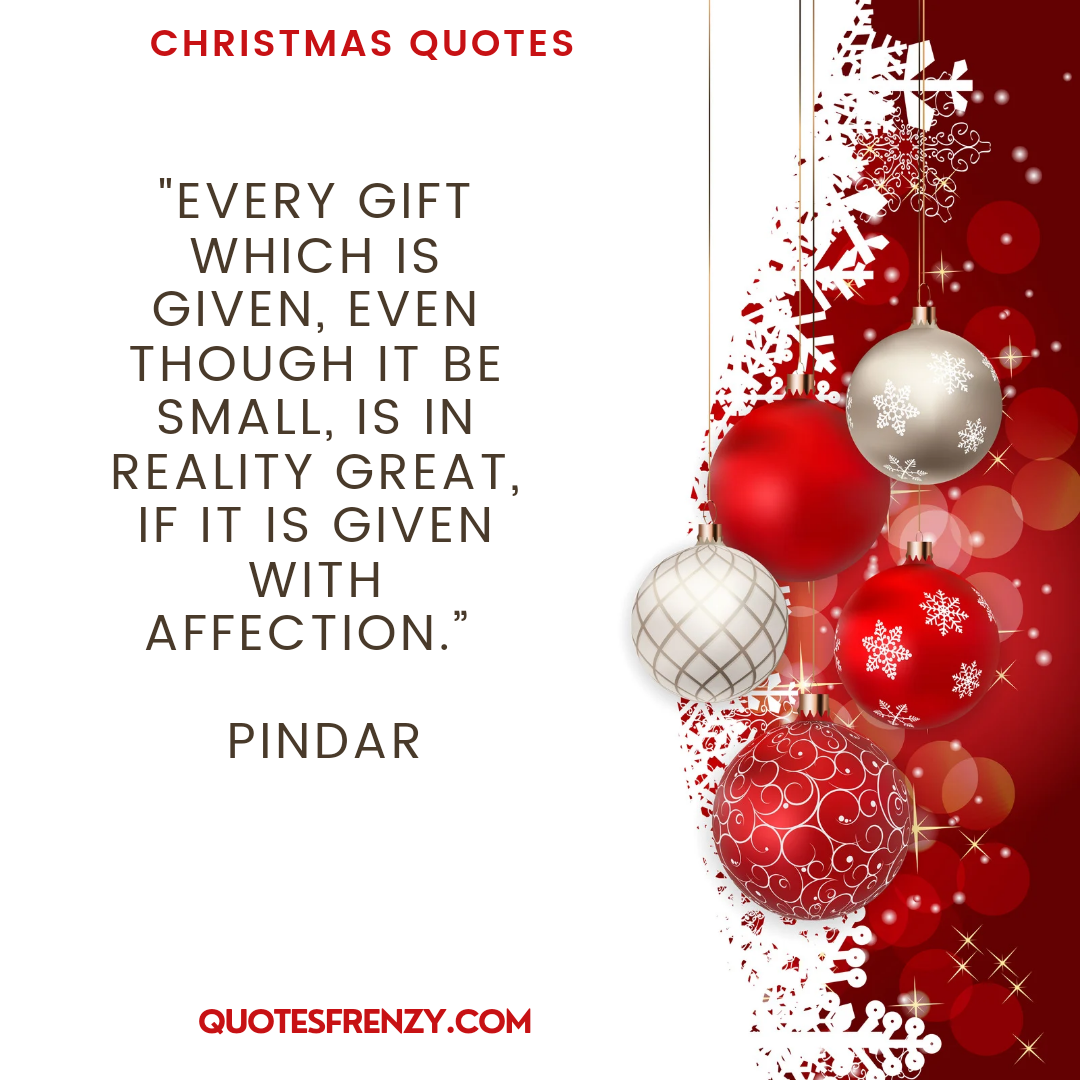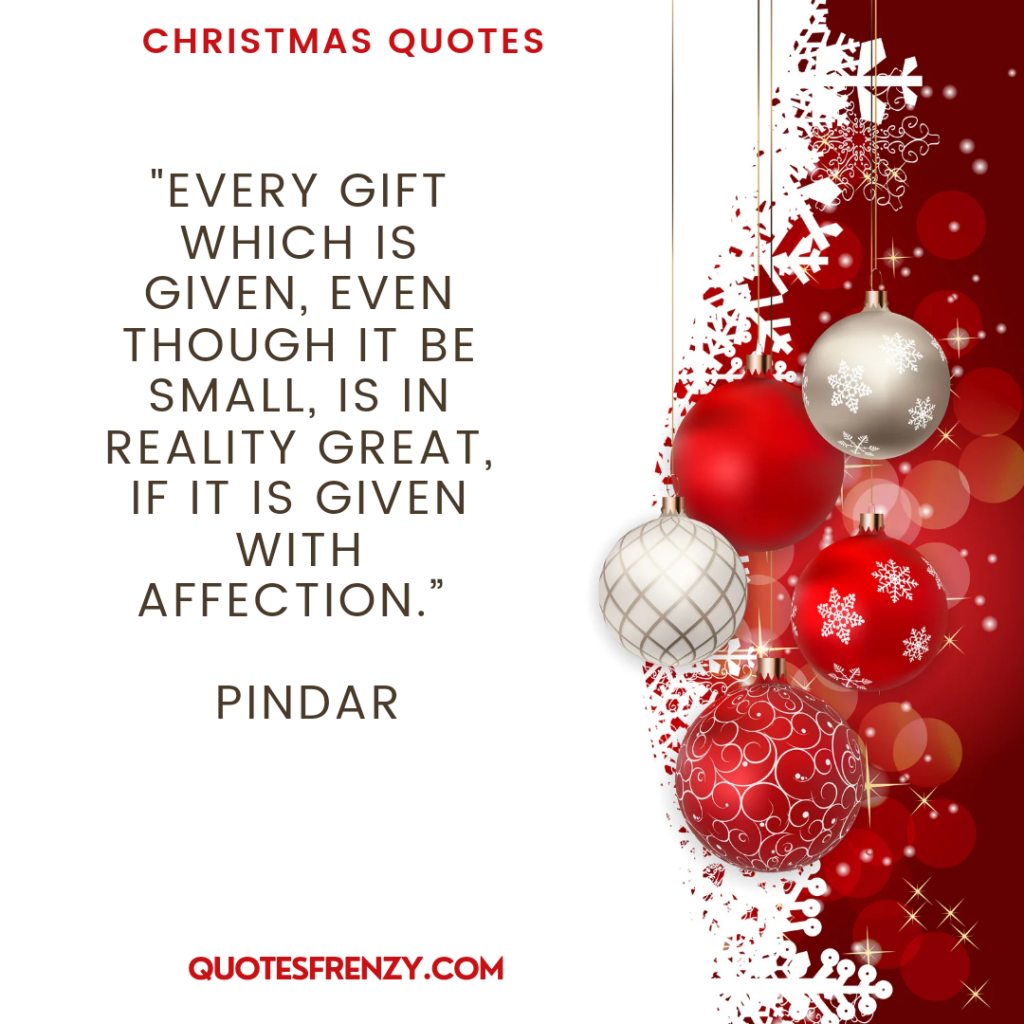 ---
"Christmas is a together-y sort of holiday."_ winne  the pooh
---
"It struck him that how you spent Christmas was a message to the world about where you were in life." — Nick Hornby
---
"Christmas day is the children's, but the holidays are youth's dancing-time." — Booth Tarkington
---
"How many observe Christ's birthday! How few, His precepts!" ― Benjamin Franklin
---
"Want to keep Christ in Christmas? Feed the hungry, clothe the naked, forgive the guilty, welcome the unwanted, care for the ill, love your enemies, and do unto others as you would have done unto you." ― Steve Maraboli
---
"If you want to experience the true meaning of Christmas, give something to someone who can offer nothing in return." ― Toni Sorenson
---
"Christmas waves a magic wand over this world, and behold, everything is softer and more beautiful." — Norman Vincent Peale
---
"Even as an adult, I still find it hard to sleep on Christmas Eve." – Carrie Latet
---
"Don't get your tinsel in a tangle." — Unknown
---
"As long as we know in our hearts what Christmas ought to be, Christmas is." – Eric Sevareid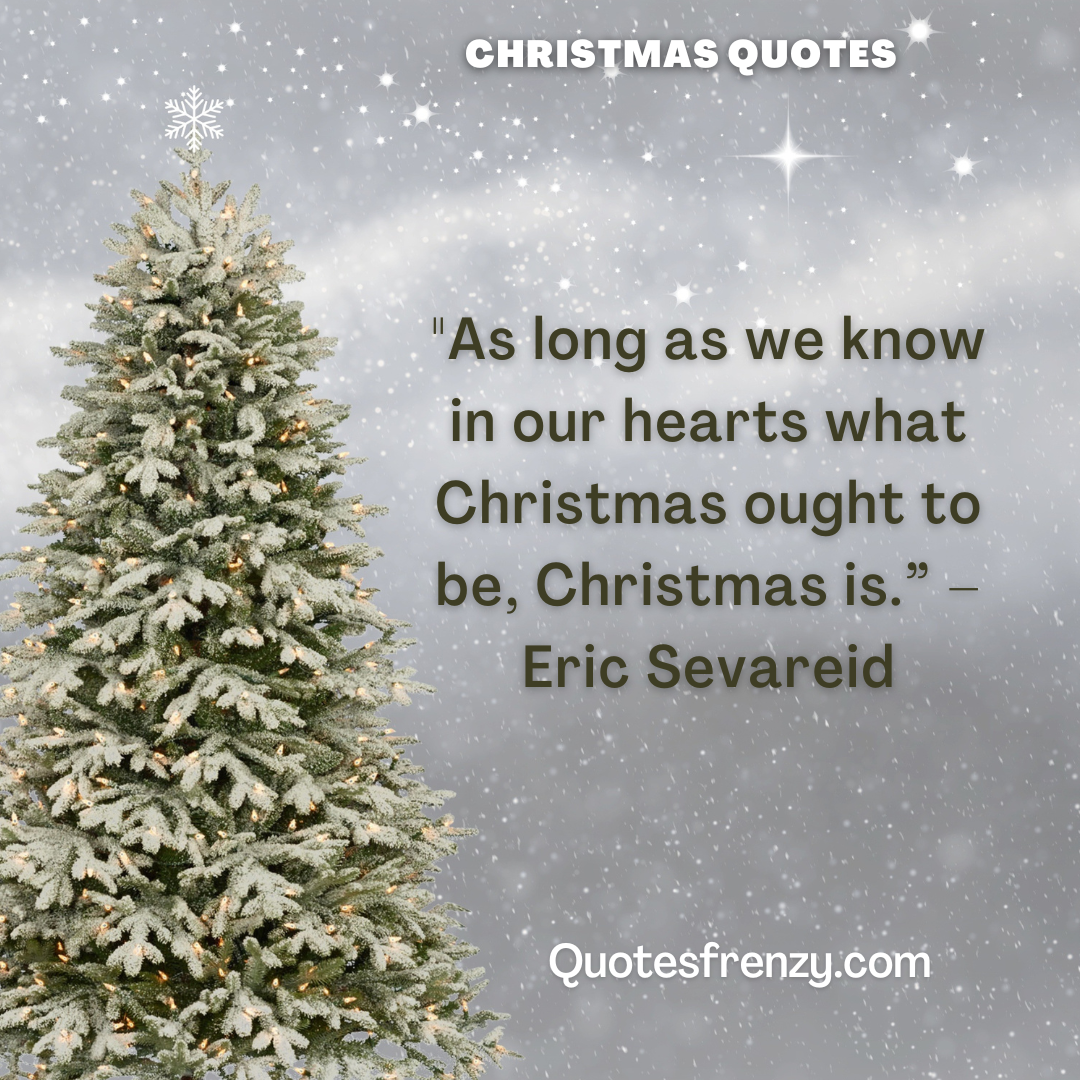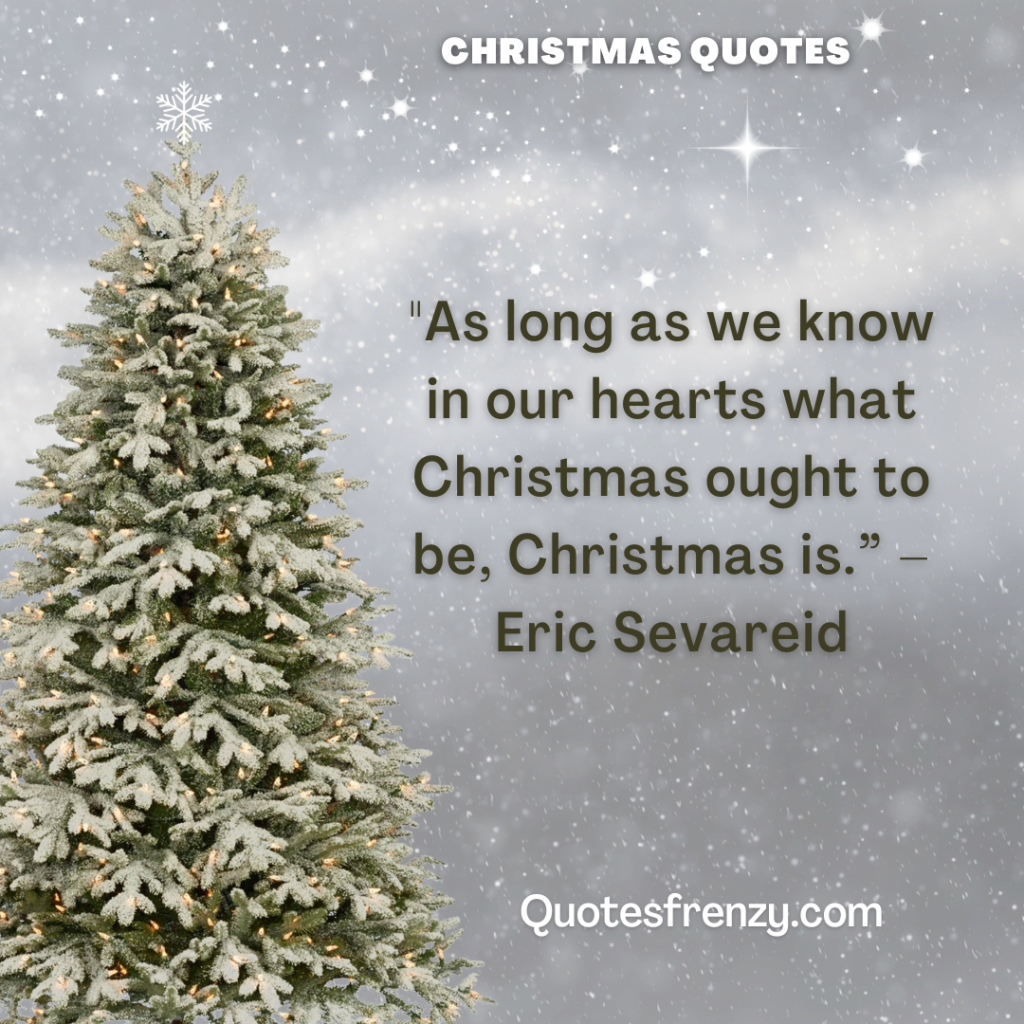 ---
"The reality of loving God is loving him like he's a Superhero who actually saved you from stuff rather than a Santa Claus who merely gave you some stuff." ― Criss Jami
---
"The smells of Christmas are the smells of childhood." ― Richard Paul Evans
---
"The best way to spread Christmas cheer is singing loud for all to hear." — Elf
---
"Christmas was definitely the best thing ever, even better than pizza. But instead of all her favorite toppings, Amitola was surrounded by all her favorite people." ― Aishabella Sheikh
---
"And when we give each other Christmas  gift in His name, let us remember that He has given us the sun and the moon and the stars, and the earth with its forests and mountain oceans—and all that lives and move upon them." ― Sigrid Undset
---
"The rooms were very still while the pages were softly turned and the winter sunshine crept in to touch the bright heads and serious faces with a Christmas greeting." –Louisa May Alcott
---
"Were I a philosopher, I should write a philosophy of toys, showing that nothing else in life need to be taken seriously, and that Christmas Day in the company of children is one of the few occasions on which men become entirely alive." –Robert Lynd
---
"Christmas Eve will find me, where the lovelight gleams. I'll be home for Christmas, if only in my dreams." – "I'll be Home for Christmas"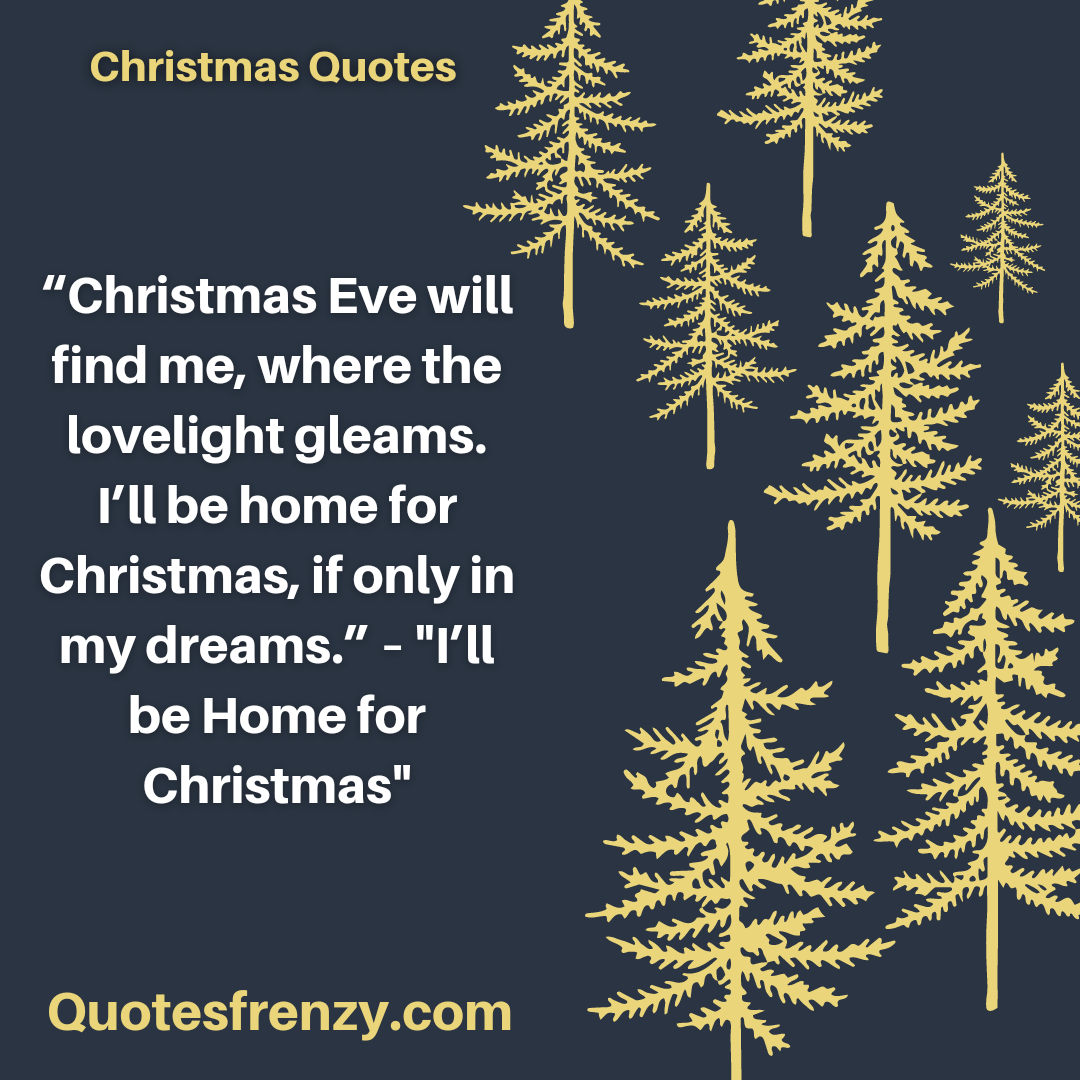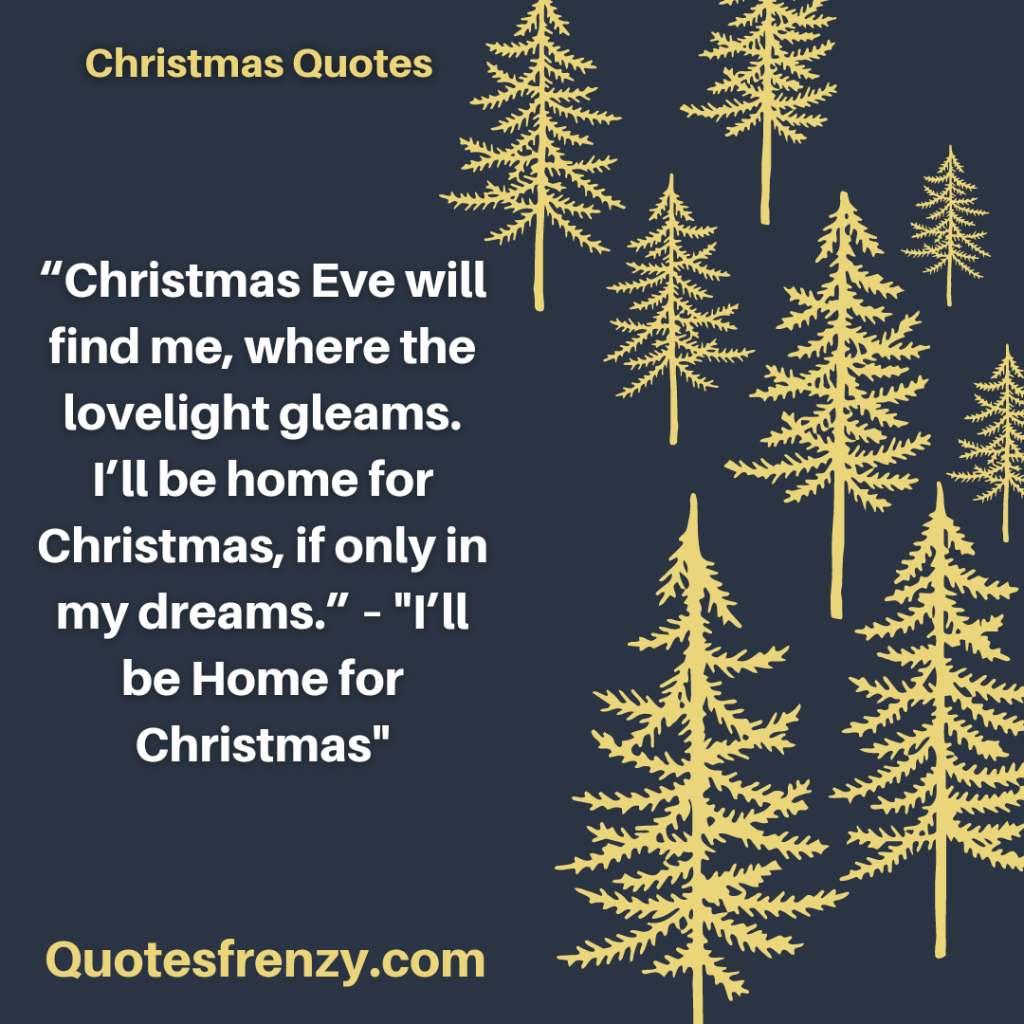 ---
"I'm dreaming of a white Christmas, just like the ones I used to know. Where the treetops glisten and children listen, to hear sleigh bells in the snow." – White Christmas
---
"Have yourself a merry little Christmas. Let your heart be light. From now on your troubles will be out of sight." – "Have Yourself a Merry Little Christmas"
---
"He sees you when you're sleeping, he knows when you're awake. He knows when you've been bad or good, so be good, for goodness sake!" — "Santa Claus is Coming to Town"
---
"Christmas gift suggestions:
To your enemy, forgiveness.
To an opponent, tolerance.
To a friend, your heart.
To a customer, service.
To all, charity.
To every child, a good example.
To yourself, respect." — Oren Arnold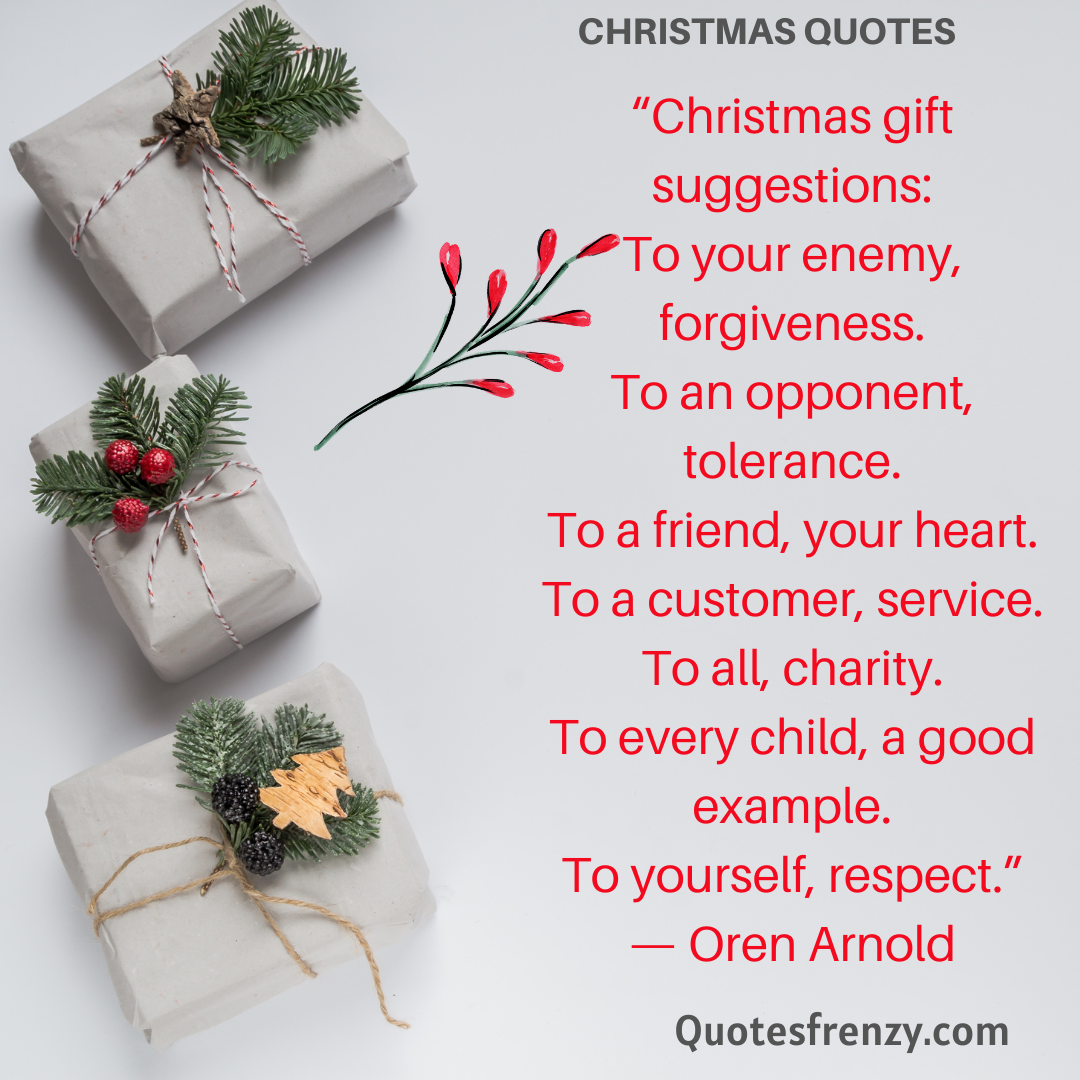 ---
"Perhaps the best Yuletide decoration is being wreathed in smiles." — Unknown
---
"I'm dreaming of a white Christmas. But if the white runs out, I'll drink the red." — Unknown
---
"Christmas is most truly Christmas when we celebrate it by giving the light of love to those who need it most." — Ruth Carter Stapleton
---
"Christmas is not just a time for festivity and merry making. It is more than that. It is a time for the contemplation of eternal things. The Christmas spirit is a spirit of giving and forgiving." — J. C. Penney
---
"Bless us Lord, this Christmas, with quietness of mind; Teach us to be patient and always to be kind." — Helen Steiner Rice
---
"Christmas day is a day of joy and charity. May God make you very rich in both." — Phillips Brooks
---
"Baby it's cold outside." — Dean Martin
---
"I heard the bells on Christmas Day
Their old, familiar carols play,
And wild and sweet
The words repeat
Of peace on earth, good-will to men!" ― Henry Wadsworth Longfellow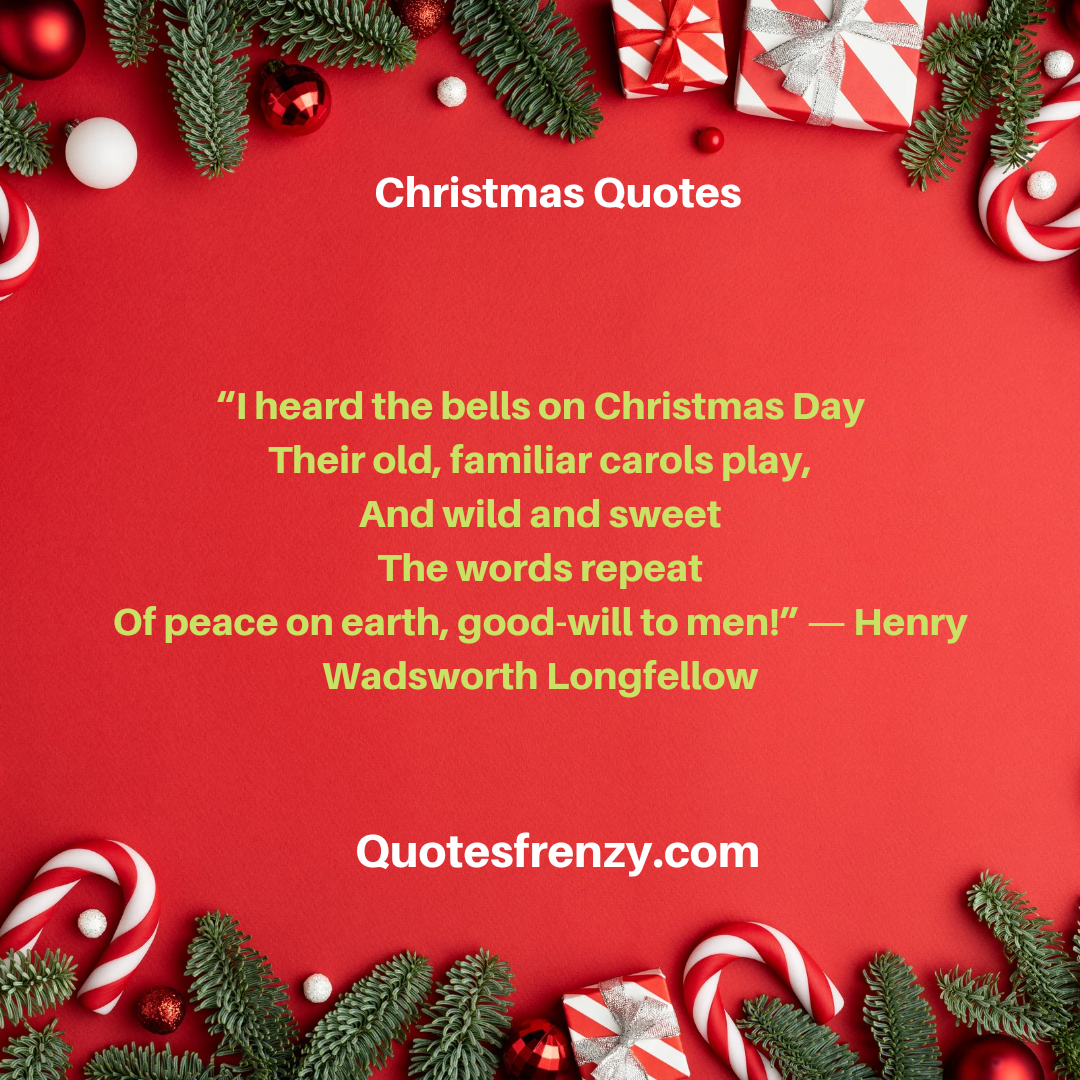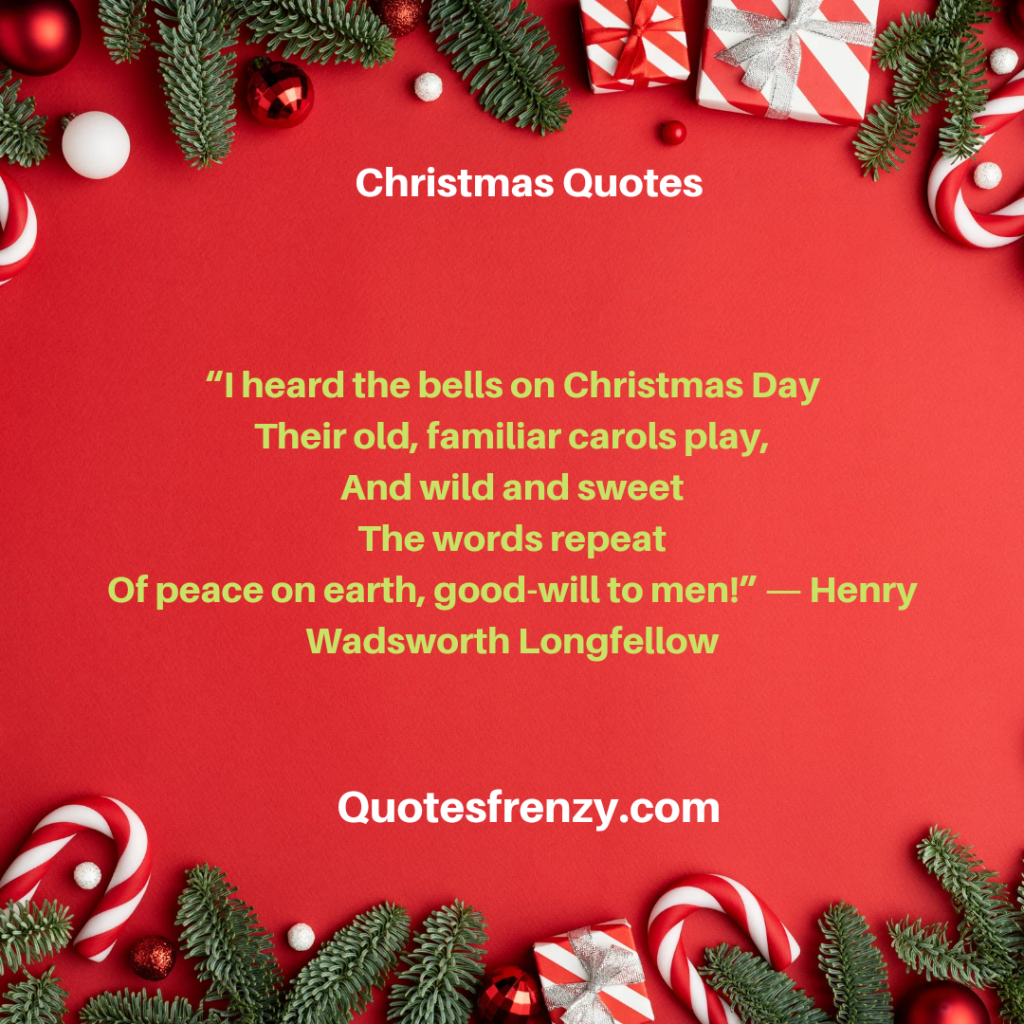 ---
"God never gives someone a gift they are not capable of receiving. If He gives us the gift of Christmas, it is because we all have the ability to understand and receive it." — Pope Francis
---
"It's not how much we give, but how much love we put into giving." — Mother Theresa
---
"City sidewalks
Busy sidewalks
Dressed in holiday style
In the air
There's a feeling
Of Christmas…" — '"Silver Bells"
---
"May you never be too grown up to search the skies on Christmas Eve." — Unknown
---
"Seeing is believing, but sometimes the most real things in the world are the things we can't see." — The Polar Express
---
"Oh the weather outside is frightful,
But the fire is so delightful,
And since we've no place to go,
Let it snow, let it snow, let it snow." —"'Let it Snow"
---
"T'was the night before Christmas, when all through the house, not a creature was stirring, not even a mouse." — Clement Clarke Moore
---
"Let us keep Christmas beautiful without a thought of greed." — Ann Garnett Schultz
---
"It's the most wonderful time of the year!" — Edward Pola & George Wyle
---
"Christmas isn't just a day—it's a frame of mind." — Miracle on 34th Street
---
"'One can never have enough socks,' ssaid Dumbledore ,Another Christmas has come and gone and I didn't get a single pair. People will insist on giving me books.'" — J. K. Rowling
---
"And so this is Christmas… what have you done?" — John Lennon
---
"Christmas isn't a season. It's a feeling." — Edna Ferber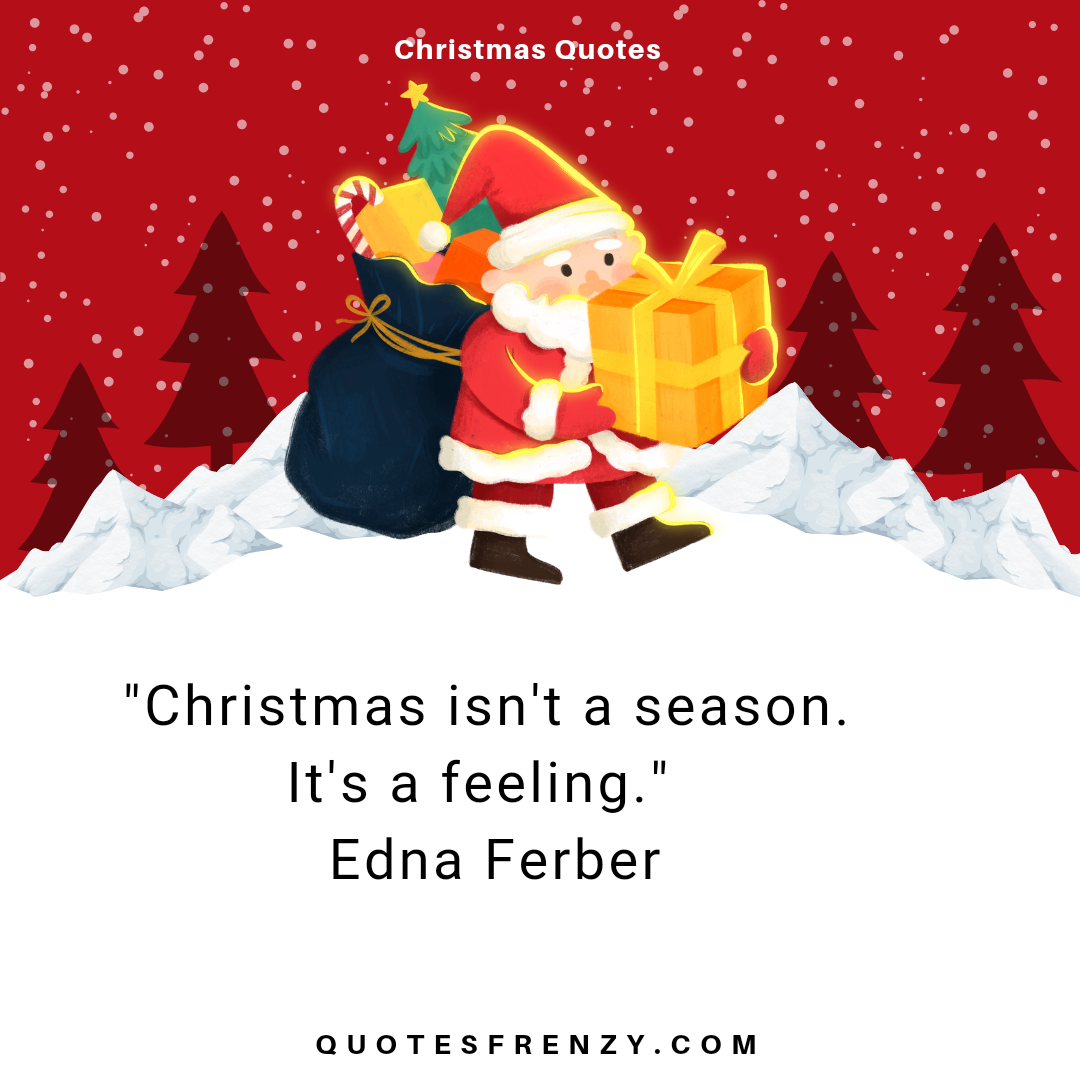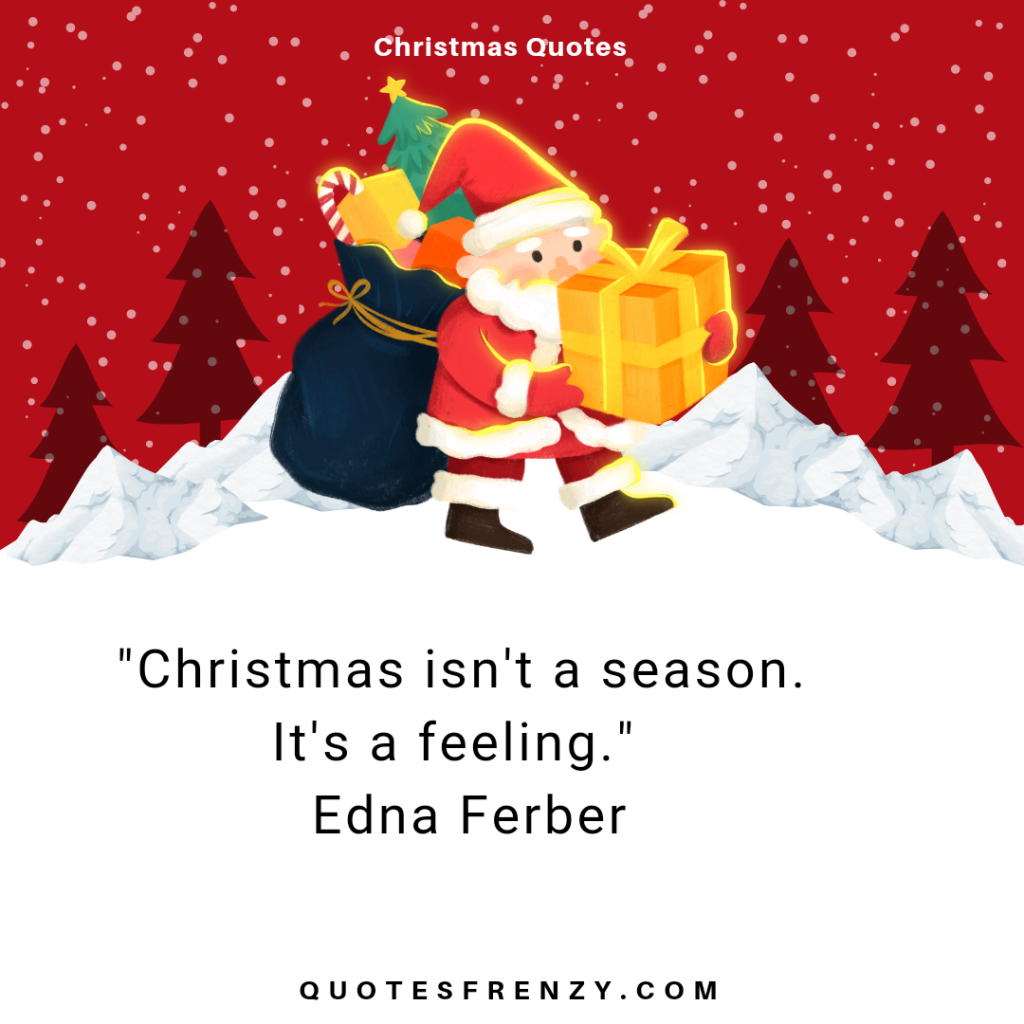 ---
"A joy that is shared is a joy made double." — John Roy
---
"Christmas works like glue. It keeps us all sticking together." — Rosie Thomas
---
"I'm dreaming of a white Christmas, just like the ones I used to know."— Irving Berlin
---
"Love the giver more than the gift." — Brigham Young
---
"Remembrance, like a candle, burns brightest at Christmastime." — Charles Dickens
---
"Christmas is doing a little something extra for someone." — Charles M. Schulz
---
"Christmas is the season for kindling the fire of hospitality." – Washington Irving
---
"I like to compare the holiday season with the way a child listens to a favorite story. The pleasure is in the familiar way the story begins, the anticipation of familiar turns it takes, the familiar moments of suspense, and the familiar climax and ending." – Fred Rogers
---
"T'was the night before Christmas, when all through the house, not a creature was stirring, not even a mouse." – Clement Clarke Moore
---
20. "When we recall Christmas past, we usually find that the simplest things – not the great occasions – give off the greatest glow of happiness." – Bob Hope
---
"What is Christmas? It is tenderness for the past, courage for the present, hope for the future." – Agnes M. Pahro
---
"We are better throughout the year for having, in spirit, become a child again at Christmastime." – Laura Ingalls Wilder
---
"Thanks be unto God for his unspeakable Gift." – 2 Corinthians 9:15
---
"Aren't we forgetting the true meaning of Christmas? You know, the birth of Santa." — Bart Simpson
---
"Every time a bell rings an angel gets his wings." — Its a wonderful  life
---
"At Christmas, all roads lead home." — Marjorie Holmes
---
"Christmas can't be bought from a store. Maybe Christmas means a little bit more." — Dr.Seuss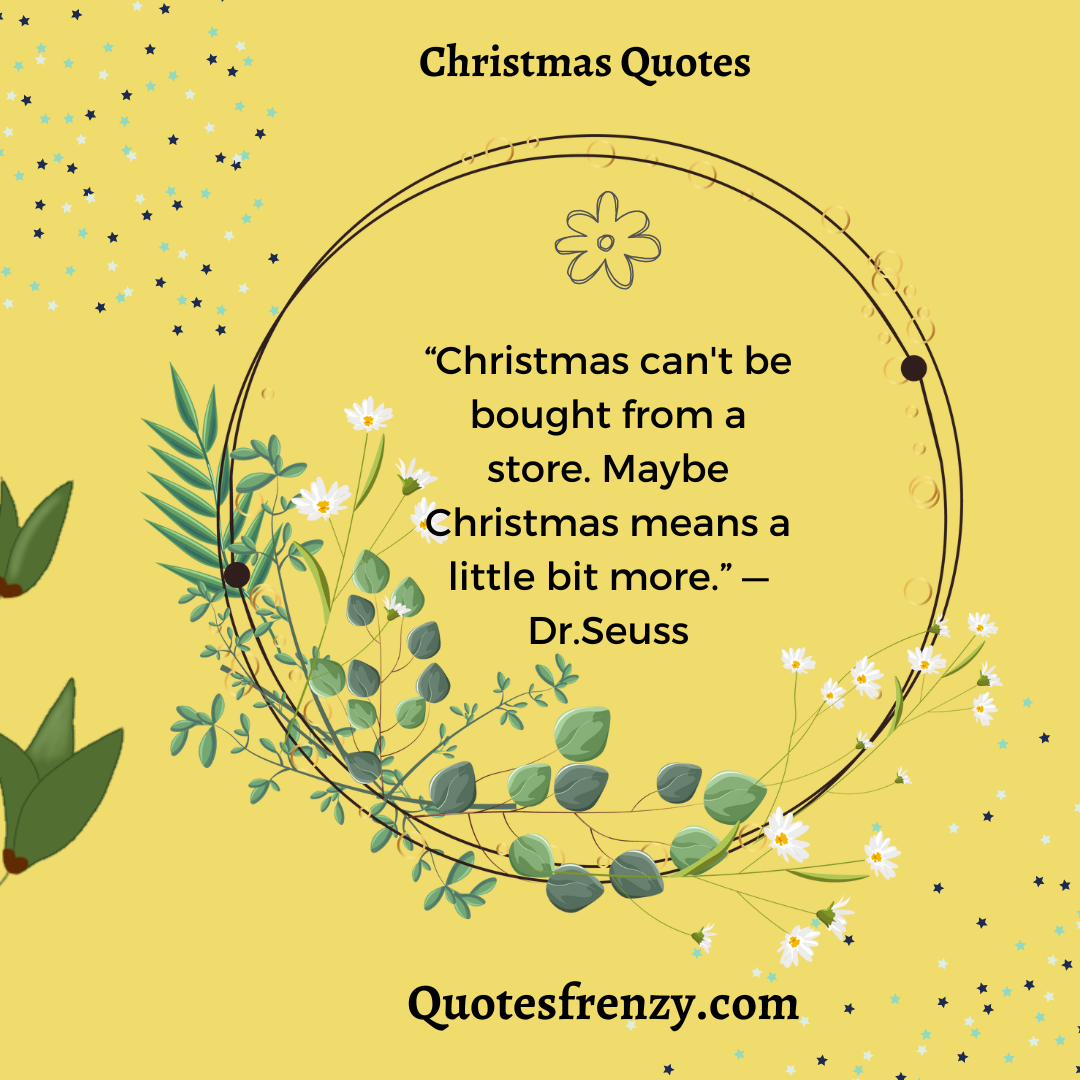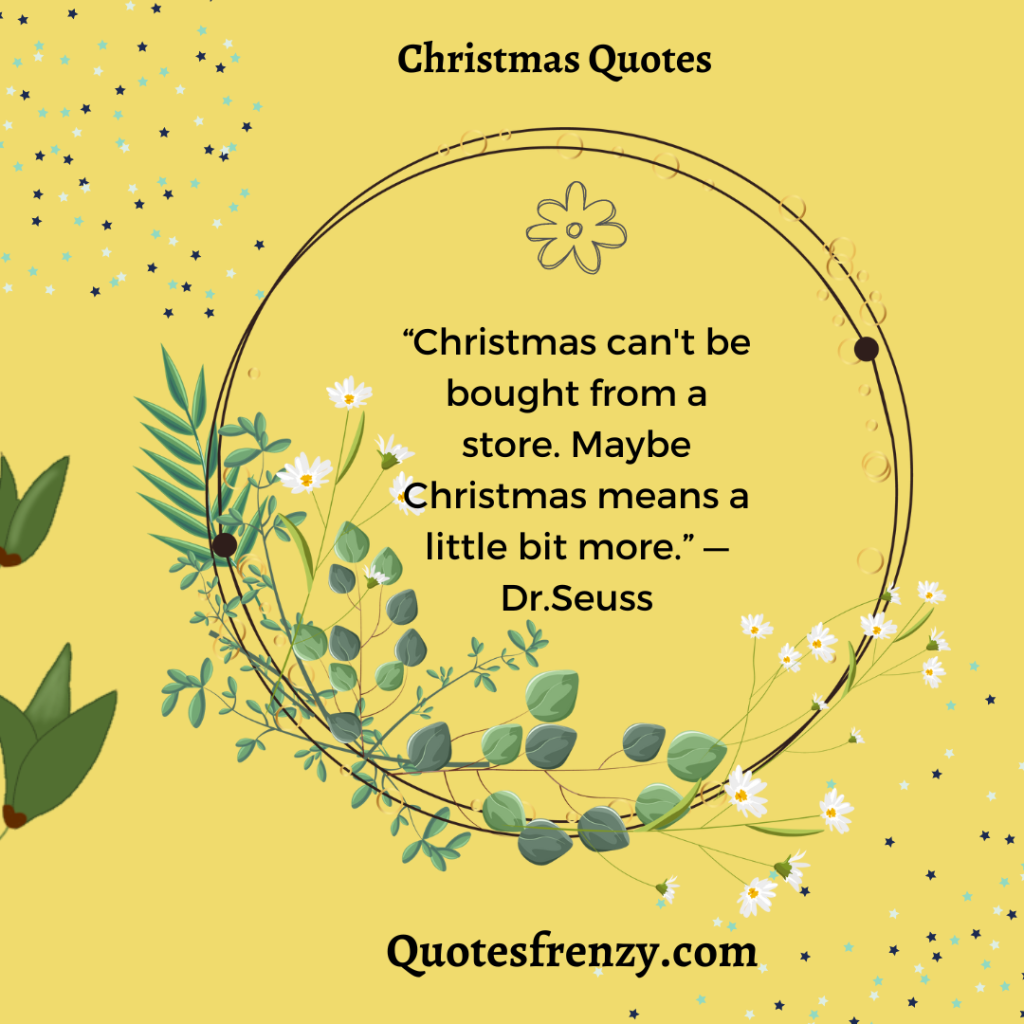 ---
"May your hearth be warm, your holidays grand, and your heart held gently in the good Lord's hand." — Unknown
---
"Christmas to me is as many people as possible happy." — Tupac Shakur
---
"May your days be merry and bright." — White Christmas
---
"I believe… I believe… It's silly, but I believe." — Miracle on 34th Street
---
"'Tis the season to be jolly!" — "Deck the Halls"
---
"A good conscience is a continual Christmas." — Benjamin Franklin
---
"Gifts of time and love are surely the basic ingredients of a truly merry Christmas." — Peg Bracken
---
"A Christmas miracle is when your family doesn't get into a single argument all day." — Melanie White
---
"Christmas magic is silent. You don't hear it—you feel it. You know it. You believe it." — Kevin Alan Milne
---
"May Peace be your gift at Christmas and your blessing all year through!" — Unknown
---
"Christmas is a tonic for our souls. It moves us to think of others rather than of ourselves. It directs our thoughts to giving." – B. C. Forbes
---
"You know you're getting old when Santa starts looking younger." — Robert Paul
---
Funny Christmas Quotes
---
"I get a little behind during Lent, but it comes out even at Christmas." Frank Butler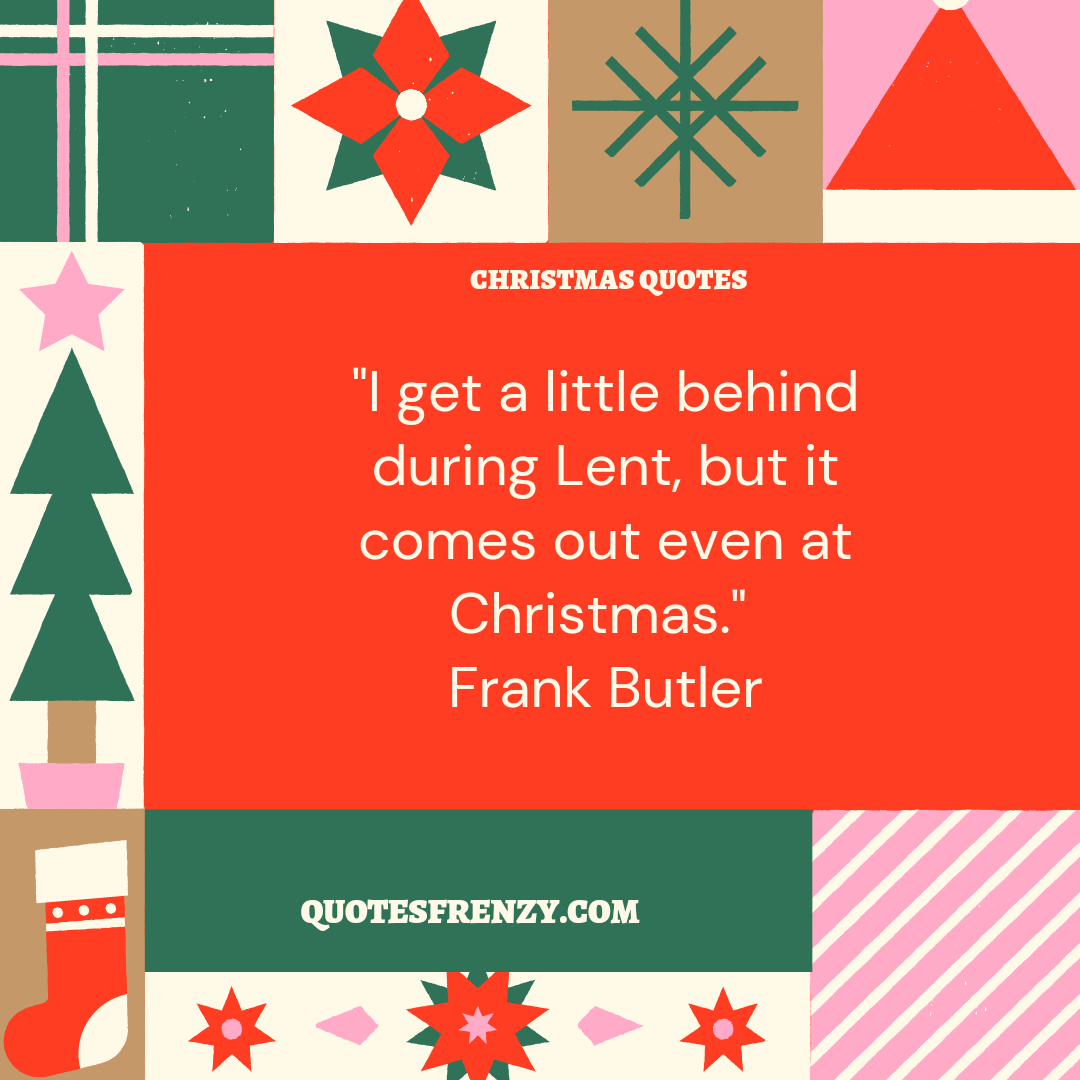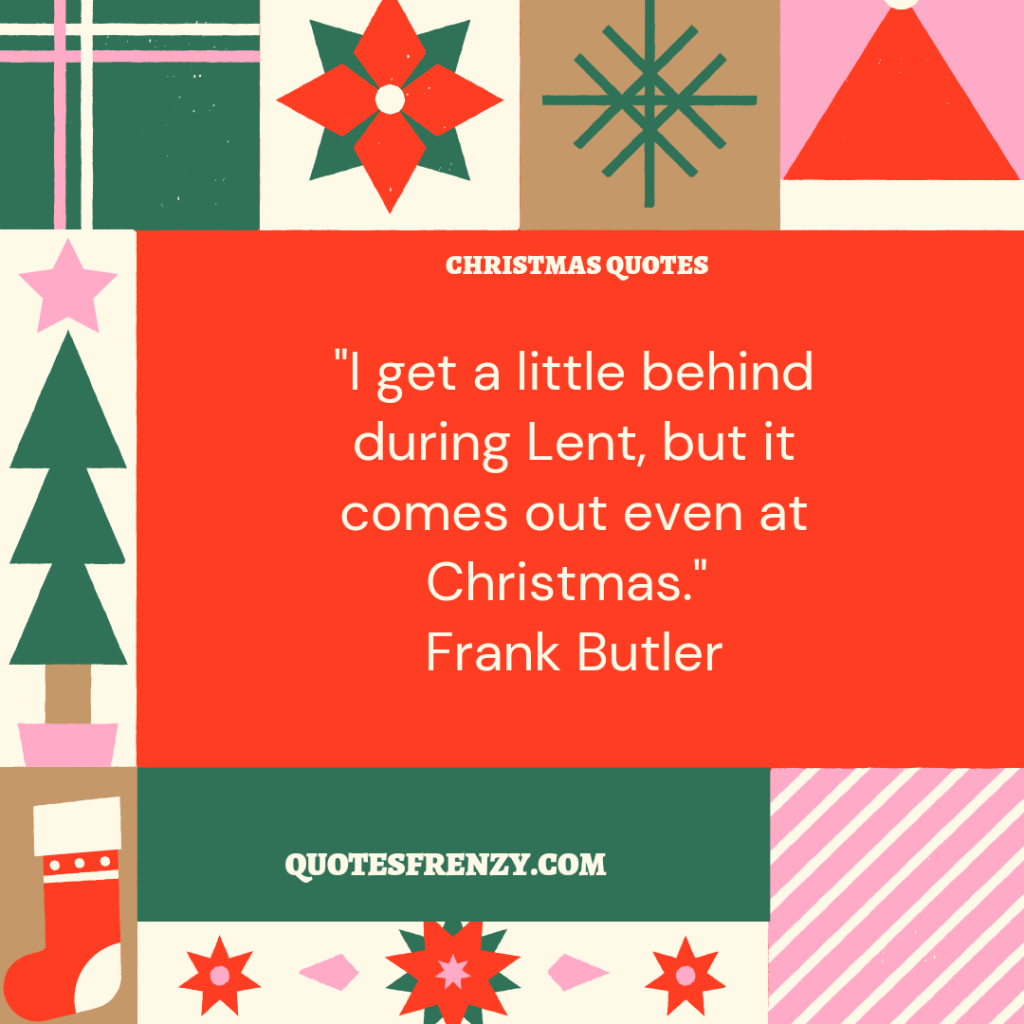 ---
"Keep your friends close, your enemies closer, and receipts for all major purchases". Bridger Winegar
---
"I haven't taken my Christmas lights down. They look so nice on the pumpkin."Winston Spear
---
"What I like about Christmas is that you can make people forget the past with the present." Don Marquis
---
"I hate the radio this time of year because they play 'All I Want For Christmas Is You' like, every other song. And that's just not enough". Bridger Winegar
---
"Adults can take a simple holiday for Children and screw it up. What began as a presentation of simple gifts to delight and surprise children around the Christmas tree has culminated in a woman unwrapping six shrimp forks from her dog, who drew her name."  Erma Bombeck
---
"Christmas is a baby shower that went totally overboard. "Andy Borowitz
---
"Santa Claus has the right idea. Visit people only once a year." Victor Borge
---
"My husband's idea of getting the Christmas spirit is to become Scrooge." Melanie White
---
"Once again, we come to the Holiday Season, a deeply religious time that each of us observes, in his own way, by going to the mall of his choice." Dave Barry
---
"This year we're having a change. We're going to let her in." Leslie 'Les' Dawson, Jr.
---
"The principal advantage of the non-parental lifestyle is that on Christmas Eve you need not be struck dumb by the three most terrifying words that the government allows to be printed on any product: 'Some assembly required." John Leo
---
"Nothing's as mean as giving a little child something useful for Christmas". Kin Hubbard
---
"As we struggle with shopping lists and invitations, compounded by December's bad weather, it is good to be reminded that there are people in our lives who are worth this aggravation, and people to whom we are worth the same". Donald E. Westlake
---
"Oh, for the good old days when people would stop Christmas shopping when they ran out of money." Unknown
---
"The best Christmas present I got from my husband was a week to do whatever I wanted." Olivia Haigh Williams
---
"A Christmas shopper's complaint is one of long-standing." Unknown
---
"The magi, as you know, were wise men — wonderfully wise men who brought gifts to the Babe in the manger. They invented the art of giving Christmas presents." O. Henry
---
"Wretched excess is an unfortunate human trait that turns a perfectly good idea such as Christmas into a frenzy of last-minute shopping." Jon Anderson
---
"Probably the reason we all go so haywire at Christmas time with the endless unrestrained and often silly buying of gifts is that we don't quite know how to put our love into words." Harlan Miller
---
"I left Santa gluten-free cookies and organic soy milk and he put a solar panel in my stocking." Unknown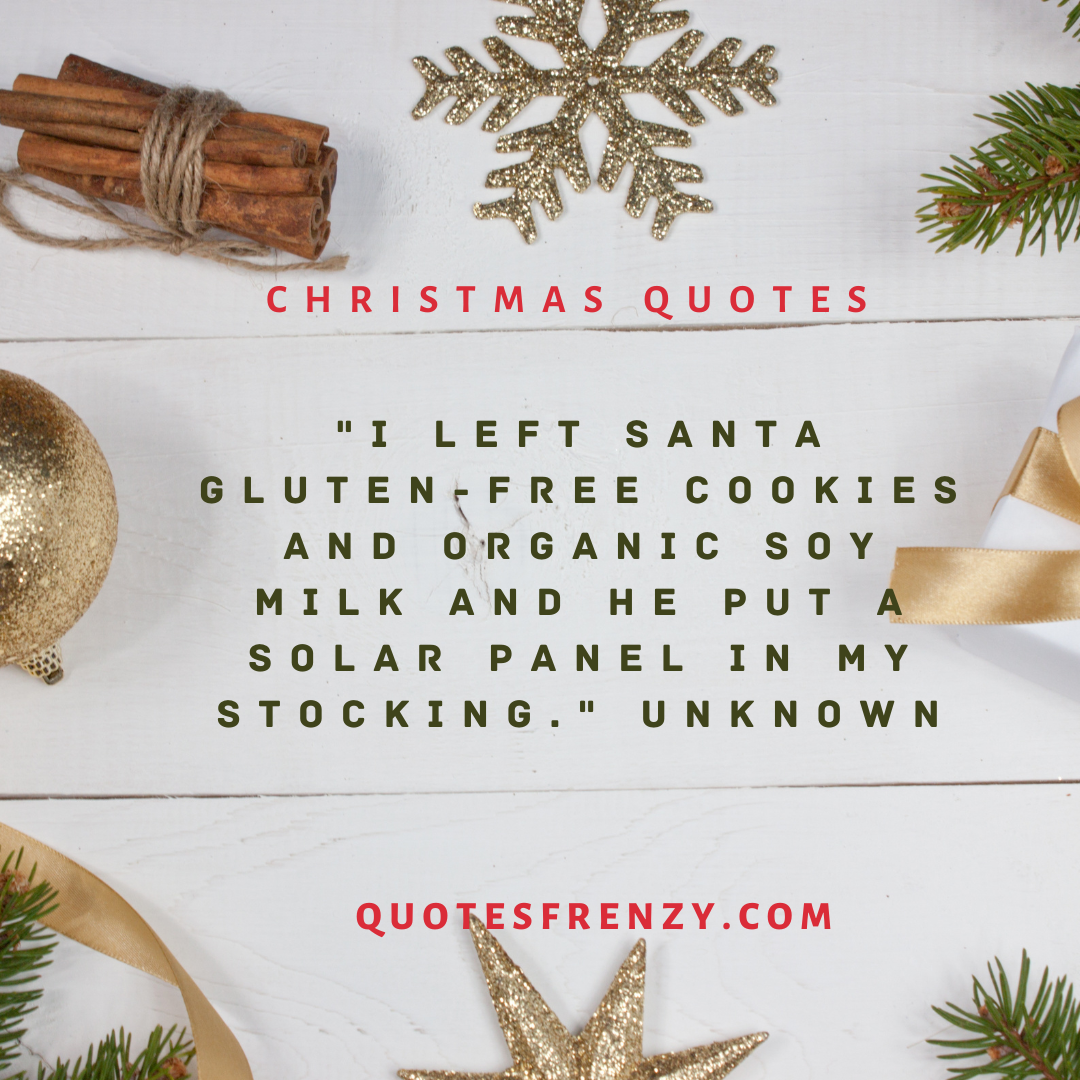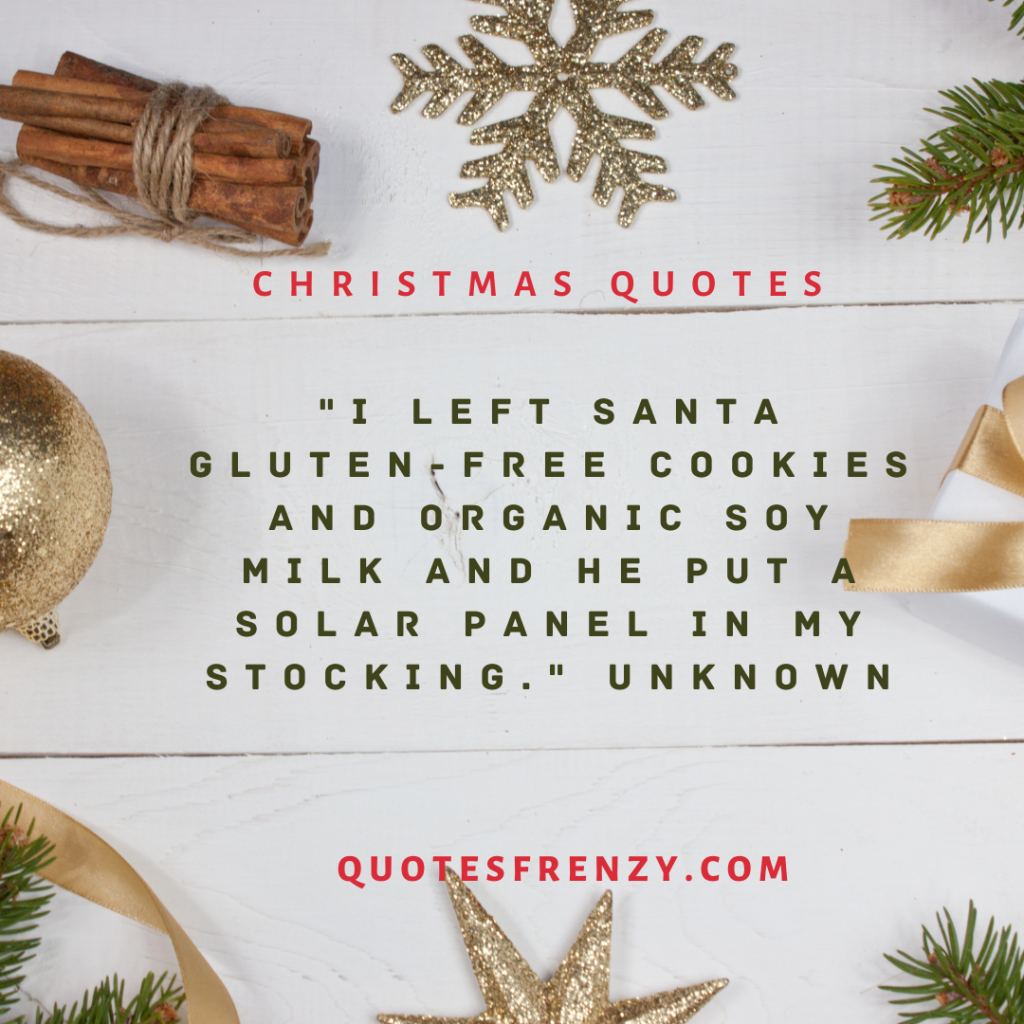 ---
"The Supreme Court has ruled that they cannot have a nativity scene in Washington, D.C. This wasn't for any religious reasons. They couldn't find three wise men and a virgin." Jay Leno
---
"If you can't wrap Christmas presents well, at least make it look like they put up a good fight." Unknown
---
"Christmas: it's the only religious holiday that's also a federal holiday. That way, Christians can go to their services, and everyone else can sit at home and reflect on the true meaning of the separation of church and state." Samantha Bee
---
"Mentally I am ready for Christmas, financially I am not ready for Christmas." Unknown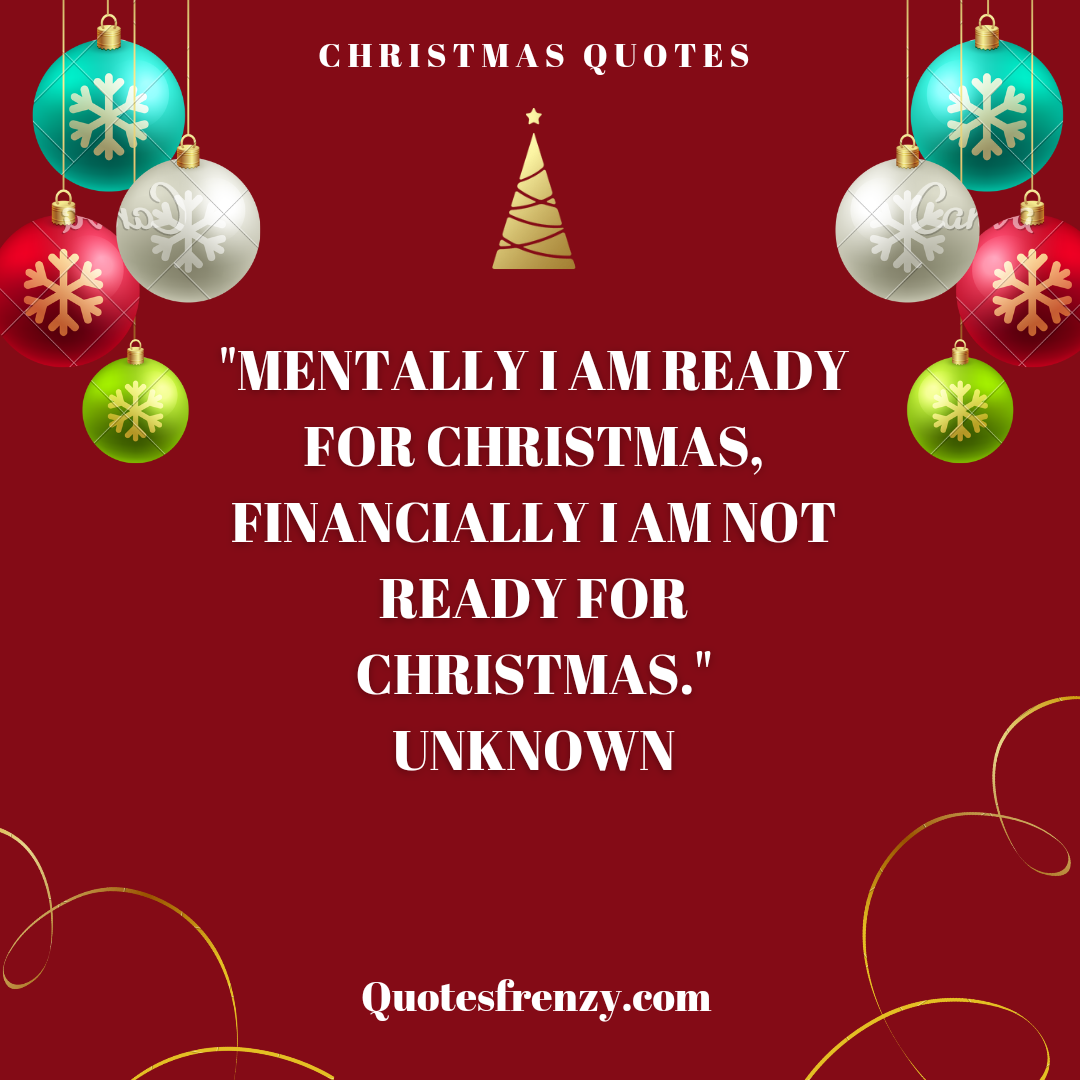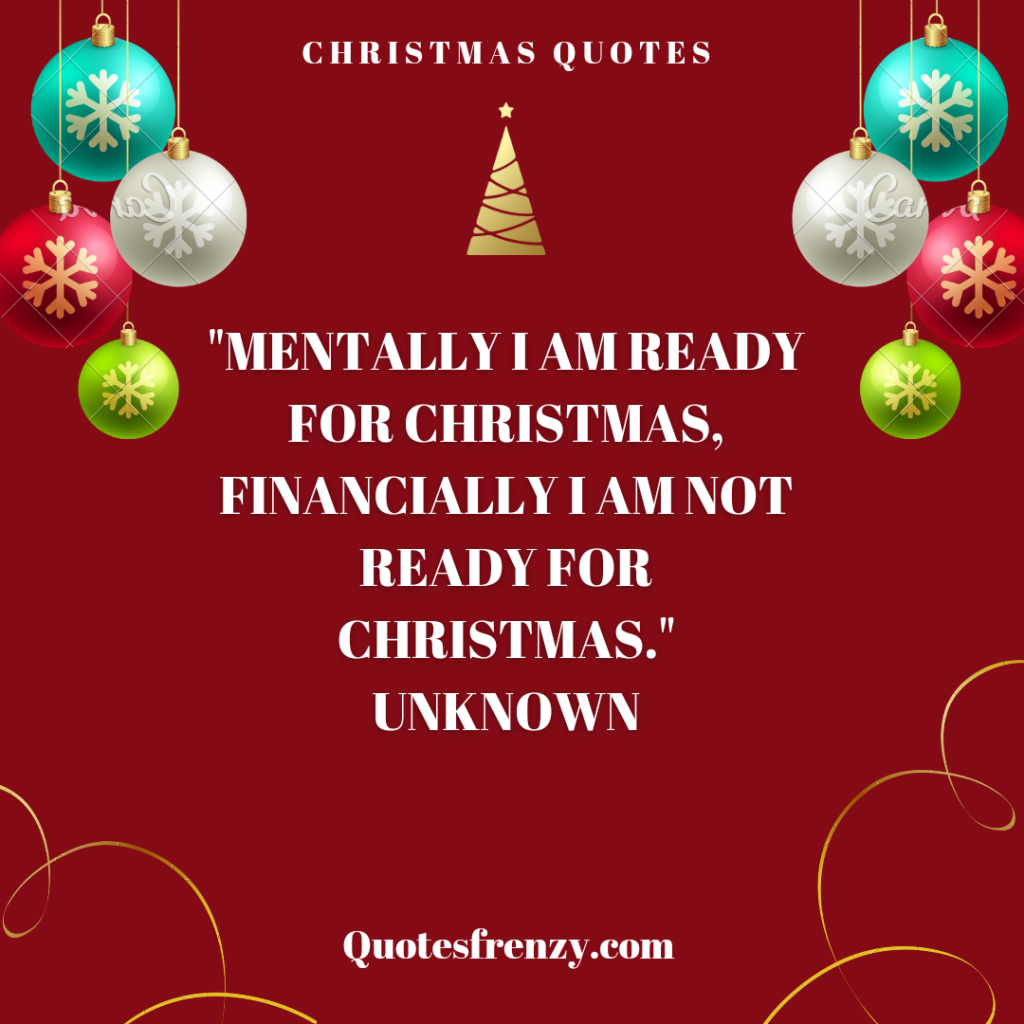 ---
"Christmas is a magical time of year… I just watched all my money magically disappear." Unknown
---
"Christmas to a child is the first terrible proof that to travel hopefully is better than to arrive." Stephen Fry
---
"It may be a cliche, but it's true – the build-up to Christmas is so much more pleasurable than the actual day itself. "Julie Burchill
---